21 BEST Lesser Known Watch Brands You Should Consider (2023)
Most people tend to go for the big names when looking for wristwatches. Thus, they gravitate towards renowned brands like Rolex, Casio, Tag Heuer, and the like. Although these brands have the best watches, their luxury chronographs are usually on the high side.
Do you get how exhausting it is to see people wearing a particular brand when all you want to do is stand out? The good thing is that lesser-known Swiss watch brands and other underrated affordable watch brands dish out the best watches at affordable rates.
Our article will help you discover the 21 best lesser-known watch brands that offer value at lesser prices. Additionally, you can read on if you are not a fan of popular brands and want to patronize lesser-known luxury watch brands with excellent designs.
We will look at some of the most reliable watch brands, which are lesser-known but provide quality timepieces. The wristwatches on our list will help you to achieve this goal. Additionally, you will get some lesser-known watches from reputable brands. Thus, you will eventually stand out even if you want to patronize big names but do not want popular wristwatches.
Most Underrated Watch Brands In 2022
Here are some of the best under-the-radar watch brands you can consider:
Junghans is one of the best under-the-radar watch brands produced in Schramberg, Germany. Although the brand had started production before 1866, it only began using the name from that period until today. Since the brand started producing its trademark wristwatches, it has become one of the most renowned brands in the world. The brand produces more than three million pieces yearly.
Underrated Model
Junghans produces wristwatches for every occasion. You can use the brand's timepieces on classic dresses or casual attire. One very interesting watch that comes to mind when you mention this brand is the Max Bill Chronoscope (Ref 27/4500.49). The wristwatch has a self-winding Caliber J880.2 movement encased in a 40mm stainless steel case.
Additionally, the watch features a silver-colored Milanese bracelet to match the casing. This watch has pencil-styled hands and Arabic numeral indices with two chronograph subdials at 6 and 12 o'clock markers. Furthermore, the watch features a date-day indicator at the three o'clock marker. The timepiece has a 48-hour power reserve, ensuring you can enjoy full power. You can also enjoy a water resistance of 30m, enough to withstand splashes but not deep immersions.
Georg Jensen is an establishment of a Danish silversmith. The brand is one of the most underrated yet outstanding timepiece manufacturers. While you may know Georg Jensen for producing the best cutlery, jewelry, tableware, gift products, and pure silver-made items, the brand also has outstanding timepieces.
Georg Jensen is one of the best unknown swiss watch brands with outstanding Swiss automatic movements. The brand produces sleek, elegant, breathtaking chronographs inspired by Scandinavian principles. You will enjoy these watches if you love the simplicity and focus as the theme of your timepieces.
Underrated Model
One of the brand's most famous models you can obtain in modern times is the Vivianna Ref. 3575655_0. The watch is perfect for people with small wrists because it has a case size of 34mm. Furthermore, the timepiece has a stainless steel case, diamond-studded bezel, and a dial.
Another attractive thing about this watch is that it has a Swiss-made ETA E61.031 Caliber that offers an extended battery life of 49 months. If you have money to spend on the best unknown swiss watch brands, you should consider this luxury watch.
Komono is a Belgian brand with affordable timepieces made from superior materials. The brand has a youthful outlook inspired by its founders, Anton Janssens and Raf Maes. Moreover, former snowboarders, these individuals officially added wristwatches to their opticals and sunglasses brand in 2009. Since the introduction of wristwatches, the brand has made waves in the field.
Underrated Models
There are two outstanding picks from this brand. One such pick is the Komon Mono Sky which satisfies your versatile and minimalistic design desires. Additionally, the watch comes in several colorways. However, the most common color you will find is sky-blue, which is aesthetically pleasing. The watch has a polycarbonate case that matches its sky-blue silicone dial and strap.
Additionally, the dial has grey baton hour markers and hands. Another option is the stunning and eye-catching Komono Ray Legacy Nato Lunar. This piece is a favorite of many people who love straightforward and understated timepieces. Interestingly, the watch easily steals the attention of onlookers with its simplicity.
The Komono Ray Legacy Nato Lunar has a small seconds sub-dial found above the six, seven, and eight o'clock markers. Furthermore, the timepiece has a reliable Japanese Quartz movement. The watch also has a water resistance of 50m.
The name of this brand already gives out a lot of information about its timepieces. You will love this brand if you are a sports enthusiast. Additionally, the watch catches the attention of individuals who love unusual concepts. The brand also has a long history of producing notebooks, planners, and writing materials with great appearances.
Underrated Models
Giuliano Mazzouli has timepieces that depict attitude and class. If you love attitude, you want to try the Transmission Meccanica Chronograph. This timepiece derived its inspiration from automobile transmission. The wristwatch has a black strap and a stainless steel case with unusually patterned edges. Additionally, the timepiece has a chronograph function that tells more than time.
Another good option is the Manometro Compressed Polished Blue timepiece. The watch has a 45mm stainless steel case. Additionally, the bezel comes from a similar material as the watch case. The watch also has a brown calfskin Florentine leather strap and a beautiful blue dial.
5. Object
If you love customized wristwatches, this brand is the ideal pick for your needs. The brand customizes its dials, hands, straps, buckles, crown, rotor, and anything you can think of on your timepiece. Almost every piece on the brand's wristwatches is customized for top-tier detail. Additionally, you don't need to bother about the design process because the brand takes care of everything.
Object offers an exciting finish, colorway, and several outstanding material choices. Not to worry, the brand also has ready-made wristwatches for individuals who do not like the stress of customizing their watches. Furthermore, these ready-made timepieces have minimalistic aesthetics and top-tier engines made by either ETA or Ronda. Hence, you don't have to worry about durability.
Underrated Model
One of the best models you can acquire from this brand is the Object Hach Grey Automatic wristwatch. This beautiful timepiece has a DLC-treated stainless steel case of 42mm. The case material offers protection from bumps and scratches. Furthermore, the watch has a numberless and black dial with 3D patterns and some thick, round baton-style hands.
You will also find a single attractive yellow minute hand that adds a touch of youthfulness to the watch's outlook. This Swiss-made timepiece also has a grey strap conjured from Italian leather. Additionally, the watch is powered by a 25-jewel automatic movement (ETA 2824-2). The Hach Grey Automatic timepiece is your bet if you want an attractive wristwatch.
6. Bulova
Bulova is one of the world's most successful watch brands. Why, then, did we include it in this list? The brand has some highly underrated timepieces which you may not know existed. Bulova is not that famous compared to brands like Rolex, Tag Heuer, Casio, etc.
However, the brand delivers some very cool wristwatches. This New York-based company started in 1875 and became a part of the Loews Corporation in 1979. Since its inception, the brand has made some exceptional watches.
Underrated Model
The Bulova Archive Series Men's watch is one timepiece you can obtain from this brand at a reasonable price. The watch has a six-hand calendar chronograph and a sapphire glass that covers the black dial. Additionally, the watch features a high-performance UHF quartz movement from Bulova.
This timepiece also has interchangeable straps included in the package. You will find black nylon and a nubuck leather strap for one option and a textured black leather strap for the other. If you need unparalleled accuracy, consider this watch because it has a frequency of 262 kHz.
Formerly known as Messerfabrik Carl Elsener, Victorinox is a Swiss-based watchmaker and knife manufacturer. The brand is renowned for its prominent Swiss army knives. However, the brand also produces some of the best-underrated timepieces you can don with pride.
Underrated Model
Victorinox has very affordable and underrated timepieces. One such underrated watch model from this brand is the FieldForce Sport Chrono. The FieldForce Sport Chrono combines casual with sporty. This watch has a colorful outlook that suits every occasion.
The Swiss-made watch has a chronograph function with a tachymeter scale to measure your speed. Additionally, the watch has an easy 24-hour readability feature due to the size of the case and the numeric dial markers. Also, the watch has a Super-Luminova feature that illuminates the dial under poor lighting conditions.
It may surprise you to see Omega on this list, but most people do not know of some Omega timepieces. Interestingly, most people overlook the Railmaster series for other of Omega's watch collections. However, you will discover that the series is not just underrated but has some of the best features you will see in any Omega watch brand.
Underrated Models
As noted, the Railmaster series is one good model to purchase if you want to stand out while wearing an Omega watch. The Railmaster Co-axial Master Chronometer is one watch to add to your wishlist. The watch has a 40mm watch case made of stainless steel. On top of that, the timepiece has a coated nylon fabric strap that matches the watch dial.
The watch has an Omega Co-axial Master Chronometer (Caliber 8806) movement that provides accuracy while using the wristwatch. Furthermore, the timepiece has a design that withstands a magnetism of 15,000 gausses. Thus, you can use this Railmaster timepiece to enjoy excellent anti-magnetic qualities.
9. Timex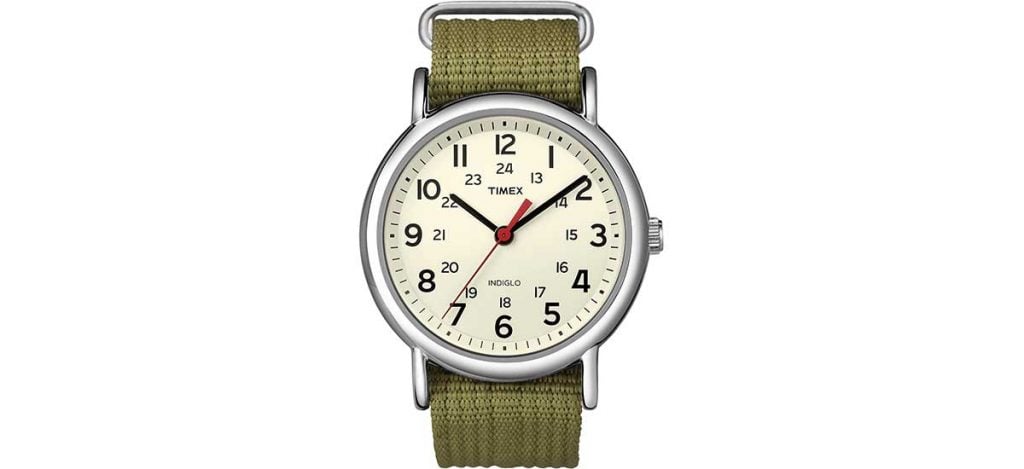 Nowadays, Timex is garnering attention for rebuilding some of its legendary designs, which were hits back in the day. The company, formerly known as Waterbury Clock Company, is a watch manufacturing company that came into existence in 1854. At that time, the company name was Waterbury Clock Company.
Due to insolvency in 1944, the company made some changes to become Timex Corporation. Since its reformation, this brand has dished out some of the best, most underrated timepieces you can find on the market. If high-accuracy movements are your thing, you can consider using this watch brand.
Underrated Model
One great place to start when you need a Timex wristwatch is the Giorgio Galli S1 Automatic timepiece. Asides from being an affordable wristwatch, you can enjoy a one-year limited manufacturer warranty. Additionally, the watch features are something to consider if you love class and style.
This underrated timepiece has a 41mm case width, stainless steel, and a black band. Furthermore, the wristwatch utilizes a polished case finished for aesthetics. The timepiece has an automatic mechanical wind and a water resistance of 50m.
Yes, Grand Seiko. You may not want to agree with me, but Grand Seiko also has some underrated timepieces. Grand Seiko is a brand that debunks claims that Swiss-made watches were superior to Japanese timepieces. The Grand Seiko has thrived since its debut and continues to make top-tier timepieces. However, the brand still has some underrated pieces in its gallery.
Underrated Model
Grand Seiko's SBGA211 is an underrated timepiece in this watch's collection. The timepiece has a snowflake dial spring drive with high-intensity titanium. Additionally, the wristwatch has a 72-hour power reserve and a see-through case back with a lion emblem.
This timepiece has a date indicator at the three o'clock dial. This round-shaped timepiece has a 41mm case diameter and a case thickness of 12.5mm. Additionally, the dial window is high quality, boasting an anti-reflective sapphire covering an analog display. Overall, this watch is as classy as it gets.
Tissot has some outstanding timepieces everyone considers at first glance. This brand, founded by a two-person father and son team, has impressed me over time. The brand began operations in Switzerland and made its remarkable debut in 1853. Since then, the company has remained one of the best brands to patronize for your timepieces.
Underrated Model
One underrated watch model under this brand is the Tissot T-touch Connect Solar. This timepiece has a solar touch quartz movement with a case diameter of 47.5mm. Additionally, the timepiece is scratch-resistant, thanks to its tactile sapphire crystal-ceramic bezel. This timepiece is special because it is a modern descendant of the first multifunction tactile watch by the brand.
The watch features a water resistance of 100m and can withstand a pressure of 10 bar. Furthermore, the watch has a black dial with index markers and interchangeable quick-release bracelets. You could interchange the bracelets with a standard buckle. The blue-colored strap is made from embossed cow leather.
12. Shinola
Shinola is an impressive yet unknown American watchmaker that officially took off in 2011. This brand is one of the most recent watchmakers in this generation. The brand officially launched in 2011 and has created fully-functional and affordable American timepieces.
Underrated Model
One of the most underrated yet popular models from Shinola is the Runwell 47mm. The timepiece has an excellent build and finishes, not to mention its outstanding dial layout and crown style. Everything about this watch stands out.
The watch case features a sandblast PVD gunmetal for protection against scratches. On top of that, the timepiece has a handsewn cattail strap (brown) which matches the matte velvet dial. The dial features a fierce midnight blue color and features a smaller seconds sundial. The timepiece also has sword-style hands and Arabic numeral indices.
13. Thomas Earnshaw
This brand simplified marine chronometers in the 1700s. The brand is named after the English watchmaker Thomas Earnshaw and creates intricately-designed timepieces suitable for adventure seekers.
Underrated Model
One timepiece you can obtain from this brand is the Thomas Earnshaw Beaufort ES-8059. The timepiece features a 43mm gold-colored watchcase and a brown-colored strap crafted from genuine leather. Another interesting feature of this timepiece is its intricate dial.
The dial has skeleton parts and subtle lines that allow you to enjoy the beauty of its movement. This outstanding timepiece also has a water resistance of 50m and an affordable price for a wristwatch of its caliber. This watch is your best bet if you love classic skeleton timepieces that do not cost much.
14. Skagen
This Danish watchmaker has operated since 1989. The watchmaker produces trendy and pocket-friendly timepieces you could use for any occasion. Interestingly, the brand now produces other goods asides from wristwatches. Nowadays, the brand produces jewelry, handbags, decors, homewares, and other accessories.
If you appreciate timeless and sustainable concepts, you will love this brand. Asides from its lightweight case design, most wristwatches from the brand have neutral or monochromatic colors that make it easier to appreciate the watch's design.
Underrated Model
The Skagen Ancher is a good monochromatic wristwatch you can use. Interestingly, this wristwatch has a thin fixed bezel containing 50% recycled stainless steel and a 40mm case. The watch case matches the beautifully designed stainless steel bracelet with a safety mesh buckle.
Another thing is that the watch has a tidy and pleasing charcoal-colored dial. The dial features luminous hands and silver baton hour markers that glow in poor lighting conditions. Additionally, the watch is powered by a simple yet powerful three-hand movement.
Alpina is an impressive and lesser-known watch brand that started producing watches in the late 1800s. The brand has crafted some classy and exquisite sports watches over time. Today, the brand still impresses with its sophisticated and robust watches, which suit people who love function and form.
Underrated Model
One brown diver stands out among all else. The 300m water-resistant Alpina Seastrong Diver Heritage Brown is a 42mm stainless steel timepiece for all occasions. The case comes in a brown hue and a brown leather strap to match. Additionally, the dial is protected by sapphire crystal.
The brown dial has rose gold indices and luminous hands that glow in the ark. This Alpina Seatrong watch has a sophisticated automatic movement for precision. The movement covers 28,800 vibrations hourly.
16. Festina
Another outstanding watchmaker you can consider for impressive timepieces in this category is the Festina. The brand was birthed in 1902 and is relatively underrated. Nowadays, the corporation includes other brands like Perrelet, Candino, Jaguar, Lotus, and Calypso. Furthermore, the brand has a huge global presence with global production hubs.
The brand also produced official timepieces for Tour de France from 1992 to 2016. Festina specializes in practical chronograph wristwatches and inelegant dress watches. Overall, the brand's wristwatches fit modern men and women.
Underrated Model
One watch you will find particularly interesting is the Festina Boyfriend, which has rose gold and silver color scheme. This timepiece features a 36mm 316L stainless steel case and a matching bracelet containing rose gold links.
The timepiece also has baton hands designed with luminous elements and stone-studded indices. This timepiece has a mineral crystal glass that protects the dial and its accompaniments. Additionally, the watch runs on an analog movement and has a water resistance of 50m.
MeisterSinger is a relatively young and underrated watchmaker from Germany. The brand produces outstanding, high-concept wristwatches that combine modern and traditional concepts. Established in 2001, the brand has conjured some interesting timepieces.
This brand is so outstanding with its vintage-inspired appearances, award-winning designs, and otherwise contemporary details. The brand draws its inspiration from 15th-century tower clocks. Hence, the timepieces only have a single hand that tells time instead of the regular two to three hands.
Underrated Model
One good thing about the watch we will mention next is its affordability. Although the MeisterSinger Classic is affordable, it has many features and is a highly dependable and solid watch option. The watch comes with a stainless steel case. Additionally, the ivory dial is protected by a domed sapphire glass. The watch also has Arabic numeral hour markers and a thin black hand.
18. Nixon
Nixon is a demonstration of the true American timepiece dream. The brand launched in 1997 and has remained an integral part of the watchmaker industry. Initially curated for a youthful audience, the brand produces outstanding timepieces for adventure lovers.
Underrated Model
One timepiece you must not overlook here is the Nixon Sentry. The timepiece stands out due to its brushed bracelet, case, and gold-colored scheme. Hence, the timepiece looks outstanding even from a distance.
The brand embodies its "simplicity is beauty" in this watch design. Thus, you will only find a simple date-day feature on the dial and baton hour markers. Asides from its three-hand bracelet, the timepiece also has a Miyota quartz movement.
Ball is one of the interesting watchmakers among the lesser-known watch brands. Interestingly, the brand offers some of the most advanced wristwatches with outstanding aesthetics. Originally from Cleveland, U.S., the brand pays its designs homage to the American railroad industry.
Underrated Model
If you want a subtle timepiece that does not have an overwhelming design, you can consider the Ball Engineer III Pioneer. The timepiece features a 40mm stainless steel case and has a bracelet made from a similar material. Asides from the magnified date display, the black dial features Arabic numeral and baton-style indices. Additionally, the wristwatch has dauphine hands that fit with specially designed tritium gas tubes.
Bremont is a British luxury brand specializing in chronometers for the aviation niche. The brand draws inspiration from British engineering; hence, Bremont has technologies like the Anti-Shock, TRIP-TICK case, etc.
Most of Bremont's timepieces are usually donned by members of the armed forces. To prove its commitment and excellence to superior watchmaking, the brand has won several awards for its outstanding designs.
Underrated Model
An underrated model from this brand is the Bremont ALT1-C Friffon-R-S. The watch features a 43mm stainless steel case and has a black leather strap. The dial has a stark black color that contrasts well with the Arabic numeral hour markers.
Additionally, the watch features Supr-LumiNova-coated hands with two sub-dials with a chronograph function. The wristwatch also has a date window at the six o'clock marker. Furthermore, the timepiece has a sweep seconds hand with an automatic Caliber 13 movement. The watch features a 42-hour power reserve.
21. SevenFriday
SevenFriday produces ultra-unique and futuristic timepieces that do not stick to the status quo. If you love Swiss luxury watches that stand out, you will love rocking timepieces from SevenFriday.
Underrated Model
An eye-catching wristwatch from this brand is the S-Series which comes in a 47mm case. The wristwatch has a stainless steel bezel and case that matches the padded and embossed black calfskin leather strap. Additionally, the watch has an anti-reflective mineral glass for protection. The dial features an antique brass PVD=coated metal that covers its surface.
Buying Guide
Getting the best lesser-known watch brands could pose a problem to watch lovers. Hence, we have collated this buying guide to help you make the most of your shopping experience.
Material Used
The watch material is one of the essential things you need to consider when picking your timepiece. You will typically see different watch materials like gold, platinum, etc. If you have the money, you can consider gold or platinum-plated wristwatches. If not, you can opt for cheaper stainless steel options.
Buying Objective
You need to understand why you need to buy a watch before you pick one. There is no need to buy a sports watch with a water resistance of up to 300m if you do not use it for diving. Instead, you can go for classic watches with more designs that suit your taste.
Watch Movement
There are outstanding watch movements you can consider. You will find manual or automatically wound mechanical watches, including other watch movements, when you go to the market. The movement you pick depends on your preferences.
Frequently Asked Questions
What is the most underrated watch brand?
There are many underrated watch brands you will find on the market. The most underrated of them depends on your choice and design.
What are the big three watch brands?
The watches that make up the big three include Patek Philippe, Vacheron Constantin, and Audemars Piguet.
Which is the No. 1 watch brand in the world
There are many outstanding watch brands on the market. However, Patek Philippe ranks as one of the best so far. The watch bests the 1950s Swiss watch brands known to stand out.
Who makes the best inexpensive watch?
Many brands make the best inexpensive watches. We have considered 21 such brands on our list to give you variety while looking for the most underrated watch brands to patronize.
Conclusion
We have considered the 21 best lesser-known watch brands in our article. Our roundup includes some of the best brands you may not have known. Although you may find some popular names on our list, these brands have some lesser-known watch models with outstanding features. Thus, we have included such models in our roundup.
We have also included a buying guide and a FAQ section to help you gain insight into the best-underrated watch brands. You can use our buying guide and FAQ section to improve your shopping experience. If you need the most underrated yet top-tier watch brands, our list helps you get the best.