20 BEST Swiss Watches Under $2,000  (Most Value for Money!)
When crossing the border from Italy into Switzerland, you'll find some noticeable cultural differences in cleanliness and order. Both countries are full of beauty, rich heritages, delicious cuisines and striking fashions, but the Swiss are beyond fastidious, in contrast to their more relaxed Italian neighbors.
Even the typical petrol station restroom floor is spotless. They're also on-time. Being prompt is a sign of respect in Swiss culture. So, while your Italian friends might offer a more swinging party scene, the Swiss are the ones you want manufacturing your timepieces.
There are many 'best watch lists' in the under $2000 category, but few that focus exclusively on Swiss-made watches. First, what makes a watch Swiss-made? In 2017 the Swiss government tightened the rules for what qualifies as Swiss-made. According to A Blog to Watch they include:
"At least 60% of the production costs of a watch taken as a whole must be Swiss-based."
"The movement must still contain at least 50% Swiss-made components in value (not in quantity) and at least 60% of the movement's production must be generated in Switzerland."
"Last but not least, it also specifies that the technical development of a 'Swiss Made' watch and movement must be carried out in Switzerland. Smart watches are also included for the first time."
Is the premium for Swiss-made worth it? According to Lloyds Auctioneers and Valuers, the mechanisms used in Swiss watches are of the highest quality materials. The gears are made of metal and movements are handmade and serviceable.
They're typically encased in superior materials, like surgical steel, to guard against corrosives. The faces are protected by sapphire crystal, which shouldn't scratch and crack, with normal or even more active use. This means, if properly cared for, these watches can last a lifetime or multiple lifetimes.
This is in sharp contrast to some of the fast-fashion or digital watches, that may keep excellent time, but aren't built to last. There's something to be said for things that are well engineered, functional and exquisite. It's the mark of a refined, worldly individual, who possesses the compacity to value such things and that's why a Casio on your wrist sends a very different message than an Omega.
Of course, not everyone can afford a $25,000+ Rolex, but it's not just a matter of having the most expensive or recognizable brand. A luxury timepiece doesn't have to be a shallow statement about the size of one's bank account, it can express more nuanced subtleties of one's interests and tase… and as they say, you can't buy taste.
Perhaps you possess a love for flight or a drive to explore the depths of the sea. Maybe it's racing cars, black-tie dinners with the movers and shakers or you're the type who can read a financial prospectus and also roll up your sleeves on the factory floor. There's a luxury watch to suit every need and interest.
The purpose of this list is to help you identify some of the brands and models that are not only quality timepieces, at a price, but also ones that might fit the many facets of your life and style. There's a story behind each brand and the spirit of the watchmakers and the elegant, daring, pioneers who wore them, that connects all who adorn their wrists with these purposeful and beautiful pieces of art.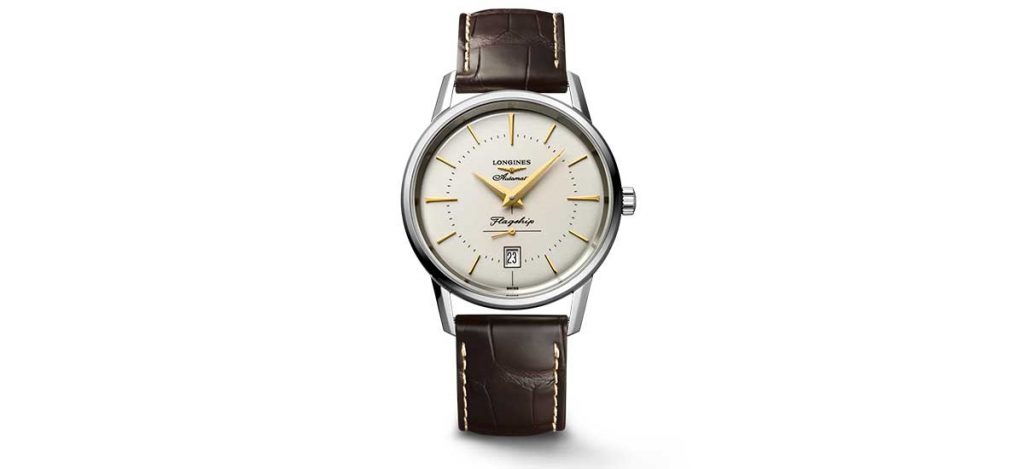 Founded in 1832, Longines has a long, storied heritage. While it comes in different dial color and strap configurations, this dress watch is at its best in black. Its simple, yet refined black face, and rose gold toned hands, paired with a black leather strap, exudes class.
Whether you're a young executive on his way to the top or the chairman of the board, this watch speaks to one's solid grounding in legacy, while keeping a foot in the modern and progressive. It's an elegant, balanced watch, for the one who knows where they came from and where they're going. Case size 38.5mm. It's a Mechanical Automatic, Caliber L615. Features include hours, minutes, seconds and date. Water resistant up to 30m.
Price: $1,775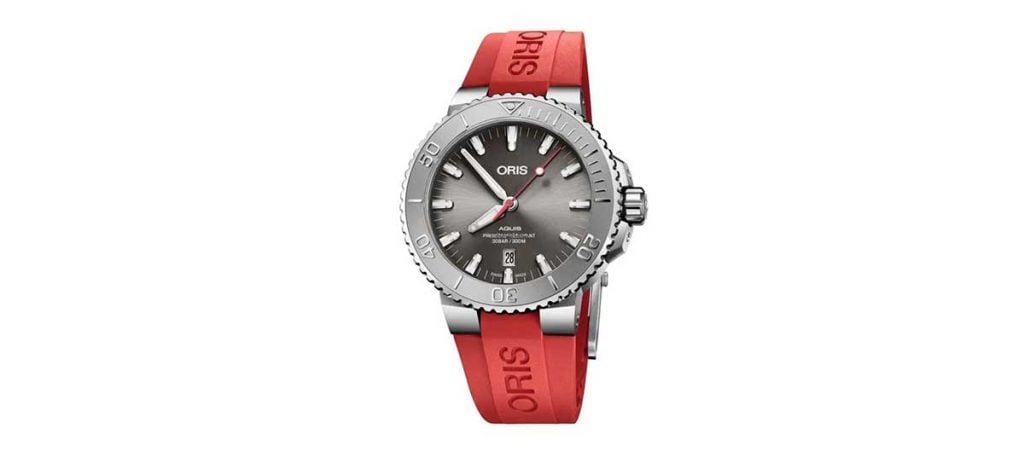 Oris executes a perfect dive watch in the Aquis model. Its design is simple, classic and readable. It's a trendsetter, not a follower. With just a quick glance one can immediately tell it's an Aquis. The grey face and red rubber strap are a bold paring, just like the divers that brave the elements and perilous sea creatures, to explore the depths of our oceans.
It's a high-performance watch that doesn't disappoint, with features that include hours, minutes, date and rotating bezel. The case is a solid stainless steel with a width of 43.50mm. Water resistant up to 300m.
Price: $1,900 (Source: https://www.exquisitetimepieces.com).
3. HAMILTON INTRA-MATIC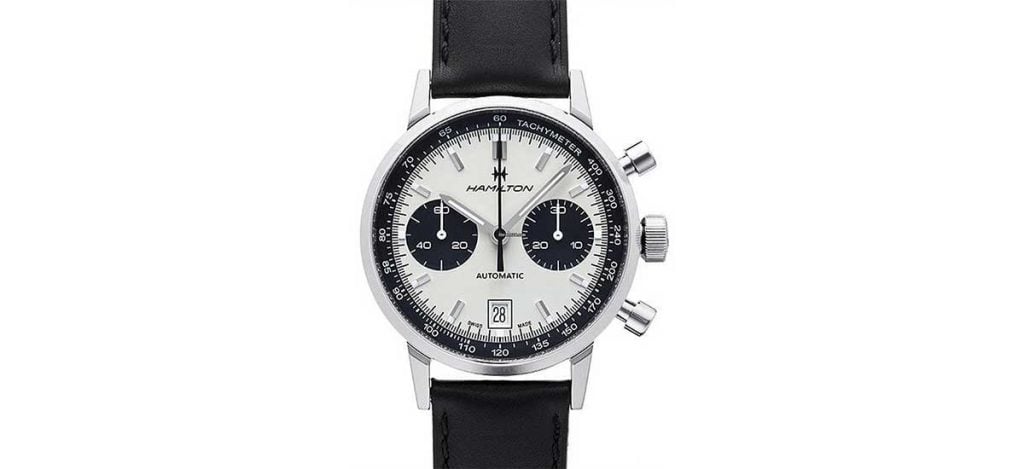 While Hamilton is an American company, with a noted World War II heritage, they moved their manufacturing to Switzerland. The Intra-Matic might just be one of the best value propositions on the market, with a strong build quality. Its styling is both sporty and classic, as a modern reworking of the original 1968 design.
The 'panda' white and black face paired with the mesh-like stainless steel bracelet, is especially attractive. The case size is 40mm. It's an automatic movement, powered by the Hamilton Caliber H-31 with a 60-hour power reserve and dual chronograph and day functions.
Price: $1,489
4. TISSOT GENTLEMAN POWERMATIC 80 SILICIUM SOLID 18K GOLD BEZEL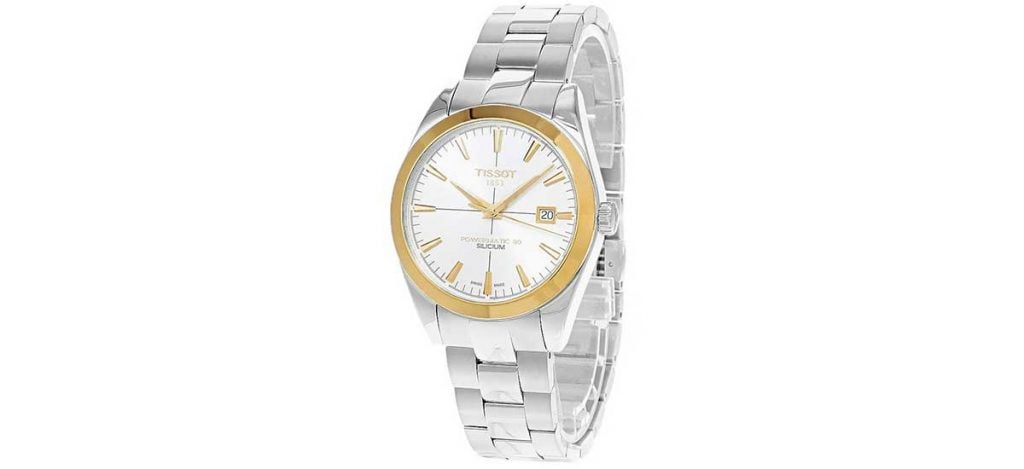 From a watchmaking heritage that predates Rolex by half a century, comes the Tissot Gentleman Auto. The style and details of this watch, with its large crown and its two tone, stainless steel and rose gold case, paired with a three-link, center polished bracelet, make it a true head-turner. One that could be mistaken for a watch many times its value.
In fact, this watch sans gold, can be found for under $1000. It's both modern and precise. Its arguably one of the best Swiss watches for the price. This is the perfect watch for someone with Rolex level style, but with the sensibility of an accountant. It's a clean looking, dress/sports watch. Case size is 40.0mm. It's an automatic movement with an 80-hour power reserve. Water resistant up to 50m.
Price: $1,575
5. DOXA SUB 300T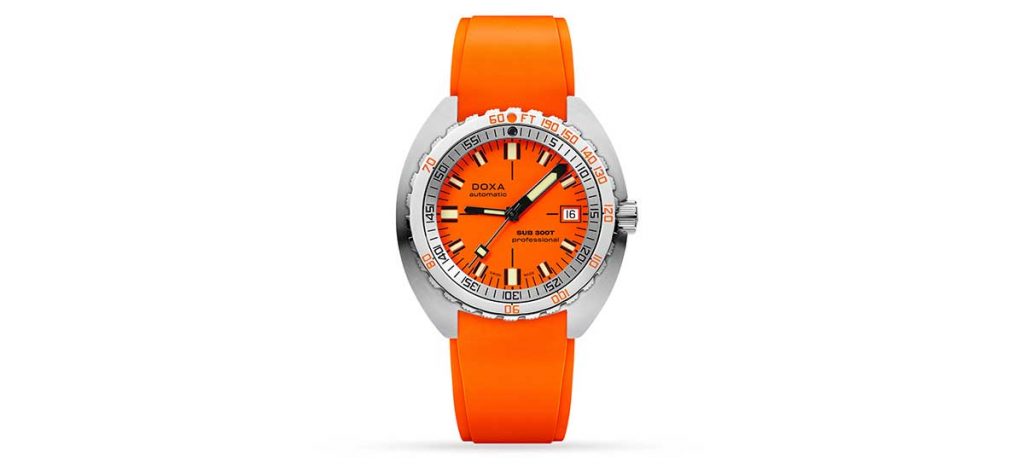 Doxa has a celebrated history in the watch diving space, going back to the early days of the sport. The Sub 300T comes in six different colors and of course includes Doxa's famed decompression bezel. It has an excellent, up-market bead-of-rice bracelet. It's a cool looking watch with useful dive features.
Whether you're someone who's traveling the high seas looking for the next deep-sea expedition or you're a yachtsman who prefers a dry, warm, teak-lined cabin, you can't go wrong with this watch and at this price… might as well get a couple! Case size is 42.50mm. The movement is an ETA 2824-2 automatic. Water resistant up to 1,200m.
Price: $1,890 (Source: www.doxa.com).
6. TUDOR 1926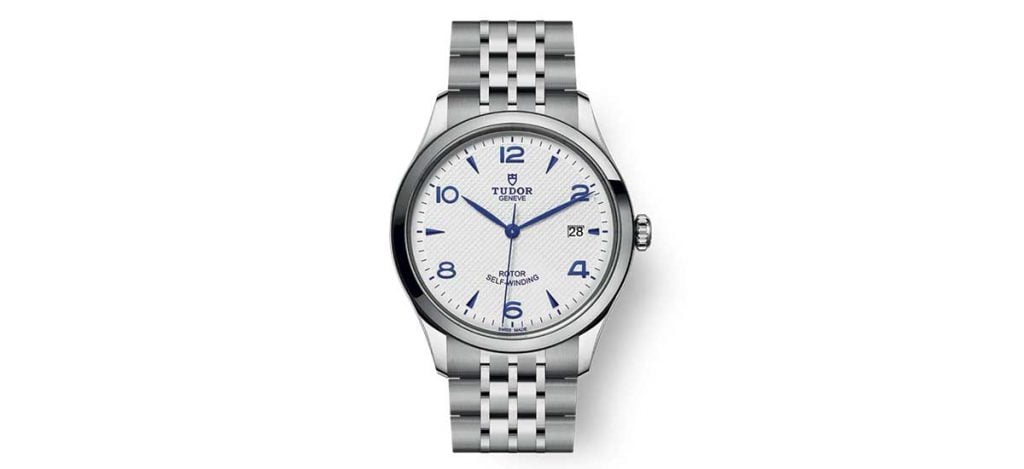 Tudor, known in another era as a baby Rolex, has since distinguished itself in the market. Given that Tudor was created by the founder of Rolex, there will always be comparisons. I like to think of Tudor as a more youthful, modern twist on a classic.
In American terms, Rolex might be the Hamptons of the watch world. Tudor, in contrast, is the young bull. Perhaps more akin to a Manhattan, where the nouveau riche are still making their mark. Tudor's most famous model is undoubtably the Black Bay, which is an excellent dive watch, but one often overlooked and under-appreciated model is the 1926.
Its name derives from the year Tudor was registered and it certainly captures the original spirit of the brand. This model comes in four different case sizes and color combinations, with options for men and women. One real stand out is the opaline and blue dial.
The hands and numerals are a sharp sapphire blue, set against a white-silver face with a subtle waffle pattern design. The watch has a thin profile with a refined bracelet. It's an excellent everyday watch that perfectly straddles the line between dressy and sporty. Case size is 41.0mm. The movement is a Sellita Caliber SW200 automatic. Water resistant up to 100m.
Price: $2,000 (Source: www.tudorwatch.com).
7. TAG HEUER FORMULA 1 AUTOMATIC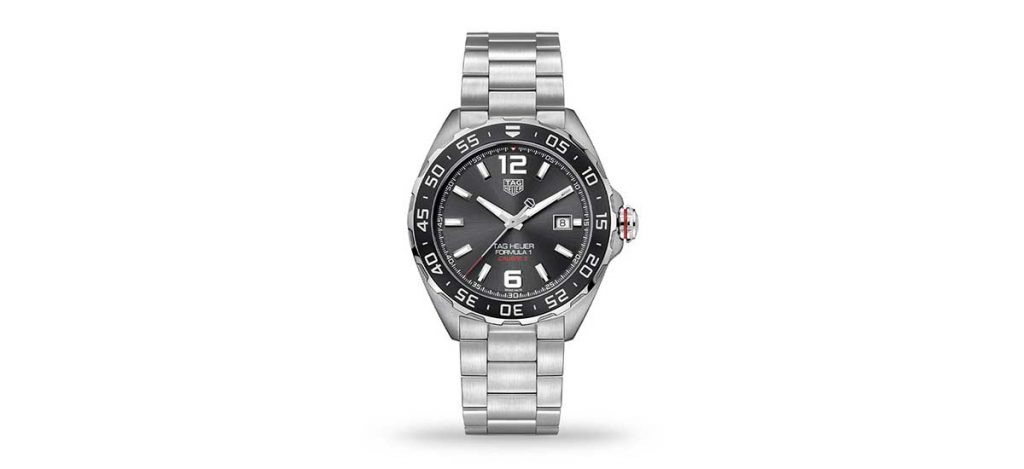 TAG has a respected and celebrated motor racing heritage. For those who like fast cars that get them places on time, comes the formula 1 collection. It's priced appropriately at an entry level for the brand. The watch features a rotating bezel and looks fast and cool with its red and black chronograph face and red rubber strap.
While the model highlighted here is a quartz, they do offer a version with a basic automatic and a handsome stainless-steel band for right around the $2000 mark. Case size is 43.0mm. Quartz movement. Water resistant up to 200m.
Price: $1850 (Source: www.tagheuer.com).
8. RADO CAPTAIN COOK
If you know, you know… Rado is the insider's watch brand, especially among a hip, upmarket crowd. The stylish, vintage 60s design is matched by its up-to-date features, to suit even the most discerning needs of the modern watch buyer.
Rado is known for their unique, scratch resistant materials and their Easy Clip System that allows one to switch out the bands effortlessly, without the need of special tools. It looks especially smart and readable with a blue face and white hands and numerals, paired with a bead-of-rice bracelet. It comes in many color and strap combinations. Case size is 42.0mm. Automatic movement with 80-hour reserve. Water resistant up to 200m.
Price: $2000 (Source: www.rado.com).
9. ALPINA SEASTRONG DIVER 300 AUTOMATIC CALANDA
Alpina is another Swiss brand that's become known for its quality, accuracy, endurance and style. They're billed as the timekeeper of choice for sportsmen, engineers, alpinists, pilots and divers. The Calanda name is derived from the 1913 cargo ship, which was the first to be recorded on the Swiss boat register and was a symbol of neutrality, during the Second World War, ensuring supplies could reach Switzerland by sea.
The model highlighted sports a matt black dial with grained finishing and white markers on the outer ring. The luminous hands are outlined in silver and the white second hand is garnished with a red triangle. The strap is black and grey recycled pet. This is a limited edition to 300 pieces.
The respecter of the environment will appreciate the recycled stainless-steel case and strap. That doesn't mean however that quality has been sacrificed, as the materials are only sourced from the highest quality pure steel. Case size is 42.0mm. AL-525 Caliber, Automatic movement with 38-hour reserve. Water resistant up to 300m.
Price: $1895 (Source: www.alpinawatches.com).
10. HAMILTON KHAKI AVIATION CONVERTER AUTO GMT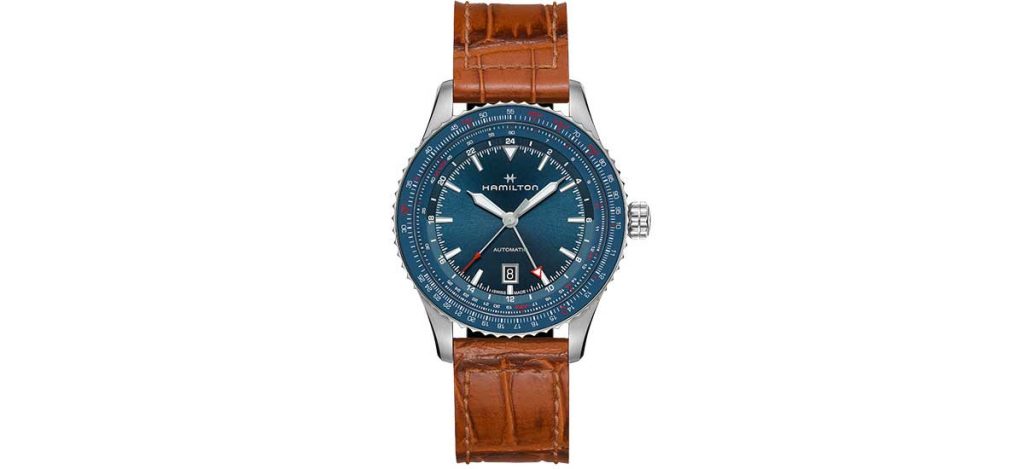 Hamilton aviator watches are known for their dependability and the company's distinguished service during World War II. Easily mistaken for a more expensive Breitling, the Khaki Aviation Converter is perfect for the modern pilot and world traveler.
It features a bi-directional, rotating slide-rule bezel, which converts units and currency and a GMT function to keep you on-time in any time zone. It's gradient blue dial with white and red markers is a crowd pleaser and when paired with a tan calf leather strap, it looks extra keen in the cockpit or at the office. Case size is 44.0mm. Automatic movement with 80-hour power reserve. Water resistant up to 100m.
Price: $1,445 (Source: www.hamiltonwatch.com).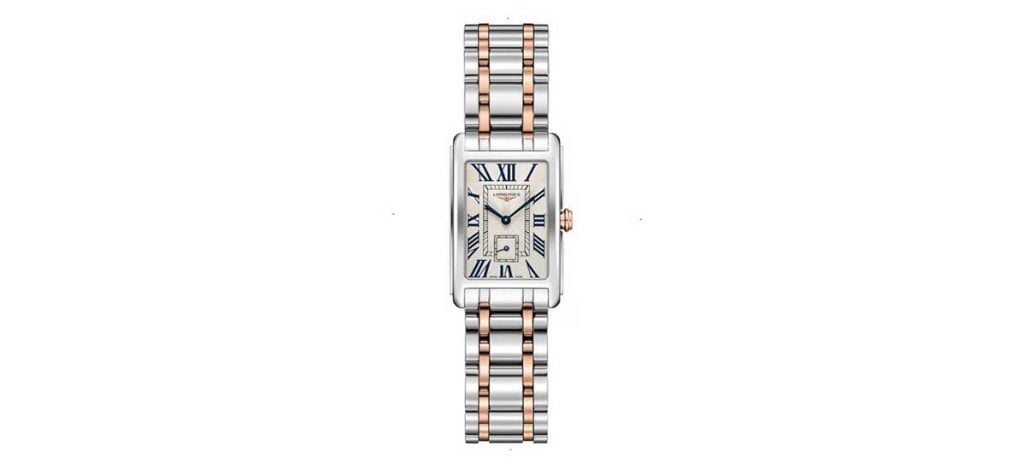 Longines dates to 1832, making it one of the oldest luxury watch manufactures still in operation. They're mostly known for their early chronographs and dive watches, though they cover just about every watch type. Here's something for the ladies. La dolce vita is Italian for the 'sweet life' and this watch is that.
Its rectangular case and roman numerals are reminiscent of Cartier's pricier Tank collection. The two-tone rose gold and stainless-steel case with sliver "flinqué" dial, painted black roman numerals and blue steel hands are the epitome of class and sophistication.
This is a well-priced dress watch that adds a nice touch of strength and femininity to one's wrist, whether dressed up or down. Case size is 20.80 x 32.00mm. It has a quartz movement. Water resistant to 30m.
Price: $1900 (Source: www.longines.com).
12. OLLECH & WAJS P-104 S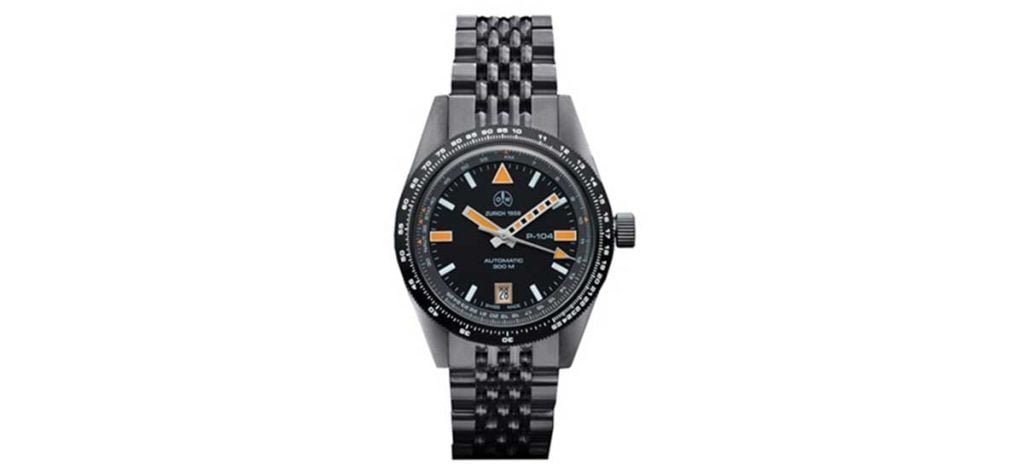 Ollech and Wajs is one of the best kept secrets in the watch industry of the last six decades. They were the first watch company to be given a depth rating of 1000m and they've been tested in the world's oceans and the Artic Circle. Worn by skindivers, astronauts, soldiers and MI5 British agents, they've returned from obscurity to resurrect their popular tool watches of the 60s and 70s.
The model P-104 S does far more than its deceptively simple appearance might lead you to believe, at first blush, for a non-chronograph pilot's watch. The bezel allows for quick calculations of airspeed, navigation and wind. The black face with white and orange markers and Super-LumiNova hands give the watch a unique look. The stainless-steel beads-of-rice band has a double lock deployant clasp.
Case size is 39.56mm. It has an ETA 2824-2 automatic. Water resistant to 300m.
Price: $1400 (Source: www.ow-watch.ch).
13. MONTA ATLAS GMT 24 HOUR DATE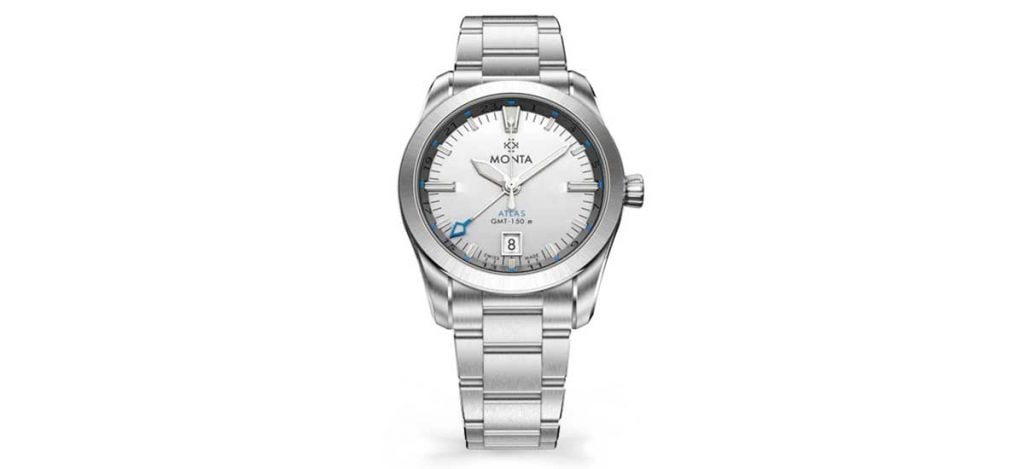 Monta is a Swiss-made, American based, boutique watch brand, out of St. Lous, Mo. It's a micro-brand that's worth a serious look. While they're a young company, they have shown a serious commitment to maintaining the centuries-old tradition of fine Swiss watch making.
Their work is earning the respect of watch aficionados and has proven competitive, even against more established makers. The Atlas GMT feels more opulent, engineered and refined, than its modest price would suggest. Its atlas blue dial, with its lacquered finish, gives the timepiece a wet look. It's an exclusive shade to Monta and looks particularly striking against the red-tipped GMT hand, giving it a sporty feel.
The sword style, Super-LumiNova hands are easy to read. The quick-adjust clasp with its three micro adjustments is a premium feature typically found on more expensive timepieces. Case size is 38.5mm. It has a Monta Caliber m-23 automatic movement with a 56- hour reserve. Water resistant to 150m.
Price: $1950 (Source: www.montawatch.com).
14. ZODIAC LIMITED EDITION SUPER SEA WOLF WORLD TIME AUTOMATIC STAINLESS-STEEL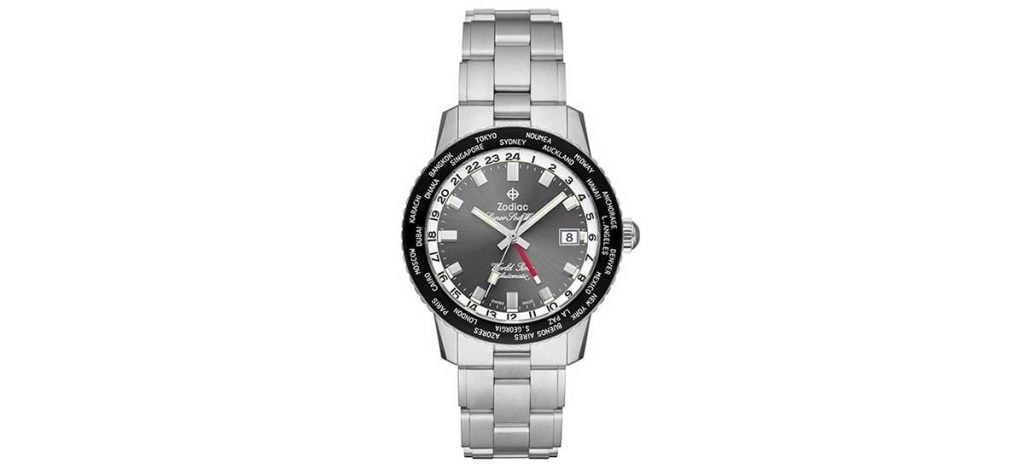 Ariste Calame, the son of a watchmaker, founded Zodiac in 1882. He was driven to make the most accurate watch in the world. That led to a line of pocket watches with their own calibers and movements. Today, Zodiac, owned by Fossil, are most known for their Super Sea Wolf diver watches.
Their zenith in the American market was in the 50s and 60s. Often remembered for their black and white magazine ads featuring adventurous skindivers discovering priceless lost treasures and lines like, "Most popular watch in ¾ of the world," in reference to the fact that ¾ of our world is underwater. Their designs are both modern and a throwback inspiration to their mid-20th century tool watch designs.
The Limited-Edition Super Sea Wolf World Time Auto comes in four color combinations. The selection I've made is their silver case and face with its snappy red bezel. The silver stainless-steel bracelet includes a lobster clasp. Their GMT world time features make it a popular watch for globetrotters.
Case size is 40.0mm. Automatic movement. Water resistant to 200m.
Price: $1795 (Source: https://www.zodiacwatches.com).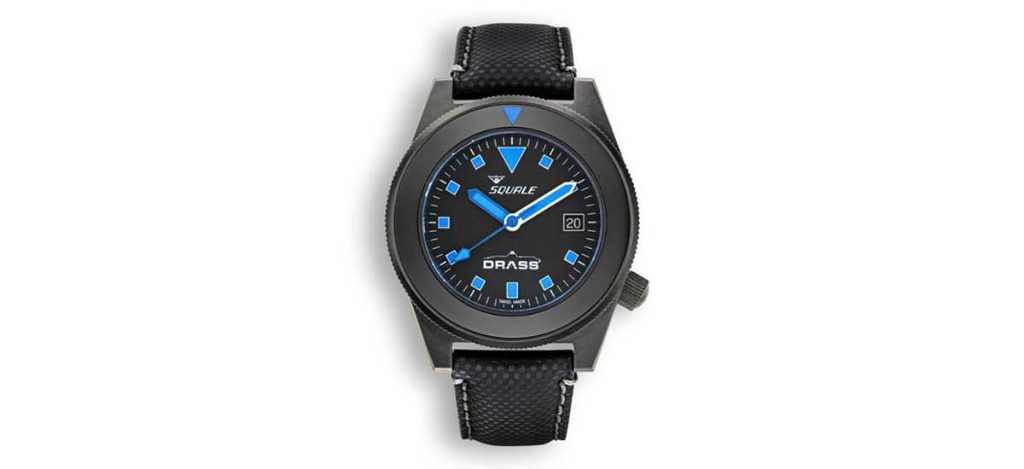 More than six decades old, Squale, a French word for shark, was founded in Switzerland, relocated to Milan and has since returned to Chiasso, Switzerland. They have supplied timepieces to the Italian Air Force and Navy. Known mostly for their dive watches, the company builds durable, stylish timepieces. This Periscope model was made in partnership with Drass, the Italian submarine manufacture.
This design is based on Squale's most celebrated model, the Squale Master of the 70s. It features a 120-click unidirectional bezel and matt black face with no numerals. The indexes and hands are a Luminous, Blue Lume, which pop well against the black. Case size is 49.0mm. Mechanical automatic movement. Water resistant to 500m.
Price: $1340 (Source: https://www.exquisitetimepieces.com).
16. Maurice Lacroix Aikon Automatic
The Maurice Lacroix company is best known for their Masterpiece collection, which skyrocketed them to success in the 90s. That line features its own movement, made in house. Their watches are both well-made and arresting pieces of modern art.
Unfortunately, the Masterpiece collection is outside our price range for this list, but some pre-owned models can be found at reasonable prices. The Aikon model is fortunately priced in our range and offers the same beauty and next level engineering, short of the inhouse movement. Its silver indexes are set against a fetching blue sun brushed, Clous de Paris pattern dial with a stainless-steel bracelet.
The watch features include hours, minutes, seconds and date, with a solid back to the case. The level of detailed finishing work on this timepiece is notable and makes it well worth the price. Case size is 39.0mm. Mechanical automatic movement with a 38-hour reserve. Water resistant to 200m.
Price: $2000 (Source: https://www.exquisitetimepieces.com).
Louis Erard is a privately held company headquartered in Le Noirmont, Switzerland, in the Canton of Jura region, known for its watchmakers. The company founded the La Chaux-de-Fonds watchmaking school in 1929. Louis Erard has collaborated with Leeds United Football Club and Ultima Sports on collections. In 2020 the company was nominated for the GPHG Challenge award.
The Heritage collection offers two color options, a blue dial inspired by the magical "L'Heure bleue," or 'blue hour,' and a green sunburst dial. I've chosen the green dial, with its satin finish, as it's said to be inspired by the nature and virtue of the Swiss Jura. The silver hands and markers look especially sharp against the green to black gradient of the face.
The 12 o'clock position reveals an openwork glimpse of the Sellita SW200-1 automatic winding movement. A movement that is celebrated by horologists for its accuracy. This is an excellent dress watch that will be noticed on the wrist, with its black crocodile style calf leather strap. Case size is 41.0mm. Mechanical automatic movement. Water resistant to 50m.
18. ORIS BIG CROWN PROPILOT BIG DAY DATE
Finally, a true pilot's watch with a design that breaks out from the pack. The watch layout is clean and simple, but Oris adds some remarkable finishing details, like its angled coin edge bezel motif. This is a handsome pilots watch that functions well as an everyday and, in my opinion, could be paired with a brown leather bomber jacket and aviator sunglass for a smashing good look!
The ProPilot offers a plethora of variations around its basic design, along with several dial color options. The model I've selected offers a grey dial, matched with an olive textile strap. The face is especially readable with large numerals and given that its water resistant to 100m, it offers some versatility in its use. Case size is 44.0mm. The automatic movement is made in house and features a day and date. Water resistant to 100m.
Price: $1900 (Source: https://www.oris.ch).
19. Fortis Flieger F-39
Founded in 1912, Fortis made its mark on the watch industry, as the inventor of the first automatic watch. They also introduced some of the first waterproof watches to the market. The brand has become known for its rugged, accurate, automatic tool watches. Worn by movers and shakers, jetsetters, visionaries and explorers, their watches have been tested in space and just about every challenging environment on earth. 
The Flieger F-39 is a versatile watch, which adds a screw-down crown and rotating, secondary-time-zone bezel, to its already impressive list of pilot functions. The F-39 offers an exceptionally clean-cut look, with a black opalin dial and Superluminova X1 with green afterglow hour and minute hands and markers, with an orange second hand. All paired with a black leather strap.
Case is 41.0mm. Automatic movement with bi-directionally rotating special rotor. Water resistant up to 200m.
Price: $1,900 (Source: www.fortis.com).
20. MIDO OCEAN STAR GMT SPECIAL EDITION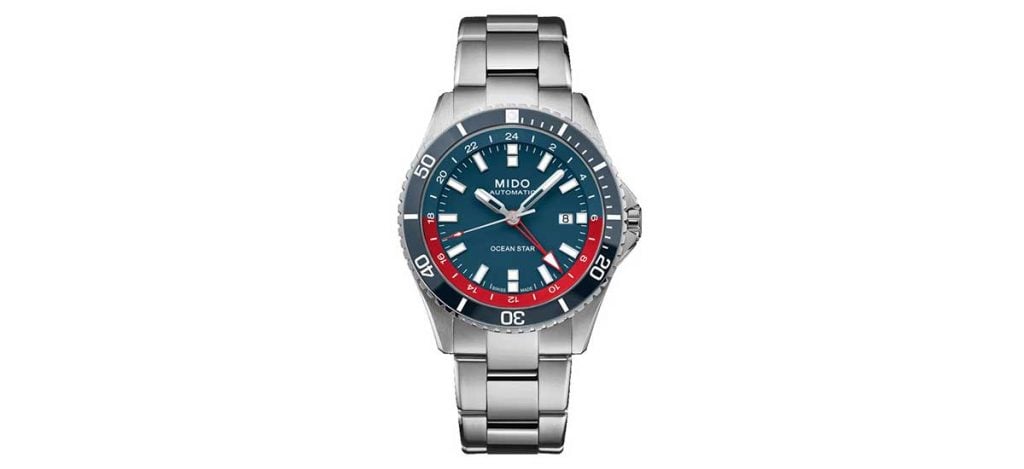 Founded in 1918 and headquartered in Le Locle, Switzerland, Mido, Spanish for "I measure," is a watch company that too often flies under the radar. Mido produces some high-quality timepieces that deserve another look. Some are even calling the Ocean Star GTM the best value Swiss GMT around.
The dial of the Ocean Star GMT Special Edition is a rich blue with white markers, while the hour and minute hands are outlined in silver. The tip of the second hand is outlined in red, as is the GMT hand. The day/night indicator is finished in a two-tone red and blue.
Not only is this a dive watch, but it also functions as a true GMT or Traveler's GMT and includes an engraving on the back of the case, showing all the time zones of the world. The watch comes with two bands, a stainless-steel bracelet with a satin finish and a NATO-like strap. I think it looks especially handsome with the red, white and blue strap.
Case size is 44.0mm. Automatic movement with 80-hour power reserve. Water resistant up to 200m.
Price: $1,390 (Source: www.midowatches.com).
PRE-OWNED OPTIONS
While not officially included in our Top-Twenty list, I'll mention two other exceptional Swiss-made watches in the pre-owned category, for your consideration. When buying a pre-owned watch, please consult a reputable dealer, like Exquisite Timepieces, who can help you find the luxury timepiece you're looking for and ensure its authenticity and the quality of its condition.
1. PRE-OWNED OMEGA SPEEDMASTER
Many horologists and watch enthusiasts alike, consider the Speedmaster to be the greatest mechanical sports watch ever made, but it's also an excellent allrounder. It was introduced in 1957 as a sport and racing chronograph, born out of Omega's legacy as the official timekeeper for the Olympic Games.
You're most likely to find Speedmasters from the 80s through the 00s in this price range. Many with useful features like date and multi-calendars, plus special editions. If you're starting a new watch collection, I like the versatility of this watch. It can just as easily be worn with jeans and a t-shirt, as it can with a suit.
This watch serves as an excellent introduction into the luxury watch market and carries with it the history of one of the oldest, most reliable and respected watchmakers in Switzerland. Some Chronograph dials can look too busy, but Omega does an excellent job of making these look clean and timeless. These watches come in various case sizes, with automatic and Manual-Wind Chronograph movements.
Price: $1,500 – $2,000 (Source: www.hiconsumption.com).
2. PRE-OWNED BREITLING AEROSPACE EVO
First released in 1985, the Breitling Aerospace was marketed to pilots and jetsetters who needed a timepiece with multi-functionality. What made it unique was its LED displays, titanium case and large numerals on the dial. I know a celebrated American screenwriter, who's also a Captain in the Israeli Defense Forces, that uses this as his daily.
Whenever he pitches one of his stories to a studio boss or wealthy investor, he has a habit of taking off his Aerospace and setting it on the conference table in front of him. It's his way of showing he has respect for his audience's time and his pitch will be a tight five-minutes. Whether you're wearing this in the cockpit, in a boardroom or on a battlefield, this watch gets the job done.
The Titanium casing is strong, but light and therefore the fit of this watch is especially comfortable on the wrist. It comes in various case sizes. There aren't too many quartz movements that could make a 'best luxury watch list,' but this is surely one of them. It comes in chronograph and GMT. Many models include alarm, timer, minute repeater, day/date and night vision features.
Case size 40.0mm. Quartz. Water resistant up to 100m.
Price: $1,950 (Source: New York Jewelers).
CLOSING THOUGHTS
Subjectivity comes with the territory of any 'best watch list', but we think our list offers our readers a smattering of excellent, well researched choices from dive, dress, everyday, chronographs, GMTs and select microbrand timepieces. Swiss-made watches come with a premium and a $2000 price cap significantly narrows the field, which is why you won't find too many Swiss only lists at this price point, in your google search.
We therefore hope this list serves to guide you in your search for your next truly remarkable, quality timepiece, at a steal! Remember to contact your knowledgeable friends at Exquisite Timepieces for help with all your watching buying, trading selling, and repair needs and take advantage of their quick online chat service.
About Exquisite Timepieces
Established in 1998, Exquisite Timepieces is your one-stop shop for all things luxury watches! We are an authorized dealer for 60+ luxury watch brands including Omega, Hublot, Seiko, & Longines! We are proud to showcase one of the world's largest pre-owned watch collections, including renowned brands like Rolex and Patek Philippe. Check out our brand new watch arrivals here and popular pre-owned listings here.