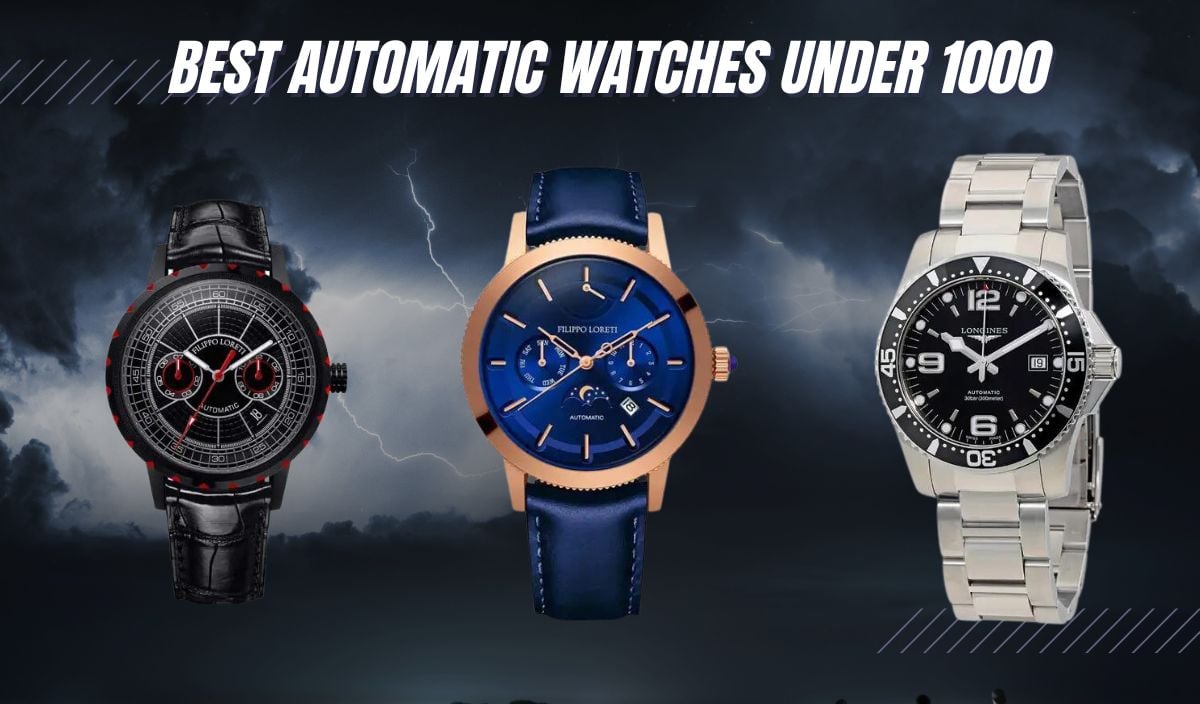 25 BEST Automatic Watches Under $1000 (Value for Money!)
Anyone coming into the watch hobby in the last 30 years likely has a story or anecdote of when they first realized that not all watches require batteries.
As a millennial growing up in the 1980s and 90s, it made sense that all watches needed something to power them. And with the Swatch, Fossil, and digital Casio watches of the day representing the majority of timepieces I saw, it was clear that this must be the mode of power for all watches. Even the miniature grandfather wall clock in our living room was battery-powered.
It wasn't until my late teenage years that I finally learned that some watches, mechanical automatic watches, to be exact, were powered by something else. A mainspring, something wholly physical, without electricity and circuitry, as I had imagined in quartz watches being in all those years before.
What Is an Automatic Watch?
Automatic watches are a marvel of engineering and craftsmanship. Unlike quartz watches that rely on batteries, automatic watches are powered by the motion of the wearer's wrist. Inside the watch, there is a weighted rotor that spins as the wrist moves. This motion winds a mainspring that powers the watch's movement.
The mainspring is connected to a series of gears that regulate the timekeeping of the watch. One of these gears is the escapement, which controls the release of energy from the mainspring. The escapement allows the gears to move in a controlled manner, keeping accurate time.
To ensure the watch stays wound and functioning, automatic watches also have a power reserve. This power reserve is a small amount of energy stored in the mainspring that allows the watch to continue running for a given amount of time, even when not being worn.
Overall, automatic watches are a testament to the ingenuity and precision of traditional mechanical watchmaking. They combine sophisticated mechanics and a sense of timeless design to create a timepiece that is both reliable and aesthetically beautiful.
Brief History of Automatic Movements
It's believed that the first automatic watch movements were invented as early as the 1770s, with Swiss watchmaker Abraham-Louis Perrelet of Le Locle providing the most credible evidence for a successful design.
It was around 1776 or 1777 when his self-winding mechanism for pocket watches utilized an oscillating weight inside the watch, moving up and down to power it. That was also when another Abraham, Abraham-Louis Breguet, to be exact, became interested in automatic movements.
Breguet's first few attempts at a self-winding mechanism with a barrel remontoir proved successful. However, the manufacture was too expensive and complex to be sold en masse. It was then in 1779 when Breguet learned of Perrelet's watches. He poured over the designs and, through his studies, improved upon them, producing many self-winding watches well into 1810.
And yet, despite the advancements and patents filed up to this point, in the nearly one hundred years following Breguet's work, automatic watches continued to be rare until the introduction of the wristwatch in the 20th century.
After World War I, wristwatches became popular for their proven practicality and convenience on the battlefield. This led to a renewed interest in self-winding mechanisms, and various types (side-weight, center-weight, unidirectional winding rotor system) were soon applied in wristwatch form.
Perhaps most well known today is Rolex's "perpetual" self-winding rotor movement, first introduced in 1931, featuring a semi-circular shaped oscillating weight able to rotate 360 degrees freely in both directions, enabling their watches of the day to run up to 35 hours on a full charge (~70 hours is becoming the new industry standard).
Automatic vs Manual Wind movements
When considering mechanical watch options, it's important to note that automatic and manual watches have particular pros and cons.
Automatic watches, especially those from the 20th century onward, were developed with modern convenience and technical advances in mind. No longer needing to wind your watch meant less time needing to spend setting it if it died overnight, fewer chances of forgetting to screw down or push in the crown leading to water or moisture ingress, and less overall wearing down of the crown threads, which would lead to maintenance and repair costs down the road.
But, with these modern conveniences, it can also be argued that automatic watches lose a certain romanticism found with traditional manually wound watches. The ritualistic winding of your watch daily in meditation, the beauty and comfort of thinner cases (after all, a winding rotor adds additional thickness), and the often accompanied display casebacks allowing you to view the movement in full without obstruction from a winding rotor.
All of these attributes in manual watches lead to a more purist collector's approach to watchmaking, and you'll mostly find that the dressier traditional pieces will feature a manual movement. In contrast, the automatic watches in the market tend to be sports-centered, rugged, everyday pieces capable of taking a beating.
Automatic vs Quartz Movements
On the topic of quartz, we should also consider the benefits of automatic timepieces. If we're to accept that manual watches have a certain romanticism tied to their mechanical "purity", we can also apply this to automatic watches when positioning them against their quartz competitors.
Automatic watches being self-powered continue the tradition of mechanical horology, which was nearly wiped out in the 1970s and 80s during the Quartz Crisis. For this reason, along with the overabundance of cheaply made and widely available quartz watches in today's market, quartz often gets a bad name in watch collecting circles.
Yet, there are brands at the luxury and haute horology end of the spectrum creating their own quartz watches at the highest levels: Grand Seiko, and even independent darling, F.P. Journe, come to mind.
What can luxury quartz watches provide? Reliability, hyper-accurate timing (+/- 10 seconds a year, in some calibers), less servicing, and lower long-term costs due to fewer mechanical parts. On the flip side, automatic watches will be more prone to servicing, much less accurate (-4 to +6 seconds per day being COSC standard), and more susceptible to impact, wear and tear.
What to Look For in Automatic Watches Under $1000?
So, you've decided to go automatic. What are some considerations to make in the sub-$1000 watch category?
Brand
There are many watch brands that occupy the sub-$1000 price category. The most popular with the widest variety and range of styles are Seiko, Hamilton, Citizen, and Tissot, to name a few. Additionally, in the microbrand category, brands like Unimatic or Halios are independently run and often combine watch movements from outside manufacturers.
Category
Perhaps the most important is to understand your use case. Do you require an everyday watch capable of the rigors of daily activity? Perhaps something dressier for formal occasions? Or do you need something more specific, like a dive watch to serve as backup on your next dive trip? Or maybe a field watch to help you on your next hike?
Most of the watches we'll discuss fall under these categories, with dive and field watches being the most popular for their rugged reliability and practicality, as well as dress watch options for those inclined.
Movement and Power Reserve
Choosing an automatic watch is a conscious commitment to mechanical horology. While you don't need to be a dictionary on every single watch movement, manufacturer, and jewel count, exposing oneself to automatic watches in the sub-$1000 range can be very beneficial. It opens up the ability to better understand the common calibers and their respective power reserves and qualities often used by various brands in the range.
For example, the Seiko caliber 6R35, with its 70-hour power reserve (NH35 equivalent), is widely used across many watch styles and brands in this price bracket. Getting used to the terminology is a great way to foster an appreciation and deepen knowledge of the hobby.
Let's explore.
The Best Automatic Watches Under $1000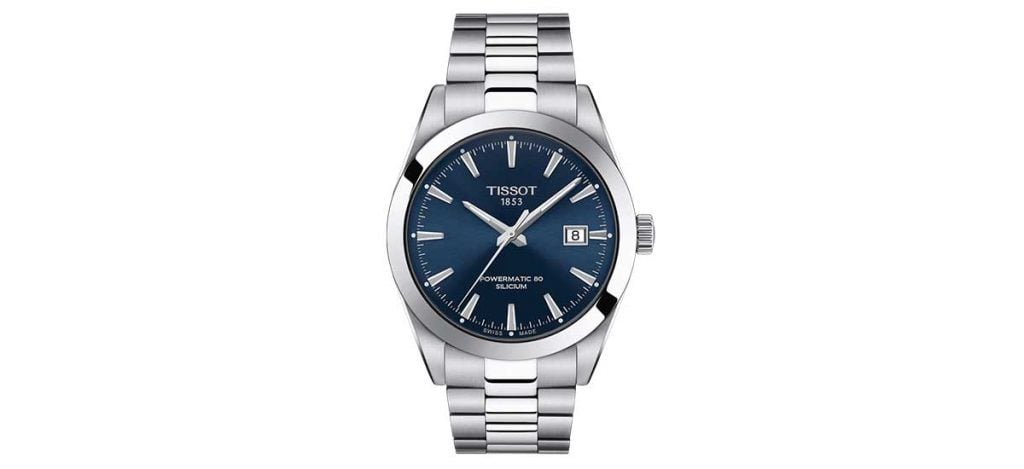 Tissot operates within the Swatch Group's expansive portfolio of brands, representing the sub $1,000 price point among its brethren brands like Omega, Blancpain, and Breguet. Despite occupying a relatively more affordable price point, Tissot punches well above its weight, offering products that beat out competitors nearly twice the price in form, finishing, and function.
The Gentleman Powermatic 80 Silicium is a perfect example of this. On paper and on the wrist, the Gentleman is a fairly straightforward watch toeing the line between sports and dress, with a 40mm diameter case, 48mm lug-to-lug, and 11.5mm thickness with inoffensive indices, hands, and dial text design.
But, where the Gentleman really shines is with its movement – the Powermatic 80 caliber with an 80-hour power reserve and silicon hairspring for better timekeeping and anti-magnetism. Both factors are incredible for a watch that retails at just under $800 and is feature sets more widely applied in timepieces multiples of this price.

Retail Price: $795.00
A 300m diver with dashing good looks, the Seastar 1000 Powermatic 80 is another great value proposition from the Tissot brand for those looking for something sportier and water-resistant.
Measuring 43mm in diameter, 49.6mm lug-to-lug, and 13.3mm thick, the Seastar is not a small watch by any means but should fit well, filling the slot as your modern diver.
And with its gradient blue dial, ceramic bezel (rarely seen on dive watches under $1000 until recent years), and 6 o'clock date window (so as not to upset dial symmetry), it's truly a looker.
Powering the watch is the Swatch Group's ETA Powermatic 80 movement. While the Seastar doesn't have a silicon hairspring or COSC certification, the 23-jewel automatic movement will still push 80 hours of power reserve – a useful feat when putting the watch down for a few days and picking it back up without needing to recharge it.
Just keep in mind the 21mm lug width, which might be a minor nuisance if you plan to wear it on aftermarket straps.
Retail Price: $725.00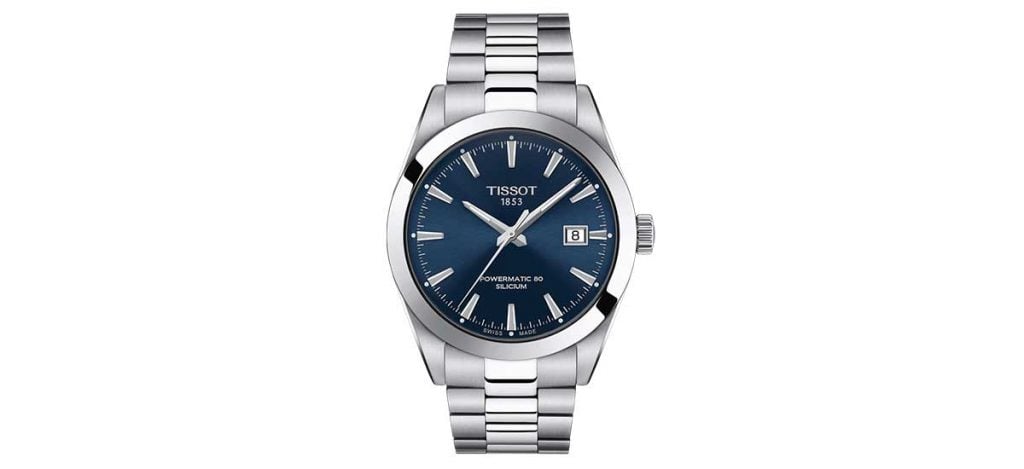 A smash hit ever since its debut, the Tissot PRX Powermatic 80 is a darling of the watch community for a good reason: handsome integrated steel bracelet styled looks, a solid mechanical movement, wide availability, and a number of attractive classic dial colors to boot.
The PRX came into the market just as the steel sports integrated bracelet craze started to hit, and even as other brands continue to put their best offerings into the fray, none have yet captured the charm of the PRX.
Looks aside, the Powermatic 80 housed inside the PRX is again a star. With an anti-magnetic Nivachron hairspring holding an 80-hour power reserve in a single barrel, the wearer is also treated to a sapphire display caseback offering a view of the movement and rotor.
Measuring nearly 40mm in diameter, 10.9mm thick, and 51mm lug-to-lug (from the actual bracelet point where the lug holes are found), the PRX should fit most wrists pleasurably.

Retail Price: $675.00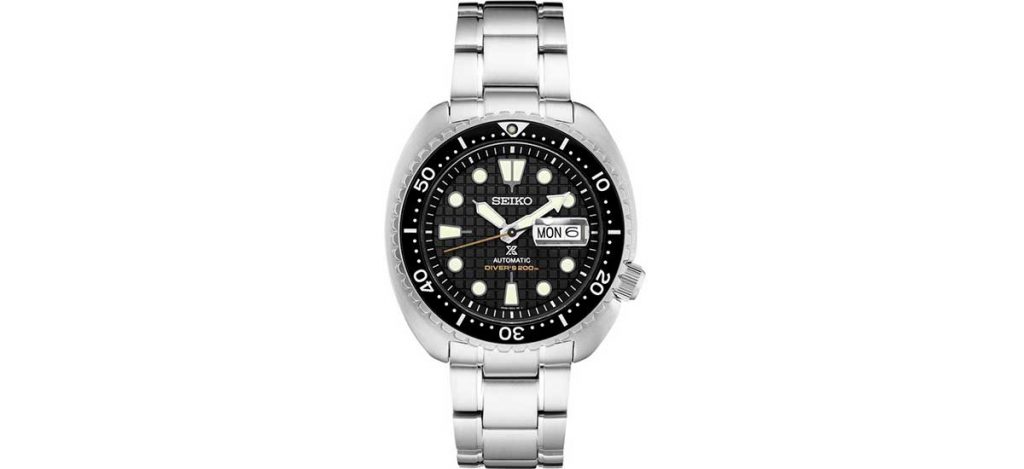 The Seiko SRPE03 "Turtle" is a timepiece that blends rugged style with functionality. The overall design of the watch is a nod to Seiko's rich history of producing dive watches, in particular, the 6309 originally launched in the 1970s into the 1980s.
Though previous iterations of the "Turtle" exist in the SRP777 line and its color variations, the SRPE03 serves as a bit of an upgrade featuring a sapphire crystal with date/day magnifier, anti-reflective coating, and a stainless steel bezel with ceramic insert, the latter a feature not commonly seen in watches within the price point.
Overall, despite the 45mm diameter case size (13.4mm thick with 47mm lug-to-lug), the watch wears well on a variety of wrist sizes due to the age-old "Seiko magic" of making big watches that wear small, in part due to the cushion case and relatively short lug-to-lug distance. With the added upgrades in the bold Turtle style, the SRPE03 is a great choice as a go-to diver in any watch collection.
Retail Price: $625.00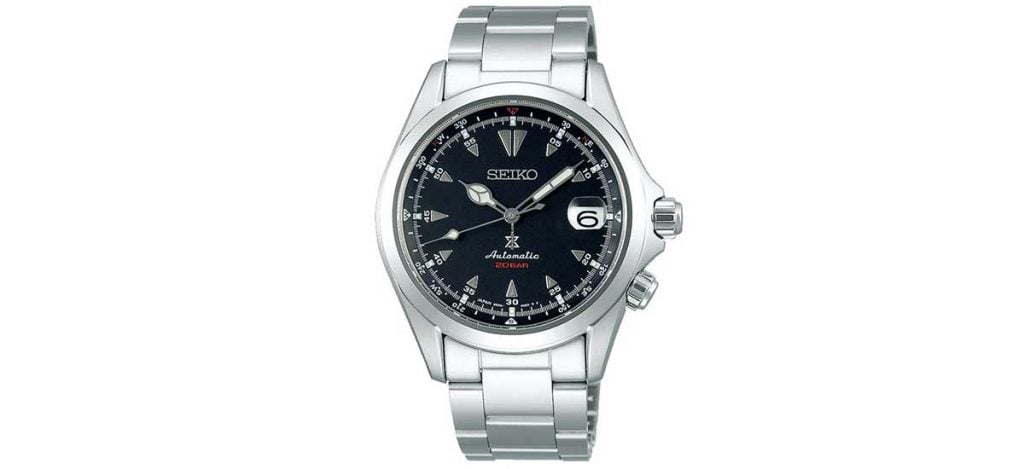 The original watch launched in 1959, named the "Alpinist", was, in fact, Seiko's first true sports watch. In an era when mountaineering was taking hold for the general public, "yama-otoko" (Japanese mountaineers) required a watch that could handle the rigors of the outdoors. Water and shock resistance were of the utmost importance for a watch to handle the task.
Today, the Alpinist has evolved but still holds true to those original principles of shock and water resistance. Now featuring an internal rotating compass ring, date with magnifier window (sapphire crystal), and the 6R35 movement featuring 70 hours of power reserve, the modern Alpinist is simply handsome in execution.
And at 39.5mm in diameter, 13.2mm thick, and 46.4mm lug-to-lug, it's also wearable in that Goldilocks zone of measurements for a majority of wrist sizes. And did we mention that water resistance? 200m for a non-dive watch is surely overkill, but we'll take it.
Retail Price: $750.00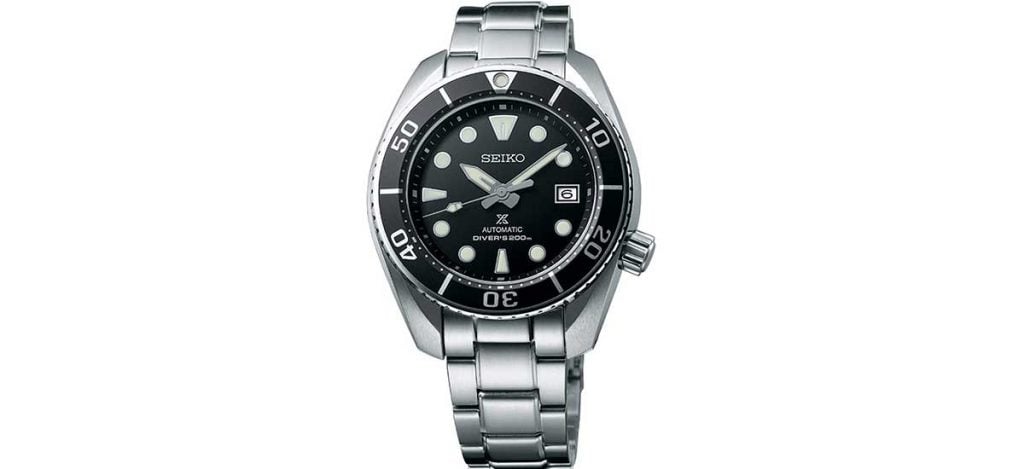 A fan favorite ever since its launch in 2007, the Seiko "Sumo" is one of those Seiko divers that just about any Seiko dive watch fan would and should try out at any point in their watch collecting journey.
Newly updated in the SPB101 (and its various color variants), the current generation of Sumo watches has a few new features sure to please the fans: a sapphire crystal which replaces the proprietary "Hardlex" of yesteryear, and the 6R35 movement with its 70-hour power reserve and 3Hz beat rate.
And though a ceramic bezel is not available in this line, for a few hundred dollars more, look to the "King Sumo" line (ex: reference SPB323) if ceramic is a must on your dive watch checklist.
Where the Sumo shines is in its case shape and finishing for the price; lyre-style twisted lugs on its 45mm diameter and 12.6mm thick case help the watch wear smaller, though 52.6mm lug-to-lug may prove a challenge to smaller wrists if not worn on a strap.
Retail Price: $850.00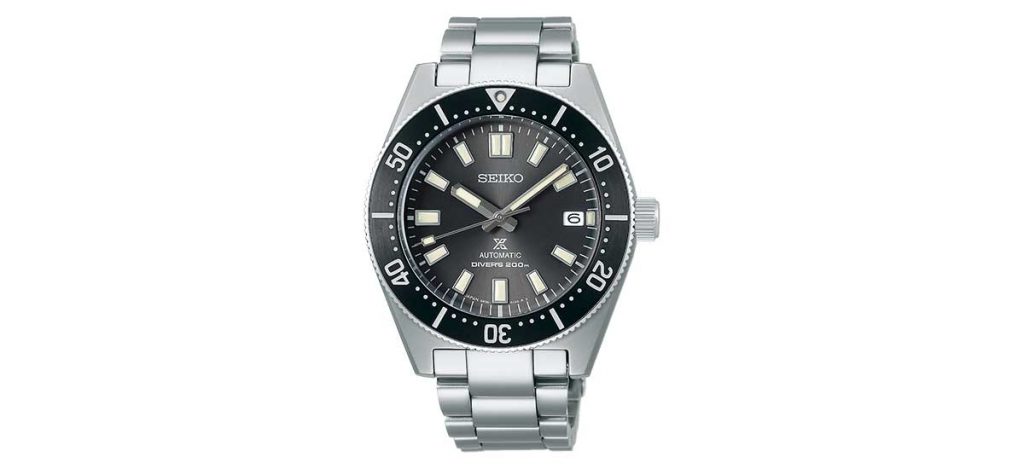 Is there any current production Seiko dive watch more popular or celebrated in the watch collector fandom than the SPB143? No need to answer that; the SPB143 really is that good, and for a good reason.
Following the trend of vintage aesthetics in modern-day build and sizing, the SPB143 is a modern reinterpretation of the legendary 62MAS, Seiko's original skin diver launched in 1965. What it gets right is the sizing, detail, and level of finishing at such a great price, culminating in a perfect package for anyone looking to jump up to the next level in Seiko's dive watch range.
The case is 40.5mm in diameter, 13.2mm thick, and 46.5mm lug-to-lug, ensuring a fit comfortable for most wrists. And if you've experienced Seiko divers before, this one will feel altogether familiar and just right on the wrist; a more refined and compact Seiko SKX, if you will. Finished off with a 6R35 movement (70-hour power reserve) and sapphire crystal (that's right; no Hardlex here), and you've got a tidy and handsome package of Seiko diver goodness.
Retail Price: $1,200.00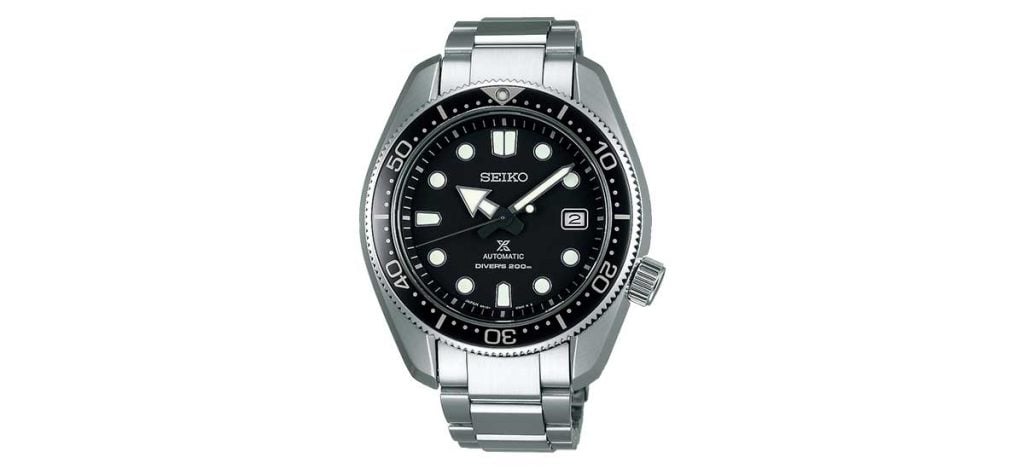 Following the successful launch of modern reinterpretations of their famous dive watches of yesteryear (Such as the SRP777 "Turtle" two years prior), Seiko released the SPB077 in 2018 as a new interpretation of the 6159-7000 Professional diver, arguably Seiko's most iconic watch design with its bold monocoque front loader case, 4:00 screw down crown, and Hi-Beat movement (I admit, I'm biased).
The new diver features modern watchmaking tech such as a proprietary super hard case "Diashield" coating, a sapphire crystal with internal anti-reflective coating, and a streamlined case design (44mm diameter, 13.1mm thickness, 50mm lug-to-lug).
However, it lacks the monocoque case (screw down caseback here) and hi-beat movement for a dressier, "daily diver" look. With its focus on looks, the SPB077 is as handsome in the office or the ocean depths and is a strong contender for your one contemporary dive watch in a collection.
Retail Price: $1,050.00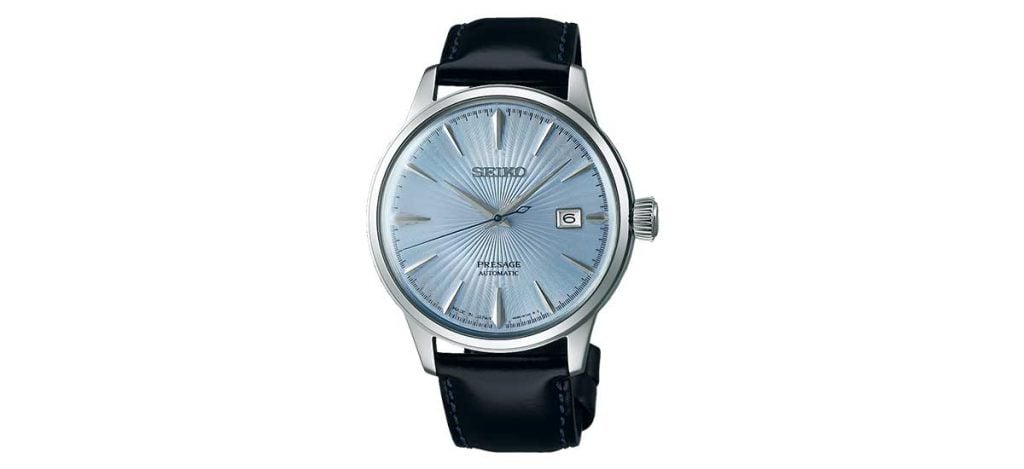 It's often posited that Seiko "makes great dials". In a modern context where watch enthusiasts are blessed to have such a wide breadth of choices from the brand, with dials of all sorts of textures, colors, materials, and patterns, it's no wonder that "great" Seiko dials have become a given in the watch collecting community.
In truth, Seiko has had a focus on strong dial design from the start (the linen dials of the King and Grand Seiko watches of the 1960s and 70s are a personal favorite). But it was with the launch of the "Cocktail Time" range of watches in recent years that this started to re-enter the public consciousness.
The SRPB43 "Cool" dial was launched in 2017 as a new series within the line, once again inspired by various cocktails taking color and shape within their respective dial designs.
Measuring 40.5mm in diameter, 11.9mm thick, with a 47.5mm lug-to-lug, it wears a bit larger than a traditional dress watch, though the fantastic design and radiating dial can certainly be pulled off as one, particularly when paired with the stock strap. At the least, the watch is an eye-catching conversation starter at any formal dinner party.
Retail Price: $425.00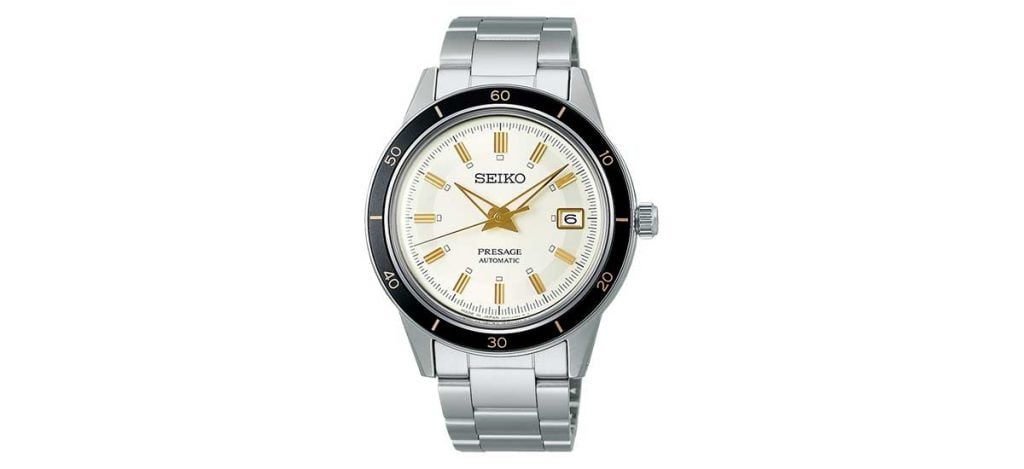 Though Seiko is widely known for its robust and capable divers, as well as its variety of eye-catching dress watches with spectacular and beautiful dials, the SRPG03 is a bit of an anomaly in that it occupies both worlds. And it should really be more popular.
Evoking the skin diver style watches of the 1960s, the SRPG03 is a "sporty" dress watch that combines an H-style case and (non-rotatable) bezel ala dive watch style, with unexpected Presage range dial finishing and design. Perhaps it's this mix that confuses prospective buyers, who aren't sure what the watch aims to be.
But for those focusing on looks and aesthetic beauty, the 41mm diameter case (12.5mm thick and 48mm lug-to-lug) and sunburst dial with gold-colored indices is a revelation, unmatched by watches priced at nearly double the amount. Keeping in mind the 50m water resistance rating, it will still handle the occasional dip in the pool but will work best in the office when impressing others with your style.
Retail Price: $525.00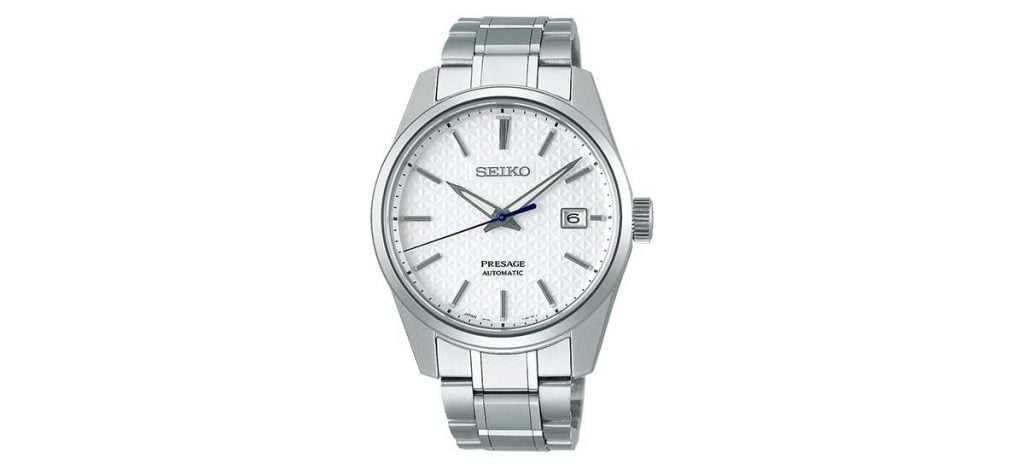 You may be familiar with Seiko's "Grammar of Design", attributed to Taro Tanaka and his angular diamond-like cases, created as a distillation of Japanese aesthetic beauty in watch design (look no further than the Grand Seiko 44GS, for example).
And while the fundamental "grammar" has proliferated throughout Seiko watches in the decades since, perhaps no greater example in the Presage range of watches can be found than in the "Sharp Edged" series SPB165.
The sharp, 44GS-like angles are all there, coupled with various polished and brushed surfaces strategically placed to accentuate light and shadow play to the user. The super hard coating ensures protection against scratches, and the elegant design is stressed further with temperate case sizing: 39.3mm in diameter, 11.1mm thick (or thin, if we're being honest), and 47.2mm lug-to-lug.
100m of water resistance is a bonus, making the SPB165 a perfect daily modern sports watch with the all-familiar stylings of Seiko's past.
Retail Price: $1,000.00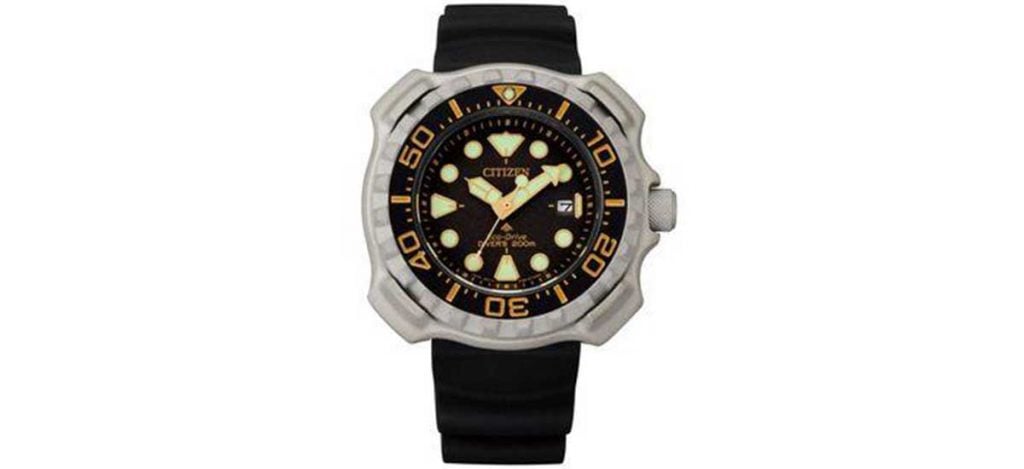 No stranger to the sub-$1000 price range, the Citizen Promaster Mechanical Diver 200M is yet another solid titanium dive watch offering from the Japanese brand. Though mostly known for their quartz-powered Eco-Drive watches, the in-house calibre 9051 powering the Promaster is anti-magnetic to 200 Gauss, running at a frequency of 4Hz and 42 hours of power reserve.
However, it could use a bit more dialing in on precision, given its deviation rating of -10 to +20 seconds a day. Measuring 41mm in diameter, 12.3mm thick, and 48.5mm lug-to-lug, the Promaster is a modern dive watch in size, despite harkening back to the original "Challenge Diver" of 1977 in design.
In fact, it's a very near recreation of the infamous diver from the 70s for those looking for a more vintage-inspired look and is a great alternative for those wanting to step away from the usual Seiko dive watch suspects in the price range.
Retail Price: $795.00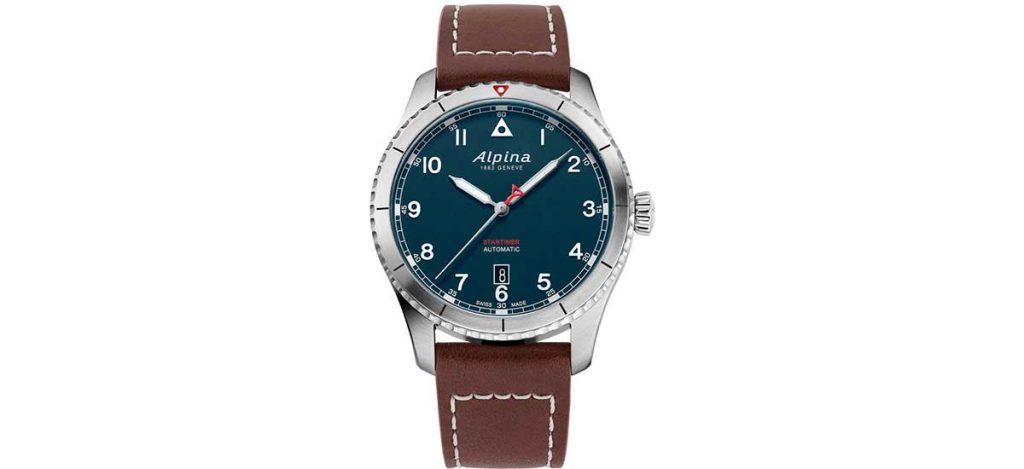 In the realm of pilot watches around the $1,000 price point, Alpina has released many models within the Startimer Pilot range. Among the collection, the Pilot Automatic Petroleum Blue 41 is particularly attractive.
Measuring 41mm in diameter, 11.5mm thick, and water resistant up to 100m, the "Petroleum" matte blue of the dial is contrasted nicely with white Arabic numerals and indices with luminous treatment for visibility in the dark.
The hands are hand-polished silver in color and also lumed for increased visibility. The watch's looks, bezeled design, and finishing are particular highpoints, along with its convex sapphire crystal treated with anti-reflection coating.
The AL-525 caliber automatic movement features a 38-hour power reserve and is available on a brown calf leather strap with off-white stitching to help pull in the white indices and numerals on the dial.
Retail Price: $1,195.00
Produced in Germany, Laco was founded in 1925 and continues to manufacture a range of classic Flieger-style watches and contemporary designs today. Of the former, the Laco Pilot Augsburg 42 is perhaps the best deal in Flieger-style watches available on the market.
The stark black dial with numerals and hands filled with luminescent Superluminova C3 are unmistakable, coupled with a brown calf leather strap and rivets, a look particularly evoking the mid-20th century design the Augsburg 42 aims to reproduce.
At 42mm in diameter, 11.75mm thick, and 50mm lug-to-lug, the Augsburg 42 is great for a pilot watch, offering high levels of visibility across its open dial. Powered by the well-known and proven workhorse Miyota 821A movement, the watch allows for both manual and automatic winding, the former through the use of its relatively large crown, remaining faithful to the styles of yesteryear.
Retail Price: $410.00
Launched in 2020, the "Arctic" white dial variation of the 36mm Marathon MSAR (short for "Medium Search And Rescue") has become a cult-classic offering among true tool watch enthusiasts. Indeed, the Canada-based brand has continued to produce watches for various military forces worldwide since its founding in 1939 and is proven effective day in and day out by those putting them to hard use in the field.
The Arctic MSAR is a bit quirky and probably not for everyone. It's small and chunky, with a 36mm diameter case, 14mm thickness, and 43mm lug-to-lug, but that quirkiness is definitely part of the charm. It's a watch that wears rather comfortably despite the odd sizing, and with the Arctic's white dial contrasted with black numerals and outlined hands, it's highly visible for such a small dial. Throw in the tritium gas tubes for added legibility in the dark, and the MSAR takes the cake on rugged reliability and altogether charm.
Retail Price: $1,100.00 (on strap)
16. Orient Kamasu
As Seiko dive watches continue an upwards march in price and specifications, Orient Watch (a subsidiary of Seiko Epson) continues to fill in the void left by the brand. When the cult classic diving watch, the Seiko SKX, was finally discontinued, the Orient Kamasu revealed itself to be a classically styled alternative for those looking for another capable yet affordable Japanese diver.
At 41.8mm in diameter, 12.8mm thick, and 46.8mm lug-to-lug, and offered in a range of attractive colors (red, blue, black, green), the Kamasu is an agreeable size for most wrists, with punchy dive watch styling inspired by the fearsome barracuda with teeth-like markers and hands. The sapphire crystal is particularly of note in the price range, and the 40-hour power reserve caliber F6922 is known to be accurate and reliable.
Retail Price: $550.00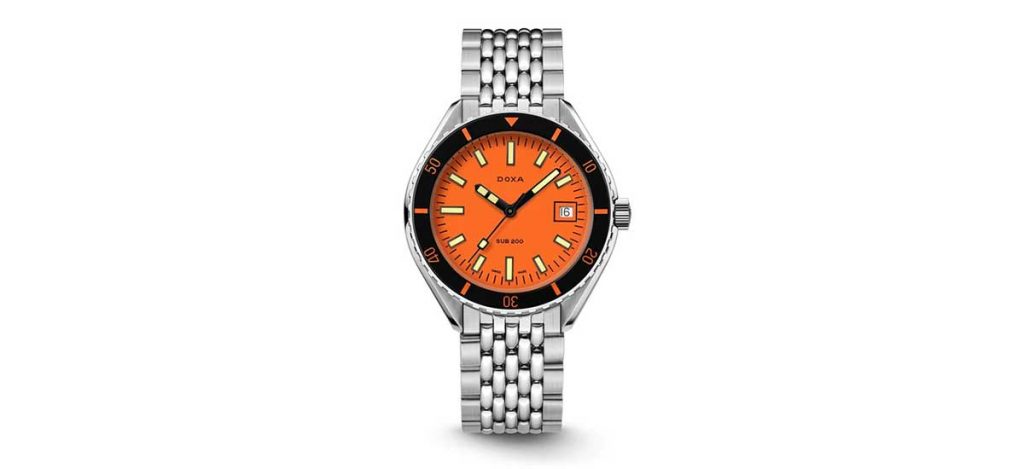 For a company that co-developed the helium escape valve with Rolex in the 1960s and was worn and retailed by Jacques-Yves Cousteau himself, it can be said that Doxa received the short end of the dive watch history stick for being a bit more under the radar and lesser known than the influential dive watch companies of the day. The classic cushion case Sub 300 and Sub 300T lines were eventually revived and built upon in the early 2000s.
The brand, undergoing a change in leadership more recently, has entered a bit of a renaissance in popularity for its iconic designs and colorful dials across its range of dive watches. As an entry-level option, the Sub 200 (measuring 42mm in diameter, 15mm thick, and 45mm lug-to-lug) is a great introduction to the brand, with its combination of lyre lug case shape, beads of rice bracelet and full diving chops (rated to 200m water resistance). A no-brainer for a watch oozing vintage style. The only question is, which color?
Retail Price: $990.00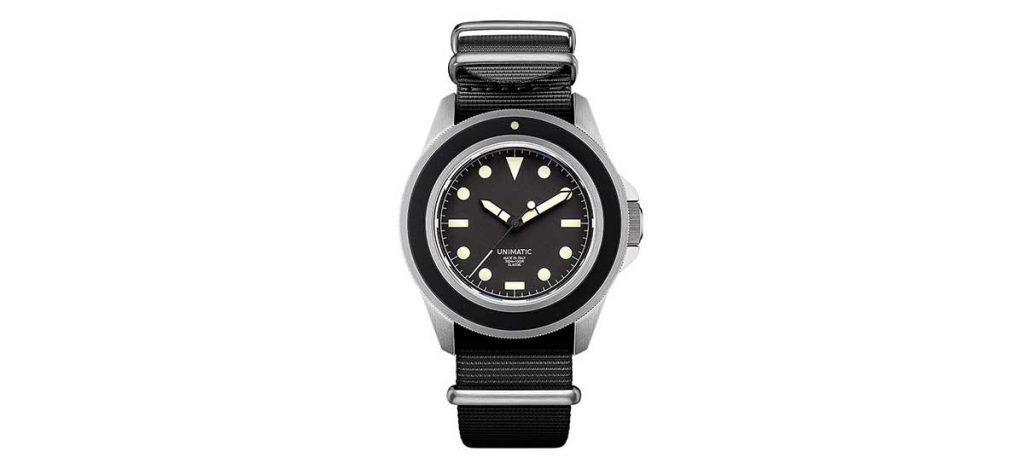 Founded by two industrial designers in 2015, Milan-based Unimatic produces minimalist sport watches capturing the essence of aesthetic design, functionality, and affordability. The U1 "Classic" is just that.
Reduced to a spartan black bezel and plain dial decorated only with luminescent markers and hands, with the UNIMATIC branding and "CLASSIC" badge following suit, this watch can be considered the "Chuck Taylor" shoes of the watch world; it goes with everything.
And while the clean design is a focus, the workhorse Seiko NH-35 movement powering it inside and 300m of water resistance proves the U1 Classic to be a powerhouse workhorse in its own right, ready to be put through the paces of daily wear and more. Measuring 41.5mm in diameter (with bezel), 49mm lug-to-lug, and 13.6mm thick, and sold on a nylon strap, if you're looking for a clean and capable watch, look no further than the U1 Classic.
Retail Price: $550.00
19. Certina DS PH200M
A historically fan-favorite design of Certina, the DS PH200M dive watch was most recently updated in 2020 to include a sapphire crystal and a black or blue dial with gilt accents. Based on the original 1968 DS PH200M, one of the first Certina dive watches, the watch is most characterized by its charming broad bezel (ceramic upon the recent update) with a fully graduated bezel insert and clean cross-hair dial design.
At 42.8mm in diameter, 11.9mm thick, and 51mm lug-to-lug, the watch isn't modest but is certainly fitting for a dive watch on a modern scale and should fit nicely on most wrists when paired with a NATO-style strap. Completed with the Caliber ETA Powermatic 80.611, the 80 hours of power reserve is yet again a Swatch Group bonus movement for the price range.
Retail Price: $980.00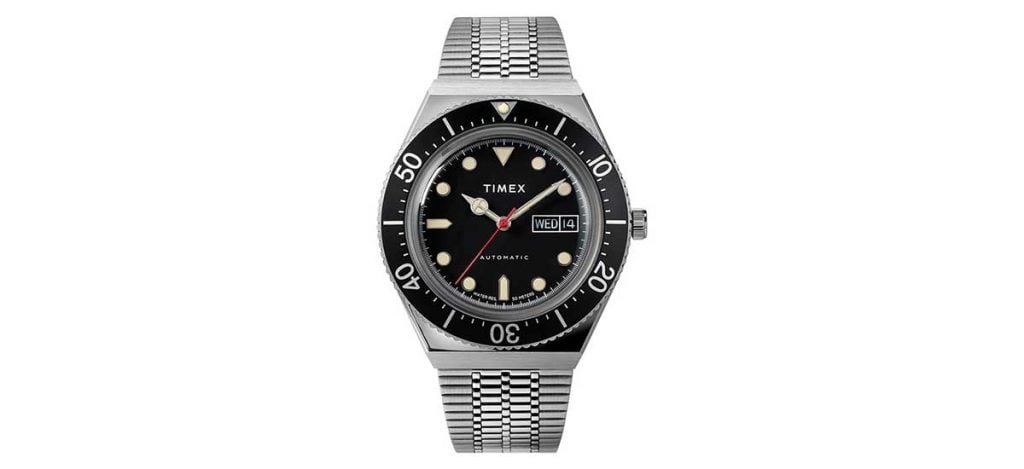 Looking for a larger, beefier, mechanical version of the infamous Timex Q? Look no further than the Timex M79, similarly based on the 1970s aesthetics made famous in recent years with the quartz Q.
Measuring 40mm in diameter and 14.4m thick, with 46mm lug-to-lug measurement, the bolder case size of the M79 helps accentuate the sharp angles and impressive case finishing for a watch within the affordable price point.
With a unidirectional wide bezel, and date and day function, the M79 is powered by an automatic Miyota caliber featuring 42 hours of power reserve, quickset day/date, and a 21,600bph frequency.
Retail Price: $289.00
21. Orient Bambino 38mm (RA-AC0M04Y)
A long-time go-to contemporary classic dress model in the watch world for many just entering the hobby, the Orient Bambino was recently re-introduced in a more compact 38mm size. To be exact, the watch measures 38.4mm in diameter, 12.5mm thick, and 44mm lug-to-lug compared to its larger 40.5mm variant in past years.
Powered by the in-house automatic Orient Calibre F6724, a new generation movement now featuring hacking seconds and hand-winding (along with automatic winding via the rotor), the 38mm Bambino is striking and now better suited for a variety of wrists in its smaller size. Of note is the domed mineral glass, accentuating the champagne dial and ageless looks.
Retail Price: $410.00
Stowa is a watch manufacturer more commonly associated with Flieger-style pilot watches. Yet within the Marine Classic range, Stowa creates some of the best modern takes on classic Marine chronometer watches with varying levels of customization (ex: movement, dial type, with or without date).
Think clean white dials, time-only functionality, and temperature-blued steel hands in a classic case shape worn on leather straps. When selecting an automatic Sellita caliber SW200, you're getting a ton of value and charm in timeless, classic style (36mm diameter, 10.2mm height, 44.6mm lug-to-lug).
Retail Price: 980.00 EUR
The Jazzmaster line within Hamilton's range of watches has long been known for its contemporary and modern style, coupled with the refined construction and finishing of the brand at affordable prices.
In the Jazzmaster Auto (reference H32475640), we have an attractive blue dial daily dress watch in 40mm diameter and 11.05mm thickness, with a blue sun-brushed dial and silver diamond shape markers, silver minutes track on the outer dial, and dauphine style hands. The blue datewheel with white text is a nice touch speaking to the level of detail applied by the brand when most others would likely opt for a white datewheel for manufacturing efficiency.
Retail Price: $895.00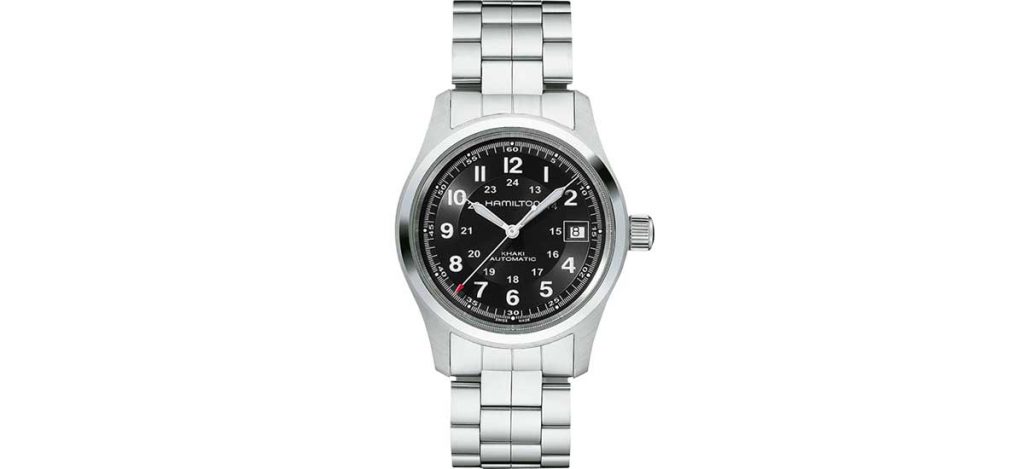 The Khaki Field range of watches from Hamilton is synonymous with field watches at this point. And for a good reason. Built with practicality in mind, the Khaki Field Automatic represents a classic field watch style with a seconds track, hour, and 24-hour marker dial, all housed within a 38mm case (11mm thickness, 47mm lug-to-lug).
Upgraded with an automatic H-10 movement (modified ETA C07.111 with 80-hour power reserve) and steel bracelet, the watch is also rated to 100m water resistance, proving its field watch style is ready and capable for any adventure thrown at it.
Retail Price: $725.00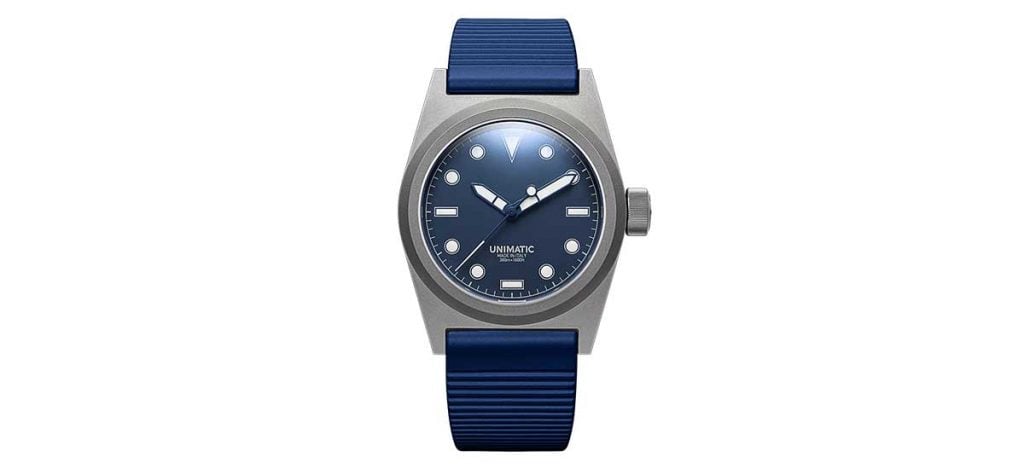 A slim, lightweight titanium field watch with 300m water resistance and iconic Unimatic styling? Say no more! A modern take on the field watch, Unimatic uses sandblasted grade II titanium to achieve a 45% lighter case, measuring 38.5mm in diameter, 11.9mm thick, and 47.5mm lug-to-lug.
Powered by the proven workhorse Swiss movement, Sellita SW200-1, the blue dial coupled with white hands and markers (filled with BGW09 Super-Luminova) take the Modello Due to a new level of playfulness (and comfort) when compared with the relatively stark gray and black color models of past releases.
Retail Price: $900.00
Conclusion
Automatic watches are the heart and soul of modern watchmaking. Continuing on the mechanical tradition of horology in the face of technological advances such as quartz and the smartwatches of today, purchasing an automatic watch is a conscious decision to keep that sense of watchmaking alive in a time when planned obsolescence and the digitization of everything surrounds us.
No matter which automatic watch you choose, be proud of your decision and take comfort in knowing that your watch can be maintained, will live on, and can be passed down to future generations after you. So, which watch do you choose?


About Exquisite Timepieces
Established in 1998, Exquisite Timepieces is your one-stop shop for all things luxury watches! We are an authorized dealer for 60+ luxury watch brands including Omega, Hublot, Seiko, & Longines! We are proud to showcase one of the world's largest pre-owned watch collections, including renowned brands like Rolex and Patek Philippe. Check out our brand new watch arrivals here and popular pre-owned listings here.