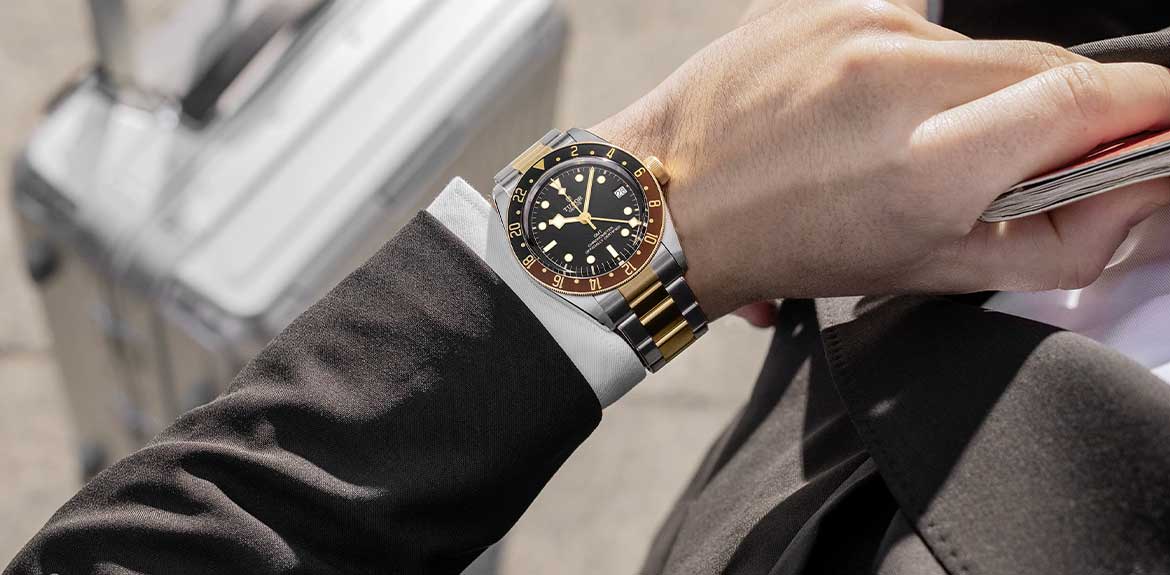 Tudor Black Bay 36 vs. 41 (Which is PERFECT for a Man's Wrist?)
Are you searching for a great watch that has great value? In this article, I will compare and contrast the features of the Tudor Black Bay model 36 and model 41 wristwatches for your consideration. For those that are unfamiliar with the Tudor brand, Tudor is essentially the sister company of the very successful and popular Rolex brand.
Based in Switzerland and founded by Hans Wilsdorf, both continue production today managed by the Wilsdorf Foundation. With this in mind, both collections share many of the same attributes and innovations exclusively developed by Mr. Wilsdorf and his team of artisans. For many years, Tudor was viewed as a poor man's Rolex.
I personally experienced selling both brands at the retail level in the early 1980s and most often, a customer who desired a Rolex ultimately purchased a Rolex, even after inquiring about the Tudor collection. Tudor, at the time, seemed to be more of a stepchild than the sister company it truly was. There seemed to be somewhat of an identity crisis.
Fortunately, with the relaunch of the Tudor brand in the United States approximately ten years ago, the brand has made great strides to present its uniqueness and appeal. With the addition of exclusive in-house movements manufactured by Tudor and not customized ETA movements, the move towards a more distinct brand identity is well underway.
In this article, I will attempt to educate you on the attributes of the Black Bay model 36 and model 41 watches and address the concerns about the size of each of the models and concerns addressing any questions as to if these models are men's watches. Rest assured, both models are comparable to the size of some other very well-known brands.
For example, the Black Bay 41 is outfitted with a 41mm size case. In comparison, the Rolex Submariner is outfitted with a 41 mm case and the Omega Seamaster with a 42mm case. The Black Bay 36, on the other hand, boasts a 36 mm case which is equivalent to the Rolex Datejust model 16200 (One of the most popular in the Rolex collection).  All of the Tudor models are certified Swiss chronometers. For novices, a chronometer denotes an instrument for accurately measuring time.
The official certification refers to the COSC which is the official Swiss chronometer testing institute that certifies chronometers that fall within a precise range of accuracy. One constant throughout the collection is that each Tudor watch comes with a five-year guarantee that requires no registration or periodic maintenance checks.
The Tudor Black Bay model 41 can basically be broken down into two categories. The first category ranges in price from approximately $2950.00 to $3275.00. These models are the entry price points and all consist of stainless steel cases that are water resistant to 150m (approx. 500ft). These models are available with an extensive list of features and strap, bracelet, dial, and bezel combinations.
The 41 mm case is available in either a polished or satin finish and an accompanying smooth steel bezel with a polished finish. Each has a sapphire crystal and a screw-down crown. There are a number of different straps available depending on the specific watch choice and consist of the following; aged brown or black leather, blue, black, brown, or burgundy fabric or a steel, satin finished bracelet with a folding clasp and safety catch.
Each watch is fitted with a Tudor T600 self-winding mechanical movement with a 38-hour power reserve capacity. In the second category are the steel and gold models that range in price from $5250.00 to $5875.00. These possess a sporty air but are much more everyday business smart timepieces. Each is fitted with a Tudor MT5601 self-winding mechanical movement with a bidirectional rotor system with a 70-hour power reserve.
For clarity, the bidirectional rotor expedites the transference of power to the mainspring whether the rotor turns clockwise or anticlockwise. They are water resistant to 100m (approx. 330 ft.). In addition, each possesses a sapphire crystal and a yellow gold screw-down crown and is completed by a steel and gold bracelet reflecting polished and satin finishes and a steel "T fit" folding clasp with a safety catch. The $5875,00 model has a dial with diamond markers thus the increment in price.
I have taken the liberty of including the following model though it is not formally a Black Bay model 41 watch but has a 41mm case and is truly a remarkable watch. The timepiece I am referring to is the Black Bay Ceramic which retails for approximately $4825.00. This is truly a signature piece for the Tudor line and boasts some world-class features as well as being a real eye-catcher. The case itself is a black ceramic case with a micro-blasted finish and a monobloc middle case.
It has an open case back in black PVD treated 36L steel with a sapphire crystal. This provides viewing access to the Tudor model MT5602-IU self-winding mechanical movement with a bidirected rotor system. The movement is capable of 70 hours of power reserve. This particular movement is a COSC-certified chronometer whose precision has been tested at two different temperatures, six different positions, and at two levels of power reserve (100% and 33%).
It also is antimagnetic meaning it is smooth functioning when exposed to a magnetic field of 15,000 gausses with precision following such exposure. To complete the Black Bay Ceramic it is available with either a hybrid leather or a rubber strap with a steel folding clasp and safety catch in black PVD-treated 316L steel. According to the Tudor website, a complimentary black fabric stamp with a cream band and black PVD treated 316L steel buckle is also included.
To close my article, I will share a bit more information on the Tudor Black Bay model 36 as mentioned earlier in this article. The model 36 is a rugged everyday watch that shares a very similar appearance with its Rolex counterpart. Though slightly smaller in stature the watch would be comfortably at home on any man's wrist.
Once again, I will take the liberty of breaking down the Model 36 into three categories. The first part of the collection would be the steel case watches that retail for approximately $2725.00 to $3050.00. The 36mm case is a combination of both polished and satin finishes and is outfitted with a sapphire crystal. The movement is a Tudor T600 self-winding mechanical movement with a power reserve capacity of 38 hours.
Additionally, the watch is water resistant to 150m. (approx. 500 ft.). The crown is a steel screw-down winding crown, with the Tudor rose in relief with a black anodized aluminum winding crown tube. The strap models are available in beige or brown leather or in black fabric. The other option is a steel satin finish bracelet with a folding clasp and safety catch.
The second category is the steel and gold models which retail in the realm of $5025.00-$5650.00. Each of the watches available here has a Tudor MT5400 self-winding mechanical movement with a bidirectional rotor system with 70 hours of power reserve capacity. A sapphire crystal and a steel and gold polished and satin bracelet round out the physical features. The bracelet also has the "T fit" folding clasp and safety catch.
The lower price points in the category are available with either silver, black, or champagne dials. The upper price point in the range reflects dials with diamond markers available in silver, black, and champagne finishes.
The Black Tie finish
I have created the third category to feature some steel and gold models that would usually be part of the second category. My reasoning for singling these timepieces out is that they are striking and offer value in what could be viewed as a "Black Tie Watch." These pieces are adorned with both a diamond marker dial as well as a full diamond bezel.
The approximate retail of these watches is $7325.00. and would be a perfect complement to a tuxedo or when being worn to attend a wedding or gala-style event. These models are once again available in either black, silver, or champagne dials.
Tudor Sizing on a Man's Wrist
In closing, either the Tudor Black Bay Models 36 or 41 are timepieces that should be considered for their features, history, quality, and value, given the price of many Swiss watches today. There seems to be a considerable amount of conversation concerning the difference in the case size and bracelet between the aforementioned models and how they appear on the average male wrist.
In researching these particular discussions, the claim that the Black Bay 36 is too small for a 7.5 inch or larger wrist or that the 41 is too large for a 6.25 or smaller size wrist are valid concerns in weighing your ultimate purchase. In an age where it seems everyone weighs in concerning their opinions on such matters, I believe that an individual's choice should be entirely subjective.
To make the best decision, if possible, visit a legitimate Tudor watch dealer and try the Black Bay 36 and 41 on. Actually seeing the timepiece on your own wrist should go a long way to helping you make a confident decision. While opinions are vast and readily available, the comfortability of the watch on one's wrist coupled with the aesthetics and material of the watch should be your ultimate criteria in making your purchasing decision.
I would also recommend that perhaps you make your choice with a trusted individual or partner. Someone in whom you trust their critique and opinion and can offer honest input in your buying decision. A caveat I also would suggest is not to over-research the debate of one size case vs. another. As with vast amounts of opinion and information, the results could lead to both confusion and mental overload.
Do your research, make a list of possible candidates for your purchase, and visit your Tudor dealer. Trying on the physical products will go a long way to assuaging any doubts or questions you might harbor about a wristwatch that will look amazing on your particular wrist and make the statement that you desire.
While Rolex continues to be known for its name, all one needs is the confidence to recognize a superior crafted timepiece instead of succumbing to the urge to follow the pack. For an excellent discussion and overview of the question surrounding the Tudor size 36mm models for a man's wrist I suggest the following review: