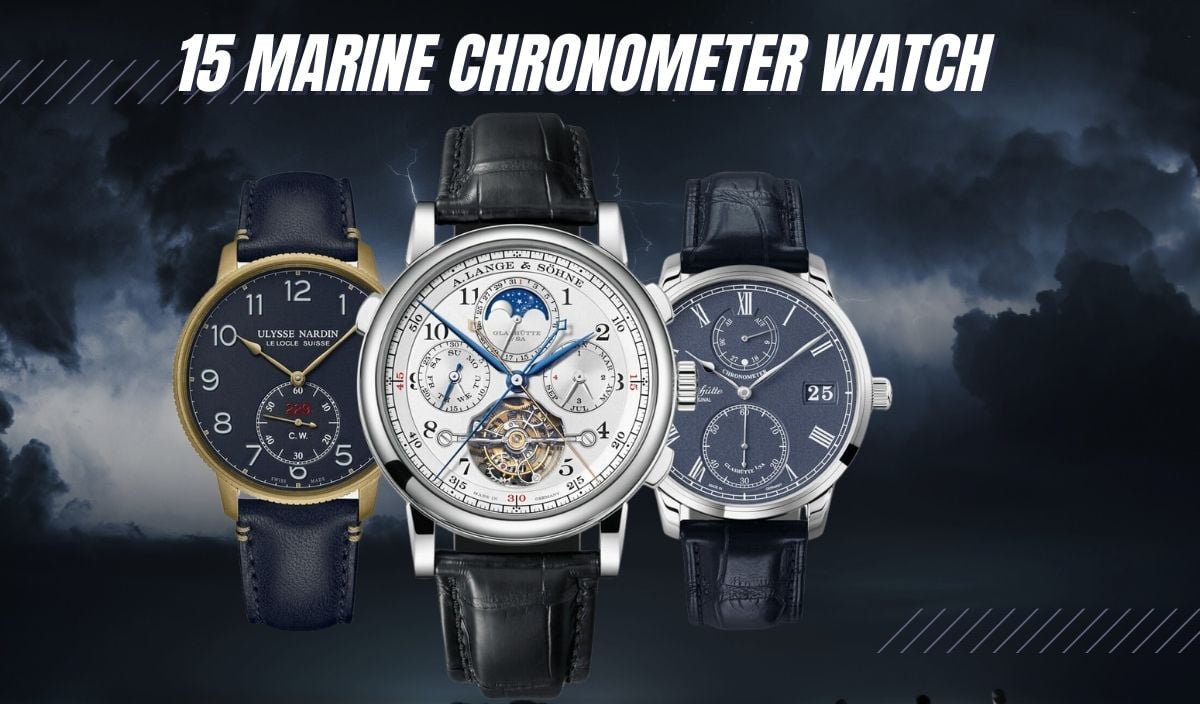 15 BEST Watches With Marine Chronometers (Killer Aesthetics!)
The term 'marine chronometer' may, at face value, seem a tad too complex for the average watch enthusiast. What if you don't have a yacht? More aptly, can someone who doesn't even own a swimming pool justify the purchase of such a quintessentially-aquatic timepiece?
In short, yes, although modern marine chronometers carry the name of their predecessors, they are (thankfully) no longer used to navigate open oceans. Rather, the aesthetic of marine chronometers today has found great popularity in the watch industry due to its carefully-honed balance between subtlety and complexity.
It is this design ethos that defines the contemporary marine chronometer style – white dials with black printing, Roman numeral indices, sub-seconds dials, blue steel hands, and an onion-shaped crown. Of course, these are just the most common features of a class of watches that is both vast and varied.
The Storied History of The Original Tool Watch
Many, many moons ago, the 'Longitude Problem' was a significant issue for early sailors who struggled to precisely determine their position at sea. So, in 1714, the British government offered a large prize to anyone who could solve the problem.
John Harrison, a self-trained carpenter, and clockmaker entered the competition with a handcrafted marine chronometer, which he claimed could keep accurate time over long oceanic voyages. Although it wasn't exactly right at first, Harrison eventually perfected the technology (it only took him 40 years), winning the prize and paving the way for the evolution of the marine chronometer.
Safe to say, this particular type of timekeeper is one of the most historically significant watches you can own – one that literally enabled people to successfully explore the earth.
Designed To Navigate, Built To Last
Although there are many definitive examples of the marine chronometer, the most reputable are undoubtedly the Patek Philippe 5119 Calatrava and A. Lange & Söhne's Richard Lange Pour le Mérite.
With this being said, there are many more affordable options for entry into the marine chronometer club, with brands such as Steinhart, Longines, and Raymond Weil offering excellent watches at accessible price points. Let's jump into the list and have a look at some of the best pieces available.
The Patek Philippe 5119 is a watch that exudes classic perfection, rising to the high expectations that are rightly placed on the Geneva watch giant. This modern (now discontinued) reference sits at a very wearable 36mm, replacing the 3919 model, originally released at 33mm in 1985.
With its Clou de Paris bezel, created using a diamond guilloché technique (basically, diagonal lines finished to a near-impossible brilliance), this sits in both the dress watch and marine chronometer camps. The austere dial with narrow black Roman numerals on white lacquer is representative of functional marine chronometers – clear and, therefore, easy to read at any angle.
The timepiece is powered by the 215 PS hand-wound movement with time-only complications, visible through the sapphire caseback, and has a ridiculously slim profile of just 2.55mm with 130 parts. The movement runs at 28,800 vibrations per hour and has a 44-hour power reserve. Patek's 5119G is available in yellow, rose, or white gold with an alligator strap and pin buckle, although I personally love the classic feel of the white gold. It's not cheap, but it's worth every penny.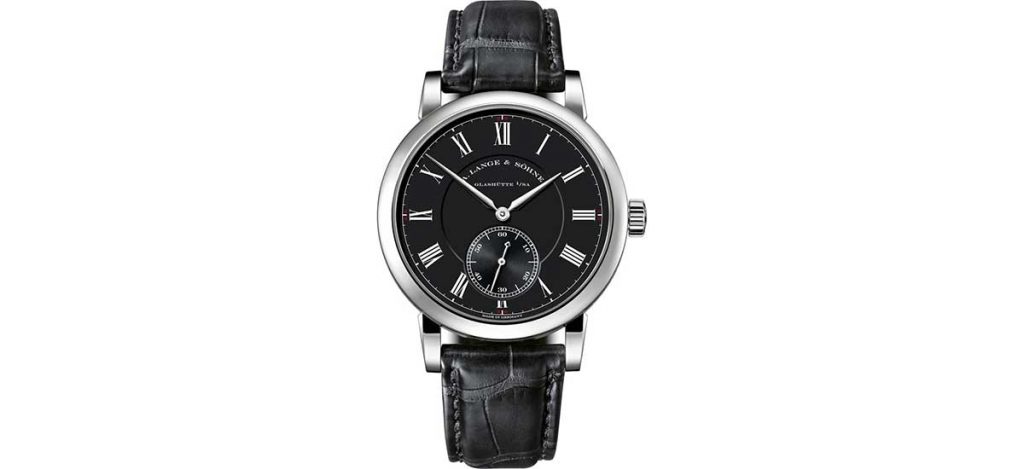 The Richard Lange Pour le Mérite is a seriously limited edition timepiece, with each of the 218 units in existence built around a legendary movement (more on that shortly). The black face of this attractively pared-back watch is actually a solid silver dial in disguise, enwrapped by a 40.5mm white gold case with a sapphire caseback.
Narrow Roman numerals, continuous seconds at 6 o'clock, and a simple design with just four small red touches at the standard quartered positions decorate the dial. It's a silently serious reference. Well-known for its wonderfully unique and historic mechanism, the fusée-and-chain transmission, Richard Lange's mechanism essentially provides constant torque to improve the watch's accuracy as the mainspring gradually runs down.
The chain is wrapped around the mainspring barrel and fusée, which provides infinitely variable gear ratios. A beautiful hand-wound movement is decorated with intricate engravings, including on the balance bridge, escape wheel, and fourth wheel cock.
The detail in this piece is truly mind-boggling, and if you've got a spare $85,000 lying around, you'll have plenty of time to wrap your head around it all.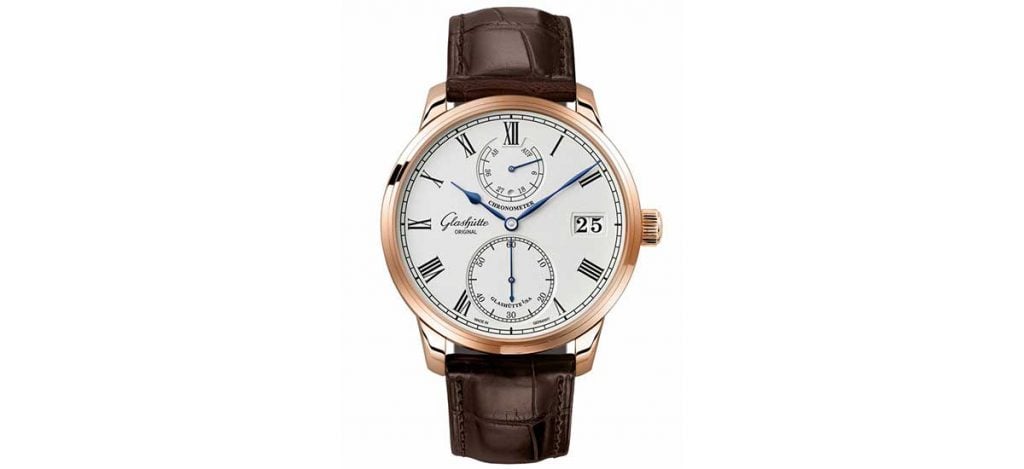 Since 2009, Glashütte Original has paid homage to the town's rich history of producing marine chronometers with their enthralling Senator Chronometer line. This version is a classic watch with a stark, contemporary twist, not dissimilar to many of the brand's pieces.
For the technical geeks out there, rest assured – this timepiece is an officially certified chronometer with a power reserve indicator, a large panorama date, and a day/night display. It's powered by a manually wound, in-house Calibre 58-01 movement with the stop-second feature, which automatically jumps the seconds hand to zero and moves the minute hand ahead to the next complete minute when the crown is pulled out.
It's a small technical detail but a very convenient one. The case is made of red gold and is 42mm in diameter and 12.3mm thick, with a brown Louisiana alligator leather strap and a folding clasp also in red gold. Honestly, the strap alone is a thing of rare beauty.
Despite its impressive build and high-end finish, the Senator Chronometer is a simple and precise watch, aligning aptly with the quest for legible accuracy that was once the primary objective for marine watchmakers.
The movement has the superb Glashütte Original finish, with the three-quarter plate, screw-mounted glass chatons, and a hand-engraved balance cock. For such a profound example of German engineering, expect to pay roughly $30,000.
Ulysse Nardin has a respected record of creating marine chronometers (somehow, even their name sounds oceanic), and their Marine Torpilleur watch doesn't deviate from that heritage. The brand's founder specialized in marine chronometers, and in the late 19th and early 20th century, Ulysse Nardin even supplied many naval forces around the world with them.
However, it wasn't until 1996, the brand's 150th anniversary, that it debuted a limited edition Marine Chronometer wristwatch that was so successful it evolved into its own collection. The Ulysse Nardin Marine Torpilleur is a holistically easy-to-wear watch – the case, made of stainless steel, measures 42mm in diameter and features a fluted bezel, screw-down crown, and 50-meter water resistance.
The Marine Torpilleur is in some way based on a vintage Ulysse Nardin pocket watch with a similar dial design. Although it may appear a tad busy at first, upon closer inspection, one can't help but appreciate just how well laid out and proportioned the elements of the dial are.
Complimented by a no-nonsense black leather strap, this piece is understated where it matters and detailed where it counts. The watch's calibre UN-118 movement is self-winding, COSC chronometer-certified, and has a power reserve of about 60 hours.
The movement is made with Ulysse Nardin's proprietary innovations, such as the use of synthetic diamonds to greatly reduce friction, thus increasing durability and extending power reserve. A sapphire crystal window makes up most of the caseback, which reveals the movement's circular Cotes de Genève and an elaborate oscillating weight with two anchors that further the nautical theme.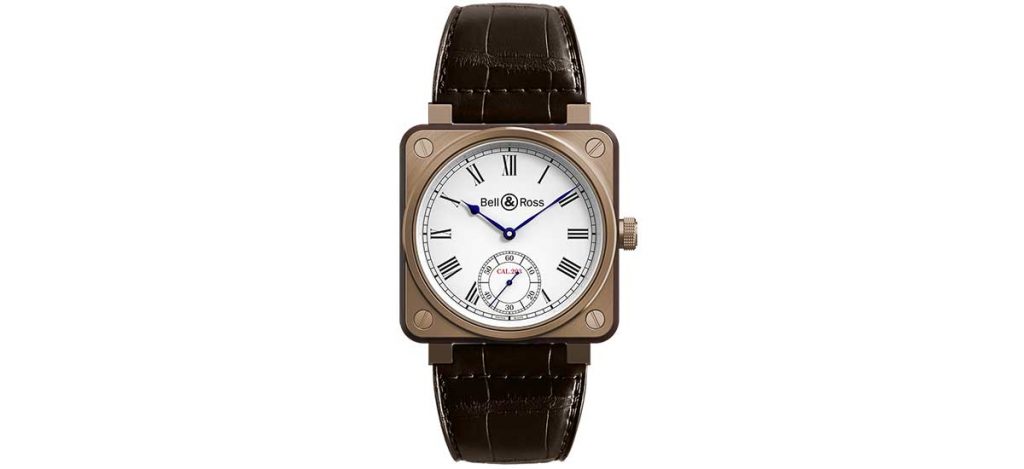 Bell & Ross released the Instrument de Marine collection in 2016, featuring three models inspired by 18th and 19th-century marine chronometers. The collection combines modern and traditional design elements. As we've come to expect from Bell & Ross's square cases, this style leans more towards a modernist interpretation, which is nonetheless made of materials that pay tribute to the marine chronometer's history – a bronze and rosewood case, with a more contemporary titanium caseback.
A 45mm case makes this a large-wearing time-keeper (slim-wristers, beware) with a white lacquer dial, black Roman numerals, and no date display. The slightly-odd brown alligator strap, which I personally would switch to a bracelet ASAP, and the bronze pin buckle complete the somewhat reductive look while adding a traditional touch to an otherwise very utilitarian watch.
Powered by the hand-wound BR-CAL.203 movement, a very reliable version of the ETA Unitas 6498 with 17 jewels, a power reserve of 56 hours, and a frequency of 21,600 vibrations per hour, this watch is limited to 500 pieces, so you may struggle to get your hands on one!
Aside from being a mouthful to pronounce, the Mühle Glashütte Teutonia III Handaufzug Kleine Sekunde is perhaps the most 'authentic-looking' marine chronometer on this list. It features a fluted bezel, an enamel dial, and a small seconds sub-dial that gives it a sophisticated look reminiscent of some Breguet watches.
However, take a glance at the caseback, and you'll see a much more robust, unapologetic layout – a wide, flat ring of steel encircles a small sapphire window to evoke a certain porthole aesthetic that just screams 'maritime'. The matching blued steel hands and blue crocodile leather strap add a touch of luxury to the overall aesthetic, but I think this one really comes alive on the bracelet, which is an intricate 5-link design that drapes over the wrist comfortably.
Made of stainless steel, the case measures 42mm in diameter and 12.2mm in thickness and features Mühle-Glashütte's signature vertically-brushed finish and volute-shaped lugs with polished top surfaces. It's water-resistant to 100 meters, more than enough to protect the MU 9415 hand-wound movement, which has Glashütte's characteristic three-quarter plate, woodpecker-neck regulation, and stop-second function for precision time-setting.
The movement also provides a 44-hour power reserve and fast date adjustment. The Mühle Glashütte Teutonia III Handaufzug Kleine Sekunde costs $2,500 on the strap, but I'd definitely throw down a bit extra for the bracelet.
7. Wempe Chronometerwerke Power Reserve (ref. WG080007)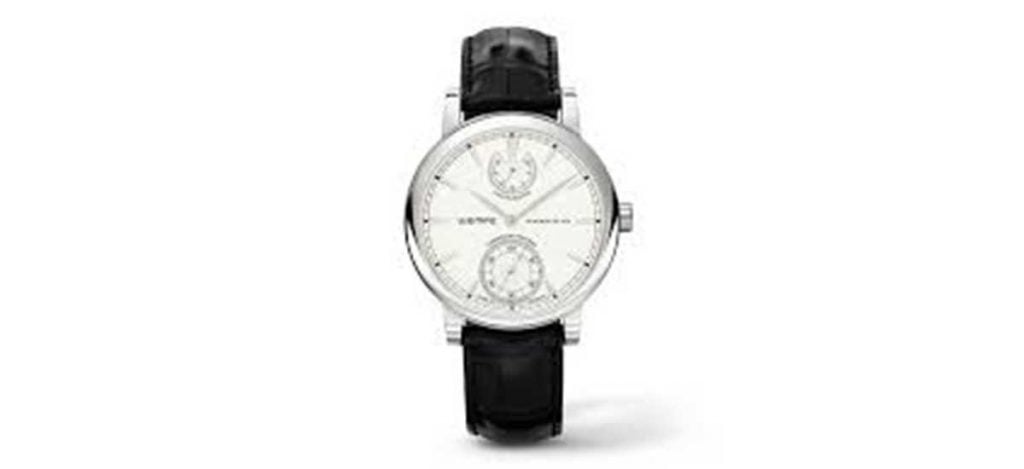 Wempe's Chronometerwerke features a hand-wound movement, the CW3, which was designed and built by Wempe and had an edgy-looking power reserve indicator at the top of the dial, a logical and practical addition to any manually-wound watch.
It's a bit of a large boy, with a steel case measuring 43mm across and 12.5mm thick, and as with all of the aforementioned timepieces, the movement is visible through a see-through caseback. The CW3 is decorated with traditional German watchmaking features, such as the large three-quarter plate with Glashütte wave decoration and a swan's-neck adjustment for rate symmetry.
The balance is unusually positioned at 12 o'clock, and performance is improved by laser-skeletonizing the escape wheel, pallets, and balance. In simpler terms, a lighter watch is a better watch. The company went as far as to establish its own testing institute in the Glashütte Observatory, where its watches are tested to the German standard DIN 8319, with precision requirements similar to COSC. It costs roughly $5200, a fitting price for a piece that excels at being both intriguingly different and reliably familiar.
8. Tourby Marine Roman 43
The most striking thing about the Tourby Marine Roman 43 is its case, which combines brushed and polished stainless steel finishes that please the eye in much the same way as Grand Seiko's Zaratsu technique has done for years.
The dial is also impressive, featuring metallic blue hands and precise printed indicators set against a white dial. The same size as the Wempe, the case measures 43mm in diameter, is approximately 12mm thick, and sits on a black alligator strap with a pin buckle.
The exhibition caseback showcases the beautiful hand-wound Unitas 6498.1 movement, which boasts a power reserve of 44-48 hours and runs at 18,000 vibrations per hour (2.5 Hertz). The watch's movement wheels can also be finished with a sunburst effect, and an optional folding clasp is available for the strap.
It is this customizability that makes the Tourby a very attractive purchase for those who value individuality above all else, especially as it's priced at a very reasonable $1,550 and comes with a leather travel case. Overall, the Tourby Marine Roman might be the best value-for-money ticker on this list.
The Maestro, otherwise known as reference 2238-STC-00659, boasts a 40mm steel case with an alluringly slim profile, measuring only 10mm in thickness. It features the classic design elements of a marine chronometer-style watch but perhaps not where you might expect to find them – embellished hands are replaced by simple batons, while sans-serif Roman numerals ring around a multi-textural dial, the center of which showcases a wonderful circular guilloché detail. 
The result is a watch face that's well-designed, compact, and balanced. The date window is subtle, and the small seconds sub-dial is strategically placed to ensure it doesn't obstruct the numerals at the lower part of the dial.
The self-winding movement delivers 38 hours of power reserve, most likely an ETA 2895-2, visible through the sapphire caseback. A calf leather strap imprinted with an alligator motif is secured with a stainless steel folding clasp. This timepiece is priced at approximately $1300, making it an attractive entry point for the style.
Steinhart is a watch brand known for its honorific nods to all aspects of watchmaking's past, including its Marine collection, which celebrates John Harrison's work on the first marine chronometer. The MC 44 has a classic design with a white lacquer dial and black numerals, blue poire hands, and a sub-dial for seconds at 6 o'clock.
Its polished bezel stands out against the brushed steel case, a nice touch in this price bracket, and the crown is truncated-conical, making it easy to grip when setting the time, although it does stick out a bit more than I'd like.
This particular model features a 44mm case and a Unitas 6498-1 calibre movement made by ETA, known for its accuracy and legibility. The hand-wound movement operates at 18,000 vibrations per hour, which is about as precise as you can hope to get for the money.
A perfect choice for enthusiasts who appreciate the art of traditional watchmaking but don't want to break the bank, it's a classic design brought to life by a precision movement and bolstered by impressive attention to detail. Hard to beat in terms of value, this Steinhart is definitely worth a double take.
11. Stowa Marine Original Roman White
Despite its rather dull name, the Marine Original Roman is a great choice for anyone looking for a left-of-center watch that doesn't sacrifice reliability or accuracy. With a diameter of 41mm and a thickness of 12mm, it's in the 'safe zone' for most wrists.
The high-polished white dial with slim, black numerals and blued steel hands speak to something slightly modern in terms of style. Perhaps it's the way the seconds sub-dial cuts into the V and VII indices to create a floating effect of sorts. These little touches can really elevate the otherwise mundane into something far more exciting.
The movement is a hand-wound Unitas 6498-1, a beloved unit modified and finished by Stowa with a swan-neck regulator. It runs at 18,000 vibrations per hour and has a power reserve of 46-50 hours. This isn't Stowa's first rodeo – their earliest watches of this type date back to 1939, so you can rest assured that you're buying something that the firm has perfected over decades.
12. L. Leroy Automatic Deck Chronometer (ref. LL200/1)
This one is a dark horse. A black duck. You may have no expectations when it comes to L. Leroy's LL200/1, perhaps because you've never heard of it or because it lacks the gravitas of some of the other 'louder' brands on this list.
I don't blame you, but I do feel sorry for you because this is a watch worth knowing, particularly if you value high-quality pieces that fly (or sail) under the radar. It's a distinctly masculine representation of the marine chronometer – a 43mm white gold case houses the officially-certified L511 automatic movement.
A silver dial hosts Roman numeral hour markers and a minute track, which runs around a minimal guilloché center. The lines are hard, and the curves are definitive. There's nothing soft about this watch except the way the lugs meet the leather strap.
Somehow though, it's a very unassuming piece, leaving most of the really impressive features to the L511 – a 36-jewel automatic movement that oscillates at 28800 semi-oscillations per hour, decorated by an exclusive "grainé-champlevé" décor on the bridges, hand-chamfered, with raised mirror-polished markings and a 22-carat gold oscillating weight. The watch is truly something special, and if you're a discerning individual who can foot the bill, I would recommend it every time.
The Marine Alarme Musicale wristwatch is a standout on this list for one obvious reason – it makes a little noise at the time that you want it to, thanks to its rather handy alarm feature. The self-winding watch includes an indicator for the alarm time, the alarm's power reserve, and whether the alarm is on or off.
Additionally, it features a second time-zone display (very practical for travelers). Aesthetically, it's certainly the most boisterous entry here, with an 18k rose gold case, matching gold hands that float over an intricate silver dial, and rather prominent Roman numerals with a lume-fill at every hour except six (thanks to the date window).
The watch comes with a sapphire caseback, a screw-locked crown, another standard crown, and a pusher. It has a diameter of 40mm and a thickness of 13mm (that alarm complication has to go somewhere) and can be purchased with a leather or rubber strap, with the option of a gold bracelet. Strangely enough, I feel like the rubber strap works best on this one, as it provides a sense of austerity, contrasting the otherwise busy-luxe composition of the Marine Alarme Musicale.
Finally, the watch is driven by Breguet's calibre 519F/1, which features an inverted in-line lever escapement with silicon horns, a flat balance spring in silicon, contains 36 jewels & has an approximate power reserve of 45 hours. You can have all this and not a thing more for a mere $ 42,000. A word of advice – try before you buy.
The Junghans Tempus Power Reserve watch pays tribute to the company's founder, Erhard Junghans, who pioneered and innovated German watchmaking. The watch employs a timeless design with – you guessed it – a small seconds sub-dial and stunningly reductive power reserve indicator.
The case is made of stainless steel and measures 41.8mm in diameter and 10.8mm in thickness, with water resistance up to 3 bar. My only gripe with this lovely piece is that it would be so much more in vogue if it were, say, 39mm, whereby it could play the dual role of marine chronometer and dress watch effortlessly.
Nonetheless, there's plenty to love here, still. The self-winding J830.5 movement powers the watch, running at 28,800 vibrations per hour (4 Hertz), and has a power reserve of 48 hours. Arguably my favorite dial of the lot, there's a wonderful contrast between new and old here – elongated Roman numerals push the face outward while bespoke modern lettering centers it all, despite being, well, off-center. Reference 028/4725.00 costs $3,500, and given that it somehow stands alone in a very competitive field, I'd say that's a price worth paying.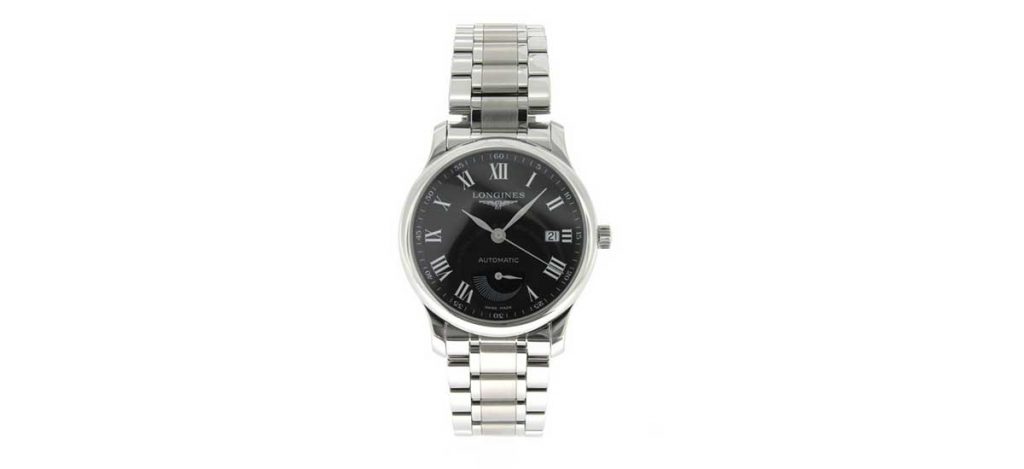 Full disclosure – I'm not a Longines guy. They haven't reinvented the wheel with this watch. There's nothing spectacular or outwardly engrossing about the way it looks or even about its movement. However, this is a watch that has a very useful superpower – it goes with anything and will never, ever look out of place.
There's real value in that kind of stylistic security. The Longines Master Collection is a prime example of the company's skill in making reliable watches that don't rock the boat (pun intended). A 38.5mm stainless steel case houses on its face a black dial with white Roman numerals, a central seconds hand, and a power reserve indicator where the usual sub-dial would be, and that's it.
Beneath the unassuming dial lies the L602 automatic movement made by ETA (calibre 2897), which has a power reserve of 42 hours and runs at 28,800 vibrations per hour. The transparent caseback reveals the movement, and the watch has a stainless steel bracelet with a folding clasp that can be conveniently operated by pushers.
For $2,350, there's enough watch here to keep an experienced enthusiast happy for a long time and a beginner collector mightily intrigued until their next purchase.
For The Explorer In All Of Us
With that, I'm hopeful that I've demystified the marine chronometer for some readers while perhaps encouraging others to add another (much-needed) MC to their collections. Strangely enough, there's a tendency for people to become obsessed with watches that fill such a specific stylistic and cultural bracket, and these timepieces certainly are no exception.
Even though the majority of marine chronometers are being worn at dinner events and in cars, as opposed to on the open ocean, I'm sure (as are you) that the historical reputation of this particular type of timepiece isn't lost on the wearer, no matter the circumstance. So I suggest you try one on, not only to see how it fits but to see how it feels.
About Exquisite Timepieces
Established in 1998, Exquisite Timepieces is your one-stop shop for all things luxury watches! We are an authorized dealer for 60+ luxury watch brands including Omega, Hublot, Seiko, & Longines! We are proud to showcase one of the world's largest pre-owned watch collections, including renowned brands like Rolex and Patek Philippe. Check out our brand new watch arrivals here and popular pre-owned listings here.