Do Breitling Watches Hold Their Value? (What Our EXPERIENCE Says!)
The luxury watch market is volatile, complex, and brings a thrill that is unmatched. From learning about the depths of horological history to following the hype around the industry today, it is a world that offers so much space to explore, discover, and make your own.
Whether you are intrigued by the mechanics of time telling and learning about various complications or interested in the design and aesthetic aspect that makes a watch visually appealing, there is something for everyone. The general watch community (and all of its subgroups) offers a space for enthusiasts to discuss, learn, and support each other amidst their independent horological journeys.
There are many different watch brands that have their own place in the market. From the most affordable swatch to a highly sought after Rolex, there are plenty of options to choose from. Today we are going to focus on a watchmaker that holds a respectable place in today's luxury watch market – Breitling. They are a watch brand that has been around for over a century and shows no sign of obsolescence.
Whether you are investing on a budget or have plenty of capital available to make your next purchase, Breitling offers a multitude of options to choose from. Today we'll break down a brief history of Breitling, explore a couple of their most popular models, and give insight into how to make an educated decision when you're preparing to make your next investment. 
For the enthusiasts out there looking to gain more knowledge in how to invest strategically, we've shared our insights into the luxury watch market and how to navigate it. Details to pay attention to when looking for a new timepiece, brands that are known to hold their value, and investing guidance are all topics we'll be discussing in this guide.
Brief History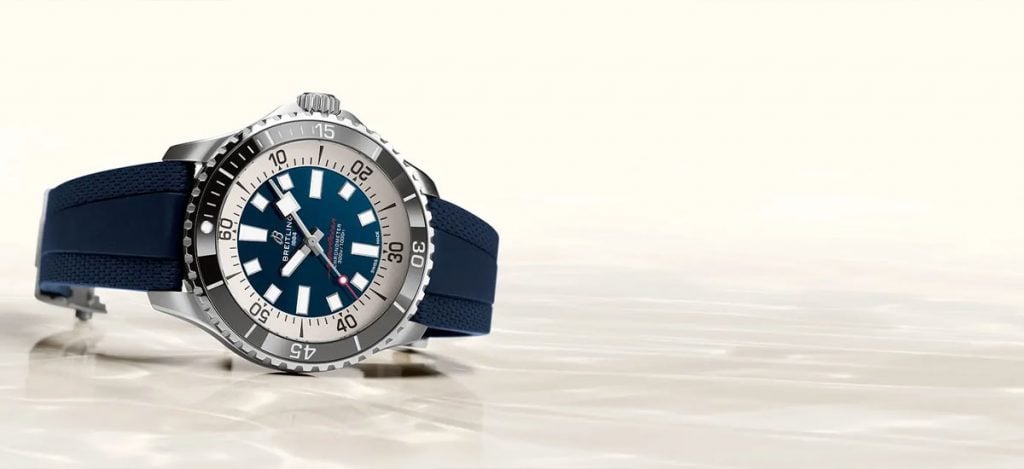 Since 1884 Breitling has been a watchmaker trusted by explorers and watch connoisseurs alike. Breitling's rich history alongside their incredible craftsmanship has led them to be a part of the upper echelon of fine Swiss watches and synonymous to brands like Rolex, Omega, and IWC. Being a highly esteemed watchmaker, Breitlings today are not only being regarded as the ultimate adventure watches but also great investment opportunities.
Being in business for well over a century, Breitling was at the forefront of innovation in the watchmaking world. They invented the first independent chronograph push-piece in 1915 and in 1923 found a way to separate the two functions of the movement that allow the watch to start/stop and reset the time allowing timekeepers to time successively without resetting the seconds hand to zero. Breitling at its time of inception was already ahead of Rolex by over 20 years.
From there they became a trusted source of tool watches for aviators, drivers, and divers alike. During the fifties (think MadMen era) Breitling was making strides in the marketing and advertising side of the house. They launched campaigns that targeted pilots, race car drivers, and divers.
They became a supplier for major airlines like Boeing by providing them with professionally built dashboard instruments to help with the accuracy of flight operations. The Superoecean watch, aimed at divers wanting to bring style and functionality to the sea, was launched in 1957.
Just five years later Breilting made its way to space on the wrist of Commander Scott Carpenter who orbited the Earth three times with a Navitimer. Breitling is also the only luxury watch brand that has had a partnership with the Royal Air Force that's lasted over 20 years. Today, Breitling is independently run by former IWC CEO, Georges Kern.
In 2017 Kern moved in and immediately started transforming the brand into what it is today. He spearheaded a major rebrand, restructuring of the Breitling shops, and scouted new brand ambassadors. Keeping the history of Breitling alive, Kern divided their products into three main categories; air, land, and sea. Within these three categories are six watches that stand out in the Breitling collection and serve as great investment pieces.
Which Breitling model holds value best?
This watch is the perfect ensemble of necessary diving capabilities and timeless Breitling style. The Superocean Heritage is a collection that pays tribute to the original 1957 model and contains hints of the bold sixties aesthetic.
With a variety of options available, you can find a Superocean with a chronograph, date window, or even a special edition with Kelly Slater's surf wear brand ECONYL. Adopted by both professional divers and stylish watch enthusiasts, the Superocean Heritage is a surefire option for those wanting to get into Breitling with the perfect balance of durability and style.
Premier Heritage Duograph
For those of you who prefer the juxtaposition of vintage style and modern elegance, this watch is the one for you. The Premier Heritage Dougraph is a piece that demonstrates the pinnacle of Breitling watchmaking.
The "Duograph" term was first used by Breitling in the mid 1940's. The Duograph refers to a chronograph "rattrapante" (meaning "to catch up" in French) and can measure two elapsed times simultaneously. Being an elegant timepiece, you can find a Premier Duograph in stainless steel with a blue dial or 18k red gold with a black dial. Both versions come equipped with a handsome alligator strap. Coming in at retail around ten thousand USD, this watch presents itself as a serious investment piece.
Arguably one of Breitling's most iconic watches. This pilot's watch was originally designed in 1952 for aviators to help measure flight calculations. Just a couple years later, the largest pilots club in the world (The AOPA) designated the Navitimier as its official timepiece.
After that point, this watch became an instant classic. It made it to space on the wrist of Scott Carpenter in 1962 and has since been seen on the wrist of countless celebrities. Aside from plenty of color options available, Breitling has also reintroduced the AOPA wings to the 12 o'clock position. You definitely can't go wrong with a timeless Navitimer.
The Chronomat is the ideal daily driver for all your adventures. During the quartz revolution in the mid 80's Breitling introduced a hefty, mechanical chronograph on the unique "Rouleaux" bracelet. A bold and unexpected move at the time was risky but the Chronomat was instantly deemed as a Breitling staple. Available in a variety of materials and colors, this watch embodies the versatility of being able to pair finely with a suit for an evening out or with your casual weekend fit, the choice is yours.
Top Time
The Top Time was introduced in the 1960's specifically for the design minded, young professionals of the era. This sleek chronograph has an unmistakable dial and quickly became a favorite for enthusiasts and collectors alike who refer to it as the "Zorro dial".
The design is so eye-catching that the women of the watch community have also shown plenty of interest in this piece. If you're looking for an investment piece, this is it. The modern Top Time is limited to 2000 pieces making it a treasure for the beholder.
Do Breitling watches gain value over time?
When purchasing a new Breitling, it can be difficult to determine if it will gain value over the course of time. The luxury watch market is a difficult space to navigate and will most likely require some assistance by an experienced enthusiast who has a more in depth knowledge of the brands, trends, and things to look for when buying your next watch. Here are a few tips from our team that will help you navigate your next purchase.
Reference Numbers
Breitling has released a plethora of watches since their inception and each one holds a unique value depending on the design, movement, retail cost, and overall rarity. When researching your next watch purchase or evaluating your current watch, always check the reference number to see when the piece was made, its cost at retail, and its reputation in the watch community.
A watch that is seen on the wrist of a celebrity or famous athlete will always garner attention and increase in value. Modern Breitlings will have a reference number that consists of a letter and five numbers and vintage models can be identified by a serial number.
Age
The value of your Breitling may depend on when it was made. For many watch brands, the older the watch is, the more it is valued. A vintage model of your Brietling will be worth much more than its retail price. Anything that was made into a limited edition will also increase the value with time.
With there being only 2000 modern Top Times, this is the perfect example of a watch that will appreciate with time due to a low supply and high demand. When buying a new Breitling, plan on taking care of it as best you can so it has a better chance of increasing in value by the time you are ready to sell or trade.
Are Second Hand Breitlings a Good Investment?
Breitlings are amongst the top tier of luxury watches that have the advantage of their name alone driving a ton of value. Watchmakers that stand behind a rich history and high quality of craftsmanship will always be worth investing in. A combination of the timeless designs and excellent mechanics of Breitling makes it an evergreen brand worth investing in.
Over the years Breitling has made a significant effort to diversify their catalog and expand the boundaries of modern watchmaking. The classic models listed above like the Navitimer and Top time are examples of Breitling models that will always hold their value and be sought after in the watch market.
They have also stayed relevant to modern aviation by coming out with various smartwatches designed for pilots and aeronautical professionals. For the enthusiasts with a more stylistic approach, Breitling has designed many different straps, case, and dial variations that encourage you to find the watch that best fits your aesthetic.
When looking into the second hand market you'll notice that certain models of Rolex will sell significantly higher than retail. Second hand Breitlings will not usually experience price hikes like certain Rolex models which in turn makes them great watches to find in the preowned market.
When buying a second hand Breitling you will most likely pay less than the retail price. Finding a second hand watch under retail will help widen your horizons and allow you to explore models that you may not feel comfortable paying retail prices for.
Other Watch Brands that will hold their value
It may be difficult to determine what brand and model will hold its value but there are a select few brands that historically have done an excellent job at holding their value well after their production date. These brands are the brands you see in movies, on celebrities, and in pop culture. For starters, one of the major watch brands that will always hold their value is Rolex.
Rolex is one of the most well known watch brands in the world and is known as a household name, recognizable by many. Rolex has been around since 1905 and has done an excellent job at marketing their watches to the masses. A combination of their unmatched craftsmanship and widespread publicity has deemed them one of the most valuable watch brands in the market.
At this current point in time, many of their sport models like the GMT, Daytona, and Submariner are trading around 2-3 times their retail value. For many, Rolex is the go-to for a versatile, high quality, and stylish timepiece that will hold its value through the test of time.
Another brand that holds its value very well is Patek Philippe. Patek may be lesser known to those unfamiliar with the watch world but they are a favorite name for many enthusiasts, collectors, and admirers of the brand's fine craftsmanship. The brand was founded in 1839 in the heart of Swiss watchmaking, Geneva Switzerland.
They have always been at the forefront of Swiss watchmaking by introducing new ways of measuring time and even achieving the world timekeeping precision record for mechanical watches in 1962 that is still unbeaten today. Patek Philippe has consistently proved that it is a brand worth investing in, between the precise movements and timeless designs, a Patek would be a wonderful addition to your watch collection or as an investment piece.
Audimars Piguet is another watch brand that has been known to hold its value very well and is consistently becoming more popular in today's culture. The brand has been consistently seen on NBA players' wrists, famous artists, and icons of pop culture. You may recognize the Royal Oak or Aquanaut models that have achieved grail status and are selling for prices well over 100k usd.
Whereas Patek Philipe may seem geared towards the more mature crowd with elegant designs, impressive complications, and leather straps, Audimars Piguet is gaining a lot of traction with the younger crowd with their sleek, modern, stainless steel sports models.
Watch brands that were founded over a century ago are able to rely on the rich history of their brand to be one of the biggest value propositions behind their craftsmanship. Brands like those mentioned above and others like Omega, IWC, and Jaeger-LeCoultre are perfect examples of this.
A deep history creates a strong foundation for the market to build familiarity and trust around. This in turn creates value around the watches they produce which then results in the beautiful game of supply and demand we witness in today's market.
As fellow watch enthusiasts, the Exquisite Timepieces Team will always encourage you to buy a piece you truly love no matter how much of a value prop there is behind the name or model. Whether it is purely an investment or just for you, it's important to stand behind your purchase and be educated on the brand's history and the story of your watch.
We also believe it's important to expand your horological horizons and learn about the many other watchmakers in the market. By building a solid foundation of knowledge and understanding of the world of watches you'll be able to make better informed decisions and have higher chances of finding a watch that you really connect with.
Should I invest in watches?
If you have a genuine interest in watches then we would definitely encourage you to delve into the world of horology. One of the great things about the watch market is that it is so vastly diverse that you will inevitably find a community based around your same taste in watches. Being a part of a community based around your favorite watch brand or style of watches becomes a wonderful roi.
You will naturally soak up more knowledge around the history and culture of your timepiece which will strengthen your trust and connectedness to the brand. If you are looking into purchasing watches purely for the investment purposes, it is still just as important to build knowledge around the brands reputation, history, and value in the aftermarket.
There are many brands in the market that lose tremendous value as soon as they're deemed "pre owned" and there are those that will guarantee a return especially when they become categorized as "vintage." It will be up to the investor to pull the trigger on a watch at the right time and right price. Being a very volatile market, it will inevitably take plenty of time and experience to successfully trade watches as investments.
We don't recommend going in blindly and jumping straight into purchasing a bunch of watches but rather taking the time and effort to decide your position in the market and your personal investment strategy. With these two perspectives in mind, we believe there should be a healthy balance between your investment strategy and general curiosity of the watch world.
These two combined will allow you to make smart investment decisions while enjoying the journey along the way. The watch industry has such a rich history and extensive network in today's world that it would be impossible not to enjoy participating in something so many live to appreciate.
Back to Breitling
After discussing some of the highlights of Breitlings history, a handful of their most popular models, and where they stand in the market compared to other popular brands, we trust you'll be equipped to successfully begin your investment journey. Breitling is held to a high regard in today's market and will most likely continue to do so.
From their impressive history of watchmaking to their growing popularity today, Breitling offers a fantastic community to be involved in. Whether you're just getting into watches or consider yourself an avid collector, finding the right Breitling model can be a great investment.
About Exquisite Timepieces
Established in 1998, Exquisite Timepieces is your one-stop shop for all things luxury watches! We are an authorized dealer for 60+ luxury watch brands including Omega, Hublot, Seiko, & Longines! We are proud to showcase one of the world's largest pre-owned watch collections, including renowned brands like Rolex and Patek Philippe. Check out our brand new watch arrivals here and popular pre-owned listings here.