10 BEST Seiko Turtle Watches that Are Classy & Affordable!
In this article we will discuss the best turtle watches made by a brand that in the very different worlds of incredible diving watches and affordable classy timepieces is a bestseller. Seiko has aligned themselves and their turtle watches with affordability and diving since the inception of the turtle type timepieces in 1976. These classy, functional and extremely durable timepieces had new models made up until 1988.
Out of thin air in 2016 Seiko decided to reintroduce or retro the turtle type timepieces as part of their prospex models of timepieces. Now lets introduce my personal favorite 10 Seiko turtle type watches and why they made the list.
Seiko has engineered several different models of the turtle type timepieces including what's known as original turtles, new generation of turtle, king turtle, and the mini turtle. Each of these sub models of timepieces have distinct features that make them special and different from each other.
The original turtle type timepiece
The original turtle timepieces were actually intended for the Japenese domestic market as they showed up in the Seiko catalog of 1977. What truly set these watches apart at the time was the difference in the dial that featured circles instead of the trapazoids that were featured on the dial of the timepiece that inspired the turtle type timepieces.
Along with these subtle but updated styled features a case size of 44mm. This complimented an updated look to a 21mm timepiece band. These timepieces at the time were worn for any occasion ranging from fairly deep sea diving to a spiffy night out on the town, since its inception this model has dazzled enthusiasts and collectors alike.
Welcome the new generation of Turtle Type timepieces
Up until 2015 the turtle watch seemed to fade into the collections of enthusiasts but remained fairly popular. Then the announcement was made that Seiko was reintroducing the turtle as part of the new prospex timepiece model line. The new turtle models were introduced in four different color ways. Other features included were an increased water resistance and a highly upgraded movement that was automatic.
Best Seiko Turtle Type watches and why they make my list
Without further ado lets start with my favorite old school Seiko turtles and check out several generations of functionality.
1. Seiko turtle Scubapro 450, Reference 6306 – 7001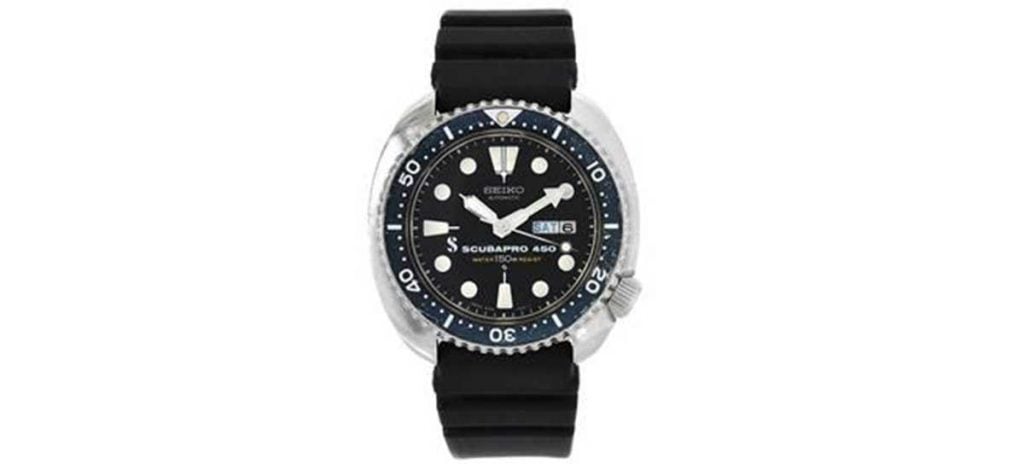 Mysteriously but generally believed to have forst surfaced in 1978 this timeless terrapin is a variant of the classic 6306 which was originally introduced in 1976. Some models from this original year but in the Scubapro variant have surfaced making the exact release year unknown. This timepiece made the list due to its rarity and the fact it's an upgraded variant of the original turtle which was already a fantastic timepiece.
2. Seiko Turtle, Reference 6306
These hallmark timepieces are truly functional works of art. Featuring a 45mm case and the ability to dive to some of the deepest depths of the sea, this original timepiece has influenced so many variants and copycats. When reintroduced in 2016 interest was renewed in the original turtles and has driven up the price somewhat substantially. This watch makes my list simply because you have to recognize that this timepiece sparked numerous generations of turtle type watches that are still faked today.
3. Seiko 6306 MSST, Reference 6306 – 7001
This variant of the 6306 hit the market in 1977 and features a 45 mm case and uses 21 jewels in the movements to ensure the finest timekeeping even under extreme pressure from extreme depts. This timepiece features hardlex crystal on the face and hacking functions.
This hacking system allows users to set the timepieces second hand as well as the minute and hour hand. For me this watch makes the list because of its use of the 21 jewels for precise timekeeping as well as its innovative hacking system.
New generation of turtles
4. Seiko Turtle 773, Reference SRP773
This new age turtle features the same OG innvoation such as hacking functions as well as hardlex crystal on the face of the timepiece. This new age turtle differs from older models by having 3 more jewels in the movement than the older models making it that much more precise and valuable. Featuring a 41 hour power reserve and a timeless 45mm steel case this timepiece ushers in a new generation of turtles seamlessly.
5. Seiko Turtle Batman, Reference SRP787
With a name that's synonymous with Gothan city's hero the turtle batman has a certain presence to it when worn to an event or casually. This timepiece came onto the market in 2016 and caters to several different crowds and collectors alike. Anyone from a true comic fan to someone looking to feel like abruce Wayne for the day can enjoy wearing this timepiece.
With its recognizable classic 45mm case and hacking function this piece of wrist candy is adored by collectors and enthusiasts alike. This watch makes the list for so many reasons its subtle but classic look and of course its named after the dark knight batman himself.
6. Seiko Turtle Coke, Reference SRP789
This timepiece featuring the name of my favorite soda first hit the open market in 2017 and dazzled buyers with its classic styling featuring a 45mm stainless steel case and no classic hacking function. Keeping the Seiko trend of durability this timepiece also has a hardlex crystal watch face and features a 42 hour power reserve as well as the standard 24 jewels in the movements.
This is a fun watch that can be curated by a wide variety of collectors for a few reasons such as affordability and reference to coca cola. This timepiece makes the list because of its long-lasting power reserve and built-to-last manual winding.
7. Seiko Zimbe Grey turtle, Reference SRPA19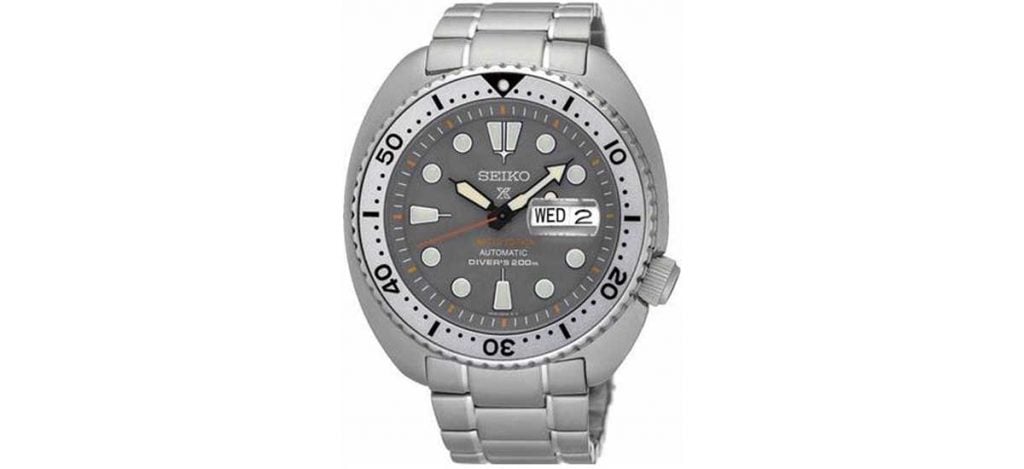 Continuing on with the trend of new-age turtles ill introduce the Zimbe grey turtle. What may sound like a type of turtle is actually a manual-driven work of wrist art. This timepiece is a very limited edition with only about 1299 pieces worldwide making it a must-have for any enthusiast looking to get into the collecting game.
The timepiece's stainless steel case and sapphire crystal make it extremely durable, these features paired with a 41-hour power reserve make it a functional rarity. This timepiece makes my list because of its rarity and durability. With only 1299 pieces made this would be a quality investment in my opinion.
8. Seiko King Turtle Manta Ray
This timepiece is truly a work of art featuring several manta rays that seem to be just floating along the in sea. This timepiece was released in 2020 and may be the largest of the turtle-type timepieces. The timepiece is part of the save the ocean collection of watches curated by Fabian Cousteau.
Seiko has done these save the oceans themed watches for a few years with much success and I personally hope they continue as they sure do make beautiful timepieces. This watch makes my list for a few reasons including the fact that proceeds from it go toward saving our oceans and because the timepiece is very rare and just beautiful to look at.
9. Seiko Turtle Sea Grapes Okinawa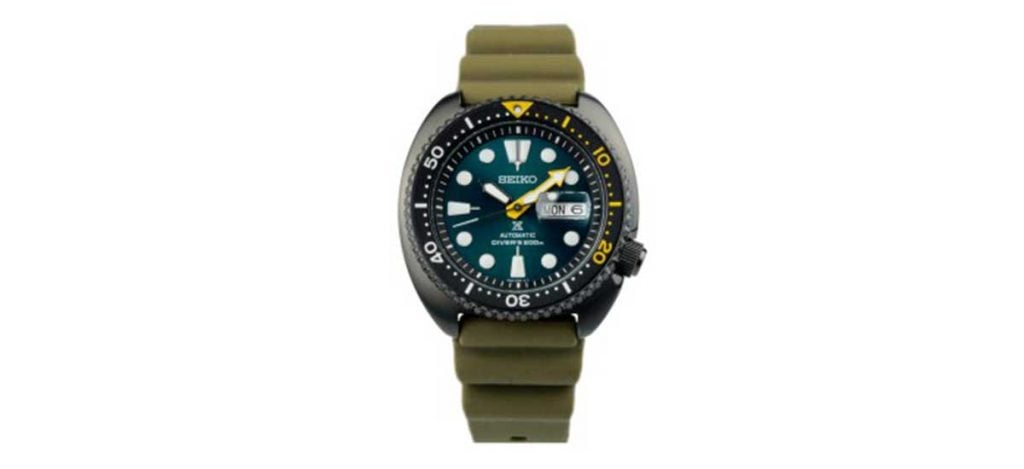 As far as unique names go this may be up there on the list. The sea of grapes Okinawa is a very rare and utilitarian type in look and feel. Limited to a mere 1800 pieces worldwide this timepiece features a classic 45mm stainless steel case 24 jewel movement for impeccable timekeeping and features a hacking function.
The theme for this watch is a type of algae. These algae are also known formally as caulerpa lentillifera. This algae originates in the seas of Okinawa. This watch makes my list because of its interesting name and namesake as well as its extreme rarity with only 1800 pieces.
10. Seiko Ninja turtle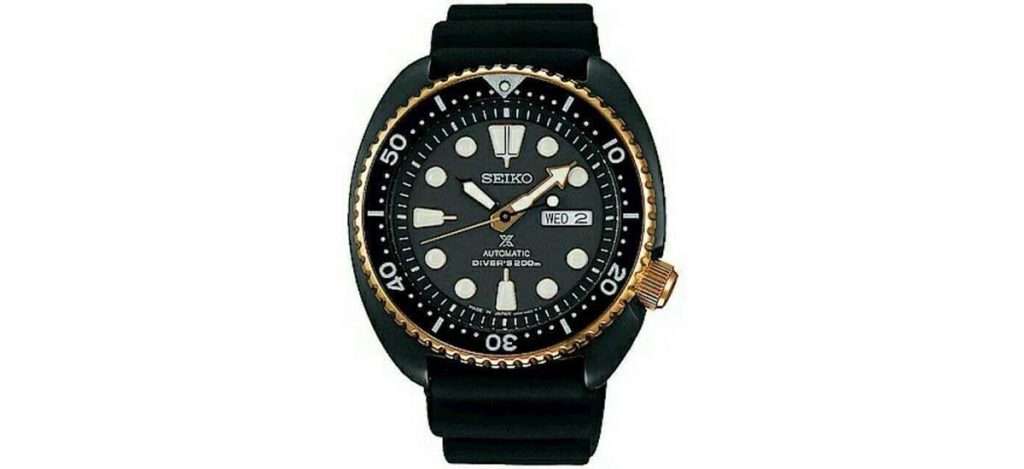 Last but definitely not least on my list is the Seiko Ninja Turtle. This low key but very classy timepiece can be worn with a suit or dressed down for your daily gym routine this watch can really do it all style and functionality wise. Featuring a Hardlex crystal watch face and stainless steel case this low key watch can take a beating and keep on ticking.
Its 41 hours of power reserve make it a top player in the manual winding game. This timepiece dropped in 2018 and looks just as classy in 2022. This watch makes my list because it is so low key but speaks volumes with its subtle class. Any timepiece that can be rocked with a suit and can be as durable as any on the market deserves a mention or a piece in everyone's collection.
Whether you're choosing an everyday wear watch or a collectible timepiece the magicians as Seiko continue to pump out these incredible turtle type watches. If you have the honor to purchase one of these watches make sure it is a smart investment for your personal financial situation, Thank you for reading my list of Seiko's best turtle type timepieces and happy collecting!