10 BEST Grand Seiko Quartz Watches (Luxury Meets Accuracy!)
Seiko, as a brand, is the epitome of Japanese innovation. Grand Seiko is the jewel in the company's crown. Seiko boasts a number of firsts in watchmaking, the most important of which may be the first quartz wristwatch. The Seiko Quartz Astron was released in December of 1969 and it changed watchmaking forever. Not only did this new technology remove the need for winding, but it made for a watch so accurate that it was virtually impossible for a mechanical watch to match it.
Grand Seiko has taken that great history and continually improved upon it. All grand Seiko watches have impeccable finishing. Attention to detail, if not obsession over it, is a hallmark of every watch that exits the Grand Seiko workshop in Japan. That's no less important for their Quartz models.
Types of Grand Seiko Quartz Watches
Grand Seiko offers two different types of quartz watches. The first is a standard quartz movement, like the quartz movement in any other quartz watch. The second, and more impressive, is the Grand Seiko patented Spring Drive movement. To explain it simply, the Spring Drive uses a standard mainspring for power.
However, it's regulated by a quartz crystal, offering some of the most accurate watches in the world. Whether you want a standard Grand Seiko quartz or a Spring Drive model will depend on your individual needs and budget. Review the list below and you're sure to find at least one that suits your tastes.
Choosing the Right Quartz Grand Seiko
Buying a quartz Grand Seiko is unlike buying any other brand of quartz watch. Because of Seiko's status as the creator of the first commercially sold quartz watch, and their incredible technological history, you can be certain that you're getting the most amazing quartz movement available. Regardless of whether you choose the standard or the spring drive quartz movement, you will have one of the most accurate luxury watches made by any watchmaker in the world.
The first thing you need to decide when choosing between quartz Grand Seiko models is whether you want a sports model, a dress watch, or something in between. The best sports models come from (surprise surprise) GS's Sports Collection. These are rugged tool watches that are meant to take a beating. They include divers, GMT models, and just about any other complication you can imagine. On the other end of the spectrum is the Elegance Collection.
These watches are intended for a more formal environment; perfect for the office, or a four star restaurant. Finally, a great choice for everyday wear is any watch from the Heritage Collection. These watches are both sporty and dressy at the same time. They are some of Grand Seiko's most versatile models, just as capable on a rugged hike as a black tie night out.
Regardless of which line you choose, a Grand Seiko quartz watch is an investment in you. It's a reminder that quality will never go out of style, and that the age of Japanese watchmaking is very much in full swing thanks to Grand Seiko.
Few complications on a watch are more useful than a GMT function (unless you're James Bond.) The ability to track two separate time zones is increasingly useful, as business becomes more interconnected via the internet and people's mutual love of cat videos.
This beautiful quartz GMT includes a 24-hour fixed bezel, scratch-resistant Sapphire crystal, a moderate 39mm case width, and 100 meters of water resistance. Add to that the magnet resistance up to 60 Gauss, and you've got yourself one heck of a great watch.
This model might be considered Grand Seiko's response to the Rolex Submariner. However, this gorgeous model has the benefit of being made from titanium. It has a rotating dive bezel, a 44mm diameter, 200 meters of water resistance, and the amazing 9R65 spring drive movement. It also includes an impressive 72-hour power reserve, and it just looks cool on the wrist. If you don't like this watch, then you may want to have your eyes checked.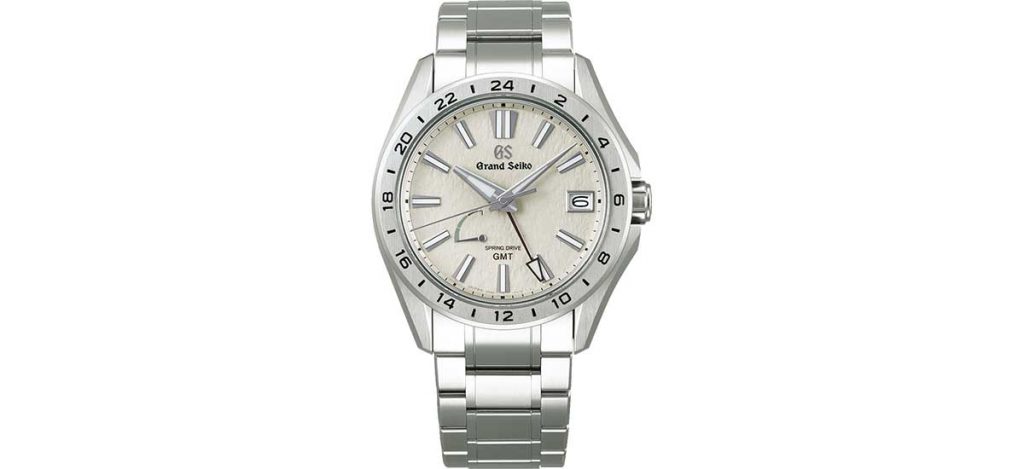 This GS offering has more bang for the buck than almost any other option on our list. It includes just about everything but the kitchen sink (and that may be optional as well if you're on good terms with your AD.) This beautiful Spring Drive-powered model has a GMT function, a chronograph, a power reserve indicator to keep track of the solid 72-hour power reserve, and an accuracy of +- 15 seconds per month! So you'll have no excuse for being late to that next dentist appointment.
Grand Seiko Sports Quartz 9F Tough
In addition to the elegant and simple design language of this model, it includes magnetic resistance up to 500 Gauss, 40mm width, a solid caseback, 20mm lug width, Scratch resistant sapphire crystal, and 11.7mm. This is a no-nonsense watch for someone who wants all the perks of a high value luxury watch, but doesn't want too much flash.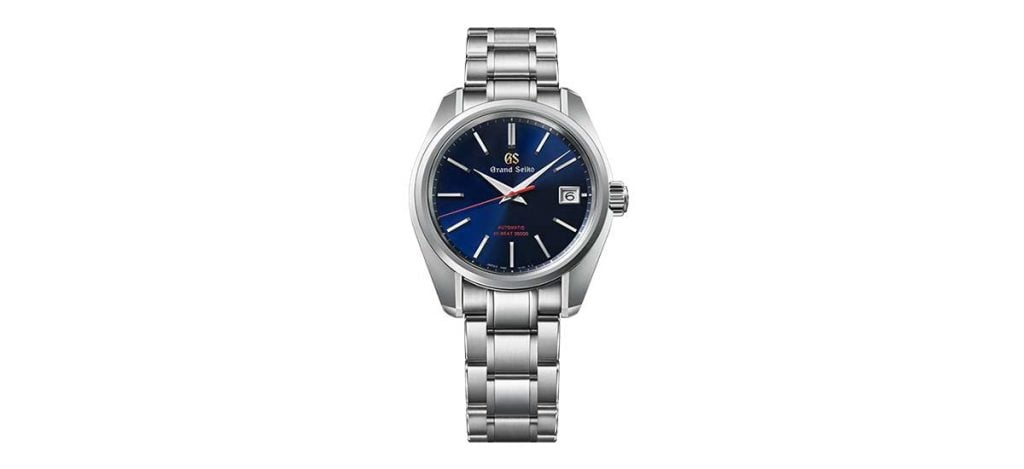 This model is classic in every possible sense of the word. For starters, the 40mm case size and deep blue dial are pure class. Because this is a limited edition 60th Anniversary model, it includes a special 18K yellow gold caseback. It also features hacking, accuracy of +-5 seconds per year, a scratch-resistant sapphire crystal, and a limited edition run of just 2500 watches. This is a grownup watch for a grownup watch collector.
Grand Seiko Elegance Quartz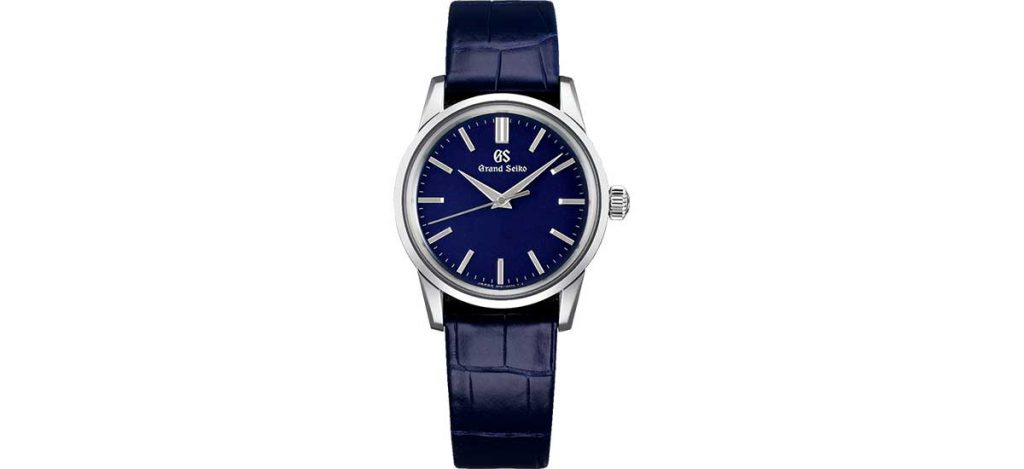 Grand Seiko's Elegance line highlights the beauty of simple designs and classic vintage sizes. This beautiful ice blue model has a case size of 34m, a beautiful dark blue leather strap, solid caseback, sapphire crystal, and a standard Grand Seiko quartz movement. It also has an accuracy of +- 10 seconds per year.
Limited edition doesn't always mean special. Such is not the case with this gorgeous frosted blue dial GS model. The movement is an updated GS 9F85 that builds upon the standard accuracy and tech of the original to offer an accuracy of +- 5 seconds per year through the use of specially aged quartz crystals.
It also has 100 meters of water resistance, a diameter of 40mm, a dual-domed sapphire crystal, and a time-difference adjuster that's linked to your calendar. This watch is everything right with Grand Seiko quartz watches.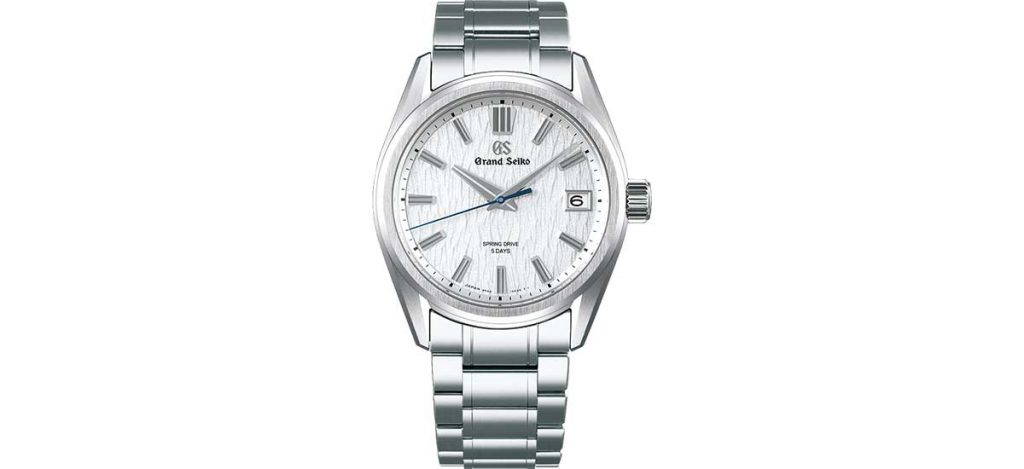 This classic style watch is also referred to as the "White Birch". It's part of GS's line that is meant to mimic natural textures with high tech engineering. The dial has a beautiful wooden texture to it and the blue seconds hand is elegant and highly legible.
It has the patented Grand Seiko 9RA2 spring drive movement, which offers a staggering 120-hour power reserve. It measures 42mm in diameter, has a screw-down crown, an anti-reflective sapphire crystal, and 100 meters of water resistance.
Your time on this earth is limited, so shouldn't your watches be as well? This is a gorgeous bright blue dial limited edition Grand Seiko with a standard quartz movement. It has 200 meters of water resistance, a diameter of 40mm, and a sapphire crystal. They only made 2000 pieces of this specific model, so to get one at almost any price is a steal!
Grand Seiko SBGA413
This one has all the amazing traits of other Grand Seiko models, but with a pink dial! It's meant to mimic the look of the famous Japanese cherry blossom and it's a looker! The watch has a Grand Seiko Spring Drive movement, diameter of 40mm, an easy-to-read power reserve indicator, 72 hour power reserve, and a screw down crown giving it 100 meters of water resistance. If ever there's been proof for the phrase "real men wear pink" this watch is it.