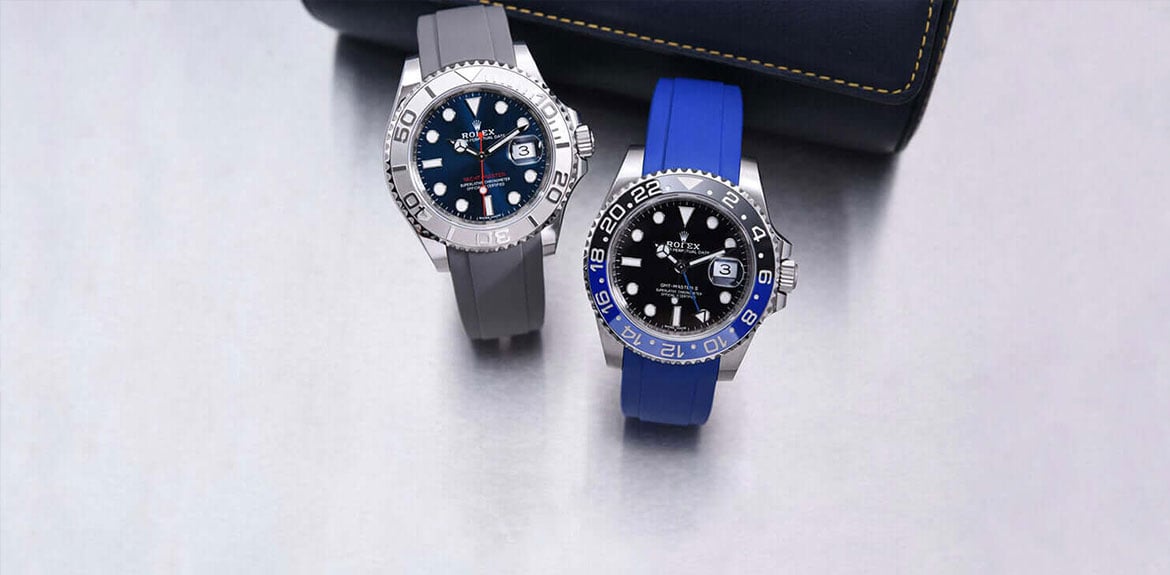 Rubber B vs Everest Straps for Your Timepieces (DETAILED Comparison)
POV: The hotter months have arrived, and brought with them the humidity which, upon coming across this article, may have you contemplating a wardrobe change directed at your wrist; a vibrant, sportier swap of bracelet for the summer-ready rubber strap.
While looks are most apparent in the decision-making process, there are few choices that match a fine façade with build-quality and personal compatibility, for which the internet (majority of whom represent Rolex here, as such the central figure in this debate) has nominated two main contenders: Rubber B and Everest. As one is much like the other, we must closely examine both to uncover which is truly fit for the crown, or 'coronet', as well as its contemporaries.
Rubber B Background
Hailing from Switzerland, Rubber B first opened its doors in 2010, claiming to be the first of its kind to cater to the Rolex market, per the description from their website.
Inherently, one could argue that they carried the torch first lit by Rolex with the 60's era 'Tropic' rubber strap, adorned by the early Submariner, by advancing the concept decades later before the watch manufacturer could circle back with their own, yet restrictive Oysterflex strap in 2015.
Unlike said elastometer bracelet, Rubber B satisfies far more than two-mere models, instead covering the entire Rolex fleet known today, and since enhancing its mechanisms affixed to the 'vulcanized' rubber strap, while expanding their portfolio to eventually suit Audemars Piguet, Breitling, IWC, Omega, Panerai, Patek Philippe, Tudor alongside their universal strap series'.
Everest Background
The younger of the two, the ever-zealous Everest Horology first gained its footing on Kickstarter, where it was brought to life in 2012 by devoted backers responding to Michael DiMartini, whose desire it was to craft the ultimate replacement strap for his Rolex.
While they are not headquartered in Switzerland, they source the same type of 'Swiss-Made' polymer rubber under the same processes (note: it has not been certified by a governing body as a result, unlike its corrival, hence ineligible for the official stamp; yet the origin of their sourcing alone marks its approval).
Nevertheless, their sleeve contains a fair few tricks of its own in terms of  practicalities, which we will dissect further below.
Though it has less range than Rubber B across watch brands, catering to a select-fewer in Rolex, Tudor, Panerai as well as its own selection of universal straps, fear not – as those who own one swear by them, in no way facilitating this dead-heated comparison. Time now to see what each is made of.
As mentioned, both adhere to the usage of vulcanized rubber, which is the result of  combining and heating rubber & Sulphur, thus increasing durability and bypassing  reliability issues encountered in regular old rubber, such as cracking or UV  tarnishing, in the face of tougher exposure.
Rubber B, who now have a host of bracelet styles and technologies, most notably their self-coined 'Blocked Integration' or seamless strap-to-lug fit, come today in various looks and materials. Their flagship rubber strap is directly set apart from alternative brands, in that it grants a smooth feel that does not stick, offering a discreet fit and is also impervious to scratches.
The same can be said for Everest, which also has a neutral feel yet is seemingly less matte in tonal shade, instead a tad glossier, while also slightly nimbler overall – alluding to its deeper carved out channel, mostly allowing for better air flow and preventing moisture from settling (not to say the former has issues in this area).
As far as securing the strap, both come in a tang buckle version in addition to an alternative, wherein Rolex clasps in particular can be mounted, while Rubber B also offer a torsion-tested Velcro closure. The interchangeable verdict, is that each are durable and built to last, with looks that do not fade. At least not for a very, very long time.
Fitment
The separating factor calls into question the wrist itself, as each strap features a different fit, in turn likely separating each reader to their appropriate choice. This is most critical, as investing in a strap should not only meet expectations in quality, but must feel secure and comfortable to naturally compliment the timepiece, least of all distract from it.
To clarify, Rubber B, on all accounts, is more suitable for a smaller wrist circumference. In part thanks to its sharp profile and shorter end from six o'clock, meaning it does not feel bulky or weighted, but also because it points downwards from the lugs, wrapping firmly right around and creating a snug fit.
As for Everest, which is broader yet less rigid, it comes greater in length yet is also more curved, corresponding closer to the angle of the wrist, especially one that is broader. Due to its flexibility, it is also said to fit nicely directly out of the packaging, while Rubber B requires some time to be worn in.
As a rule, those with a wrist size closer to 6 inches will typically feel at home with Rubber B, while others nearing 8 inches in wrist circumference may be more inclined to opt for Everest.
Scope of Design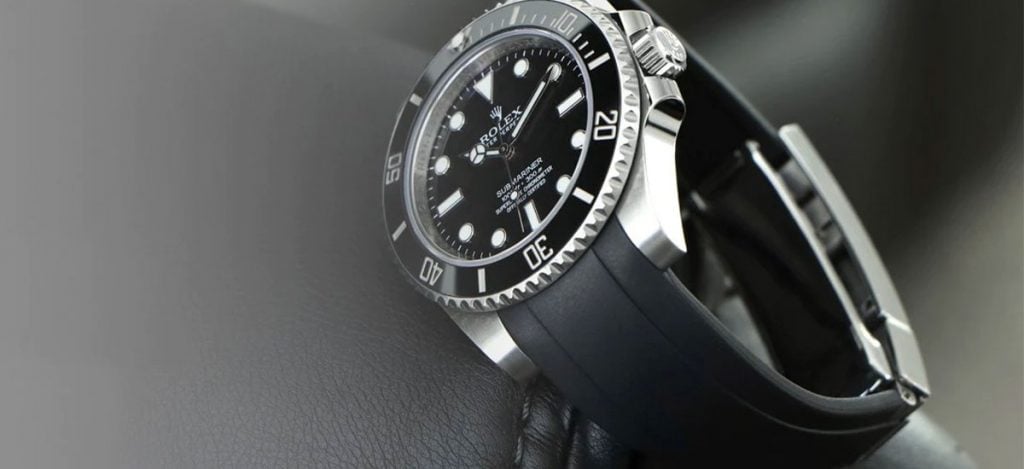 Owing to its ever-so-slimmer profile, the Rubber B strap appears partially narrower in  comparison to Everest, in particular where it is raised in the middle, as Everest  features both a uniform and wider beveling from top to bottom, and overall larger  presence.
Both see the rubber extruding beside the lugs, though this does not obstruct its position atop the wrist, meanwhile Everest's securing pins are not embedded as tightly as with Rubber B, giving it more freedom and partial looseness, thereby less constricted and more forgiving on larger wrists. Rubber B stands out on paper boasting 'Strength Infusion Technology', in which it fuses carbon fiber molecules during the molding process to retain its shape and resistance to friction.
This, on the part of Everest, gives an impression of less rigidity owing to the subtleties in manufacturing, though this works in its favor as sequentially, it feels more flexible. In spite of this, it is noticeably more vigorous between the two, alluding to a presence that edges in achieving a masculine look.
Mounting the strap to the case is no fret, however, it may bring on a challenge for first-timers, as confessed by Rubber B themselves.
The tang buckle option cuts the process in half, though mounting the buckle requires nothing more than the normal screws of the Glidelock link or clasp, and is guaranteed not to harm the watch. Finally, neither are constructed by coating blends or bonding, while both solid straps come in a handful of primary colors, each curated to best compliment every individual model.
Pricing
Another decisive point to consider, is of course their price. Although Rubber B is on par with Everest when quality is concerned, and vice versa, one comes in a grade steeper resulting from its technical investments; Rubber B is the more expensive between the two.
The Glidelock format from them will cost $250, and $220 for the same over at Everest, while the tang buckle is $240 at both respectively. There is something to be said about arriving first, not only that but Rubber B appear more established as well as their aptitude for technical development.
They also bear the certified credentials to support that fact, though for many Everest will bestow more value, because their presence is equally well known with the same renown Swiss quality, for a fraction of the price.
Conclusion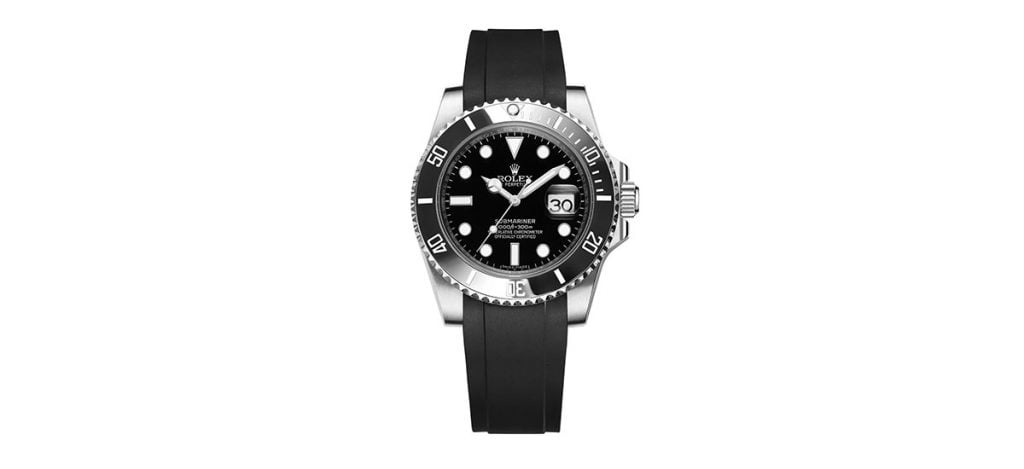 The final consensus: it ultimately depends on your build, as well as your preference.  Make no mistake, both accomplish what they set out to achieve, and you are in good  hands at whichever camp you choose.
While they resemble each other on the surface, they differ slightly upon closer inspection, and are certainly composed of different qualities from a tangible aspect. Rubber B is not as bulky and can be distinguished by its snug fit and lower profile. Though not by much, as Everest gives off an only slightly larger appearance, compensated in part due to a commonly larger wrist.
With that said, it is advised that one focus mainly on the fit of the strap against wrist dimensions, as that will be key in achieving harmony in proportion to the wearer and the watch itself. For those favoring the tang buckle, one final point to note is that the
holes are positioned farther apart on Rubber B straps, compared with that from Everest. Though given that rubber is more robust, this is quite commonplace resulting from a larger surface area. This should not dissuade those with small wrist sizes, as each hole is positioned to suit most wearer's proportions. If that does not concern you, and for added flexibility, Everest will likely better serve you.