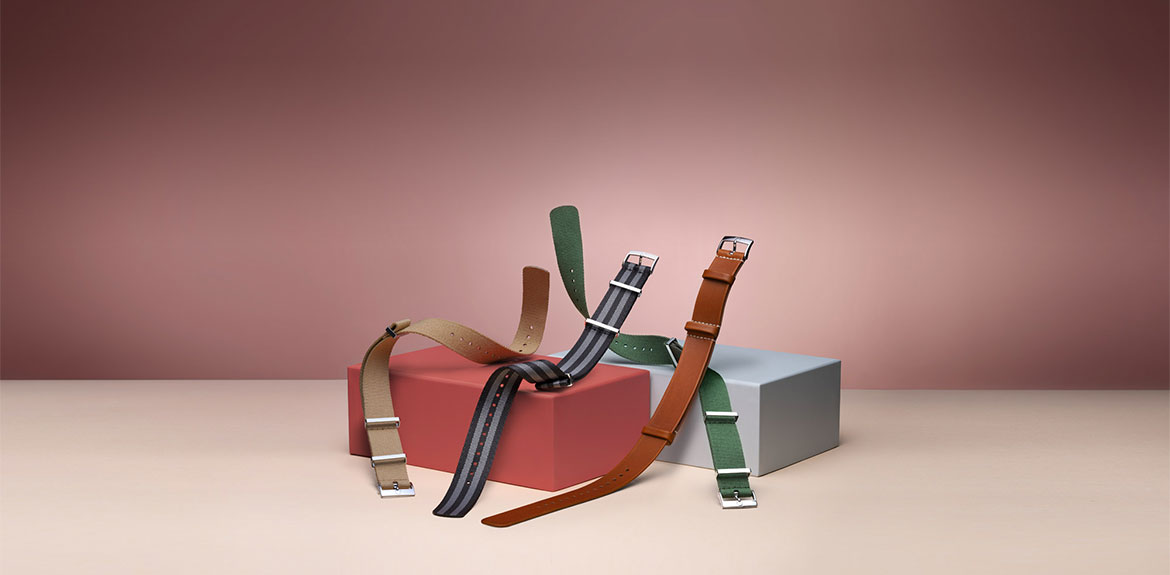 Zulu vs NATO Straps – Here's What You Should Know!
The beautiful summer weather is here! A simple strap change on your watch during the warmer weather can make a huge difference to how comfortable your watch feels on your wrist.
The Zulu and NATO watch straps are always a popular choice and a great way to pop color on an outfit, but at a quick glance they can look almost identical. They are made of nylon, "pass-through", infinitely adjustable, and available in dozens of colors and patterns, etc.
Want to have a quick, fun, functional, and playful way to show off your watch, but cant decide? Read on.
What makes them so similar?
Zulu and Nato straps feature a single piece "pass or slip-through" design rather than the typical two-piece design that is typical on other watch brands. These styles have similar color schemes and materials across straps.
Both styles have similar color schemes and materials, rather than the two-piece design often found on other watch bands. These have similar color schemes and materials such as nylon and leather.
Pass-through strap is often used to describe both varieties because it literally passes through the spring bars of the watch without the need to physically remove them.
Conversely, to return to that point, you must remove the stock strap and spring bars. Additionally, you have to put them in place with no strap attached prior to including a NATO, ZULU, etc.
How to tell a Zulu Watch Strap from a Nato Watch Strap
Zulu straps don't have a robust military history. Many consider them to be inspired by pre-nato single piece straps such as the RAF (Royal Air Force), older pre-NATO strap. Zulu at essence a more recent version of the classic, pre-NATO fabric strap.
Zulus straps are rounder and have a thicker set of hardware. Some include additional piece of material on the underside that keeps the watch on the wrist (5-ring Zulus), but some don't (3-ring Zulus).
Zulus come in many variants that are more robust metal hardware than NATO and made of thicker nylon. Heavy-duty hoops and buckles are sewn in and are oval in appearance.
NATO is thinner and has more rectangular keepers and Tang-style buckle. These often include an additional piece of material on the underside. It keeps the watch on the wrist in case of the spring bars break or come loose. Additionally, they have slimmer and more rigid keepers.
A big difference with NATO is the addition of an extra section of strap that offers more security on the wrist. The extra bit of strap and its keeper confer additional security on the wrist.
If a spring bar fails, the watch will be protected from dropping and remain relatively stable on top of the wrist rather than potentially sliding all the way around.
RAF versions omits the additional section and two of hoops, keeping only the one that serves as a keeper. Metal hoops are thin and rectangular in shape. Many have buckle/tang and is attached by spring bar and removable. However, most have it stitched in.
To most, NATO straps is a faux pas for formal occasions and business attire. However, some work places may allow it and of course for casual and business casual wear.
Materials for strap come from all types and typical ones include canvas, leather, etc.
Sizes are available 16mm, 18mm, 20mm, 21mm, 22mm, 24mm, and 26mm for wide lugs.
Hardware ranges from plated brass to stainless and can polished, brushed, bead-blasted, etc. The nylon is usually flat and tightly woven, but on the "tropical" versions is open and loose, without added holes for the tang.
They are very affordable and can be purchase roughly for $20 and even mid ranged straps will be cheaper than rubber or croc straps. However, there are many top shelf luxury branded ones.
What is the advantage of a NATO watch strap?
Quickly interchangeable
Considered to be one of the most comfortable straps
Simplicity, low cost, variety of colors, stylish
Practical and great for leisure activities and smart casual
Built-in design and loop near the buckle helps save it from a broken spring bar.
Strap loops are woven under the spring bars under the case to prevent losing the watch if stuck.
Great for scuba diving because it tells you time left on oxygen tank.
NATO straps are wonderful with a wide range of vintage and contemporary watches.
Proper color combination could work. It looks fantastic with classic dive watches, but can also work well with budget watches.
How the tell the difference between Zulu and Nato straps.
Telltale sign that it's a NATO is the extra flap nylon that rests underneath the watch. The flap maintains the timepiece from sliding off the strap in case the watch unbuckles in storage or wear.
If you cannot view a flap (photo, etc.), the hardware can be a tip off. Zulu straps are quite thick, rounded loops, and an oval-shaped buckle.
NATO have slimmer metal hardware and a buckle that matches. The buckle may be rectangular or slightly rounded corner.
Zulu vs NATO: All the Differences
1. Quickly interchangeable.
Switch straps under 60 seconds. Combine straps with the fashion you're wearing.
2. Comfortable
Created for the military, NATO straps are double looped behind the watch. This means it has 2 straps of nylon under the watch which holds the case firm in place.
3. Protection
For the British military, the strap had to be failsafe. The double loop behind the watch keeps it safe in case the bar breaks.
4. Durable
NATO straps are extremely durable. Works well under extreme conditions. Easily cleaned with a hand wash in warm water and gentle soap or you can put into a laundry bag and machine wash.
5. James Bond
Goldfinger: Sean Connery – navy blue strip with red and green stripes on his Rolex "Big Crown Submariner". This came out before the launch of G10. Bond never wore a NATO strap in Goldfinger..
However, similarity to NATO straps, it's called Bond NATO. Bond's strap is less than 20 mm wide. Estimates put it at a spring-bar-revealing 16 mm due to lack of a suitably wide over-and-under cloth strap for sub's 20 mm lugs.
Let's cut to a few scenes and close-ups like the explosive pre-title sequence of Goldfinger.
01:59 – You can see a Rolex worn over Bond's wetsuit sleeve. It has a black and grey strap.
02:41 – Bond is lighting a cigarette and you can see a Rolex again.
It's a great alternative to a leather strap or metal bracelet. Nato style strap is made from woven nylon. It is a popular on dive watches because it's comfortable, fast drying, and don't stretch out when wet.
NATO straps have additional strap that slides through 2 lugs. Nato style straps slider under spring bars, but unlike Zulu they have an extra piece of material that the remaining part of the strap loops into.
NATO Straps History
Newer horological invention and beginning in the 1970s the military began issuing these straps. These gave the straps their initial moniker of G10. "NATO" was attached many years later as a result of a piece having a NATO stocking number, which is also quite easy to memorize.
During WWII, it was the Army Trade Pattern (ATP) spec., but soon afterwards, 'military standard' meant British War Office Specification RS/Prov/4773A ('Watches, Wristlet, Waterproof') until 1973's Ministry of Defense Standard (DefStan) 66-47 for a 'Strap, Wrist Watch' was published and NATO straps were born.
According to DEF STAN 66-47, there are three versions, Army and Navy, and one for RAF.
Extra security. Key characteristics of genuine 'functional and fail-safe' military 2-piece NATO straps is a shorter secondary length of nylon attached to the buckle.
Extra nylon ribbon has a second keeper and when worn correctly it limits movement of the watch on the wrist.
The original strap width of 20mm was originally specified, but presently come in 18, 20, 22, 24 mm sizes to match modern lug width.
ZULU vs. NATO, USM, and RAF straps, there's the US military (USM) strap. It's similar to the G10 strap, but with nylon keepers instead of metal hardware.
ZULU strap (aka heavy-duty, extreme NATO, or one-piece straps) almost certainly emanates from a marketing department, not military procurement circles. Straps were initially developed to a fill a gap when other nylon band makers left the market. It is quite popular with divers and military personnel.
The RAF Strap should be able to simply slide around the watch spring bars and embracing the watch case.
It is a long single piece of nylon that mostly uses two steel keepers or fabric keeper.
All You Need to Know About Zulu Watch Straps
Emulating NATO straps, there are a few minor differences that separate the two.
Composed of thicker materials, be it nylon or leather that increases durability.
Zulu straps have larger, more rounded hardware to accommodate their increased girth.
Nato vs Zulu vs Perlon
NATO – To check for the difference between NATO vs. Zulu if there is one piece of material under the watch or two.
Perlon Straps – Made of weaved Nylon 6 (aka Perlon), which is a synthetic Nylon developed by a German chemist in 1938. It's weaves can vary and lead to a varying degree of stiffness in each strap. Overall, it is very lightweight and flexible strap. Sim.
Benefit of Perlon Straps: great for getting wet, won't soak it up like a leather watch and will dry out quickly. Perfect for outdoor activities or water sports. Hotter months.
Perlon Straps are always made of a single color and are stronger than standard nylon.
Nylon and features a single-piece construction. Perfect for sportier wear and securing a watch to the wrist even if a spring bar slips or broken in the field.
Zulu Straps – Thicker nylon webbing, significantly thicker buckles, with rounded corners, 3-ring Zulu straps have a single piece of nylon, 5-ring Zulu straps have a rear "flap" of strapping to help keep the watch face in place.
Different examples of weaves: The only metal element is buckle itself. Buckle pin can be slotted between any gap in the weave. Its texture and weave make it look more organic and natural.
Zulu or NATO: What's Our Pick?
NATO Straps because of the durability, easiness to clean, and pocket friendly. I love how easy it is to change straps and since its waterproof, its ideal for sports and water activities.
Also, of course "Bond NATOS" – accurate striped olive and edged in red on black nylon.
One of my favorite watches and combinations is an Omega Speedmasater with a NATO strap.
Favorites
Midnight Blue Nylon Military Strap
Moon Dust Nylon Military
Crown & Buckle: Supreme
Twill Nato
Heritage NATO Watch Strap Blue, Red, White
Elastic, Seat Belt, Twill and Ballistic NATO strap