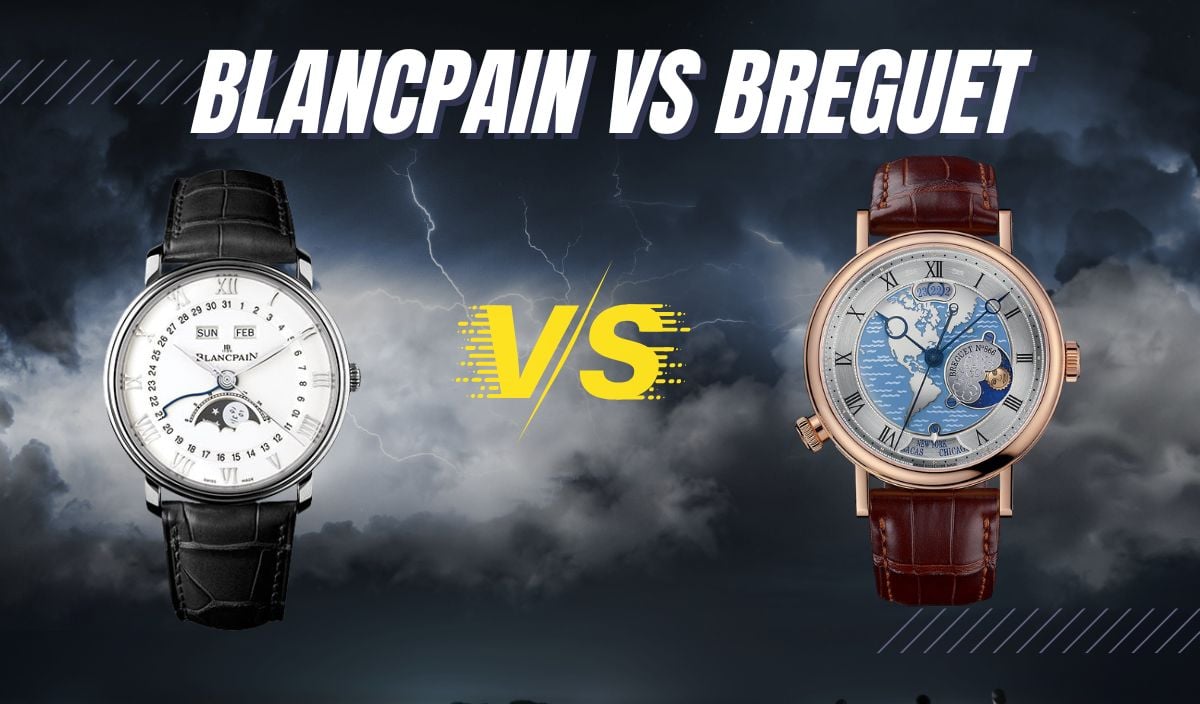 Blancpain Vs. Breguet Watches (DETAILED Brand Comparison)
Introduction: A heavyweight battle between two of the oldest and most prestigious watch brands in history. And while you may think there are more similarities between these brands than differences, we are here to deep dive into each brand and explain what sets them apart from each other.
History
First, a brief history of these two brands.
Blancpain, founded in 1735 in Villeret, Switzerland by Jehan-Jacques Blancpain in the upper floor of his house, is the oldest surviving watchmaking brand still using its original name. The brand was owned by the Blancpain family for nearly 200 years before being purchased the early 1930's by two former staff members of the company and continued to operate for another 30+ years, producing some of the most iconic timepieces ever made, including the famous Fifty Fathoms dive watch and the 1735 Grande Complication, of which only a single model is made ever year.
After being bought by what would become the Swatch Group in the early 1960's, then sold in the early 1980's to Frederic Piguet, and then repurchased back by the Swatch Group in 1992, they are now one of the flagship brands of the company. Not many brands can rival the history of Blancpain, but Breguet can.
Founded in 1775 by Abraham-Louis Breguet in Paris, Breguet is responsible for some of the most important inventions in watchmaking history, including the invention of tourbillon movement in 1801, the first self-winding watch in 1780, and the world's first wristwatch, introduced in 1810, which was made for Napoleon Bonparte's sister.
Notable patrons of Breguet watches include King Louis XVI and Marie Antoinette, whose piece, the Marie-Antoinette pocket watch (No. 160) was commissioned especially for her, took 44 years to build, and can still be seen in a museum in Jerusalem. Like Blancpain, Breguet changed ownership several times over the past couple of decades, and was eventually purchased by the Swatch Group, who currently owns the brand.
Styling Differences Between the Two Brands
While the history of the brands is rather comparable, the styling between the brands is considerably different.
Blancpain has, over the years, become almost ubiquitous with its most iconic sports watch, the Fifty Fathoms. The Fifty Fathoms was created in 1952 and was the first modern dive watch ever created, paving the way for Rolex and others.
To this day, the Fifty Fathoms and its variants make up a majority of Blancpain's catalogue with over 99 variants, including variants with chronograph movements, grande date complications, moonphases, tourbillons, and GMT complications. While the brand does make dress pieces under its Villeret line, when you hear the name Blancpain, you think of dive watches.
And that's not a bad thing, as the two main variations of the Fifty Fathoms, the Bathyscaphe and the Automatique, are both gorgeous watches with styling all their own. Breguet's styling, on the other hand, has stayed true to its 250+ year old history, making some of the most elegant and stylish dress pieces on the market while largely avoiding the sports watch segment.
Their Classique line features dozens of different iterations with some of the most complicated movements known to watchmaking, and even their two current sports lines, the Marine and Type XXI, are some of the dressiest sports watches on the market.  And you can't mention the name "Breguet" without recognizing the eponymous "Breguet Hands", the most iconic handset in watchmaking outside Rolex and Blancpain.
Movements Used
Both Blancpain and Breguet are, without a doubt Haute Horlogerie and, as to be expected manufacture, if not all of their own movements, a vast majority of them.
Blancpain has prided itself as having never using or producing a quartz movement, or ever making a watch with a digital display, and that commitment to automatic movements has led to their creation of some of the best calibers for the value in the entire industry. And despite being fully owned by the Swatch Group, every movement is made in-house and is used exclusively in Blancpain's timepieces.
Their most used movement, the 1315, is found in both the Fifty Fathoms Automatique and Bathyschaphe and is an absolute workhorse. It features 35 jewels, a power reserve of 120 hours, and beats at 4hz. And while the word "chronometer" does not appear in any of the literature for Blancpain, you can rest assured that a brand that takes manufacture calibers as seriously as Blancpain does is going to have very little variation in the accuracy of their movements.
Breguet, similar to Blancpain, relies almost exclusively on their own manufacture calibres. This was not always the case as, after their acquisition by the Swatch Group, Breguet began using Lemania based movements. However, over the years those movements have become almost exclusively used by Breguet. The movement used in most of Breguet's entry level pieces, the 777 (and its variants) features 26 jewels, beats at 4 hz, and features a power reserve of 55 hours.
However, you don't buy a Breguet for its most basic movement; you buy a Breguet because it has created some of the most impressive movements in the history of watchmaking. And to this day, they still make some of the most complicated movements in the world, including movements with minute repeaters, tourbillons, double tourbillons, retrograde calendars and perpetual calendars. Outside the "Holy Trinity" of watchmakers, no other brand on earth takes such pride in their high complications as Breguet.
Popularity, Pricing & Resale Value
Neither of these brands are anywhere near the popularity of Rolex or even some of the Swatch Group's more affordable brands like Omega or Longines, but that's not why you're buying a Blancpain or a Breguet. You're buying these brands because of the horological history and their contributions to watchmaking.
By far the most popular model of Blancpain's is the Fifty Fathoms. The most entry level Fifty Fathoms, the stainless-steel Bathyscaphe on a fabric strap (Ref 5100 1140 NAOA) begins at around $9,500, and increase from there depending on the case material, band material and the type of complication being used. My personal favorite, the Fifty Fathoms Automatique Grande Date (reference 5050 12B30 98B) retails for approximately $20,000.
Breguet's most affordable line is actually their Type XXI line, which is a line of pilot's watches featuring flyback chronograph movements (more on this later). However, you're not buying a Breguet for their chronograph; you're buying it for the class that's exuded in their dress pieces, and these models start around $17,000.
My personal favorite, the Breguet Classique (Ref 5177BB/2Y/9V6) begins around $23,000.But, let's be real here. If you're reading this article, it's probably not because you are interested in an in-depth history of the two brands; it's because you saw a timepiece that was so incredibly beautiful and unique that you had to do some research.
And the good news is that one of the best things about these two brands is that they can be found for incredible value on the secondary market, giving you chance to own true Haute Horlogerie for a relatively affordable price.
Used pieces for both Blancpain and Breguet can be found for as low as 60%-70% of the retail price, which is staggering value when you consider these two brands have similar history and quality to the Holy Trinity, and offer so much more than Rolex for roughly the same price. And since both brands are owned and backed by The Swatch Group, you can be confident that they will continue to maintain their reputation in the industry and the value of your preowned piece will be relatively stable.
Blancpain Fifty Fathoms vs. Breguet Marine
Before we wrap up, I think it's appropriate to provide a comparison between two of the brands more famous models. And while both brands make truly exquisite dress pieces, the comparisons will focus on sports watches, and we will start with the first divers watch ever made, the Blancpain Fifty Fathoms.
Responsible for the design and features that have defined dive watches ever since, you have a true dive watch, with at least 300 meters of water resistance, a unidirectional timing bezel, lumed circular indices, and big bulky 45mm case to ensure that you can see the time under water. Make no mistake, the Blancpain Fifty Fathoms is a tool watch with a high horology movement, not an haute horology piece masquerading as a tool watch.
And on the other hand, you have a much more practical timepiece in the Breguet Marine. How often are you descending deep into the depths of the unknown, using only the bezel on your wristwatch to time your dive? How often do you need the lume on your watch to do anything more than take a quick peak at the time in the middle of the night?
The answer is probably not too often, so in this case, perhaps the Breguet Marine, with it's perfectly adequate 100 meters of water resistance, more wearable 40mm case, significantly more styling options, and much more elegant design is for you.
Breguet Type XXI vs. Blancpain Air Command Flyback Chronograph
One of the important moments in the recent history of Breguet, and for the history of the pilot's watch in general, was the introduction of their Type XX chronograph in the 1950's. The Type XX was the civilian version of the original Type 20, which was a mil-spec watch produced for the French Air Force. It quickly became one of Breguet's signature pieces.
Reintroduced in 1995, the model has evolved to the current iteration, which is now referred to as the Type XXI. Produced in two variations, the 3815 in steel and the limited edition 3817 in titanium, they start to retail for around $14,000. The steel variant (reference 3817ST/X2/3ZU) is an absolute stunner with its slate grey dial and oversized numerals.
Beating inside is the the flyback chronograph calibre 584 Q/2, which beats at 4hz, has a power reserve of 48 hours, and is beautifully displayed through a sapphire caseback. And it's a beefy boy, as appropriate for a modern sports watch, measuring at 42mm in diameter and 15mm thick.
Blancpain's history with a flyback chronograph, while perhaps not as far reaching as Breguet, is no less impactful. One of the brand's most successful models ever, the Léman, was very recently replaced with the Air Command. And while you can find amazing deals on the Léman on the secondary market, it is no longer a competitor to the Type XXI.
Its successor, the Air Command was introduced in 2021 and, in my opinion, is a better overall timepiece then the Type XXI. The entry level model, reference AC02 12B40 63B, begins at around $19,000, and features calibre F388B, a flyback chronograph movement beating at 5hz with a power reserve of 50 hours, and is even better looking than the Breguet calibre. And while the case diameter is the same at 42mm, it's a full 1.5mm thinner than the Breguet.
Just a quick bit of information for the uninitiated out there, a flyback chronograph is an extremely valuable feature of a pilot watch, as it enables the wearer to reset the current timing operation and start a new one with a single press of a button, whereas the traditional chronograph requires three presses of two separate buttons to accomplish the same task.
Final Decision
Let's face it; you cannot go wrong choosing a timepiece from either of these legendary brands, and while I personally prefer the offerings of Blancpain, both brands offer history that is unrivalled by nearly the entire watchmaking world.
While there is certainly something to be said for the brand recognition of a Rolex or Omega, neither of those brands elicits the same kind a reaction you get by wearing a Blancpain or Breguet. And at the end of the day, what you're really paying for is that feeling you get when you look at your wrist and realize you are one of a select few that is part of a tradition dating back hundreds and hundreds of years.