Grand Seiko vs Rolex: Brand Comparison
Grand Seiko and Rolex are both big names in the global watchmaking industry. The two brands compete in the luxurious watchmaking segment. However, this is not enough to make a comprehensive comparison between the two brands. Grand Seiko and Rolex both offer different value propositions to their buyers. Rolex rules when it comes to brand awareness, while Grand Seiko takes the crown in craftsmanship, so the Grand Seiko vs Rolex debate becomes difficult to crown a winner.
Having a Rolex watch goes beyond just wearing a luxurious watch. The brand represents a celebration of professional achievement and a declaration of one's social status. Owning a Rolex watch goes just beyond having an elegant timepiece, but it is more related to what the brand describes as "living an experience." The brand has several partnerships, which support challenging scientific innovations and endeavors. These scientific innovations have been significant milestones in watchmaking history. The brand describes their collections as "Every Rolex tells a story."
When looking at Grand Seiko, you see a different approach. This Japanese watchmaking brand focuses more on confidence attributed to offering the best craftsmanship in the watchmaking industry. Grand Seiko hasn't hired any brand ambassadors or influencers. Instead, the brand has been primarily focusing on coming up with the best watch for its buyers. The Grand Seiko uses a specification sheet as its number strategy when marketing its collections. With a foundation dating back to the 1960s, the brand has worked hard at coming up with great innovations and creations in watchmaking craftsmanship.
Grand Seiko vs Rolex: History
What is the history behind Grand Seiko and Rolex?
Grand Seiko made its debut in 1960. The Japanese brand had a determination to excel in all segments of the watchmaking craftsmanship. Seiko, the parent company, had already gained much popularity at the end of the quartz crisis. With the ability to specialize in quartz movements, Seiko was able to achieve affordability to most of their models. When coming up with watch models for the Grand Seiko collection, Seiko focused on easy to wear models, durability, and values of precision. The Grand Seiko Caliber 3180 movement used in the first Grand Seiko model was the first to meet the standards of excellence and be compliant with the Bureaux Officiels de Contrôle de la Marche des Montres. Since 1960 the brand has shown ever-improving mechanical skills in watchmaking, winning awards in Geneva and the Grand Seiko calibers, becoming some of the world's best watch movements.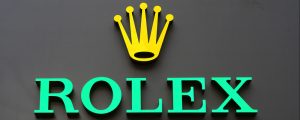 At the young age of 24, Hans Wilsdorf had a vision for the Rolex Company, founded in 1905. Hans Wilsdorf wanted to prove to the global watchmaking industry and watch connoisseurs that his watches were elegant in style and promised reliability. Wilsdorf equipped his models with innovative movements, which were manufactured by a Switzerland Bienne-based watchmaking company. In 1910, Rolex got the Swiss Certificate of Chronometric Precision. Nine years later, the company was based in Geneva, and its dials were encrypted with the brand's iconic crown logo. Rolex created its first waterproof watch in 1926. Shortly after, it created the first timepiece to have an automatic date on the dial. Rolex has continued to set the standards of excellence high for other Swiss luxurious watchmaking brands.
Grand Seiko vs Rolex: Style & Design
It's crucial to have a detailed analysis when looking at the two brands' styles and designs. Grand Seiko has a classic looking luxurious timepiece, but when you look at Rolex, the brand screams of luxury and elegance in every essence. However, a closer look at the Grand Seiko Hi-Beat and the Rolex Datejust, you will notice varied aesthetic and technical differences, making the Grand Seiko Hi-Beat superior in craftsmanship. Both of these brands produce very high-end and exquisite watches.
Grand Seiko has been exploring new designs and styles. Recent models come in new styles and are introduced with fantastic new dials. The brand has been fully utilizing the Shizukuishi Watch Studio, which has a savoire-faire in watchmaking craftsmanship, far superior to Rolex's. The Grand Seiko production stage can be described to be at the stage of a boutique level. The brand enjoys tens of thousands in production.
The models produced by Grand Seiko offer the highest refinement when it comes to mechanical performance and case finish. The Grand Seiko Spring Drive technology and Zaratsu polishing are just some of the top tier design and styling hallmarks, making the Japanese brand stand out as a luxurious watchmaker. This has shown the brand's long-term commitment to offering watches that target the finest watch connoisseurs.  Grand Seiko models' build quality exceeds many luxurious watchmaking Swiss brands and is at par with some of the top Swiss high-end luxury watches.
Over the years, Rolex has upgraded and updated its models. They communicate even minor product changes to continue being the best at making luxurious watches. Omega seems to be the other brand that has followed this strategy of revolutionized communication. Rolex is a large scale high-end manufacturer with in-house calibers that are not only aesthetically less refined but technically competent as well.
Grand Seiko vs Rolex: Pricing
With as little as $5,300, one can buy a Grand Seiko watch mode like the Grand Seiko ref: SBGR055, which has automatic movement. Grand Seiko also has mid-ranged luxurious models like the Grand Seiko Snowflake, which costs around $5,000. The top-end models from Grand Seiko have higher price tags, like the Grand Seiko Spring Drive watch ref: SBGC221 priced around $9,300 and a more costly Grand Seiko Hi-Beat 36,000 Professional 600m Diver's watch ref: SBGH255 priced at around $12,000.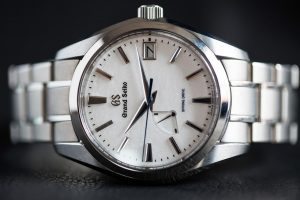 Compared to the Japanese brand, Rolex has more expensive watches. Most of the models from Rolex cost double or triple the price of top-end Grand Seiko models. In the 1960s, Rolex became a status symbol, and it was when the Grand Seiko sub-line was being born. Lower end models from Rolex like the Air-King and Explorer (ref: 214270), have a much higher price tag when compared to the Grand Seiko's Sport watch collection, which has durable cases and rugged aesthetics. The most expensive Rolex watch retails at close to $30,000.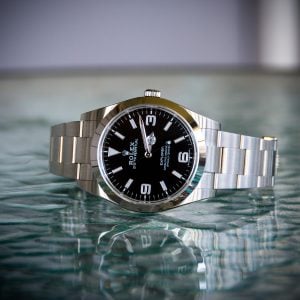 Indeed, the two brands are priced differently depending on their buyers' various value propositions. The Rolex vintage models have a higher demand compared to the Grand Seiko vintage models. This has caused the Rolex vintage models to have very high prices, both new and pre-owned, unlike their Japanese counterparts. This immense popularity and demand for vintage Rolex models have increased the Rolex brand's desirability in the global market. Grand Seiko is a young brand. It's hard to predict which of their first collections will be highly sought after in the future. This will be greatly determined by how much the Grand Seiko brand is willing to invest in this watch collection sector.
Grand Seiko vs Rolex: Conclusion
Grand Seiko has worked hard to attain its current status as a top global luxurious watchmaking brand. This can be attributed to the fact that Seiko (the parent company) had created an extensive portfolio of affordable watches since it was founded in 1881. Seiko models have varied price range, spanning from simple models priced at just a few hundred dollars to prestigious designs found in the Grand Seiko collections, which cost thousands of dollars. Therefore, it's evident that Grand Seiko, a luxurious brand of Seiko, would be compared to a bigger luxurious global brand, the Rolex.
Grand Seiko and its Swiss counterpart, Rolex, have both specified in refining their art of manufacturing their in-house mechanical movements. These two brands have very popular models, which offer very impressive features to buyers: Grand Seiko Hi-Beat 36,000 Professional 600m Diver's watch, Grand Seiko Snowflake, Grand Seiko Black Ceramic Spring Drive Chronograph GMT, Rolex Daytona, Rolex Submariner, and Rolex Datejust. You can buy all these watches at Exquisite Timepieces. You can buy both new and pre-owned models of Grand Seiko and Rolex watches at Exquisite Timepieces.
Depending on a buyer's preference for style and functionality, the two luxurious brands stand out. It narrows down to what you prefer as a collector, if you are more inclined to the refined state of the art in-house movements presented by Grand Seiko or if you like the prestigious and luxurious status brought about by owning a timepiece like the Rolex Paul Newman Daytona. Whether you prefer Grand Seiko or Rolex, you can purchase both new or pre-owned models of your preferred brand at Exquisite Timepieces.
About Exquisite Timepieces
Established in 1998, Exquisite Timepieces is your one-stop shop for all things luxury watches! We are an authorized dealer for 60+ luxury watch brands including Omega, Hublot, Seiko, & Longines! We are proud to showcase one of the world's largest pre-owned watch collections, including renowned brands like Rolex and Patek Philippe. Check out our brand new watch arrivals here and popular pre-owned listings here.