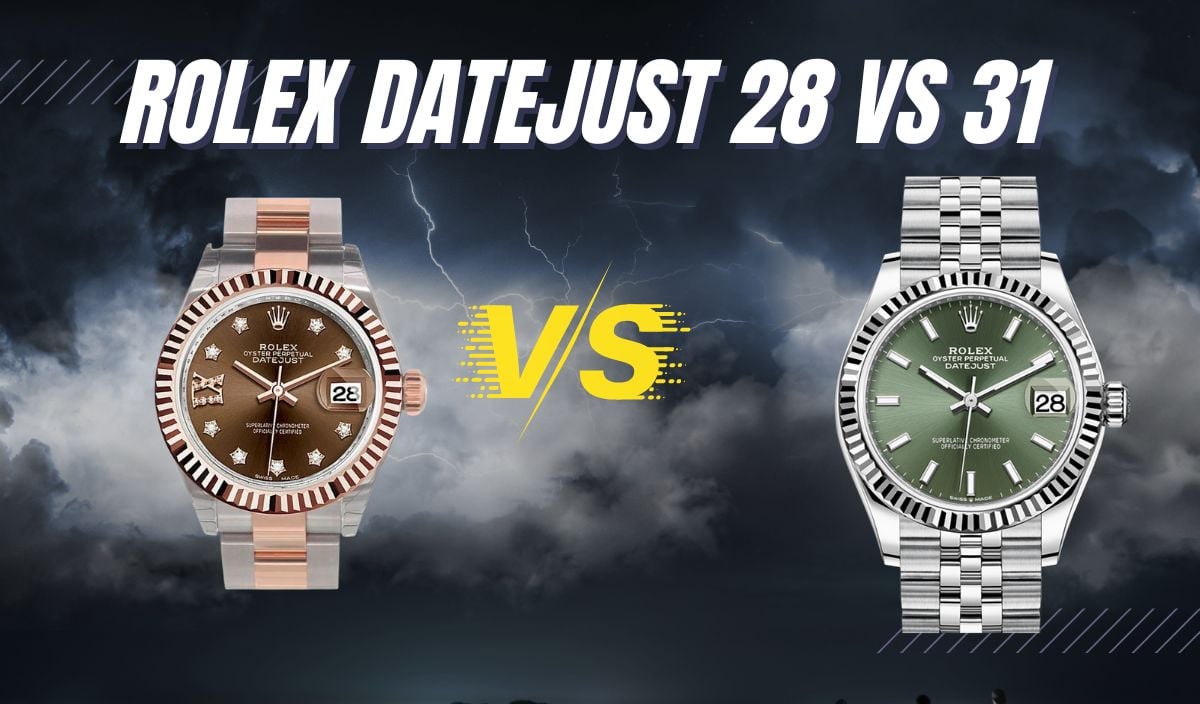 Rolex Lady Datejust 28mm Vs. 31mm (MORE Than Just Design!)
The Rolex Datejust is a classic and elegant dress watch. A timeless collection we've seen icons from Paul Newman, Harrison Ford, to Roger Federer in recent times adorn. But also a favorite among watch lovers enthusiasts, and watch collector. A timeless piece that's also Rolex's best-selling and most extensive collection.
The Datejust collections offer four different sizes – three men/unisex cases (31, 36, and 41mm) and one women's case in 28mm called the Lady-Datejust. And we'll compare 31mm and 28mm watches today. In this article, we compare the smallest line of the Datejust collection with the following 31mm to see if they're only different-sized or one has better specs and features.
The Lady-Datejust 28mm – A Classic Rolex Feminine Watch
Rolex introduced the Lady Datejust model in 1957, over a decade after releasing the bigger men's version in 1945. It's a classic combining the admirable style and powerful workings of the early watches in a 28mm case.
The Lady-Datejust – a selection in the famous Oyster Perpetual line – is unsurpisining one of Rolex's few recently updated watch models. What's more is that it has a unisex appeal since it keeps the orignal designs, so men who prefer smaller dials opt in for Lady-Datejust.
And it has 5mm extension link on its Oyster bracelets for practical and comfortable adornment on larger wrists. And that's only one type of bracelet, the Lady-Datejust line carries a myriad of precious metal bracelets, diamond-engraved cases dial colors.
The Rolex Datejust 31mm – A Mid-Sized Datejust
The Datejust 31mm was the first self-winding waterproof chronometer to display date on the 3 o'clock dial. Since its1945 release, the Datejust 31mm has survived decades of competition and fierce knockoffs, and maintained its trademark aesthetic. It's the Rolex many non watch enthusiasts admire first before starting a collection. 
More recently, Rolex debuted two Rolex Datejust 31mm variants at Baselworld 2019, One's a yellow Rolesor version (Oystersteel and 18 carats of yellow gold), and the other, an Everose Rolesor (Oystersteel and 18 carats of everose gold). Since unveiling these two variants of the Datejust 31mm, the Everose gold design has been the best-selling. This article will reveal the prices of the Rolex Lady Datejust 31mm.
The first set of the Datejust 31mm line had olive green, Sunray-finish dial with 18-carat yellow gold hands and Roman numbers with a "VI" made out of 11 diamonds. The second pair featured a Rose-color, Sunray-finish with hands and Roman numeral design in 18-carat pink gold.
Datejust 28mm Vs Datejust 31mm Design and Features
Although the first Rolex Datejust was available only in yellow gold, the collection of Rolex Datejust has diversified significantly to different models, some of which are the Datejust 28mm and 31mm. Currently, the Lady Datejust 28mm is one of the smallest sizes of the Rolex models in production and has some fantastic designs and styles.
Lady-Datejust is categorized officially as a women's watch but is in fact unisex, just like the 31mm Datejust watches. Here is a comparison of their design and features.
Materials and Designs
The Lady Datejust 28mm Rolex watch is highly favorable among the women of the 21st century because of its ability to strike a rich status. It can be used in different functions such as boardroom or ballroom. A beautiful example of its similar nature with bigger Datejust is Yellow Rolesor Lady-Datejust 28mm in Yellow Rolesor combined with Oystersteel and 18-carat yellow gold will be used as an example.
Steel And Precious Metal Embellishments
Oystersteel is considered a durable, lighter, and cheaper metal than gold. And gold is a heavier but precious metal. Rolex combines both metals in the watch for a mix of functionality and luxury that's suitable for daily wearers. They call it, the Rolesor, which is a combination of gold and steel. This is why Rolex watchmakers have used these metals (Oystersteel and Gold) in their watches since the 1930s.
The use of the two metals was referred to as Rolesor, which connotes using gold and steel, along with their contrasting colors and radiance, to produce a single Rolex watch. Enthusiasts and fans love its combination of wealth and functionality, and is the Oyster collection's top seller. Both 31mm and 28mm Oyster Yellow Rolesors have identical steel and gold and similar price ranges.
Iconic Cyclops Lens – Date Magnifying Glass
Word around enthusiast circles is that Rolexes are the "old man's watch." This isn't because Rolex are old-fashioned or affordable to seniors, but because of their trademark cyclops lens. It's a magnifying lens that zooms in the date display closer than most other watchmakers.
But the joke is that Rolex does this so older folks would find it easier to read the date. The cyclops lens on the men and ladies Datejust is a sapphire crystal glass dome.
Link Pieces (Jubilee Bracelet for ref)
The five-piece link metal Jubilee bracelet was first designed in 1945. So it came with the orginal Datejust watches, which 31mm Datejusts fall into. Despite being over seventy years old, the jubilee bracelet remains in style.
The net-like links are dressy and comfortable enough to wear as a tool watch or sports watchs thanks to its concealed clasp. And Lady-Datejusts use the same iconic jubilee bracelets as Al Pacino's Rolesor in Scarface.
Gold Carat Hour Markers
The hands and hour markers on the dial of both Datejusts are made from 18 carat gold, which is invincible to time. And in some designs, all the hour markers – except the 12 o'clock – are diamonds set by hand, adding a touch of luxury to the indestructible build of the steel and gold versions.
Water Resistance
Both Datejust 28mm and 31mm are water resistant for dives up to 100 meters or 330 feet. Rolex designed the Oyster Perpetual Datejust with a befitting waterproof Oyster case and an airproof twin-lock crown. There's a saying that "Whatever you can handle, your Rolex can handle."
And the Datejust watches are no different whether you wear them in the local pool or to explore the North pole. As long as you rinse off sea water with freshwater both sizes offer capable and equal water resistance for any water.
Impenetrable Screw Down
If you've ever tried or intend to open the caseback of a Rolex to see their revered movements, you'll be disappointed, because they're impenetrable. The case back is locked in with a solid screw-down flutings. Only certified Rolex watchmakers and maybe some experienced horologists and such get to see the beauty that lies within any Rolex.
Date Display
Datejust display date at 3 o'clock, which was a groundbreaker during its release (it's common now, but used to be one of a kind). What's special about the Rolex though, is switches to a new day – number – automatically at midnight instead of rolling over slowly. And with a quickset, you can set the date independently of the time settings.
Dial
Rolex Datejusts have a sterling collection of dial colors, from black to green, and specials like the slate-grey Wimbledon dial. And as an example, the Dial of this model presents four white Rolesor versions, which include the combination of Oystersteel and 18-carat white gold.
It is the first watch to feature a bezel set with brilliant-cut diamonds totaling 46; it also has an aubergine, sunray-finish Dial that is fashioned with hand-set diamonds on the Roman numeral VI.
Rolex Oyster Perpetual 28mm and 31mm
Both Datejusts have an engraving of Oyster Perpetual on their dials. Oyster is rolex's first water resistant wristwatch case and "Perpetual" is a metaphor for Rolex's non-stop winding watch movements. And this is only an homage to Rolex's greatest early achievements.
All Datejust 28mm and 31mm movements are produced and assembled in-house by certified Rolex watchmakers. The newer Datejusts use a 2014 calibre that was introduced to the line in 2018. Datejust 28mm and 31mm use calibres within the range 2135-2236, depending on the reference being created.
With the production of this perpetual calibre masterpiece, Rolex had to file several patents to preserve this exquisite self-winding mechanical movement. The perpetual Calibre also provided excellent performance as regards precision, convenience, reliability, power reserve, resistance to shocks, and magnetic fields. The perpetual Calibre is fitted with a patent Rolex Syloxi hairspring.
It has ten times accuracy than an ordinary hairspring confronted with shocks. Datejust movements are also embedded in non-magnetic nickel-phosphorus escape wheels. The winding system is fitttend with trademark Paraflex shock absorbers, for increased accuracy under daily movements. The both have a power reserve of 55 hours and chronometer certification for high accuracy that's signified with a green seal in the box.
Resale Value
A Rolex Datejust 31mm does hold value. But at times, the fair market value of a Rolex Datejust may be less (most likely) or more than (if you're a celebrity, icon, or went through an experience with watch) the purchase of the watch. But there's a good slim chance both watches could also increase in value.
For instance, the price of a steel bracelet Rolex Datejust 31mm with green dial is around $8,000, but some dealers sell pre-owned models as high as $9,000. That's the height of resale value in the watchworld, and there's hardly a difference between the 31mm and the ladies' datejust pricing. Aside from status, the condition of your watch always determines resale value, but you can bet you'll get a good return for a Rolex than any other watch.
Unisex Appeal
The Rolex Datejust 31mm watch was created for the women's market, even though the Lady Datejust label isn't inscribed, like the Datejust 28mm Rolex watch. According to a Rolex advertising campaign, the 31mm Rolex watch is more like a man's watch women prefer to wear. So, it's a Rolex that men and women can wear.
But which one would be befitting for your wife or a female benefactor? It's clearly the woman's choice because there are no special lady features in the Lady-Datejust. Still, because of its smaller watch face, it's considered a ladies watch and would be perfect for any woman who isn't a watch enthusiast with a preference.
It's compact, but radiates luxury, power, and functionality of any Rolex. Men with smaller wrists or interest in a conspicuous luxury timepiece can wear the 28mm and women with bigger wrists can go for the 31mm Datejust.
Price
As with all luxury watchmakers, price varies with materials, case size, bracelets, reference, and with the Datejust, even dial color. The Rolex Lady-Datejust is available in different versions, but broadly three bracelets – Oystersteel, Jubilee, and President steel bracelets. It could cost as low $6,000 for a basic and plain steel version and up to $60,000 for the Rolex Lady President with diamonds.
And you could be lucky to find amazing pre-owned deal on a gold ladies' Datejust watch for approximately $10,000, which is less than half the retail price. For the Rolex Datejust 31mm, the story remains the same. The variation you pick is what determines actual price, however, an entry level stainless steel 31 Datejust costs around $7,000.
And could cost as high as 15,000 for its equivalent with a two-tone (Rolesor) design. Ultimately you can get a classy 28mm or 31mm Oyster Perpetual watch for between $6000 – $15,000. Whether that budget gets you a pre-owned or new watch boils down to your preference.
Frequently Asked Questions
When Did Rolex Come Out With 28mm?
The refined glamourous classic feminine watch was created in 1945 but was revealed in 1957. The Lady Datejust 28mm is known for its style, technical operation, and timeless elegance and functionality, which has evolved this design into the recently released 28mm model.
What's the Difference Between Lady Datejust 28mm and Datejust Lady?
Depending on the design you buy, the materials used to create them are somewhat the same. The significant difference between Datejust 28mm and 31mm is the face size of the watch. So, a smaller wrist individual will use a Datejust 28mm, while a middle size wrist will use a Datejust 31mm.
Why Should You Buy a Rolex Datejust?
The Rolex Datejust is a popular model in the brand's catalog, which explains why demands are always high, and prices are increasing steadily. Here are a few reasons to buy a Rolex Datejust:
-A wide range of design options
-Automatic in-house calibre with a date display
-Timeless and iconic dress watch
-Certified chronometer
Datejust 28mm or 31mm
So, there you have it. The Rolex 28mm or Lady-Datejust is a small-faced Datejust and the 31mm is a mid-sized Datejust. Nothing's changed in the features of the small one despite having being introduced tweleve years after the latter. 

Anyone can wear the Lady-Datejust even though it's marketed as a women's watch. It even has an extension link to cushion bigger wrists. It has almost as many variations variations as the 31mm and both have the recognizable Oyster case aesthetic.

Hopefully, this article shows you which Datejust size is better for you. And if you are shopping, you can check out our new and pre-owned Datejust collections in the store.