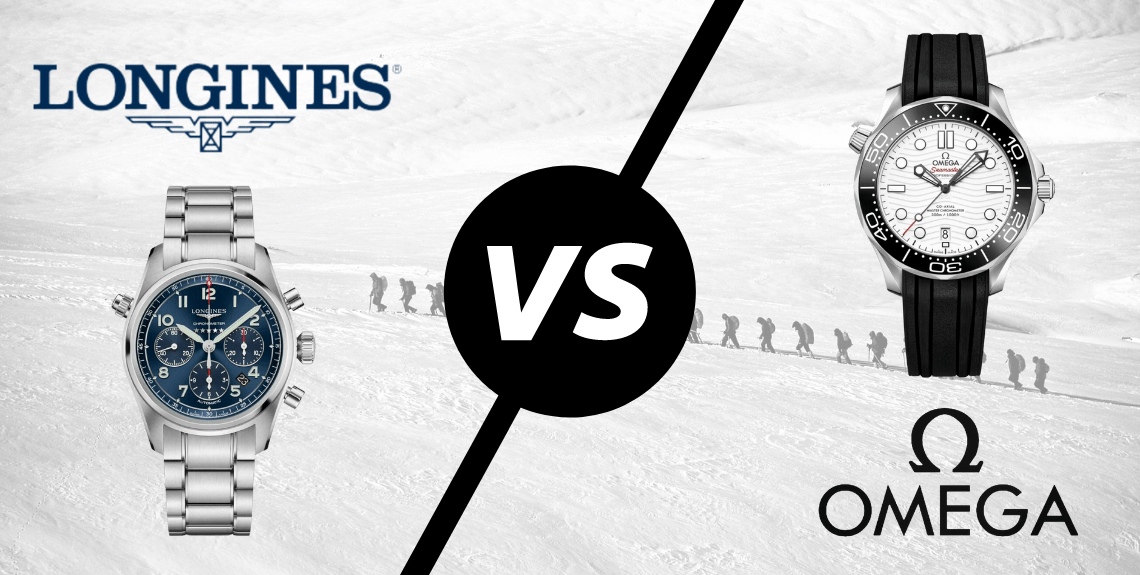 Longines vs Omega: Brand Comparison
In today's world, and as ever before, a luxury watch is essential to a watch connoisseur. It is expected to last a lifetime and work impeccably in contrast to any other competitor. People want to spend their money on something that can stand the test of time and deliver the best and most reliable watch that they can ever hope for. One does not go into the market to buy multiple luxury watches. Every luxury watch has its qualities, but the truth is that just one perfect watch can last you forever. You need to find the timepiece that will meet your expectations regarding the basic functions, design, and quality. Today, we will be comparing the two renowned luxury watch brands, Omega vs Longines.
 In terms of collections and technology, both brands have won hearts all over the world. They have achieved what any classic luxury watch brand is expected to. The brands have reliable watches, attractive designs, and top modern facilities embedded in their products. Both brands care deeply about customer satisfaction and how they can best appeal to today's generation and their lifestyles.
Of course, choosing a watch is ultimately based on personal tastes and preferences. However, we will clear the air between Omega and Longines and determine which brand is better for buying luxury watches. We will dive deep into the designs, manufacturing, models, price points, and more. So buckle in and take notes for your next luxury watch purchase.
Beginning with the Basics 
Both Longines and Omega are Swiss brands creating luxury watches for people all over the world. Both are recognized as trustworthy and classy brands that can be relied on in terms of watch build and design. Omega is recognized in the seventh position as the world's most famous Swiss luxury watch brand. In comparison, Longines holds a place at the 24th position on the same scale. Omega is also the world's second-most recognized Swiss watch brand, and Longines is fifth. While these rankings say a lot about Omega's popularity in comparison to Longines, the latter is also a very well renowned and loved brand for luxury watches. These statistics fall mainly into the mechanics, working, and the recognition for each brand.
So what does this mean for you? Well, if you wear an Omega watch, it is more likely that it will get noticed wherever you go. On the other hand, a Longines might not attract attention in comparison to Omega. This is mostly due to the branding and marketing strategies used by Omega to popularize their image and products. They have various advertising campaigns that run internationally for extended periods, and hence, get noticed by a larger public audience.
However, Longines makes excellent watches as well. For a smaller price tag and a bit less recognition, you can still get a great watch from Longines. With all of that popularity of Omega, though, there are a few added features that add to the price tag, ultimately making it tick the box of popularity and reliability at the same time.
Omega vs Longines: Price Ranges
This is the category where Longines wins the hearts of the public, with a smaller price tag than Omega. While there is nothing wrong with making a big investment in a luxurious and gorgeous watch, people do tend to purchase Longines timepieces just for the price tag at times. As Longines watches are still high-quality, this adds up with the benefits of a smaller price tag when pitted against a slightly more expensive brand like Omega.
But in all the truth, Omega is the brand to go for. It falls right in the middle of Rolex, an expensive luxury watch brand, and Longines, the more affordable competition. Omega provides a healthy balance between the two. With its heftier price tag, you do not merely reap the benefits of the brand's popularity, but also the aesthetics, great wear, impeccable designs, and timeless quality.
The More Affordable Pieces
The most affordable Longines watch is the Conquest Quartz, 43 mm, 33 mm, or 29.5 mm, priced at $800. However, Longines is known to create watches with a manufacturer's suggested retail price of up to $16,500, like the Longines Weems Second-Setting. This product falls perfectly in the luxury category. By all means, Longines is a great brand to buy luxury watches from. Speaking in terms of luxury alone, we cannot say for certain that Longines falls into the realm of luxury watches like Omega or Rolex. It does have a few products with a price point of luxury watches, but in terms of getting a watch from a true luxury watch brand, Omega is the place to go.
For Omega, their entry prices are about $2,750 for the Aqua Terra Quartz 30mm for ladies and 38.5mm for men. It is clear that Longines is much more affordable, but let's take a look at what makes Omega a better yet pricier luxury watch brand.
The Longines mechanical watches are great with a chronograph, as they do more than tell you the time. However, Omega comes with COSC certified chronometer movements, such as the Speedmaster Moonphase. This gives Omega the highest designation a mechanical watch can have the ability to hold, and it is also the most accurate and reliable watch than any other mechanical watch you can find on the market. Looking at these perspectives, you can put two and two together and conclude how Omega's price points are justifiable for their immaculate watches.
Omega vs Longines: Resale Values
Resale value cannot be determined simply by looking at a watch on hand. It depends on the model, the year, the buying price, the watch's condition, original documents, and warranties. Many different aspects play a significant role in determining a watch's resale value. All that aside, Omega has better resale value for its watches anywhere in the world. It might be because of its popularity, which is excellent as their popularity reigns due to the quality and reliability of Omega watches.
Omega vs Longines: Features
While, for the most part, both brands offer comparable features in their watches, there are a few aspects where it is accurate to say that Omega does make better luxury watches. They provide better water resistance on their dive watches and the impeccable accuracy of their COSC certified Chronometers. They are also the only brand that offers timepieces that have COSC certified Chronometer designation. Omega is also a holder of the METAS certified Master Chronometer designation.
Their renowned CoAxial escapement is loved as it requires minimal service in return for an extended warranty period. The Si14 silicon balance spring is a prime component of Omega watches as it is highly resistant to magnetic waves compared to the standard balance springs found in other watches. The value in their sale prices is no doubt equal to the quality. Therefore, it is understandable that the general public leans more towards Omega for a reliable, lifetime luxury watch.
Why Would Someone Still Choose Longines Over Omega?
We have established that Omega is the better brand to buy luxury watches. However, one might still be attracted to Longines watches because of the appearance of the watch. They may like the design that Longines offers more than Omega's design. Another factor could be the slightly lower price ranges Longines offers. They have no doubt very affordable watches for excellent quality.
Why Choose Omega as Your Luxury Watch Brand?
If you are looking for a respected and renowned brand with functional and valuable watches, Omega is the brand to choose. If you are willing to pay a bit more for added value and the extended warranty period, Omega is the brand for you. The classic and beautiful designs of Omega are one of the key features that attract most watch enthusiasts to Omega. With the right information and research as given through this article, you will never skip over an Omega watch for another brand.