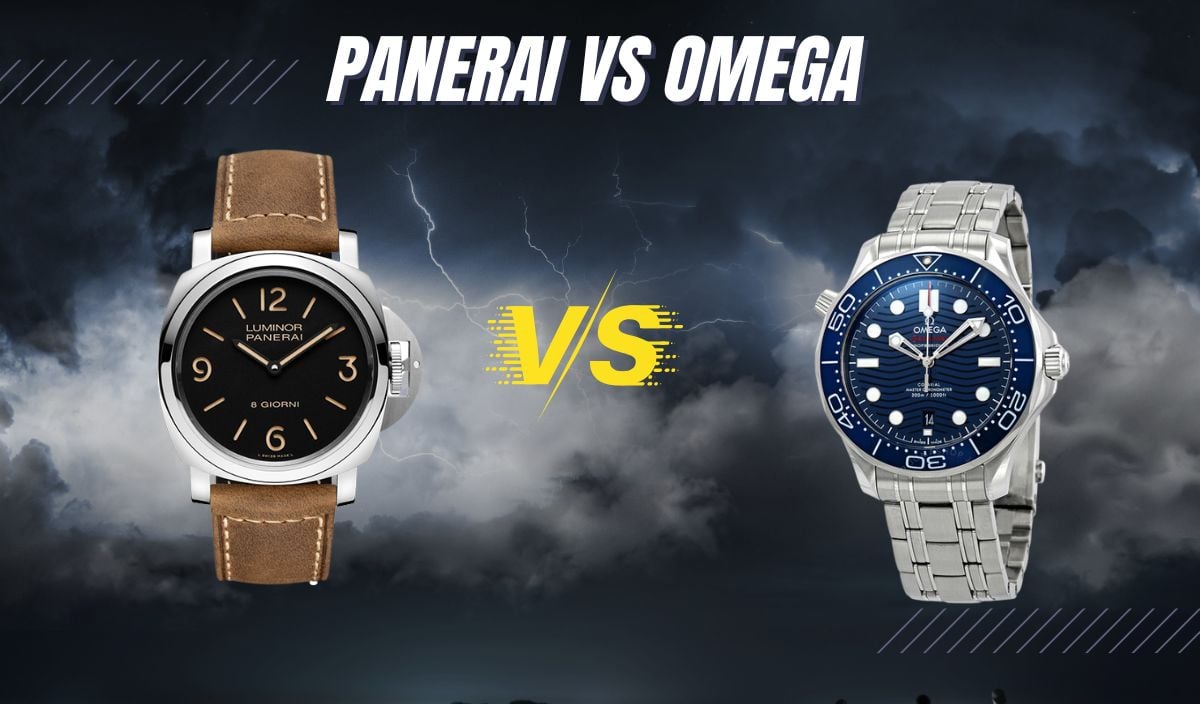 Panerai vs. Omega Watches (EVERYTHING You Should Know)
Confused between Panerai and Omega? Then you've come to the right place! Panerai is definitely a watch brand worth investing in. The rich history, precision of the movements, and unique design are just a couple of the value props that come with owning a Panerai watch. With a vast amount of models, you can explore their catalog and discover watches with various features that will suit your needs.
From chronographs and GMT's to power reserve indicators and date windows you'll find it all. Panerai is also a great entry way into the luxury watch market. With brand new models starting around $5k and even lower if used, one can find an affordable option without sacrificing quality. Generally speaking, the price of a watch will increase with complexity of the movement and quality of the materials.
Like any watch brand with a rich history, there are a handful of Panerai models that have increased in value over time. As a prestigious, historic, and well respected watch brand, Panerai offers a ton of value for those just getting into the watch market, experienced collectors and everyone in between.
Does Panerai hold their value?
Panerai watches have an extensive history attributing to their success in the luxury watch market. In 1916 they entered an official partnership with the Royal Italian Navy after successfully supplying them with other high precision instruments. This partnership spurred the development of Radiomir, an illuminating powder derived from Radium that was applied to watch dials to provide more legibility.
This discovery instantly gained traction in the watch community due to its ability to provide high visibility underwater and in other low light environments. The development of Radiomir marked the beginning of an era of innovation for Panerai, leading to plenty more designs that would secure its place as a great investment piece.
Towards the end of WWII Panerai's partnership with the Royal Italian Navy came to a close. Since they were exclusively producing watches for the Navy, Panerai had to shift their focus to the public market. Having to tap into a whole new market segment was a challenge but Paneria's brand image was drastically propelled thanks to Slyvester Stallone.
While filming a movie in Italy Slyvester Stallone purchased a Panerai watch and decided to wear it on set. Impressed with the simplicity of the dial and large size Stallone immediately put Panerai in the limelight of the watch community. He also gifted Panerai's to a couple other notable actors which resulted in them being featured in films on the wrists of Arnold Swarzenegger, Jason Statham, and Dwayne "The Rock" Johnson.
As oversized watches were gaining popularity, Panerai started producing watches for the public and joined the craze. Another reason why Panerai watches retain value is because of the level of enthusiasm the fanbase has for the brand. Panerai enthusiasts known as "Paneristi " have conventions, meetups, and forums dedicated to the brand's history, collection, and creative innovation.
By having such a strong community around the brand, Panerai's are very likely to maintain and increase their value for years to come. Designed in true Italian fashion, Panerai's are captivating to the eye and powerful on the wrist. Given the large yet simple dial, a Panerai can easily be spotted in a crowd and identified as a statement piece.
Having a military background gives Panerai a rugged character that isn't as common amongst other luxury watch brands. By wearing a Panerai one is assimilated into the community of Panerai owners who admire the brand for its durability and bold design.
The most valuable watch brands are those that have extensive history, innovative watchmaking designs, and unique designs that help them become distinguished in a competitive market. Panerai has all of these value props making it a great brand to invest in.
Is Panerai a top brand?
Giovani Panerai opened up his first watch shop during the year 1860 in Florence, Italy. As he scaled the business it became Florence's first horological training center. During WWII Panerai was funded by Mussolini to increase production and innovate more rapidly. Panerai went on to develop the first of many watch features we still see today such as the Perspex Crystal, luminous sandwich dials, integrated lugs with spring bars, lever activated crown locks, and of course their own tritium based lume called Luminor. All of these innovative designs came to fruition between 1936 and 1950.
Having initially produced watches for various military branches, Panerai didn't enter the public domain until 1993. Their angle in the market was focused on offering timepieces that were legible, durable, and could withstand rigorous wear under water. These characteristics of Panerai still hold true today, maintaining the high standards that have unwavered since their inception.
In 1997 Panerai officially entered the luxury watch segment when they were acquired by the Richemont Group and moved production to Switzerland. This move was crucial to the transformation of Panerai into the luxury sports watch brand we are familiar with today. Since then, Panerai has remained a constant force in the watch market holding their value next to brands like Rolex, Omega, and Breitling.
What is your opinion on Panerai watches?
Panerai's are known for their large yet simplistic aesthetic that many find attractive. The legibility of the dial and ease of wear make this watch desirable for those who aren't keen to intricacies and maximalist design. A wide variety of movements sourced both in-house and externally give buyers plenty of options. Another selling point for Panerai's is their variety of metals and bracelet options.
One interested in a Panerai can also decide on wearing a watch on a metal bracelet, rubber or canvas strap, and be configured of different metals ranging from stainless steel to PVD. Given the vast collection Panerai offers, it may be difficult to navigate and come to a buying decision. An amateur watch enthusiast may be overwhelmed by the amount of options and find difficulty in finding the right watch for them.
Even an experienced collector may find difficulty in deciding which features are most valuable to them. Thankfully there are plenty of Panerai buying guides online which can help steer one's direction when looking to purchase a Panerai. Overall, Panerai is an exciting watch brand to follow and learn about, making it a great brand to invest in.
Panerai vs Omega: Who is the lume king?
Omega is known for having extremely powerful lume. There are countless forums and photography accounts on social media that praise the power of Omegas lume. From extensive discussions to macro shots of an Omega dial, it's no doubt that Omega is an expert when it comes to lume. Although they have the history and expertise to stand out in the market, Panerai is a strong competitor in the lume department.
Panerai not only uses lume for the hour markers and hands like most watchmakers but also applies lume to show the outlines and staple elements of their watches. In some cases one can even find lume applied to the stitching of the watch strap. Some would say that the designers at Panerai use lume to outline the watch and bring attention to the iconic details Panerai watches are known for. Afterall, the Panerai Luminor is a nod to the power of lume that Panerai has been producing for decades.
What drew you to Panerai?
Broken into four collections, Panerai offers over 20 in-house movements as well as a couple of movements sourced from third parties. These movements are found in over 200 individual references made by Panerai and available in steel, bronze, titanium, gold, and other less common materials like carbotech and Panerai Composite.
Many watch enthusiasts would agree that having so many options from such a prestigious brand allows one to truly delve into a horological wonderland of watch collecting. An extensive history and catalog ensures that there will be a value prop for any type of enthusiast, whether it is the riveting history or modern technology used in their watches being produced today.
Panerai 328, Luminor, or Omega Seamaster Planet Ocean?
The Omega Seamaster Planet Ocean offers a lot of value for a dive watch. For starters, the ceramic bezel with rubber and liquid metal insert is extremely legible and aesthetic. Omega does a great job at balancing functionality with design, making the Planet Ocean attractive to design minded enthusiasts. The Planet Ocean also features a hacking movement which stops the ticking of the watch while adjusting, in the case it needs to be synchronized with another time piece.
Despite the amazing design and functions of the Planet Ocean it is known to be a very thick and heavy watch. The Panerai 328 stands out primarily with its cushion shaped case. Not too round or too square this watch embraces a unique shape that is uncommon in the watch industry. Yielding the iconic Panerai features, the 328 has a 300m water resistance, straight lugs, and a lever set crown lock.
The date window features lume which helps with legibility in dark settings. The camelback of the 328 is transparent allowing the wearer to admire the self winding automatic movement housed in the watch. The Panerai Luminor is unique for a couple different reasons. First, the watch comes in at 42mm which is slightly smaller than most other models coming in at 44mm, 45mm, and a hefty 47mm.
When the Luminor was introduced, many Panerai fans were rejoicing over the more wearable model that deems itself friendly to smaller wrists. For those interested in water resistance, the Luminor is resistant to 100m compared to the traditional 300m depth rating. Is there a clear winner between these 3 watches? We'll let you decide.
Omega vs Rolex vs Panerai
Rolex isn't necessarily at the highest end of the horological spectrum but most likely the most loved and easiest to recognize. They use plenty of precious metals in their designs which come with a very wide variety in price. It seems that any Rolex model with Everose Gold is an instant hit (think of the new two tone GMT Master II "Rootbeer").
For lovers of jewels, a handful of their models are embedded with diamonds and sapphires. In the sports/tool watch under $10k category, Rolex is usually deemed number one. The Explorer and Submariner models are some of the most popular tool watches in the market. Rolexes also tend to have strong resale value.
They have found a way to build enough exclusivity that some of their models can triple in price in the gray market. From vintage models to brand new designs, Rolex is a value powerhouse that will likely remain so for the foreseeable future. For more high end offerings and a better resale value, they're definitely a strong proponent. Known to be a universal commodity, Rolex is always a great investment.
Omega has a great history and consistently comes out with beautiful designs. Since their inception they've played an important role in history and pop culture. The Speedmaster Professional was used as the official timekeeper for the Olympic games in 1957 and was adorning the wrist of Buzz Aldrin during the first manned lunar landing in 1969.
The resale market for Omegas is vast, allowing buyers to find a Speedmaster, Seamaster, or Constellation at prices well under the cost of a Rolex or Panerai. Many vintage enthusiasts love to explore the older Seamaster models from the late 1950's to mid 1960's due to their quintessential mid century modern designs.
For lovers of modern sports watches, Omega has a wide variety of Seamaster and Speedmaster that come in a wide variety of metals, colors, and price points. Omega also likes to utilize the skeleton caseback often which is a great method of featuring the beautiful yet powerful movement behind the dial. Omega, having a rich history and large influence in the watch market, is a great proponent for novice watch enthusiasts looking to enter the market at a fair price as well as seasoned collectors looking for rare and highly desired references.
Panerai, coming from a rich Italian heritage, seems to hold its own unique space in the luxury watch market. With case sizes larger than most Omegas and Rolexes and minimalist designs uncommon in Swiss watchmaking, Panerai offers a unique value prop for a specific design minded enthusiast. They are also a watch brand that has held true to their design and expertise for decades, consistently building their watches to a very high standard.
Known for their robust size and incredible lume, Panerai has constantly met the expectations of those awaiting to purchase one of their timepieces. The resale market for Panerai's is fairly consistent but doesn't promise tremendous growth with age like some Rolex or Omega models. Ingrained in pop culture due to their appearances in movies and on the wrists of celebrities, Panerai has an edge that makes them desirable as fans enjoy wearing watches that are noticeable to others.
Panerai Luminor vs Omega Planet Ocean
Beginning in the late 1940's Panerai shifted away from using Radiomir Lume and focused more on the development of tritium based lume known as Luminor. In 1950 the signature Panerai crown lock was introduced. The Luminor models feature the crown lock, integrated lugs, and iconic cushion shaped case that is reminiscent of its past.
The Luminor is easily one of the most recognizable Panerai models today. When it comes to price, this is the most affordable Panerai that delivers its unique and classic look, and still comes with an in-house movement. The Omega Planet Ocean is a very wearable yet capable watch in their Seamaster line. The Planet Ocean comes with a 600m depth resistance which is twice that of the Luminor.
It's also slightly bigger than the Luminor which may deter some who enjoy the more approachable size compared to their larger models. Both coming in around the $4k-$5k mark, the Luminor and Planet Ocean deliver a great amount of value. If looking for a preowned model, there are plenty of options in the gray market compared to some of the more desired Rolex models such as IWC that are difficult to source.
Because of this, both options serve as great entry points into the luxury watch market. Panerai and Omega both have significantly rich histories. Panerai coined many patents as they scaled to serve the Italian Navy and Omega partnered with NASA to help land a man on the moon are feats that not many other watch brands can compete with.
About Exquisite Timepieces
Established in 1998, Exquisite Timepieces is your one-stop shop for all things luxury watches! We are an authorized dealer for 60+ luxury watch brands including Omega, Hublot, Seiko, & Longines! We are proud to showcase one of the world's largest pre-owned watch collections, including renowned brands like Rolex and Patek Philippe. Check out our brand new watch arrivals here and popular pre-owned listings here.