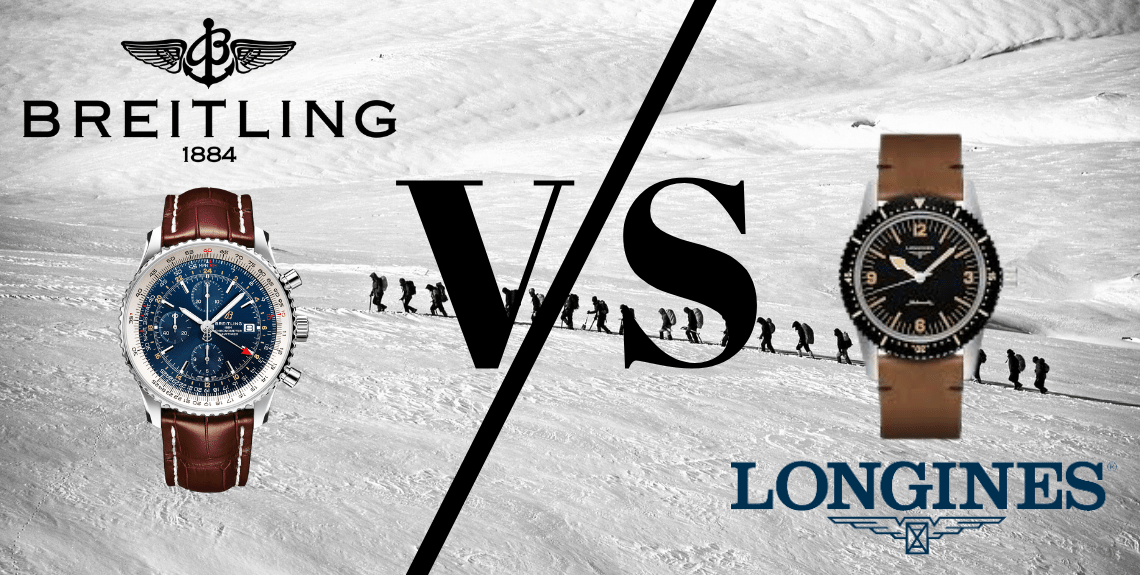 Longines vs Breitling Watches: Brand Comparison
There's something enigmatic about luxury watches that makes them worth every penny you spend. Unlike any other ordinary watches, both Longines and Breitling have unique features to offer. However, when it comes to buying luxury watches coupled with exclusive technology, you need to determine various factors before making a purchase decision, bringing us to the question of Longines vs Breitling.
Both Longines and Breitling luxury segments are rooted in deep history, heritage, class, style, sophistication, tradition, design, and, most importantly, quality. The Longines vs Breitling debate a daunting task for the watch enthusiast to choose one from both stunning timepiece brands. Allow us to take a closer look at both the luxurious watch brands to find out which is more praiseworthy, Longines or Breitling.
Longines vs Breitling: Market-Size
Since the introduction of Longines back in 1832, it has remarkably mastered providing the most elegant and extravagant timepiece collections of luxurious watches to the world. Over the last decade, Longines has extended its collections ranging from simple, classic, vintage to automatic watches without compromising quality. 
In the last 188 years, the brand has transformed dramatically with time. It now focuses on designing future-proof watches, including dignified sports watches for activities like gymnastics or tennis.
As a highly-rated Swiss watch brand, Longines is among the top five most profitable influential brands globally. In 2018, Longines generated around $1.81 billion profit alone, reports revealed by the Swatch group. Every year, more than 700,000 watches have been sold alone in the Chinese market. 
In addition to China, Longines is roaring like a lion in the Indian market. India is amongst the top 15 markets, aiming towards enlarging the franchise model in the next financial year. Besides China and India, Switzerland, Germany, the US, the UK, and Italy were among the global marketers for Longines.
Breitling was founded in 1884 and was mostly known for precision-made chronometers designed for aviators. Over the last decade, Breitling has come a long way, gradually shifting its focus from pocket-size watches to fully functional wristwatches. This is when makers came into form and consistently pushed the limits of multi-functional and timeless designs. The company aims to fit all of its watches, from mechanical, military watches to dive watches with excellence and precision.
Just like Longines, Breitling is also achieving profitable growth with a positive performance in China, Hong Kong, and South Korea. However, social distancing measures due to the COVID-19 pandemic have dropped the sales, forcing the makers to boost their growth by relaunching the products.
Being considered a small yet niche player globally, Breitling, with a limited assortment of products, is expected to reach extreme heights by launching new collections on Watches & Wonders Geneva (a digital platform where Richemond brands unveil their watches every year). This way, Breitling hopes to bounce back, allowing watch lovers to enjoy life and luxury products simultaneously.
Longines vs Breitling: Popularity
The popularity of Longines is unmatchable and undisputable when compared to Breitling. Longines is the only luxury brand that has earned an excellent reputation in the market by fully understanding the changing needs of reliable shoppers. In China alone, the brand is achieving milestones with more than 400 retailers selling 600,000 to 700,000 watches every year. On the other hand, Breitling has made only 10 percent of its sales in Greater China.
Based in Saint-Imier, Switzerland, Longines luxury watches use highly efficient battery-powered quartz movements, unlike their biggest rival Rolex that has no quartz watches at all. Longines utilizes ceramic material for manufacturing extraordinary timepieces for both men and women. Being successful watchmakers for ages, Longines has been actively serving fascinating watches in various industries, such as aviation, sports, and entertainment. Many prominent personalities, such as tennis player Andre Agassi, actress and supermodel Chi Ling Li, and gymnast Giulia Steingruber, have associated with Longines for many years.
In contrast, Breitling is in the reinventing stage producing impressive models to appeal to a broader, less niche audience. Breitling watches are particularly known for their intensely intricate technical designs that can be worn every day.
Innovation & Technology
From the beginning, each design and element of Longines watches have exceeded the expectations leveraging major technological and advanced methods. Technical innovations have led them to change the appearance, aesthetics, and design of the watches from time to time. Longines has successfully launched the Asthmometer-Pulsometer Chronograph wristwatch and became the first company to introduce an LED-display watch. This makes them a recognized name that keeps on reinventing and pushing its limits with ever-increasing precision.
Just like luxury cars, luxury watches from Longines function flawlessly gives a sense of pride and the feeling of sophistication to the wearer. All Longines watches are built carefully and thoughtfully by hand while maintaining a balance between traditional techniques and modernization. To ensure longevity, each Longines model goes through a series of quality inspections by the best artisans in the industry.
If we talk about Breitling, the brand has steadily improved their models' technology and innovations. Among the various brands, Breitling has a stronghold over technical watches, mainly chronographs.
Being a devoted partner of the aviation industry, the brand has played a crucial role in resolving its uncomplicated missions using ultra-modern technologies. Over the years, Breitling has distinguished itself from other niche brands by always uplifting, improving, and innovating in exclusive watches in terms of movements and watch exteriors.
Most Laudable Master Collection
Professionally speaking, Longines has broken many stereotypes by creating unique brand new watches that watch lovers have never seen before. From military, aviation, diver to dress, Longines has excelled while maintaining class and aesthetics.
Here are the most promising Longines watch collections:
Longines Master

Longines HydroConquest

Longines Heritage

Longines HydroConquest Green

Longines Spirit 40mm

Longines Heritage Classic Chronograph Tuxedo Dial

Longines Heritage Marine Nationale

Longines Record Automatic
Each collection of Breitling is packed with versatility, fantastic movements, and water resistance, including automatic mechanical features that could fit almost all sizes. 
Let's go through some of Breitling's most famous and stylish watches:
Breitling Superocean Heritage

Breitling Avenger II Seawolf

Breitling Navitimer 8 B01 Chronograph 43

Breitling Chronomat

Breitling Premier B01 Chronograph 42 Norton

Breitling Colt

Breitling Superocean II
Comparing Longines and Breitling, it is hard to choose for the shopper the better brand. Longines is considered one of the oldest brands that has triumphantly grown over the years, whereas Breitling is another powerful brand, effortlessly unveiling masterpieces that appeal to the masses.
Longines vs Breitling: Takeaway
It is now crystal-clear that both the brands are coming up with timeless models while maintaining brand image fiercely in the market. However, it could be challenging for watch enthusiasts to choose the best. When it comes to comparing Longines and Breitling, the brands have massively grown and built an empire delivering better efficiency and a high standard of watches every year.
Both brands are excellent, but Longines may be the better choice. Longines has positively exploded in terms of strength, robustness, quality, and performance. Longines has the power to bring out and accentuate the masculinity in men and femininity in women magically to their wrist without much effort. With Longines, you have a plethora of fantastic options to choose from. Equipped with the right combination of craftsmanship, price value, and uniqueness, Longines collections separate them from other brands available in the market.
By adding more value, timepiece enthusiasts get a wide array of options, including many unimaginable styles that can be worn in a broad range of circumstances. From vintage-inspired pieces to contemporary design watches, Longines never fails to disappoint.
Get ready to combine all the elements beautifully on your wrist by making a sound investment through Longines. There is something about Longines that you will cherish forever. Every masterpiece is diligently crafted and sets you apart from the crowd. As there are no parameters for luxury products, you need to create your own style statement by choosing the perfect model that matches your personal style.
From simple and stylish to the most complicated designs, easily choose from a wide selection of Longines watches to upgrade your style quotient. No matter the occasion, discover a spectacular collection of luxury watches for both men and women from Longines.
If you believe in love at first sight, we genuinely believe you'll fall in love with Longines' new models and vintage and classic designs the minute you try them on.
About Exquisite Timepieces
Established in 1998, Exquisite Timepieces is your one-stop shop for all things luxury watches! We are an authorized dealer for 60+ luxury watch brands including Omega, Hublot, Seiko, & Longines! We are proud to showcase one of the world's largest pre-owned watch collections, including renowned brands like Rolex and Patek Philippe. Check out our brand new watch arrivals here and popular pre-owned listings here.