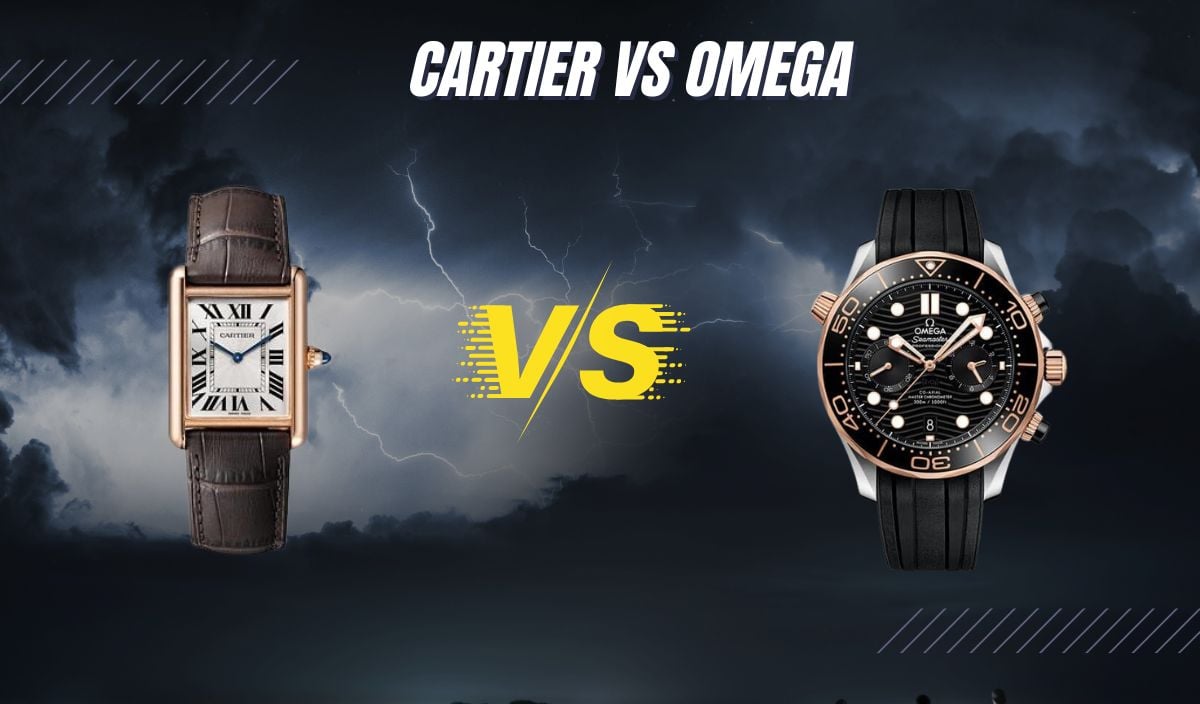 Cartier Vs. Omega Watches (Value, Designs, Movements & More)
You've narrowed down your choices. You have decided to purchase either an Omega or a Cartier wristwatch. You just need a little bit more information to push your decision across the finish line. In this article, we will explore the histories of two of the most recognizable watch brands in the world. On the way, we will compare a few models side by side and then answer some often-asked questions regarding the two watch powerhouses.
The Omega Watch Brand
Omega is a Swiss luxury timepiece counted amongst the ten most recognizable brands worldwide. Omega was founded in 1848 by Louis Brandt in La Chaux de Fonds, Switzerland. The watch company did not incorporate the "Omega" name until 1894 and even then it was known as a combination of Brandt and Omega.
In 1885 the "Labrador" caliber movement was created which had superb accuracy and significant technological advancements. This movement would become the basis for the 19-ligne Omega caliber that would revolutionize watchmaking roughly ten years later. Omega created the first-minute repeater for the wrist in 1892, and then the Omega brand was officially birthed with the 19-ligne movement.
The movement was very accurate and groundbreaking in that every component could be replaced without modification by any watchmaker in the world. It also boasted advancements in winding the watch, using a stem and crown.
The early 1900s found Omega making great inroads into the timing for sports events. In 1932, Omega set timekeeping precision records in all six trials at the Geneva Observatory. The Omega watches tested performed more accurately (through various conditions) than any other brand competing. They also prototyped the first automatic movement that used two weights.
Omega and the Olympic Games
In 1932, Omega was the first watchmaker to time an entire Olympic Games. This was done with their chronograph model and times were scored to 1/100th of a second. Another milestone was achieved in 1936 when Omega's 477 mm. Caliber movement set a world precision record by scoring 97.8 points out of 100 at the Kew Observatory. The movement was 2.2 points away from perfection; this record stands to this day.
The mid-1900s saw Omega developing watches for military applications. These watches require a high level of water resistance, be extremely shockproof, and have to be highly antimagnetic. The company continued to make great strides in all of these areas. In 1947, the first Omega tourbillon was launched to great reception amongst the watchmaking community.
Unlike the conventional tourbillon movements where the cages rotated once every minute, the Omega rotated once every 7.5 minutes. This provided greater accuracy leading to the movement being recognized as the most accurate recorded timepiece in 1949. A great development in the area of sports timing was achieved with the creation of the "Magic Eye."
This innovation was the use of photoelectric cells to capture the exact moment an athlete crossed the finish line tape. Since the elasticity of the tape was so poor, there were often inaccuracies in the final time recorded for any particular event. This innovation solved this problem.
1948 saw the introduction of the first Seamaster model and over the next ten years the Constellation, Deville, and the Ladymatic automatic women's wristwatch were all introduced. Omega also created a professional line of watches which included the Speedmaster, the Seamaster 300, and the Railmaster.
The "Moon Watch"
Another iconic chapter in Omega's history was the development of the "Moon" watch. This watch was launched in 1957. In 1962, it became the first watch in space when Wally Schirra wore it for the Mercury Mission on Oct. 3rd of that year. Nasa subsequently qualified the watch for manned missions in 1965, and astronaut Buzz Aldrin wore it when he walked on the moon on July 21, 1969. Thus Omega became known as "The First Watch on the Moon."
In 1999, Omega released the first practical new watch escapement in 250 years. The co-axial escapement was a turning point in mechanical watchmaking. By using smaller contact surfaces the co-axial escapement produces less friction and requires less lubrication making it far more reliable than traditional movements.
2008 Omega created the Si14 balance spring to resist the ever-increasing threat of magnetic forces watch wearers encounter in today's world. Named after its chemical symbol and the atomic number of silicon, the new spring significantly reduces deviation and improves chronometric stability. In 2013, the co-axial 8508 caliber movement was brought to market with a magnetic resistance of 15,000 gauss.
The creative use of antimagnetic materials in the movement meant that there was no need for a protective inner case paving the way to being able to incorporate additional features such as a date wheel and the watch could have a skeletal back. Rounding out this rich history was the development of an ultradeep wristwatch that is water-resistant to 6000 meters or approximately 20,000 feet.
Trademarked Specialty Alloys and Materials
Omega has garnered a high reputation in the development of trademarked materials incorporated into the parts used in their movements and for use in the manufacture of their cases and bracelets. Besides conventional materials such as 316L stainless steel, aluminum, 18-carat yellow, and white gold, ceramics, the highest quality diamonds, and mother of pearl, Omega has developed the following exclusive materials;
Liquid Metal- Since 2010, ceramics have been bonded with this alloy (composed of titanium, zirconium, and copper). The result is a material that is three times harder than steel and provides superior scratch resistance and stability offering new decoration possibilities.
Grade 2 Titanium- an alloy material that is light, corrosion resistant, biochemically inert, and able to withstand very high temperatures. Its dim gray color is used primarily in brushed finishes and is particularly effective in limiting light reflection.
Red Gold- A combination of 18-carat yellow gold, copper, and silver. The finished product is highly non-corrosive and biochemically inert.
Bronze Gold- a bronze alloy composed of 37.5% 9-carat gold, palladium, and silver. This alloy makes the bronze easy to wear on the skin. It offers corrosion resistance without oxidation and will age very slowly and maintain its natural patina over time.
Sedna Gold- Introduced in 2012 and is a combination of 18-carat yellow gold, copper, and palladium giving it its signature rose color. Highly resistant to fading.
Moonshine Gold- Created in 2019, the 18-carat yellow gold is combined with silver, copper, and palladium and is also highly resistant to fading. The trademarked name is inspired by the shining moonlight in a dark blue sky.
Canopus Gold- Developed in 2015 and comprised of 18-carat white gold, platinum, rhodium, and palladium. It is distinguished by its high brilliance, whiteness, and longevity. It is named after the bright star Canopus which is 71x bigger and 10,000x brighter than the sun. Because of its brilliance and position, it is a vital navigational and positional reference point.
Ceragold- The first product to allow the decoration of ceramic watch parts with 18-carat gold.
Meteorite- The use of lunar meteorites with irregular stone patterns that have been discovered here on earth.
METAS Certification
The major feature that distinguishes Omega watches from other brands is that each is a master chronometer. To achieve this classification, the movements are not just certified chronometers by the COSC (Swiss chronometer testing institute) for accuracy, but they are then put through more precision testing by METAS. METAS is the Swiss Federal Institute of Metrology.
The movements are put through eight additional tests and must fall within certain parameters of accuracy. Whereas the COSC accepts results of -4/+6 seconds per day after the METAS tests the range is 0/+5, 0/+6, and 0/+7 seconds per day depending upon the caliber size of the movement.
The Omega watch line offers over 1000 models and has a starting retail price of approximately $2550.00. A basic "Rail Master" is about $4900.00, and a basic divers watch will run you about $5100.00. Women's watches start at approximately $2550.00. There is great depth to the women's selections with styles ranging from classic models to models adorned with diamonds and gemstones in solid gold.
There are four distinct subgroups within the collection: Seamaster, Speedmaster, Constellation, and Deville. These groups are also made up of subgroups of assorted styles with choices that most would find appealing. Omega has many notable inventions and patents which it has acquired during its history. The company created the first Master Chronometer Tourbillon and presently offers four models that range from $137,000.00 to over $700,000.00 retail.
These handcrafted watches come with either manual winding or self-winding movements and range in case size from 38.7 mm. to 44 mm. These models are inspired by the first tourbillon wristwatch caliber Omega created in 1947. Additionally, Omega has been a mainstay on the silver screen with its prominent positioning in the James Bond movies of the last three decades.
Its commitment to the sponsorship of world-class sporting events, commitment to philanthropy, and practicing preservation and environmentally friendly practices have contributed to its reputation and success. Omega offers a five-year warranty on all of its timepieces making it comparable to Rolex in this respect.
Cartier-Yesterday and Today
In 1847 Louis Francois Cartier took over the workshop from his employer at the time Adolphe Picard. Though France was in the throes of the French revolution, Cartier built his company and, in 1859, opened the first Cartier boutique. While Cartier is a recognized and successful watch company, they are probably better known for jewelry and other high-end fashion designs.
Cartier, unlike Omega, is not just a luxury Swiss watchmaker but a brand that has prospered as a powerful and recognized name, as evidenced in Forbes magazine, ranking Cartier as one of the top 100 brands in the world. The watches, as well as the jewelry collection, have benefited from each other's design, innovation, and creativity.
In 1847, Louis's son Alfred took over the business from his dad and moved the Cartier boutique to the prestigious jewelry district in Paris. Alfred's three sons, Louis, Pierre, and Jacques, were involved with the family business. While Alfred worked in Paris, his brothers sought to expand the family name to both London and New York.
While in Paris, Louis continued to grow Cartier's reputation by incorporating revolutionary ideas such as using platinum in jewelry making. It was during this period that Cartier's "Mystery Clocks" were developed in partnership with watchmaker Maurice Couet featuring transparent dials with hidden mechanisms. Due to Louis's jewelry creations, King Edward Vll dubbed Cartier "Jeweller of Kings, Kings of Jewellers."
The Creation of the Santos
In 1904, Louis's friend Brazilian pioneer aviator Alberto Santos Dumont commissioned him to create a watch he could wear on his wrist when piloting his dirigible. At the time pocket watches were the only choice and Dumont found using a pocket watch while needing to use both his hands to control his dirigible was difficult and near impossible.
From this request, the Santos watch was born. This was Cartier's first men's wristwatch and due to Dumont's celebrity, became a must-have accessory for men. Its flat shape and unique square bezel were instantly recognizable and proved successful for Cartier.
1907 saw Cartier sign an exclusive contract with Edmond Jaeger to supply movements for the Cartier watch line. By 1920, the two entities formed a joint company that had Jaeger continue to provide movements for the collection. In addition, movements from Audemars Pequot, Vacheron Constantin, and Movado were also used.
The Tank Watch is Born
A visit to the western front in 1917 inspired the formulation of what is one of Cartier's most iconic styles, the Tank. The Tank was introduced in 1918 and entered full production in 1919 when six pieces were built. Its lines and proportions are similar to those of tanks used on First World War battlefields. Its strap is integrated into vertical sidebars giving it the distinctive and most replicated shape.
Louis Cartier died in 1942 but the company continued to flourish under new leadership over the watch and jewelry sides of the business. Cartier continued creating new and timeless jewelry pieces as well as growing the distribution of its watch collection over the next forty years.
The Panther collection was introduced in 1983 with its signature bracelet design, and shortly thereafter the Pasha watch was brought to market. The Pasha was somewhat of a departure from previous case styles and sported a distinctive oversized crown.
The interesting back story whether true or not is that the Pasha got its name because The Pasha of Marrakech commissioned Cartier to create a watch that he could swim with The first Pasha supposedly was the culmination of this request in 1933, but somehow the design fell through the cracks and was forgotten only to be resurrected in 1985. True or not, definitely an interesting story. The Roadster was introduced in 2002 and brought another successful design to the watch market.
Becoming a Swiss Watchmaking Powerhouse
The past twenty years have seen Cartier go through a large-scale transformation. Up until 2000 Cartier's women's watch sales exceeded men's models, particularly in the USA. The women's timepieces are as much a piece of jewelry as a watch and are gorgeous pieces that any woman would proudly wear. The transformation was the purchase of a facility to be able to design and manufacture every component in every Cartier watch.
A complete vertical integration under one roof. With this came a fresh mandate to produce superb quality mechanical and automatic movements. As one executive has been quoted, "Our main philosophy is to be creative, rather than complex," with that said Cartier has captured the attention of the watchmaking community with the watches they have created featuring a host of complications, signature materials, and technological innovation. Three such models are the following:
Ballon Bleu de Cartier (2007)
Concept ID Collection- The ID One was introduced in 2009 and the present version, the ID Two in 2012. The watch utilizes a completely air-tight ceramic case made of Cartier's patented Ceramist. Because the case is airtight there is little friction on any of the moving parts within the movement. The movement is made of titanium and is so precise that it requires no lubricating oils. The watch is also completely antimagnetic due to its fiberglass mainspring and carbon crystal balance.
Drive de Cartier Flying Tourbillon.
To read an excellent article that goes into great depth about this transformation at Cartier. Since 2018, Cartier quartz models are outfitted with a high-autonomy quartz in-house movement. This movement is highly efficient and has an autonomy of 8 years.
This is twice the length of traditional quartz movements. Cartier resized and reworked the movement to reduce overall energy consumption. The new movement is combined with a new high-performance battery that is more water resistant and boasts a longer life. The new battery has 5% more capacity and discharges at half the rate of previous batteries.
The Cartier family controlled the company until 1964 when they sold the business. In 1872, a group of investors led by Robert Hocq purchased Cartier Paris and subsequently added Cartier London in 1974, and Cartier New York in 1976. It was during this period that Hocq coined the phrase "Le Must de Cartier." When translated, becomes "Cartier, it's a must".
In other words, if you are a purveyor of luxury and taste then you must own a Cartier. The slogan has stuck and has become synonymous with the brand. Today, Cartier is owned by the vast conglomerate the Richemont Group which acquired it in 2012. One of Cartier's most respected qualities is its commitment to giving back and its philanthropic endeavors. It is worth visiting the company website to review the many organizations that they partner with around the world.
Many countries in Africa, South America, and throughout the world have benefitted from Cartier's generosity and desire to make a difference. Giving career and educational opportunities, and providing life-sustaining services to people who are considered "the least of these," is the pinnacle of using their great success to give back and improve the human condition. Cartier is a classy brand with a big heart.
Cartier Tank vs. Omega Deville Prestige
The Cartier Tank is one of the most iconic watches in the brand's treasury of timepieces. As mentioned the first Tank was created in 1919. Today's model continues to be characterized by the original flat case design and distinctive crown topped with a synthetic or sapphire blue cabochon. The basic model in stainless steel strap is available in three sizes.
The smallest case measures 29.5 mm. X 22 mm. and is 6.6 mm. Thick. This is a women's size case and comes in either a high autonomy quartz or a photovoltaic solar beat movement. The photovoltaic solar beat movement is a new innovation for Cartier. The movement receives light through the dial, particularly the Roman numerals feeding the photovoltaic cells.
It is estimated that the watch will last sixteen years before recommended servicing. Cartier wanted to introduce an elegant, easy-to-wear version of the Tank that needed minimal service and provided minimal environmental impact. Even the non-animal strap is made of scraps of apples grown for the food industry.
The Tank watch has a beaded crown with a synthetic cabochon-shaped spinel, silver dial, and blued steel hands.
The watch is water resistant to 30 meters and is completed with a black calfskin strap with a steel buckle on the high autonomy choice or a non-animal black, blue, or light green strap on the photovoltaic solar beat version. Each retails for approximately $2790.00. The next largest case selection measures 33.7 mm. X 25.5 mm. and also measures 6.6 mm. In thickness. All of the above attributes carry through as standard to the basic model and it is outfitted with a high autonomy quartz movement with a black leather strap.
The approximate retail price is $2930.00. The third Tank is the Large model and measures 41 mm. X 31 mm. and measures 6.6 mm. in height. This model varies from the others in that it has a mechanical automatic caliber 1847 MC movement and a calendar window at the 6 o'clock position. Approximate retail $4200.00 with a black calfskin strap with steel buckle. All three case sizes are also available with a stainless steel bracelet instead of a strap. The approximate retail prices of each model are as follows:
Tank Small – $3200.00
Tank Medium (referred to large on the website) – $3350.00
Tank Large – $4650.00
There are several other variations of the Cartier Tank available through the company in various dials, materials, and styles but I have limited my choice for comparison to the base model.
The Omega Deville Prestige is part of the Deville collection and numbers over 400 distinct models. There truly is something here for everyone to choose from. The basic Prestige Co-Axial Master Chronometer measures 40 mm. in diameter, 19 mm. between the lugs, and has a thickness of 9.9 mm. The case is made of stainless steel and is water resistant to 30 meters. The watch features a domed PVD dial with sun-brushed finishes. You may choose from five different dial colors:
Pine Green
Blue
Silver
Black with PVD SEDNA gold colored hands with alternating Roman numerals and cabochon indexes
Rhodium Gray with the same gold treatments available with the black dial
In addition, the outer edge of the dial features a railway minute track, enhancing the appearance of the dial, and a date window at the six o'clock position. The front sapphire crystal has been enhanced with anti-reflective treatment. There is a see-through crystal on the back of the case to view the beautiful movement.
At the heart of the watch is a Co-Axial caliber 8800 self-winding automatic movement. The movement features the Omega Co-Axial escapement, free-sprung balance with silicon balance spring, and auto winding capabilities in both directions.
The movement reflects rhodium-plated finishes with Geneve wave decorations. The movement vibrates at a frequency of 3.5 Hz and has a power reserve of 55 hours. The watch is also impervious to magnetic fields reaching 15,000 gauss.
The Deville Prestige will set you back about $4100.00. with an accompanying strap or $4400.00 with a stainless steel bracelet. Omega also offers a collection of women's Deville Prestige models. They are available in a myriad of sizes. The basic model is available in a stainless steel case with a beautifully integrated steel bracelet. The watch has a diameter of 24.4 mm., a measurement between the lugs of 12 mm., and 6.6 mm. Thick.
It has a striking two-tone dial with Roman numerals at the 3, 6, 9, and 12 positions. A scratch-proof sapphire crystal protects the dial. The watch has an Omega caliber 1376 high precision quartz movement and the watch is water resistant to 30 meters.
The approximate retail price of this model is $2550.00. Along with the various choice in case sizes the women's timepieces are available in steel and 18-carat gold, and all 18-carat yellow gold or red gold models with and without diamonds and options like mother-of-pearl dials.
Conclusion
In comparing the male models I would opt for the Omega on two counts. The number of features invested into the watch itself and secondly, its sleek and detailed dial and overall appearance. Don't get me wrong, the Cartier Tank is a beautiful watch and after all, bears the Cartier name which carries its own special cache and sends a message of sophistication, but it is a simple and somewhat unexciting timepiece. At similar price points, either would make a great choice, but I would give the advantage to the Omega.
Omega Aqua Terra vs Cartier Santos
The Aqua Terra is part of the Omega Seamaster collection. These models are water resistant to 150m. (approximately 500 ft.). Cases are constructed of 316L stainless steel and available in either a 41mm. or a 38mm. case. They house a caliber 8900 self-winding (automatic) movement with a power reserve of 60 hours, a scratch-proof sapphire crystal, and a transparent case back. There is a date window at the six o'clock position.
The mechanical self-winding Omega caliber 8900 movements has a Co-Axial escapement, free-sprung balance with silicon balance spring, two barrels mounted in series, and automatic winding in both directions. It has a time zone function and the rotors and bridges reflect rhodium plating with Geneva wave finishes.
These watches are highly shock resistant and are tested with results that are equal to 5,000g (1g is equal to the force of gravity at the earth's surface). Each Aqua Terra also benefits from the best antimagnetic resistant rating among all watches. Omega had set the new standard for this measure in a wristwatch. These watches are antimagnetic to fields reaching 15,000 gausses. A quick overview concerning this feature is as follows.
The International Standard (ISO769) defines basic magnetic resistance for watches as they must resist exposure to direct magnetic fields of 4,800 A/m (Amperes per meter). This is a minimal level and equivalent to about 60 gausses. Gauss is a measure of magnetic resistance that takes into consideration the magnetic permeability of the material being tested.
Technically, this is called magnetic flux density. The Aqua Terra is rated at 15,000 gausses (1.2 million A/m). To put that measure in perspective, it is the magnetic field given off by an MRI scanner. The Aqua Terra comes in an array of colors. Each is earmarked by a horizontal "teak pattern" fashioned after the decks found on luxury sailboats and yachts. The colors are as follows:
Silver with blackened hands and indexes filled with white Super-Luminova. There is an orange central seconds hand and the Seamaster wording is orange colored as well as the four-quarter markers on the minute track.
Green with a sun-brushed finish and rhodium-plated hands and indexes filled with white Super-Luminova.
Blue with rhodium-plated hands and indexes filled with white Super-Luminova.
Black with rhodium-plated hands and indexes filled with white Super-Luminova.
Gray with blued hands and indexes filled with white Super-Luminova.
The starting retail price for the Aqua Terra is $5400.00 for a strap model or $5700.00 for a model with a stainless steel bracelet. There are also several styles available for women starting at $5700.00.
The Cartier Santos Dumont is available as a base model in three sizes. The small case timepiece measures 38 mm. X 27.5 mm. and has a thickness of 7.3 mm. It is constructed of stainless steel and has a beaded crown set with a blue synthetic cabochon-shaped spinel. The dial is satin brushed silver with a sunray effect and features Roman numerals and blued steel hands.
A sapphire crystal protects the watch from scratches and it is water-resistant to 30 meters. It is powered by Cartier's high-autonomy quartz movement. This model retails for approximately $3750.00. With a navy blue alligator strap with a steel buckle. The Large size Santos Dumont has a case measurement of 43.5 mm. X 31.4 mm. with a thickness of 7.3 mm.
It has all the same characteristics as the aforementioned, smaller, watch. This incarnation retails for approximately $4000.00. The extra-large Santos increases to a case size of 46.6 mm. X 33.9 mm. The watch is slightly thicker at 7.5 mm.
The one major difference is that this model has a hand-wound mechanical caliber 430 MC movement. All other features remain the same as the above models. The timepiece retails for about $6000.00
The Santos Dumont also comes in a completely stainless steel version. Here there are only two models to choose from. The medium-sized watch has a case width of 35.1 mm. and a height of 8.83 mm. The watch has a mechanical automatic caliber 1847 MC in-house movement and is water resistant to 100 meters. The crown is slightly different from the bracelet model.
The crown is seven-sided and set with a faceted synthetic spinel. The silvered opaline dial is accented with blued steel hands and black Roman numerals. A sapphire crystal protects the dial and the watch is completed with a rugged yet elegant stainless steel bracelet with a smart link adjustment system.
This watch will cost you approximately $6800.00. The large incarnation of this model measures 39.9 mm. overall and has a thickness of 9.38 mm. All technical aspects are the same as the medium-sized watch but will set you back around $7450.00.
Conclusion
I have personally come to a split decision concerning the better of the two models. I would own one of each if possible. Granted, the Santos Dumont in steel with a strap is not as exciting as perhaps one of the latest offerings in some of the rest of the collection, but for the price, there is a level of refinement and sophistication that makes this watch stand out.
It also is not a "sports watch" which would be a more applicable term applied to the Omega Aqua Terra. The Aqua Terra is a timepiece packed with features and ready for a trip to the office or a weekend of sports activities. It is also superior to the Santos in its water resistance. I believe each watch will appeal to a different potential client but both are worth a test drive at your watch store of choice.
FAQ's
Is Omega better than Cartier?
With the advancements that Cartier has made in the past twenty years, bringing every aspect of the watchmaking process from conception to completion under one roof, I believe Cartier's reputation as a watchmaker is well on its way to achieving greatness with the who's who of the Swiss watchmaking community. Both are great brands with great histories of producing high-quality and innovative timepieces.
Do Cartier watches hold their value?
Over time a Cartier watch has the potential of depreciating less than other Swiss luxury brands. The Cartier name is so well regarded that there is always a secondary market for their watches.
Are Cartier watches worth the money?
This is a purely subjective determination you have to make. Given the labor and materials incorporated into many of the specialty or complicated watches, these are priced on par with similar highly sought-after luxury Swiss timepieces. There is much to be said about the craftsmanship and beauty of the Cartier collection coupled with its reputation for high fashion.
Does Omega have a better warranty?
Omega watches are warranted for five years. Cartier timepieces come with a two-year international warranty that may be extended to a total coverage of eight years if you register your purchase with "Cartier Care" and agree to certain caveats. The watch must be registered within the initial two years after the purchase period.