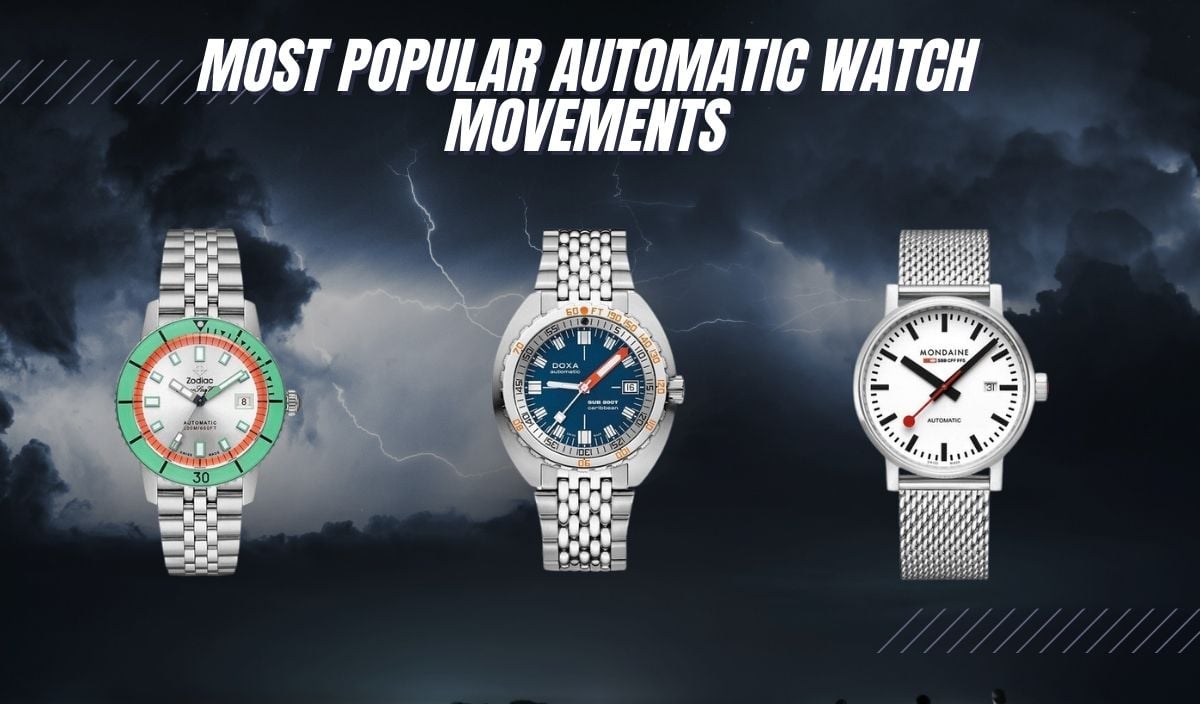 7 Most Popular Automatic Watch Movements (ETA, Seiko & More)
When people see the words "power reserve", "jewel", "vph", "caliber", or "movement", few (even among watch enthusiasts) understand how they translate to performance. Most luxury watch owners, especially first-time owners, buy for brand prestige, appearance, or resale value. And rarely because of the watch movement.
I spoke to a Rolex Datejust owner who was unaware of the caliber or function of his watch, saying he got it for the status and investment value Rolex offers. He's now on the lookout for a Sky-Dweller, still with no idea what makes his timepiece tick.
While this isn't uncommon or ignorant, it backs up a 2008 study by IJMASS that found that a significant portion of consumers value brand reputation over technical aspects when purchasing watches.
Well, that's fine. But the team at Exquisite Timepieces values building a community of watch owners that understand the intricacies and facts about their prized possession. Hence, we made this comprehensive overview of the most popular automatic watch movements and how they work.
About Automatic Watch Movements
Watch movements have captivated the interest and attention of hardcore horologists and enthusiasts for centuries. From the precision of the quartz movement to the artistic glide of the mechanical ones, timekeeping and its intricacies have continuously evolved. And the automatic watch movement is today's blueprint and hallmark of top-tier watch engineering.
Automatic or self-winding watch movements keep time without batteries or constant hand winding. Contrary to popular belief, magic does not power watches with automatic movements.
They simply testify to the law of physics by using the wearer's motion to power the watch's mainspring – the power source. This way, it never runs out of juice unless it's inactive after the exhaustion of the power reserve.
The x-factor in automatic watch movements is the semicircular weight/rotor that rotates on the back of the movement/caliber. You'll see this clearly in watches with transparent case backs. The "rotor" uses kinetic energy – as it swings back and forth on a pivot with the wearer's movement, it winds the mainspring, so it charges automatically.
The energy stored up in the mainspring is released in a controlled manner to power the watch with the help of the escapement and balance wheel. Acting as the watch's brain, the escapement produces a tick-tock motion that controls energy flow to the balance wheel. Then the balance wheel oscillates back and forth at a precise frequency, ensuring that the watch's hands glide seamlessly across the dial.
History Of Automatic Watch Movements
The creation of the first automatic movement is often attributed to a Swiss watchmaker from Le Locle, Abraham-Louis Perrelet. Perrelet unveiled a pocket watch with a self-winding mechanism in 1777 with a rotor or oscillating weight that moved up and down, harnessing the wearer's motion to wind the mainspring. It took an estimated 15-minute walk to fully wound the watch.
Perrelet's invention inspired other watchmakers to improve this design, including Abraham-Louis Breguet, founder of Breguet. He got it right, using a barrel remontoir instead of a rotor. But it was too expensive to be mass-produced.
The Harwood Breakthrough
While several other horologists successfully created a self-winding mechanism, they were rare prototypes. It took almost two centuries to produce one for the public. Harwood obtained the patent for the first mainstream automatic wristwatch in 1923, which opened room for the sophisticated calibers we use today.
His self-winding mechanism used a pivoting rotor that only moved back and forth – now called the bumper or hammer – in a 180-degree motion. Harwood's movements had a power reserve of up to 12 hours when fully wound.
Harwood's automatic watch movement soon gained widespread popularity and was quickly embraced by other manufacturers.
Rolex refined the design in 1930 with adjustments to the oscillating weight – giving it a full 360-degree. This simple workaround stored more energy in the mainspring – providing the Oyster Perpetual a 35-hour power reserve.
In the same year, Glycine released the world's first widely produced automatic watch movement. Eterna also made a notable contribution in 1948 by introducing ball bearings to these movements. This ingenious addition ensured that the internal structures of the watch stayed in place even when subject to trauma.
Most Popular Automatic Watch Movements
Now that we've shed some light on the automatic watch movement and its history, here are some of the most popular automatic movements in the watch industry. From iconic classics to innovative brands, we'll unravel each movement's history, specifications, and unique characteristics.
| | | | | | | | | | |
| --- | --- | --- | --- | --- | --- | --- | --- | --- | --- |
| Automatic Movements | Height | Diameter | Power Reserve | Jewels | VPH | Hacking Seconds | Hand Windable | Shock Protector | Accuracy |
| SW200-1 | 4.6mm | 25.6mm | 41 hours | 26 | 28,800 | Yes | Yes | Novodiac/Incabloc | Depends on the grade |
| ETA 2824-2 | 4.6mm | 25.6mm | 38 hours | 25 | 28,800 | Yes | Yes | Novodiac/Incabloc | |
| Seiko NH35A | 5.32mm | 27.4mm | 41 hours | 24 | 21,600 | Yes | Yes | Diashock | -20 to +40 s/d |
| Miyota 9015 | 3.9mm | 26mm | 42 hours | 24 | 28,800 | Yes | Yes | Prashock | -10 to +30 s/d |
| STP1-11 | 4.6mm | 25.6mm | 44 hours | 26 | 28,800 | Yes | Yes | Incabloc | -0 to +20 s/d |
| ETA/Valjoux 7750 | 7.9mm | 30mm | 48 hours | 25 | 28,800 | Yes | Yes | Incabloc | Depends on the variant |
| Soprod A10 | 3.6mm | 25.6mm | 42 hours | 25 | 28,800 | Yes | Yes | Incabloc | +/-4 s/d |
Sellita SW200-1
The SW200-1 automatic watch movement, crafted by Sellita, a renowned Swiss movement manufacturer, is often said to be a clone of the ETA 2824-2. It came to the fore after ETA cut off deliveries to third parties, and its patent on the caliber expired in 2003. Sellita, who was formerly assembling the parts of watch movements, decided to start producing the parts in-house. The plan was successful, and it resulted in the SW200-1.
This movement has now come to be known for its precision, reliability, and economical nature. The SW200-1 measures 25.6mm in diameter and 4.6mm in height. It bears 26 jewels and operates at a frequency of 28,800 vibrations per hour. The caliber also comes with hour, minutes, sweep center seconds, stop seconds hacking feature, and ball bearing.
The presence of a date feature depends on whether your watch comes with the SW200-1a or b. The SW200-1a has a built-in date window with quick setting, while the SW200-1b doesn't. Additionally, when fully wound, the movement has an impressive power reserve of 41 hours. However, the watch's accuracy is determined by the quality level of your movement. SW200-1 automatic movement has four (4) quality levels:
Standard – accuracy of +/-12 s/d to +/-30 s/d
Special (Elabore) – accuracy of +/-7 s/d to +/-20 s/d
Premium (Top) – accuracy of +/-4 s/d to +/-1 s/d
Chronometre – accuracy meets COSC criteria
The versatility of the Sellita SW200-1 is evident in its widespread adoption by watch brands across various styles and designs. It powers several watches, such as the C60 Trident Pro 600 by Christopher Ward, the Serket Reef Diver 2.0 Microband, and the Invicta Meteorite Ocean Ghost Diver 5015. Also, the Oris 773 Caliber, found in some watches in the Oris Divers Sixty-Five line, is based on the Sellita SW200-1.
ETA 2824-2
ETA 2824-2 has to be the most popular of all the industry's automatic watch movements. Produced by ETA-SA, a renowned Swiss movement manufacturer and a subsidiary of the Swatch Group, the evolution of this highly esteemed movement dates back to 1982. It is a secondary generation of the ETA 2824 caliber and is based on the earlier mentioned Eterna Calibre – hence its ball bearings.
This self-winding movement, often described as a "workhorse movement", shares similar features with the Sellita SW200-1 because the latter was based on its design. It operates at a frequency of 28,800 vibrations per hour, boasts a power reserve of 38 hours, 25 jewels, and an Etachron regulator.
Like the SW200-1, it measures 25.6mm in diameter and is 4.6mm thick. It also has central hour, minutes, sweep seconds, and a date window – the position could differ depending on the manufacturer). Plus, it is designed with a hacking feature and can be wound by hand.
There is a manual wind version of the ETA 2824-2, known as the 2804-2 caliber. Ever since the ETA-SA lost its patent of the 2824-2, manufacturers have proceeded to make clones of the automatic movement.
One notorious clone is the Sellita SW200-1. Also, Seagull's ST2130 caliber, Hangzhou's caliber 6300, and Valanvron's VAL-24 are all clones of the 2824-2. Moreover, Tissot Visodate and Hamilton Khaki King watch models feature the ETA 2824-2 automatic movement.
Seiko NH35A
The NH35A is an unbranded version of the Seiko 4R35, proudly crafted by the esteemed Japan watch manufacturer Seiko. Note that this caliber could be manufactured in Japan or Malaysia – the country of manufacture is often inscribed on the rotor. Regardless of where it is manufactured, the Seiko NH35A is prized for durability, ruggedness, and affordability.
This self-winding movement has a slimmer profile when compared to the ETA 2824-2 and SW200-1. It is only 5.32mm thick with a 27.4mm diameter. Operating at a frequency of 21,600 beats per hour, the NH35A delivers accuracy within the range of -20 to +40 seconds per day. It is also designed with a hacking feature, a bi-directional rotor, 24 jewels, and a diashock protector. The crown reinforces the anti-shock and waterproof feature.
Speaking of the crown, it is worth noting that its three positions each have different functions. At 0 position (against the case), the crown is used to wind the caliber manually. The NH35A has a 41-hour power reserve at full charge, which can be achieved after manually turning the crown 55 times.
The crown can adjust the date at the 1 position (a click away from the case). And for the hacking stop-seconds feature, the crown should be placed at the 2 position (two clicks away from the case).
This unbranded Seiko automatic watch movement has an incredibly long lifespan, with a tendency to last 5 to 25 years. It's no wonder that the NH35A is featured in rugged watches from brands like Invicta, Vostok, Orion, Helm, and Lum-Tec.
Miyota 9015
With a 26mm diameter and 3.9mm thickness, the Miyota 9015 has to be our list's thinnest automatic watch movement. Its height makes it a great fit for dress watches. But don't be fooled by its sleek design; this caliber is a workhouse movement with powerful features.
For one, it does spot a highly impressive power reserve of up to 42 hours when fully wound, allowing it to keep time accurately for almost two days. And its accuracy, between -10 to +30 seconds per day, has been vetted by third-party micro brands like Marc & Sons Pilot Watch. It can be hand wound, ensuring accurate and precise timekeeping.
In addition to the power reserve, other specifics of the Japanese Calibre 9015 are a 28,800 vibration per hour, unidirectional rotor, central hour, minutes and seconds sweep, 24 jewels, date calendar, and parashock system.
Watches that feature the Miyota 9015 include Vaer D5 Dive, Lum-Tec B24 Carbon, and BOLDR Odyssey Free Diver.
Swiss Technology Production STP1-11
Here's another automatic watch movement based on the ETA 2824-2 and the Swellita SW200-1. It is a 26-jewel movement which is one more jewel than 2824-2 – the extra jewel supports the barrel arbor. It retains the 25.6mm diameter and 4.6mm thickness, 28,800 beats per hour, bi-directional rotor, hand winding, and hacking feature of the 2824-2.
However, what sets this movement apart is its power reserve. So instead of a 41-hour power reserve, the STP1-11 can last up to 44 hours when fully wound. This extended power boost is due to a longer and thinner mainspring, which provides more room to store energy and a resulting substantial reserve.
The STP1-11 comes with a calendar complication that could be at 3 or 6 o'clock. Its accuracy rating is -0 to +20 seconds per day, and it has been tested in five (5) positions meeting COSC chronometer standards.
Unsurprisingly, the Swiss Technology Production STP1-11 has inspired many other calibers in-house and amongst other brands. The STP1-11M is a manually wound version of the STP1-11. STP2-12, STP3-13, STP5-15, and STP6-15 are all based on this prestigious self-winding movement. Plus, you can find the caliber in the BOLDR Odyssey and Stella Felix watches, among others.
ETA/Valjoux 7750
The ETA/Valjoux 7750 is a legendary automatic chronograph watch movement. Originally, the movement was designed by Valjoux and was based on the manually wound Valjoux 7733. It was first intended as a watch computer for pilots and sold on the market between 1973 and 1974. However, production stopped at some point, and it wasn't back on sale until 1985.
The name ETA/Valjoux 7750 resulted from a 1944 merger between Valjoux and AUSAG, which owned other smaller companies, including ETA. Thus, except for the original version, the automatic movement is often called ETA 7750.
Original versions of the ETA 7750 were designed with 17 jewels, and subsequent versions with 24 jewels. The contemporary movements, however, come with 25 jewels, three sub-dials, a day/date feature at 3, a ball bearing rotor system, and 48 hours power reserve. It has a 30mm diameter, 7.9mm thickness, and 28,800vph – as opposed to the 21,600vph in earlier models.
The 7750 comes in four grades, meaning the accuracy of the movement varies with each grade. There are also several variations, such as the 7751, 7753, and 7754, which mainly differ in the position of the subdials, date feature, and the absence or presence of a GMT hand or moon phase.
The ETA/Valjoux 7750 has found its home in numerous remarkable timepieces from manufacturers like Alpina, Tag Heuer, Oris, Sinn, Chronoswiss, and Breitling.
Soprod A10
If you own a Steinhart Ocean Titanium 500 Premium, Stowa Marine Automatic, Sinn T1, T2, or EZM3, you'll be familiar with this Swiss movement. It was designed by Soprod, a subsidiary of the Festina Group, and is now designated the Caliber M100.
The Soprod A10 is based on a caliber from the Seiko 4L family – Caliber 4L25- often found in high-end watches. It is designed with a glucydur balance, incabloc shock system, 28,800 bph, 25.6mm, and a 3.6mm thickness. In addition to these features, it has 25 jewels, 42 hours of power reserve, and hacking seconds feature.
There are three(3) variations of the A10 self-winding movement. While they share the same dimension, beats, power reserve, and jewels, they differ in the absence or presence of a date complication, balance wheel, or skeletonized dial. A10-2 is built with three regular hands and no date complications. SOP A10BV-2 has three hands and an open balance wheel, with no date complication. SOP A10SQ-2 lacks a date feature but is built into a skeletonized dial.
Conclusion
The watch industry has been graced with the most fascinating and ingenious automatic watch movements. We have explored the most popular of these movements, from legendary ones like the ETA 2824-2 and Sellita SW200-1 to the notorious automatic chronograph movement, ETA/Valjoux 7750, and other equally remarkable ones like the Seiko NHE5A, Miyota 9015 and the STP1-11.
These timeless movements, with their designs, rotor system, crown positions, power reserves and reinventions, power diverse watches – be they classic dress watches or rugged sports timepieces. And with your newly found knowledge of the most popular automatic watch movements, we hope that you make more informed decisions on your next watch purchase.
In the comment section, let us know what you think about these popular automatic watch movements. Cheers!
About Exquisite Timepieces
Established in 1998, Exquisite Timepieces is your one-stop shop for all things luxury watches! We are an authorized dealer for 60+ luxury watch brands including Omega, Hublot, Seiko, & Longines! We are proud to showcase one of the world's largest pre-owned watch collections, including renowned brands like Rolex and Patek Philippe. Check out our brand new watch arrivals here and popular pre-owned listings here.