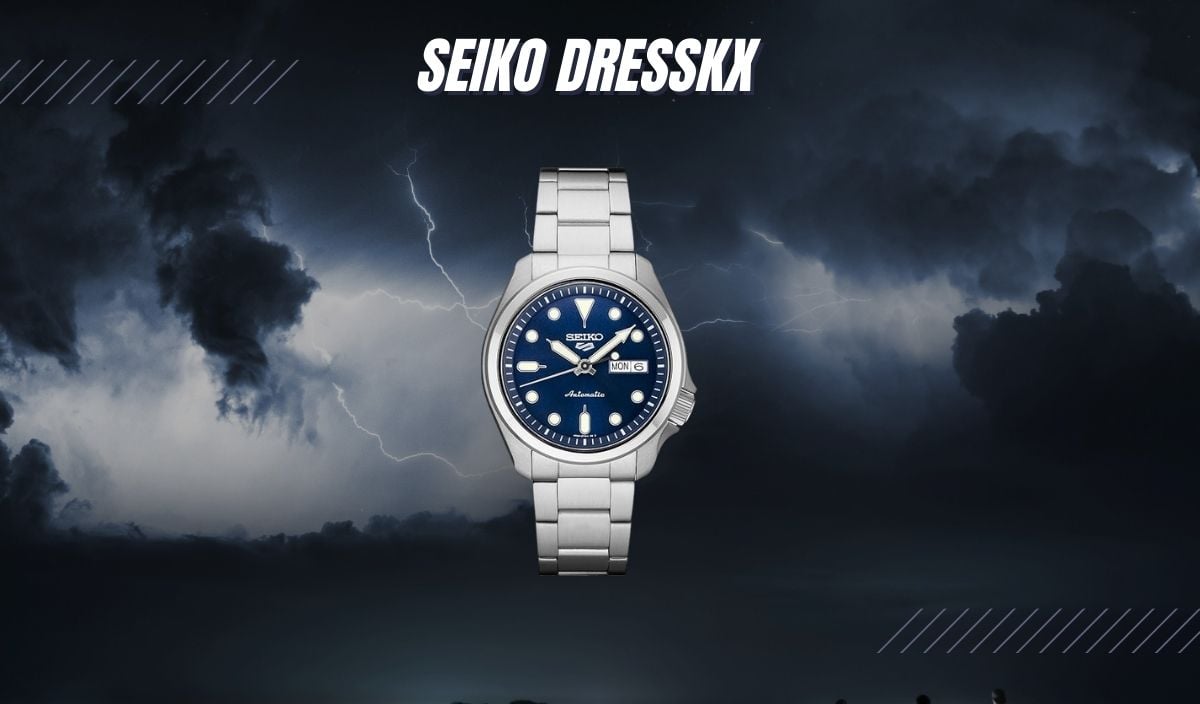 The DressKX might just be one of Seiko's most affordable watches — few offer better value than the DressKX at such a price.
Initially, Seiko watches got my attention because of the surprising quality feel I got when I first tried one out at a store as a little kid. With the wide range of features the DressKX offers, it sure has something to get every lover of the Seiko brand ready to swipe their card.
This is an in-depth guide to the Seiko DressKX. I will cover fascinating aspects of the timepiece, from its history and performance to the designs and specifications. I will also give my insight on the DressKX so you can decide whether it is a good choice for you or not.
About The Seiko DressKX
DressKX is another name for the Seiko 5 SRPE collection since it is a dressier version of the Seiko SKX diver with much more sophistication. What has got me hooked is that it hits the sweet spot of almost all enthusiasts.
It is not a dive watch, it is not a field watch, and I won't call it a total dress timepiece, but it has features that fall into these 3 categories, which makes it the complete package. It is an excellent choice for people who want a sturdy, affordable, and stylish watch.
The popular SKX series inspires the DressKX but is not duplicated in any way. It has a more dressy and classy look. It has a 40mm case size that watch lovers will appreciate because it fits most wrists. It has a sturdy stainless steel case with a polished finish that will get you noticed anywhere. An in-house Seiko movement with top-notch reliability and accuracy also powers it.
The name DressKX was coined by watch enthusiasts, which is a very suitable name for this masterpiece. It playfully describes the watch's style and pays homage to its predecessor. The DressKX is basically a more stylish and dressier model of the SKX, hence the nickname.
History of Seiko DressKX Watches
If you ask any fan of Seiko watches about why this watchmaker holds such an ample space in the horology part of their heart, their answers will be along the lines of the value for money, build quality, and brand reliability.
The DressKX is a recent addition to the Seiko 5 collection, but it comes with a more refined look. Seiko introduced the Seiko 5 collection as a means of providing the masses with affordable, stylish, and reliable timepieces in the 1960s. This was at a time when it was mostly the elite who wore good watches.
This collection was known for unique features like an automatic movement, push/pull crown, day/date function, water resistance, and Hardlex crystal — these made the watches everyone's go-to timepiece for the perfect daily beater.
Seiko gave this collection a makeover in the 2000s. They gave the watches a more updated design that made them more stylish and modern.
The DressKX was added in 2020 as a means of including a dressier model in the line, and it gained serious adoption by Seiko lovers worldwide. Some watch collectors believe that the DressKX merges the SKX Diver and the Seiko 5 collection as it adopts various features from both lines of Seiko watches.
Seiko DressKX: In-depth Review
This is a close look into the Seiko DressKX, and I will also talk about several aspects of the timepiece, from its measurements down to its availability on the watch market.
Dimensions & Wearability
The 40mm case of the DressKX is a bit smaller than the average Seiko 5 timepiece, which makes it a good option for people who do not want a very obvious Seiko. It also has a moderate thickness of 11.5mm, which makes it pretty understated and would stay firm under the cuff of your suit. 
The 100-meter water resistance on the timepiece also makes it very suitable for everyday wear, so you do not have to constantly worry about getting it wet. However, there are other strap options for the Seiko Dress KX.
It comes with a standard sport 5 stainless steel bracelet — it is not the fanciest bracelet on the market, but it offers excellent functionality and wearability. So you can stick with the steel option for its functionality and dressy look, or go for the other options.
Build Quality & Durability
Just like most Seiko watches, the DressKX is built to take a beating. The push/pull crown is not as solid as a screw-down — it does a decent job preventing water entry, so it is a suitable timepiece for the rain or a hot afternoon at the pool.
Some collectors reference the sharp links and the not-so-sturdy clasp and its weak points, but the bracelet can be easily replaced, so it does not seem to be an issue. Overall, the Seiko DressKX has excellent build quality and durability. It is built to last a lifetime and withstand everyday wear and tear.
Dials
The dial on the Seiko DressKX is the ultimate star of the show. It is dressy and bold, and it shines brightly under the sun. It is plain, versatile, and elegant, which makes it great for any occasion, whether formal or casual. It comes in plenty of colors, including black, blue, gray, and green, and each color offers its own personality that stands out.
The black dial is perfect for any formal occasion and can also be styled with your jeans and a polo shirt on a weekend outing with the kids. The blue dial offers a more casual look, while the green dial will spin heads on a green or brown blazer.
It has a sturdy dial with a sunburst finish that catches the reflection of the light and adds to the beauty of the watch. It has sword-shaped hands that contrast perfectly against the dial. The indices are applied and polished, which adds to the dial's elegance. It also has a small date window at 3 o'clock — although unobstructed, still very readable.
Movement
Inside the DressKX is the popular Seiko 4R36 automatic movement, which is an upgrade of the 7S26 — it is a popular in-house movement known for its accuracy. It features hacking seconds, which is helpful if you work with time up to the exact second. Its 41 hours of power reserve makes it suitable for prolonged outdoor activities like hiking or long journeys.
Straps
The DressKX is a very versatile timepiece, and one of the things that largely contributes to its versatility is the strap. It comes with a stainless steel bracelet, but there are a series of strap options you can switch to, and they all have unique personalities and advantages. Aside from the stainless steel bracelet, there are also options on a NATO strap.
NATO straps are rugged and sturdy, so if you want to use your DressKX for outdoor activities — you should go for the NATO option. And if you're a risk taker like me, you should test this Seiko with a Rubber or Perlon strap, and it will do wonders on any casual outfit you style it with. Finally, if you want to take your Seiko DressKX to a formal occasion, then a nice leather strap will make the whole watch shine.
Should You Buy The Seiko DressKX?
If you are the watch wearer who appreciates a timepiece by how significant the number is on the tag, the DressKX is not for you. But you should know this — even though it is not the flashiest or most expensive watch on the market, or even on the Seiko lineup, for around $300, you get a timepiece with a reliable Japanese automatic movement, versatility, and quality build.
The DressKX is an absolute steal at that amount, which makes it a good choice for anyone that wants to rely on their choice of purchase.
Seiko DressKX and Availability and Pricing
The DressKX is a relatively easy watch to find. But the popularity has given room for fakes on the market. Many retailers sell the DressKX — to be sure you are getting a good one, try purchasing on Seiko's website or any of their stores worldwide.
You can also get one from any authorized dealer and expect to part with around $250 for a brand-new DressKX. Plus, you can go for a pre-owned one if you want something cheaper. You can cut a good deal for about $150 to $200.
Conclusion
The Seiko DressKX is exactly what it claims to be. It is the perfect daily beater, dressy enough for a formal occasion, and it can also be a good companion for outdoor activities. So, if you want an affordable timepiece that is well-built and stylish, get yourself a Seiko DressKX. It offers good value for its price, and it will surely get you great compliments.