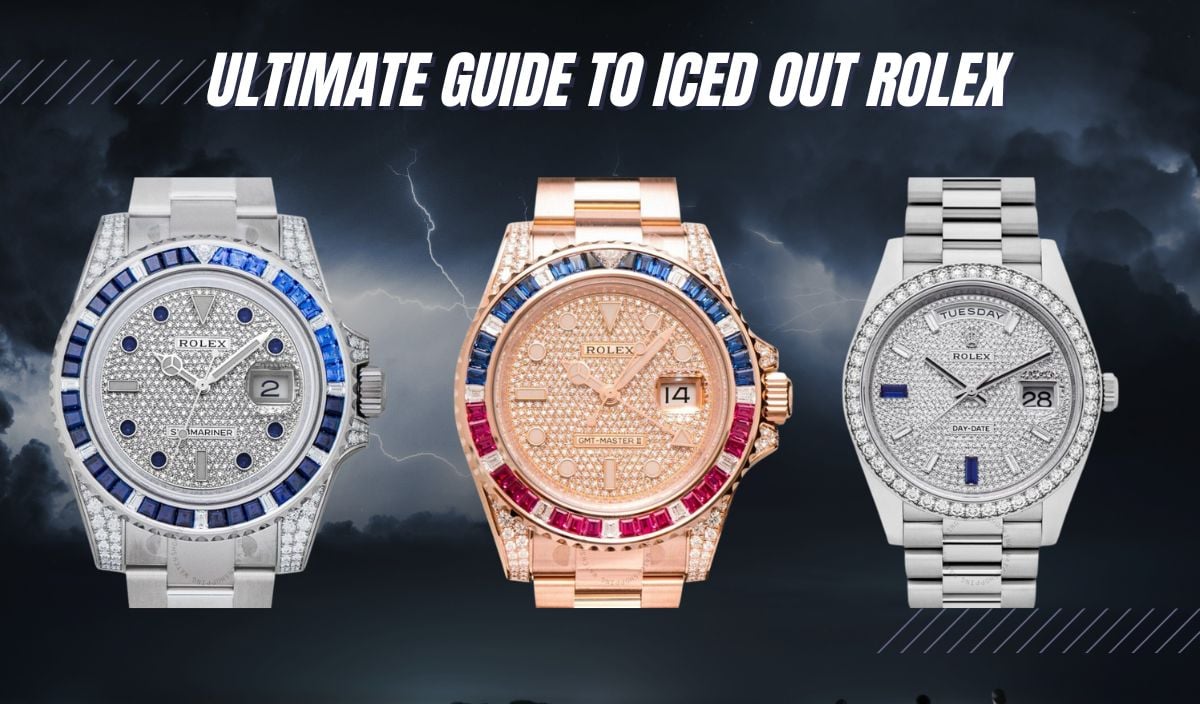 Ultimate Guide to Iced Out Rolex (Diamonds Are For Everyone!)
It's true most luxury watches are not blingy timepieces and could pass as regular watches to the uninitiated eyes. But at the top of the food chain are the iced-out, bust-down, or diamond-studded watches only a few people ever dream of owning.
Made popular by hip-hop culture, Rolex has a handful of iced-out watches in its collections. They aren't exactly eye candy like bust downs from personal jewelers like Ice Box, but an ode to the art of gem setting.
Rolex makes the mark in the top 1 percent of horology and is a relatively affordable manufacturer of diamond-encrusted or gem-adorned timepieces. It's aftermarket retailers that make outrageous amounts on them by hiking prices because of their exclusivity. In this article, I'll share their journey into making iced watches and the most notable models available for investment.
Understanding Factory Iced Out Rolex Watches
Iced-out watches are only considered statement fashion pieces. But while they might be a showpiece of class, wealth, and power, they're also solid lifetime investments. Apparently, in the resale market, diamonds really are forever; the price for Rolex stones can only go up.
The Origins
Rolex started dishing out iced-out watches during the 60s and 70s. As you'd imagine, these orders were restricted to notable individuals; athletes, government officials, and tycoons. Shortly after, they were introduced to their catalog for anyone who could afford them to buy around the 80s.
Now, Rolex offers hundreds of iced-out watch models, mostly dress watches, available to anyone at authorized dealers. They are categorized as "gem-set" but with varying degrees, from diamond-set bezels and dials to fully iced-out models with diamond or precious stones all around.
There's a caveat, though; although Rolex actively produces iced-out watches for the public, they're extremely rare to find at authorized dealers. But they are more readily available on the resale market, with most going for six figures.
The Process
Like most watchmakers, we can't really tell the exact process that goes into their production. Well, maybe you can see it for yourself if you find yourself privileged to go on an exclusive excursion into the Rolex factory.
However, Rolex is generous enough to give us a tasteful idea of precious stone selection and gem setting. Unsurprisingly, the diamonds and stones that make the cut – pun intended – meet the highest standard of the jewelry industry.
The in-house Rolex gemmology department has only one job – picking the "best of the best" gems. More specifically, they are of the highest ratings for clarity, color, and cut. Rolex, for example, uses only IF (Internally Flawless) stones, which are high up in the grading scales of gemmology.
In this light, their diamonds fall in the D to G, and gemstones are hand-picked for color consistency. The kicker is these are rare stones to get a hold of and the most expensive any custom jeweler could probably use. When it comes to luxury, the only thing better than pristine craftsmanship is rarity.
Rolex is one step ahead of hiring only masterful gem setters to create almost perfect iced-out watches. While the Swiss watch company is proud of its culture, its world-class craftsmanship was never a debate. Iced-out Rolex watches are an eye candy when you consider the precise alignment of gems, their positioning, size, and refreshing aesthetics.
The Oyster Perpetual Rainbow Daytona Cosmograph 116598RBOW is a great example. It's a handcrafted Daytona with a rainbow graduated bezel set with 36 baguette-cut sapphires and 56 pure diamonds adorning the lugs of its yellow gold case. It retains pristine functionality, which is a testament to the perfection of Rolex gem setting.
Rolex Gem-Setting Techniques
Bead Setting – this is the most gem-setting technique you'll see in an iced-out Rolex. It simply involves fixing the stones into holes drilled in the surface with a setting bur. Then three to five small bead-shaped metals hold them in place. Rolex has a liking for this technique, particularly in their watches with paved or encrusted surfaces.
Claw setting – It's similar to the bead setting, but the metal prongs are longer. It involves three to six evenly spaced prongs placed around the stone or at its four corners. It makes the gem more visible and is usually used for round stones.
Closed setting – is usually found on the hour markers of iced-out Rolex watches. A metal band encircles the stone to keep it in place.
Channel or "baguette" setting – as its name implies, is used for a baguette or octagonal cut diamonds that can be set side-by-side. A precious metal is used as a channel to lay the gems without any prongs or beads holding them in place – it's why it's also known as the invisible setting.
Caring for Iced-Out Watches
Even knock-off iced-out watches require proper maintenance to keep that shine and not fall out with use. The good thing is that factory-set and aftermarket diamond Rolex watches can take a beating. Keeping the watch and stones in good condition only takes simple but essential best practices that you must be consistent with.
The first one is to keep the watch in its original box any time it's not in use. A harmless behavior of placing a diamond watch on a coffee table may cause a scratch that'll shave thousands off its after-market value. Call me weird, but I'll never take off a diamond watch if the case isn't nearby, not for security, but for safety reasons.
Also, among others, is to clean the watch with a lint-free cloth. Depending on how dirty it gets, you can wash a diamond Rolex in a soap and water solution using a soft toothbrush to get the gunk out.
Ultimately, the safest and best way to clean your iced-out watch is to visit your dealer occasionally. You can take it as an opportunity to scope out what's new in-store and build a relationship with the dealer and find deals faster.
Factory Iced Out Rolex Watches vs Aftermarket Diamond Rolex Watches
Ha! The age-long beef between the purists and enthusiasts who really don't care about how the bling gets on a watch. A factory-iced-out Rolex is adorned by the gem artists at Rolex with the purest of diamonds and retains the design and functionality of the standard models.
At the same time, an aftermarket diamond Rolex watch is a base model embellished with diamonds or gems by a third-party jeweler. Sounds harmless right? The most obvious issue pressing the purists is how it's done. While we can argue that there are talented gem setters outside Rolex, the aftermarket can't say the same.
A non-Rolex Jeweler has to break down (bust down) the watch before they can set the stones. The watch's value significantly drops the instance any part is modified by anyone other than a Rolex engineer. And it's not hard to see why.
An aftermarket diamond Rolex puts authenticity into question and sometimes, may alter the structural design and functionality of the original. See this Cartier de Santos designed by celebrity jeweler Ze Frost for NBA superstar Lamelo Ball for example. While it's extremely iced out, he received heavy backlash from fans and the watch community for ruining a perfectly good watch.
Nonetheless, good riddance to the purists; if you're interested in an artistic, custom-iced-out Rolex than buying a factory-produced one, go for it. Depending on your taste, you'll get an authentic aftermarket iced-out Rolex for cheaper than a factory iced-out equivalent.
Factory-set Rolex diamond watches, on the other hand, are tested, trusted, pure, and rare. Even simple factory iced-out Rolexes (dial only) usually cost an extra $2,000 or 2-6x more than the standard model but retain value better in the resale market.
Iced Out Rolex Collections
Now let's get familiar with factory-iced-out Rolex watch models.
Rolex Datejust
The Datejust may be the most affordable Rolex, but the iced-out models from the Swiss watchmaker are anything but cheap. A simple yet extremely well-engineered iced-out model is the DateJust 36 126284RBR. It's nothing like the "blingy" models you'd see in hip-hop videos, but classy nonetheless.
This watch has an Oystersteel and white gold case, which should be the highlight of its simplicity, but that's not the case. It's the pure mother-of-pearl dial that is unique to only one owner – authentic, handmade mother-of-pearls are never the same.
Next, the hour makers on this one-of-a-kind dial are embellished with 18-carat diamonds in white gold settings (the entrapment holding the diamonds). Perhaps the most obvious "ice" on this DateJust 36 are the 18-carat diamonds on the bezel. But this artistic infusion of white gold, mother-of-pearl, bedazzled by diamonds cost a whopping retail price of $41,000.
Rolex Daytona
The Daytona is a classic Rolex chronograph and racing watch attributed to fine life and the stars. World stars like Davido and Harry Kane can casually rock a factory-iced-out Rolex Daytona Rainbow because this half-a-million-dollar watch remains functional in the presence of gems.
And it's been spotted on celebrities like Post Malone, Mark Wahlberg, and David Beckham. We never drool over the paparazzi in our articles, but I'm making a point that they often rock the iced-out Rainbow Daytona as an everyday watch.
This is the level of engineering and precision in gem setting that you can expect from every factory iced-out Rolex. The structure of the model is untainted, and there's a machine-like alignment of the gems on the parts. The Daytona 116598RBOW-0001 is a true testament to this culture.
The bezel is fitted with rainbow-patterned sapphire crystals that will leave a mistress bedazzled. And you'll see 56 diamonds of varying sizes cut into its everose case along the lugs, cut with 36 rainbow-colored sapphire crystals and 56 18-carat diamonds of varying sizes adorn the case and lugs; it's just as sporty as an Oystersteel Daytona.
The Iced Out Day-Date, "The President", is arguably the genesis for mainstream iced-out watches. The most influential hip-hop stars have worn an iced Rolex Presidential at a point in their career. During the 80s and 90s, the new-generation rapper even made it a rite of passage to own one. Coincidentally, the Day-Date is one of Rolex's most produced factory iced-out models.
There are so many variations with diamonds, but I've fallen in love with the Day-Date 128348RBR. This timepiece has a sunset orange dial set with diamond Roman hour markers and is finished in a yellow gold case and oyster bracelet with diamond-adorned center links.
Rolex Yacht-Master
The Yacht-Master is another iconic watch that every enthusiast wants in their collection. It's a core sports watch, so it's very easy to disrupt the original design with over-the-top gem-setting. The Yacht-Master is the first chronograph with a bezel connected to the movement, which requires mind-blowing engineering. Rolex designers understood this assignment and simply stuck with a minimalist design.
So, they placed all the jewels that would otherwise affect its functionality inside the factory iced-out mode. The Yacht-Master 268655 has a dial paved with dozens of diamond stones – and an everose gold rimmed bidirectional bezel to sail or play in class. And there's this custom Ice Rolex Yacht Master II 44mm, though expensive, which is less valuable on the aftermarket and evidently less functional than the original.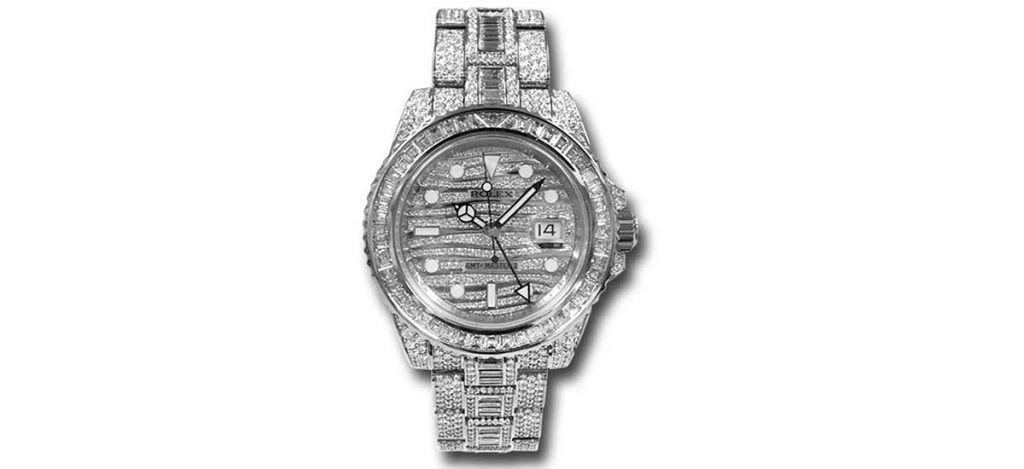 The GMT-Master II is a luxury tool for professionals who want to keep track of local time in two to three time zones. It achieves this with a 12-hour graduation bezel and an extra (GMT) hour hand.
Unsurprisingly, there's no factory-iced-out model of this watch in production. However, there are many custom iterations of this watch. Cagau makes some nice ones, like sapphire cut bezels matching the original colorway and diamond cases and bracelets.
Rolex Submariner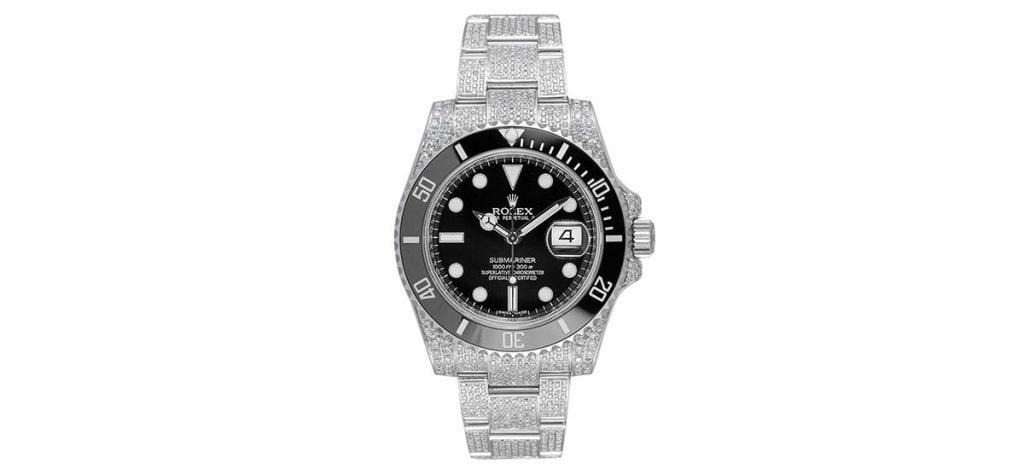 The Submariner is Rolex's flagship diving watch and one of the more renowned timepieces ever. While it's a spectacular diving watch with 300-meter water resistance and is highly corrosion resistant, owners rarely ever take a swim with it. The Submariner, even in stainless steel, is an everyday watch, statement piece, or collectible for enthusiasts. That said, copping an iced-out model, like the Submariner Ref. 116659SABR-0001 isn't farfetched.
It's set in a 40mm 18k white gold case and matching white gold oyster bracelet. The gem setting design is brilliant: white diamonds on the lugs and beautiful blue sapphire and diamond bezel. While it's not practical to dive with a bust-down Submariner, you can comfortably rock one as a statement piece at events or even casual wear.
Getting An Iced Out Rolex is a Lifestyle Choice
There's no way to sugarcoat it. Getting an iced-out Rolex watch is a choice of taste and has no clear benefits over the regular stainless steel or precious metal models. Most custom-iced-out Rolex watches end up dropping in value, but their owners love them regardless.
Final Thoughts
Iced-out Rolex watches have come a long way as a statement timepiece for the affluent. Whether it's a factory set Rolex Daytona, custom GMT Master, or a replica DateJust with fake zirconia diamonds, the goal is to stand out and be classy. And cutting your style according to your budget and taste. But like for the enthusiast looking for a blingy Rolex to add to their collection, your choice is limited.
You want an authentic factory-set Rolex that retains its value on the market, either for future swapping purposes or to avoid the risk of buying a custom model with fake or inferior stones. Shop the Exquisite Timepieces store for exclusive factory-iced-out Rolex watches.
About Exquisite Timepieces
Established in 1998, Exquisite Timepieces is your one-stop shop for all things luxury watches! We are an authorized dealer for 60+ luxury watch brands including Omega, Hublot, Seiko, & Longines! We are proud to showcase one of the world's largest pre-owned watch collections, including renowned brands like Rolex and Patek Philippe. Check out our brand new watch arrivals here and popular pre-owned listings here.