Hamilton Watches Review: Are They Good? (Spoiler: It's a Yes!)
If you're a watch enthusiast, you've probably come across this watchmaker. Few names conjure the same level of intrigue and respect as Hamilton. This Swiss watch brand with American roots has been creating quality timepieces for over a century. But are Hamilton watches good?
In this detailed review, we'll dive into the brand's history, notable collections, and reasons why Hamilton may be a good choice for your next timepiece. We'll also discuss the unique characteristics of their popular collections, such as the Khaki Field and the Jazzmaster. Stick until the end to find out whether or not Hamilton watches hold their value and who should consider buying one.
About Hamilton Watches
Hamilton, founded in 1892, is a Swiss watch brand with its origins in Lancaster, Pennsylvania. The brand is well-trusted within the watchmaking industry and is known for its combination of Swiss precision and reliability and heavily reflected American heritage. Their timepieces are appreciated by the whole watch community.
The History of Hamilton
Hamilton began as a prominent American watchmaker alongside other brands such as Elgin, Waltham, Ingersoll, and Timex. The company was the successor to three watch firms that had previously been operating in the same facilities, including the Lancaster Watch Company.
Keystone Standard Watch Co., an innovative precursor to Hamilton, was founded by Abram Bitner in 1886.
When Keystone faced bankruptcy, it was sold to what would become the Hamilton Watch Company. The name "Hamilton" was chosen in honor of James Hamilton, the son of Scottish-born attorney Andrew Hamilton, the original owner of the Lancaster site where the factory was established​.
The brand started out focusing on accurate pocket watches for railroad workers specifically. This commitment eventually led Hamilton to create wristwatches for aviation, including watches for pilots carrying air mail from coast to coast. During World War II, Hamilton shifted its focus to supplying watches to the military, such as marine chronometers and deck watches for the U.S. Navy.
In 1957, Hamilton introduced the world's first electric watch, the Hamilton Electric 500, and the iconic Ventura model, known for its asymmetrical triangular case and connection to Elvis Presley. Hamilton's Swiss era began after acquiring the Buren Watch Company in the 1960s and moving all production to Switzerland.
The fact that they kept on chasing quality led to their integration into the Swatch Group in 1974, the world's largest watch manufacturing and marketing conglomerate based in Bienne, Switzerland. Today, Hamilton is popular among watch enthusiasts for a number of reasons. Its modern reissues of classic timepieces and its reliable and stylish watches heavily contribute to its reputation.
Are Hamilton Watches Good?
To answer the question, "Are Hamilton watches good?", let's dive into five reasons why Hamilton watches are often considered great options for watch enthusiasts.
Swiss Brand With American Heritage
Hamilton's unique blend of Swiss precision and American spirit sets it apart from other watch brands. The Hamilton Watch Company was originally an American watch manufacturer. The roots of Hamilton's connection to The Swatch Group can be traced back to 1969 when the American company was bought by SSIH (Société Suisse pour l'Industrie Horlogère), a Swiss conglomerate.
In 1983, in an attempt to consolidate and strengthen the Swiss watch industry, the R&D departments of ASUAG and SSIH merged their production operations at the ETA complex in Granges. 5 years later, in 1988, the company was renamed The Swatch Group, which continues to manufacture Omega, Hamilton, and several other brands.
This combination allows Hamilton to produce high-quality timepieces using Swiss-made ETA movements while maintaining a distinct and recognizable design language.
Tons Of Watch Designs Available
One of the main aspects Hamilton is recognized for is its extensive range of watch designs. Their collections include designs inspired by Aviation, Cinema, Military, and American Classic themes. This breadth allows them to reach a broad audience.
With such a diverse catalog, Hamilton watches suit all styles. It's also worth noting that Hamilton's extensive design range doesn't compromise on craftsmanship. They take proper care of all their models, even the ones that get less attention in general.
Hamilton's American influence brings a different flavor to their designs. They blend in a classic and, at the same time, contemporary style.
Affordable Swiss-Made Watches
Hamilton is known for offering affordable Swiss-made watches. This makes them an attractive option for those who want a high-quality timepiece without breaking the bank. Although "affordable" is relative, let's adjust our point of view to the favorites of the global watch enthusiast community, leaving cheap brands with low craftsmanship behind. With prices ranging from $300 to $3000, Hamilton covers most of all watch lovers' budgets.
Durable & Reliable
Hamilton watches are known for their durability and reliability. They are well-built timepieces, which is why Hamilton became so respected within the watch community.
Materials
Hamilton uses high-quality materials in the construction of their watches. Most of their timepieces have cases made of stainless steel, which is durable and corrosion-resistant. On the face of Hamilton watches is highly scratch-resistant sapphire crystal.
Movement
Hamilton watches typically use automatic movements, which are known for their reliability. As a subsidiary of the Swatch Group, which means they have access to Swiss-made ETA movements. These movements are known to be among the most reliable, even in the self-winding movement industry.
Water resistance
Part of the durability of Hamilton watches is their consistent water resistance. Most of their watch cases are built to withstand pressures up to 10 bar, which equates to a water resistance of 100m. Additionally, the brand sells multiple watches with higher water resistance, in case you're interested in more robust timepieces for water activities.
Finally, even though some Hamilton watches come with a water resistance of 50m, the brand's military background and focus on solid construction help feel more secure about the durability of all its watches.
Maintenance
Regular maintenance is part of owning a watch. However, as proof of the brand's focus on quality, in general, these watches need less than average check-ups. They can often go longer between service intervals than average; however, that doesn't mean they shouldn't be looked after equally.
Reputation
Having been a supplier of the U.S. Army, Hamilton has earned itself a great reputation for its quality and durability over its existence. It's worth noting, however, that individual experiences with them may vary, just like with any other product. The longevity of your timepiece will always depend on how it's been used and how well it was maintained.
Movie Icons
Hamilton has a long history of being featured in movies, with their watches appearing in over 500 films to date.
Men in Black (1997)
The Hamilton Ventura, with its shield-shaped case, was worn by Will Smith and Tommy Lee Jones in this science fiction classic. The movie's theme perfectly matched the watch. The keyword is "futuristic".
Interstellar (2014)
Hamilton created the custom-made "Murph" watch for this film. It was a key plot device. Matthew McConaughey's character used the watch to communicate with his daughter Murphy (hence the name "Murph").
2001: A Space Odyssey (1968)
Hamilton was commissioned by Stanley Kubrick to create the futuristic wristwatch and clock used aboard the spacecraft in this seminal sci-fi movie.
The Martian (2015)
Matt Damon's character, astronaut Mark Watney, wears a Hamilton Khaki Navy BelowZero in the film. The watch's build made it the perfect tool for survival on Mars.
Die Hard (1988)
Bruce Willis' character, John McClane, wears a Hamilton Pulsar P2 2900 LED digital watch. This model, with its red LED display, was one of the first digital watches ever made. Its popularity peaked in the 1970s.
Tenet (2020)
Hamilton once again partnered with a Christopher Nolan film, this time creating a custom prop watch for "Tenet." The watch had a digital countdown display and was an integral part of the movie's plot.
Overall, Hamilton's connection to Hollywood adds an extra layer of appeal to their timepieces and makes them iconic in their own right.
Most Notable Hamilton Watch Collections
Now that we've discussed why Hamilton watches are good let's take a closer look at some of their most popular collections: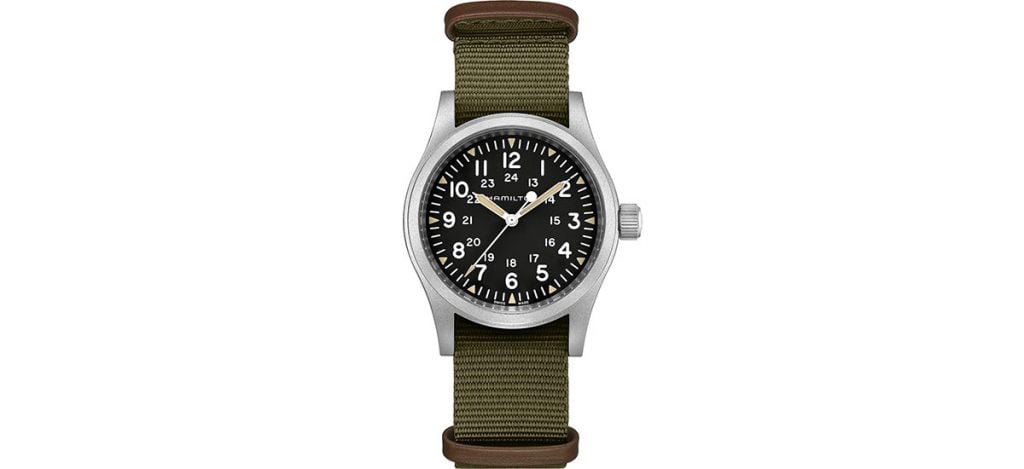 The Khaki Field collection is inspired by Hamilton's military history, offering both quartz and automatic watches in various sizes and colors. These watches are perfect for those who appreciate a classic field watch design. Its matte black dial, paired with luminescent numerals and indices, lends the timepiece a vintage military feel.
It houses the automatic caliber H-10 movement, making it one of the most affordable Swiss watches on the market​. The watch features a comfortable and manageable 38mm stainless steel case, ideal for those with smaller wrists or a preference for smaller watches​. It comes on a stainless steel bracelet, a touch of elegance to the strict appearance​.
The American Classic collection represents the true classic line of Hamilton. The collection revives several historic models, including the famous RailRoad watch and the vintage Boulton timepiece. The several iconic models include the Intra-Matic H38416711, one of the most desired models in the American Classic collection with its black tachymeter ring and subdials.
It runs on an H-31 self-winding movement with a 60-hour power reserve. This movement is based on the famous Valjoux 7753 mechanism, running at a higher frequency of 28,800​​. The collection is perfect for those who appreciate a touch of nostalgia in their timepieces.
Hamilton Khaki Aviation
The Khaki Aviation collection features pilot's watches with a wide range of functions, from simple three-hand designs to complicated chronographs and GMT models. They're designed with a special bi-directional slide rule bezel.
This feature enables on-the-fly cockpit calculations such as airspeed, distance, fuel consumption, and a variety of unit conversions not necessarily related to flight, using the bezel and some simple arithmetic. The watches are powered by Hamilton's 21-Si movement, which includes a silicon balance spring and a power reserve of 60 hours.
It also features a day-date display, a 12-hour counter at 6 o'clock, running seconds counter at 9 o'clock, and a 30-minute counter at 12 o'clock​​. With their focus on legibility and functionality, aviation enthusiasts are happy to show these watches off.
The Jazzmaster collection offers elegant dress watches with a variety of complications, such as open-heart designs, power reserve indicators, and chronographs. They have a blend of classic design and modern technology. The collection includes a wide variety of men's and women's watches. The timepieces are crafted from stainless steel, with several models featuring complete or partial gold plating.
They come in a range of sizes, from 27 to 46 mm in diameter. The Jazzmaster collection has a variety of unique features across its sub-collections. For example, the Day-Date series prominently displays the day below 12 o'clock, and the Viewmatic Skeleton Gent Auto provides a view of the movement's escapement, mainspring, and barrel through a skeletonized dial.
The Seaview line, on the other hand, includes diving watches. The collection consists of the Regulator watches that display the hours and minutes separately on the dial and the Open Heart timepieces with an exposed balance visible through a cutout. These sophisticated timepieces are perfect for those who want a versatile watch suitable for both formal and casual occasions.
The Khaki Navy collection features dive watches with a range of styles, from vintage-inspired designs to modern, bold looks. It's been around for several years and offers quartz or automatic versions, multiple dial colors, choices of straps or a steel bracelet, and a full black or two-tone bezel insert​​.
The collection's Khaki Navy Scuba 43mm model stands out for having a screw-down crown protected by two crown guards, a sapphire crystal top, and a unidirectional rotating bezel with a ceramic insert to match the dial. The watch uses the H-10 automatic movement, a variant of Swatch's Powermatic 80 caliber.
Despite the base movement having a date indication, Hamilton decided to leave it out of the Khaki Navy Scuba 43mm, making it a no-date watch​. It comes with either a matte black rubber strap with a pin buckle or a steel bracelet with a folding clasp​​. With their focus on durability and water resistance, the whole collection is perfect for those who enjoy water-based activities.
Do Hamilton Watches Hold Their Value?
While Hamilton watches may not hold their value as well as luxury brands like Rolex or Patek Philippe, they are still considered solid investment pieces. Hamilton watches should be purchased for their quality, style, and reliability rather than as a financial investment. With proper care and maintenance, a Hamilton watch can last a lifetime and be passed down to future generations.
Should You Buy a Hamilton Watch?
If you're in the market for a well-crafted, affordable, Swiss-made watch with a unique design, Hamilton may be the perfect choice for you. The brand definitely has a diverse range of styles and a reputation for quality and reliability. Hamilton watches are suitable for a wide variety of people, from casual wearers to serious collectors.
Conclusion
In conclusion, Hamilton watches are indeed good, combining Swiss precision and American heritage. They have a diverse range of styles at affordable prices. If you're looking for a reliable timepiece that's well-built, a Hamilton watch will not disappoint you, but in fact, it may be the perfect addition to your collection.
About Exquisite Timepieces
Established in 1998, Exquisite Timepieces is your one-stop shop for all things luxury watches! We are an authorized dealer for 60+ luxury watch brands including Omega, Hublot, Seiko, & Longines! We are proud to showcase one of the world's largest pre-owned watch collections, including renowned brands like Rolex and Patek Philippe. Check out our brand new watch arrivals here and popular pre-owned listings here.