Are Fossil Watches Good? (Read BEFORE You Buy!)
Watches have come a long way, and since then, many companies have tried to release their best version of watches. Some companies have definitely succeeded, but some have not. However, just like everything in life, we have to start somewhere. Fossil definitely followed this trend and did their version.
But, there were mixed reviews about them. Regardless of which end of the scale Fossil is standing, we cannot deny the popularity of the brand and even possibly ignited the passion of some watch enthusiasts out there, including myself.
I remember back when I was a teenager, I used to own a Fossil, and that allowed me to fall in love with watches, just like most people out there. But that was quite a while ago. And in this review, let's see whether they're any good now or should remain extinct and become a fossil.
History of Fossil Watches
Founded in 1984 in Richardson, Texas, USA, two brothers (Tom and Kosta Kartsotis) created Fossil. This idea came about when Tom told his younger brother about the potential profits of importing affordable fashion watches from the Far East and selling them in the US.
This was aimed at providing fashionable watches to the world at competitive pricing, which was an unprecedented move at that time. Their timepieces started with mostly retro-inspired designs packaged in either tin or wooden boxes with playful and colorful designs. This instantly became a hit.
In the 1990s, Fossil gained popularity significantly and started importing leather goods such as handbags, wallets, and also jewelry. They did not stop there and quickly acquired Swiss brand Zodiac Watches — a well-established watch company with a solid horological history — in 2001. This helped to further establish their presence in Switzerland, renowned as being the wonderland of watchmaking.
Today, they make licensed accessories for big brands such as BMW, Michael Kors, Kate Spade, Emporio Armani, and so on. And their most recent shopping sprees are purchasing Skagen Designs (another watch company) plus 150,000 Fossil shares, with a total estimate of $236.8 million, and another $260 million for Misfit, which is a technological company specializing in wearable technology like smartwatches.
About Fossil Watches
Fossil is now one of the largest watch producers in the world as the trend of fashionable watches steadily increases among consumers. This is understandable as not everyone is able to afford expensive watches, especially if they're made in Switzerland. Fossil watches bring that to the customers, offering stylish timepieces made in Switzerland, well, sort of.
Although they did succeed in making a name for themselves in Switzerland and built a design studio in Biel, Switzerland (close to Rolex's headquarters), their watches are still manufactured in China. Despite that, Fossil successfully released their Swiss-made watches, called Fossil Swiss, in 2013 with the help of Zodiac watches.
Fossil watches mainly focus on quartz models that offer better value for money but also have some mechanical models at a higher price. However, they do not specifically tell you where their movements are made from. Luckily, I've fallen into the rabbit hole of things (e.g. the internet), and we'll get into more details in the later section.
Watch Enthusiast's Views
As a fellow Redditor and after reading a fair share of watch blogs, I have to admit that most people aren't the biggest fan of Fossil. While they aren't watch snobs by any means, their main points were that Fossil watches are only fashionable and affordable, but nothing else. They don't have a time-honored horology history, nor do they have a great, interesting heritage.
Most of their watches are produced based on the latest fashion and trends. But many of their designs failed to withstand the test of time. Furthermore, they are not the best in quality, and for the price, there are certainly other brands in contention.
With that said, most people think Fossil is a good place to start if you are just getting started in the watch world. They are affordable and offer a wide range of designs that will undoubtedly suit most people out there.
Some watch enthusiasts also mention that they owned Fossil watches personally and lasted them a long time, which shows that they're durable and reliable, especially given the price. From my personal view from the experience of owning one myself, unfortunately, I am on the negative side of things.
I've always worn a digital watch and wanted to try an analog timepiece instead. This is where I stumbled upon Fossil and gave it a go. I don't exactly remember the model, but it was a chronograph.
However, its quality was more than disappointing. One of the chapter rings on the subdial of the chronograph fell within a few months, and the chronograph function did not work reliably. And this really affected me, thinking that analog watches aren't as reliable as digital watches, but obviously (and luckily), I found out that was completely false.
I think what we can take from this is that there are mixed reviews in terms of quality and reliability, but most people think that there are better watches for the price you're paying. We will get into more details later.
Are Fossil Watches Good?
In my opinion, no Fossil watches are necessarily bad. But it really depends on how you define "good". Something good for me can be something below-par for you, so it still depends on each other's needs and wants. In this section, we will state the reasons objectively as to why it is good or bad.
Cheap & Flimsy Materials
Despite their claim of being made from stainless steel, the finishing and the quality of stainless steel that they use are notably lower-grade. From afar, it almost looks like plastic, giving an overall cheap aesthetic. Likewise, on the touch, it feels light and cheap.
As you can probably tell from my personal experience above, the dials are made in a very casual manner, with no extra effort to maintain the quality and even present a better-finished dial.
Other than the watch itself, their complementary strap is extremely stiff, almost like the leather from the bottom of your first-ever work shoes. It is uncomfortable to wear and cracks in a few months' time; it's certainly not the most reliable thing in the world.
Lack Of Heritage And History
As we can see from the history section of the brand, the founders had the idea of creating Fossil because one of the brothers thought there was a profitable opportunity in the fashionable watch industry.
It is totally understandable to be motivated by money in some ways to keep the business going. But Fossil's sole focus was churning out inexpensive (relatively) fashion watches for the masses, nothing else. Their watch collections lacked any captivating story behind the creation, and even the origin of its watch name remained unexciting.
Yet, it's fair to say that the brand is not focused on being a prestigious watch brand with a rich history but instead on providing sleek, good-looking watches.
Generic Watch Designs
Most, if not all, of their designs are already created by other brands. Though most watch releases share similar designs and may not have entirely new aesthetics, there are still some noticeable differences to every watch, like their applied markers, case shape, etc.
However, Fossil watches have designs that do not stand out, nor anything "iconic" to their brand. Many designs can be found on cheap watches on websites like AliExpress, just with a different logo. Cover the logo, and you probably can't tell the difference from another fashion brand. Simply put, they lack personality.
Before you jump to the conclusion that Fossil is not worth your wallet, not everything about Fossil watches is bad, and there are definitely reasons why it is one of the biggest watch manufacturers in the world.
Retail Stores Throughout The World
This is probably one of the biggest advantages of Fossil. Living in the 21st century, more watch shops are opting to sell their watches online to save cost, understandably. In contrast, Fossil has tons of retail stores everywhere to let you have a good look at the actual watches and not the soulless pictures online to decide your next purchase.
Since we're on the topic of online stores, Fossil's online shop is excellent. Easy to navigate, has clear pictures, and, most importantly, serves its primary purpose of allowing customers to perform online purchases very well. Fossil's marketing strategy is also great, with constant advertisements on social media but nothing too much or intrusive.
Back to the physical shops: their retail stores are also beautifully presented. Different sections are arranged according to the items, such as watches and leather goods. And they're often well-maintained, clean and offer a very relaxed experience with amazing and friendly customer service (based on the overwhelming reviews online).
Being able to walk into a store, look at a wide range of watches, and buy a watch you like on the spot is a luxury. I definitely respect Fossil for following this move and not moving to a fully integrated online store. It keeps the watch scene alive.
Wide Variety Of Designs To Choose From
Have you ever had the experience of walking into a store, filled with excitement that you're about to have your first-time purchase of something you've desired for a long time, only to end up disappointed with the limited options available? Because I had. Don't worry; this isn't the case for Fossil.
From everyday styles to field watches to dressy pieces and plenty of chronographs, Fossil pretty much covered every base of designs, including the option of a steel bracelet or a leather strap. Whether you're a doctor or a soldier, there's a design fit for you. Having a wide array of choices is definitely an advantage, especially for people who are unsure of what they like.
Most Notable Fossil Watch Collection
Within Fossil's massive catalog of watch designs, there are certainly a few that stand out for different reasons. These are: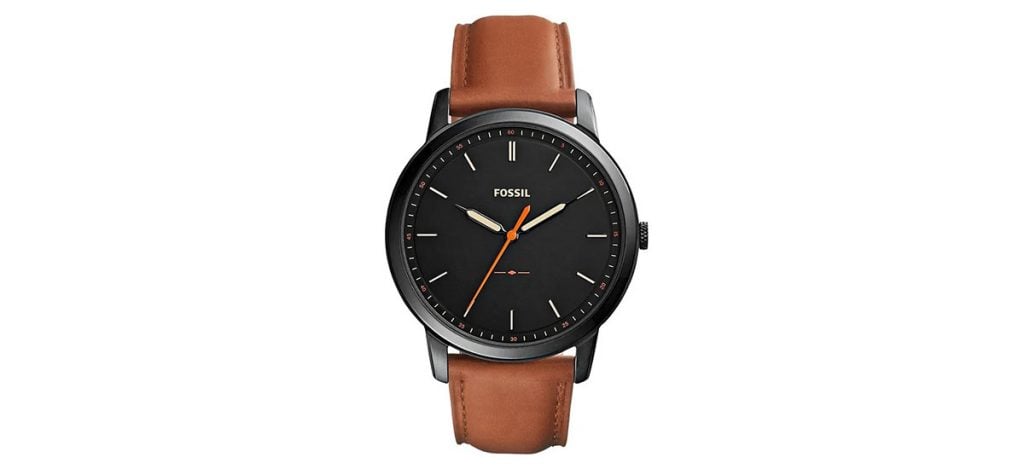 With the rise of minimalism and minimalist-designed watches, Fossil also quickly adapted its collection to follow such trends. Four main types of watches fall under this collection: the Minimalist two-hand, Minimalist three-hand, Minimalist Slim three-hand, and Minimalist Chronograph.
These watch styles definitely suit more of an everyday watch, like a stroll in the park or in the city, with its casual and simple look. It can never go wrong.
The watches have a quartz movement, a stainless steel case that's 44mm in size, a 22mm strap width, a mineral crystal, and a water resistance of 5 ATM (which means it should withstand brief swimming and cold showers).
This collection also has different dial colors and strap options to choose from. In terms of the case thickness, the website did not specify the thickness, but thankfully, based on a watch review, it is 7mm thick, which is indeed 'Slim'.
The choice is limitless. Want something minimal with Roman numerals? Covered. Want something simpler but with a splash of orange? Covered. Want something with a steel bracelet? Covered. You get the idea. The choice is ultimately yours.
Price: $130-$190
Fossil Neutra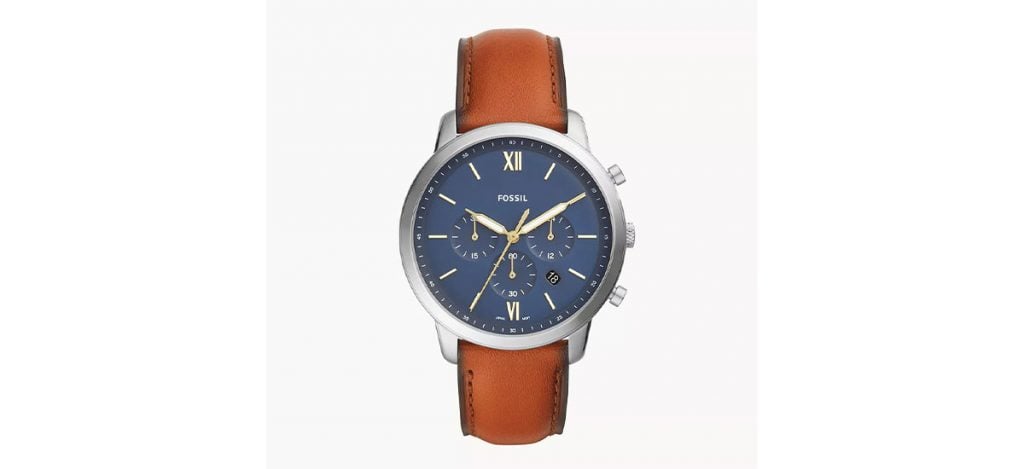 This collection also follows the trend of a minimalistic design but with the addition of a chronograph function. It includes: Neutra Chronograph, Neutra Automatic and Neutra Moonphase Multifunction; and Neutra Gen 6 Hybrid Smartwatch (which will not be discussed in this article).
Fossil Neutra has two main types of watch designs: both the Chronograph and Moonphase Multifunction have a Tri-Compax style (meaning three subdials), and the Automatic has a not-too-overbearing skeletonized dial. The Neutra Chronograph is more suitable for casual wear, whereas Neutra Automatic and Neutra Moonphase are slightly dressier. Specifications are the same as the Minimalist collection mentioned above, just slightly thicker.
But obviously, the Neutra Automatic comes with an automatic movement and also an exhibition caseback. However, again, no specific description of the automatic movement used. All we know is that it is an automatic movement.
And just like in Fossil fashion, there are endless possibilities of choices to choose from. Good news for ladies out there: you can also get a Neutra Chronograph model too in a fancier design, featuring a smaller 36mm stainless steel case with a diamond-like bezel, and the extra option of Mother Of Pearl dial, suitable for any chic fashionista out there.
Price: $160-$190 for the Neutra Chronograph and Moonphase models; $240-$260 for the Neutra Automatic
Probably the most unique dial in the collection is the Heritage line. The dial looks very similar to a Longines Conquest (I cannot believe I'm comparing Fossil to Longines) with the huge "12" and "6" indices. The watches in this collection have two different sizes: 38mm and 43mm stainless steel cases.
Some watches even have two-tone designs with gold plating (obviously not real gold) and stainless steel for their bracelet and case. And I have to say some look quite stylish as long as you pick the proper configuration, and yes, you guessed it right, the choice is endless.
What stands out the most is that it has an automatic movement and an exhibition case back that lets you inspect the movement, as well as a sapphire crystal, the only Fossil collection with it.
Adding to this is that it also comes with a date window located at 3 o'clock. With a more durable and scratch-resistant crystal, along with its automatic movement, this suits a more adventurous individual like exploring.
Price: $280-$295
Fossil Defender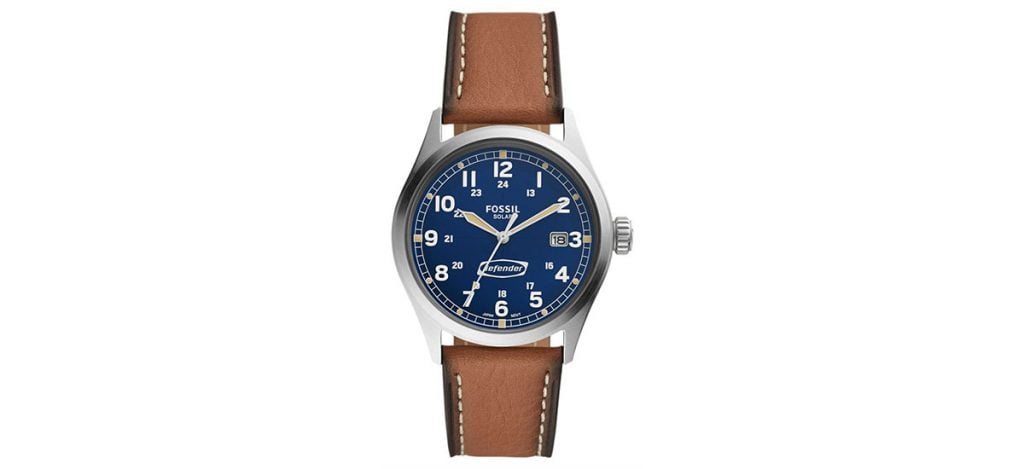 The Defender collection features a field watch design. In addition to its legible 12-hour indices that contrast with its dark-colored dial are the smaller font 24-hour markers located around the dial. This watch also comes with different strap options made in nylon, leather, and a stainless steel bracelet.
This collection is probably the least configurable design-wise but still offers some great options. Fossil Defender features a 46mm stainless steel case protected by a mineral crystal, with 100m water resistance and a 24mm strap width.
What's unique about this watch is that it uses a solar-powered movement so that as long as the sun shines, your watch is good to go. If you're an adventurer or a traveler, this is a great watch to start.
Price: $150-$195
Fossil Blue
Among the five collections, the Fossil Blue stands out as the most sporty, featuring the GMT line and the Three-Hand Date dive watches.
The Three-Hand Date diving models have a vintage-inspired design with a rotating bezel at the 12 o'clock position and a gorgeous dial with a sunburst finish, giving more depth in aesthetics. They come in a 42mm stainless steel case, 22mm strap width, and a 10 ATM water resistance (100m). You can choose your watch in either a stainless steel bracelet, a silicon strap, or a leather strap.
On the other hand, the GMT model is slightly bigger, with a 46mm stainless steel case and 24mm strap width. Besides the mono-toned blue or gold bezel, they also offer a two-toned Oasis bezel to provide a distinguishable and recognizable look to complement its GMT function.
Both models of the Fossil Blue collection also include a date function and a cyclops on the date window to improve legibility. These watches suit sportier individuals who are often in contact with water.
Price: $150-$195
Should You Buy A Fossil Watch?
I think it highly depends on the individual. They aren't the worst watch brand in the world, and their value proposition is decent. It's almost like eating at different restaurants. Would you prefer to go to a fast food chain with affordable prices and a wide variety of choices? Or would you choose to go to a proper restaurant focusing more on a particular cuisine with potentially higher-quality food?
While Fossil does not have the best quality, the best design, or a rich history, credit should be given when credit is due. Having retail stores worldwide along with excellent marketing skills is no easy feat, and Fossil did it superbly well.
Let's be honest; most people out there just want to wear a watch as a tool and couldn't care less about its horological history or craftsmanship. Some people just prefer convenience and design over meaningless (for them) history. Some people just want a tool to tell the time, not masterful timepiece creation.
If you are someone who wants a watch that just works and is easy to buy, Fossil is definitely a brand that suits your needs. However, even though it is relatively affordable compared to other luxury brands, the price is relatively expensive. Not to mention that, at a similar price range, there are definitely much better brands out there with a better appreciation of horological artistry and excellent watchmaking.
Alternatives To Fossil Watches
There are tons of excellent and affordable entry-level watch brands that feature a wide variety of beautiful and well-built timepieces. Some of the most popular ones include:
Timex
Established in 1854 as Waterbury Clock Company, Timex had come a long way into watchmaking, from clocks to pocket watches and, eventually, wristwatches. Ever since they were established, Timex focused on providing durable and affordable timepieces to the world, costing only one dollar ($35 in today's dollars) back in 1901.
They got so popular that statistically, almost every third watch sold in the USA was a Timex back in the 1960s. Today, they are one of the few U.S. watch companies with American ingenuity and craftsmanship integrated into their watches.
But most importantly, they did not lose their motto of creating robust, reliable timepieces at an affordable price to this day. What's great about Timex is that they offer a wide variety of watches as well, for both women and men, including the Q Timex (sports watch), the Marlin (dress watch), and the Timex Standard (everyday watch).
Price range: $199-$299
Seiko
The story started in 1881 when 21 years old Kinato Hattori began selling and repairing clocks in Central Tokyo. Just after 11 years, he bought a factory and named it Seikosha (meaning House of Exquisite Workmanship), and boy, they were indeed exquisite.
Ever since Seiko was founded, they have focused on innovating revolutionary watches and aim to create timepieces that the world has yet to see. And they succeeded flawlessly till this very day.
World's first TV watch? Seiko. World's first automatic chronograph? Seiko. World's first Quartz watch? Seiko. If I were to make a list of what they have achieved for being the "world's first", I would have become the world's first to faint after writing a list. But you get the gist. They are the king of innovation.
Not just great in being the world's first, they are also great in creating affordable watches, mainly the Seiko 5 collection that rivals the price of Fossil. These are fully in-house automatic watches and with a stainless steel case and a day-date function.
Some of their best sellers include the SRPD51 (sports watch), SNK809 (field watch), and SNXS79 (everyday watch). While their names may not be as inspiring as Fossil, they're definitely excellent timepieces that can last you a lifetime.
Price range: $100-$250
Citizen
In the 1920s, Shokosha Watch Research Institute (precursor of Citizen) aspired to create excellence and creativity, hoping to help cultivate a positive change towards the citizens of the world. It was in 1924 that they started to take a leap of faith to create a fully Japan-made product and launch their pocket watch.
Without a proper name for its watch, the Mayor of Tokyo at that time named it "Citizen" as he hoped that the watch would always be part of the citizens of the world. Since then, they have been creating revolutionary watches, such as the first multi-band atomic timepiece that is accurate to within one second in one hundred thousand years.
With a huge range of timepieces to choose from, Citizen is easily one of the most affordable but reputable brands out there to be part of your collection. Plus, they come with tons of unique designs, including the ever-popular  Promaster Eco-Drive (solar-powered dive watch), the Bullhead Tsuno (everyday watch), and the C7 series (dress watch).
Price: $150-$299
Final Thoughts
With the increasing popularity of owning a more functional smartwatch instead, analog watches are definitely transitioning into a luxury fashion statement and a timeless symbol of classic elegance.
Watch companies have started to grow and adapt to consumer needs regardless of heritage or history. Sure, Fossil may not be perfect, but it may still be the right fit for you if you're only looking to make a trend-savvy fashion statement. With the convenience of buying one, it is perfect for being an accessible entry point into the world of watches too.
Having brands like Fossil emerging into the market strengthens the watch market as a whole and proves that the demand for watches is more than ever. This just shows people that "traditional" wristwatches are not dying accessories, which is ultimately the most important thing.
About Exquisite Timepieces
Established in 1998, Exquisite Timepieces is your one-stop shop for all things luxury watches! We are an authorized dealer for 60+ luxury watch brands including Omega, Hublot, Seiko, & Longines! We are proud to showcase one of the world's largest pre-owned watch collections, including renowned brands like Rolex and Patek Philippe. Check out our brand new watch arrivals here and popular pre-owned listings here.