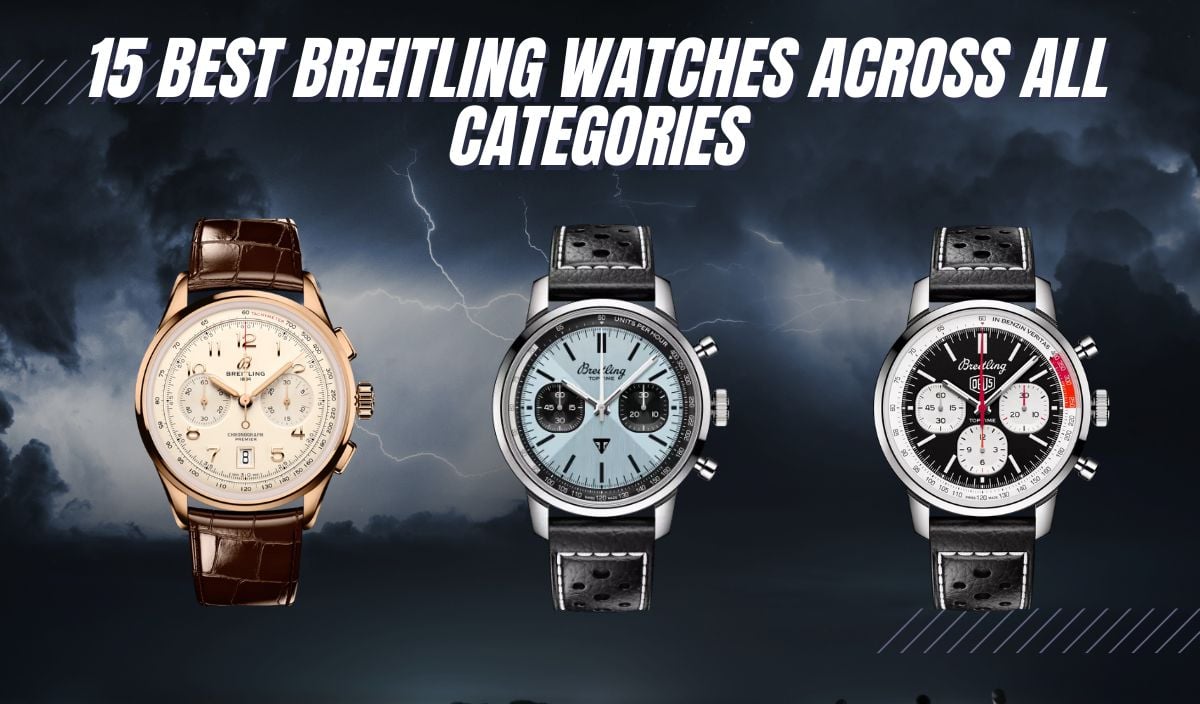 The 15 Best Breitling Watches (Across ALL Categories)
The 1880s were miraculous and saw profound industrial revolutions. From Thomas Edison's incandescent lamp that paved the way for the universal use of electric light to Carl Benz's gas-powered automobile, the 19th century gave us such disparate contributions we'll forever be grateful for.
The watch industry was not left out, and with the industrial revolution progressing at a tremendous speed, precise timing devices were urgently needed. Léon Breitling, who was just 24 years old, joined the chariot in 1884 and began sowing seeds that would blossom into one of the world's leading manufacturers of luxury watches.
Breitling grew to become one the most important manufacturers of high-end timepieces with fans among astronauts and World War II heroes. For over 100 years, the Swiss watchmaker has built a peerless reputation for precision watches loved by pilots, submariners, explorers, and other adventurers.
From Breitling's unmistakable Navitimer to the rugged and robust Avenger, follow us on an adventure as we reveal the best Breitling watches across all categories.
The History Of Breitling Watches
The story of Breitling starts in the year 1884 in St. Imier, Switzerland, when Léon Breitling founded his namesake brand. The young watchmaker initially focused on creating precision pocket watches and chronographs with superior accuracy that could be used across different sectors.
In the early 20th century, as aviation began to take off, Breitling shifted its focus towards creating timepieces for pilots and aviation professionals. Léon died in 1914, and the business passed on to Gaston.
In 1915, the company introduced the first wrist chronograph with a separate pusher to control the start, stop, and reset functions. This innovation made it easier for pilots to measure elapsed time during flight.
Unfortunately, Gaston also died at a very young age, and Willy Breitling picked up from where he left off in 1935. As an innovator who was obsessed with aviation, Willy Breitling began developing wristwatches for pilots that were highly accurate and functional.
During World War II, Breitling supplied precision chronographs to military forces. In 1942, the company introduced the Chronomat, a wristwatch with a circular slide rule. The slide rule allowed pilots to perform various calculations necessary for navigation, such as fuel consumption, airspeed, and climb rates.
The Chronomat became a popular model and solidified Breitling's association with aviation, giving the brand international recognition.
In 1952, Breitling entered into a partnership with the Aircraft Owners and Pilots Association (AOPA), the world's largest association of pilots, and became the official supplier of AOPA watches. The Navitimer model was developed in association with AOPA, whose winged logo features on the dial.
Due to financial challenges in the 1970s, the ownership of the brand changed hands several times over the next few decades. However, the brand continued to innovate and produce high-quality timepieces, including introducing quartz watches in the 1970s and the Emergency model in the 1990s, which featured a built-in distress beacon for pilots and adventurers.
In 2017, Swiss private equity firm CVC Capital Partners acquired a majority stake in Breitling, with Georges Kern taking on the role of CEO. Today, Breitling remains a prominent brand in the luxury watch industry, renowned for its precision timekeeping, aviation heritage, and commitment to craftsmanship. The company's timepieces continue to be highly sought after by watch enthusiasts and professionals alike.
What's The Status Of Breitling Today?
As one of the leading luxury watch manufacturers in the world, Breitling watches are typically priced higher compared to more mainstream watch brands. They are highly sought after for their technical proficiency and aesthetically pleasing allure, which reflects the brand's reputation, craftsmanship, and high quality.
All Breitling's watches undergo rigorous testing and certification processes to ensure their performance and reliability. Timepieces from the Swiss brand have graced the wrists of some of the biggest stars on Earth, including Brad Pitt, Charlize Theron, John Travolta, and David Beckham.
The prices of Breitling watches can vary significantly depending on the specific model, materials used, complications, and other factors. Entry-level models from Breitling typically start in the range of a few thousand dollars, while more complex or limited-edition timepieces can easily reach tens of thousands of dollars or even higher.
Additionally, certain collections or special editions may command even higher prices due to their exclusivity and desirability among collectors. In no particular order, here are the 15 best Breitling watches across all categories.
The Best Breitling Watches
1. Breitling Navitimer B01 Chronograph 43 (ref. AB0138211B1A1)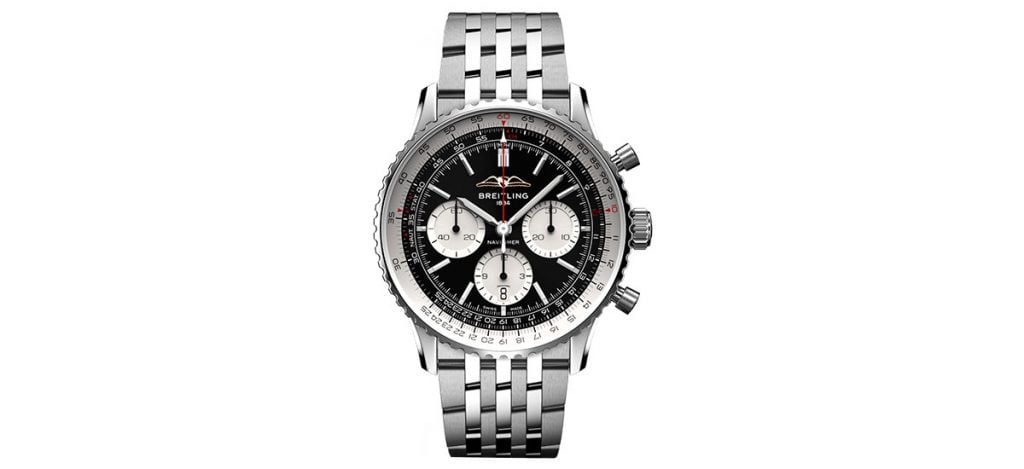 With a historically important watchmaking history, the Navitimer (short for navigation timer) is a watch that has been making waves in the watchmaking world since it was designed by Willy Breitling in 1952.
Apart from being one of Breitling's most recognizable and enduring inventions, the de facto pilot's watch is one of the greatest watches of all time.
The hallmark feature of the Navitimer is its circular slide rule bezel, which enables pilots to perform various calculations and conversions required for flight navigation, including airspeed, fuel consumption, rate of climb or descent, and time/distance calculations.
This unique feature has made the Navitimer a favorite among aviators and has contributed to its reputation as the "ultimate pilot's watch."
The Ref. AB0138211B1A1 is presented in a stainless steel case that is 43mm in diameter with a 22mm lug width and thickness of 13.60mm. The chronograph watch with three subdials to register elapsed is protected by a sapphire crystal with an anti-reflective coating on both sides.
The face of the watch stands out with a striking black dial with punchy white sub-dials, and the crispness of the details on the dial is just overwhelming.
The watch is powered by the robust in-house manufactured B01 movement with an impressive power reserve of 70 hours and a Kif shock absorber.
2. Breitling Chronomat B01 42 (ref. AB0134101C1A1)
Born in 1984, at a time when Switzerland was suffering from the worst economic crisis in its history, known as the "quartz crisis", the Chronomat represents Breitling's passion for risk and fearless leadership,
The all-purpose watch was inspired by the Frecce Tricolori chronograph developed in 1983 for the famed Italian aerial squadron. The watch was an instant hit when it was launched, and the outstanding success of the bold invention revived production and kept the brand standing despite the upheaval in the watchmaking industry.
The model was released to celebrate Breitling's centenary year to symbolize a bold new era. Debuted in 2020, the Ref. AB0134101C1A1 follows the notable tradition of its predecessor, prioritizing bold engineering and elegance.
The watch comes in a 42mm stainless steel case with a lug width of 22.0mm and a height of 15.1mm. The height might seem substantial, but that's because the Chronomat has always been built as a rugged tool watch. Plus, the case is water-resistant to a depth of 200 meters (660 feet), offering excellent water resistance for various activities.
The sunburst dial steals the show and, from the get-go, reveals some mega luxury credentials of this timepiece. The balanced dial has a central time display with tone-on-tone 3-6-9 sub-register layouts.
As the name suggests, the watch is powered by the in-house Breitling Manufacture Caliber 01, a COSC-certified chronometer movement with 70 hours of power reserve.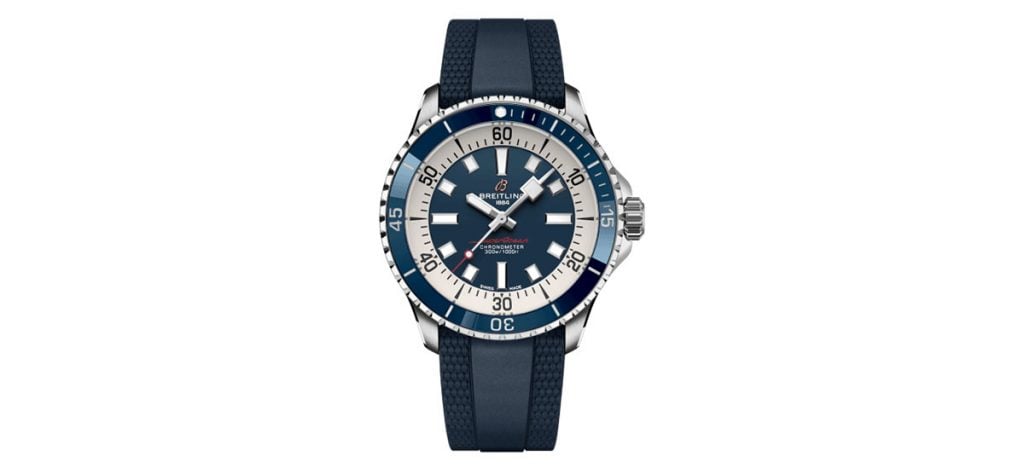 The ocean keeps calling, and the "Super Ocean" Automatic 42 from Breitling is just the watch for the best underwater experience. If you thought the Swiss luxury watchmaker was only popular for creating high-quality aviation watches, continue thinking!
Breitling is also famous for creating legendary watches that have proved very useful in sporting competitions on land and sea. Through the 1960s, the (then) new sport of scuba diving underwent key transitions.
It was at this time that many inventions and advancements of key equipment were introduced to support the life-saving needs of divers underwater.
Since accurate timing was one of the most important factors for successful diving, Breitling set out to design and construct the most clear-cut dive watch possible aimed at maximum legibility, accuracy, and functionality.
The Superocean Automatic 42 is a reinterpretation of the legendary dive watch (named the "Slow-Motion") and incorporates modern features and avant-garde technicalities.
The watch is water resistant to a depth of 300 meters (1,000 ft) and is presented in a 42mm stainless steel case with a thickness of 12.5mm and a lug width of 22.0mm.
The brightly colored dial has broad hands and indexes, generously coated with Super-LumiNova® for easy readability underwater. It is powered by the in-house Breitling Manufacture Caliber 17 with a power reserve of approximately 38 hours.
4. Breitling Avenger Automatic GMT 43 (ref. A32397101B1X1)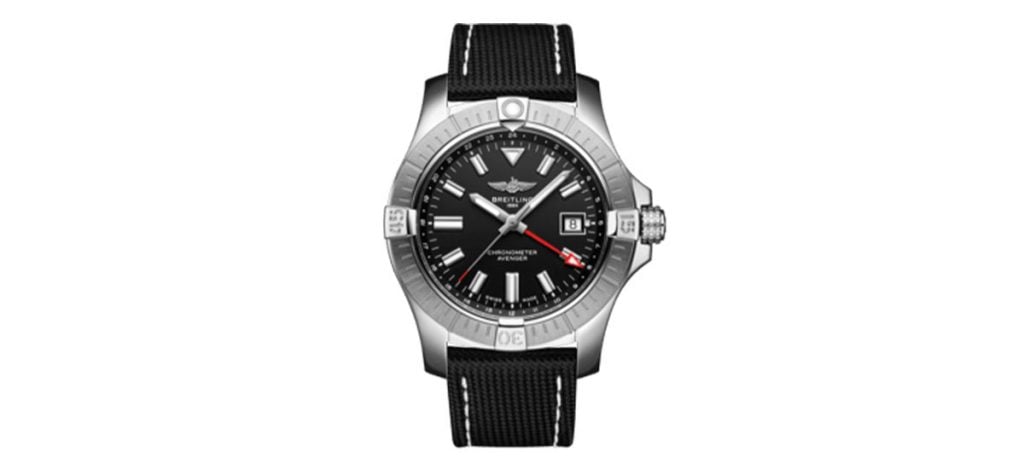 Choose your adventure with the Avenger Automatic GMT 43. Look, we get it. We live in a time where many people do nothing but try to shove their opinions down our throats. There are loads and loads of standard-issue models littered all around, with a few unique watches that allow us to express our adventurous spirits.
But all that is over as the bold, extremely robust, and shock-resistant Avenger was constructed for serious adventurers seeking the best modern tactical watch. The stainless steel case measures 43mm across with a height of 12.2mm and a lug width of 22.0mm. The case is water-resistant to a depth of 300 meters and comes with a ratcheted unidirectional rotating bezel.
The special grip pattern on the crown means it can seamlessly be operated with gloves on, offering unrivaled safety and reliability to any airborne adventurer. The striking black dial is carefully designed to deliver precise and reliable timekeeping, whether underwater or up in the skies.
The watch also features an additional red hand indicating a second-time zone. It is powered by the in-house Breitling Manufacture Caliber 32 with a power reserve of approximately 42 hours. Hey! The Avenger might just be your ticket to individuality!
The Breitling Professional Aerospace Evo combines a sophisticated design with a multitude of practical features, making it a preferred choice for aviation professionals and watch enthusiasts alike.
The Aerospace was designed by Breitling in 1985 to deliver precise and reliable timekeeping up in the skies. The Evo Ref. E79363101C1E1 is heir to the legendary Aerospace and features the very best of Swiss craftsmanship while retaining the same powerful, dynamic, and technical style the first model had.
The watch comes in a 43mm lightweight and durable titanium case, making it comfortable to wear for extended periods. The case is 10.8mm thick and has a lug width of 22.0mm. The dial has that cool "no-frills and no-messing-around vibe" that can only be found in superb and equally adventurous timepieces.
The thermocompensated quartz movement has outstanding functions such as a 12/24 hour LCD digital display, display backlighting, 1/100th of a second chronograph, countdown timer, second timezone, alarm, audible time signal, and a calendar function.
6. Breitling Top Time B01 Shelby Cobra (ref. AB01763A1C1X1)
Inspired by American muscle cars, the Top Time B01 Shelby Cobra is a refreshing take on the toolish watches we have to see all our lives.
Just because a watch is built to be durable and robust doesn't mean it has to look like a tank, right? This is why the Shelby Cobra is just a lovey-dovey designed for a free generation seeking to break the limits and dare for more.
Willy Breitling was a legend who was experimental and yet loved fun, freedom, and energy. Living life at full speed was the motto for everyone alive during the 1960s, and it was then that Willy designed the "Top Time" watch. It was an unconventional chronograph to capture the verve of that era.
The Cobra was introduced in 1962 with a bold graphic design that was all about action. It quickly became a fast and furious fashionable favorite (try saying fast and furious fashionable favorite quickly 10 times) among motor enthusiasts on the racing circuit.
The B01 Shelby Cobra Ref. AB01763A1C1X1 continues the spirited tradition of the original Cobra and is presented in a 41mm stainless steel case with a blue dial inspired by the dashboard of the Shelby Cobra (the Shelby Cobra is a legendary sports car).
The dial features a speed-measuring tachymeter scale and contrasting "squircle" subdials that give the feel of vintage dashboard gauges. The watch is powered by a self-winding mechanical movement, the Breitling Caliber 01, with approximately 70 hours of power reserve.
7. Breitling Navitimer B02 Chronograph 41 Cosmonaute (ref. PB02301A1B1A1)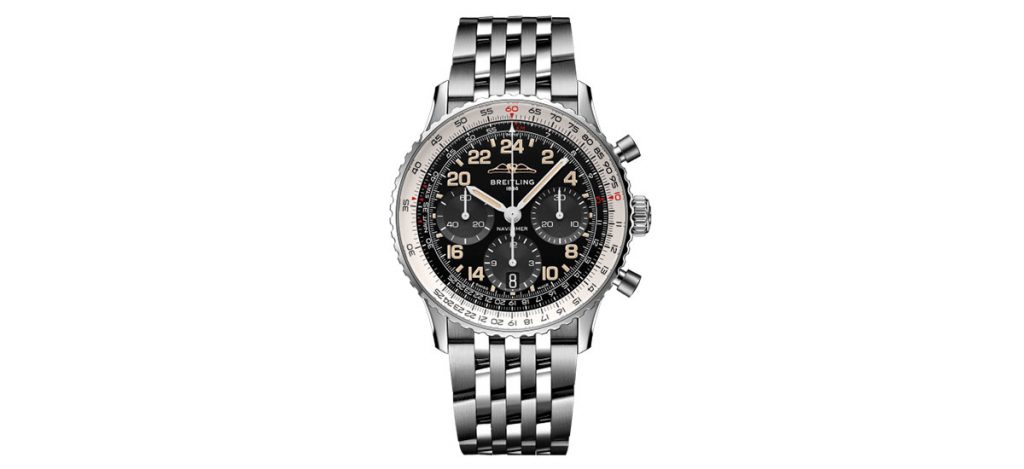 The Breitling Navitimer B02 Chronograph 41 Cosmonaute Ref. PB02301A1B1A1 is part of the iconic Navitimer collection, which has a rich heritage and is known for its aviation-inspired design.
24th May 1962 was the day Astronaut Scott Carpenter orbited the Earth thrice during the Mercury-Atlas 7 mission. He accomplished this feat with a Navitimer Cosmonaute strapped around his wrist, making the timepiece the first Swiss wrist-worn chronograph in space.
Breitling had already established itself as the number one pilot's watch brand in the 1960s, and the watch was constructed and designed at Carpenter's request. In addition to other features on the aviator's watch from the brand, the Cosmonaute came with a 24-hour dial to distinguish day from night in the stark darkness of space.
The Cosmonaute Ref. PB02301A1B1A1 pays tribute to Breitling's historical association with space exploration, and the design retains the classic Navitimer layout. The watch is presented in a 41mm stainless steel case with a thickness of 13mm and a lug width of 22mm.
The dial is pretty busy, but somehow, the elements synergize flawlessly to create an appealing whole. The bezel is crafted from platinum, and when you add that to an open sapphire crystal case back, you have a wonderfully exclusive model.
Visible through the transparent case back is the Breitling Caliber B02 with a power reserve of approximately 70 hours.
8. Breitling Chronomat Automatic GMT 40 (ref. A32398101A1A1)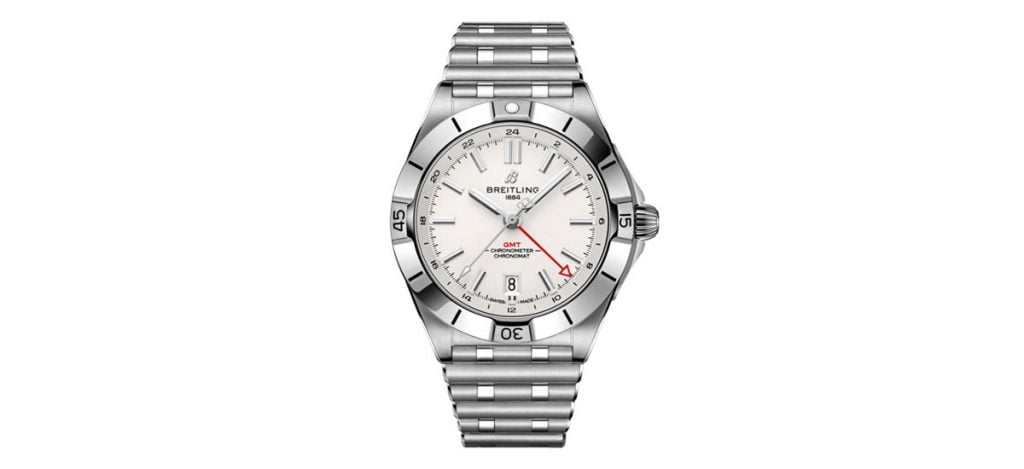 Did you know that over 25% of U.S. international travelers consider themselves to be "sophisticated explorers?" Traveling has always been an exclusive and unique experience, and millions of people around the world state that their primary travel motivation to travel is the desire to explore new horizons.
As a tribute to this eye-opening experience that allows us to discover new cultures and territories, Breitling launched the Chronomat Automatic GMT 40. The model is unique because it features a 24-hour scale that allows the user to track a second timezone and know at a glance whether it's day or night.
This is especially useful for frequent travelers or individuals who frequently communicate with people in different time zones. The Chronomat collection is known for its sporty, versatile, and easy-going aesthetics and the Ref. A32398101A1A1 is no exception.
The 40 × 11.7mm stainless steel case features a fluted-dome (onion-shaped) crown that allows for easy adjustments. With an impressive 200 meters of water resistance rating, the all-purpose sports watch is built to be a fitting companion across air, land, and sea.
The GMT function is indicated by an additional vivid red hand with an arrow tip pointing to a separate 24-hour scale on the dial. Powering the watch is the Breitling Caliber 32 with 42 hours of power reserve.
The Superocean Heritage B20 Automatic 42 Ref. AB2010121B1A1 was designed to take you right from the office straight to the ocean. Whether you're a scuba diver eager for a watch to accompany you in your underwater explorations or you are a daring novice about to plunge into the wide sea for the first time, the Ref. AB2010121B1A1 was made for you.
Inspired by the original Superocean from the 1950s, the Superocean Heritage flawlessly blends the same design codes from decades ago with contemporary aesthetics and avant-garde technicalities. The watch is presented in a 42mm by 14.3mm stainless steel case with a screw-down crown and a solid case back featuring an engraved vintage Breitling logo.
The case offers durability and a classic aesthetic and is also water-resistant to a depth of 200 meters (660 feet), highlighting its diving capabilities. The dial is crisp, legible, and neat, with elegant triangular-shaped hands and luminous hour markers.
The unidirectional bezel features a polished ceramic ring, commonly used in dive watches for its scratch-resistant properties. The watch is offered with a matching mesh bracelet and is powered by a COSC-certified chronometer based on the Tudor Caliber MT5612, the Breitling Manufacture Caliber B20.
10. Breitling Aviator 8 Automatic Day & Date 41 (ref. A45330101B1X1)
The Breitling Aviator 8 Automatic Day & Date 41 belongs to the Aviator 8 collection, which draws inspiration from Breitling's rich aviation heritage.
The watch is presented on a stainless steel case that measures 41mm across with a height of 11.1mm with a solid screwed back. The fitting size offers a sleek balance between wearability and presence on the wrist.
One of the notable features of this model is its day and date function. The day of the week is neatly presented at the 12 o'clock position on the dial, while an aperture displaying the date is ideally placed at 6 o'clock.
This complication adds practicality and convenience to the watch, allowing the wearer to easily keep track of the day and date without needing to refer to a separate calendar.
Typical of Breitling, the dial of the Aviator 8 Automatic Day and Date 41 is extremely well-designed, featuring a clean and legible layout. The hour markers and hands are luminous, providing excellent visibility in low-light conditions, which is important for aviators and individuals who appreciate a sporty, functional watch.
Plus, the black dial is revealed through a double anti-reflective sapphire glass. It is water resistant to a depth of 100 meters, thus suitable for swimming and snorkeling.
The watch is powered by the Breitling Caliber 45, with over 40 hours of power reserve, and comes mounted on a black calfskin leather strap with stainless steel buckle.
11. Breitling Navitimer Automatic 38 (ref. A17325241B1P1)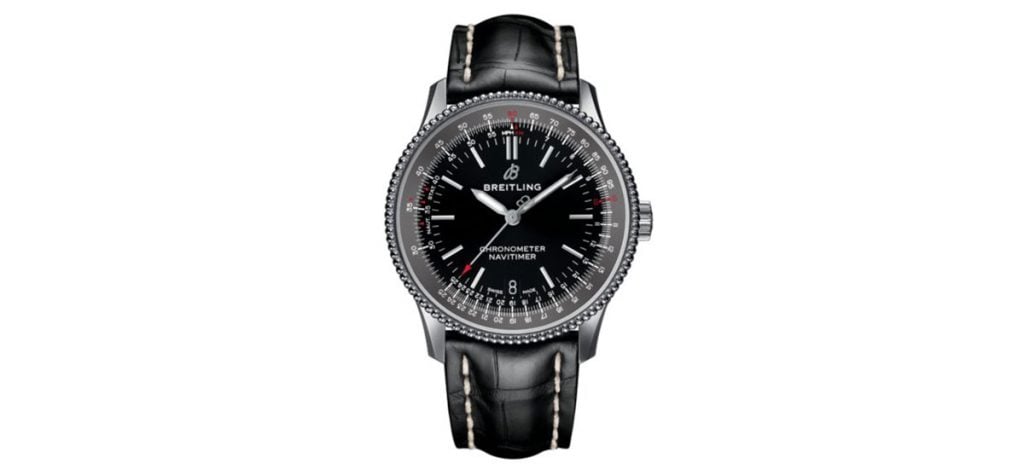 The 38mm case diameter of the Navitimer Automatic makes it a relatively smaller and more versatile option compared to some of the larger models in the Navitimer collection.
Like its style-driven 1960s predecessor, the Automatic is highly functional and retains the iconic design elements that made the Navitimer line famous. This includes the circular slide rule bezel, which is a hallmark of the collection and was originally designed for aviation calculations, bold baton indexes, and a notched bezel for easy grip.
With a height of just 9.9mm, this watch can slip easily under a cuff and wouldn't look out of place when worn with a smart shirt and suit for a business meeting.
Featuring a robust 25-jewel self-winding mechanical movement, neatly packaged inside a stainless steel case, the Ref. A17325241B1P1 also comes with the most scratch-resistant watch glass on the market; a sapphire crystal.
This will ensure the watch overcomes wear, tear and the general ravages of time. The anti-reflective coating on both sides enhances legibility, so you can be sure you won't have any problems reading the time when the sun's beating overhead.
The case features a beaded bezel, too, making it ideal for fashion-conscious lovers of fine jewelry seeking an exquisite combination of form and function. The watch is fitted with a black alligator leather strap and is only water resistant to a depth of 30 meters (100ft).
12. Breitling Avenger Automatic 45 Seawolf (ref. A17319101I1X1)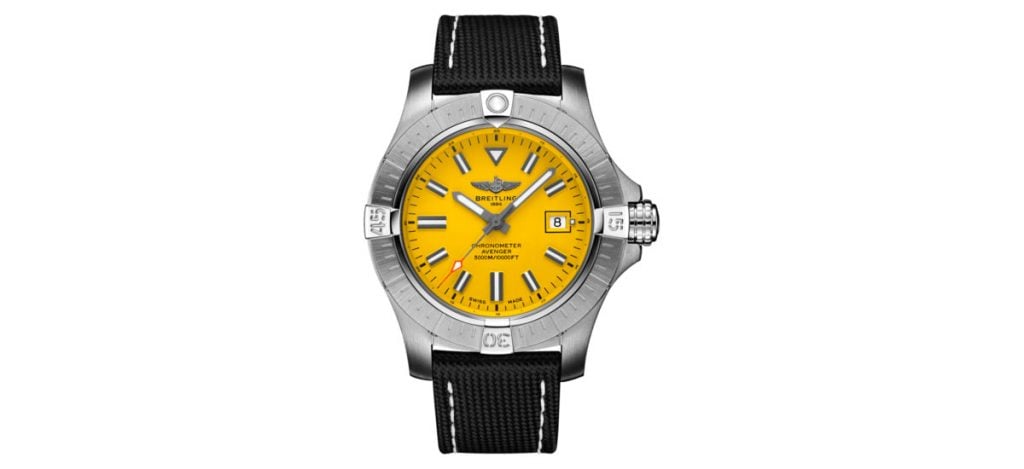 The Breitling Avenger Automatic 45 Seawolf is a robust and reliable diving watch that combines a sporty design with high-performance features. It is built to withstand challenging underwater conditions while providing accurate timekeeping and functionality for divers and adventure seekers.
Breitling has described the Avenger as a 'Bold, extremely robust and shock resistant', 'pilots' watch that can confidently go below the ocean's surface. The Seawolf in the name indicates its impressive water resistance. It has a water resistance rating of up to 3,000 meters or 10,000 feet, making it suitable for professional diving and extreme underwater activities.
The 45mm stainless steel case features an imposing 18.3mm height. The case is designed to withstand extreme conditions and is equipped with a unidirectional rotating bezel for timing dives.
The construction and design indicate that this is not so much an aviation watch as it is a dive watch. The case even resembles the older generation Superocean Steelfish with an engraved 60-minute scale that has large stencil-like Arabic numerals at each 15-minute interval.
The large ratcheting done on the bezel allows easy manipulation even while wearing thick gloves. The dial has a bright yellow color that is highly legible with chunky baton indexes coated with SuperLuminova. Powering the watch is the Breitling Caliber 17, with a power reserve of approximately 38 hours.
Finally, a function-packed wristwatch for ladies who like to live life on the edge! The Chronomat was initially developed for the Royal Air Force (RAF) during World War II and featured a slide rule bezel, which allowed pilots to perform various calculations, such as fuel consumption, airspeed, and flight time.
The line has greatly evolved, with Breitling updating and refining the watches in its catalog to meet the demands of contemporary watch enthusiasts.
With a diameter of 36mm and a striking silver and royal blue profile, the Ref. A10380101C1A1 is a small and sleek watch suited for women's wrists. It features a round case with a combination of polished and satin-brushed stainless steel surfaces, giving it a refined and classical look.
The watch features a unidirectional bezel and a screw-down crown that ensures 100 meters of water resistance.
The hour markers and hands are filled with Super-LumiNova, ensuring legibility in low-light conditions. The watch is mounted on Breitling's comfortable "Rouleaux" bracelet and is fitted with a COSC-certified chronometer, the Breitling Caliber 10.
14. Breitling Professional Endurance Pro United States Naval Academy (ref. X823103C1B1S1)
Dubbed "the ultimate athleisure watch" by Breitling, this timepiece is a thoroughly modern tactical watch for anyone interested in explorations and expeditions.
Before the quartz revolution, Breitling watches dominated the wrists of pilots, engineers, scientists, and even astronauts. The quartz crisis came and passed (and it came to pass), but Breitling survived.
While the Breitling Professional Endurance Pro is a popular watch among athletes, there is no specific connection between the watch model and the United States Naval Academy.
The watch is constructed from a lightweight case made of Breitlight®, a robust and durable material. The case measures 44mm across with a thickness of 12.5mm and is corrosion and water-resistant to a depth of 100 meters.
The comfortable, function-packed, and reliable timepiece weighs only about 64 grams making it a great option for outdoor pursuits fans looking for everyday wear.
You've got a thermocompensated, highly accurate SuperQuartz™ movement that won't need servicing or replacement for about two years.
You've also got a chronograph function, solar compass, an incredibly legible dial that allows you to read the time with a glance, and a date aperture between 4 and 5 o'clock.
When all's said and done, the Endurance Pro United States Naval Academy Ref. AsX823103C1B1S1 brings on a super cool look with its blue rubber strap and tang buckle.
15. Breitling Premier B09 Chronograph 40 (ref. AB0930D31L1P1)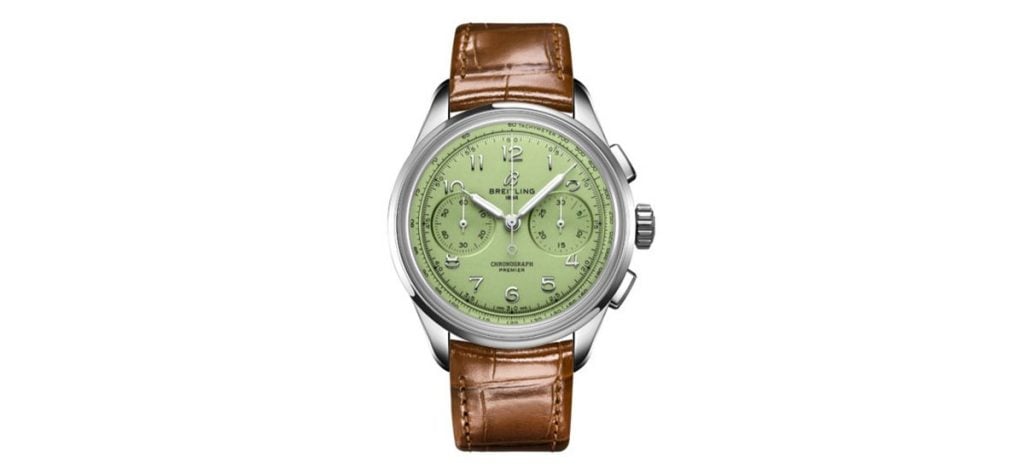 As one of the world's oldest and most reputable watchmakers, Breitling knows a thing or two about impeccable timepieces. Presented on a gold-brown alligator strap with stainless steel folding clasp, the B09 Chronograph 40 Ref. AB0930D31L1P1 is a cult classic that belongs to the Premier collection.
The collection was initially launched in the 1940s but disappeared from the Brand's catalog for a while. The heritage Premier chronographs were revived recently to pay homage to three generations of inventors who changed the history of Breitling and general timekeeping – Léon, Gaston & Willy Breitling.
The eye-catching pistachio-green dial is encased in a highly polished 40mm stainless steel case with grooves on the side and flowing curved lugs that allow it to hug smaller wrists flawlessly.
The pale pastel green dial has a grained texture enlivened by bicompax subdials with concentric circular finishing that creates a satisfying visual appeasement that contrasts with the dial.
You've got elegant syringe-shaped hands with infilled SuperLuminova, a tachymeter, railway minute scale, and refined appliqué Arabic numerals.
Visible through the sapphire crystal case back is Breitling's in-house caliber B09 movement. This mechanical movement is based on the brand's renowned B01 chronograph caliber, which offers exceptional precision and a power reserve of approximately 70 hours.
Conclusion
Breitling is an outstanding brand that has survived lots of financial challenges and the quartz revolution that brought almost the entire watch industry to its knees.
The brand's pioneering role in the development of navigational tool watches earned It a place of privilege in the worlds of science, sport, and technology.
With a global reputation for high-precision timepieces and a commitment to excellence, the unwavering innovative spirit of Its founders lives on in each timepiece from Breitling. If brand reputation and heritage are important to you, Breitling is worth considering.
About Exquisite Timepieces
Established in 1998, Exquisite Timepieces is your one-stop shop for all things luxury watches! We are an authorized dealer for 60+ luxury watch brands including Omega, Hublot, Seiko, & Longines! We are proud to showcase one of the world's largest pre-owned watch collections, including renowned brands like Rolex and Patek Philippe. Check out our brand new watch arrivals here and popular pre-owned listings here.