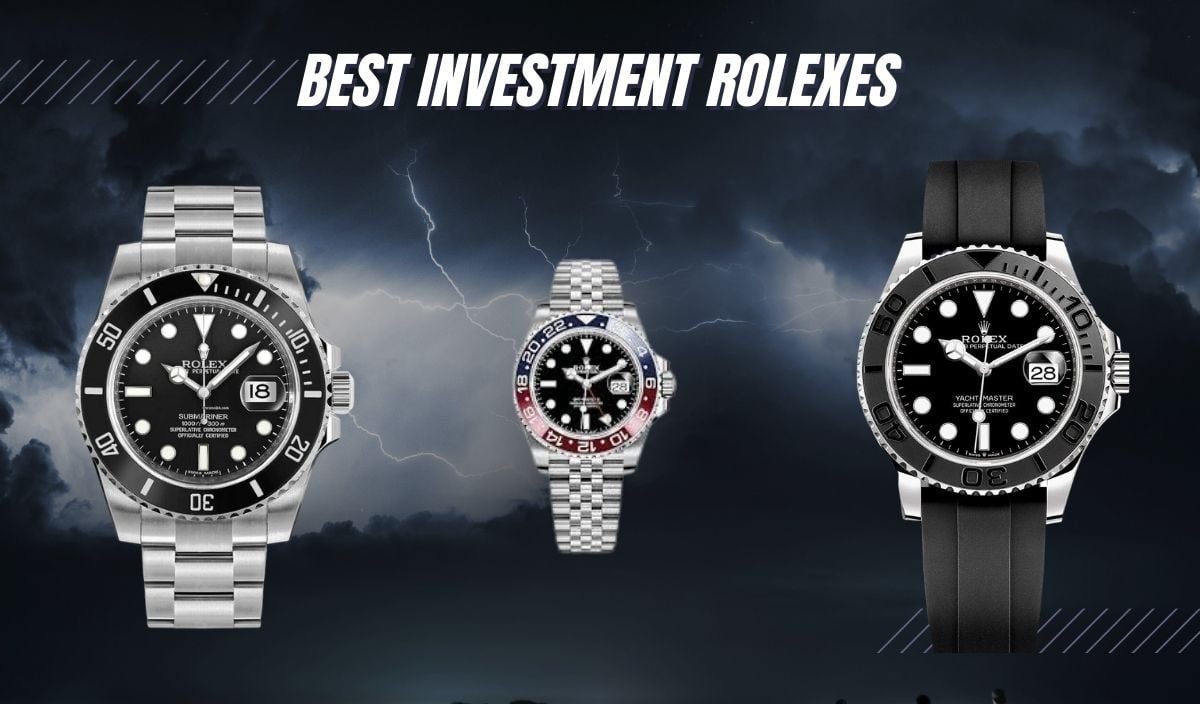 Best Investment Rolexes for 2023 (Daytona, Submariner & More!)
Everyone knows Rolex. If one conducted a "man on the street interview" and asked random people to name the first watch companies that came to mind, it seems reasonable to expect Rolex to be in the top five. Rolex has become a household name, synonymous with luxury and wealth.
Yet not everyone knows they can also be a solid investment. Many would wrongly conclude owning a Rolex is an unwise financial decision, like buying a boat or any other depreciating luxury asset. After all, a Timex will tell the time just as well, for a tiny fraction of the price.
However, Rolex not only delivers a beautiful watch that can be passed down to multiple generations but given the high demand and low inventory, Rolex watches are known to hold their value and often appreciate.
About Rolex Watches in 2023
The demand for Rolex watches has only gone up in recent years, and the supply chain issues further added to delays. Rolex doesn't release official numbers as to the volume of watches produced each year, but the most accepted number in the industry is roughly 1 million watches per year.
Yet, the demand greatly outstrips Rolex's ability to produce. Their most popular models have waiting lists that can be several years long, and even their less popular models require a wait of at least a few months. So, if one goes to an authorized Rolex retailer today, they shouldn't expect to walk out of the shop with a Rolex on their wrist unless they already went in with one.
By keeping the inventory low and the demand high, Rolex shrewdly creates an environment of exclusivity and scarcity, and this fuels a competitive market and drives up the prices both in the authorized retail and the gray markets.
Should You Invest In Rolex for 2023?
Should Rolex be one of your investments? That's a personal decision that one must make for themselves. However, many are choosing to invest in Rolex because they want to enjoy the exceptionally well-made, stunning timepieces that Rolex makes while having the peace of mind that there's no safer watch investment bet than Rolex. At least, that's the point of view of many watch experts and collectors.
Watch experts value Rolex because they have a long, rich horological history. They've been at the cutting edge of innovation in the watch industry. Further, some of the greatest achievements in mountain climbing, deep sea diving, cave exploring, and racing have been marked with Rolex watches.
Rolex also uses the highest quality materials to build their timepieces. Rolex has its own foundries, where they forge the highest quality steel, gold, platinum, and titanium. This is matched by the artisans' expertise in crafting each watch perfectly, down to the very last detail. Their quality and consistency, paired with their remarkable history, is something that captures the attention and trust of professional watch collectors.
Some of the top-selling Rolex collections in recent years are the DateJust, Daytona, Oyster Perpetual, Day-Date, Submariner, and GMT-Master. These are the top Rolex watches selected by the public and collectors.
There's a reasonable probability that these collections will remain in demand; therefore, one could conclude that they're likely to hold or increase in value. In fact, the gray market is where one used to go to get a deal on a Rolex. Today, it's where one goes to pay double MSRP (if not more) to get the watch of their dreams without having to wait three to five years.
The Best Investment Rolexes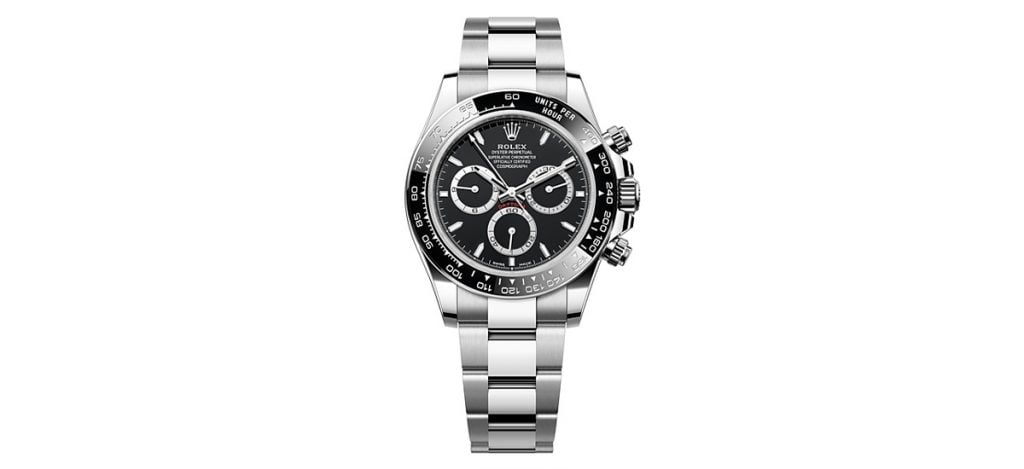 Sometimes the word iconic can be overused, but it's perfectly appropriate in this case. The Rolex Cosmograph Dayton is a special timepiece. Of course, its association with another icon, actor, race car driver, entrepreneur, and philanthropist Paul Newman, simply adds to the gravity of this watch. In fact, Paul Newman's Rolex Daytona sold for a record-setting $17.8 million. This timepiece has been a favorite among collectors and enthusiasts, and it's easy to see why.
The Oystersteel case measures 40mm, sits on the wrist at 11.9mm thick (which is .5mm thinner than the previous generation), and is 46.5mm lug-to-lug. The model we're exploring here is steel, but there are versions in two-tone steel and yellow gold, yellow gold, white gold, rose gold, and platinum.
At the center of this wristwatch is a shiny black ceramic bezel with a high-performance chronograph. The tachymetric scale allows for measurements of average speeds up to 400 miles or kilometers per hour. The style of the bezel is a nod to the 1965 version. The watch's white dial (also available in black on the Oystersteel configuration) is a three-register chronograph with 18-karat white gold hour markers and hands.
Under the hood is Rolex's caliber 4131 automatic movement, with a 72-hour power reserve, which is COSC and Rolex certificated. The watch features a signed screw-down crown and water resistance to 100 meters. The chronograph movement also offers hacking seconds. All this is paired with a three-link Oystersteel bracelet with a folding clasp and a 5mm extension.
Price: $15,100 starting price.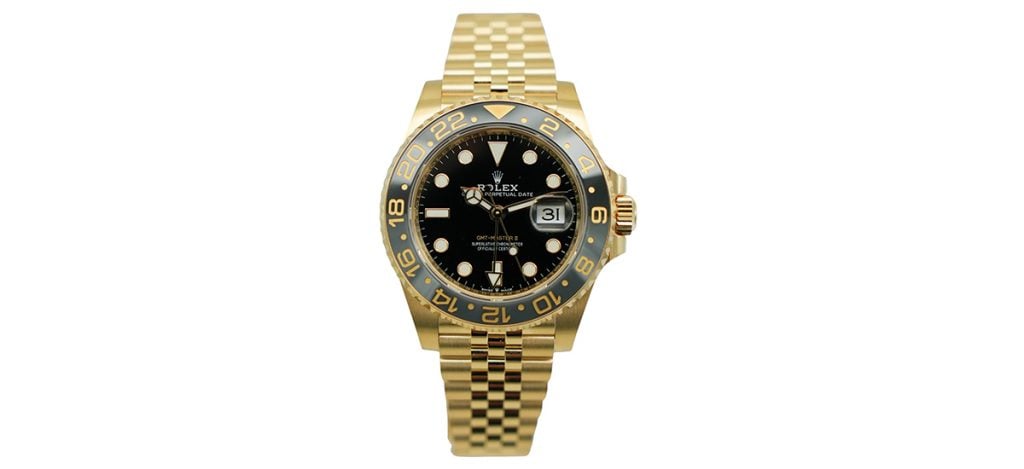 The original Rolex GMT Master was first introduced in the 1950s in collaboration with Pan American World Airways (Pan Am) to meet the needs of pilots flying long-haul international routes.
The tool watch, with its useful 24-hour hand and ceramic bezel, quickly became popular with pilots and globetrotters. Over the years, several notable versions have been released, such as the red and blue bezel nicknamed "Pepsi" by collectors.
The version we're examining is the Oyster, 40mm, yellow gold. The timepiece sits at 11.9mm on the wrist and measures 48mm from lug to lug. The watch, finished in 18-karat yellow gold with a black bezel and face, is absolutely gorgeous and is dripping with luxury. An inner yellow gold ring encircles the black dial with white gold indexes and yellow gold hands. For added functionality, there's a Cyclops date window at three o'clock.
The timepiece features a screw-down crown, sapphire crystal, and a water resistance of 100 meters. The watch is powered by Rolex's caliber 3285 automatic movement with a 70-hour power reserve.
The movement's features include a second time zone with independent rapid reset of the hour hand, instantaneous date, and hacking seconds. The timepiece is paired with an 18-karat yellow gold jubilee 5-link bracelet, which is simply as handsome as it gets, with a folding clasp and 5mm comfort extension.
Price: $38,900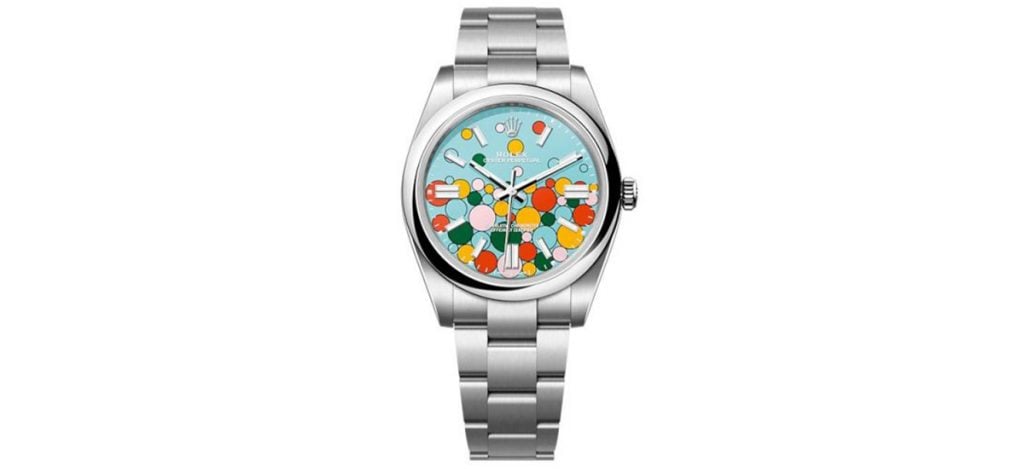 The Oyster Perpetual Celebration is a new Rolex model that's cheeky and fun. I'm not sure those adjectives have ever been used to describe a Rolex. Rolex is known for its conservative design cues, which is why its designs are so timeless and enduring. However, this new, colorful model bucks those traditions, and I think it's a daring move that will pay off and garner interest from a younger clientele.
Back in 2020, Rolex released their 36mm Oyster Perpetual with multiple bright lacquer dials and included more sizing options. The colors included candy pink, green, yellow, coral red, and turquoise. The latest Celebration motif offers a 'Tiffany blue' backdrop that incorporates all those dial colors into something reminiscent of champagne bubbles of different sizes, lined in black. It's a simple, three-hand watch with white gold hands and indices.
The Oyster Perpetual is offered in several different sizes from 28mm up to 41mm, but the celebration dial is only available in the 31mm, 36mm, and 41mm cases. The Oystersteel case measures 41mm, sits on the wrist at 11.7mm, and is 47.5mm lug-to-lug.
The case and smooth fixed bezel are polished, and the timepiece is fitted with an Oyster bracelet and clasp with 5mm micro extensions. The watch has a screw-down crown and is water-resistant to 100 meters. Inside, the timepiece is powered by Rolex's in-house 3230 automatic movement with a 70-hour power reserve.
Price: $6,400
4. ROLEX SUBMARINER "STARBUCKS" 126610LV
The Submariner, for many, is the standard bearer of dive watches. First introduced in the 1950s, the Submariner benefited from Rolex's military and World War II heritage and became a respected tool watch among professional divers. The timepiece also has deep Hollywood roots and was worn by American actor Steve McQueen and was later worn on the wrist of James Bond actors, such as Sean Connery, on the silver screen.
Filmmaker and explorer James Cameron is known for his relationship with Rolex, which included record-setting dives to the Titanic wreckage. He's recounted how he wore his Submariner on his professional dives and when he received his Oscar for the film Titanic.
This is just one of those watches that is the perfect choice to be worn over a wetsuit, for rugged deep-water dives, and for more formal occasions when paired with a suit or tux. Making it a great all-rounder.
The stainless steel case measures 41mm, sits on the wrist at 12.4mm thick, and is 48.1mm from lug to lug. The polished green ceramic unidirectional bezel pairs nicely with a black lacquered dial that is clean and easy to read. Because of the green and black, some have dubbed it the "Starbucks" or "Kermit". The hands and indices are lined in white gold, and there's a Cyclops date window at three o'clock.
The timepiece is powered by Rolex's caliber 3235 automatic movement with a 70-hour power reserve. It features a screw-down crown with Triplock triple waterproofness and is water resistant to 300 meters. It's fitted with a 3-link Oyster bracelet with a folding Oysterlock safety clasp and the Glidelock extension system.
The timepiece can also be configured with a black bezel for a more classic look, but the green "Starbucks" version just might prove to be a desirable collector's item.
Price: $10,800
5. ROLEX MILGAUSS 116400GV & 116400
If the Submariner is the cool Rolex, the Milgauss, I suppose, would be the nerdy Rolex, and I mean that in a good way. The Milgauss, like the Submariner, dates back to the 1950s but was designed for a very different purpose. The Rolex Milgauss is known for its ability to resist magnetic fields up to 1,000 gauss, hence the name "Milgauss" (a combination of "mille," the French word for "thousand," and "gauss").
The Milgauss was designed for engineers and technicians. The collection was out of production for a couple of decades but was brought back in 2007. However, it's since been discontinued again, which might create the perfect limited supply environment to make it an investment opportunity or collection item.
This timepiece is nicely suited for smaller wrists and will comfortably slide under a dress shirt. The stainless steel case measures 36mm, sits on the wrist at 13.5mm thick, and is 48mm lug-to-lug. The 116400GV variant offers a handsome green-tinted crystal paired with a matt black dial, and includes a striking orange lightning bolt seconds hand.
The black dial sports two-tone luminous indicators. It also comes with a blue-green dial option. The 116400 offers a white dial with orange luminous indices and the same orange lightning bolt seconds hand, which pops more against the white background.
The watch is powered by the Rolex 3131 automatic movement with a 48-hour power reserve and is COSC-certified with a 100-meter water resistance. This model includes the Easy-Link system and raised Rolex crown. It's paired with a three-link bracelet with contrasting center polished links and brushed satin outer links.
Market Price for the 116400GV: $10,877, Market Price for the 116400: $9,444
6. ROLEX SEA-DWELLER "TRIPLE SIX" 16660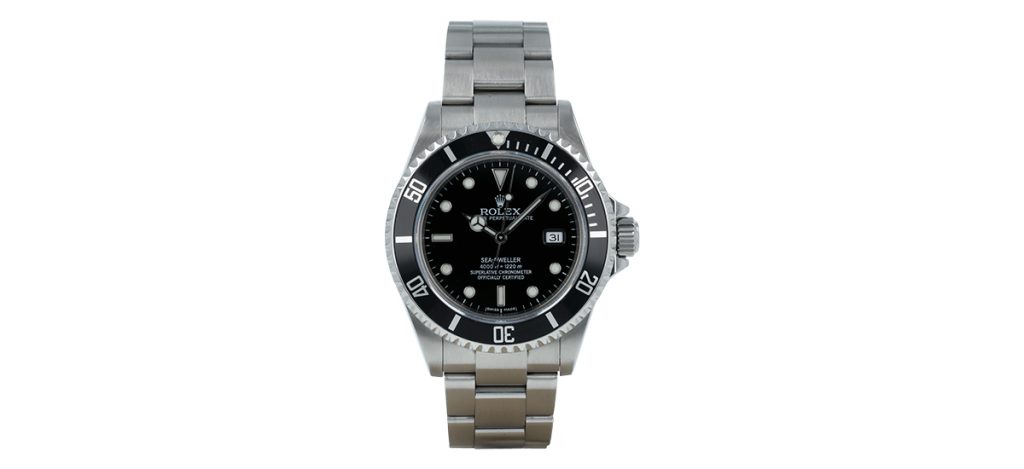 The Sea-Dweller is a collection from Rolex, a close sibling to the Submariner, but a beefier watch for professional divers. It was first released in 1967 and known initially as the Sea-Dweller Submariner 2000. The initial models were created in partnership with the French diving company Comex (Compagnie Maritime d'Expertises), and those are some of the rarest, desired by collectors.
While similar in design to the Submariner, the Sea-Dweller has always been a larger and thicker timepiece due to the added features like a helium escape valve (HEV) and rugged construction to withstand the sometimes-rough environments of deep-sea expeditions.
The "Triple Six" version, a reference to the three consecutive sixes in the reference number, is now considered a vintage model. Its production years ran from 1978 to 1989. The stainless steel case of the Triple Six measures 40mm, has a height on the wrist of 14.8mm, and is 49.7mm from lug to lug. The watch has a unidirectional black aluminum bezel insert. Earlier versions offer a matte black dial with painted hour markers (giving it a more vintage look), while later versions have a more modern glossy dial with applied white gold hour markers.
Inside the Triple Six, one will find Rolex's 3035 automatic movement. The movement features include hour, minute, seconds, and quickset date. There's a screw-down crown with a water resistance of 4,000 feet. There's also a helium escape valve and a flat sapphire crystal. The timepiece is paired with a three-link Oyster bracelet.
Market Price: $12,125
In 1953, the Rolex Explorer was first introduced to commemorate the ascent of Mount Everest by Sir Edmund Hillary and Tenzing Norgay. The Explorer ref. 1016 was worn by Ian Fleming, the author of the James Bond novels, who, during the Second World War, served as a real-life British spy.
The Explorer II 16570 is a no-nonsense sports watch. Its production years were from the 1990s through the 2000s. In contrast to the current Explorer II, which is sized at 42mm, this version is more modestly sized at 40mm, making it a more versatile watch, which is more likely to comfortably fit all wrist sizes. It sits on the wrist at 12.5mm thick and has a lug width of 20mm.
The brushed steel bezel is a nod to '70s sports watches, and Rolex has continued that tradition with this collection through the decades. The bezel is a fixed 24-hour that works in conjunction with a GMT hand. The dial is a crisp polar white with black hands and indices. There's also a Cyclops date window at 3 o'clock.
Powering the watch is Rolex's 3185 automatic movement with a 50-hour power reserve. The timepiece has a solid case back, a signed crown, and a water resistance of 100 meters. Paired with a three-link Oyster bracelet with a folding clasp, this watch model is fast becoming a classic.
Market Price: $8,116
8. ROLEX SUBMARINER 16610
The Submariner 16610 perfectly straddles the line between vintage and modern. Its production years were between 1987 and 2010. The stainless steel case measures 40mm, with a thickness of 13mm and a lug-to-lug measurement of 47.5mm. This model bridges two eras from the original tool watch days of Submariner's early life to its first redesign as a luxury timepiece.
This watch simply covers all the bases. It's vintage, it's modern, and it's all Rolex. The aluminum bezel is paired with a matte black dial. The watch features the classic Mercedes hands, white incites, and the Cyclops date window at 3 o'clock.
On the inside of the watch is Rolex's 3135 automatic movement with a power reserve of 48 hours. It offers a screw-down crown and a water resistance of up to 300 meters. The timepiece is paired with an Oyster bracelet, with a folding clasp and extension system. This is a classic version of a classic model and deserves to be considered a collector's item.
Market Price: $9,608
9. ROLEX GMT-MASTER II 16710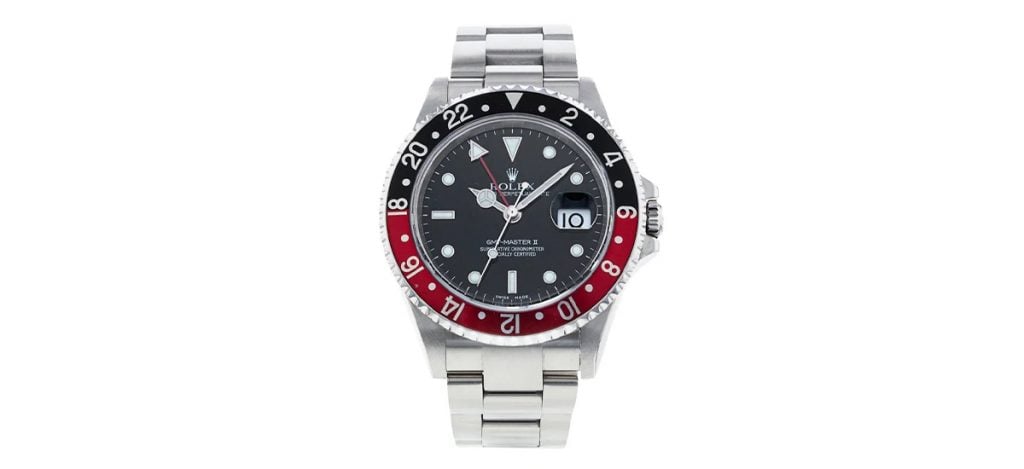 The GMT-Master II has its roots in the original GMT-Master from the 1950s. As previously noted, the Master was created for Pan Am pilots, but those weren't the only ones who adopted this famous Rolex model; it was also picked up by NASA and US Air Force pilots, in addition to world travelers.
The GMT II's production years were from 1989 through 2007. This model was nicknamed "Pepsi", because of its red and blue bezel. The timepiece offers a black dial with Mercedes hands and white indices. There's also a Cyclops date window at 3 o'clock. The stainless steel case measures 40mm, sits on the wrist at 12mm thick, and has a lug width of 20mm.
Under the hood, the watch is powered by Rolex's caliber 3185 (later models had the 3186). Besides time and date, the watch featured a 24-hour hand and hacking seconds. The model could be paired with an Oyster bracelet or a Jubilee.
Market Price: $12,870
10. ROLEX EXPLORER II "STEVE MCQUEEN" 1655
The GMT-Master was for the masters of the air, the Submariner for kings of the sea, the Daytona the champions of the road, and the Explorer II was a sports watch for everyone else.
As previously discussed, the Explorer was designed for cave and volcano explorers but was broadly just a sports watch for anyone that liked to play as hard as they worked. Its production years were between 1971 and 1984. At the time, it didn't find an audience, with its atypical Rolex styling, and wasn't one of the more popular Rolex models, but it has since become a cult favorite among collectors.
The stainless steel case measures 39mm, sits on the wrist at 13.4mm, and has a lug width of 20mm. The watch features a stainless steel bezel and black dial with a domed crystal and Cyclops date window at 3 o'clock. The timepiece has white hour, minute, and seconds hands. The seconds hand is lollipop-style, and there's an orange GMT hand.
Under the hood is Rolex's 1570 automatic movement with a 48-hour power reserve. The watch was water resistant to 100 meters and includes an Oyster bracelet with a folding clasp. Because of the limited numbers produced, this watch has become a popular classic.
Market Price: $27,966
Parting Thoughts
Rolex is the king of luxury watches, and they have the crown to prove it. In recent years they have especially enjoyed a low inventory and high demand market, many of their models with waiting list requirements of multiple years. This has driven up the price of Rolex watches in the gray and pre-owned markets.
Few watches can hold their value like Rolex. Many Rolex models have also proved to be excellent investments, increasing considerably in value. In this article, we've outlined ten models we especially like that we think are worth considering as collector items. Of course, ultimately, one must decide for themselves. We hope this article has at least armed you with enough information to make a more informed decision.
About Exquisite Timepieces
Established in 1998, Exquisite Timepieces is your one-stop shop for all things luxury watches! We are an authorized dealer for 60+ luxury watch brands including Omega, Hublot, Seiko, & Longines! We are proud to showcase one of the world's largest pre-owned watch collections, including renowned brands like Rolex and Patek Philippe. Check out our brand new watch arrivals here and popular pre-owned listings here.