Richard Mille Vs. Hublot – Two Brands at the APEX of Luxury!
Hublot and Richard Mille's watches are synonymous with luxury. Both companies manufacture limited edition watches targeting the very apex of the consumer spectrum. Highly skilled craftsmanship, coupled with an ingenious marketing model made these watchmakers stand out from the rest despite being in the watchmaking business for less than half a century.
As a comparison base, Rolex and Seiko companies had been operating for almost 100 years before Hublot came into the picture in 1980, followed by Richard Mille 21 years later. Despite their relatively young status, Hublot and Richard Mille companies command a lot of deference in the watchmaking industry for their revolutionary timepieces.
And their price points match this. It is not surprising to find custom pieces from both companies selling for hundreds of thousands of dollars! You could easily pay off your mortgage by selling a limited edition Richard Mille or Hublot watch. But, between the two companies, which one makes the better watch? To get to the bottom of this, we have to place these watches side by side and analyze them to find out what makes them tick and which one is superior to the other.
Brief History of Richard Mille and Hublot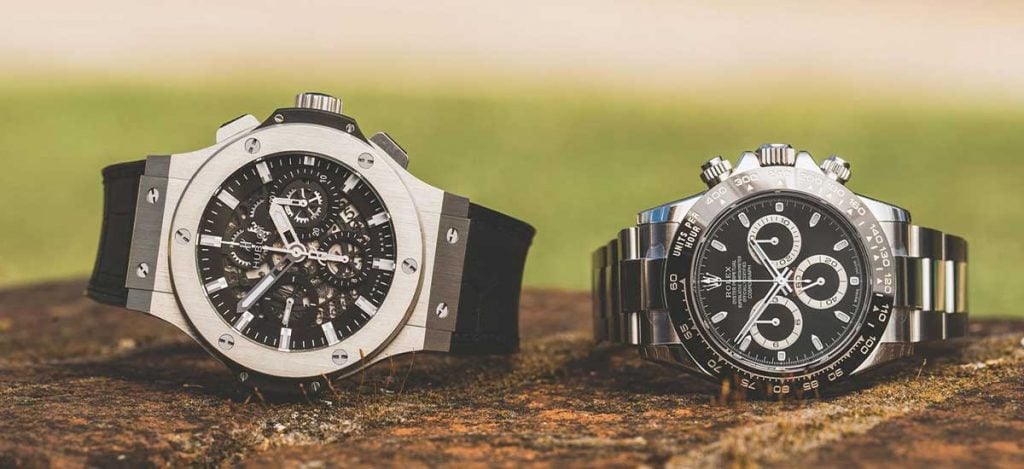 When Richard Mille went shopping for a watch that would blow his mind about two decades ago, nothing seemed appealing enough. Despite the allure and wave of luxurious watch brands sweeping the watch industry (think of Rolex Daytona, Patek Phillippe Aquanaut, and the Audemars Piguet Royal Oak Offshore watches) during this period, Richard wanted a timepiece that would be a first among equals.
Having spent his whole life as a watchmaker and having stepped down from a management position at a watchmaking company, he was ready to dive into the industry without a life vest – literally. He partnered with Dominique Guenat, another renowned and experienced watchmaker, and launched the Horometric SA Company.
The company was tasked with the production of the Richard Mille watch brands. But there are some great Richard Mille alternatives out there in the market. With an Audemars Piguet partnership, the first watch from the company, the Tourbillon RM001, debuted at Basel world in 2001. The success of this watch led to the creation of other models, including the RM 038 Tourbillon Bubba Watson we shall explore in this article.
Hublot is also a fairly new company when compared to the likes of Rolex and Seiko. It was founded in 1980 by Carlo Crocco. Crocco, an Italian, wanted to take advantage of the advanced Swiss watchmaking technology to create a masterpiece that would make a statement in the luxury watch industry. And he did just that.
The Hublot Big Bang watch series was the most popular and successful series. In 2009, Hublot released the Hublot Big Bang Aero bang which remains the best-selling watch from the company to date. It was a wonderful watch (still is) with revolutionary features that gave other luxury watches a run for their money. This article compares the Hublot Big Bang Aero bang watch with the popular RM 038 Massa Flyback Chronograph model.
Why compare the RM 038 Tourbillon Bubba Watson with the Hublot Big Bang Aero bang?
Before we jump into the design and analysis of these watches, it is important to understand why we have chosen these specific models. Both are limited edition watches. Only 38 pieces of the RM 038 Tourbillon Bubba Watson and 77 pieces of the Hublot Big Bang Aero bang watches were manufactured. Both pieces were released in 2011 and both received a lot of acclamation and deference from the industry.
Design and style analysis
Hublot and Richard Mille watches have beautiful and stylish designs. We shall explore these features, similarities, and differences.
Case style and Dimensions
The Hublot Big Bang Aero bang has a micro-blasted black ceramic casing. The RM038 Tourbillon Bubba Watson is made of AZ91 material, an alloy of magnesium and Aluminum. Both materials are lightweight making the watch one of the lightest luxury watches in the world. Mille was inspired by the construction of fast cars and airplanes to use this lightweight alloy for the watch's case.
The whitish color of the casing develops from treatment using the electro-plasma oxidation method. This creates a crystalline ceramic coating that improves the hardness of the case and protects the underlying alloy. It also protects the watch against corrosion and scratches. The case has 12 abrasion-resistant screws made of titanium and washers made of high-grade stainless steel.
Both Hublot and Richard Mille are large watches. The Hublot Big Bang Aero bang has a diameter of 44mm, a lug-to-lug distance of 57.3mm, and a thickness of 15.7mm. It has over 330 individual components enclosed in a stylish skeleton case. It comes in 3 versions; Gold ceramic, red gold diamonds, and tungsten.
The watch sits flush on the wrist because the lugs were designed to turn down at the edges. The RM038 case has a diameter of 39.7mm, a lug-to-lug length of 48mm, and a thickness of 12.8mm. The bottom plates of the case, the balancing cock, and the bridges are made of titanium (grade 5).
Bezel
The Hublot Big Bang Aero bang has a micro-blasted black ceramic bezel with 6 H-pattern, highly polished PVD (physical vapor deposit) Titanium Screws. RM038 Tourbillon Bubba Watson has a sapphire bezel with antiglare treatment. There are 12 spline abrasion-resistant screws on the bezel. These are grade 5 titanium screws and 316L quality stainless steel.
Dial and Crystal
Hublot Big Bang Aero bang has a black skeleton dial with a sapphire crystal. The crystal has undergone anti-reflective treatment that enables the watch to reflect light uniformly. The RM038 Tourbillon Bubba Watson has a transparent tonneau-shaped dial. This is a skeleton dial protected by an anti-glare-treated sapphire crystal. The bridges and hands are the luminescent skeletons and the minute hand is crafted in white carbon fiber.
Strap and Clasp
Hublot Big Bang Aero bang has white-lined rubber straps. The clasp is made of micro-blasted black ceramic and a black-plated stainless steel deployant buckle. The seatbelt buckle has a one-click deployment system that allows you to remove and change straps without using special tools.
The stainless steel clasp has a twin-trigger system that holds the watch in place preventing accidental pop-ups. The strap goes under the clasp, effectively hiding the excess (protruding) strap and eliminating the need for a minder loop. The strap on the RM038 Tourbillon Bubba Watson watch is made of natural-grade rubber with a folding clasp system. It is a white strap with a pin buckle clasp.
Water resistance
Hublot Big Bang Aero bang is safe to use underwater up to 100m or 10 ATM. The RM038 Tourbillon Bubba Watson is water-resistant up to 50 meters. It has 2 nitrite O-ring seals that enhance this resistance.
Movement
Hublot Big Bang Aero bang has a HUB44SQ caliber, self-winding chronograph Movement. It has a 42 hours reserve. The RM038 has a manual winding tourbillon movement. The Tourbillon movement was invented in 1795 by Breguet. It is a mechanism that rotates the balance wheel inside the watch, the escapement, and the balance spring to counter the gravitational force imposed on the wheel and spring.
The fast-rotating barrel inside the RM038 Tourbillon Bubba Watson caliber provides a decrease in periodic internal mainspring adhesion. This produces a higher power reserve/regularity ratio and increases performance. The 20 degrees pressure angle provided by the third-wheel pinion and the central involute profile allows for compensation of variations in the going train and promotes effective rotary motion. This results in excellent torque transmission and ultimately enhances the watch's performance.
Weight
The RM038 watch was designed for the golfer Bubba Watson. The inspiration behind this watch was to create a timepiece that was comfortable to wear, shock-resistant, and light. Bubba Watson wore this watch while playing golf to showcase how agile the watch was and applicable to any situation. Excluding the strap, the watch weighs 29 grams. The Hublot Big Bang Aero bang weighs 15.84 ounces.
Power Reserve
Hublot Big Bang Aero bang has a 42-hour power reserve. The RM038 Tourbillon Bubba Watson watch has 48 hours of power reserve.
Which is the best watch: Richard Mille or Hublot?
Following the analysis and comparison we have done here, the ultimate question remains: What would you buy between a Hublot and Richard Mille? If all factors are kept constant, it all boils down to your tastes and preference. A Richard Mille's watch is designed to make bold statements. It is designed to intrigue and prop the owner into a certain class and category.
Since most of these watches are limited editions, owning a Richard Mille watch speaks volumes about your social and financial status. A Hublot watch is also classy and offers great value for the money. They are certainly more affordable than Richard Mille watches but they do not command similar attention. That said, both Hublot and Richard Mille create wonderful watches. Both companies keep on innovating to dominate the luxury watchmaking segment.
Hublot and Richard Mille prices
The price of Richard Mille watch is approximately $60,000 to $1.3M. There are a lot of factors that come into play to determine this pricing. Some of them include the make of the watch, the watch edition, how complex the watch is, the material used, and the target clientele. Hublot prices are more moderate. You can pick a good Hublot from approximately $1,200. Price variation for Hublot also depends on the factors mentioned herein.
FAQs
Is the RM038 Tourbillon Bubba Watson still in production?
No. The RM038 watch was an experimental watch designed for the golfer. Only 38 pieces were manufactured. With the success of this watch, Richard Mille came up with the RM038-01 editions that had added functionalities (such as a g-sensor using the tourbillon mechanism), and only 50 pieces were manufactured.
Are Richard Mille watches good?
That depends on perspective. However, there is a reason why a Richard Mille watch commands such high figures among enthusiasts. You are likely to see these watches on the wrists of celebrities. The continued investment in research and innovation in the company enables the company to manufacture sensational yet highly functional and reliable timepieces.
Does Hublot have resale value?
Generally, most Hublot watches depreciate over time. However, there are some which hold their value and this depends on several factors;

The age of the watch – The older the watch is the more value it has to a vintage collector

The condition of the watch

Whether it is a limited edition or not – Hublot manufactures a lot of same-model watches in a year. This minimizes the possibility of these watches gaining value over time because they are readily available in the market

Design of the watch – Unless you own a uniquely designed Hublot (such as one with a gold case) your watch may not appreciate over time
Conclusion
Both Richard Mille and Hublot watches are elegant watches. A Richard Mille timepiece commands attention because people who can afford these watches (especially the limited edition ones) have a privileged social and financial standing in society. When a watch goes beyond the million-dollar mark and still sells out, you know the brand is respected and trusted.
Richard Mille has managed to keep their brand exclusive by releasing limited edition watches and employing ingenious marketing strategies. Noting that the two companies are less than half a century old, their achievement in the watchmaking industry is understated. They came to disrupt the industry with excellent timepieces that utilized innovative technology and carved a niche for themselves.
You will not be disappointed by any of the pieces you decide to buy from either company. If money is not a concern to you, I would advise you to go for a Richard Mille watch and get to share the sensation your favorite celebrity has when they are wearing a watch that could pay off your mortgage on their wrist.