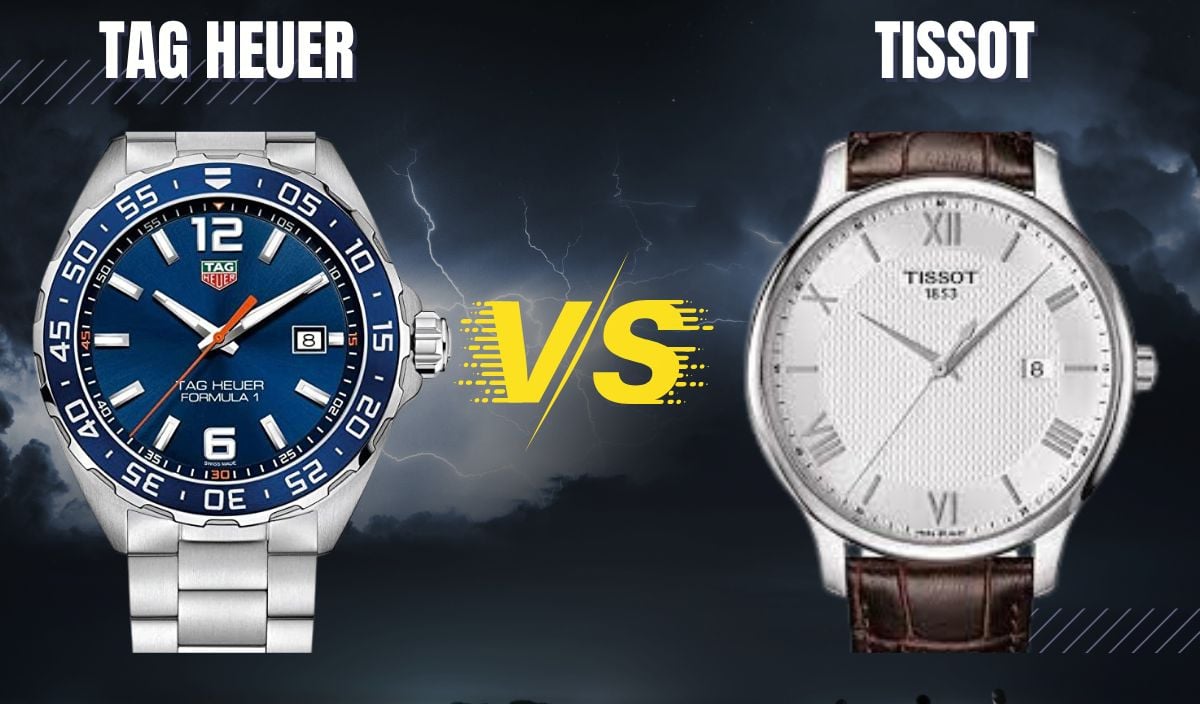 Tag Heuer vs. Tissot (STILL Undecided? Here's the In-Depth Comparison)
The following article will feature the comparison of the Tissot watch brand with that of Tag Heuer. Both companies were founded in the mid-1800s in Switzerland and have a rich history of marketing and brand promotion.
Foundations
Tissot began when the Tissot family, father, and son, established the brand in 1853. They enjoyed great success with the manufacture of pocket watches, which gained popularity worldwide. As their success gained momentum, more wrist watches were introduced offering swiss craftsmanship at an affordable price.
As electricity became more a part of everyday life, Tissot developed the first non-magnetic wristwatch in 1930. Since electricity adversely affected a watch's timekeeping precision by magnetizing the movement, this was a great and necessary advancement. Today, Tissot is widely renowned for its quality and affordability. The collection has a retail starting point of approximately $450.00 and offers a wide range of selections for both men and women in straps, bracelets, and even gold and steel/gold models.
Tag Heuer was founded in 1860 by Edouard Heuer and quickly became synonymous with high-precision instruments for measuring time. The company's reputation was forged by the development of high-speed mechanical, and eventually, automatic chronographs. Another milestone for Heuer was the release of the Mikrograph in 2011.
The Mikrograph is a self-winding chronograph with an accuracy of 1/100's of a second. This was the first of its kind for this degree of accuracy in a stopwatch. Tag Heuer has built a strong reputation in the racing world as a durable and accurate wristwatch. Albeit, in comparing the Tissot and Tag Heuer brands, the Heuer watches have a much higher retail entry price point and also offer a much narrower selection for women throughout the collection.
Tag Heuer Formula 1 Chronograph VS Tissot PRS516 Chronograph
With this preliminary background, I will compare one of Tag Heuers' most popular models, the Formula 1 with a comparable Tissot model to give the reader features to weigh in determining or helping make a decision in purchasing one or the other.
The Formula 1 quartz chronograph has a 43mm. Brushed steel case with a screw-down crown and water-resistant to 200m. It is outfitted with a brushed steel bracelet and a scratchproof sapphire crystal. The quartz movement reflects hours, minutes, and seconds, and also displays the date. The chronograph records seconds and 30-minute increments. It is available in both strap and bracelet models and retails in the $1650.00-$1850.00 range.
The Formula 1 chronograph is also available with a caliber 16 automatic movement with a 42-hour power reserve. The case of the automatic measures 44mm and is comprised of brushed and polished stainless steel with a ceramic bezel. It also has a screw-down crown and is water-resistant to 200m. This model is priced at approximately $3250.
If you have no interest in owning a chronograph, an analog Formula 1 with a quartz movement is available. This watch has a 41mm. Case and is available in both strap and bracelet, and in various colored dials and bezels. These timepieces have an entrance point of $1450.00. TAG Heuer® Official Website – Formula 1 Chronograph Watches | TAG Heuer US.
For comparison, after reviewing the Tissot collection, I have chosen the PRS516 Chronograph. As with the Tag Heuer Formula 1, this model is available in both quartz and automatic movements. The quartz model is made of 316L stainless steel and measures a diameter of 45mm and is water-resistant to 100m. It has a scratch-resistant sapphire crystal and a 4 jewel swiss movement with EOL (battery end-of-life indicator).
The chronograph features a central 60 seconds chronograph hand, 30 minutes and 1/10 of a second counter, and ADD and SPLIT functions. A very reasonable entrance price point of approximately $475.00 rounds out this offering. The automatic version shares many of the same attributes with its quartz counterpart.
Fundamental differences are that the sapphire crystal has a non-reflective coating, a ceramic bezel, and a see-through case back. The movement is a 27 jewel Swiss Valjoux A05 H31 automatic with a 68-hour power reserve. This model retails for $1895.00. TISSOT PRS Collection | Tissot® official website | Tissot
Conclusion: For affordability, the Tissot wins, but there are many subjective factors to consider. In either case, trying on either piece, aside from price, and determining the fit and finishes, and comfort on your wrist will go a long way in making a decision. The Heuer will most likely be perceived as a more prestigious choice, but I suggest you make your decision given the price, quality, and features.
Tag Heuer Carrera Dress Watch Vs Tissot Gentleman
In all fairness, I felt that comparing a more basic watch from each collection would offer a juxtaposition to the sportier chronographs previously compared. My choice here was the Heuer Carrera Dress Watch and the Tissot Gentleman.
The Heuer Carrera is dressier, may I even say a simpler model, but a very sleek and great-looking wristwatch. The Carrera is available with either a quartz or an automatic movement with the following attributes. The quartz model is marked by a 36mm. polished steel case. It is water-resistant to 100m. and available with a bracelet or with a strap and retails for $1900.
The automatic is available in either a date or a day/date model. The date model has a 39mm. Brushed and polished steel case and is water resistant to 100m. The accompanying bracelet has a steel folding push button clasp and is fitted with a caliber 5 movement with 38 hours of power in reserve. The date model with a strap retails for approx. $2750. in contrast, the bracelet option carries a retail of $2850.
The day/date selection has a 41mm. Case and a see-through back to admire the automatic movement. The watch shares the same caliber 5 movement with a 38-hour power reserve as the date model, and both are available in a limited selection of dial and strap colors. Though limited, each combination is captivating in its elegance, understatedness, and beauty. Luxury Sporty Watches for Men | TAG Heuer® Carrera – Official Site | TAG Heuer US
The Tissot Gentleman was a model that I felt was comparable in appearance and features to the Heuer Carrera. Here the comparison feels more like comparing apples to oranges when reviewing the quartz Gentleman. There is an abyss between the price points on each of these watches, to begin with. The strap version retails for $350.00 and the bracelet selection for $375.00.
The quartz movement is a basic swiss movement, and accurate for argument's sake, but it seems to be a lopsided comparison in examining the two timepieces side by side. Tissot Gentleman | Tissot. The gap is closed considerably in examining the Gentleman Powermatic 80 Silicium. This offering seems to be a much fairer contest when observing its features with the Carrera.
The watch has a 40mm. 316L stainless steel case and possesses water resistance to 100m. It has a domed scratch-resistant sapphire crystal with an anti-reflective coating and a see-through case back. The 25 jewel movement has an 80-hour power reserve and retails for $775.00. There is even a steel model available with an 18 kt. gold bezel that retails for approx. $1575.00.
Conclusion: For my taste, I prefer the Heuer Carrera but the Tissot Gentleman Powermatic 80 Silicium is a worthy consideration and as with all Tissot watches, a quality choice at an affordable price.
Tag Heuer Ladies Carrera VS Tissot T-My Lady
Both Tissot and Tag Heuer offer a wide range of women's watches with a predominance of quartz choices and some automatic alternatives. The entry price point for a lady's Tissot wristwatch is below $200.00 whereas any Tag Heuer is considerably higher. A woman can purchase a basic dress watch with a quartz movement for an exceptionally reasonable price and there is a much greater depth of selection than in the Tag Heuer brand.
In order to make a reasonable comparison between two similar or comparable models from each collection, I have chosen the Tissot T-My Lady and the Tag Heuer Ladies Carrera offerings. The T-My Lady is available in both quartz and an automatic version. The quartz model has a 3 jewel swiss movement with EOL, and a battery end-of-life indicator. It retails for $425.00. The automatic model has a 29.3mm case and is made of 316L stainless steel.
It is water resistant to 100m. And has a domed scratch-resistant sapphire crystal with a see-through back. It is powered by a 24-jewel swiss made movement with 48 hours of power reserve capacity. It retails for approximately $850.00. The Tag Heuer Ladies Carrera comprises about 40% of the lady's collection and ranges within approximate retail of $1700.00-$6300.00.
The quartz model comes in a 36mm. case with a single offering with a 32mm. case. The 32mm. retails for about $2400.00 and is adorned with a tastefully designed diamond dial. The 36mm. Styles are available in an all-polished stainless steel case with either strap (1900.00) or a steel bracelet ($2150.00). It is water resistant to 100m.
And there is a selection of variations with diamond dials or diamond bezels. The Carrera automatic is designed with a caliber 9 swiss movement and has a 40-hour power reserve capacity. These cases are 29mm. in diameter and have a starting point of $2500.00 retail. In addition, Tag Heuer has a relatively new selection of sporty women's watches roughly priced in the $1950.00-$3600.00 range.
These Aquaracers are manufactured with either a 30mm. Or a 36mm. Case with either quartz or automatic movements. They are adorned with rubber straps or stainless steel bracelets and in an array of dial colors. Are there better watch brands on the market compared to Tissot or Tag Heuer the definitive answer would be yes. But when making any comparison, one must consider price and an array of factors in agreeing or disagreeing with this point.
For an affordable, quality timepiece, Tissot definitely fills a niche and has a long history of watchmaking to back up the brand. The Tag Heuer brand is more expensive, and narrower in selection but has built a strong reputation over time within the racing world and with their chronograph models. If one would have to categorize either brand as a luxury brand, the scales are tilted in Heuer's favor.
Tag Heuer Vs Longines
The question has been posed as to how Tag Heuer watches stack up against the Longines brand. Here again, subjectivity must come into play in arriving at a conclusion. The Longines brand has a history that dates as far back as 1832, even though its founding date is 1867. Whether widely known or not by watch enthusiasts, Longines was a major contributor to the development of the chronograph which reflects a common thread between the two brands.
Today, the Longines brand has a reputation for fashionable, high-quality swiss timepieces. There is a much deeper selection of watches to choose from in either gents' or ladies' models and most of the collection is priced between $1000.00- $3000.00 retail. If you would like to compare similar styled and featured watches, then you might do some further research on the Longines Spirit Chronograph and do a side-by-side comparison with the equivalent Tag Heuer Formula 1.
Tissot for budget-conscious
Tissot is a great stylish choice if budget is a major determining factor in purchasing your first swiss watch. Along with affordability, there is a reasonable depth of selection earmarked by styles that should be attractive to most men and women. If your budget is less of a consideration, and especially if you are looking for a chronograph with brand recognition and the element of prestige, then the Tag Heuer would and should be a worthy consideration.
Even if you are not in the market for a sport or chronograph watch, the Carrera (mentioned in this article) is a reasonably priced and eye-catching watch that will surely satisfy your hunger for a high-quality swiss made watch and will draw compliments. The added ability to choose either a quartz or automatic movement, the options of either strap or bracelet models, coupled with dial and strap colors should make finding the perfect timepiece a surety.
I hope this article has provided a starting point in assisting you in choosing either a Tissot or Tag Heuer watch. There are many brands from which to choose your next timepiece but always remember to be subjective. If you are making a purchase for the sole purpose of status or recognizability, then the list of choices becomes greatly narrower, but if you are willing to be open-minded and patient and do your due diligence, there are many brands worthy of consideration due to their features, quality, etc. for your next purchase. Hoping your search bears fruit and you find the perfect timepiece.