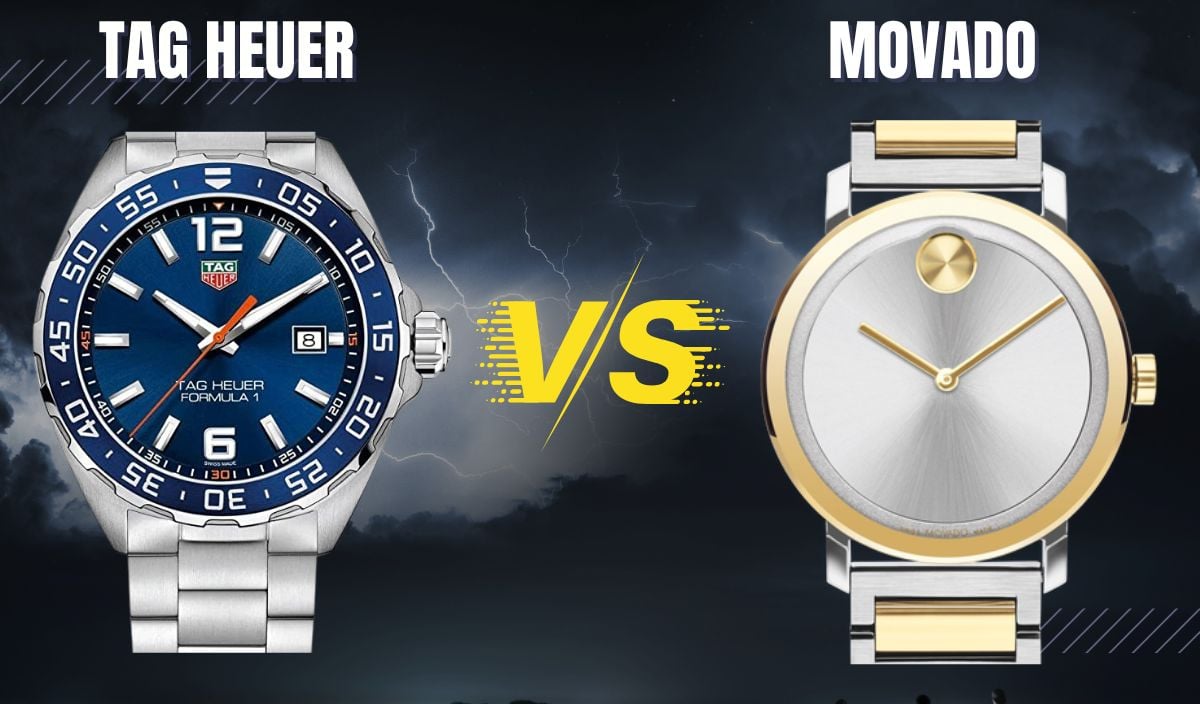 Tag Heuer vs. Movado Watches [EVERYTHING You Should Know!]
Which is a better watch brand – Tag Heuer vs Movado?
Tag Heuer and Movado are two vastly different watchmakers that offer plenty of value in their respective corners of the watch market. Both with a rich horological history, they have evolved over time and have continued to design luxurious and innovative timepieces. Tag Heuer has built a solid reputation around producing unpretentious luxury sports watches stemming from their ties with Formula 1 and Movado is known for their minimalist designs that exude sleek luxuriousness.
Today, both watch brands are producing a variety of timepieces that appeal to multiple areas of the market. From affordable quartz analog watches, to fine Swiss watches, and even smart watches, Tag Heuer and Movado are widely known across the watch market to have something for everyone.
Is Movado watch a higher end brand watch?
Movado has slowly moved more into the fashion watch side of the market. Starting as a high end Swiss watch brand, Movado has evolved to put more focus on their affordable timepieces and acquiring fashion watch brands in the U.S. Today, Movado owns 11 fashion watch brands and is the second largest American watch group. Over the past couple of years Movado has prioritized staying relevant in "a challenging and evolving landscape for both retail in general and the watch category in particular."
Unlike exclusive luxury brands like Rolex, Audemars Piguet, and Patek Philippe, Movado has transitioned into more of an e-commerce focused business model. Focused on growth, the goal of the company has been to "connect directly with consumers in the digital world", according to Movado CEO Efraim Grinberg who realized that in order to be an omni-channel player in the market they would have to go digital.
Grinberg, who inherited the company from his father who founded Movado group in 1983 after acquiring Movado, has shifted the business focus on growth and development across multiple segments. Movado, originally a luxury Swiss brand, has evolved into a watch brand that is more accessible to the average consumer. Compared to luxury brands in the market like Omega, Tag Heuer, and Mont Blanc, Movado is more affordable and more accessible to consumers.
Today, Movado is seen mostly as a fashion watch brand, appealing to millennials and watch enthusiasts who are looking to find a timepiece at an affordable price and without having to join a potentially lengthy waitlist for a highly sought after watch.
During the year of 1860, Edouard Heuer founded the Heuer Watch Company. His goal was to be at the forefront of horological innovation with his watch designs. Within 10 years of starting the company, Heuer started to file patents. In 1869 they filed the first patent for a keyless, crown-operated winding system for pocket watches. In 1882 Heuer patented the company's first chronograph. Amongst their first handful of patents was the oscillating pinion mechanism that is still being used by watchmakers today.
During the year of 1911 Heuer began their long standing relationship with the automotive and airline industries. They patented their first dashboard chronograph which served as catalyst for a season of rapid growth and development in the company. Only a couple years later in 1916 they patented the Micrograph, the world's most accurate stopwatch at the time. This patent led Heuer to building a partnership with the Olympics committee who made them the official timekeeper of the 1920 Olympics.
For the next couple of decades, Heuer continued to strengthen their ties with the automobile and airline industries. From producing chronographs designed specifically for pilots to more dashboard instruments, Heuer came out with the Autavia. This clock featured a timer function, could run for eight days on one full wind, and was the first watch designed for racecar drivers.
The year of 1985 was a monumental year for the Heuer Watch Company. They were acquired by a group under the name of Techniques d'Avant Garde and became the brand we know today, Tag Heuer. Despite being under a new name and leadership, Tag Heuer remained loyal to the automotive industry.
In 1992 they became the official timekeeper for Formula 1 racing. This partnership ultimately led to the Formula 1 collection from TAG. To this day the company has upheld their position in the market by continuing to innovate with their designs and mechanics.
Movado was founded during the year of 1881. Before operating under the name "Movado" the company was initially known as LAI Ditescheim & Freres SA. It wasn't until 1905 when the name "Movado" was introduced. A direct translation to the english phrase "always in motion", the new branding of the company set the tone for the next couple decades of Movado watchmaking.
From the beginning, Movado proved itself to be at the forefront of watchmaking by pushing innovation within its watch designs and operational strategy. They were one of the first watch companies to invest in electrically powered machinery which led to a boost in productivity and helped scale the business to increase its workforce and output.
As the company started to evolve, they came out with new technologies leading to patents that would help distinguish Movado as a leading watch maker in the industry. One of their most notable patents was filed in 1912. Movado introduced the Polypan, an incredibly ergonomic design that allowed the watch to conform to the natural curvature of the wrist.
The genius idea came from Isidore Ditesheim and the name Polypan was derived from the multi (poly) level shape of the movement. The Polypan movement was built in 3 distinct layers which allowed the watch to adopt a curved shape. A design like this was unheard of at the time and helped Movado stand out as a noticeable watchmaker in the Swiss watch industry.
Towards the end of the 1930's Movado introduced fully in-house chronograph movements to their timepiece portfolio. They designed the M90 and the M95 movements which differed by 1 subdial. The M90 had 2 sub-dials and the M95 had 3. The M90 was launched in 1938 and was produced until 1965. The M95 was launched just after the M90 in 1939 and was in production until the early 1970's.
At this point Movado began to partner with Zenith, a watchmaker known for designing the first chronograph movement. Movado resided within the European watch market well through the 1900's until the North American Watch Corporation acquired them in 1983. From there Movado crossed the pond and entered the U.S. market. Upon arrival, Movado instantly built a reputation for their sleek minimalist designs.
Their most popular design was the "Museum" line. Embodying minimalism, the watch only has one dot at the 12 mark and no other prominent features aside from the watch hands. This design is still one of, if not the, most popular designs from Movado.
In 2018, Movado acquired the fashion watch brand MVMT. MVMT is a fashion watch brand that manufactures modern yet simplistic affordable timepieces for those who aren't keen on spending a fortune on a watch. Movado, having history in fine Swiss watchmaking, has evolved to become a brand that produces both luxury and fashion watches.
How long do Movado watches last?
Movado produces watches with a couple different movements. In their fashion watch lines, the quartz analogs will house a 1.55 Volt battery that is specifically designed for watches and will last 18-36 months under normal use. A great reason to buy a quartz watch is that when the battery dies they can be easily replaced at a low cost. By keeping your watch in good condition and replacing the battery when needed, you can extend the life of your watch by a lifetime.
The other movement that is housed in Movado's higher end watches is the ETA 2824-2 Swiss automatic movement. This movement has shock protection, quick set date, and a 40 hour power reserve. An automatic watch is powered by the kinetic movement of the wearer's wrist and will run depending on how often it is being worn.
Automatic movements, if being worn regularly, will need to be serviced every 5-7 years. When servicing an automatic watch, the watchmaker will disassemble the movement, clean it, and put it back together. If your watch is regularly serviced it will last a lifetime. Swiss movements are more intricate and costly to design and service but deliver high accuracy timekeeping and potential to last for many decades.
By offering both quartz analog and Swiss automatic watches, Movado has made it very accessible for watch enthusiasts to buy into the brand at a range of price points. From affordable quartz to fine Swiss movements, your Movado watch has the potential to last a lifetime.
Is Movado Swiss made?
Movado produces a wide range of timepieces. On the fashion watch side of the house Movado utilizes quartz analogs housing Citizen Miyota movements. These movements are usually between $95 to $195 which allows Movado to produce more and have affordable options for watch enthusiasts on a budget. Movado still produces higher end watches that are in the entry level swiss segment. These watches cost up to $2,500 and contain a Swiss automatic movement.
Is Movado a luxury brand?
Movado primarily competes in the "accessible luxury" segment of the watch market. A majority of their timepieces range from $500 to $2,500. This area of the market allows consumers to purchase a timepiece at a comfortable, affordable price but also have access to pieces that are closer to the entry level luxury pricing. Aside from MVMT, Movado also owns seven other fashion watch licenses under brands like Coach, Lacoste, and Tommy Hilfiger.
In the last couple years these fashion watch segments accounted for almost half of their watch sales in total. Most pieces ranging from $75 to $500, these timepieces are categorized under the fashion watch segment of Movado. The goal for Movado was to offer "radically fair prices" to give more accessibility to millennials on a budget.
The brand isn't afraid to dabble in this segment of the market which takes focus off their luxury pieces and higher end watch production. Movado has created a certain niche in the watch market that allows them to be viewed as a luxury brand to some as well as a fashion watch brand to others.
After comparing the history, strategy, and reputation of both Movado and Tag Heuer, we'll let you decide which brand is more appropriate for your taste and budget. Both brands have a rich history that allow the wearer to bear a timepiece from a watchmaker that has held strong to the test of time. From affordable quartz watches to fine Swiss pieces, you'll be sure to find a watch that best fits your needs, style, and budget.