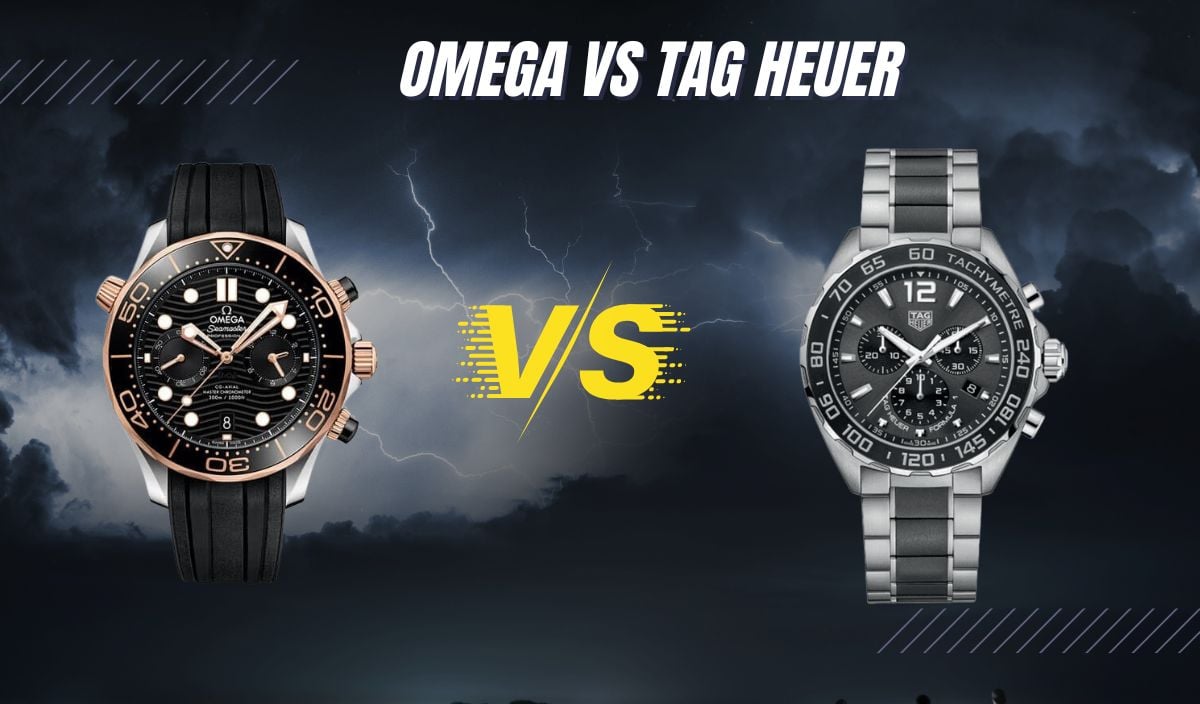 Omega Vs. Tag Heuer Watches | Value, Designs, Features & MORE
Omega…the 2nd most recognized Swiss watch brand in the world, with approximately 70% international brand recognition goes head to head in this epic comparison with Tag Heuer; the holy grail watch brand that is known for its mechanical precision and modern super complications. Which is the better luxury watch brand? Easy question, complicated answer.
In the world of luxury watches, brands like Rolex, Patek Philippe, Audemars Piguet, and of course, Omega have often stayed on the top ranks thanks to their timepieces coming with a skillful blend of bold design and classic elegance. But TAG Heuer…there's something about this brand. Apart from often being seen as an anomaly, it seems to just be in a league of its own with its collections boldly illustrating the quintessence of Swiss know-how.
Whether you're a collector or you're a newbie in the watch market who is wondering "What's better, an Omega or a TAG Heuer watch?" You have come to the right place as this in-depth comparison of Omega and TAG Heuer watches will provide you with enough data to allow you to determine for yourself if Omega or TAG Heuer is the best brand for you. Let's begin, shall we?
Which brand is better, Omega or TAG Heuer?
Omega and TAG Heuer use different approaches to watchmaking but some similarities ought to be appreciated between both brands. For instance, both Omega and TAG Heuer produce some of the world's most famous accurate timepieces and have both been the official timekeepers for the Olympics due to their high-precision timepieces and both watches have been to space.
Though a lot of people know that about Omega's Speedmaster ref. CK 2998 getting to space when astronaut Walter Schirra wore the watch during the 'Sigma 7' mission of the Mercury Programme in 1962, it's interesting to note that in the same year (1962), TAG Heuer became the first Swiss watchmaker in space when John Glenn wore a Heuer stopwatch as he piloted the Mercury-Atlas 6 spacecraft on the first US crewed space flight to orbit the earth.
When it comes to sports, Omega served as the Official Timekeeper at 29 Olympic Games throughout the 20th and 21st centuries while TAG Heuer has been the supplier of chronographs for the Olympic Games and official timekeeper of three games during the 1920s as well as timing motorsports, athletic and sailing events.
From NASA to the Olympics, Omega has been a world leader in advanced watch design for over 150 years with a record of building iconic timepieces for diving, timing, and resisting electromagnetic fields. TAG Heuer has also followed closely and established itself as an industry expert in timing sporting events.
For instance, if we compare Tag Heuer Aquaracer vs Omega Seamaster, both automatic dive watches with similar functions, you'll find that the only discrepancy is the price, movement/caliber, and the fact that the Seamaster has better accuracy because of its outstanding mechanical features. So both are quality brands with Tag being more affordable and readily available!
Omega vs Tag Heuer
Tag Heuer's Story
It's remarkable how closely the histories of the two brands mirror each other. Tag Heuer was founded in 1860 by Edouard Heuer just twelve years after the establishment of Omega. The name TAG Heuer combines the initials of "Techniques d'Avant Garde" (This is a French term for an art movement that breaks boundaries, innovates on techniques, or challenges the norm with radical ideas) and the founder's surname.
It began in a workshop where Edouard Heuer used to manufacture silver pocket watches in La Chaux-de-Fonds Switzerland. TAG Heuer started as Heuer Watchmaking Inc. with Edouard Heuer patenting unique mechanisms that are still being used by major watchmakers of mechanical chronographs today. After his first chronograph, the patented oscillating pinion followed in 1887 and five years later Charles and Jules Heuer took over the family business.
With their administration came a new focus on the production of specialty watches so from 1911, Heuer began manufacturing timepieces that could be mounted on the dashboards of automobiles, aircraft, and boats including timing devices for ski and motor racing events.
The watches would show the time of day, as well as the duration of the trip and in 1914, the first wrist-worn chronograph by the brand was launched, followed by the "Semikrograph", a stopwatch that offered 1/50 of a second timing, as well as a split-second function and the "Mikrograph", the first stopwatch accurate to 1/100 of a second.
It was a super timer, ideal for measuring the flight time of artillery projectiles with a balance wheel that vibrated at an unbelievable frequency of 360,000 vibrations per hour. During World War II, the brand began producing watches for the Luftwaffe, known as "Flieger" or pilot's chronographs, and following the success of the Flieger, It expanded Its chronograph offerings to those with multiple sub-dials, triple calendar chronographs that came in stainless steel and karat gold cases.
By the 1960s, Heuer's timepieces were so thoroughly intertwined with auto racing and aviation that it was hard to find a timepiece linked to racing from that era in which his logo wasn't visible. His chronographs boomed in popularity from the 1950s to the 1970s and had become popular among automobile racers, both professionals and amateurs with models like the Carrera, Autavia, and Monaco quickly earning followership.
Following the Quartz Crisis of the 1970s, Heuer Watchmaking Inc. was acquired by the TAG Group, Techniques d'Avant Garde, manufacturers of high-tech items such as ceramic turbochargers for Formula One cars adding the name TAG in 1985. Its ownership again changed when it was bought in 1999 by LVMH for a staggering $740 million.
TAG Heuer Milestones;
1860: Edouard Heuer founded the business and named it Uhrenmanufaktur Heuer AG.
1882: The first Heuer stopwatch ever is introduced.
1887: Heuer invents the oscillating pinion
1911: Heuer receives a patent for the "Time of Trip" dashboard chronograph.
1916: Charles-Auguste Heuer, the son of Edouard introduces the Mikrograph and Semikrograph taking stopwatches from 1/5 second to displays of 1/50 and 1/100 second.
1920: Official timekeeper of the Antwerp
1962: John Glenn flies the Mercury "Friendship 7" mission with a Heuer 2915A stopwatch on his wrist.
1962: Release of the Autavia wristwatch
1963: Release of the Carerra collection after the Carerra Panamericana road race.
1969: Heuer launches the Caliber 11 movement, the first automatic winding chronograph caliber.
Omega's story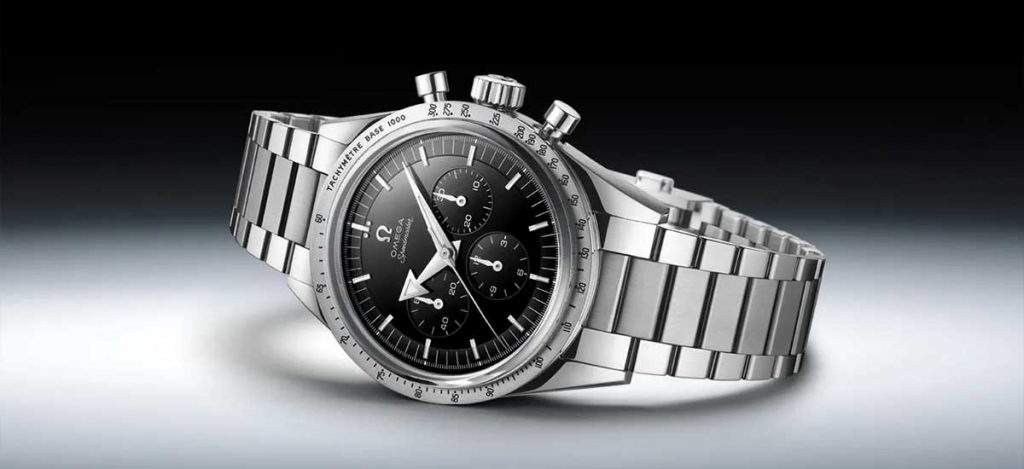 Omega had been on the scene a decade before Tag Heuer showed up. Known for Its sporty chronographs, professional dive watches, and co-axial movements, the Swiss luxury watchmaker was founded in 1848 by Louis Brandt in La Chaux-de-Fonds, Switzerland, and boasts of many award-winning timepieces.
It started with Louis Brandt assembling key-wound precision pocket watches from parts supplied by local craftsmen and marketing them under La Generale Watch Co. He aimed to create highly accurate timepieces, and this desire passed on to Louis-Paul and César his sons, who picked up from where he left off following his death in 1879.
In 1892, Louis Brandt produced the world's first-minute repeating wristwatch, followed by the first tourbillon wristwatch caliber in the world. During the First World War, Omega established itself as an innovator in timekeeping and was used by Britain's Royal Flying Corps for its combat units. Its reputation was solidified after this and in 1918 the U.S. Army followed the actions of the Brits making Omega a go-to brand when high precision in timekeeping was needed.
Just like Tag Heuer, Omega shifted its focus to making wrist and pocket watches in 1940, and in 1947, It created the first tourbillon wristwatch caliber in the world Its prowess in designing and regulating movements was largely a success because it had incorporated new chronometric innovations. Today, OMEGA continues to innovate and develop highly accurate timepieces and has been the official timekeeper of the Olympics since 1932.
OMEGA's Milestones;
1848: Louis Brandt founded the company and named it La Generale Watch Co.
1892: World's first-minute repeating wristwatch is produced.
1900: First serial production of wristwatches begins.
1903: Company is renamed Omega, a Greek word depicting 'finality' in accuracy and reliability, following the success of the 19-ligne caliber,
movement.
1999: The first wrist chronometer with a co-axial escapement is launched.
1932: Omega begins timing all of the events at the Summer Olympic Games in Los Angeles.
1948: 1st place at observatory trial in Neuenburg for 30mm caliber
1950: 1st place for tourbillon Cal. 30I at Geneva Trials.
1965: Omega's Speedmaster is declared Flight Qualified for all Manned Space Missions.
1969: NASA Astronaut Buzz Aldrin wears the Omega Speedmaster mechanical chronograph to the moon, making it the first watch to land on the moon.
1974: Omega Marine Chronometer certified as the world's first Marine Chronometer wristwatch that is accurate to 12 seconds per year.
2013: Development of timepieces with high resistance to magnetic fields such as the Seamaster Aqua Terra.
Reputation
Both brands come with a rich legacy across the technological, luxury, and sports industries but when it comes to recognition, Omega is a brand that is recognized worldwide and is coveted for its precision and quality with the largest production of luxury watches in Switzerland (Omega creates over 240,000 luxury watches every year).
While TAG Heuer produces decent, iconic watches like the Carrera and Monaco, they do not invoke the image of luxury like Omega and are not officially recognized as a luxury watch brand. When it comes to ranking, Omega has claimed the top second spot in the watch model ranking just behind Rolex, thanks to the Seamaster and Speedmaster, and has enjoyed massive recognition, status, and respect for over 50 years.
TAG Heuer on the other hand is the 12th most recognized watch brand from Switzerland and currently holds the 34th most popular and valuable Swiss brand in the top 50 according to a report by Morgan Stanley with an estimated brand value of 76 Million CHF.
Accuracy
In the watch world, the COSC certification has been the standard for judging the accuracy of watches. To be COSC Certified, a watch has to be accurate to -4 to +6 seconds a day, in addition to being Swiss-made and manufactured from the highest quality materials. Omega's watches are COSC certified with its Master Chronometer timepieces having an accuracy of up to -0/+5 seconds per day.
Some TAG Heuer's mechanical watches also have a COSC certification and are accurate enough to be one of the world's most accurate timing instruments in motor racing. The Calibre 5 accuracy for instance is +/- 12 seconds per day. Omega also pulled through the Swiss Federal Institute of Metrology certification process, which Tag Heuer failed to achieve.
Since magnetic fields have always been known to interfere with a watch's movement and reduce a watch's timekeeping accuracy, Omega accomplished a great stride by pioneering the use of non-magnetic silicon in Its Si 14 balance so even with Tag Heuer's technical advancement, Its best watches cannot resist a magnetic field of 15 000 gauss like OMEGA's Seamaster Aqua Terra
Style and Craftsmanship
Both brands offer a variety of styles. While Omega offers a luxe gait with classic retro designs, TAG Heuer is very influenced by racing and motorsports and many of its watches come with a sturdy and sporty aesthetic. Omega is a trailblazer when it comes to craftsmanship and materials, as it offers numerous models in its proprietary gold alloys.
The Canopus and Moonshine gold are iconic examples. From stylish and elegant dress watches in the Aqua Terra line to Omega's most popular flagship model namely the Speedmaster Professional Moonwatch, Omega is famous for crafting highly shock-resistant timepieces with innovative materials such as Canopus gold and O-Megasteel which do have a timeless style but Omega's designs are not as 'eye-catching' as Tag Heuer's.
Movements and Complications
OMEGA produces watches with both quartz and mechanical movements and offers timepieces with annual calendars, world time displays, tourbillons, and skeletonized movements. After launching its first watch with the co-axial movement in 1999, the co-axial escapement is being incorporated into almost all of its timepieces. Many of Tag Heuer's best-selling non-chronograph watches (Aquaracers and Carrera) have Tag Heuer's Caliber 5 movement which is all based on ETA and Sellita movements.
Depending on the model and price, different movements apply. TAG Heuer Monaco for instance uses a modified Sellita SW300 or ETA 2892 with an added chronograph module while the new Autavia features a modified ETA 2824 movement that TAG Heuer equips with their proprietary Isograph balance made from a special anti-magnetic composite material.
Omega goes further than Tag to beautify its movements with different fittings such as extra jewels, Coaxial escapement, free-sprung balance, etc making Its timepieces more accurate but also more expensive to repair, and a bit problematic.
Popularity and Pricing
TAG Heuer as a brand appeals to various segments of the market and caters for different classes of people. As a result of a huge commercial presence and numerous media endorsements, they are popular but do not share Omega's popularity as Omega is renowned for maintaining high-quality standards for all the products it creates, and its catalog is home to many of the world's most famous wristwatches.
When it comes to prices, the Aqua Terra collection is the most affordable entry-point Omega model watch with prices starting from around 4,000 USD. Popular chronographs from the Speedmaster collection can be gotten for 6,000 USD while top Omega models like the rose-gold De Ville Tourbillon command as high as 120,000 USD.
The price range for TAG Heuer timepieces varies greatly by model and year of production, but TAG Heuer is generally more affordable than Omega. Quartz calibers from the late 1980s can be gotten from 250 USD, while prices for a Carrera range from around 1,200 USD to over 71,000 USD for a chronograph with the tourbillon caliber Heuer 02T and a diamond-studded bezel.
Omega vs Tag Heuer Quality
TAG Heuer is especially known for chronographs, and it's a giant in the watchmaking world but Omega watches are considered to be of higher quality. The quality of an Omega watch is easily demonstrated by the amount of time it takes to create one. The Tourbillon luxury watch for instance is a work of art that takes 500 hours to craft. If you are searching for quality smartwatches, TAG Heuer is your best bet.
From built-in GPS, heart-rate monitor, accelerometer, compass, and gyroscope to TAG Heuer's golf watch that comes with a custom-built app that tracks each shot and displays distances to greens and hazards, TAG Heuer has stepped boldly into quality tech watches but not Omega. Omega remains the top luxury watch with a timeless classical aesthetic and robust movement that has not ventured into Tech.
Resale Value
Though many variables such as the make and model, condition of the timepiece, rarity, demand, and so on contribute to determining the resale value of a timepiece, high-end luxury watches often tend to hold a high resale value over time. Thus brands like Omega will typically see a higher average resale value than TAG Heuer.
Warranty
Shortly after Omega introduced Co-Axial escapement into its movement, the brand extended its warranty period to 5 years. TAG Heuer still offers a 2 years warranty on all its timepieces as do most watch brands.
Omega Speedmaster vs Tag Heuer Carrera
TAG Heuer is known for three main chronograph models. They are the Carrera, a sleek and compact option, The Autavia, a contraction of AUTomobile and AVIAtion, designed to service passion from both worlds, and the Monaco. An instantly recognizable square chronograph watch famously worn by Steve McQueen in the 1971 film "Le Mans".
The first watch that comes to mind when mentioning OMEGA is the Speedmaster also known as the Moonwatch or the first omega in space and the only watch approved by NASA for manned space flights after a grueling series of tests. Tag Heuer Carrera and Omega Speedmaster are one of the best models of these respected brands and both come with unique features.
A major difference is that Carrera has timepieces that bring more appeal to the eye with better-looking bezels while Omega Speedmaster sticks to a timeless elegance and design that has not changed for over 60 years. Tag Heuer Carrera was designed by Jack Heuer, the great-grandson of Edouard Heuer in 1963, six years after the Speedmaster was introduced.
Closely associated with the world of racing, the Carrera was named after an extremely dangerous race, "Carrera Panamericana" that ran on public roads in Mexico from 1950 to 1954. Both collections are extraordinarily vast, and so too is their pricing.
The most expensive Carrera is the Plasma Tourbillon Nanograph, which sold for about 375 000 USD, powered by the Nanograph movement, and boasts a dial made completely of polycrystalline, lab-grown diamonds. While the most affordable Speedmaster model is the Date Automatic, which can be gotten for around 2,600 USD.
Tag Heuer Carrera Pros
Iconic watches with a cutting-edge legacy.
In-house Heuer 02 or Calibre 1887 chronograph movement powers the watches.
Many designs and material options with numerous coveted vintage models that have the potential to appreciate in value.
Some of the models are waterproof up to 100 meters.
Dials are presented with proper legibility and melded sporty elements
Parallel and elongated lugs that feel solid and sturdy on the wrist, allowing for a more compact feel, plus metal crowns for an elegant yet sporty look
42-hour power reserve ( the Carrera Calibre Heuer 02 Automatic Chronograph has a stunning power reserve of 80 hours, an in-house caliber and tourbillon Caliber 7 Twin-Time with a GMT function)
Cons
When it comes to comfort, the Speedmaster offers more comfort to the wearer. The Carrera is thick and somewhat heavy and isn't recommended for everyday use.
TAG Heuer Carrera watches come with well-beveled lugs that slant downwards, giving them a bulkier look.
Extremely sharp clasp.
Omega Speedmaster Pros
Legendary chronograph series with a cult status that will never lose its charm.
Co-Axial Master Chronometer with magnetic resistance of up to 15,000 gauss.
Limited editions with the potential to increase in value.
Power Reserve of 48 hours.
Better accuracy and build quality than the Carrera.
Timeless design. (It is the only sports chronograph that looks exactly like the original model)
Cons
No micro-adjust on the bracelet clasp so the watch bracelet cannot be modified to fit your wrist.
Lackluster bracelet.
Hesalite crystal scratches easily.
FAQ
Is Omega more expensive than TAG Heuer?
Yes. Omega watches tend to be more expensive than TAG Heuer because they are a more luxurious brand. In addition to being a more dominant brand in the luxury timepiece industry, , OMEGA watches are highly popular and come with a respected history.
Are Tag Heuer and Omega overpriced?
Both Tag Heuer and Omega offer value for their timepieces and their watches come with impeccable quality made with some of the most expensive and valuable metals and stones, so you simply get what you pay for.