TAG Heuer Watches Review: Are They Any Good? (Style Meets Heritage!)
TAG Heuer isn't like other Swiss watch brands in many ways. It is easy to segment the heavy hitters and lightweight brands in the world of Horology but not TAG Heuer. Collectors do not view the brand in the league of Rolex, Patek Philippe, or Vacheron Constantin, nor is it categorized with brands like Swatch, Tissot, and Citizen.
For over 150 years, TAG Heuer has distinguished itself from the rest by focusing on the motorsport niche and manufacturing valuable tools, earning a world-famous status and a cult following.
The Swiss brand does not only limit itself to the racetrack but offers a comprehensive collection of modern watches for water sports enthusiasts and divers in the Aquaracer collection. But are TAG Heuer watches any good? And are they on par with other luxury Swiss watchmakers?
Below you will find a comprehensive and easy-to-digest answer to these questions, so read on to discover answers to these and more.
About TAG Heuer Watches
Since its inception in 1860, TAG Heuer has embodied avant-garde technicalities and designs that have caught the attention of the vehicle and aeronautic world.
Best known for its unrivaled chronographs in terms of precision and quality, the internationally-renowned Swiss Marque has a storied history of creating both classic and trendy timepieces.
From being the first Swiss watch brand in space to launching the Caliber 11 movement, which earned it the maker of the first automatic winding chronograph caliber status, TAG Heuer has constantly pushed the boundaries of the status quo.
Its signature materials and craftsmanship can be read in the brand's motto, " Swiss Avant-garde since 1860". TAG stands for Techniques D'avant Garde, and this statement holds for the brand. Not only is TAG Heuer known to manufacture Haute Horlogerie timepieces, but It also has entire departments devoted to producing these highly innovative watches.
The company is headquartered in La Chaux-de-Fonds, Switzerland but also functions in three other production sites. Quality practices are strictly adhered to, and all TAG Heuer watches are put together in a carefully controlled environment where the air is filtered.
The design process is also superlative as 3D modeling of the watch's exterior is often carried out to give the timepiece a realistic look that showcases the materials used in designing the watch in detail. High-quality texturing and ground-breaking pad printing machines are utilized to apply different colors to the dial's surface, making all of them very enthralling.
The TAG Heuer Monaco and the TAG Heuer Carrera are the most popular and best-selling collections that have gained cult status among TAG Heuer enthusiasts because of their sporty and avant-garde designs.
TAG Heuer also produces smartwatches. In 2015, the TAG Heuer Connected was launched at BaselWorld. The timepiece runs on the Android Wear operating system and brings its application, allowing you to customize the face of the smartwatch.
Fashion doesn't have to take a toll on the planet and the eco-friendly brand has been ahead of the game with its sustainability initiatives. Every year, TAG Heuer promotes sustainable practices in its manufacturing process that reduces waste and energy consumption.
Remnants of brass from milling and machining are recycled and solar energy is utilized whenever possible to reduce their carbon emissions. The brand also has a long history of supporting conservation projects.
Watch enthusiasts recognize TAG Heuer as a brand with tons of Haute Horlogerie timepieces and very precise chronographs with superior performance and accuracy.
The release of the Mikrograph; a mechanical chronograph that is five times more accurate than other chronograph watches earned it the respect of sports lovers all over the world.
The fact that the Swiss Marque offers affordable, sporty, durable, and very colorful watches that are perfect for timekeeping, makes it desirable for people who want a masterful blend of elegance and performance.
In the collector community, there has been an increasing appreciation for the brand's chronographs, and its watches hold a special place in the hearts of racing fans all over the world.
The History Of Tag Heuer
The story of TAG Heuer begins in 1860 with Edouard Heuer establishing his eponymous watch manufacturing company, Uhrenmanufaktur Heuer AG in St-Imier, Switzerland. Back then, it was only named Heuer and he spent the first 20 years establishing a reputation and acquiring unique patents.
Some of them include his first crown-operated winding system for pocket watches, his first chronograph, an "oscillating pinion", and his first dashboard chronograph, which he patented in 1869, 1882, 1887, and 1911 respectively.
Edouard Heuer passed away in 1892 and Jules-Edouard and Charles-Auguste, his sons, took over from where he left off. At this time, Heuer was becoming very famous for producing chronographs, and by 1914, their first wrist-worn chronograph was released.
Two years after its launch, the "Mikrograph", believed to be introduced by Charles-Auguste, hit the market. The Mikrograph was the first stopwatch accurate to 1/100 of a second and was quickly followed by the "Semikrograph", another stopwatch that provided a split-second function and 1/50 of a second timing.
The company continued to expand rapidly over the next few years, fueled by its partnership with Henri Freund & Bros. who specifically sold out Heuer watches in America. Due to the accuracy of its productions, Heuer established a strong reputation and relationship with the world of sports.
In 1933, the "Autavia" (taken from "AUTos" and "AVIAtion") was introduced. It was a dashboard timer used for automobiles and aviation, and from 1935 onwards, many superlative chronographs were launched. Through the early 1940s, for instance, the brand manufactured accurate and durable chronographs for pilots, known as "Flieger" chronographs.
As a result of these iconic patented inventions, Heuer was designated official timekeeper for the Olympic Games for many years. Their watches continued to be highly popular among automobile racers throughout the 1950s to 1970s, so much so that it's hard to find a picture of Formula 1 or GT racing from that period in which Heuer's logo is entirely absent.
The company became a leading producer of stopwatches and timing equipment and its split-second pocket chronographs were selected as the official stopwatches for various games. In 1962, John Glenn wore Heuer's stopwatch as he piloted the Mercury-Atlas 6 spacecraft on the first US-crewed space flight to orbit the Earth.
The Quartz Crisis of the 1970s forced the company to go up for sale leading to the acquisition of Heuer in 1985. TAG (Techniques d'Avant Garde), producers of high-tech equipment for Formula One cars, acquired the brand, and that was when the name changed to TAG Heuer
Right before the new millennium, TAG Heuer was acquired by LVMH. This measure would allow enough capital to be pumped in to revive the brand's leading-edge technologies and avant-garde designs.
Today, TAG Heuer offers a wide range of exceptional timepieces that reveal the very essence of Swiss watchmaking expertise.
The brand is known across the globe for combining high standards with bold aesthetics in the production of contemporary watches. It has stayed true to its commitment to the world of sport, particularly motor racing. It has adorned the wrists of many famous people including Cristiano Ronaldo, Leonardo DiCaprio, and Chris Hemsworth.
Are TAG Heuer Watches Good?
Through innovation, precision, and ingenuity, TAG Heuer has gained widespread popularity thanks to its credible and reliable timepieces that are not just 'good' but elegant, sporty, and stylish.
TAG Heuer's engineers have engraved the brand's history on chronograph innovation. The brand is known to utilize materials from the motorsport and aerospace industries, reaffirming its motto, "Avant-Garde since 1860".
From producing the most iconic self-winding chronographs ever to maintaining the de facto standard of the racing world through the 1960s, TAG Heuer watches are good for many reasons. Apart from offering excellent value-for-money timepieces, they also devote years to designing and constructing complex watches.
Here are 5 reasons why TAG Heuer watches are good.
Historic Swiss Watch Brand
Swiss watches are synonymous with high quality, precision pedigree, and luxury. Just as the Germans are lauded for producing the best cars in the world, Switzerland has the image of Haute Horology artisanal craftsmanship, commitment to superior quality, and a distinguished history.
TAG Heuer is a Swiss watch brand that persisted in mastering fine watchmaking despite a long and challenging journey. The brand has long pursued horological innovation and has shown utmost dedication to its careers in timekeeping excellence.
When you wear a TAG Heuer watch on your wrist, you are putting on over one hundred and fifty years of fine watchmaking tradition, and that is something that cannot be replicated.
If you purchase a TAG Heuer watch, you should be at peace knowing that it is made up of high-quality components and will last for generations to come.
TAG Heuer also uses cutting-edge materials, so all of its watches are least likely to fade over time and less susceptible to wear and tear. Many watch enthusiasts do not only buy TAG Heuer's watches due to their prestige but because of the care that goes into their production too.
A lot of TAG Heuer's ambassadors include A-list models, top actors, and world-class athletes, who epitomize this exclusive picture of high prestige, quality, and luxury. From the likes of Ryan Gosling to Tommy Fleetwood, TAG Heuer is a Swiss watch brand that epitomizes luxury in the world of Horology.
Swiss watches will forever be the epitome of exquisite craftsmanship, revered in the world of Horology. TAG Heuer continues to uphold the great traditions and expertise of Swiss haute horlogerie, backed by a rich history, groundbreaking innovations, precision, and artistry.
Wide Variety Of Models
TAG Heuer boasts legendary watch models across different collections. The brand has always prided itself on producing high-quality chronograph watches at affordable prices. However, since the release of the first wrist chronograph in 1914, TAG Heuer has been steadily expanding its iconic watch collections with timepieces that boast elegant designs inspired by classics from TAG Heuer's long history of innovation.
The watchmaker's catalog can be divided into six main collections. The first, also the most popular, is the 1960s-inspired TAG Heuer Carrera collection, which has been available worldwide since 1963.
The Carrera is also home to various chronographs, high-end timepieces with skeletonization or intricate decorations, and automatic three-hand watches with a date display. It is also home to exquisite models that feature titanium and ceramic cases with diamond-set bezels.
The square-shaped TAG Heuer Monaco is next and is a world-famous historical model put in the spotlight by Steve McQueen after he wore one in the film "Le Mans." Many of the watches found here bear a strong resemblance to their iconic predecessor, the very first Monaco from 1969.
TAG Heuer's motor-racing-inspired collection, Formula 1, represents the entry point into the world of the brand's Horological prowess. The collection is also packed with bold watches for adventurers who dare to live life at full speed.
There is also the TAG Heuer Autavia collection with elegant watches and special-edition pieces for collectors. Then you have the Aquaracer, Link, and Connected collections, which all contain affordable, robust, and ultra-functional timepieces.
Affordable Luxury Swiss Watches
Every Swiss watchmaker works hard to maintain the prestigious "Swiss-made" reputation, which is synonymous with exclusivity, outstanding quality, status, accuracy, and prestige.
This comes at a price which is why many Swiss-made timepieces command higher prices than those made elsewhere. TAG Heuer is one of the few Swiss watch manufacturers to offer highly accurate and durable watches at the more affordable end of the luxury watch spectrum.
Iconic Watch Designs
For over 150 years, TAG Heuer has distinguished itself from other brands by releasing exquisitely designed timepieces with timeless elegance. All of its watches are the product of extensive research, precision, and artistry.
That being said, the brand offers a vast array of iconic pieces, from sporty models with contemporary designs to highly-skeletonized and futuristic dials in a wide variety of colors.
Whether you want a casual/downright playful timepiece or love the charm of classic watches but desire a touch of modern design, TAG Heuer has got you covered.
Great In-House Movements
A movement is considered to be "in-house" if the caliber is developed and manufactured by the watch company rather than outsourced to another company.
In 2010, TAG Heuer produced its first in-house chronograph movement, the Caliber 1887. Since then, the brand has demonstrated commitment to the innovative traditions of haute horlogerie by designing and constructing complex movements with multiple complications.
One such is a COSC-certified movement, the caliber Heuer 02, with an accuracy rating of -3/+5 Seconds per day and 80 hours of power reserve.
Most Notable TAG Heuer Watch Collections
TAG Heuer has established itself as a true pioneer in the watchmaking industry. The brand has garnered immense popularity through its diverse range of collections, each bearing its own distinct identity and purpose.
Let's take a closer look at the five most popular TAG Heuer collections that have captivated the hearts of watch enthusiasts worldwide: Carrera, Aquaracer, Monaco, Autavia, and Formula 1.
The Carrera collection from TAG Heuer embodies the brand's racing heritage and commitment to precision timekeeping. Its origins can be traced back to the legendary Carrera Panamericana, a dangerous and demanding road race held in Mexico during the 1950s. This grueling race, known for its treacherous conditions, inspired the creation of the Carrera watch, which aimed to provide drivers with a reliable and accurate timekeeping instrument.
The Carrera collection's name, which means "race" in Spanish, perfectly captures the spirit of high-speed racing. Its design combines sportiness and elegance, making it suitable for both professional racers and watch enthusiasts. With its clean lines, refined aesthetics, and innovative technology, the Carrera collection has become one of the most iconic and recognizable watch families in the world.
Notable models within the Carrera collection:
Carrera Caliber 16: The Carrera Caliber 16 exemplifies the essence of the collection with its powerful and robust design. It features a chronograph function, allowing users to measure elapsed time, and often includes additional complications such as a date display and a tachymeter scale for speed calculations. The Caliber 16 movement powers this timepiece, known for its reliability and precision.
Carrera Caliber 5: The Carrera Caliber 5 is a more understated and versatile option within the collection. It showcases a clean and classic dial design, often with a date display at the 3 o'clock position. This model is powered by the Caliber 5 movement, offering accurate timekeeping and a generous power reserve.
Carrera Caliber 1887: The Carrera Caliber 1887 pays homage to TAG Heuer's rich heritage in watchmaking. It takes its name from the year when Edouard Heuer, the founder of TAG Heuer, patented the oscillating pinion, a revolutionary invention in chronograph mechanisms. This model features the Caliber 1887 movement, which offers precise timekeeping along with a chronograph function and a date display.
Carrera Caliber Heuer 02T: The Carrera Caliber Heuer 02T is a remarkable timepiece that combines a tourbillon and a chronograph in one watch. The tourbillon, a highly intricate and sophisticated mechanism, compensates for the effects of gravity on the movement, enhancing its accuracy. This model features the Caliber Heuer 02T movement, a mechanical marvel crafted with exceptional precision and craftsmanship.
The Aquaracer collection from TAG Heuer is renowned for its reputation as a line of professional sports watches explicitly designed for aquatic adventures. Combining robustness, reliability, and precision, these timepieces are built to withstand the rigors of water sports and other demanding activities.
With their exceptional water resistance and durability, the Aquaracer watches have become trusted companions for divers, sailors, and water sports enthusiasts around the world. The Aquaracer collection's commitment to water resistance is evident in its design and construction. These watches undergo rigorous testing to ensure their reliability in extreme conditions.
From the reinforced case construction to the screw-down crowns and unidirectional rotating bezels, every detail is crafted to provide maximum resistance to water pressure. With the Aquaracer collection, TAG Heuer offers functional and practical timepieces and stylish watches that can seamlessly transition from underwater adventures to everyday wear.
Notable models within the Aquaracer collection:
Aquaracer Professional 200 Steel & Gold: The Aquaracer Professional 200 Steel & Gold combines stainless steel and gold elements, creating a luxurious and sophisticated look. This model features a robust stainless steel case, a unidirectional rotating bezel, and luminescent markers for enhanced visibility underwater. It often comes with a date display and is powered by a reliable automatic movement, offering precise timekeeping.
Aquaracer 300m Automatic: The Aquaracer 300m Automatic is a classic and versatile option within the collection. With its 300-meter water resistance, it is ready to accompany divers on their underwater explorations. This model features a stainless steel case, a unidirectional rotating bezel, and a choice of dial colors, including black, blue, and silver. The dial often includes a date display, and the watch is powered by an automatic movement for accurate timekeeping.
Aquaracer 300m Quartz: The Aquaracer 300m Quartz offers the same impressive water resistance as its automatic counterpart but with the precision of a quartz movement. This model is perfect for those who prefer the convenience of a battery-powered watch. It features a stainless steel case, a unidirectional rotating bezel, and a range of dial and bezel color options. The dial typically includes a date display, ensuring both practicality and style.
TAG Heuer Monaco
The TAG Heuer Monaco collection is renowned for its avant-garde and timeless design, making it an iconic symbol of innovation and style. Launched in 1969, the Monaco collection made history as one of the world's first automatic chronograph watches and quickly gained fame for its bold square case and distinctive dial layout.
The collection's unique design, combined with its association with motorsports and notable personalities, has solidified its status as a true icon in the watchmaking industry.
In celebration of the Monaco collection's 50th anniversary, TAG Heuer introduced a series of limited editions that pay homage to the brand's rich heritage. These special editions showcase the brand's commitment to pushing boundaries and reimagining classic designs while maintaining Monaco's unmistakable identity.
Notable models within the Monaco collection:
Monaco Caliber 11: The Monaco Caliber 11 is a standout model in the collection, featuring the iconic square-shaped case and left-sided crown placement, paying homage to the original design. The dial colors vary, ranging from classic blue and black to vibrant hues. With its striking design and excellent craftsmanship, the Monaco Caliber 11 exudes sophistication and is a coveted choice among watch enthusiasts.
Monaco Caliber 12: The Monaco Caliber 12 is another notable model that captures the spirit of the collection. It features a square case and automatic movement, offering precise timekeeping. This model often includes a chronograph function, allowing for accurate measurement of elapsed time. The dial colors range from elegant blue and silver to bold black. The Monaco Caliber 12 combines a vintage appeal and modern technology, making it a sought-after timepiece.
Monaco Caliber 6: The Monaco Caliber 6 is a classic and refined model within the collection. Powered by an automatic movement, this timepiece combines elegance and functionality. The dial colors often include sophisticated shades like silver, white, or black. With its clean and minimalist design, the Monaco Caliber 6 showcases the timeless charm of the collection while providing reliable timekeeping.
The TAG Heuer Autavia collection is dedicated to authentic free spirits and adventurers who seek high-performance timepieces. Inspired by the rich heritage of the original Autavia models from the 1960s, this collection pays homage to the brand's legacy of creating reliable and versatile watches for motorsports and aviation.
The Autavia collection embodies TAG Heuer's commitment to precision, functionality, and ruggedness. It combines the spirit of adventure with cutting-edge technology, making it an ideal companion for those who value both style and performance.
Notable models within the Autavia collection:
Autavia Isograph: The Autavia Isograph is a standout model within the collection, showcasing a contemporary design that combines elegance with robustness. Powered by TAG Heuer's innovative Isograph carbon-composite hairspring technology, this timepiece offers exceptional precision and resistance to magnetic fields. The dial colors vary, including classic options like black and white, as well as more vibrant choices. The Autavia Isograph represents a perfect blend of vintage charm and modern engineering.
Jack Heuer 85th Anniversary: The Jack Heuer 85th Anniversary edition pays tribute to Jack Heuer, the great-grandson of the brand's founder and a key figure in TAG Heuer's history. This special edition features a timeless design with vintage-inspired elements, such as a panda-style dial and a classic stainless steel case. The dial colors often include a striking combination of black and white, evoking a sense of nostalgia while exuding a contemporary appeal. The Jack Heuer 85th Anniversary edition celebrates the brand's heritage and Jack Heuer's contributions to the Autavia collection.
Autavia Caliber 5: The Autavia Caliber 5 is a versatile and reliable model within the collection, designed to meet the demands of modern adventurers. Powered by automatic movement, this timepiece offers precise timekeeping and a generous power reserve. The dial colors range from classic black or blue to more unconventional options. With its functional design and robust construction, the Autavia Caliber 5 embodies the spirit of the Autavia collection.
TAG Heuer Formula 1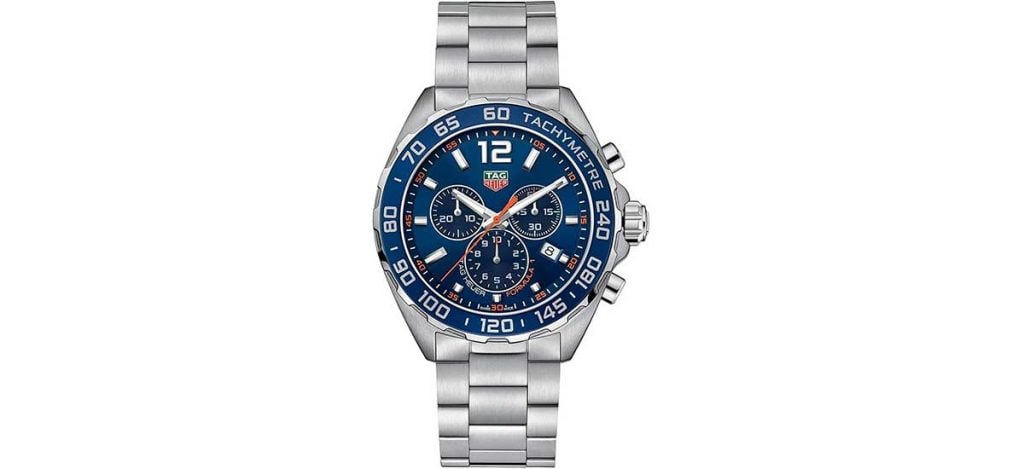 The TAG Heuer Formula 1 collection draws inspiration from the thrilling world of motor racing, capturing the spirit of speed, precision, and innovation. Designed for those passionate about high-performance sports watches, this collection combines cutting-edge technology with dynamic aesthetics, making it a favorite among motorsports enthusiasts.
The Formula 1 collection represents TAG Heuer's commitment to precision and reliability. It celebrates the brand's historical ties to Formula 1 racing and embodies the fast-paced lifestyle associated with the sport. With its sporty and dynamic design elements, this collection captures the essence of racing while offering exceptional timekeeping capabilities.
The Formula 1 collection features a range of models powered by quartz and self-winding movements. The use of these precise and robust mechanisms ensures accurate timekeeping, making the watch's reliable companion both on and off the race track.
Notable models within the Formula 1 collection:
Formula 1 Quartz: The Formula 1 Quartz models are known for their exceptional accuracy and reliability. With quartz movements at their core, these watches offer precise timekeeping and require minimal maintenance. The dial colors of the Formula 1 Quartz models range from classic black or white to vibrant options like red or blue, reflecting the energetic spirit of motor racing. The materials used for the case and bracelet vary, including stainless steel, ceramic, or a combination of both, adding to the collection's versatility and durability.
Formula 1 Caliber 5: The Formula 1 Caliber 5 models feature self-winding mechanical movements, combining the precision of traditional watchmaking with the sporty aesthetics of the collection. These watches offer accurate timekeeping and a power reserve that ensures reliable performance. The dial colors span from timeless black or blue to bold and eye-catching options. The Formula 1 Caliber 5 models often incorporate materials like stainless steel or ceramic for their cases and bracelets, ensuring a sporty yet sophisticated look.
Formula 1 Chronograph: The Formula 1 Chronograph models showcase the collection's dedication to precision timing. Equipped with chronograph functions, these watches measure elapsed time precisely and easily. The dial colors vary, ranging from classic monochrome options to more vibrant combinations. The materials used for the cases and bracelets include stainless steel, ceramic, or a blend of both, offering durability and a sporty aesthetic.
Do TAG Heuer Watches Hold Their Value?
Yes and no. Generally, it's not advisable to purchase a TAG Heuer watch as an investment since they do not always hold its value. However, if you are among the lucky few to own a highly sought-after model, a rare vintage timepiece, or a limited edition, expect it to fetch a higher average resale value than other TAG Heuer watches over time.
Should You Buy a TAG Heuer Watch?
Yes. TAG Heuer is a perfect place to begin if you're new to watch collecting and don't plan to spend a lot purchasing a timepiece. The brand produces beautifully constructed timepieces on the more affordable end of the Swiss luxury watch spectrum, yet offers great value.
Conclusion
Bottom Line: TAG Heuer makes good timepieces. Their watches are accurate, reliable, elegant, and of high quality, meeting and exceeding the standards expected from watches in their price range.
We hope that you've managed to get more insight into TAG Heuer's vast catalog of watches and will soon be adding one to your collection.
About Exquisite Timepieces
Established in 1998, Exquisite Timepieces is your one-stop shop for all things luxury watches! We are an authorized dealer for 60+ luxury watch brands including Omega, Hublot, Seiko, & Longines! We are proud to showcase one of the world's largest pre-owned watch collections, including renowned brands like Rolex and Patek Philippe. Check out our brand new watch arrivals here and popular pre-owned listings here.