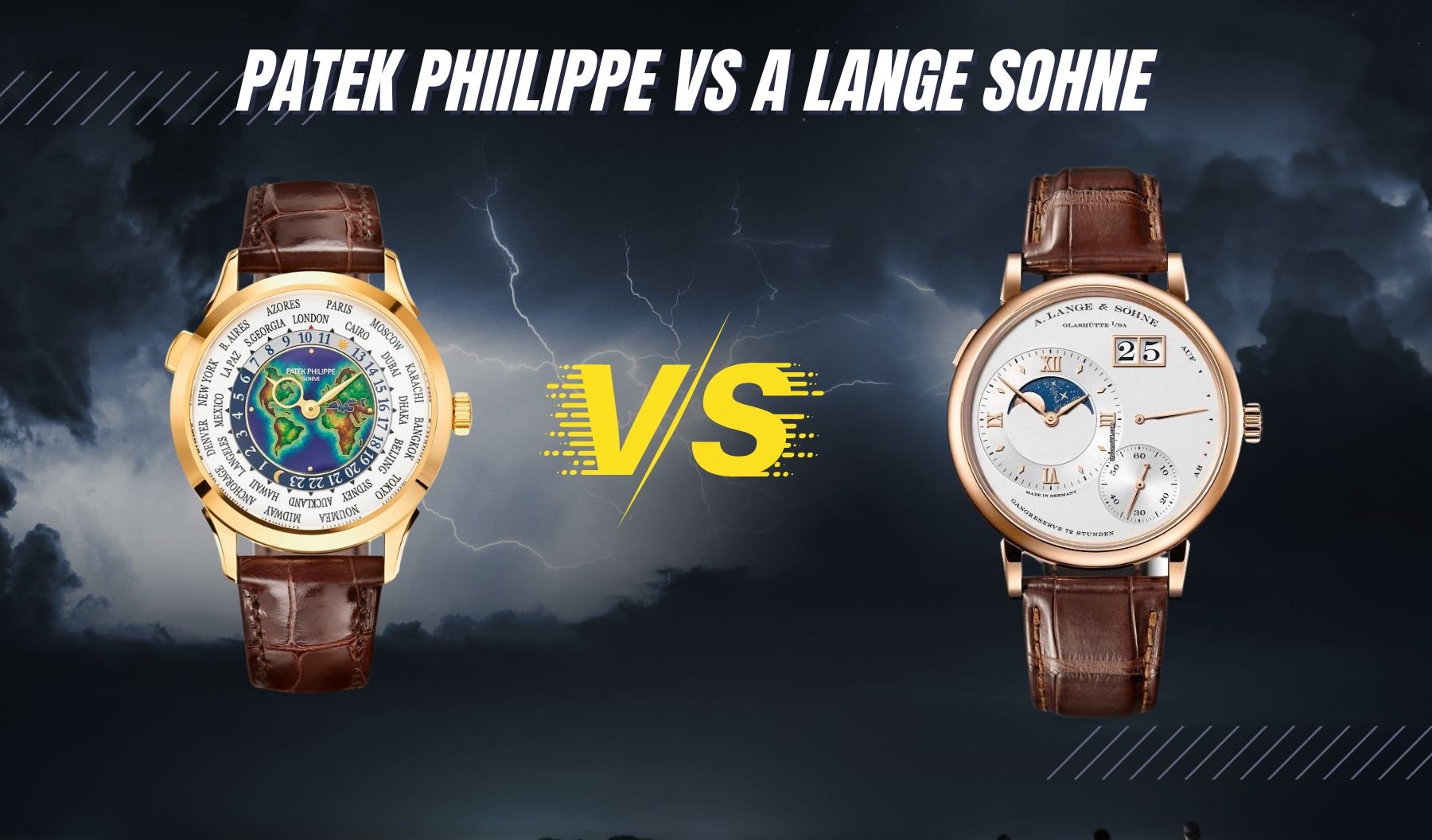 Patek Philippe vs. A Lange Sohne: Who WINS the Battle? [2023]
Patek Philippe and A Lange & Sohne are two of the most sought-after watches in the collecting circles. Watch enthusiasts obsess over every nuance of these watches. These two watchmakers are at the peak of their game. In this article, we will examine each brand under different categories and see how they perform against its counterpart.
Brand Recognition
Patek Philippe and A Lange & Sohne are top-shelf luxury watchmakers in their respective countries. Both brands are highly recognized, and many watch debates on this topic end in a draw. When debating these two brands side by side, it is impossible to pick a winner. They are similar in virtue and on the same level as each other for a good reason.
Of course, they will always be second best to Rolex regarding international recognition, but they both hold their ground against each other. The main reason Rolex has such recognition internationally is that the brand targets the everyday man. Even in luxury, there are levels to it, and these two brands are the most luxurious you can find.
Brand Prestige
Regarding prestige, A Lange & Sohne and Patek Philippe are the most respected top-shelf brands in the watchmaking industry. In their respective countries, both luxury brands are reserved for only the most luxurious people. Both brands are considered untouchable because they are far ahead of their respective competition. For instance, Patek Philippe is one of the most exclusive brands because they don't consider themselves on the same level as other Swiss watch brands.
They don't even regard Swiss watchmakers as competition. And to think Swiss watch brands are the most luxurious in the world. However, one watch brand from the Saxon region of Glashutte can give Patek Philippe a run for her money. The German brand A Lange & Sohne is possibly the only brand in the world that keeps Patek Philippe on her toes.
This rivalry between the two brands for dominance of the uber-luxury industry keeps pushing them to their limits. Both brands have a fascinating history. Serious horologists ensure they have a piece from these brands in their collection. Owning just a timepiece from one of these collections elevates your collection. You may not have heard of these two watches, but they are silently shaping the age-old craft of traditional watchmaking.
Retail Value
A regular watch collector will always aim for the cheapest watch from either of these collections. Such a goal will make experienced watch horologists chuckle. None of these watches are considered cheap. Not one of their watches has ever been described as inexpensive. Buying a watch from Patek Philippe always has a minimum of five figures attached to it.
To top that, their watches always start at the $25,000 mark and move upward; you will never see a retail price lower than this. The most expensive Patek Philippe watch ever sold is a one-of-a-kind Grandmaster Chime, the 6300A-010. The watch was sold at a charity auction for $31 billion, dubbing it the most expensive watch ever to be sold in history. You can consider the lowest price a watch from this brand will go for.
A Lange & Sohne, on the other hand, has an entry cost of nearly $18,000 at the full retail price. And this is for small size 35mm 3-hand manual wind watch called the Saxonia Manual Wind. A larger self-winding Saxonia will cost around $27 -$30 thousand within the US. Higher horology models cost over $250 thousand. The brand's famous Grand Complication goes for about $2.5 million. Only six of these watches were ever made.
Resale Value
Regarding resale value, Patek blows A Lange & Sohne out of the competition. Patek Philippe has better resale value compared to A Lange & Sohne. The entire brand was built with the core value of retaining value over a while. The brand's main goal is to create pieces that customers can hand over to their families as an inheritance.
Hence, the inspiration of the brand's slogan; "You never actually own a Patek Philippe. You merely look after it for the next generation." A Lange & Sohne also hold their value, but not nearly as much as Patek Philippe. Most watches lose value from the very moment you put them on, but not these two brands. However, A Lange & Sohne is a little lacking in this category. Patek Philippe and Rolex are the watch brands that hold their value the most.
Horology
Patek Philippe and A Lange & Sohne produce watches with very advanced mechanical complications. A Lange & Sohne Grand Complication released in 2013 features many coveted complications. The Grand Complication is a 3-barrel, triple-gear train watch with a perpetual calendar. The watch has a grand sonnerie, a petite sonnerie, moon phase, minute repeater, and a monopoussoir chronograph.
The monopoussoir or mono-pusher is housed within a 5th of a second foudroyante, or flying seconds. The equipment this single watch has under the hood is impressive. Ordinarily, this is more than a regular person can handle on the watch. Hence, only six models of the watch were ever made.
Patek Philippe outshines more brands than any other brand in the world in terms of grand complication watches. Patek Philippe watches are highly technical with complicated mechanical movements. Not long ago, Patek Philippe released the Grandmaster Chime, which stands to be the brand's most complicated timepiece ever to be made.
The watch has 24 different complications, two independent dials with a reversible case. The watch also featured six patented proprietary innovations. According to the brand's official website, they spent over 100 thousand hours on this timepiece.
The brand has released more complicated pocket watches in the past. Chief of those watches is the famous Patek Philippe Henry Graves and Vacheron Constantin 57260. Both these watches were of extensive size. Patek Philippe was able to make smaller versions of these complications.
Accuracy
Patek Philippe is known for solidifying the position of Swiss watches as being highly accurate. And before you ask, they didn't perform these tests themselves. A third-party Swiss lab, COSC, tested the brand's timepieces and achieved a precision of -4/+6 seconds per day. Patek Philippe's watches are highly accurate. 
The brand's watches have been known as the house of accuracy for the past couple of decades. Because of how accurate the brand's watches are, they have received a special pedigree called "Chronometer." This pedigree is one to kill for. It is only awarded to high-precision watches tested according to ISO 3159.
A Lange & Sohne has to undergo a different certification process and use a German third-party lab testing facility called Wempe. COSC is used for Swiss brands; hence, A Lange & Sohne can't use this testing brand. However, Wempe's third-party laboratory is a trusted brand, and many watch horologists trust its test results.
Wempe performs its tests according to DIN 8319 standards which are the same as COSC. The test is as precise as COSC's -4/+6. A Lange & Sohne have some watches that have unbelievable accuracy. There is a model with a total deviation of only +3 seconds a week. German engineers are known for their unbelievable precision, so there's no surprise. Other models, like the Lange 1, hold a precision rate of about +2/-2 seconds per day, doubling the accuracy of COSC specs.
Even after years of wearing the watch, it still holds an unbelievable accuracy rate. However, A Lange & Sohne holds a minimum accuracy rate of +/-3 seconds per day. It may have a deviation of one second, but it still bests COSC-certified chronometers in precision.
Like many high-end urban luxury Swiss watch brands, Patek Philippe doesn't use COSC certification as a standard. The bar to them is set a little low for watchmakers of their caliber. Patek Philippe has testing methods, allowing its watch models to rank above COSC specs consistently. This consistency gives Patek Philippe watches the special brand seal. For a watch to have a Patek Philippe seal, it means they have an accuracy within -3/+2 seconds per day.
A Patek Philippe seal covers more than just a watch's accuracy; they represent the entirety of the watch. For a watch to have a Patek Philippe seal means the watch is nothing short of quality. Various requirements must be met before any watch gets this seal; even watches from the brands are properly checked and scrutinized. 
The seal places strict requirements on finishing, quality of material in use, the perfection of the gems in use, and the setting of those gems. In addition, the seal covers the entire lifetime of the watch. Having a watch with this seal guarantees you services for the entire lifetime of the watch. That includes repairs and restoration for every watch crafted by the company since 1839.
Craftsmanship
Many watch horologists argue that A Lange & Sohne has better craftsmanship, especially if you're considering the finishing and decoration or engravings. The brand is known worldwide for its world-class hand engravings on various components and plates. Don't write off Patek Philippe out yet.
The brand has some of the industry's unique finishing and decorating skills. However, the German watchmaker dominates this category when comparing Patek Philippe to A Lange & Sohne in terms of finishing and decoration. A sapphire case back from the German giant gives A Lange & Sohne an edge over its Swiss counterpart. The distance sets the brand off from other luxury brands worldwide.
Warranty
Both brands have an amazing warranty policy. They offer a minimum of 2 years warranty for all their products. Some brands will extend their standard warranty if you register the watch with the brand's official website. In the case of A Lange & Sohne, they will extend the 2-year warranty by another year, taking the total warranty years to 3 years if you purchase the watch in a boutique.
An Overview of Patek Philippe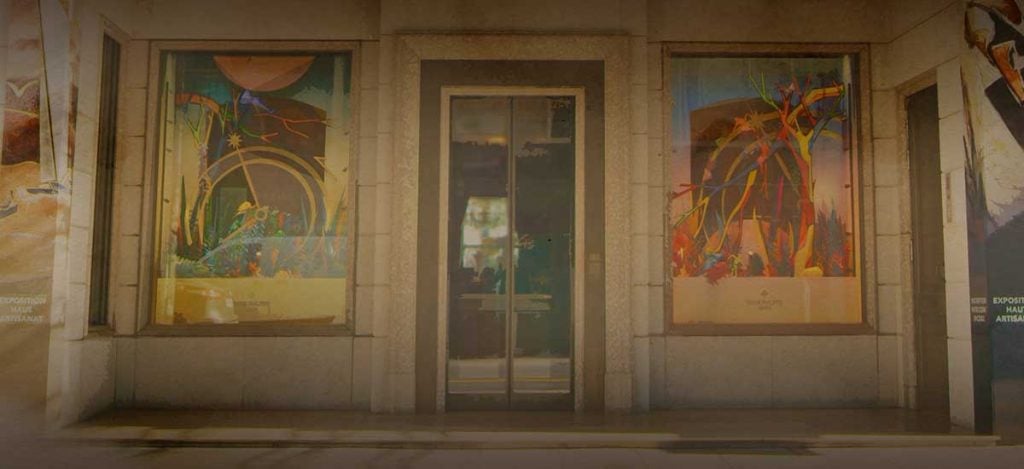 Patek Philippe is one of the world's most exclusive and luxurious watchmakers. The brand's watches are state-of-the-art and are the epitome of ultra-luxury watchmaking. Watches from this brand are very rare due to their high price tags and limited releases. For some models, you may have to wait for years before you can get your hands on one. The brand is reserved for the most luxurious people in the world.
Patek Philippe isn't like any other luxury watch brand. Patek Philippe baths in the best craftsmanship with keen attention to detail. The brand has a rich heritage that spells nothing but perfection. Due to their limited releases, the demand for Patek Philippe watches is always over the roof.
Hence, collectors are always prepared to pay hefty sums to get a glimpse of these beauties. Patek Philippe watches have skyrocketed in recent years; adding one of these watches to your collection won't be cheap.
The brand is exclusive to 1% of the world's population. The brand only deals with power and royalty. In 1851, Patek Philippe was granted the honor of delivering watches to Queen Victoria and Prince Albert. This honor also extended to the Queen's entire consort. Patek Philippe delivered a key wound timepiece in November of the same year during the Great Exhibition of London.
The brand etched its initials in the sands of time during this event. Having the Queen of England show off one of your timepieces is more than an honor. However, the Queen didn't just own one but two watches from Patek Philippe. The second watch she owned was even more exclusive, suspended from an enamel brooch. Patek Philippe is the Swiss representation of watchmaking perfection.
The brand has some of the most exclusive clients among all watch brands. Some clients don't even take watches from any other brand except theirs. The list of royalty the Swiss brand works with is endless. They have supplied watches to Christian IX, Princess Louise of Denmark, Hussein Kamel, Victor Emmanuel III of Italy, and many others.
The Revolution
Everything you thought was impossible with a timepiece, Patek Philippe might prove you wrong. In 1989, Patek Philippe revealed the most complicated watch that hadn't been seen before. The timepiece was made for the Swiss brand's 150th anniversary. The watch has over 39 complications. The complications include but aren't limited to the date of Easter, time of sunrise, sidereal time, time of sunrise, and many more.
Patek Philippe has always been a family-owned watch brand. Since it was founded in 1851, the band left the Philippe family once and has never exchanged hands again. The economic crisis of 1929 pushed the company's leaders a bit far. The economic crisis caused a lot of distress for the management as customers struggled to pay their obligations.
Eventually, Patek had to find other solutions to the financial crisis. However, they didn't want the company to be acquired by a competitor. Hence, the directors of Patek contacted Charles and Jean Stern, who owned the company "Cadrans Stern Freres." Patek Philippe was certain they could collaborate since they had been working together for a while.
Both brands have collaborated to produce some top-quality dials and were Patek's best suppliers. The Swiss companies agreed, and the Stern brothers took a stake in the company and preserved the Swiss watchmaking tradition. Within a year, the Stern brothers bought over the entire company.
As of the late 2000s, the Swiss watchmaking company is led by Philippe Stern and his son, Thierry Stern. Theirry Stern took over the company's leadership from his father in 2010 and continues the rich heritage Patek is known for. Since 1839, Patek Philippe has produced less than 1 million watches. Creating even the most basic Patek Philippe watches takes nine months of hard work and craft.
An Overview of A Lange & Sohne
Adolph Lange originally founded the trademark German ultra-luxury watchmaking company A Lange & Sohne in Glashutte in 1845. The original A Lange & Sohne ceased to exist in 1948 following the occupation by the soviet union after World War II. The current A Lange & Sohne was founded in 1990 by Ferdinand Adolph's great-grandson Walter Lange.
A Lange & Sohne is a highly regarded luxury watch manufacturer. A Lange & Sohne has had some interesting customers over the last decades. The company's top customers included German Emperor Wilhelm II, the Ottoman Empire, Alexander II of Russia, and Abdul Hamid II. A Lange & Sohne boasts of distinct Glashutte styles and designs.
Their designs are closer to the classic British style but completely different from what Swiss watchmaking brands offer. A Lange & Sohne is largely regarded as the sole pillar of German watchmaking quality. The company has a rich history.
The company's founder was key in developing the watchmaking industry in Germany. He pioneered key horological tools, techniques, and components. One of his many contributions to the watchmaking industry is the three-quarter plate which adds stability to watch movements.
A Lange & Sohne distinguishes itself from other luxury brands with high-end complication watches. And like many other German watchmakers, it nationalized during the East-West divide in Germany. Unlike many other brands during the nationalization, it retained its identity. A Lange & Sohne has played a major part in making the German watch industry respected. The brand can go toe to toe with the biggest ultra-luxury brands around.
The designs of the brand pay strict attention to detail. Every single design from the brand is the epitome of quality. The founder, Adolph Lange, first studied horology at Dresden. His mentor was Johann Christian Friedrich. He worked on the Semper Opera House clock project. The clock was Adolph Lange's first major project.
It was a digital clock designed for maximum visibility; the clock was a special request from the king. He wanted to have a big clock that the audience would look at instead of repeatedly checking their pocket watch minute repeaters which would usually disturb others.
He then moved to Paris to continue his apprenticeship. Adolph Lange then adopted the metric measurement system instead of the SI system they used. Although the metric system has existed since the 18th century, some parts of the world have never used it.
His adoption of the metric system made him the first European watchmaker to adopt the metric system of measurement—quite a way to start a watchmaking career. Germany hadn't had any notable watch brands that could go toe to toe with Swiss and English brands. That realization drove Adolph to create one of the best watch brands in the world.
Lange 1 Time Zone vs. Rolex Submariner
The Lange 1 Time Zone is truly a watch to behold. In terms of price, you can't compare the two wristwatches as the entry price for the Time Zone is around $50 thousand. In comparison, the entry price for the Submariner is around $8 thousand. And it maxes out around $38 thousand. However, a price tag isn't all that makes a watch. In this section, we will compare the beauty and mechanism of both watches.
The new edition of Lange 1 Time Zone, released in 2020, comes in three different case colors and materials. You have the choice of going for pink gold, white gold, and yellow gold. After shunning yellow gold for a couple of years, A Lange & Sohne is actively bringing back the yellow gold color. For many horologists, it's a relief that the brand is bringing back the iconic yellow gold color.
One reason they prefer this color over its counterparts is its stunning, nostalgic, and endearing effect on watch enthusiasts. The newest Lange 1 Time Zone edition maintains the iconic 41.9 mm x 10.9 mm measurement. In terms of design, the watch is pretty much the same, only that it has a brushed design for older specimens that are polished.
The dial color that a Time Zone comes in depends on the case it is paired with. A pink gold case gets you the classic "argente" or silver dial. A white gold case will fetch you a radiant black dial, making this version the most contemporary of the lot. On the other hand, the yellow case gives enthusiasts an aesthetic champagne dial that is simply beautiful. This watch version has so much character and flair, especially when matched with a light brown alligator leather strap.
The Time Zone comes with a day/night indicator. The blue semicircle represents the time from 6 pm to 6 am, while the opposite semicircle represents 6 am to 6 pm, daytime and night time, respectively. Also, the position of the hour hand on the discs indicates if it is night or day. The watch also comes with an inbuilt daylight saving time aperture represented by a red segment.
The complications on this watch are highly advanced. Wearers of this timepiece can travel across time zones effectively. Under the hood of all this aesthetic beauty, there's a 448-part movement, the 65th movement developed by A Lange. The movement is a 38-jewel caliber system with a 72-hour power reserve.
The Rolex SubMariner
One edge the Rolex Submariner has over the Time Zone is that it is a diving watch. But who will purchase a watch for $50 thousand to go for a swim with it? The Rolex Submariner is one of the first watches ever to be released to be able to withstand depths of up to 300 meters. The Rolex Submariner has a waterproof winding Triplex crown with an interior O ring, making it a triple waterproof watch.
The Submariner is a corrosion-resistant watch and a highly durable one too. The Rolex Submariner 116610 comes with a 40mm highly polished 904L Oyster steel case. The base is a black 60-minute inserted ceramic bezel with four click springs, making it more adjustable. The bezel's edges allow for a better and more secure grip on the watch.
The circle indicator and the hand and time markers are all Chromalight illuminated, making it easy for users to read time underwater. The black bezel is complemented by a visually striking Maxi dial design. The hour markers have 18k white gold surrounds with chroma light accents.
The Submariner is a 3135 self-winding, COSC-certified wristwatch. The watch is shock, magnetic, and temperature resistant. It has a Parachrom hairspring with a precision of -2/+2 seconds per day. It is a highly reliable watch, but you can't compare it with an A Lange & Sohne product.
Patek Philippe Aquanaut vs. Rolex Daytona
When Patek Philippe launched Aquanaut in 1997, it was immediately clear that this watch would dominate the watch industry. Aquanaut offers a more sporty approach to the modern luxury industry. The watch brings a rubber strap, which is the first for a Patek Philippe wristwatch.
The watch comes with a 40 mm rounded octagonal steel with a black embossed dial. Aquanaut is undoubtedly a robust sports watch for the more sports-loving audience. The watch is super comfortable with a thin 8.1 mm thickness; the watch can easily slide under a shirt cuff if need be.
The face of the watch is simple, with large luminous Arabic numerals. It also has luminous center hands and a discrete date window at 3 o'clock. The watch isn't too complicated to read, it is simple but beautiful. The watch runs on a 324 S C caliber with a 35 – 45 hour power reserve. Since the watch is sports-themed, it can take up to 120 meters depth of water.
This feature encourages weekend adventures with its durable composite straps resistant to salt water and UV rays. To add to the watch's attributes, the strap's underside includes many grooves that promote airflow to keep stickiness at bay.
The Rolex Daytona is one of those watches well-known by the watch collecting society. Mention the word Daytona in any watch-loving group, and you immediately grab the attention of everyone around. In terms of popularity, this watch no doubt beats the Aquanaut. But that doesn't mean it does more than that.
Since Daytona is designed for a regular person, it is more common to find a Daytona on a wrist than an Aquanaut. That doesn't mean the Daytona is common; it is one of the rarest watches on the planet. But the Aquanaut is on another level in that category.
The Daytona 116500LN, introduced in 2016, comes in white and black faces. Both cases have an aesthetic black ceramic bezel with polished bracelets. The Daytona is a bulletproof watch, and it is highly legible.
About Exquisite Timepieces
Established in 1998, Exquisite Timepieces is your one-stop shop for all things luxury watches! We are an authorized dealer for 60+ luxury watch brands including Omega, Hublot, Seiko, & Longines! We are proud to showcase one of the world's largest pre-owned watch collections, including renowned brands like Rolex and Patek Philippe. Check out our brand new watch arrivals here and popular pre-owned listings here.