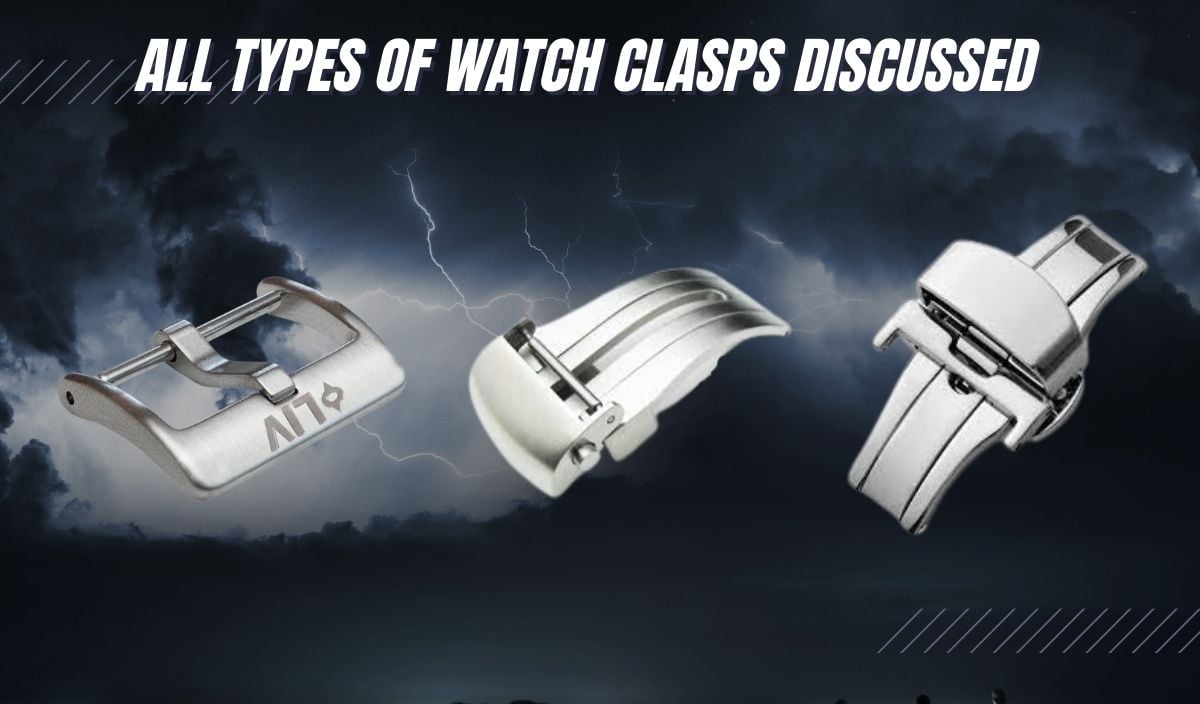 ALL Types of Watch Clasps Discussed (Everything To Know)
An elegant timepiece sitting firmly on my wrist gives me absolute confidence anywhere I find myself. Wristwatches are one of the most worn pieces of ornament in the world, and no matter how dressed up you are or how expensive your outfit looks, you almost feel incomplete without a beautiful timepiece on your wrist. And one of the most important parts of the watch is the object that keeps it locked onto your wrist, which is the clasp.
The clasp attached to the strap of a wristwatch is not just an object for securing the watch on your wrist. It also styles the timepiece differently and adds personality to your look. Today, you can find different types of watch clasps, each with a unique style and feel.
This is a dive into the world of clasps to understand how they function and some of the types used for watches.
About Watch Clasps
This device secures both ends of a timepiece together on the wrist. It is small, yet, one of the most critical systems used to secure the wristwatch, as it ensures your watch stays on your wrist even during rigorous activities. There are various types of clasps, and they each have different advantages and disadvantages.
Purpose of a Watch Clasp
Aside from keeping the watch secure on your wrist, it also helps prevent it from falling off, getting damaged, or even getting lost. On top of that, some clasps are used to adjust the strap size, which can be helpful if you want to resell your watch or your wrist size changes.
Brief History About Clasps
Though still one of the most famous clasps today, but not as secure as some of the most recent ones, the pin buckle clasp was the first-ever watch clasp. They were originally made of metal with a pin inserted into a hole in the strap, but today they are often crafted from titanium, plastic, and other materials.
To better secure wristwatches of military officers on the battlefield, the deployant clasp was invented in the early 1900s and did a better job than the pin buckle clasp. It has two folding arms that collide to hold the straps together. The deployant clasp is still the most used on wristwatches.
Types of Watch Clasps
Aside from the famous Pin Buckle and Deployant clasps, there are other watch clasps available, each with unique features and style.
Some of the most used clasps include:
Folding Clasp
The folding clasp is mostly seen on metal bracelet watches, and it always takes the same material used on the watch strap. The class it gives every watch is just unmatchable, and aside from that, it circles perfectly under your wrist without pinching the skin in any way.
The Folding clasp folds over to secure each watch strap, consisting of two or three arms that fold over each other and are held by a spring. You press the button or lever in some cases to open this type of clasp, and then, you fold the arms back once you've slipped it over your wrist.
They are much more secure than most clasps because it is difficult to open by accident. And they're so firm, so it is very comfortable on the wrist. Some timepieces, like the famous Rolex Submariner, Omega Seamaster, and the Patek Philippe Nautilus, all use the folding clasp.
The folding clasp comes in different types. The single-fold clasp, which is my favorite and also the most popular of them. This type has just two arms that fold over each other, while the double-folding clasp has three components that fold. The triple-fold clasp is the most uncommon of the three of them, and this one has four folding arms that fold over each other.
Pin Buckle Clasp
The Pin Buckle is not the fanciest type of clasp, but I can tell you it is one of the easiest to use. It is efficient, simple, and doesn't have any complications to it. Insert the pin into the strap hole, and just like magic, your timepiece is secure.
Although it is a vintage style, the security that comes with this type of clasp can't be overlooked. Without removing the pin from the strap hole, the security of your wristwatch is guaranteed.
The versatility of the Pin Buckle clasp is something I love. Unlike other clasps, it can be used on various strap materials like leather, rubber, metal, and fabrics and still look excellent. The Pin Buckle clasp is a good choice if you like styling your watch with different straps.
The Pin Buckle clasp is so ubiquitous that you might be wearing one right now. If you're looking for a classic, simple, and versatile clasp for a timepiece, the Pin Buckle Clasp is a good option.
Butterfly Clasp
Aside from being more secure than ordinary watch buckles, they are more elegant and stylish, especially on dress timepieces. The name Butterfly is derived from the two hinged parts of the watch that look like butterfly wings. The two parts of the strap separate and spread when the clasp opens, allowing the timepiece to slide over your wrist. The two parts snap when the clasp closes, and the watch is secure on your wrist.
The butterfly look of the clasp gives it an elegant and sophisticated appearance that is mostly attributed to luxury timepieces. They are designed with top-notch materials like platinum, stainless steel, or gold.
Watches like the Cartier Tank, Rolex Datejust, and Cartier Santos use this type of clasp. The Butterfly clasp is a great option if you're looking for a secure and stylish way to wear your timepiece. 
But, one minor downside is the lack of micro-adjustments, so you'll need to wear it slightly loose or tight on your wrist.
Deployant Clasp
The Deployant clasp was crafted with gold and silver back in the day. Today, materials like titanium and stainless steel are also used. This type of clasp has two parts, the pin buckle and clasp.
The clasp is made up of two plates that fold and is held by a safety catch. The buckle allows you to adjust the clasp to your preferred size, it slides across the clasp, and it can be easily adjusted to any size.
A few timepieces that feature the deployant clasp include Patek Philippe Nautilus, Cartier Tank, and IWC Portugieser. This clasp is a great choice to add a touch of comfort and luxury to your wristwatch. 
Sliding Buckle Clasp
Having this clasp on my Tudor Black Bay has got me hooked on it. The Sliding Buckle has one of the best features of any clasp. It makes it easy for you to adjust the strap to fit your wrist perfectly, and I also have a guilty pleasure in sliding it open and close multiple times; it can be so satisfying at times.
It works with a small lever used to release the clasp, and once it is released, you can adjust the size by sliding the buckle across the watch strap. You can close the clasp by pushing the lever back inside. The Sliding Buckle clasp was initially designed for Scuba Divers for them to be able to quickly adjust their strap to the perfect size for the depth and temperature of the water.
This type of clasp can now be found on watches like the Tudor Black Bay, Longines HydroConquest, TAG Heuer Aquaracer, Omega Seamaster Planet Ocean, and many other timepieces. I recommend this clasp for anyone that fancies a convenient and easy-to-use clasp.
Velcro Strap
This clasp was designed by a Swiss engineer in 1955 called George De Mestral. He devised this design on a hike when he saw tiny hooks on his dog's fur and fell in love with the pattern it created. He designed the Velcro strap using this pattern, and it became popular among watches and many other ornaments at that time.
It is commonly used on nylon or textile straps by attaching one end of the strap to a hook fastener and the other is rooted with a loop fastener. The surfaces stick together when you press them against each other, forming a stronghold across your wrist.
Velcro straps are one of the easiest to use, they can withstand up to 50 pounds of force and are also adjustable. This clasp features in watches like the Casio G-Shock, Suunto Core, and Timex Expedition. This clasp is a great option for people wanting something durable and adjustable.
Diver Clasp
Dive watches are one of my all-time favorites because they are durable. The special dive clasp is one of the things that make them very secure, and Rolex designed the first dive clasp in the 1950s. They are designed with two locking mechanisms. It has a folding clasp that helps close the watch when it's not worn, and the other makes it adjustable. These complications add some class to dive watches and are very easy to use.
Some diver clasps come with a micro-adjustment system that allows you to adjust how the clasp fits on your wrist. Watches like the Citizen Promaster, TAG Heuer Aquaracer, and Rolex Submariner use this clasp.
Glidelock Clasp
This clasp makes adjusting your watch bracelet very easy without using any tools. The Glidelock clasp works by opening the clasp and pulling or pushing the bracelet till you find the perfect fit for your wrist. It has 20 increments, so your watch bracelet can take up to 20mm of adjustments.
The Glidelock clasp has similar features as the Diver, but it is a Rolex invention, and its name is derived from the way it glides with ease across the bracelet. They are featured on the Rolex Submariner, Panerai Luminor, Rolex Sea-Dwellers, and Rolex GMT- Master II watches.
Conclusion
Clasps help secure watches on the wrist and add to the overall beautification and value of a timepiece. Before deciding on any clasp, you must consider the watch type and what sort of activities you will be engaging in.
There are various types of watch clasps, and they each come with different levels of versatility, comfort, and style. So there is a wide variety for you to choose one that perfectly suits your specifications and purpose. Make sure you go for clasps made with high-quality materials to ensure your watch is always secure on your wrist.
About Exquisite Timepieces
Established in 1998, Exquisite Timepieces is your one-stop shop for all things luxury watches! We are an authorized dealer for 60+ luxury watch brands including Omega, Hublot, Seiko, & Longines! We are proud to showcase one of the world's largest pre-owned watch collections, including renowned brands like Rolex and Patek Philippe. Check out our brand new watch arrivals here and popular pre-owned listings here.