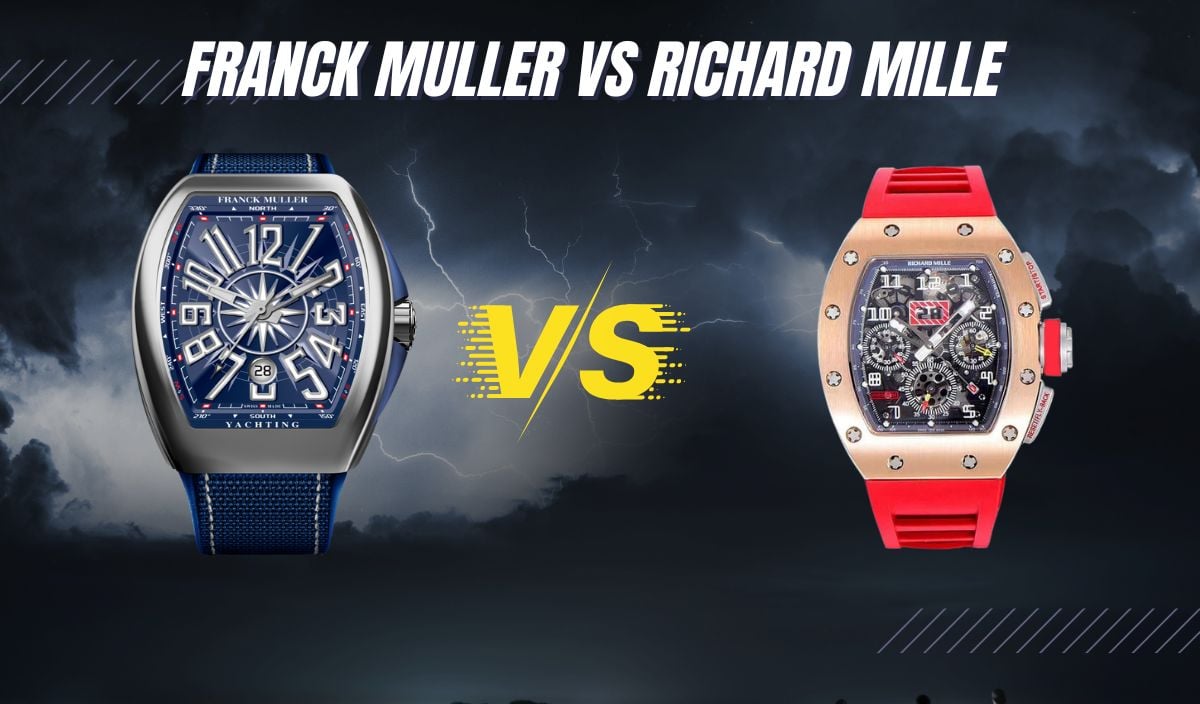 Franck Muller Vs. Richard Mille Watches (Who WINS the Battle?)
When big names like Cristiano Ronaldo and Jay Z flaunt a high-end watch with pride, the world pays attention. From movie stars like Arnold Schwarzenegger to star sports players like Odell Beckham, Richard Mille and Franck Muller have become a go-to watch brand for celebrities who want to collaborate on designs and stylish timepieces.
As a rabid demand for Richard Mille watches continues to escalate among top figures, many watch enthusiasts are left disillusioned by the long waiting list, and shocking price. This has led many buyers to explore other high-end brands, one of which is Frank Muller.
Considered the original Richard Mille, Franck Muller has become the one brand that offers high-end, unique, and stylish timepieces that are analog to certain Richard Mille models such as the Cintrée Curvex which has a tonneau (or barrel-shaped) case with ergonomic doming. But is Franck Muller better than Richard Mille? This in-depth and insightful comparison & review will help you choose the right timepiece between these two.
Franck Muller vs Richard Mille: Brief history of Franck Muller
Swiss watchmaker Franck Muller was born in 1958. The brand takes its name from its founder who is a trained master watchmaker from the town of La Chaux-de-Fonds, Switzerland. His passion to produce timepieces unlike any other started after he graduated from Ecole d'Horlogerie de Genève, a watchmaking school in Geneva.
He began by repairing top-quality complicated timepieces, which were mostly pocket watches from the collection of Patek Philippe and Vacheron Constantin. In 1984, he designed his first tourbillon wristwatch, and following its success, he launched his watch brand in 1991 where he began designing limited ultra-complicated timepieces for private clients.
His collections immediately became famous in Europe and the United States and since its inception, the Geneva-based House of Franck Muller has shocked the watch world with a string of "world premieres" and many other intricate timepieces earning him the 'Master of Complications' titles.
Today, the Franck Muller brand has become world-famous for its Luxury and Grand Complications produced with a quality skillset and watchmaking expertise. The brand's headquarters, also called Watch land, is located in Genthod, north of Geneva with other production sites in Lajoux, Les Bois, Plan-les-Ouates, and Meyrin.
Richard Mille
Just like Franck Muller, Richard Mille is relatively new to the luxury watch market. The brand was founded in 2001 by Dominique Guenat and Richard Mille, in Les Breuleux, Switzerland, and is known for successfully using extreme luxury pricing. His watchmaking career began after he started working at Finhor, a local watchmaking company in 1974.
Finhor was bought by Matra in 1981 and Richard Mille rose to a managerial position which he held for about ten years until a disagreement about commercial strategy at Mauboussin, where he was a shareholder, made him leave his position as General Manager of the watchmaking division and launch his range of watches.
Together with Dominique Guenat, he drew up plans and founded the Richard Mille watchmaking brand in collaboration with Swiss watchmaking manufacturer Audemars Piguet. It all started with Richard Mille dreaming of combining the worlds of cars and aeronautics with Haute Horlogerie.
From the use of extraordinary components like space-age materials such as Carbon TPT to grade 5 titanium and graphene, Richard Mille has blazed the trail in the watch world of innovation and Technology. Richard Mille is also the first watch brand to develop new movements for every model and utilize materials from the racing and aerospace sectors.
From the unveiling of Its first watch, the RM 001 Tourbillon in 2001 was made from titanium and carbon nano-fiber to the RM 65-01 Automatic Split-Seconds Chronograph, a highly complex sports timepiece with a skeletonized automatic winding movement with extraordinarily shock-resistance, Richard Mille has made headlines in the luxury timepiece industry. You should also look for some of the Richard Mille Alternatives.
Unique Design: Franck Muller vs. Richard Mille
Both Franck Muller and Richard Mille have effectively incorporated the watch world of luxurious design with dazzlement that is uniquely attractive even to the untrained eye. The watches produced by these brands have unique designs that are far from conventional, but each has a distinct look and feel. Franck Muller timepieces are easily identifiable thanks to their Cintrée Curvex shape and sporty elegance.
The brand is known to encapsulate artistic flair with unique aesthetics and beautiful designs of the numerals, crystallizing the glamorous culture of the late 1990s and the high-tech aspects of the 21st century. Inspired by automotive designs, Richard Mille is world-renowned for producing high-end timepieces that are futuristic and revolutionary.
The brand has established the production of iconic tonneau-shaped cases that are unique yet classic in appearance as its main feature when it comes to unique designs but looking back at history, we see that unique tonneau-shape watches with large numbers and indices had always been a great representation of the Franck Muller's central theme and design so both brands have similar watches, the only difference is the flair and technical twist that Richard Mille adds to his which ultimately increases the appeal of his timepieces.
Reputation: Franck Muller vs. Richard Mille
When it comes to reputation, it's hard to generally put one brand ahead of another. Both brands have reputable careers in horology and have risen to global fame, but Richard Mille's bold aesthetic details have positioned It among the most important brands in the world that are sought after by elite members of society. This is not the case with Franck Muller watches.
Richard Mille's high reputation among the rich is renowned, so much so that the term "Billionaire's Handshake" has been attributed to those who wear Richard Mille's timepieces. In addition to impressive design, engineering, and high-tech innovation, Richard Mille's marketing strategy is pure genius. The brand produces less than 5,000 watches per year, making Its timepieces highly exclusive, which soars its reputation because more elites continue to crave it.
Franck Muller on the other hand has been dubbed the "Master of Complications" in the watch world. A name that reflects confidence in the intricacy and ultra-complicated designs of the brand's watches. He rose to fame when he produced the world's most complicated wristwatch called the Aeternitas Mega ( a timepiece that houses 36 complications and was manufactured from a total of 1,483 components) but doesn't use extreme luxury pricing like Richard Mille.
While Franck Muller's appeal remains strong among watch enthusiasts, Its reputation has also faded a bit from the mainstream watch-buying segments. Wearing a Richard Mille timepiece today says things to other people about you in a way that no other watch brand can. Typically it indicates that you're among the first class in society who is doing very well financially and that you have a level of good taste for luxurious items.
More recently, it also shows that you have connections with dealers and though Franck Muller is a rockstar in the world of Swiss unless you hang out with some hardcore watch enthusiast who knows about Franck Muller, his watches simply won't have the same effect Mille's watches have on people.
Movements
Franck Muller watches mostly use the modified ETA movements but they are exemptions. The Casablanca 5850 Chronograph for instance is powered by the manual-winding FM cal. 1870, which is based upon the Lemania cal. 1872 (Lemania was a historic Swiss ebauche movement manufacturer famed for their chronograph movements.
It is now called Manufacture Breguet) and some men's watches come with mechanical in-house movements that are all tried and tested, making them strong performers. Richard Mille in opposition uses in-house movements for all Its timepieces. This means the movements are made by the brand themselves and everyone knows that in-house movements are generally of higher quality than any of the mass-produced movements that are being used by other watch brands.
Prices
Richard Mille's watches are extremely popular and are also considered to be one of the most expensive timepieces in the world. As of the time of writing this article, prices for Richard Mille watches range from $80,000 to $2 million. The cheapest is the new RM 005, which costs around $80,000. The reason Richard Mille's watches are so expensive is partly due to the manufacturing process being complex and very time-consuming in addition to the image and reputation that the brand's watches bear. 
Unlike Richard Mille, Franck Muller's catalog is immense, resulting in a wide range of prices. A simple women's watch can be gotten for about 3,000 USD, while modest men's models cost between 5,700 and 7,500 USD. Watches with diamonds or other precious stones, and those that feature a tourbillon in addition to a perpetual calendar cost around 70,000 USD upwards.
The more complicated the watch, the higher the price but they are relatively affordable, especially when you compare them to Richard Mille's watches. When it comes to Franck Muller's watches, only the highly complicated masterpieces like the Aeternitas Mega 4 typically demand some more cash beyond the two million USD mark.
Is Richard Mille and Franck Muller the same
No, but the two brands have a lot in common. Both Richard Mille and Franck Muller show off high-tech watches with amazing designs and movements that are typically out of this world. The unique tonneau-shaped watches with large numbers and indices were first introduced by Franck Muller and were a noble representation of the brand's central theme and design.
Many of Muller's first watches were quite unconventional, looked fun and quirky, and sometimes large and over the top but always fashionable and beautifully finished. Unfortunately, (as with all fashionable items), a new wave of fashion shadowed Franck Muller's fame as similar timepieces with more technical twists and aesthetical appeal hit the watch market.
Guess the major competitor? Richard Mille! With his profound technical experience and progressive mindset, Richard Mille quickly gained global acceptance with the creation of revolutionary timepieces, high-profile endorsements, and marketing ingenuity.
Resale Value And Warranty
To people with an eye on investment, good resale value is critical in purchasing any watch especially when it's a watch that costs tens of thousands of dollars. It's very rational to ensure that your purchase will appreciate over time.
The good news is it is safe to purchase a Franck Muller or Richard Mille timepiece because both brands have a strong reputation for quality and craftsmanship. Both brands make high-end jewelry with some of the finest materials available, including gold, diamond, titanium, and platinum.
Richard Mille watches hold their value well but not fantastically because they are rare and limited and unless you are in the inner circle of the billionaires club, selling them off when you're ready might take a lot of time especially since the target market is niche.
The brand also offers a 3-year warranty plus an extra two years of free servicing which depends on if the watch owner had his watch adequately serviced within the first three-year warranty. Meanwhile, Franck Muller provides every owner with free services for their watch within the first two years of purchase.
Franck Muller Vanguard Vs Richard Mille
Though Franck Muller's success has slowed a bit, all Its watches have remained over the top and complicated, especially the watches found in the Vanguard collection. The Franck Muller's Vanguard collection sails in a sporty direction just like Richard Mille's watches and showcases some of the Brand's most extraordinary and groundbreaking timepieces. An obvious similarity shared by both watches is the resin-filled channel along the sides of the case and the tonneau shape.
The finishing on the Vanguard timepieces is done to the highest possible standard and exudes sporting elegance but comes in a flexible design that can easily span the gulf between the beachside resort, boardroom, and anywhere in-between but Richard Mille's watch concept of combining the worlds of cars, aeronautics and sailing with the high-tech aspects of innovation, resistant materials and accuracy to produce stunning timepieces makes us put the best collection of Franck Muller (namely the Vanguard), head to head with Richard Mille.
When it comes to prices, you'll see that prices for Franck Muller Vanguard timepieces cover a relatively wide spectrum. Starting prices begin from around 3,800 USD to over 100,000 USD depending on the material, watch movement, and added jewels and this makes it relatively affordable when compared to Richard Mille's watches.
Let's take a look at watches from the Vanguard collection and Richard Mille that both give a decent clear look at the in-house crafted mechanics within and put the tourbillon beautifully on display for a result that is both stunning and contemporary.
Vanguard V 45 Gravity
Wearing a Franck Muller watch is a statement in itself so fall in line if you're tired of having your watch disappear with your outfit. Franck Muller makes two editions of the ref. V 45 T GR CS SQT BR (NR), both of which are stunning and recognizable, thanks to their intricately skeletonized dials that offer a beautiful view of the bold manual caliber and its tourbillon including the delicate finishing.
The tourbillon dominates the dial's lower half, while the upper half features a set of conventional hour and minute hands. Among other features, what stands out is the tourbillon's cage. Depending on the model, the cage comes coated with either red or blue lacquer.
Other profound accents worthy of being mentioned are the hands, minute scale, and of course the "Frank Muller" and "Gravity" that have been inscribed at 12 and 6 o'clock, respectively. The two editions released in the ref. V 45 T GR CS SQT BR (NR), is water-resistant to 30 m (3 bar, 98 ft).
Concerning the case, the Gravity comes with a sapphire crystal case back that allows the wearer to observe the movement from both above and below. Its titanium case has a matte black PVD coating. A black alligator leather strap with matching red or blue decorative stitching keeps this timepiece securely on the wrist. The starting price for this model is around 95,000 USD on Chrono24.
| | |
| --- | --- |
| Pros | Cons |
| Modern and futuristic design that stands out even to the untrained eye | Difficult to service |
| Healthy wrist presence | |
| Nice sized thickness | |
| Wears quite comfortably | |
| Sleek, sporty, rugged style in a subtle black and yellow colorway | |
| Affordable luxury watch | |
| Comes with a warranty of up to two years | |
Richard Mille
RM 002 and RM 003
Released in 2001, the RM 002 comes with a distinctive barrel-shaped case that measures 45 x 38.5 mm and can be obtained in rose or white gold. Just like the Vanguard V 45 Gravity, a sapphire crystal offers an unimpeded view of the skeletonized movement below. The manual in-house caliber features a power reserve indicator at 10:30 and a torque indicator between 1 and 2 o'clock. A tourbillon spins at 6 o'clock to the left of a function selector while the dome-shaped sapphire crystal functions as a dial.
This display lets you know what mode the crown is in. "W" stands for winding, "H" represents hands (), and "N" for neutral indicates that the watch is ticking normally. When the display mode reads H, you can set the time yourself. You can also switch between modes using a button integrated into the crown.
The RM 002 comes in two versions namely the RM 002-V1 and the RM 002-V2. The former uses a plate made of grade 5 titanium while the latter has a plate made of carbon. Everything else is pretty much the same so the only difference is the material used for the base plate. RM 003 builds on the functionality of RM 002 by adding a second-time zone and is a great option for frequent fliers.
It does this via a sapphire crystal disc with printed black numerals. The numbers scroll over a small white insert at 3 o'clock, thus showing the time in another part of the world. You can reset this display using a button on the left side of the case at 9 o'clock.
| | |
| --- | --- |
| Pros | Cons |
| Beautiful and interactive visual watch | Expensive |
| Complex timepiece designed for everyday use and any situation | Unavailable |
| The level of finishing and use of space is undoubtedly impressive | |
| Extremely durable and lightweight | |
Frequently Asked Questions
Why Are Richard Mille Watches So Expensive?
Richard Mille Watches are expensive because of the complexity of design, innovative technology, and the image and reputation that they bear.
Are Franck Muller watches water-resistant?
Yes. Franck Muller watches are water-resistant up to 30 meters (3 bar, 98 ft). This might seem a bit less than typical for a sports watch but all their watches are of high quality.
About Exquisite Timepieces
Established in 1998, Exquisite Timepieces is your one-stop shop for all things luxury watches! We are an authorized dealer for 60+ luxury watch brands including Omega, Hublot, Seiko, & Longines! We are proud to showcase one of the world's largest pre-owned watch collections, including renowned brands like Rolex and Patek Philippe. Check out our brand new watch arrivals here and popular pre-owned listings here.