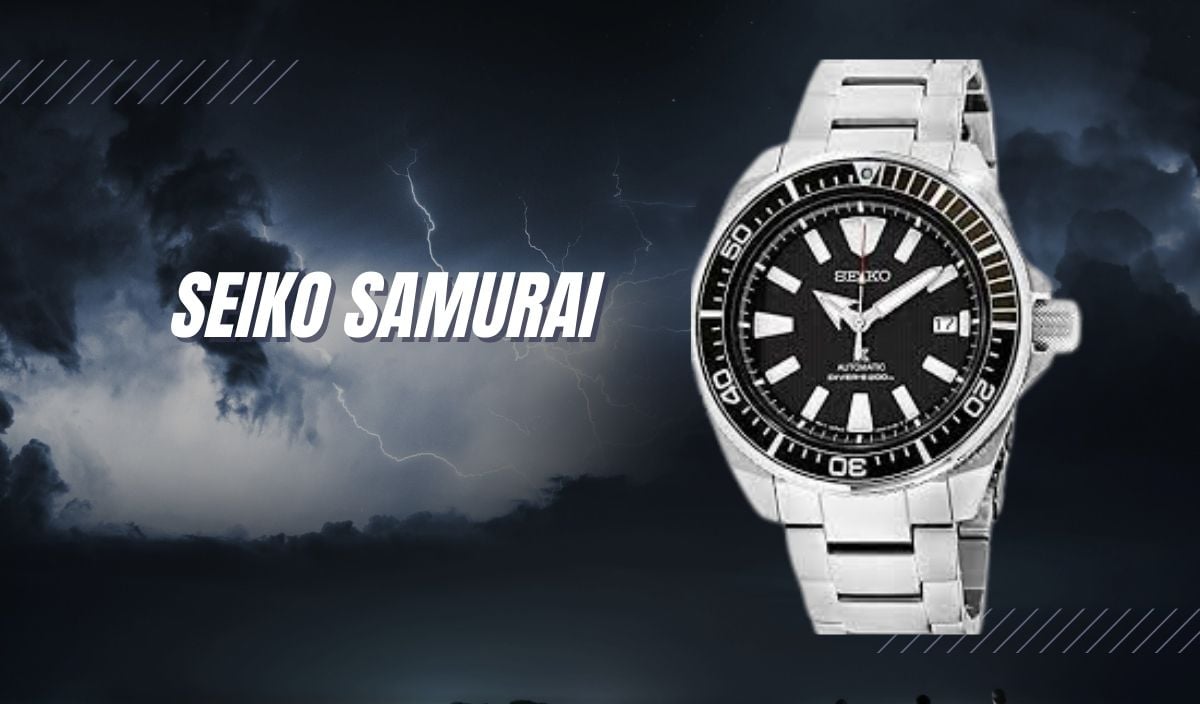 Seiko Samurai: ULTIMATE Buying Guide for 2023 (Warrior's Spirit!)
With all of the bells and whistles watch enthusiasts have become accustomed to over the years, it's easy to overlook the fact that some watches really were designed simply as tools. In reality, the beautifully finished cases and in-house movements we all drool over are as superfluous as any grand complication when it comes to actually telling the time.
Thankfully, we are spoiled for choice and free to choose our own adventure when it comes to watch collecting. There is one brand, though, that manages to offer many of these more luxurious features at a price that won't make you think twice about actually using it as a tool. That brand is Seiko.
When it comes to a product range, you'd be hard-pressed not to find something in almost any category or price range from Seiko. Whether you are looking for an impeccably finished tourbillion in the form of the Grand Seiko Kodo Constant-Force or an everyday beater suitable for any enthusiast in the 5kx line, Seiko has you covered. Despite the wide range of Seiko's current offerings, their bread and butter is still value-packed dive watches.
There was a time, not that long ago when these affordable dive watches packed even more of a punch. One great example of exactly what Seiko was, and currently still is, capable of producing is the Seiko Samurai. Let's take a deep dive into this watch and see what makes it so special and such a unique option in the Seiko product range.
History of the Seiko Samurai
The early 2000s represented the peak of value for money for many of Seiko's dive watches. Their ability to produce high-quality watches at scale (and forget to account for inflation or relative comps) allowed Seiko to be the true king of value around this time.
In 2004, Seiko released a new watch design, one that would continue to provide exceptional value for money, with a unique case shape and robust 7S25 In-House movement. This watch was the SBDA001. A titanium watch featuring a brutalist design with sharp angles that helped to give this watch a unique aesthetic among the Seiko collection.
As you might have guessed, this watch would later become known as the Seiko Samurai. The nickname came to fruition from enthusiasts (we're the best at naming timepieces) and was based on the shape of the first-generation hands. Their pointed shape shared a resemblance to the ancient swords used by Samurai, albeit straight, as opposed to the traditional curved shape of a Samurai sword.
Although modern examples of this watch feature an updated large arrow handset, the Samurai name continues to represent this model. Some will argue that the case shape still resembles the traditional armor of a Samurai, therefore justifying its nickname, but I am not fully sold on that comparison. Either way, it's a great nickname and isn't going anywhere.
About the Seiko Samurai
Given Seiko's wide range of entry-level professional divers, you'd be excused for not knowing what separates the Samurai from other options in the line-up, such as the Turtle or the Monster. The Seiko Samurai shares many similar features with these models but also has some stark differences that help to differentiate it.
For starters, this watch has a very modern appearance. Gone are the soft curves of the Turtle and 5KX that were influenced by decades of previous models. The Samurai features sharp downward-sloping angles at the lugs and a trapezoidal profile. The watch is accented by a gnarled crown and bezel that help increase grip and add to the modern design aesthetic.
The Seiko Samurai is a big watch, given the larger case diameter of 42-44mm and 3 O'clock crown placement. Because of the unique case shape, the Samurai wears larger than even the 45mm Seiko Turtle. Depending on the model, these watches are made of titanium or stainless steel, feature Seiko's proprietary Hardlex crystal or Sapphire crystal, and have either ceramic or aluminum bezel inserts.
Regardless of the many options available in the lineup, every Seiko Samurai will be an ISO 6425 certified Dive Watch rated to 200m of water resistance.
Is the Seiko Samurai Worth Buying?
Based on everything we know about the Seiko Samurai, the question of whether you should buy one or not will really come down to you. To be clear, I think that every watch enthusiast should own at least 1 Seiko dive watch. That is not exactly the question, however. Whether or not this is the model line worth buying for you will depend upon a few different criteria.
Wrist Size
First is your wrist size. As mentioned earlier, 44mm for the current model range is a huge watch by today's standards. The distinct case shape does not allow Seiko to use their usual magic to make a watch wear 3 to 4 millimeters smaller either. You need to have a larger-than-average wrist circumference or really like how a large watch feels and looks to wear this watch regularly.
Budget
The second factor is budget. The standard model Seiko Samurai, SRPB51, retails for roughly $525. That puts this watch in a unique place. It's more expensive than 5KX of dive-inspired watches but quite a bit lower than watches in the SPB line. If your budget falls right in that $500-$600 range, you can't do much better.
On the other hand, if you could afford to stretch to the SPB line, there are some very compelling options within that lineup that offer more refinement for your money. If you like to collect watches, rare Limited-Editions, and pseudo-vintage models and don't mind spending the SPB level $800-$1200, however, the Seiko Samurai can provide something the current SPB line cannot, history and rarity.
The Best Seiko Samurai References
Assuming that your wrist is up to the challenge and that the Seiko Samurai price range coincides with your budget, I feel this watch is worth your hard-earned money. There are many different options that you can look at. Pre-owned earlier generation models, Limited-Editions, standard product models, and even "King Samurai" options can help you narrow down to exactly which watch is right for you. Let's take a look at 8 examples of Seiko Samurai watches that are absolutely worth your money!
Seiko SBDA001
It only makes sense to start this list at the very beginning. The SBDA0001 is the original Seiko Samurai. The watch featured a more compact 42mm case size housed in lightweight titanium. As mentioned earlier, the handset on these first-generation models was shaped like a Samurai sword, ultimately leading to their enthusiast-given namesake.
The dial features a charcoal gray color reminiscent of the original dive watch Seiko produced, known as the 62MAS. The gray and black aluminum bezel insert helps modernize the appearance of the otherwise classic dial. These first-generation models were powered by the 7s25 movement, which made hacking and hand-winning impossible for these original models.
The mechanical upgrades to the modern Seiko Samurais are certainly a welcomed addition, but there is so much that Seiko got right with these original models. The slightly smaller 42mm case housed in titanium would send shockwaves amongst the Seiko enthusiast community if reintroduced today.
Although bordering on vintage these days, you can still find these models pre-owned for roughly $800-$1000. There is a significant premium for this watch over its original MSRP, but being the first of an iconic model still in production will have that effect.
Seiko SNM021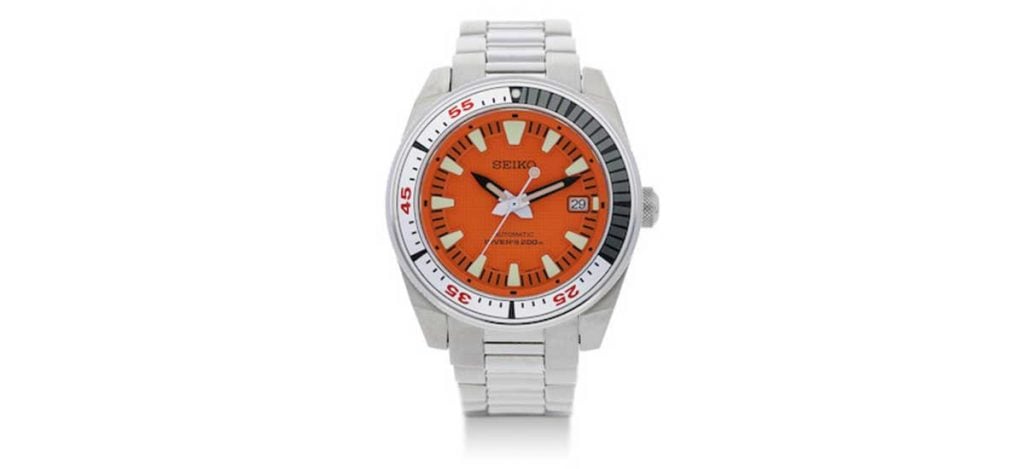 Another watch from the first generation, the SNM021, known as the Orange "Ninja" Samurai, gives a unique perspective on this already distinct watch. One main change from the standard production is that this case is constructed from stainless steel.
I am not in love with that decision, but it does help to differentiate it from the standard production model. In addition, the standard black and gray color combo is replaced by a vivid orange dial and gray bezel with red accents. With this watch being an international-only release, pre-owned examples are quite hard to come by. When they do pop up, you can expect to pay roughly $800-$1200, depending on the condition.
The following 4 examples come from the second generation of Seiko Samurai models introduced in 2017. These models benefit from an upgraded movement in the 4R35, allowing for hacking and hand-winding. In addition to this change, these models' cases have been bumped up to 43.8mm and are all made of stainless steel. The Sword-style handset has also been "upgraded" to the large arrow-style hand many associate with the Seiko Monster.
The SRPB51 is the standard issue black waffle dial. This unique dial texture helps to give this watch additional visual interest while remaining very neutral. The gray and black aluminum bezel insert from the SBDA001 remains largely untouched and compliments this watch nicely.
The Seconds hand features a red tip, which helps break up the monochromatic color scheme on the dial and bezel. The SRPB51 is still readily available at many retailers at an MSRP of $525. Given that this watch has been around for a few years, there is an opportunity to save even more if you are willing to take a chance on the preowned market.
Seiko Prospex SRPB09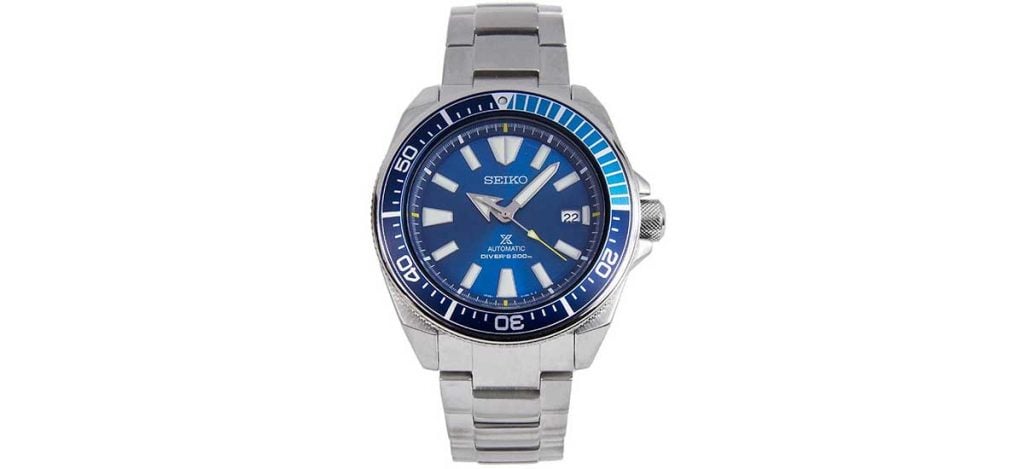 One of the most popular models to come out of the second generation of Seiko Samurais is that of the SRPB09, known as the Blue Lagoon. The deep blue sunray dial with accenting light and darker blue bezel are the highlights of this watch and share responsibility for the affectionate nickname of the Blue Lagoon.
The dial and handset also feature bright yellow pops, a color combination you don't often see. This 6000-piece Limited Edition watch is no longer available at MSRP but can still be found on the grey market for $800-$1200.
Seiko Prospex SRPD13
The "Zimbe" edition of Seiko watches are often some of the most sought-after and collectible Limited Editions available. One of their more reserved variations comes in the form of the 1300-piece Limited Edition SRPD13. This watch features a very similar dial and handset to what can be found on the SPB143, with well-placed accents of red.
The seconds-hand is entirely red, while the bezel consists of both red and gray to compliment the aesthetic. The more subtle handset and pops of color make this watch my personal favorite on the entire list. With the smaller production size, this watch will be a little bit harder to source. If you are patient, however, pricing should be similar to the Blue Lagoon at $800-$1200.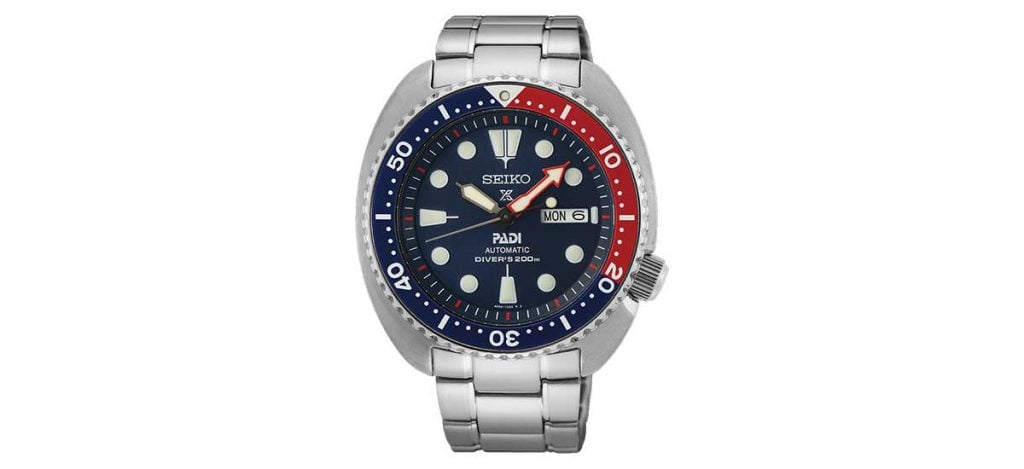 Another common collaboration amongst Seiko dive watches is with PADI, the Professional Association of Diving Instructors. The SRPB99 PADI Special Edition draws inspiration from several other iconic watches while creating a truly unique Seiko Samurai.
The watch features a black wave dial reminiscent of the 90's Omega Seamaster and a Pepsi bezel colorway. Combine these with the PADI logo on the dial, and it is very clear that this watch knows its audience. The PADI Special Edition watch represents a great value coming in at roughly $500 to $600.
The last two entries to this list are part of the third and latest generation of Seiko Samurai watches. These have become known as the "King Samurai" as they feature some elevated specifications across the board. These new models now feature ceramic bezel inserts as well as sapphire crystals with a "universally loved" date cyclops.
One of the most unique dial options available for a Seiko dive watch is a white dial. Combine this with a unique texture, like the waffle pattern, and you have something sure to stand out from the black and blue colorways crowd. The SRPE37 gives us exactly this colorway and is a call back to some of the most sought-after versions of their earliest models.
With this watch still being a standard version of a timepiece still in production, there are several avenues for acquiring this timepiece. Coming in at an MSRP of $595, this watch offers tremendous value considering the elevated specification that you see with this third generation. If you are willing to let someone else put the first few scratches on it, this watch it can be picked up for even less.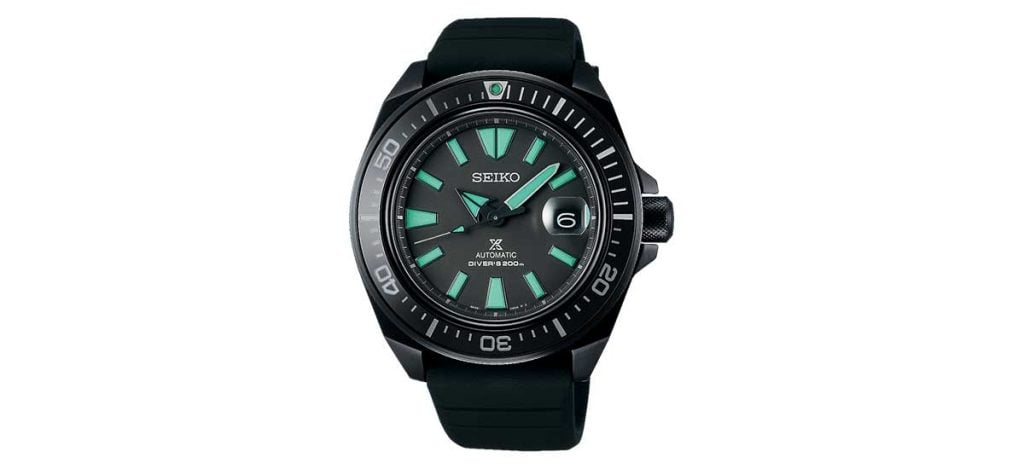 The final watch on our list today is a recently released 8000-piece Limited Edition SRPH97. This watch features a blackened stainless steel case and a black ceramic bezel. Complimenting this blacked-out aesthetic is a minty green-colored lume for the hands, indices, and bezel pip.
The color combination offers a unique look on a blacked-out watch and works very well together. There is a slight price premium for this edition with an MSRP of $675, but given the unique look of this timepiece, the price seems completely justified.
Final Thoughts
Given that the Seiko Samurai is one of Seiko's newest iconic model lines, it's surprising how many models exist and how much history there is. Admittedly, it's not a model I have much experience with, given my slender chicken wrists. I really appreciate what Seiko did and has continued to do with this model.
With almost every watch manufacturer peering into the past when designing their dive watches, Seiko is creating this watch for the present. They have several other models that can help scratch the vintage-inspired itch, but this watch makes a choice to fit the modern aesthetic.
Where I would typically beg for a 38-40mm version of a watch I like but is too big for me, I am going to choose to withhold that request. This watch should continue to speak to people with modern tastes rather than try to please everyone.
The beauty of Seiko is that no matter what you like, there is a watch for you. It may not be the perfect watch, but it can be perfect for you. The Seiko Samurai isn't the one for me, but it may be exactly what you're looking for!
Happy watch hunting!