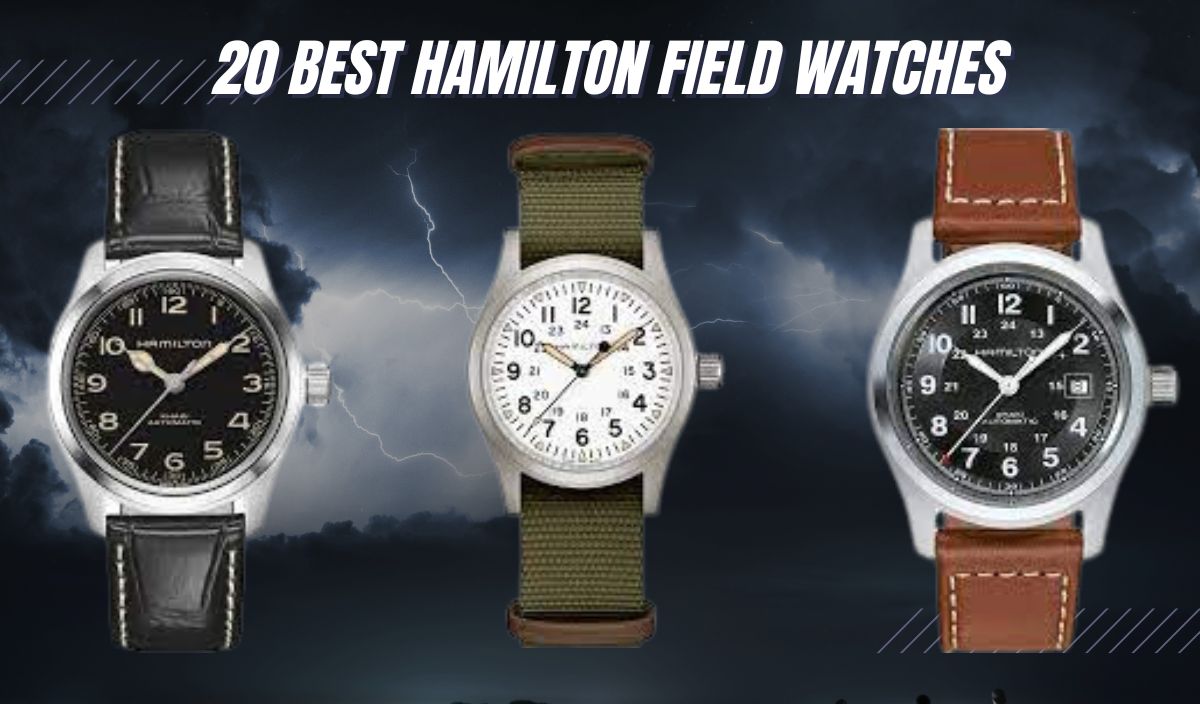 20 BEST Hamilton Field Watches [Affordable, Rugged, & Classy]
Behold, the crème de la crème of Hamilton field watches. These timepieces are built to withstand the rigors of military life, exuding a rugged charm that appeals to those with a penchant for adventure. Hamilton's field watches represent an impressive combination of precision engineering, style, and affordability in the luxury watch realm.
From reliable movements to durable materials, these watches are designed to stand the test of time and provide accurate timekeeping in even the most demanding conditions. More than that, Hamilton's Field Watches are more than just instruments for telling time – they're a reflection of the rich military heritage that inspired their creation.
A Military Pursuit – About Hamilton's Field Watches
Today, field watches are arguably Hamilton's most popular line for adventurers, collectors, and watch enthusiasts alike. They boast a range of styles, from classic vintage designs to modern updates, all while maintaining their functional and durable appeal. Hamilton's commitment to quality is evident in each watch, bolstered by the fact that these models are stunningly popular.
Time In The Field – A History of Hamilton's Field Watch
Hamilton is a Swiss-American watch company founded in 1892 that has built a reputation for creating affordable luxury timepieces. In the early 1900s, the company was already supplying watches to the American military, proving them to be a trusted brand in the field watch market. 
However, during World War II, Hamilton cemented its place in history as the official timekeeper of the US Armed Forces. The iconic Khaki Field collection, characterized by its rugged and functional design, was born out of this partnership. If it's good enough to keep the US Army on time, surely it'll do the same for you.
The Best Hamilton Field Watches
A reboot of its 1960s predecessor, the Khaki Field Mechanical 38mm Black Dial is a resilient, stylized timepiece, mostly thanks to its alluring matte stainless steel case. Its black dial is decorated with rounded, sans-serif numerals and luminescent hands, all serving the watch's almost primal minimalism. Surprisingly, despite presenting both 12 and 24-hour indices on a 38mm unit, the face doesn't seem cramped at all.
Powered by the exclusively-manufactured H-50 movement, the reference H69439931 guarantees Swiss precision and military robustness, despite its easy-wearing appearance. A fitting addition is the NATO strap, which is a clear designation of the 'in-the-field' influence behind this piece.
A bracelet can either make or break a soldierly watch, either leading it too far into sporty territory or substantiating its strength. In the case of the H70455133, I'm pleased to confirm that it's the latter. The polished stainless steel bracelet merges with the brushed case wonderfully to create a boldly unified field watch that's as versatile as any sports watch in the same price bracket.
A date window and seconds divisions form a compositional push-and-pull on the black dial, the highlight of which is a sharp, red-tipped seconds hand. With 80 hours of reserve juice, the H-10 movement provides all the power this watch needs to perform at the highest levels.
If you've ever seen the modern sci-fi classic, Interstellar, you'll recognize this tribute to the character of Murph, played by Jessica Chastain. This limited edition watch centers around a deep black dial with green accents, creating a striking contrast against its brushed stainless steel case.
Super-LumiNova cathedral hands manifest a sense of (practical) antiquity, providing a touch of character that batons simply can't. Originally released as a 42mm piece with a black leather strap, I'm so pleased to see this in 38mm, as it makes this modern icon all the more approachable. If the Murph wasn't one of your favorite field watches already, it very well might have just become one.
The only ostensible difference between the reference H68411133 and its visual twin, the H70455133 (see number 2) is a Swiss-made quartz movement, which obviously isn't an automatic caliber, but nonetheless, it guarantees precise timekeeping, ease of use, and shaves just over 2mm off of the watch's thickness.
Let's be frank – only the most uptight among us still care about the 'quartz war'. The rest of us are happy to wear quartz because we know that it works, and what matters, ultimately, is that it keeps time. With that being said, this reference is a must for wearers who prefer thinner, lighter timepieces on their wrists.
Hamilton's Khaki Field Mechanical 42mm (ref. H69529933) is a larger version of the Khaki Field Mechanical 38mm, designed for those who prefer a more substantial ticker. In every way (aside from being a hair thicker), this is the same watch as the first entry on this list, but despite that, it feels sufficiently different, not only in terms of scale but also by way of composition; a bigger dial somehow feels more spherical due to the tunneling size of the indices that adorn it.
It's an interesting visual quirk that I'll credit Hamilton's genius design team for. Lastly, it bears mentioning that, like its land-loving smaller brother, the 42mm is only water resistant up to 50 meters, a specification that shouldn't concern anyone reading this list, given its focus.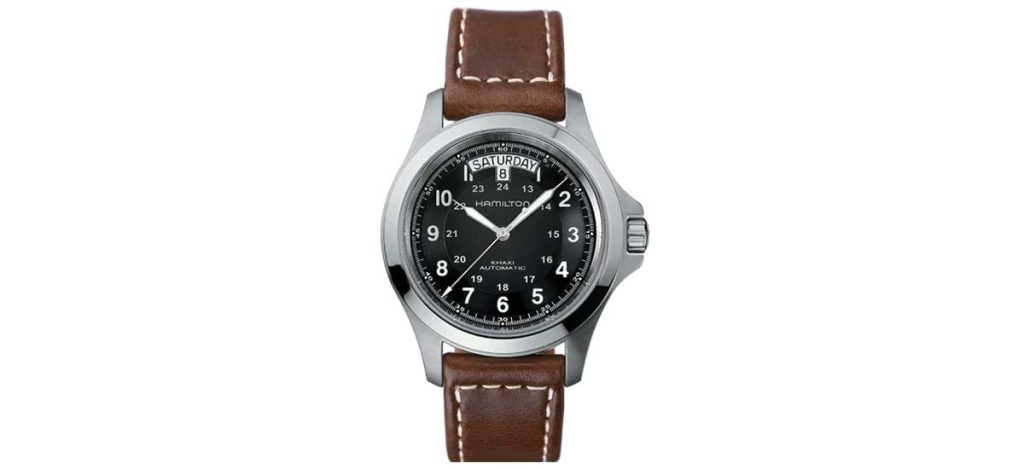 The Khaki Field King Auto 40mm (ref. H64455533) takes a slight compositional turn due to the crown guards that steer this model away from the purely circular form of previous entries. Military time is still displayed on the polished face, coupling a utilitarian feel with the everyday practicality of a day/date window at 12 o'clock.
Another Swiss-made automatic caliber, the H-40, runs the show and is displayed behind an open caseback, an addition I'm an absolute sucker for. On a brown leather strap, the classy outdoor appeal of the Field King is fully realized for a staunchly competitive $675.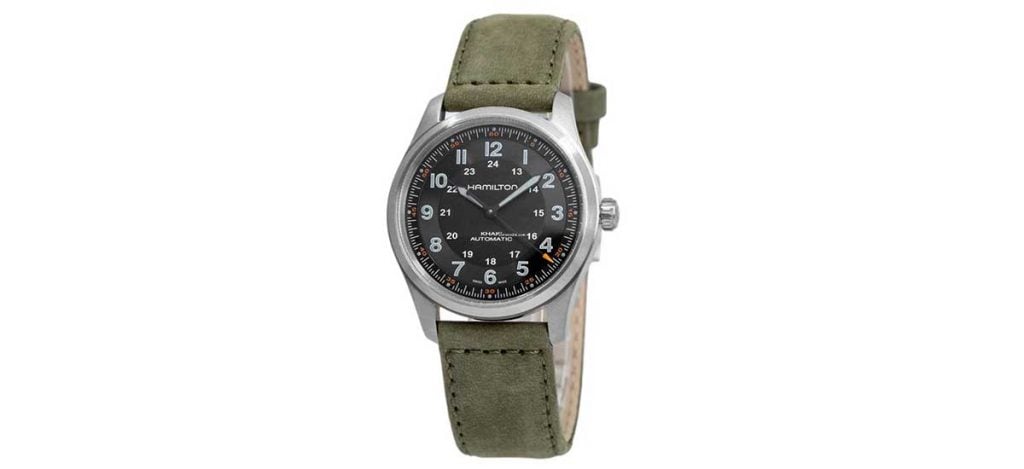 With a heritage spanning a hundred years in crafting military timepieces, the Khaki Field Titanium Automatic Auto is the quintessential multi-functional watch for contemporary go-getters. Its employment of lightweight materials sets it apart from many other timepieces, ensuring that it can withstand the demands of an active lifestyle.
Boasting a 38mm case size, the watch prioritizes ease and versatility with an authentic, subtly multi-colored design that pays tribute to its roots in military history. This is a watch that is truly deserving of those who lead lives of adventure and excitement. Of particular allure is the detailed white outline on the hour numerals. A tasteful touch, to say the least…
If you've been reading this and wondering if a chrono will make an appearance, then your time has come! The Khaki Field Auto Chrono is replete with functionality honed around a field aesthetic and thus is a timepiece that's truly fit for the challenges of the great outdoors. At 42mm, it exudes an air of confidence and capability that less hardy chronographs lack.
Although there's a lot going on on the dial, the placement and sizing of each element, with vertical sub-dials (as opposed to the more common horizontal allocation), affords the watch face an impressively commodious feel. The exclusive H-21 automatic calibre and the luxurious camel-brown leather strap are the dual cherries on top of this rather tasty chronographic cake.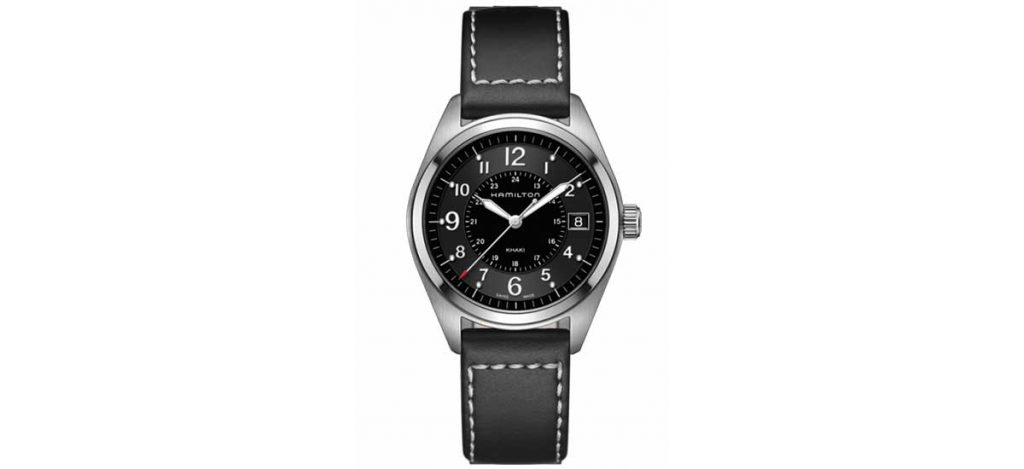 Another quartz movement, this time a slightly more dressy rendering, the reference H68551733 isn't as rugged as its counterparts but certainly no less proficient. Towing the monochromatic line with aplomb, a simple trifecta of black, white, and silver defines the dial and its adornments, and perhaps this traditionalist design slant lends the watch a more versatile appeal.
The exclusion of crown guards places the Field Quartz 40mm back in the familiar realms of the discoid (albeit a slightly elongated version of one due to the silhouette created by the lugs). All-in-all, the proportions and finish of this timepiece make it arguably the most adaptable watch on the list, offering infinite wearability for a cool $525.
Although it stands in total visual opposition to its black dial cohort, the white dial variant is its mechanical duplicate. A classicist itch is scratched by the three-hand display, divided into seconds increments by triangular indexes with old radium color Super-LumiNova.
The clarity of the watch – the way that it celebrates itself in bright white on the wrist – makes it somewhat more enjoyable to wear than the black version, to my eye. This is further emphasized by the pairing of matte steel with an unwaxed leather strap, as these textures complement one another in a subtly tantalizing way.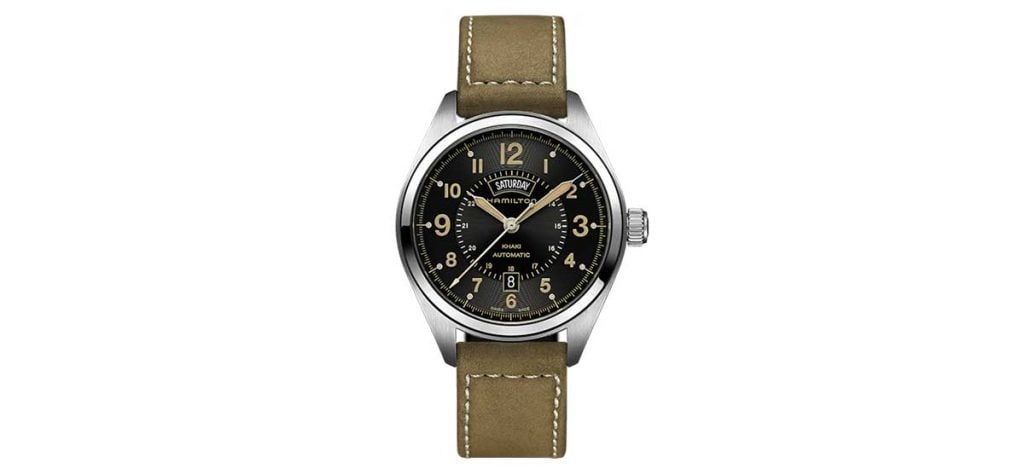 Taking it up a notch on the pricing scale, things get a touch more sophisticated with the Khaki Field Day Date Auto. With day and date windows carved into a glossy black dial and large Arabic numerals comfortably circling the edge of the watch face, this reference provides ample information at a glance.
A detail worth noting on the case is the welcome disparity between the polished bezel and the brushed case. This 'steel 2-ways' finish grants the H70505833 a sense of depth in an altogether unaffected manner.
The superior H-30 movement can be ogled at through an open back for extra enjoyment, if only because it's beautiful enough to warrant your attention. All things considered, Hamilton made worlds collide with great success here – I'd say this model is worth every one of the 945 dollars you'd be expected to pay for it.
While at face value it may appear distinctly similar to a few other entries on this list, Hamilton's Khaki Field Mechanical Bronze is a paradigm shift for the original soldier's watch. It's the brand's first timepiece to feature a bronze case, making each watch a unique story that unfolds over time as the case develops a distinctly unique patina.
Like the blue steel of the finest Japanese blades, this bronze will eventually merge with ever-present natural elements – salt, moisture, and oxygen – to become a visual representation of your time spent wearing it.
The hand-wound H-50 movement is complemented by a titanium case back and a soft brown leather NATO strap, imbuing the 38mm timepiece with what may be described as 'desert chic'. For those who, like me, love watches that tell a memorable story, this model represents the chance to craft a tale from scratch in an indomitable style.
If Darth Vader wore a Hamilton, it would undoubtedly be this one. Well-sized, distinct, and altogether enticing, the dark side of the Khaki Field range offers a stylistic spin on a classic design that should attract those of you with a penchant for watches of the Stygian variety.
As robust as any timepiece on this list, thanks to its PVD coating, the 40mm stainless steel case harbors an all-black dial, with the exceptions being small white markers at each hour, and a red-tipped seconds hand that emboldens the otherwise colorless face even further. Pinned onto a black rubber strap with detailed triangular cross-hatching and a leather underside, this model is as comfortable as it is constrained.
Here's one for the thick-wristed among us – the H71706830 chronograph is the ultimate timepiece for less-than-conspicuous adventurer types who wear their outdoor exploits with pride. It's not discrete by any measure, at 44mm across and 14mm thick, and a wide leather bund strap only adds to this timepiece's impressive stature.
Nonetheless, this isn't a watch without finesse, which the detailed engraving on the caseback exemplifies in a manner befitting the military heritage of the brand. The sandblasted finish on the stainless steel case is also an appropriate touch. Of course, all of the usual suspects are present on the dial – SuperLuminova-coated raised numerals, perfectly legible sub-dials, and clean-cut indices skirting the edge of the face. There's nothing new here, but every millimeter of this watch is honed to perfection.
Another black addition to the docket, this one's a combination of the 40mm quartz entry (also black) and the standard Khaki Field, possessing the latter's compact 38mm diameter, as well as its dial features and case design. Personally speaking, this is my preferred offering in black from Hamilton.
As a fan of darker watches (a Casio geek of the highest order) and being somewhat slim-wristed, I feel like this watch was made for the outdoor version of myself. The old radium color lume, ever-present on these field watches, is best framed and backed by matte black, which creates the sense that it's glowing even during daylight hours. It's not an easy thing to create a modest black timepiece, and Hamilton has done that here, against all odds, for just $625.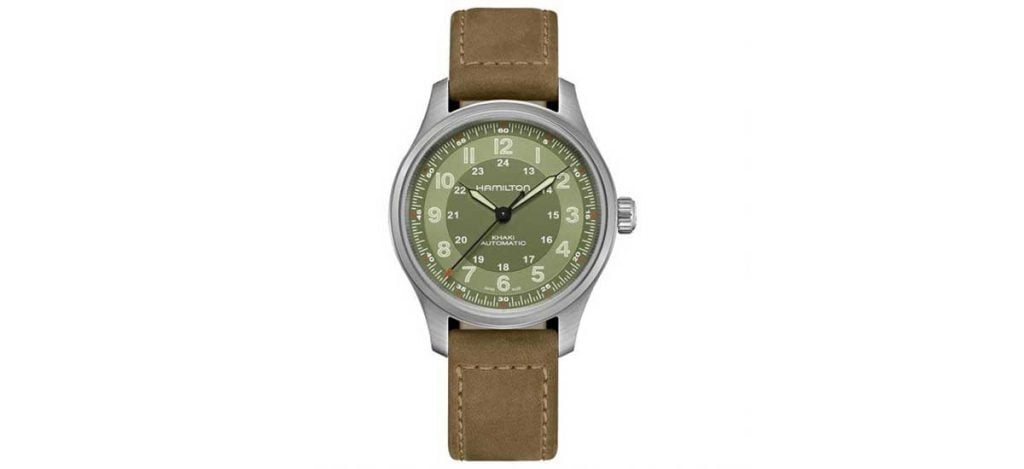 Green is a color readily associated with a multitude of things, but one wouldn't have to stress the point in arguing that militaristic applications and designs may represent one half of a duopoly on the hue, the other side, of course, being verdant nature itself.
Hamilton's employment of a dual-tone green face on this 42mm automatic watch, coupled with a clean stitched brown strap, cements this offering squarely in the military style and confirms that it's not just a field watch for the outdoorsman but a piece of gear for the hard-weathered soldier in each of us.
Of particular charm is Hamilton's decision to mismatch hands and numerals, with the pointers being black, while indices and numbers are all-white. Powered by the H-10 movement, the confidence of the dial is reflected within the timepiece by a resilient and precise caliber. This is a watch that every collector should at least consider owning.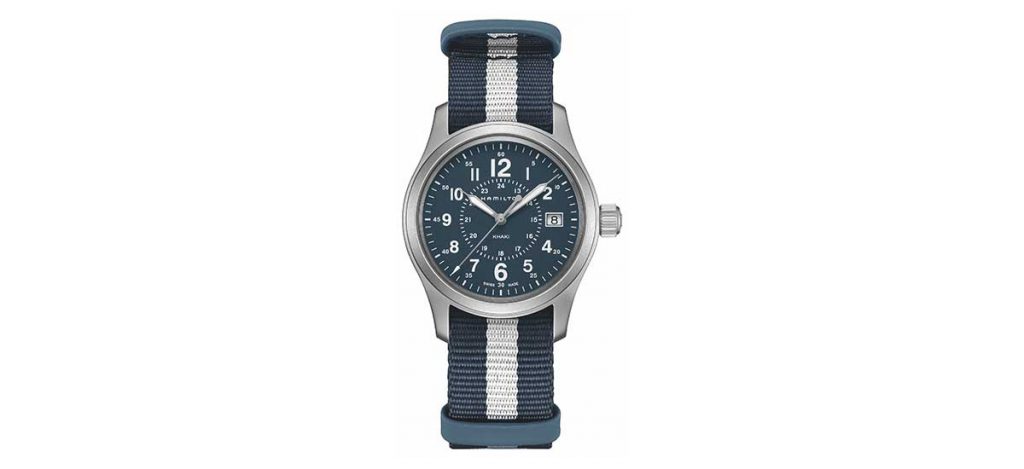 Now discontinued, reference H68201043 can still be found with relative ease by even the least-intrepid buyers, and for many, it's a watch worth the effort. Banded on a NATO strap with a distinct white line running through outlying blue, the stainless steel case and sapphire glass protect a blue dial that's adorned with white details.
Here again, we see the inclusion of a 48-hour ring of indices that represent military time, serving as a reminder of its heritage, despite the sporty blue appeal of this variant. Slim, light, and dependable, this is a piece that compliments a variety of outfits.
There are certain timepieces that exhibit quirks beyond their inherently conventional identities, and this 42mm black Khaki Field Titanium is one of them. The idiosyncrasy I'm referring to, to be precise, is the way in which the 3 o'clock date window literally chisels into the aforementioned numeral, rendering it either half of an eight or the remainder of a 3, while simultaneously offsetting the corresponding '15' on the internal 24-hour indices.
This is a bold and curious design decision and perhaps not one I would've made myself, which is likely why I'm writing about watches rather than drawing them. Even so, there's little to dislike here – the highly functional and hard-wearing titanium case is a thing of cold, hard wonder, and the black dial, divided at its most infinitesimal by micro-seconds, appears to fortify both the large numerals and smaller details, rather than overshadowing them. Finally, this is one of the only models with a lume-tipped seconds hand, and that's very, very cool.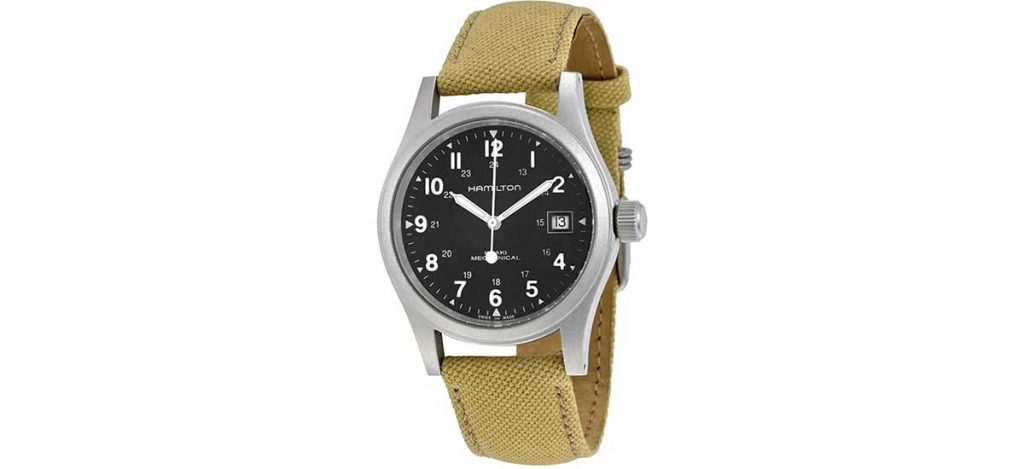 Hamilton's Field Officer Handwinding is about as simple as it gets. Hearkening back to the old days, with the hand-wound H-50 movement providing a tactile timekeeping experience, the Field Officer is a watch for modest, tactile individuals.
Its uncluttered black dial and crisp silver decorations do well to balance the fetching beige canvas strap, while a date window and 80-hour power reserve provide more than the necessary functionality for daily wearing.
Due to the finesse of the indices and numerals, this model is far more spacious than the entry-level khaki field (the first watch on this list, for example) and thus, is a timepiece that I prefer, if only for its honed minimalism.
What better way to end this list than with the biggest, priciest, most imposing watch of the lot? As you may already have noticed, this 50mm statement watch is a supersized
iteration of the standard Khaki Field watches, proving that this range really does have something for every wrist. There's no technical difference between this timepiece and its smaller namesake – it truly is just a matter of size.
Even so, at 12.5mm thick, the H69809730 isn't nearly as sizeable as it appears on paper, given that often (and surprisingly), the heft of a watch is determined by its thickness more than its width. Practically speaking, if this watch is for you, you already know it, and you should probably just go ahead a buy it already.
Fields of Joy
If nothing else, this collection is a testament to the timeless designs and refined durability of Hamilton's iconic field watches. From hand-wound models to more modern automatic chronographs, these watches embody the spirit of adventure and militaristic functionality that has made Hamilton a beloved brand among enthusiasts.
There is a timepiece here for every taste and occasion, so whether you're a fan of vintage or modern aesthetics, I highly recommend adding one of these pieces to your collection.
About Exquisite Timepieces
Established in 1998, Exquisite Timepieces is your one-stop shop for all things luxury watches! We are an authorized dealer for 60+ luxury watch brands including Omega, Hublot, Seiko, & Longines! We are proud to showcase one of the world's largest pre-owned watch collections, including renowned brands like Rolex and Patek Philippe. Check out our brand new watch arrivals here and popular pre-owned listings here.