20 BEST Seiko Field Watches [Finest Japanese Craftsmanship]
Ah, Seiko… the Japanese giant that began as a clock repair shop in Tokyo but has enthralled us with astonishing value for over 100 years. When I ask people what they think about Seiko, I often get responses that range from admiration to disdain.
Yup, disdain. But only from the few enthusiasts who are hung up on Swiss-made. And I know that deep down in their hearts, they are attracted by the exotic allure of these unique pieces that reveal Japanese aesthetics and craftsmanship.
I mean, who wouldn't fall in love with a well-regarded watch brand that offers access to some enticing and reliable little machines with beautiful, timeless designs?
For people like us who are content with non-Swiss watches, there's a certain Seiko magic that draws us in, especially since Seiko offers a range of options. One of these is the rugged field watches with design codes originating from a prestigious military heritage. While originally invented for soldiers, field watches have become a necessity for adventurers and outdoorsmen.
Their simplicity, durability, and legibility make them perfect for adrenaline-pumping activities. So here are the 20 best field watches from Seiko on the market right now!
About Seiko Field Watches
When looking at every Seiko model, it is impossible to miss one of the brand's most functional and straightforward timepieces: field watches. Seiko's field watches were originally made for soldiers during World War 1, so they all draw inspiration from a military heritage and are designed to withstand extreme warfare.
Though the field watch catalog is extremely broad and cuts across different collections, many of them can be found in the "Seiko Five" collection. Launched in 1963 with the debut of the Seiko Sportsmatic 5, the Seiko 5 series includes hundreds of "daily beater" watches that offer high levels of reliability, durability, and value.
The 5 stands for a durable case and bracelet, automatic winding, day/date display, water resistance, and a recessed crown at the 4 o'clock position. These features, combined with the simplicity and ruggedness of these watches, make them great for hiking, mountaineering, and the outdoors in general.
There is the 'Flieger' collection with watches created for pilots and navigators. There is also a new Seiko 5 sports 'stealth' that draws inspiration from the original 5 Sports classics from 1960 and a 5 Sports GMT SKX re-interpretation.
Other iconic collections with robust and stylish watches by the brand include the Prospex collection, Seiko Presage, Seiko Cocktail Time, and Seiko Astron.
History of Seiko Field Watches
Japan's most relentless watchmaking company started its journey in 1881 when Kintaro Hattori opened a clock shop in Tokyo. Hattori's shop began with the repair of watches, and soon he began to resell imported timepieces from the West which could not be found anywhere in Asia.
The rarity of the imported watches made him extremely popular, allowing him to relocate to the epicenter of Japan's commerce; Ginza. In 1892, Mr. Hattori, now 32 years old, began the production of clocks under the name "Seikosha", which means "House of Exquisite Workmanship." The growing success continued, and by 1895, the first in-house pocket watch, "the Timekeeper", was launched.
The Laurel followed in 1913 and was the very first Japanese-made wristwatch. Seikosha was changed to "Seiko" in 1924, and the first Seiko-branded wristwatch was released in the year 1924.
The 2nd World War began in 1939, and it was at this time that Seiko began manufacturing wartime timepieces or field watches. These watches were built upon three core principles; instant legibility, accuracy, and durability, making them very practical for combat.
Over the years, Seiko's field watches have evolved but continue to deliver consistently high levels of performance and value, earning them a cult following worldwide. Without further ado, let's delve right into the 20 best field watches from Seiko!
The Best Seiko Field Watches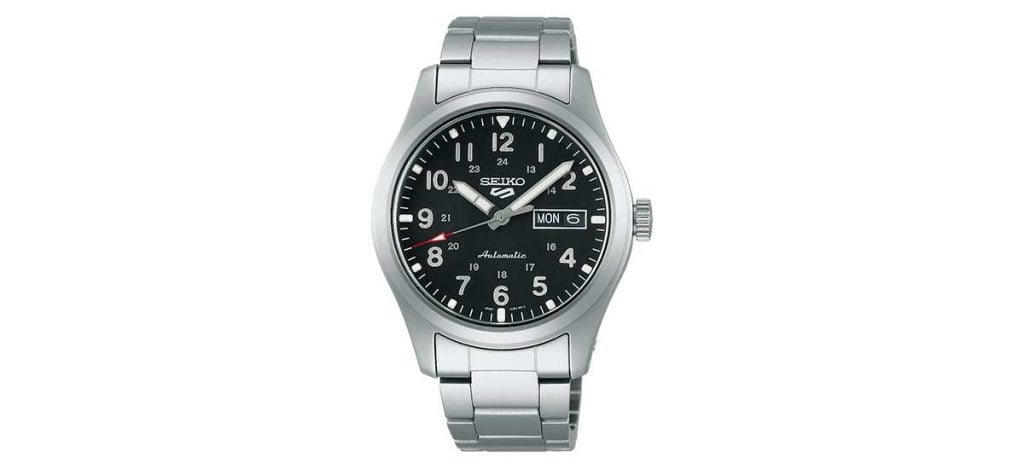 Starting this list is none other than the Seiko 5 Field Sports SRPG27 – a silver-toned gem-in-watch made of 316L stainless steel with a matte finish that resists both scratches and reflections. What makes it a great field watch? It possesses top-notch functionality with a rather enchanting aesthetic.
Its sleek and sturdy build makes it the perfect choice for hanging out or taking a thrilling trip into the jungle. Apart from the fitting dimension of 39.4mm across and lug-to-lug distance of 48.1mm, the SRPG27 was built as a utility watch with a charming design.
The matte black dial is insanely simple, with Seiko's trademark LumiBrite generously applied on the hands and indexes. Applied Arabic numerals add some class and sophistication while functionality is taken to a whole new level with a neat day/date window at 3 o'clock. What's more, it comes with a second set of numerals printed within the main ones for military time – an essential feature for every proper field watch.
The watch is powered by Seiko's reliable 4R36 automatic caliber with 24 jewels and a 40-hour power reserve. For a watch priced a little below $300, getting a movement accurate to +45 and -35 seconds per day may be a spoiler, but the design captures the spirit of the original Sportsmatic 5.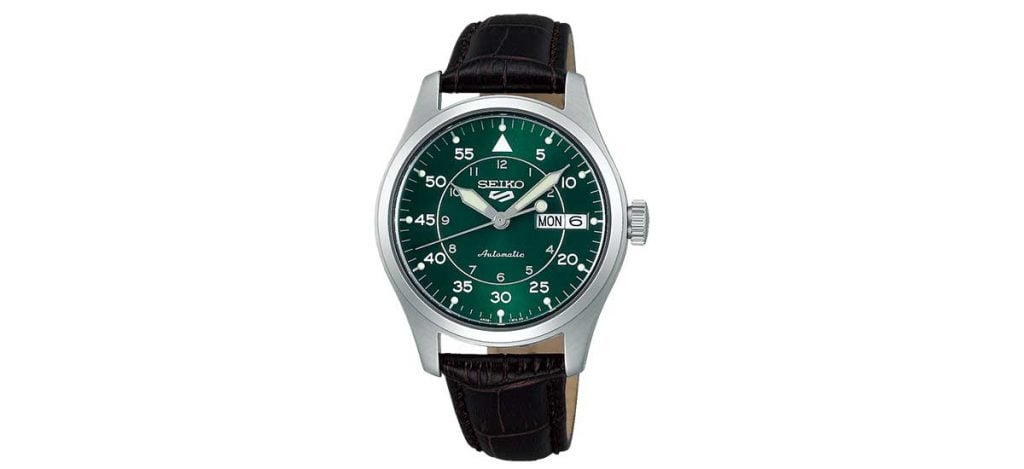 The Seiko 5 Field Sports SRPJ89 demonstrates the mastery of Japanese artisans. The obvious attention to detail and dedication to perfection has birthed this elegant piece. This one is a military-inspired timepiece that combines a good mix of ruggedness and elegance.
This stylish timepiece has been created with a 36mm case and a vintage calf leather strap which is just what a man needs to survive some serious adventure. A spark that raises this watch a bar higher is its intensity on the "Kelly Green Flieger suit-style" feature. The sunburst green dial is vibrant with a smart-casual aesthetic that is clear and easy to read quickly.
If you're looking for a versatile field watch, this is the one. Even if you don't plan on wearing this timepiece for serious tactical operations, the SRPJ89 is a versatile watch perfectly suited for any activity with its mission-ready look.
The watch features a navigator dial layout with minutes/seconds in intervals of five as the major numeral display while the conventional one to twelve display has been relegated to the inner ring.
It features a see-through case back which is a nice touch for those who like to see the inner workings of their watches. Like the SRPG27, it houses the humble 4R35 movement with a day-date function and is water resistant to a depth of 100 meters.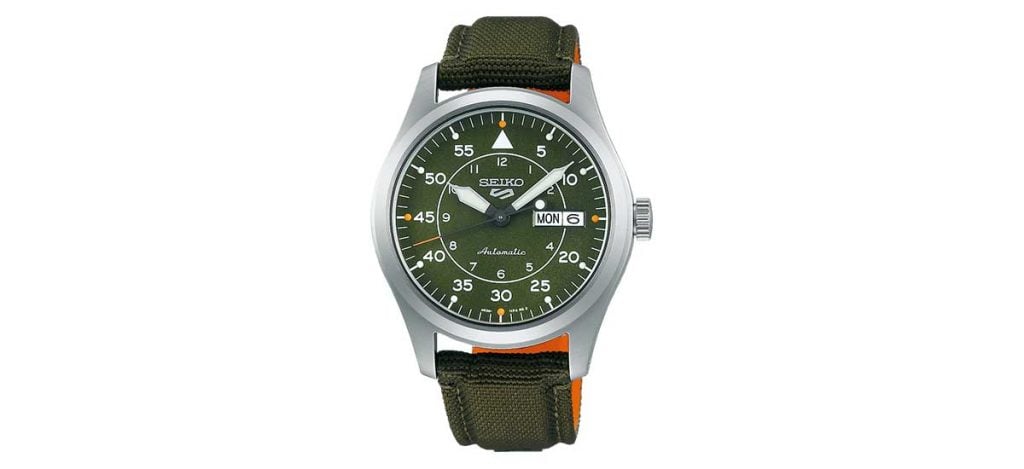 For a smart-casual style with a hint of vintage aesthetics, go SRPH29! This one right here flawlessly fits the vibe of a field watch with its tactical look and military air, thanks to the army-green strap. The SRPH29 has a mesmerizing forest green dial with slight tints of a dull lime-green coloration under direct sunlight.
The bold white hour markers and hands feature a generous application of Seiko's LumiBrite, making it incredibly simple to read. The minute tracks with minute numerals in 5-minute increments and an inner 12-hour track add to its functionality.
And Seiko, to add even more clarity and legibility, included contrasting orange hour marker lume pips at 3, 6, 9, and 12 o'clock positions. Talk about attention to detail! The watch features a slightly domed Seiko Hardlex crystal, which is scratch-resistant enough for everyday use.
It also has a day/date calendar, luminous hands and markers, and an orange-tipped secondhand. The SRPH29 comes in a 39.4mm stainless steel case with a brushed finish that runs uniformly throughout the case, including the bezel and sides.
The curved Hardlex crystal and LumiBrite hands and indexes also add to the watch's durability and readability. The Seiko 5 Sports Field SRPH29 comes assembled in a stainless steel case that measures 39.4mm in width, 48.1 mm lug to lug, and 13.2 mm from crystal to case back.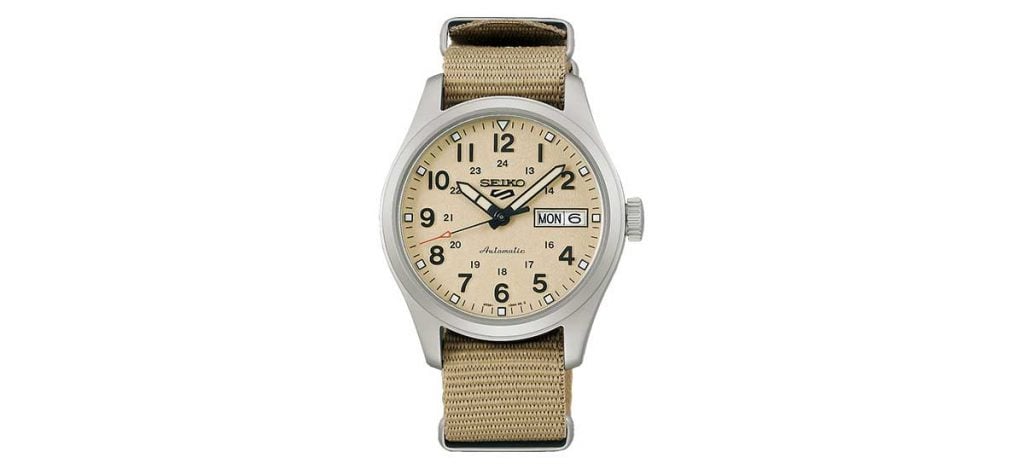 There's no doubt about it; the Sports Field SRPJ83 from Seiko has a bold appearance. It is just what anyone would expect from a standard field watch. Large Arabic numerals for hour markers, luminous markings, bold monochrome hands filled with LumiBrite, and a sandy-toned dial. It brings to mind the SNK series and is a perfect choice for anyone just venturing into the world of mechanical watches.
The stark beige dial with black accents has the familiar field-watch layout. There are bold Arabic numeral hour markers (including a smaller 24-hour numeral below), a day and date display at three o'clock, and lume-filled hands and indices. There is also a red-tipped secondhand that adds a pop of color and enlivens the somber dial excellently.
The watch case measures 36mm in diameter and is 12.5mm thick but wears slightly larger, thanks to the comfortable beige nylon strap. The overall aesthetics of the SRPJ83 gives off more aviator vibes than the watches we have looked at, and it is an adventurous field watch. It also has a see-through case back, allowing you to see the movement (caliber 4R36) in action. The SRPJ83 is water resistant up to 100 meters.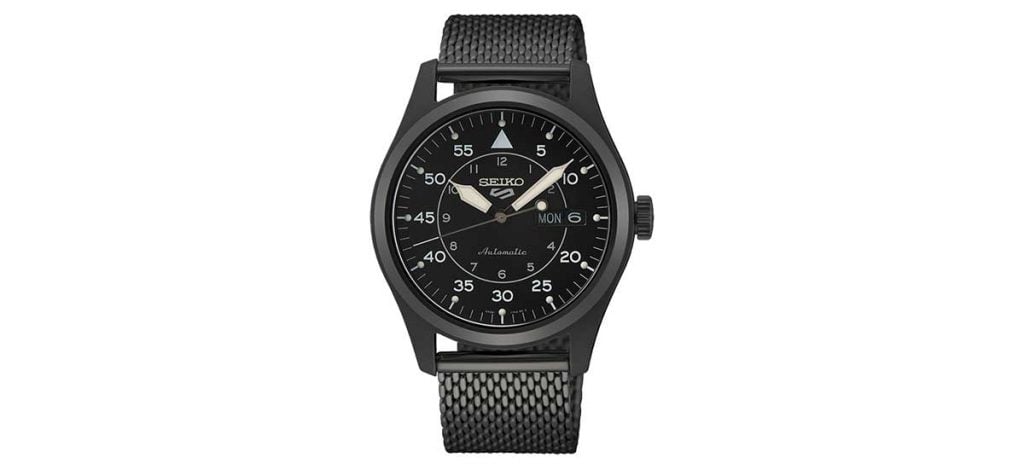 The Seiko 5 Field Suits SRPH25 is one of the most loved military-grade field watches from Seiko. This is the timepiece that does everything right, has everything right, and is solid enough to take anything thrown at it. Summer is just around the corner, and if you're searching for an adventurous watch that can do-it-all, then look no further.
The SRPH25 is a great inexpensive, yet high-performing field watch that would suit any watch enthusiast looking for something traditional with a fashionable touch. The watch has a thickness of 13.2mm, a diameter of 39.4mm, and a lug-to-lug distance of 48.1mm, which is close to a perfect proportion if you ask me.
And with a weight of 123.0g, the watch feels substantial on the wrist without being too heavy. The watch's aesthetics make it great for adventures, parties, business, and casual events alike. The watch's black dial is marked in five-minute increments, making it easy to read at a glance.
The 60-minute track adds to the watch's functionality, and the luminous hands and index markers make it easy to read in low-light conditions. Seiko's 4R36 automatic movement can be viewed through the exhibition case back.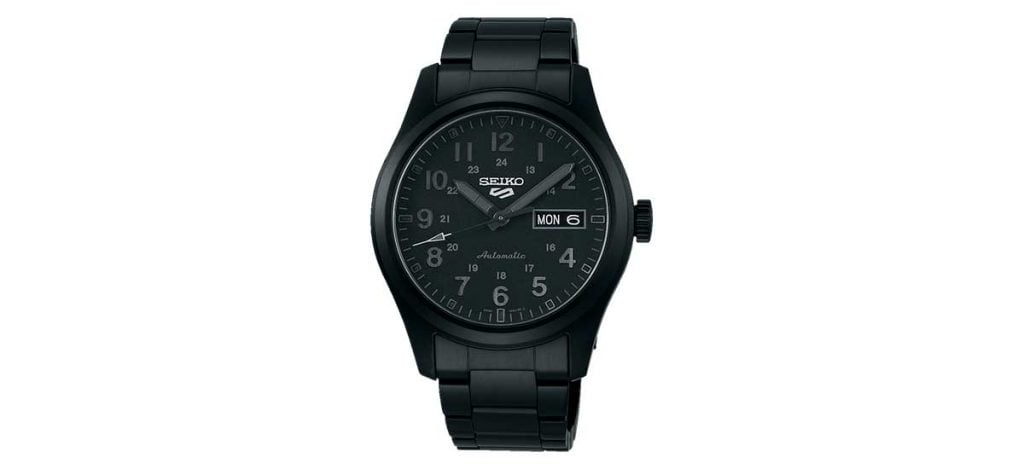 The Seiko 5 Field Street SRPJ09 is a vintage-inspired military masterpiece created to be reliable, durable, and trendy. The design appears thoroughly modern, thanks to the sleek all-black polish feature. The beater watch comes constructed in a black plated stainless steel case that measures 39.4mm x 13.5mm, with a tip-to-tip distance of 48mm.
The black ion-plating finish of the case enhances the watch's durability and makes it highly corrosion-resistant. The bracelet is made of the same material, and the tri-fold push-button release clasp with lock adds a touch of elegance to the overall design.
The black satin dial features a luminous marker track and a 24-hour inner ring for telling military time. It is accentuated by a white day/date display at 3 o'clock and protected from minor impacts by the scratch-resistant Hardlex crystal.
It is water-resistant to a depth of 100 meters and also features an exhibition case back, which is like a backstage pass to the inner workings of the caliber 4R36.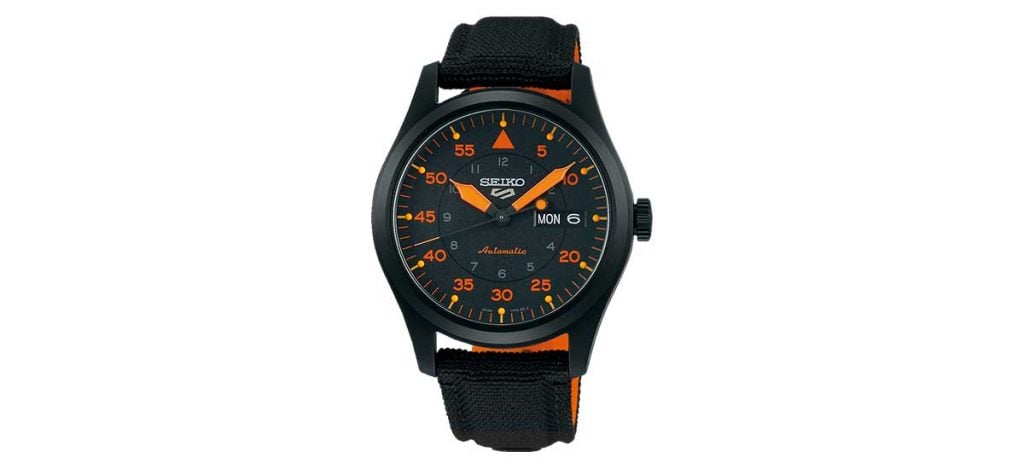 It is no news that the SRPH33 is a reinterpretation of one of Seiko's best-selling watch series, the SNK80X. The robust and reliable timepiece combines vintage military design with modern functionality. The all-black street-style design is accented by different materials, textures, and finishes, making it a real eye-catcher.
The black dial, protected by a curved Hardlex crystal, features military numbers on the outer dial and Arabic numerals on the inner chapter ring, with orange accents on the minute track and luminous black baton-style hands. The watch also features a black double date window at 3 o'clock with white numbers and red and blue highlights for weekends.
The 39.4mm black ion-plated stainless steel case of the SRPH33 houses Seiko's caliber 4R36 automatic movement with manual winding capability and 24 jewels, ensuring accurate timekeeping with a power reserve of approximately 41 hours. The case back is a stainless steel screw-down exhibition case, displaying this movement.
The case is water-resistant up to 100 meters and comes mounted on a black textile strap of canvas and leather, featuring orange accents on the inner side with a strap length of 20mm. With a weight of only 76 grams, the SRPH33 is lightweight and ideal for serious adventurers searching for a superbly functional field watch.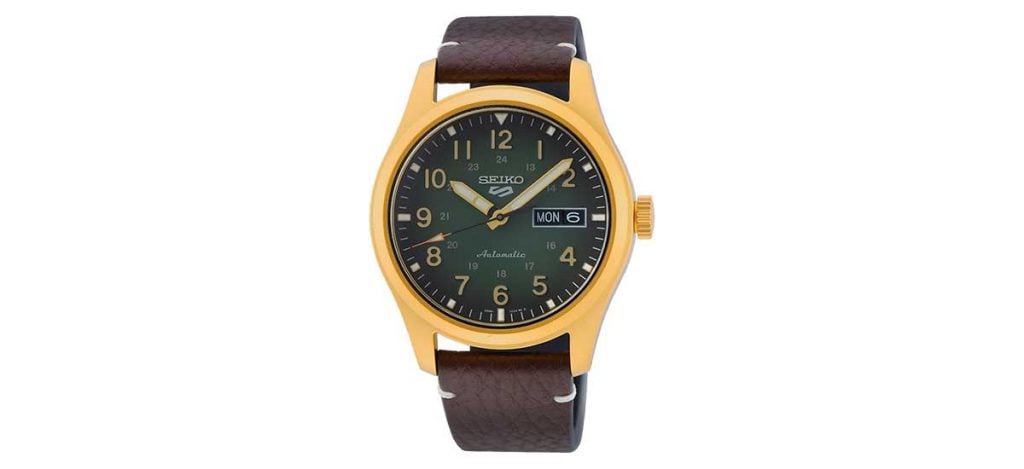 The SRPG42 is a fun watch with a refreshing look that will add a certain flavor to your outfit. At 39.4mm in diameter and a lug-to-lug distance of 48.1mm, the size is just right for most medium-sized wrist sizes. The green dial features gold-tone markers to match the case and Lumibrite hands and indexes.
The design of the dial is nothing eccentric, just the same highly legible display with large Arabic hour numbering, with smaller luminescent hour indicators and markers for minutes. You've also got a day/date window at the 3 o'clock position, large hands, and a red-tipped seconds hand.
A domed scratch-resistant Hardlex crystal keeps the dial safe, while the 100 meters water resistance rating makes it okay for swimming and snorkeling. It's the perfect accessory to show off your fun-loving side while enjoying the sun and burning some energy.
It has been built to last with adventuring in mind, so gladly join outdoor activities with style and jump right into the pool or sea with the SRPG42. Ticking underneath the see-through case back is the Caliber 4R36 automatic movement with 41 hours of power reserve.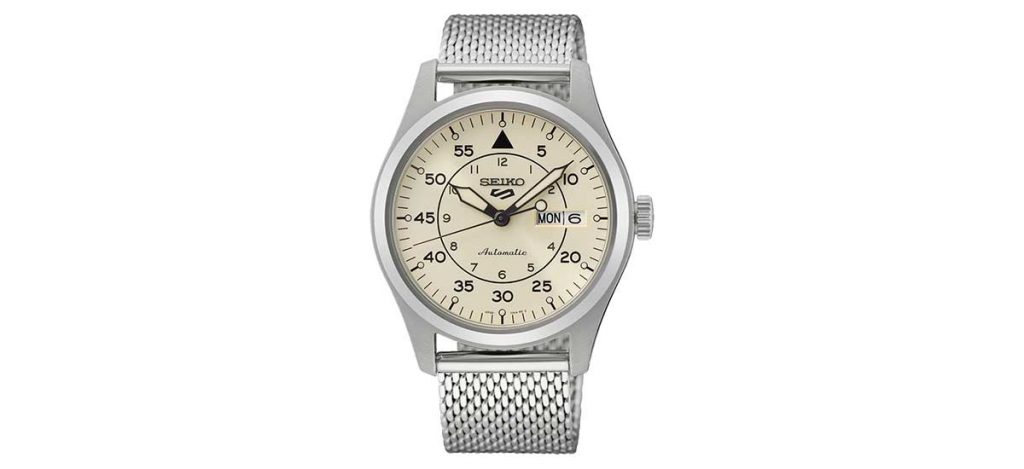 Seiko has scored another home run with the Suits SRPH21, a timepiece that ticks all the boxes with regard to functionality but is profoundly aesthetically pleasing. Ask me about a field watch that is also perfect for wearing out in the evenings and to social or corporate events, and I'll offer you this one.
In addition to the beauty of the case, the stainless steel mesh Milanese-type bracelet is chunky, solid, super comfortable, and doesn't pull on arm hair. The opaline sunburst white dial has been designed in such a way that it can be seen from at least 2 meters away.
It has large minute markers in intervals of five on the outer dial and black-rimmed hour markers with Arabic numerals at the center. The watch has a diameter of 39.4mm, a thickness of 13.2mm, and a lug-to-lug distance of 48.1mm. As with recent releases, it is produced with the automatic caliber 4R36. It is also water-resistant to a depth of 100 meters and features scratch-resistant Hardlex crystal.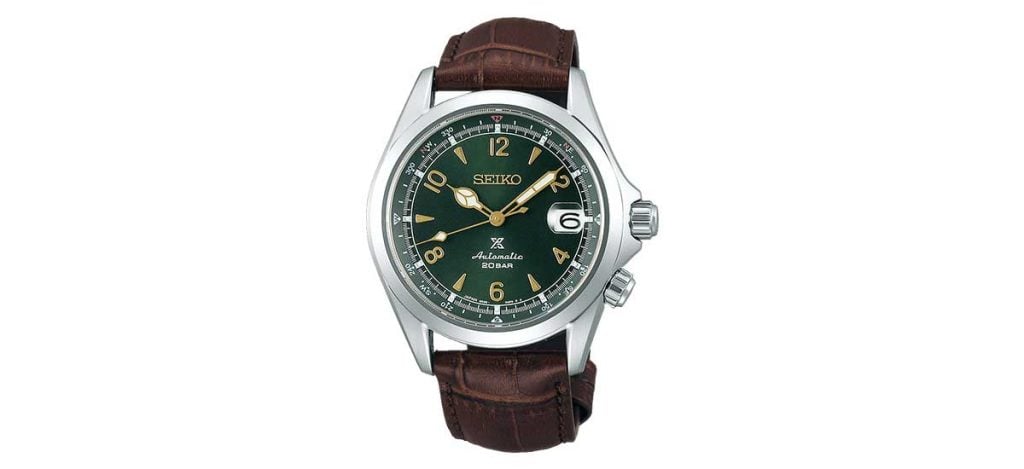 Get ready to climb new heights of style with the Seiko Prospex SPB121. This watch is a re-interpretation of the 1959 Alpinist wristwatch and is a masterpiece with the same feel as the aesthetic watch of the last decades.
Powered by the reliable, just released 6R35 automatic movement, it offers a precision of +25 to -15 seconds per day and an impressive 70-hour power reserve and is a self-winding automatic with 24 jewels.
With a 39.5mm diameter and a slim 13.2mm case thickness, with a lug-to-lug distance of 46.4mm, this watch was made of calfskin to sit comfortably on your wrist without being prodigious; you won't even notice it's there (until everyone compliments it on you, that is). The stainless steel case boasts a simple yet sophisticated finish, allowing the dark olive sunray patterned dial to steal the show.
Encircling the dial is an internal rotating compass track, perfect for the adventurous souls out there. With its brown calf-skin leather strap (alligator grained for added sophistication), and a stainless steel three-fold clasp with a push-button release, this watch ensures a secure and comfortable fit.
It also features a rotating compass inner ring and a see-through back case. Oh, and it's water-resistant to a depth of 200 meters.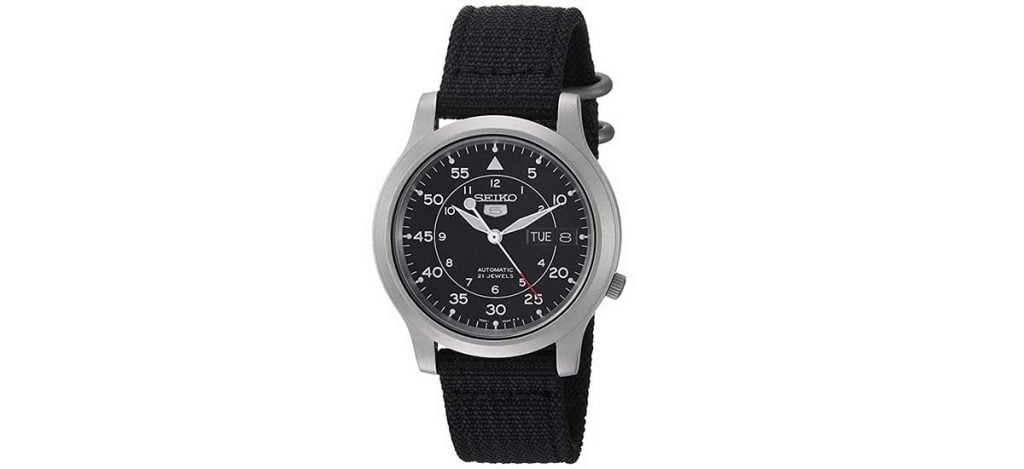 The SNK809 is another vintage-inspired masterpiece that seamlessly blends contemporary features with a 1930s military watch vibe. The 37mm case is compact and wearable for anyone with an average-sized wrist. It features a fine matte, bead-blasted finish that opposes both reflections and scratches, while a curved Hardlex mineral crystal keeps the dial highly legible.
The matte black dial is playful, legible, and visually satisfying and denotes a true sense of attention to detail. Black dial watches are often tricky and can be hit or miss with regard to their reflective properties, but the SNK809 handles it quite well.
The layout of the dial is similar to what we have previously looked at, but this one has a subtle texture that can be noticed under radiant light. The base of the second hand is round and luminous, while the triangular tip is vivid red.
As with the majority of others in this collection, the water resistance of the SNK809 is rated at 100 meters, which is more than sufficient for non-professional divers like us. Topping the dial is our familiar Hardlex crystal, which indicates that this piece is playing in an entry-level field.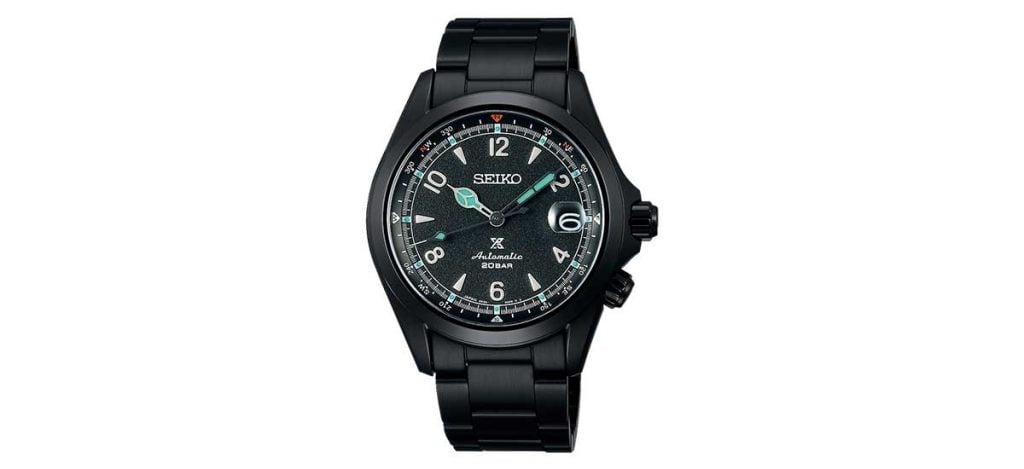 The Seiko Prospex SPB337 comes in a limited edition with exceptional technical features and unique design elements. Perfect for watch collectors and adventurers alike, the timepiece is a blacked-out interpretation of the dual-crown Alpinist that first appeared in the year 1995.
The 39.5mm stainless steel case with black hard coating has a brushed finish on top of the lugs, polished sides, and a smoked finish at the back, making it stylish and durable. The black dial with silver-tone markers and alternating Arabic numerals for even numbers and wedges for odd numbers gives the watch a classic yet modern look.
The watch's practical and adventurous rotating inner compass ring with orange accents for all north-related texts is also a standout feature. Its sapphire crystal with anti-reflective coating on the inner surface, screw-down crown, and see-through case back add to its durability and reliability.
This watch features a reliable in-house Seiko 6R35 automatic movement with a 70-hour power reserve and manual winding capability, perfect for everyday or outdoor use. Its impressive 200-meter water resistance rating is a testament to its functionality.
The SNE329 is presented on a 43.2mm wide and 10.7mm tall nicely finished stainless steel case with captivating beveled edges and a push-pull crown at 3 o'clock. The bezel is interesting and features a coin edge and a black triangular marker at 12 o'clock that might trick a few people into thinking it rotates when it doesn't.
Sitting on top of the case is Seiko's proprietary Hardlex, which is expected at this price point. The blue sunray dial is the star of the show and contrasts with light beautifully, giving off a metallic blue reflection when sunlight hits it right.
The dial has been stripped to the barest necessities and is extremely legible and neat. All that can be seen are a few markings at 6 o'clock that describe the movement type and the water resistance rating (100 meters). There's also an applied Seiko logo below 12 o'clock that keeps the symmetry of the dial well-balanced.
A nice day/date window has been cleverly positioned in a manner that allows it to nestle in between the upper and lower lines of the 3 o'clock marker. Speaking of clarity, you can't miss the huge, elegant stenciled Arabic numerals. Seiko has done a great job here by decorating them with a gloss white finish.
That said, legibility certainly is pretty easy, even for those who may not have very good eye vision. The watch is powered by a quartz movement, the V158 and comes mounted on a blue nylon strap.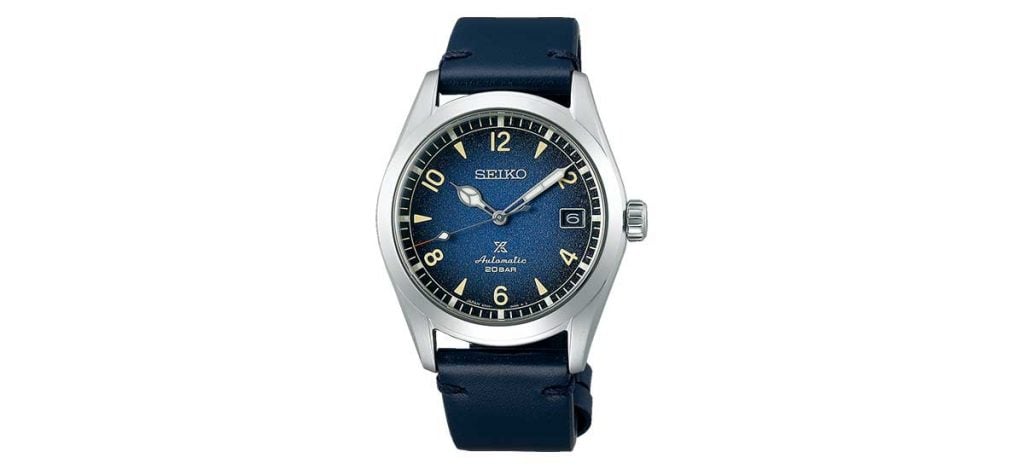 I can't help but admire the Seiko Prospex SPB157's modern and unique design, which tastefully honors the 1959 Alpinist wristwatch. It's as if Seiko took a time machine back to 1959 and brought the watch to the 21st century, giving it an updated design that pushes the boundaries of watchmaking.
One of the things that set this timepiece apart is its impressive water resistance rating of 200 meters, which is achieved through the stainless steel screw-down crown that acts as a fortress against dirt and moisture intrusion.
The 38mm stainless steel case boasts a blue sandblast pattern gradient dial that adds sophistication to its sporty character. The curved anti-reflective sapphire crystal provides excellent visibility of the gilded LumiBright skeletonized cathedral-style hands, with a playful orange-tipped second hand.
The watch's beating heart is Seiko's in-house movement, caliber 6R35, which offers an impressive 70-hour power reserve capacity. The blue calf-skin leather strap with blue matching decorative stitch is the icing on the cake, adding a touch of elegance to its overall appeal.
The Seiko Prospex SPB157's hack feature allows for precise setting synchronization, making it an ideal choice for urban living and the perfect gold standard for watch enthusiasts of all levels.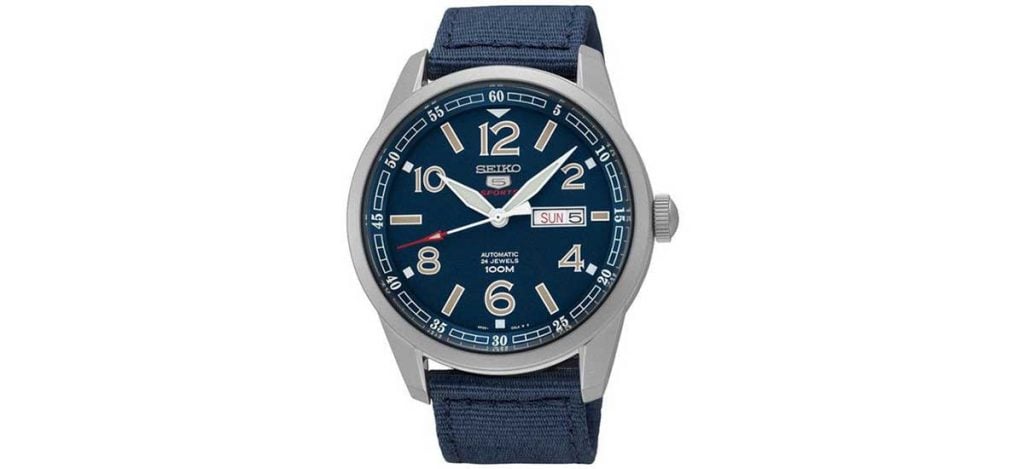 The SRP623 is a watch with classic good looks and impeccable durability. From the moment you lay eyes on it, you know you're in for something different. It is unpretentious, rugged, highly legible, and as practical and understated as you'd expect a field watch from Seiko to be.
At 44mm, the stainless steel case may seem a tad large, but trust me, it wears comfortably on the wrist. The blue dial with silver-toned hour markers and alternating Arabic numerals and wedges for odd and even numbers is a unique touch that catches the eye.
Flip over the watch, and you'll be treated to an exhibition window displaying the impressive in-house Seiko 4R36 automatic movement, which boasts 24 jewels and a 40-hour power reserve. The blue nylon weave strap is equally impressive, with a snug-fitting buckle clasp that keeps the watch comfortably flat on your wrist.
The quality is first class, and with a water resistance rating of 100 meters, you can confidently take it along with any off-grid adventuring, irrespective of the weather condition. This tactical watch can equally be worn with smart casual attire and will look stylish on your wrist when you hang out during the weekend.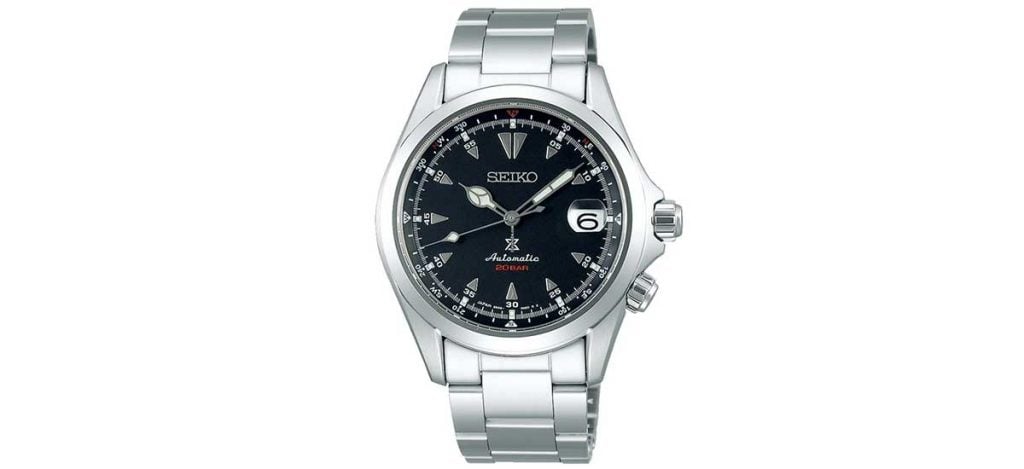 The SPB117 is a rugged and tough field watch that has excellently captured the spirit of the Japanese "mountain men" from the 1960s. The Alpinist has a historical appeal that continues to enchant collectors for over 50 years, and this timepiece features the same design elements that evoke that old charm.
The aesthetics of the dial are not found in other models, and though the watch could never really be regarded as formal, it is versatile enough to be worn with a business suit. With its matte black dial, sleek stainless steel bracelet, and "shark's tooth" hour markers, the watch is a true standout piece.
The dimensions of the case hit the sweet spot at 39.5mm in diameter and a thickness of 13.2mm. The all-black dial is truly stunning, featuring inverted, triangular hour markers that lend an eccentric and superior look. The outer compass ring on the bezel also adds to the watch's adventurous character, with two rings of markings that make orientation a breeze.
The Seiko 6R35 automatic movement, which is visible through the screw-down case back, provides an impressive power reserve of 70 hours. This means you can easily take it off for the weekend and come back to find it still ticking away.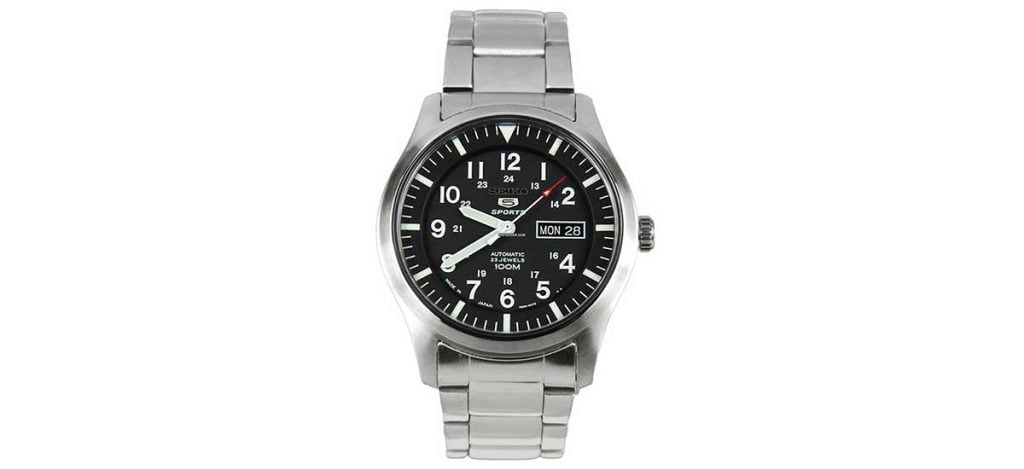 The SNZG13 is another model inspired by the legendary watches worn by military personnel in the 20th century. The watch has the same rugged, outdoorsy features and is very simple and functional. The case is well-finished and clean, with no frills or noticeable elements to speak of. It measures 42mm in diameter and has a height of 12mm.
The dial contains a lot of information but has managed to stay clean and very legible. Along the perimeter of the dial, you will find a raised internal bezel that adds depth to the dial with bold luminescent hash markers for hours and smaller markers for minutes/seconds.
The main dial features a large 12-hour numerical scale. Moving towards the center of the dial, you will find a 24-hour scale which provides a sensible utilitarian function to the timepiece. As indicated above 6 o'clock, the watch is water resistant to a depth of 100 meters and is powered by Seiko's automatic movement, the Caliber 7S36.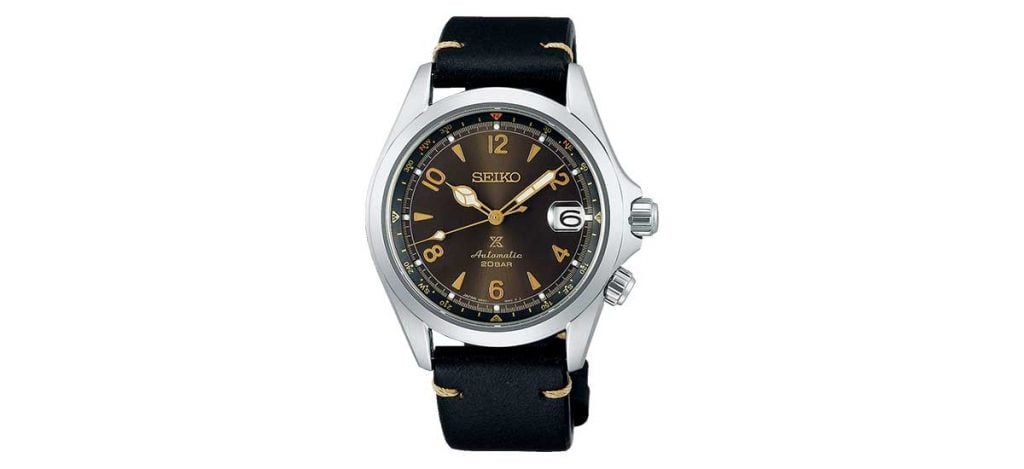 Housed within the Seiko Prospex line, the SPB209 is a well-built timepiece made to tolerate all manner of grueling conditions. The Prospex line from Seiko features a lineup of quintessential high-end tool watches dedicated to professionals that require them in different fields.
That said, this watch is a badass piece that can confidently stand toe-to-toe with the very best field watches from top watch brands. Everything from build quality to legibility and precision is nothing short of what a true professional yearns for.
The timepiece is presented on a 39.5mm stainless steel case with a screw-down crown for setting the time at 3 and another crown at 4 for setting the bezel. On the matter of functionality, the stunning graduated brown dial with gold accents features an internal compass bezel that will ensure precise timekeeping no matter what your adventure may entail.
At the outer rim of the bezel, the compass ring has markings for every 15 degrees, while the inner ring has markings for every degree. The North, Northwest, and Northeast markings have the 'N' in a vivid red coloration, which helps with navigation.
The watch is powered by the updated 6R35 movement with an impressive 70-hour power reserve and is water resistant to a depth of 200 meters.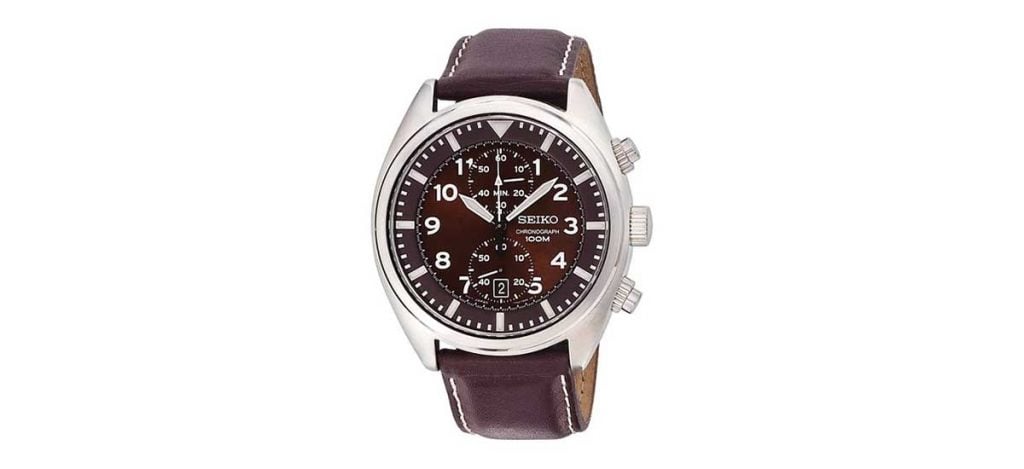 The Seiko Field Chronograph SNN241 is a watch that punches above its weight in the affordable luxury game. It's like finding a hidden gem that radiates class and manliness without emptying your wallet.
For the dimensions, the stainless steel case measures a fitting 42mm in diameter and features a slim bezel and lugs that have been satin-brushed to give it a sporty flair. The overall user experience is further elevated by the case sides, which have been polished to perfection.
The brown dial is pretty straightforward with a sunburst finish that catches the light like nobody's business and has a raised chapter ring for that extra touch of depth. The sub-dials at 12 and 6 o'clock allow you to measure 60 seconds and 60 minutes, respectively, while the date window at 6 o'clock keeps you practical and punctual.
Slap this beauty on your wrist, and you'll be rocking a brown calfskin leather strap with eye-catching contrasting stitching. This watch runs on a trusty quartz movement that keeps things accurate and hassle-free; plus, it can handle swimming and snorkeling with a water resistance of 100 meters.
The Seiko Field Chronograph SNN241 is the perfect blend of style and substance. It's the kind of watch that screams sophistication without making a fuss. As usual with Seiko watches within this price range, the SNZG13 features the brand's proprietary and very scratch-resistant Hardlex crystal.
Just in case there's a zombie apocalypse in the nearest future, this is the watch you want to latch on to as you make the final exit from your home.
The Prospex SPB210 is purpose-built for professionals with heritage design elements similar to the Original Alpinist. The Alpinist model is one of the most recognized series of timepieces with a profound history, reputation, and adoration from collectors around the globe.
The SPB210 retains the spirit and vintage look of the legendary icon and comes packed with functional features and new technical touches to optimize its performance. It offers the same appeal as a traditional field watch would but has a sleeker look with retro vibes.
The case of the SPB210 measures 39.5mm across, and it is presented in full IP gold with two crowns and a screw-in display case back. The sunbeam forest green patterned dial is surrounded by an internal rotating compass track and protected by a curved anti-reflective sapphire crystal.
The dial features slanted Arabic numerals juxtaposed with luminous triangular hour markers. There is a magnified date window at 3 o'clock and a skeletonized cathedral-style hand with gold accents. The watch is powered by Seiko's in-house automatic movement, the caliber 6R35, which provides a 70-hour power reserve.
Conclusion
So there you have it. The 20 Best Seiko Field Watches. Seiko understands how to fuse minimalism and functionality to produce robust field watches that are reliable and elegant.
The good news is that these watches are easy to operate and all scream adventure, agility, and fun at an affordable price point!
There are more amazing field watches from the Japanese giant, but this iconic selection entails some of our favorites. These field watches can do it all, take it all, tell the time accurately, and look flawless anywhere, anytime.
About Exquisite Timepieces
Established in 1998, Exquisite Timepieces is your one-stop shop for all things luxury watches! We are an authorized dealer for 60+ luxury watch brands including Omega, Hublot, Seiko, & Longines! We are proud to showcase one of the world's largest pre-owned watch collections, including renowned brands like Rolex and Patek Philippe. Check out our brand new watch arrivals here and popular pre-owned listings here.