10 Best Seiko Pepsi Diver Watches (Pepsi Bezel On a Budget!)
Seiko. We all know the Beast from the East and their ability to create some of the most respected and loved divers on the market, all at a great price. The Pepsi color scheme might have started with Rolex but has been adopted by various companies across the globe, including Seiko. Using this bi-color scheme along the bezel evokes a feeling of sportiness, but also vintage warmth due to the numerous old GMT Master Pepsi watches you've seen on Instagram.
In case you don't have around $20,000 to spend on a watch and you still want the Pepsi scheme, there might just be a Seiko to fit your wrist – literally.
About Seiko Pepsi Diver Watches
Seiko didn't originate as a watchmaking company but as a shop selling and repairing clocks in central Tokyo. After securing a factory in Tokyo, entrepreneur Kinato Hattori managed to create his first clock in 1892.
The Seikosha factory (Seiko means "exquisite" or "success") continued producing clocks for twenty-one years before veering into the world of pocket watches. In 1913, Seiko produced its first wristwatch called 'The Laurel', which also happened to be the first wristwatch made in Japan.
The first dive watch made by Seiko saw daylight in 1965. A mechanical watch offering 150m of water resistance with extreme legibility and durability. In fact, the watch ended up being used in Antarctic explorations during the 60s. And since then, Seiko has been one of the leading innovators of dive watches.
Should You Buy A Seiko Pepsi Diver Watch?
Yes! Absolutely!
Well, if you're not as impulsive as me, let me throw some facts at you. First and foremost, Seiko is one of the most cost-effective ways to get an automatic Pepsi watch. What's more, you won't be getting a timepiece that's low quality. Hop on over to any SKX forum, and you'll be met with thousands of pleased owners.
One thing to note is that some of the older Seiko models do tend to be on the larger side. While this isn't a cause of concern for most of us, Seiko has listened to its fans and slimmed down its contemporary offerings.
Otherwise, if you like the design and can afford it, you cannot go wrong. It's not a GMT-Master II Pepsi, but then again, you shouldn't buy a Pepsi Seiko expecting that. It's its own thing and should be judged appropriately.
The Best Seiko Pepsi Divers You Can Buy
1. Seiko SKX009
In case you're new to watches, the SKX is one of the most iconic watches on the planet. The SKX is no longer being produced, and unfortunately, the SKX prices have soared online.
The SKX series was loosely based on the ref. 7002 and released in 1996. The SKX009 offers the wearer a 42mm steel case matched with the iconic red and blue bezel color combo. The 200m water resistance, impressive ISO 6425 certification, and in-house 7S26 movement create one of the best first watches you can get your hands on – or could've.
As mentioned, the SKX range has been discontinued, and prices have been increasing steadily over the years. The matte blue-dialed Pepsi diver has become iconic over the years, but, unfortunately, its fame has made it less accessible to some of us.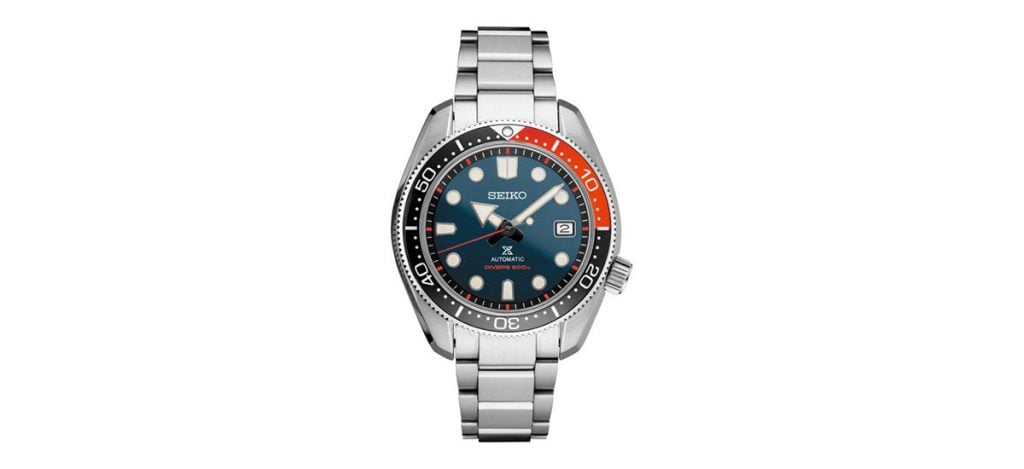 If you want something more contemporary compared to the SKX, perhaps this ref. SPB097 with a gorgeous light blue (or 'Twilight Blue') dial is the one for you. Sporting a 44mm polished steel case with a matching three-link bracelet. For improved wearability, the crown has been moved to the four o'clock position, similar to the SKX.
The automatic 6R15 caliber powers the diver with a 50-hour power reserve and an accuracy of +25 to -15 seconds per day. The SPB097 dial layout keeps things classic, with a simple date aperture at 3 o'clock. The main attraction, of course, is the blue dial. The color works brilliantly with the Pepsi color combo on the bezel. Finishing things off with a 200m water resistance rating, the diver is a good option, even at the higher price of $1,150.
3. Seiko "Sumo" SPB181
The 'Sumo' has been a beloved model since its introduction in 2007 and is called the 'Sumo' due to various design features like the large rounded case. The ref. SPB181 is part of the third generation and sports a 45mm polished steel case along with a matching three-link bracelet.
45mm might seem extremely large; however, thanks to the snug 52.6mm lug-to-lug, it wears slightly smaller. Also, the crown has been moved to the 4 o'clock position to allow for better wearability.
A black dial is matched with the recognizable Pepsi bezel, which is graded to 60 minutes, so you can use it to time your dives or how long your boss talks about his new GT3 RS. The trustworthy 6R35 caliber offers great timekeeping and 70 hours of power reserve.
4. Seiko SSC795
Someone once told me, "If you need to know the date while diving, you're probably screwed". The ref. SSC795 offers even more utility than just a date function with the addition of a 60-minute chronograph. What's more, it's a solar-powered watch.
The solar caliber V192 allows the watch to work without you ever worrying about a power reserve or battery life. The 6 o'clock subregister displays a power reserve rated at 6 months when fully charged. But fear not; the screw-down crown does allow for 200m of water resistance, so you'll still be able to go diving (or desk diving).
This diver is relatively robust, 44.5m in diameter and 13.7mm thick, but the unidirectional Pepsi dive bezel does take up quite a lot of the real estate. This might be an excellent offering for those who are actually looking to go diving and need the ability to time two different events.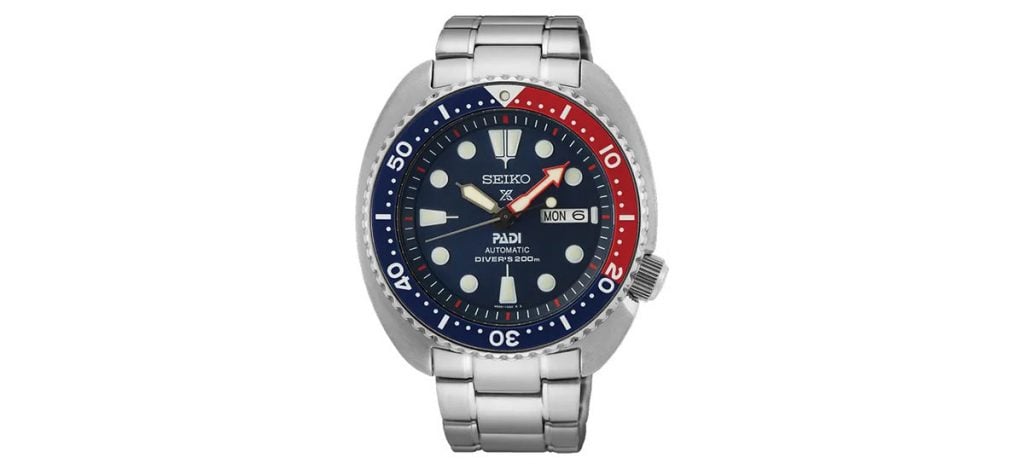 "Alright, but I'm not going diving, I just want the look".
Perfectly understandable, and for you, a Pepsi 'Turtle' would be a great fit. Not the real nomenclature used by Seiko, but rather a nickname from the fans referring to the turtleback shape of the case.
The case is sizable at 45mm but wears more like 44mm due to the smaller lug-to-lug profile. To increase wearability, the crown has been moved to the 4 o'clock position on account of the odd case shape.
Behind the Hardlex crystal sits a blue dial that matches the blue of the Pepsi bezel. The large applied hour markers and hands are filled with LumiBrite for those late nights at the office (or pool). Of course, the automatic 4R36 caliber allows for a smooth second hand whilst also displaying the day and date.
6. Seiko SNE591
If the turtle shape isn't likely to make an appearance in your watch box, perhaps something more classic like the ref. SNE591. Priced at just below $1,000 for a wearable and highly polished case with a reliable solar movement – not bad.
The black dial is accentuated by large hour markers and hands as is traditional with Seiko divers but with the addition of a subtle date aperture at the 3 o'clock position. The Pepsi dial fits beautifully and is somewhat reminiscent of the SKX from years ago.
7. Seiko "Samurai" SRPF09
The ''Samurai'' SRPF09 offers extremely great value, priced at $550 for one really attractive timepiece. Working from the inside out, we have the reliable 4R35 caliber taking care of time, offering 41 hours of power reserve as well as a date display.
Moving onto the gem of the watch is the black dial with a gorgeous wave-like pattern. The minute hand is lined with red for a touch of sportiness in case the Pepsi bezel scheme wasn't enough for you.
A 43.8mm brushed steel case is matched with a screw-down crown with added knurling in case your immediate area becomes slippery. Matched with a steel three-link bracelet with a three-fold clasp.
Another feature the keen-eyed viewer might have noticed is the 'PADI' scripture on the dial. This is in reference to the Professional Association of Diving Instructors, the world's leading scuba diving training organization. Seiko has an official partnership with PADI.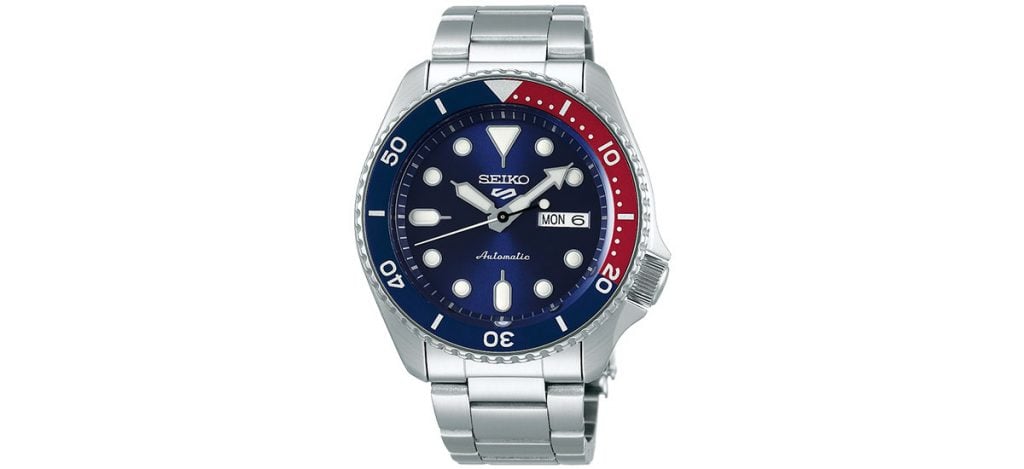 We mentioned the SKX multiple times already, and upon its discontinuation, fans were, predictably, distraught. Seiko hit back with the '5' series, an affordable range of dive or tool watches that'll look at home on the wrist of a teenager or seasoned diver who needs a beater.
The ref. SRPD53 is priced at $325 for a reliable and trustworthy automatic watch, a deal if I ever saw one. The blue on the dial perfectly matches the blue on the Pepsi bezel identically, and the reliable 4R36 caliber takes care of timekeeping duties within. Overall, a great overall package at a price point of entry that's not prohibited to most.
9. Seiko "Arnie" Pepsi SNJ027P1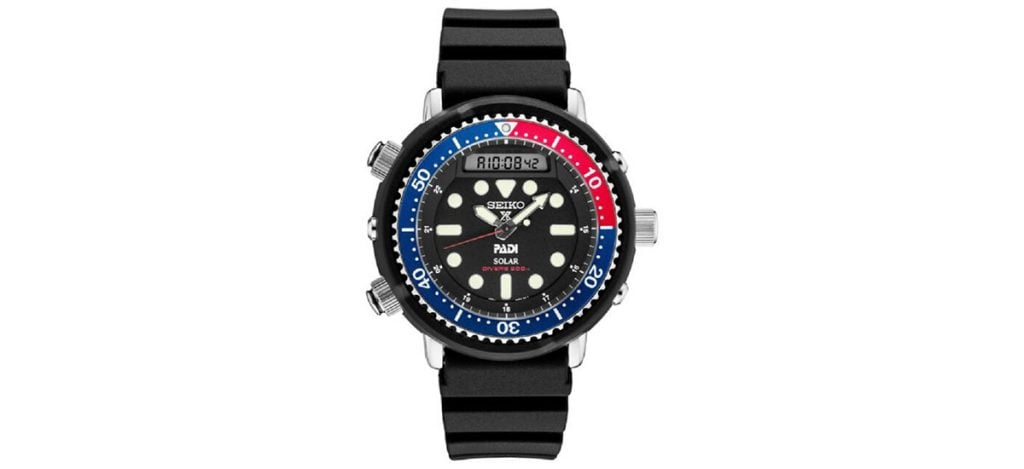 What's 40 + 40? If you answered 100 you're most like a gym bro. In case you are (or aren't), you might be interested in a watch worn by the Terminator himself – the "Arnie" ref. SNJ027P1. The original model was worn by Arnold Schwarzenegger in Commando (1985) and Predator (1987) and has been a fan favorite since.
The contemporary ref. SNJ027P1 is handsomely finished and priced at $500 and features the much beloved Pepsi bezel. As with other "Arnie's", the watch is large, 47.8mm in diameter, and 50.5mm lug-to-lug. Despite this, the watch is quite light at only 114g, thanks to the not-so-subtle use of rubber around the steel inner case.
The movement within is the solar H851 caliber and offers quite a few features, including an alarm function, a 1/100-second chronograph, a calendar display on the digital register, and in case you need to find the choppa in the dark, a LED light as well.
Rounding off the list, we have another robust chronograph sized at 43.5mm. The ref. SSC783 is presented with a blue dial and the all-famous Pepsi bezel scheme with a 60-minute grading. Large and full-bodied screw-down crowns allow for 200m of water resistance and, according to the Seiko website, are also good "for air diving".
The watch is powered by light thanks to the solar V175 caliber, granting the timepiece a theoretical power reserve of 6 months. The movement also displays various complications, including a chronograph, a 24-hour display, and a date function between the 4 and 5 o'clock position.
Complimenting the steel case is a matching steel bracelet with brushed end links and polished center links, creating a nice dimension and luxurious touch.
Conclusion
Quite a few options, right? Well, rather too many than too few, I always say. There is no doubt that the Pepsi scheme will keep on living on the bezels of watches ranging from luxurious options to more affordable Seiko's seen in this list.
With a variety of sizes, configurations, and dial colors, there is a Seiko Pepsi Diver for all of us. Whether you're looking to go find Nemo or find your papers in your office drawer, have a look at the offering and just make sure to check the sizes, they tend to sneak up on 'ya.
About Exquisite Timepieces
Established in 1998, Exquisite Timepieces is your one-stop shop for all things luxury watches! We are an authorized dealer for 60+ luxury watch brands including Omega, Hublot, Seiko, & Longines! We are proud to showcase one of the world's largest pre-owned watch collections, including renowned brands like Rolex and Patek Philippe. Check out our brand new watch arrivals here and popular pre-owned listings here.