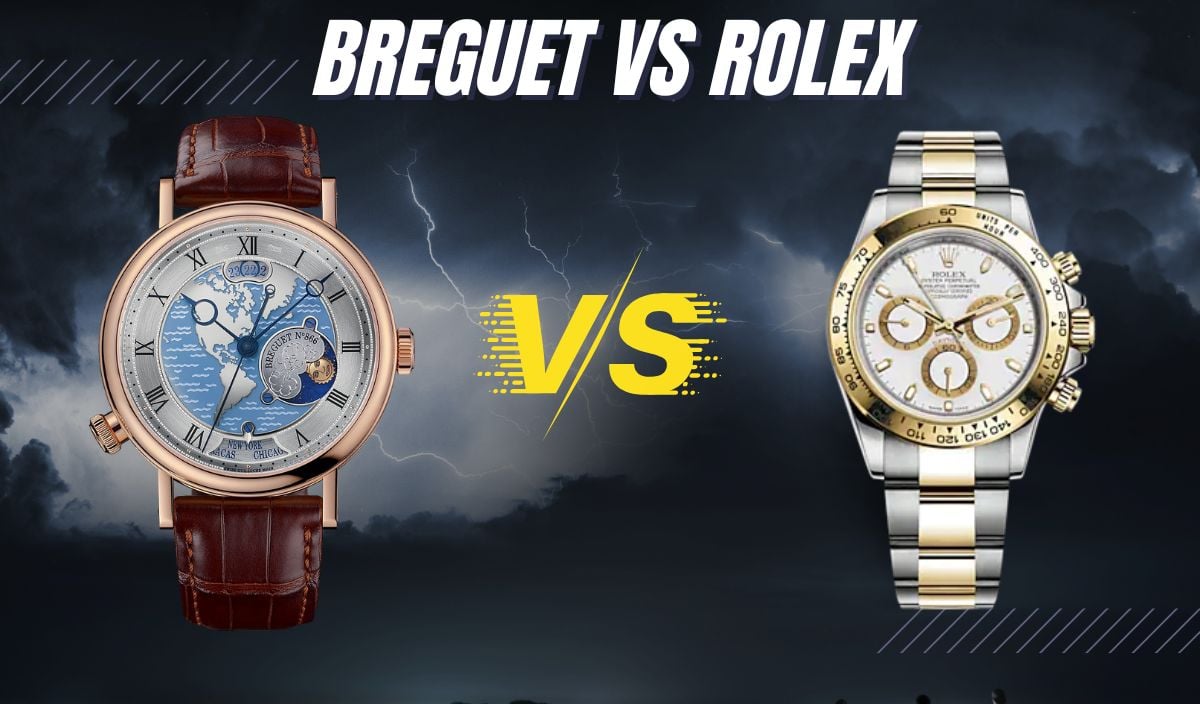 Breguet vs. Rolex Watches (EVERYTHING You Should Know)
When you want to collect a luxury watch, you have come to a firm decision – you are on your way to a high-profile personality. Of course, easier said than done as there are many avenues and approaches to reaching luxury. A watch is a symbol of dignity and discipline, uplifting the appearance of the person. However, it is not as easy to collect a luxury watch for everyone.
With so many brands available on the market today, narrowing down the contenders take a more streamlined approach than ever before. Purchasing a luxury watch might be intimidating in part because of the variety of options and the extremely high pricing of some models. For example, it may be difficult to pick between Brequet vs. Rolex watches or other luxury brands.
Depending on your personal sense of style and the value placed on certain brands, the process can be even more daunting. In this review, we will analyze the Brequet and Rolex brands, presenting an in-depth analysis of what distinguishes them from one another. Afterwards, you should have more confidence in making a decision that agrees with your price range and lifestyle.
Breguet Watches Overview
Breguet is honored to be the inventor of innovative production processes and technology. In 1801, Breguet invented the "Tourbillon" regulator. The Tourbillon mechanism was invented by the company's founder Abraham-Louis Breguet, initiating a legacy that continues to this day. The Tourbillon adjusts for changes in rate resulting from a watch's various positions.
Mounting the balance and escapement in a revolving cage is the guiding concept. It has the balance and escapement spin around its shared axis to cover all positions in order to average out any faults. Breguet Watch Company produced the final modifications to the marine chronometer in 1815, setting the way for creating the Marine Chronograph and Breguet Marine Chronograph for women's watch lines.
Each Breguet watch has a "guilloche" face with hollow eccentric moon hands and unusual numerals, combining utility and elegance and boasting a hidden Breguet signature. Each Breguet watch has a further distinguishing characteristic as the coined edges on the case edge, often known as "case-band fluting".
Rolex Watches Overview
Hans Wilsdorf and his relative Alfred Davis co-founded the renowned watch company in 1902. He started the watchmaking business there in London, selling timepieces with precision movements from Hermann Aegler and casings from reputable manufacturers like Dennison. The pair then gave the watches to jewelers so the shops could stamp their logos into the cases.
The initials "W&D" were frequently stamped on the inside surface of the case back of many of the early timepieces. Rolex has maintained its position at the top of the watch industry for decades thanks to the same kind of widespread, universal goodwill that often only goes to Patagonia fleeces and A-list actors in movies. Of course, its motions and finishes are top-notch, but like Elizabeth Taylor they hardly need an introduction at this time.
Brequet Vs. Rolex – Brands Comparison
While we compare the two watch brands, Brequet vs. Rolex, certain elements need special consideration.
Accuracy
Watch devotees may talk about this topic at length because of its relevance to their hobby: the pursuit of perfect chronometric precision. Outside of a case, COSC certifies Rolex movements. Once the watch's movements pass the COSC standards test, it returns to the manufacturer. They are fitted into a cover and subjected to additional testing until they achieve an accuracy of -2/+2 seconds.
Rolex's internal designation of "Superlative Chronometer" on the dial is now the de facto norm for all new timepieces bearing the brand. Although Breguet does not routinely get its watches certified by the COSC, they have shown that they can produce more accurate timepieces than the COSC requires. Therefore, Breguet doesn't represent its product as the most reliable. They aren't quite as precise as Rolex but revered for their historical place.
Brand Popularity
A recent survey by a brand value firm found that Rolex is the most well-known Swiss watch brand, outperforming Breguet and all other Swiss watchmakers in terms of consumer demand. They have become the most famous luxury watchmaker in the world, with approximately one hundred percent brand recognition in every country.
Maybe that's why their logo includes a crown. This type of brand identification is what most brands work diligently for across generations, and rightfully, Rolex has earned it and continues to maintain its status at the top of the industry. Breguet, a stylish name in the watch industry, comes in at number six on the list of top watchmakers, behind leader Rolex.
Aesthetes of fine timepieces and the industry's history are most likely to recognize the name Breguet. They made more substantial early contributions to the age-old expertise of heptic watchmaking, making them a more crucial historical brand than Rolex. Rolex is far and away the more well-known watchmaker than Breguet.
Brand Prestigeousness
Rolex may be the best-known unique timepiece brand, yet it is often ranked behind Breguet in terms of prestige. This is one of those itnricacies of branding where being extremely well-known can be viewed by some as a hindrance – more obscure brands often can get misconstrued as offering more appeal as they are more rare and less likely to be worn en masse.
Breguet is among the oldest companies continuously operating in the world of timepiece manufacturing. They have established themselves as an expert in watchmaking thanks to their numerous inventions, developments, and achievements.
The advertising campaign and overall Rolex brand are geared toward the typical consumer. Breguet, in comparison, is more exclusive and distinguished since it targets upper-income earners and watches enthusiasts. Breguet is a more prestigious name in the watch industry than Rolex.
Horology
Abraham Louis Breguet was responsible for the creation of a number of remarkable pieces that have contributed to the enigma and mystery that surrounds mechanical watchmaking nowadays. Rolex may have improved upon the self-winding rotor that Breguet invented, but compared to Breguet, they haven't achieved nearly as many significant advancements in the watch industry.
This is a little-known fact that many not familiar with the fine details of watchmaking are not privy to, but for watch enthusiasts and collectors, it is one worth noting. In particular, the limited edition Marie-Antoinette pocket watch was the most complex timepiece Breguet ever made. Its manufacturing came with no constraints on time or money. Breguet watchmakers worked on it for 44 years, spanning two generations. Through this success, Abraham-Louis Breguet became the best watchmaker in history.
Resale Value
With all other brands considered, Rolex is superior in this regard. Rolex watches are the most sought-after because of their prestige and excellent resale value. For individuals seeking to own a worthy watch that will retian its worth for longer, Rolex is the brand they can rely on.
You can't even begin to call it an investment because of how quickly it loses value. Due to their shallow growth rate, they are unsuitable investments. Therefore, you will expose yourself to more risks and lose a remarkable value. This is another consideration that watch enthusiasts and collectors will be concerned about as it may make or break the deal.
Retail Value
Breguet watches start at a price point almost double that of the entry-level Rolex. However, many factors beyond the manufacturer's suggested retail price determine their true market worth. When compared with Rolex, the suggested retail price of a Breguet is significantly more.
On the other hand, Rolex prices have soared in recent years, notably for their most popular and unique sports models. There's a chance that some will double their suggested retail price. Specifically, Rolex's decision to delay goods, which has driven up demand, is to blame.
Water Resistance
Breguet and Rolex both make dive watches and both brands are known for producing excellent pieces to add to their collections. A Breguet Marine Royale dive watch with a water resistance of 300 metres is sufficient for recreational scuba divers.
However, if you're a professional scuba diver, you'll need a watch with at least 600 meters of water resistance. The Rolex Sea-Dweller is an excellent illustration of this because it can withstand depths up to 1220 meters. With a 3900m/12800ft rating, this watch is more than ten times more resistant to water.
Warranty
Rolex provides a warranty duration for their watches that no other company offers. The warranty duration for Rolex watches is for five years. In comparison to Rolex, the warranty duration offered by Breguet is just two years. Still, in the luxury watch industry, a two-year guarantee holds a considerable value to be standard.
FAQs
What is your opinion about Breguet as a watch company?
It's been a while since a descendant of Abraham Louis Breguet was in control of this famous watchmaker, but preserving the founder's heritage remains a top concern. Look here for incredibly well-crafted, crazily intricate timepieces with Breguet's signature hands with a tiny circle around the hand's tip.
Patek Philippe vs. Breguet finishing: Which one is most appealing?
Apart from Rolex, Patek Philippe has the greatest average resale value in the industry, and its corporate motto tries to subtly and gracefully underline that fact. The Patek Philippe offers a higher level of appeal than the FP Journe and Braquet.
Rolex vs. Lange vs. Breguet: Which one stands out the most?
Rolex, Lange, and Breguet are the three competent brands that are all popular among watch enthusiasts. Rolex is popular due to its history, marketing, and quality of its watches. Breguet has loads of high-end watches that attract every watch lover. However, the Lange has a next-level shape and structure that fixes at heart and upgrades your personality up the roof.
Rolex Daytona is a name of prestige among watch fans. Individuals who want to uplift their personality tend to bring a Rolex Daytona home. Though it has a supremacy legacy, Breguet Type XXI is a competent and prominent alternative to Rolex Daytona. Though the styles are different, their impact on your looks remains intact.
Is Breguet more expensive than Rolex?
The entry cost, as well as the retail price, are the two essential values determining prices. Though Rolex is a high-end brand with high prestige and a luxurious feel, the Breguet is not the less. Both cost of entry and retail price of the Breguet watch is more than any Rolex watch.
Is Breguet worth buying?
Breguet watches are mass-produced, implying that their supply-demand value is robust. The value depreciates when something has an excellent supply more than its demand. Therefore, these watches do not retain their worth over time, and you can't mark them as an investment. They are not investments but rather consumption goods.
How prestigious is Breguet?
Breguet is quite a prestigious brand due to its rich history, robust advertising strategy for average-class individuals, and high-end watches. Since the quality is the best, the entry and retail costs are high for Breguet watches. This way, it ranks higher as the most prestigious watch brand.
What are better watches than Rolex?
While Grand Seiko is a direct rival of Rolex regarding price, elegance, and craftsmanship, Seiko provides more economical alternatives that look wonderful, have a rich history, and do not cost an arm and a leg. The Seiko Prospex SPB155J1, often known as the Seiko Alpinist among enthusiasts, is an excellent example.
Conclusion
In the market for a luxury wristwatch, you will discover a vast selection of possibilities, and of course, your own perception of what components are the most important when it comes to selecting a watch is what truly matters. The collector must examine the watch's beauty, functionality, and the user's wants and desires.
The choice of watchband is essential since it has a robust impact on an individual's personality. At the end of the day, any of the watches from these brands would be considered a step above typical brands, but an astute eye and research informs the final decision.