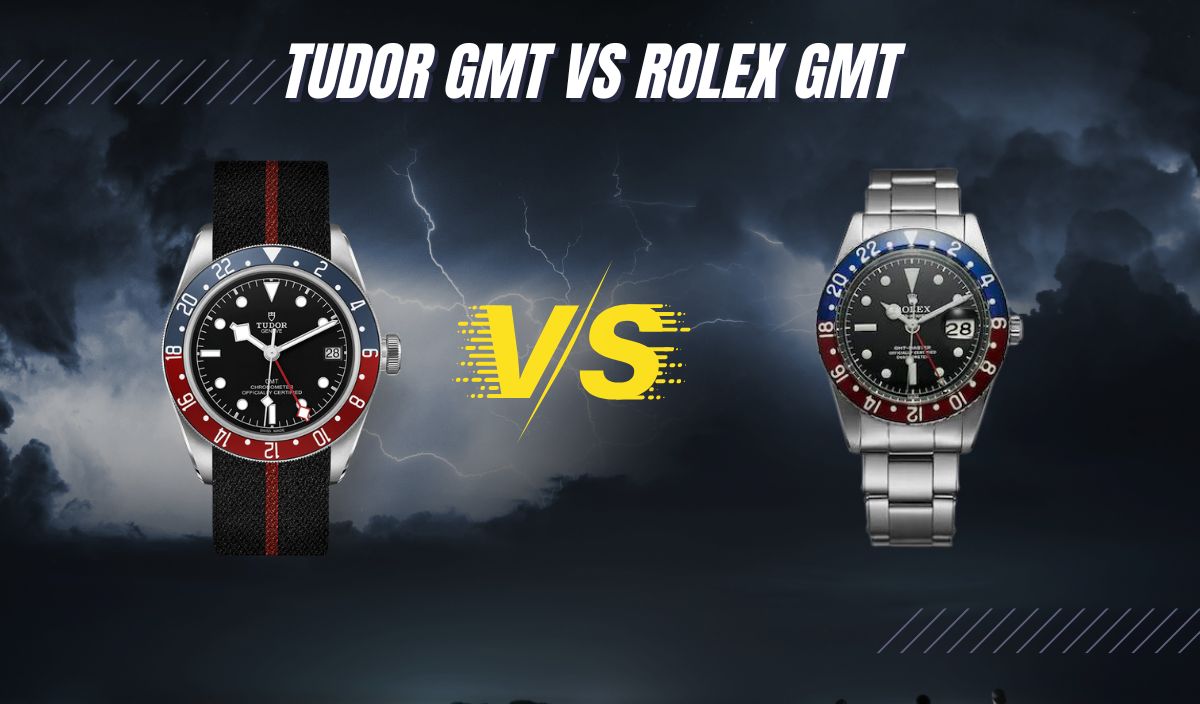 Tudor GMT Vs. Rolex GMT (IN-DEPTH Comparison of all Variants!)
Rolex and Tudor are some of the best brands producing timepieces globally. These brands have built a reputation in the watchmaker industry for their classic and efficient wristwatches. Although Tudor is not as famous as Rolex, the brand comes through when you need outstanding wristwatches.
Until recently, people considered Tudor wristwatches "the poor man's Rolex." However, the brand has proven itself worthy by crafting some outstanding luxury wristwatches. Nowadays, it is easier to find people checking to see which of these two brands is the best, more with the introduction of GMT watches.
The Tudor GMT vs. Rolex GMT comparison strikes several nerves. It is pretty challenging to pick a side in this debate because each brand produces the best GMT wristwatches. Thus, it isn't easy to pick a side at first glance. We will take an in-depth look at the two brands and what makes each unique. Before we proceed, we will first understand what GMT wristwatches are and how they work.
What Is a GMT Wristwatch?
We have often seen wristwatches with the inscription "GMT" on them. However, we may not fully understand what GMT means. A GMT timepiece is one with a 24-hour format in addition to a second hand that indicates a second-time zone. This means you can tell the time in your current location and another location of your choice if you correctly set the second hand. 
"GMT," as seen on some wristwatches, stands for Greenwich Mean Time. GMT watches offer two things: standard hands that tell local time and a hand always synchronized to GMT. Hence, you can use the GMT hand to get accurate time readings worldwide. Why, then, do you need GMT timepieces?
GMT timepieces make it easier and more efficient to tell the time in another timezone. Not all GMT wristwatches work as well as others. One of the most popular and reliable GMT timepieces is from the Rolex brand. The Rolex GMT-Master is renowned for its efficiency. Another brand that produces efficient and exciting timepieces is Tudor.
Now that we understand the workings of GMT wristwatches, we can better compare Rolex and Tudor GMT timepieces, their features, histories, and what makes each brand's GMT timepiece special.
The Rolex Brand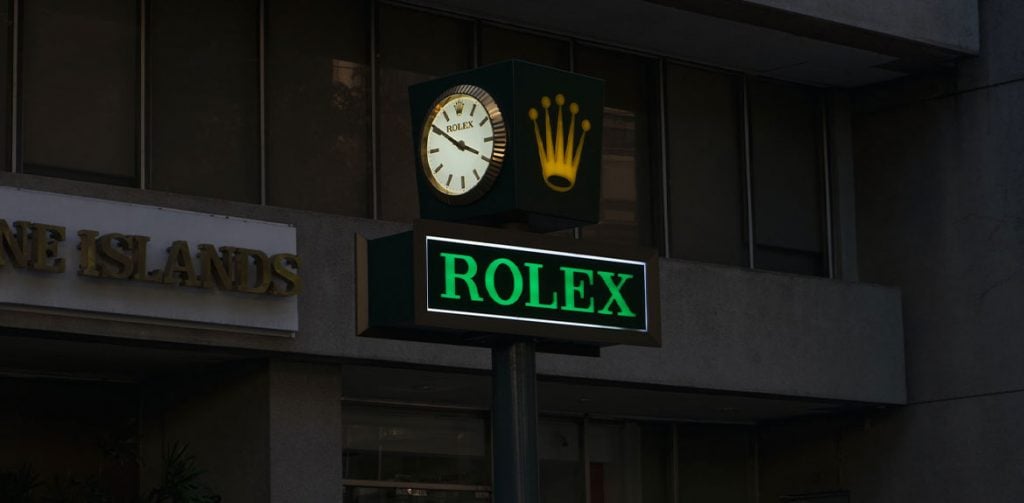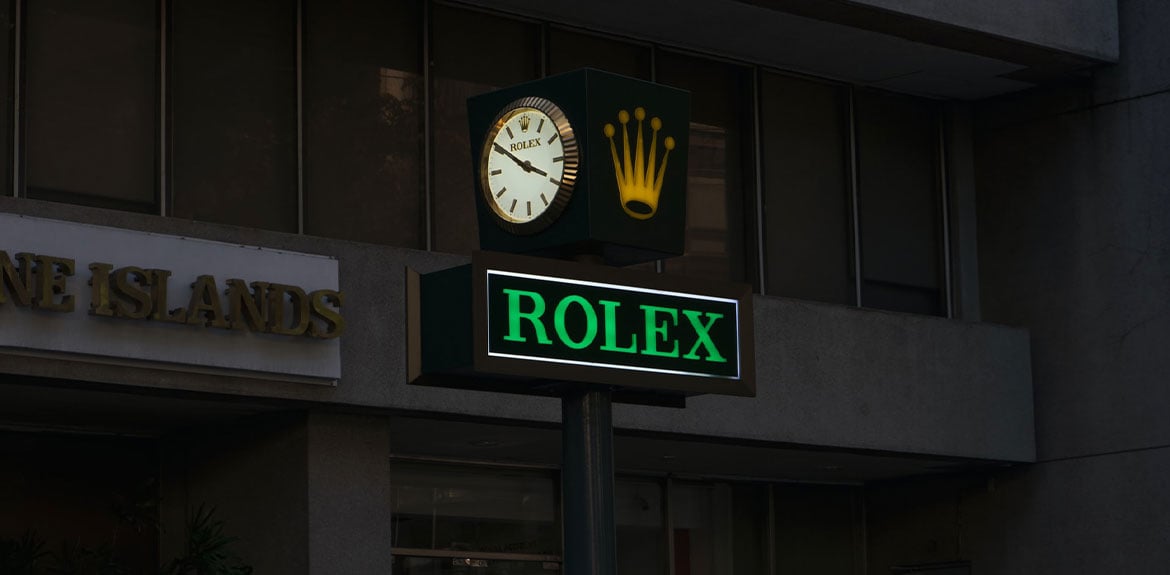 Rolex SA is one of the most renowned watchmakers in the world. This British-founded Swiss timepiece designer and manufacturer came into existence in 1905. Headquartered in Geneva, Switzerland, the brand started using the name "Rolex" in 1908. Later, the brand changed its name to Rolex Watch Co. Ltd in 1915.
After World War I, in 1920, Hans Wilsdorf decided to register the timepiece as Montres Rolex SA. The Hans Wilsdorf Foundation has owned and run this company since 1960. Interestingly, Tudor falls under Rolex as one of its subsidiaries.
Although Rolex has a hand in developing the famed quartz watch movements, it has produced chiefly mechanical timepieces. While the brand has only made a few quarts timepieces for its Oyster brand, the Rolex engineers helped design and implement the movement in the late '60s and early '70s.
It is interesting to see how Rolex SA has improved with time. Initially, the brand used ceramic bezels (Cerachrom) on its timepieces. One of the wristwatches that featured this bezel was the GMT-Master II in 2005. Later, the brand used ceramic bezel inserts in its professional sports watches.
When it comes to steel, Rolex uses 904L grade stainless steel, which is more than you will find in other brands. Most other watch brands use 316L grade steel. Hence, Rolex wristwatches are more corrosion-resistant. Additionally, these wristwatches leave a beautiful luster when polished.
Rolex GMT Wristwatches
Rolex began making GMT wristwatches in 1954 with the introduction of the Rolex GMT Master. It didn't take long before the brand also launched the GMT Master II, which is one of the most prominent timepieces in the world today. The GMT Master from Rolex has a luminous bakelite bezel insert. Additionally, it features a caliber 1036 automatic movement and a GMT complication. 
The brand quickly replaced the red and blue bakelite since it easily cracked. Later in 1956, Rolex introduced a metal bezel for its GMT timepieces. Moreover, the brand released several watches after the first. Some significant releases include 1675, 16760, 16750, 16710, 16700 GMT Master II, and 116710.
Tudor Wristwatches History
In 1946, Wilsdorf established Montres Tudor SA to offer a new perspective to users who wanted something other than Rolex watches. This unique collection of wristwatches targeted a new market segment and made a name for itself.
Tudor launched the Tudor Oyster in 1947. Although the name resembled the Oyster seen in Rolex wristwatches, the design was quite different. Since then, Tudor and Rolex have shared brand names. Another prominent collection shared by Rolex and Tudor is the Submariner models. 
Although Tudor is a subsidiary of Rolex SA, the brand uses original and distinct advertising to garner its customers. Tudor's early models were among the first to offer water resistance and self-winding movements in timepieces.
Historical Tudor Timepiece Models
Much like Rolex, Tudor has a rich history of prominent wristwatches that have made their mark. One such timepiece was the Tudor Oyster Prince 7909, launched in 1952. The timepiece had several case sizes, from 31mm to 34mm. Hence, users could enjoy a classic watch for their exact wrist size. The Tudor 7909 had a crown with a logo.
The watch case lodged the caliber 390, a third-party movement with a 2.5Hz frequency. After this first Oyster release, Tudor released subsequent models like the Tudor Prince Date-Day in 1969. The Tudor Prince Date-Day had a case diameter of 37.5mm.
With time, Tudor moved to produce Diver wristwatches which somewhat became the brand's specialty. The brand released its first Submariner model in 1954, called the Tudor Oyster Prince Submariner 7922. This timepiece had a Mercedes-style hour hand and a crownless protector case back.
Tudor started producing wristwatches with case guards in 1959 with the advent of the 7928 movement. Moreover, the brand has worked on and evolved its case guard designs. Tudor proceeded to introduce several chronographs in the 1970s. One central chronograph released by Tudor at that time was the Montecarlo 7169/0, and the brand released the timepiece in 1971.
Tudor's Renaissance
As with most renowned brands, Tudor underwent a period where it seemed to have lost focus. Consequently, the demand for its models dwindled and was at an all-time low. At that time, the brand no longer sold its timepieces in America and the United Kingdom for several years. Tudor only started selling in the UK market in 2014.
When a new administration arrived, they paid more attention to detail and released the Tudor Advisor in 2011. This timepiece had a mechanical alarm and took its design inspiration from the Tudor Advisor 7926. Although the watch was not a replica of the Tudor Advisor 7926, it was a contemporary interpretation of the past.
Next, the brand released the Tudor Pelago, a timepiece without crown protectors. This timepiece had a snowflake hour hand and featured a titanium and steel case. One of the brand's most outstanding designs arrived in 2012 when it released the Tudor Heritage Black Bay.
Later in 2013, Tudor launched the Heritage Chrono Blue. The timepiece has some eye-catching orange and blue hues once spotted by the 1970s Monetcarlo models. Since its renaissance, Tudor has managed to enlarge its timepiece models. Nowadays, you will find Style and Range models as a part of its diversification process.
Rolex GMT Vs. Tudor GMT: Which Is Best?
Although Rolex is the most famous brand in the world and will always get many customers, Tudor has gained more ground since its renaissance. Before now, most people thought of Tudor wristwatches as the poor man's Rolex. However, the brand has changed this perception.
Tudor and Rolex GMT wristwatches are all outstanding timepieces. Hence, it is challenging to pick a favorite at first glance. However, we can use a few things to determine which brand produces the best GMT watches. We will look at these features and compare the similarities and differences to determine which brand has outstanding GMT timepieces.
Design
You will discover that Rolex and Tudor have many things in common, considering their timepiece designs. Its public knowledge that Tudor obtained inspiration from Rolex's Submariners when designing its Tudor Black Bay collection. Not only that, Tudor and Rolex have both used similar designs on several projects. Each brand modifies the primary structure into something exclusive.
Tudor was the cheaper alternative to Rolex before now. Nowadays, Tudor also produces some of the most expensive timepieces that match Rolex's pricing. This increase in pricing is understandable since Tudor uses Rolex components for making its watches. The only difference is that Tudor uses third-party movements in all its timepieces.
Considering the current Tudor Black Bay GMT (ref M79830RB-001), you will discover that it has that distinct Submariner design found in other Black Bay timepieces. The 41mm retro wristwatch resembles the watches of the 1950s when the Rolex GMT Master (1954) and Submariner (1953) debuted.
Although the Rolex GMT master has evolved, the Tudor Black Bay GMT has retained some of its original designs. You will discover that the GMT Master II Pepsi (ref 126710BLRO) looks more modern than the Black Bay GMT. This GMT Master II is the first with a red and blue ceramic bezel.
Technology
Before now, Rolex was the better of the two brands technology-wise. While Tudor depended on third parties to produce its movements, Rolex made theirs for decades. However, Tudor launched their in-house movement in 2015 and has swiftly implemented them across its timepiece collections. Today, both Rolex and Tudor have in-house movements for their GMT wristwatches.
While the most recent Rolex GMT Master has a Rolex Caliber 3285 movement, the Tudor Black Bay GMT has the Tudor caliber MT5652 movement. Both movements are automatic and feature 70-hour reserves, respectively. Additionally, both wristwatches display time in two time zones.
The difference is that the Rolex wristwatch comes with a magnifying Cyclops lens on the date window. The Tudor Black Bay GMT has a regular date display without the unique magnifying lens featured in its Rolex counterpart.
Pricing
It shouldn't be a surprise that Rolex charges premiums for its wristwatches. The Tudor Black Bay wristwatch with a stainless still bracelet goes for about $4,300, which is quite affordable. On the other hand, Rolex charges about $10,300 on its current GMT Master II. Thus, you can make a choice depending on your budget.
From the price angle, the Tudor Black Bay is a better choice. However, it is not that easy. The money spent on Rolex's GMT Master II offers quality and status. Wearing a Rolex wristwatch comes with so much respect, and Rolex stands for success and is the foundation for the Tudor Black Bay GMT. If you need an original GMT wristwatch, the Rolex Marinemaster is your surest bet.
As we mentioned earlier, Rolex and Tudor share similar names for their wristwatches, and the Pepsi collection is not left out. While you can find Pepsi wristwatches for both Rolex and Tudor, there are some slight differences that we will now consider.
Tudor Pepsi and Rolex Pepsi wristwatches got launched in 2018 as part of each brand's exclusive GMT wristwatches. Hence, there is not much separating them in the year of release. However, considering the case size, Tudor's Pepsi Black Bay GMT wristwatch has a bigger case size (41mm) than Rolex's Pepsi GMT Master II (40mm).
Although both brands use stainless steel materials for their wristwatches, Rolex uses higher-grade steel. Rolex uses Oysetersteel 904L stainless steel for its case material. Hence, you will enjoy a more scratch-resistant timepiece from Rolex than Tudor.
There is nothing much to separate the two timepieces regarding the dial. Tudor Pepsi and Rolex Pepsi have a black dial with luminescent hour markers. Additionally, both wristwatches have date displays, time with running seconds, and GMT functionality. Rolex's Pepsi GMT Master II has a bidirectional bezel with red and blue ceramic inserts and a 24-hour scale.
Although Tudor's Pepsi Black Bay GMT wristwatch has a bidirectional bezel, it uses aluminum (red and blue) inserts with a 24-hour scale. Also, while you typically find a domed sapphire crystal on Tudor's Pepsi timepiece, you will find a flat Sapphire crystal window on the Rolex Pepsi GMT Master II. However, the distinguishing characteristic is that the Sapphire crystal from Rolex comes with a Cyclops lens.
Another distinguishing feature is that Tudor's Pepsi Black Bay has a water resistance of 200m, which is more than the 100m spotted by Rolex's GMT Master II. While both wristwatches have automatic caliber movements, Tudor opts for the caliber MT5652, while Rolex uses a unique caliber 3285 movement. Below is a table summarizing the similarities and differences between the Rolex Pepsi and Tudor Pepsi wristwatches.
| | | |
| --- | --- | --- |
| Feature | Tudor Pepsi | Rolex Pepsi |
| Launch Year | 2018 | 2018 |
| Case Size | 41mm | 40mm |
| Material | Stainless steel | Oysersteel 904L Stainless Steel |
| Functions | Date display, time with running seconds, and GMT function | Date display, time with running seconds, and GMT function |
| Dial | Black with luminescent hour markers | Black with luminescent hour markers |
| Crystal | Sapphire (flat) with Cyclops lens | Sapphire (domed) |
| Water resistance | 200m | 100mm |
| Movement | Tudor caliber MT5652 | Rolex caliber 3285 |
| Bezel | Red and blue aluminium insert, bidirectional with 24-hour scale | Bidirectional, red and blue ceramic insert with 24-hour scale |
| Strap/Bracelet | Fabric or leather strap, stainless steel bracelet | Jubilee or Oyster bracelet |
| Retail Price | About $4000 | About $9,700 |
Timepiece enthusiasts know that wristwatches do more than just tell time. For such watch lovers, these timepieces represent coveted accessories that suit their outfits. Additionally, brands like Rolex and Tudor produce wristwatches of high value that can serve as collectibles.
It is usually challenging regarding the Tudor black bay GMT vs. Rolex Pepsi debate. However, consider a few before choosing a suitable wristwatch from these brands.
The Style
You need to consider the watch style when deciding between these two brands. While Rolex has evolved, Tudor has not. Tudor still carries the vintage designs from timepieces in the '60s and '70s. Thus, you can go with Tudor if you need vintage yet classic styles. On the other hand, you must patronize Rolex if you need modern and more aesthetically pleasing timepieces.
Although these brands come from the same ownership, Rolex is more prestigious. Wearing a Rolex GMT Master II timepiece or any Rolex wristwatch classifies you with successful and accomplished individuals. At the same time, Tudor is also a renowned brand but not as famous as its Rolex counterpart.
Whichever brand you choose, ensure that the Pepsi wristwatch you pick suits your daily outfits. You won't have to spend more money buying extra wristwatches. Additionally, you must consider water resistance if you love water sports or marine activities. You can also try to select neutral colors. The strap you pick depends on your preference. Hence, you can choose leather, stainless steel, or rubber straps.
The Fitting
You must always consider how well your wristwatch fits to look smart. Although mostly overlooked, your wrist size is essential in picking the suitable wristwatch for you. If you have a small wrist, you must choose a timepiece that suits smaller wrists. For example, our article covers borders on the Tudor Pepsi Vs. Rolex Pepsi comparison.
Tudor Pepsi has a bigger case size than Rolex Pepsi. Hence, smaller-wrist individuals will have to opt for Rolex Pepsi if they want to enjoy more brilliant looks. Contrastingly, more prominent wrist individuals will have to consider Tudor Pepsi GMT timepieces since they have a bigger case size. Why must you pick an appropriate wristwatch for your wrist size?
A small, thin wristwatch may look rather delicate on someone with a large wrist. A more oversized watch will look too big on a smaller wrist in the same light. Thus, it would help if you always used the appropriate wristwatches to appear smart.
Price and Value Retention
It is no hidden fact that Rolex timepieces cost more than Tudor's. People usually referred to Tudor timepieces as "the poor man's Rolex." Although Tudor has increased the pricing for its Pepsi Black Bay and other models, it still does not measure up to the amount charged by Rolex.
You must consider the Rolex Pepsi timepiece if you want a pricier wristwatch with higher value retention. If, on the other hand, you need a less expensive option, you can consider the Tudor Black Bay.
Maintenance
Both Tudor Pepsi and Rolex Pepsi have durable and robust timepieces. These brands have made a name for producing solid and durable watches. Thus, you may not need to spend extra money on maintenance after purchasing these timepieces.
Note that you may have to spend more on maintenance with Rolex Pepsi if you have to do any maintenance. Tudor does not charge as much as Rolex regarding maintaining its Pepsi Black Bay wristwatch.
MT5652 vs. Rolex Movement: Which is the best?
Both movements have unique and similar characteristics. The Rolex GMT Master II has a caliber 3285 movement. Furthermore, this movement has a self-winding, 31-jewel automatic movement feature that replaces the original caliber 3186. This new movement has a bigger diameter that enhances its 70-hour power reserve. Thus, you can expect higher precision, resistance to shock, power reserve, and longevity with this timepiece.
The Tudor Black Bay GMT has a caliber MT5652 movement, which is just as efficient as the Rolex caliber 3285 movement. Unlike the 3285 movement, this movement has a 25-jewel self-winding movement (automatic). Interestingly, this movement also has a 70-hour power reserve. Additionally, this movement has a variable inertia balance, a bidirectional rotor system, and a micro-adjustment by screw. The caliber also has a non-magnetic balance spring (silicon).
It is pretty challenging to pick out the better of the two because each of these movements has similar features with just a few variations. Hence, you can use any of them and get near-similar results.
Tudor Pepsi or Roles Pepsi: Which is more expensive?
Both Tudor and Rolex Pepsi are exciting timepieces. However, as far as pricing is concerned, Rolex Pepsi costs more than Tudor Black Pay. While you can obtain your Tudor Black Bay wristwatch for around $4000, the Rolex GMT Master II goes for about $9500 to $10000.
Conclusion: Which Pepsi GMT Timepiece Should You Buy? Rolex or Tudor?
After reading this article, there should be only one question on your mind; which timepiece then should I buy? This question has several answers depending on what you want. Whether the Rolex GMT Master II or Tudor Heritage Black Bay GMT depends on your preference.
If you want prestige and class, you can go for Rolex. However, you can buy a few Tudors with the money for the Rolex and still have some change. The Tudor Pepsi is an outstanding timepiece with an excellent design. If you are a purist, you will love Tudor Pepsi. Interestingly, the wristwatch features a 70-hour power reserve in its in-house movement.
You can snatch up a Tudor Black Bay GMT from its online store if your local retailer has no left in store. Don't worry about the fees; you will only pay a small fee for delivery. If you are a Rolex lover, you should be ready to spend around twice the amount a Tudor buyer would spend. However, as you may have guessed, a Rolex timepiece is the real deal.
So which timepiece is right for you? That we can't say. However, we can say that the two watches have exciting features. You can opt for any of them depending on your preference and budget. Whichever wristwatch you choose, you will indeed have a beautiful experience.