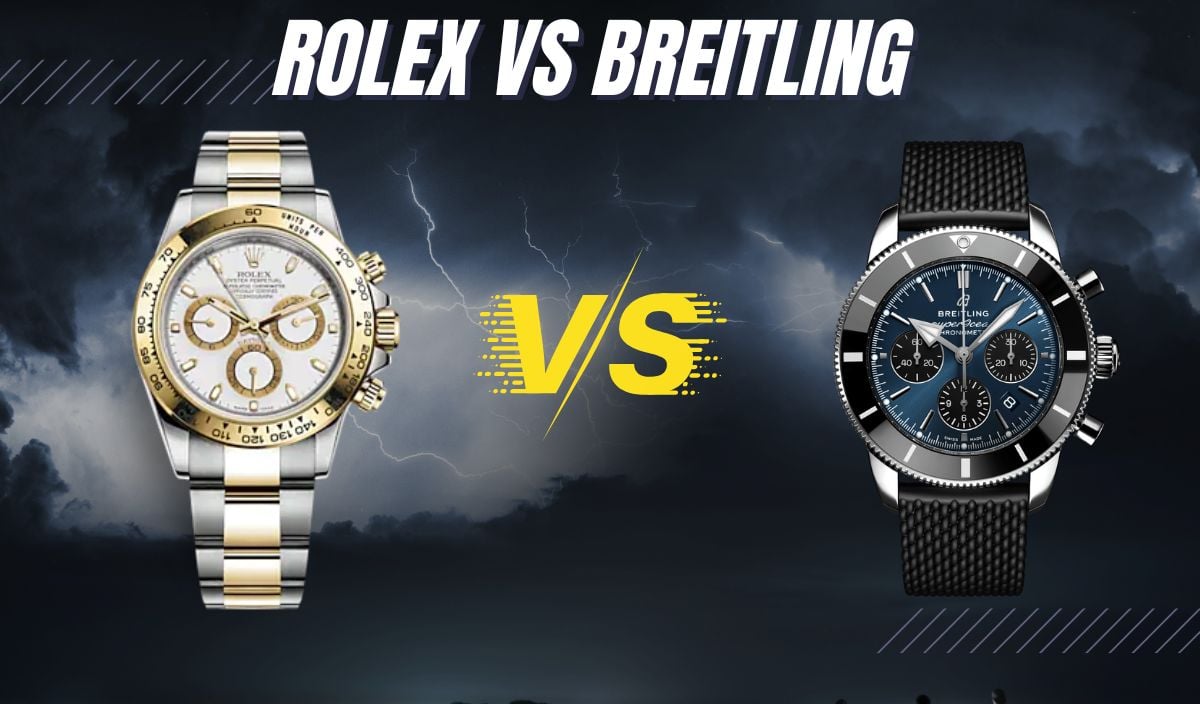 Rolex vs. Breitling Watches (EVERYTHING You Should Know)
Which one is a superior brand? Breitling or Rolex? This is a question that has probably been arugued for generations and will more than likely never end. You must have asked this question to yourself and friends a multitude of times. There probably has yet to be a definitive answer and there may never be.
These two luxury watch brands often confuse the buyers, offering so many bells and whistles to their watches that even the most enthusiastic of fans may end up scratching their heads. Since both are classified as top-tier and high-class luxury, it is hard to decide which one is better.
However, let's discuss it from a different angle of what if Breitling is an improved Rolex? When looking for a luxury watch from a reputable Swiss watchmaker (like IWC and JLC), these two high-end brands are always on top of the list. This is one fact that cannot be disputed, no matter where you fall on the spectrum of which watch brands are the best. 
You can debate between two watches and want to know which is superior, Breitling or Rolex. Both companies make some excellent timepieces. Having stated that, let's determine which watch brand should be your next buy:
History
Rolex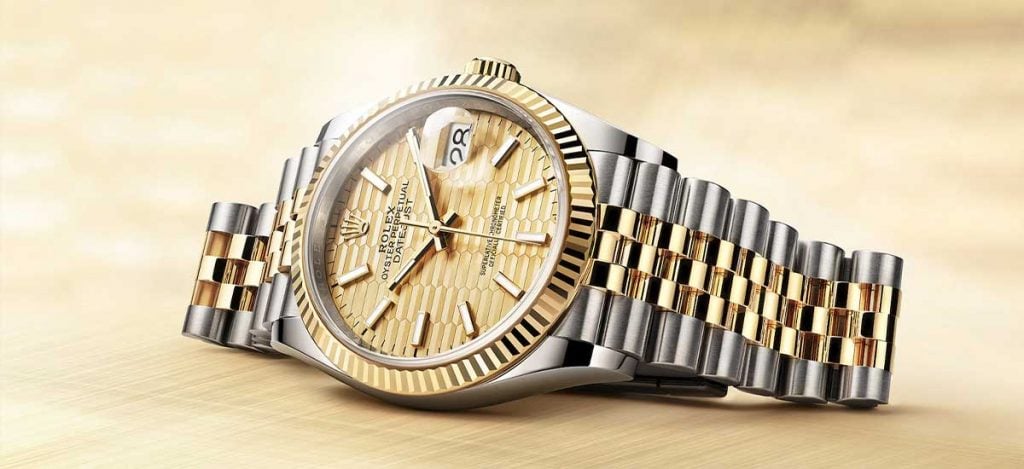 Hans Wilsdorf, a German-born watchmaker, and his brother-in-law Alfred Davis founded their firm in 1905 in London. They bought Swiss movements, placed them in British cases, and marketed them to jewelers so they could brand the dials with their names. Wilsdorf created and acquired the Rolex brand in 1908 after recognizing the potential for its brand to flourish in the expanding wristwatch industry.
Wilsdorf was always aware of the attractiveness of accurate timekeeping. This awareness has paid off over the years and there are many consumers that flock to Rolex because it is known for its attention to detail, precision, and mission to always stay one step ahead of the competition across the board.
The National Clock Grading Institute in Bienne, Switzerland, awarded the Swiss Certificate of Chronometric Precision to the first timepiece, a Rolex, in 1910. Wilsdorf obtained a "Class A" Precision Certificate from the Kew Observatory in 1914 after realizing the beneficial effect this certification had on sales. These certifications are what many watch enthusiasts point to as proof that Rolex is one of the few brands that places a high premium on the technical as well as aesthetic aspects of its watches.
Since then, Rolex has provided cutting-edge accuracy that is arguably the best in the industry and what other top brands seek to emulate. As the market for Rolex watches increased quickly, Wilsdorf decided to move the company to Geneva, Switzerland, in 1919 due to British taxation on the Swiss movements Rolex utilized.
After that, the Rolex team developed a completely sealed watch casing, which Wilsdorf named the Oyster, and made it widely available. Fast forward to 2010, Rolex became one of the most sought Swiss watch brands.
Breitling
Léon Breitling established Breitling in 1884 in St. Imier, Switzerland. All the Breiling watches have a long history of usage in science, sports, and business. The company relocated to bigger quarters at La Chaux-de-Fonds in 1892. Breitling introduced a timepiece with a chronograph function in 1915.
The brilliant idea to include a push-piece at 2 o'clock to start, stop, and reset the chronograph operations came from Léon Breitling's son, Gaston. By continually pushing the start/stop button while wearing the crown, the wearer may clock subsequent occurrences without needing to recalibrate.
The wristwatch kept moving forward in terms of advancements. Léon Breitling's grandson Willy came up with the idea to include a second push-piece at 4 o'clock for stopping the stopwatch. To split the costs of creating a new self-winding chronograph, Jack Heuer approached Breitling in 1967.
However, some watchmakers may dispute this. The storied Heuer Monaco and Breitling Chrono-Matic lines held the Calibre 11 watches. It's interesting to note that all current Breitling models, both conventional and quartz, have passed the COSC's independent chronometer testing.
Design Consistency
Rolex
Regarding their watch styles, Rolex is famous for making only small, conservative alterations. Furthermore, the design language of Rolex hasn't changed much since ages. These intricate, yet decisive adjustments may not be for everyone, but they have been an undeniable hit with ardent followers and enthusiasts, who herald the brand as a game-changer in the industry. In short, you can say that Rolex rarely had to innovate since its 20th-century designs established such a timeless aesthetic standard.
The unchanging appearance of Rolex watches has undoubtedly contributed to the growing desire for retro-styled timepieces, as mechanical wristwatches have been unequivocally out of date for roughly fifty years. However, a glance at any other watch company reveals that Rolex stands apart among large-scale watch manufacturers for its tight devotion to its design tradition.
The Rolex catalog's Cellini line continues to be an outlier, with many avant-garde designs coming and going throughout the years, particularly for models for ladies. However, the Cellini series remains the least popular, identifiable, and collectible Rolex model. Despite this fact, it is still considered a premium model and heads and shoulders above the offerings of other brands in the same class.
Breitling
Regarding design consistency, Breitling has also given tough competition to its rivals., who often have to go back to the drawing board in order to offer proper alternatives to their versions. Although we have seen some major design upgrades from Breitling over the decades, some main design languages are kept intact. For instance, the triangle on the edges of minute and second hands has been the same for a long time. Moreover, Breitling has kept their watches in elegant design over time.
While most watchmakers were going with elegant design upgrades, Breitling decided to keep up with their signature designs. The brains behind Breitling wanted to make their design consistent on top of everyone. This philosophy has made the brand easy to identify and is one of the qualities that fans find endearing and specific to the brand.
Rolex vs. Breitling- Who Holds Value Best?
Believe it or not, there is a clear link between a brand's worth, popularity, and resale value. On average, the stronger the brand, the more money you'll receive back when trying to sell it. However, certain timepieces have a better resale value for other factors, such as their rarity or iconic significance.
Nevertheless, you will often receive more money when selling your Rolex watches relative to your Breitling watches when comparing the proportion of what you initially spent for a Rolex or Breitling with what you may sell it for. But, it depends on the price at which you may acquire the timepiece, its state, and if you still have the paperwork and other accessories that came with the initial purchase.
If you overspend on a Rolex timepiece, you will probably not make back your money if you subsequently sell it. Additionally, certain Rolex models are less well-known than others. Think about a Daytona, Submariner, or GMT-Master if you want a Rolex that will keep its worth over time.
Breitling watches often keep their worth over time but depreciate over time. This is a fact that is associated with all models of watches, no matter the brand. A Breitling does, however, take some time to depreciate, and it is conceivable for a very new Breitling to be valued greater than the amount paid for it. This is a serious consideration that collectors take into account before making an investment.
The benefit of buying a Breitling watch is that they are known for being extremely professional timepieces. An example is the Breitling Navitimer 01, which is made for aeronauts like flyers, scientists, military professionals, search and rescue teams, and more. If an incident arises, Breitling's Breitling Emergency watch, which features a finder and a rescue signal, is fantastic. The Exospace B55 watches, for example, are smartwatches created with unique smart capabilities for pilots and aerospace professionals.
Breitling also sells a few more smartwatches. Additionally, Breitling offers a variety of rubber strap alternatives that are suitable for any of their watches. Having so many options on the table is another selling point for many watch enthusiasts, who may be searching for a different type of watch than what they normally may purchase.
Rolex now only offers a small number of rubber strap alternatives in its Yachtmaster line and a small number of Rolex Daytonas. Breitling is the brand to choose if you want a high-quality timepiece that is affordable and won't depreciate quickly.
But Rolex is the route if you want to get into the most competitive marketplace on the planet and invest in a watch that will probably increase in value with time. However, be careful not to overspend for your Rolex, and retain your receipts.
Rolex vs. Breitling – Brand Reputation And Prestige
In news that is probably not news to anyone, Rolex truly kills the competition when it relates to brand recognition, and it has done so across several generations. Even people that are not interested in watches know that a Rolex watch is a luxury item and an instant indicator of class and distinction.
Breitling is a well-known brand, although not quite as well known as Rolex. When someone mentions luxury watch, most people immediately think of Rolex. This is due in part to their immaculate marketing and product placement over the years tht has reached people across all economic levels.
Again, this does not suggest that Breitling is not a significant player; they are. You may find Breitling in the search results by performing a straightforward Google search for 'top luxury watch brands'. Few other manufacturers have the same level of respect as Rolex. You will receive positive comments when wearing a Rolex as they are impossible to ignore. Moreover, if you wear a Breitling, you won't receive nearly as much praise as if you wore a Rolex.
Breitling is a fantastic watch brand; anyone who knows watches would agree with this. Still, unfortunately, this goes to demonstrate the ignorance the common consumer has about luxury watches. Therefore, if you receive a compliment while wearing a Breitling, you can be certain that the individual knows watches.
Rolex vs. Breitling – Price And Movement
The least expensive Rolex costs about twice as much as the least expensive Breitling. It will cost you $6,100 to enter the Rolex world – a steep price to pay to be associated with a premium product. This is the cost of their brand-new men's 39mm Rolex Oyster Perpetual watch.
You will pay nearly half as much as an entry-level Rolex to join the Breitling club. This will buy you the entry-level Breitling watch, which is still as cool as some of the premium ones. The best part about Breitling is that they value their female customers. Breilting has dedicated the Colt Lady lineup to their female watch enthusiasts.
This is a feature that is not lost on consumers and a rare example of a brand that understands the desires of women and premium watches as well. Even though all Rolex timepieces are equal in terms of movement, they all have mechanical movements that the company itself makes in-house. Collectors of watches view mechanical watches as having the most renowned sorts of movements. This is an activity that Rolex takes great pleasure in.
The entry-level Breitling watches feature battery-operated, cost-effective quartz movements. Therefore, this is a major reason Rolex is more costly than Breitling when comparing prices. They exclusively employ premium, very accurate mechanical calibers.
You consequently get what you pay for. In earlier days, Rolex employed quartz movements. The Rolex flagship watch oyster was last mentioned in a 2001 inventory. However, it has since been eliminated since Rolex wishes only to highlight the greatest movements, among all other aspects of watches.
Breitling also develops their internal movements. Moreover, this luxury watch brand also takes great pleasure in horology. Breitling manufactures all of its timepieces, some of which are among the best in the world.
Best Rolex Watches
The Sub didn't truly become trendy until the 1980s, primarily because preppy people wore them as a statement of an active lifestyle that, most likely, centered around drinks at the yacht club. Unfortunately, tool watches became fashionable during this decade, and the rest is timepieces history.
Rolex recognized that the Submariner had evolved from a tool to a jewel, and during the decade of materialism, gold, two-tone, and even diamond-encrusted variants appeared. Gold variants are significantly less sought-after than plain steel ones, which are difficult to find at retail and may sell for up to 25% more than retail among fans.
The GMT Master II, an improvement to the crown in 1982, featured a new movement and an individually changeable local hour hand that proved to be huge successes as steel and gold editions exuded a flawless jet-set attitude.
Many people knew how to wear a Rolex Submariner with maximum flair, but wearing a GMT Master II was a subtly fashionable gesture highlighting the owner's individuality. The GMT Master II still exudes a subdued quirkiness.A revamped GMT Master II with a ceramic bezel and a new movement that featured several contemporary modifications was released by Rolex in 2007.
When the Milgauss was released in 1956, nuclear research was a hot topic, especially in locations like CERN, which is today home to the world's most sophisticated particle accelerator.
Electrical engineers were among the most significant professions in the world at the time as all the amazing technology created during World War II was being translated to commercial applications.
Unfortunately, engineers and scientists don't get the fame they deserve, and the Milgauss is the only Rolex model that was discontinued from 1988 to 2007. For Rolex lovers, the watch's reintroduction in 2007 was a very pleasant surprise, and the lightning-bolt second's hand continues to be its most amusing design element.
Unlike and more than any other Rolex watch, the Milgauss will probably make you distinguish yourself from the crowd. The current version isn't absolutely hard to get on sale. It is undoubtedly a watch for savvy individuals.
Before the 1960s, Rolex employed Oyster casings to contain external chronograph movements. Then the manufacturer produced the futuristic-sounding 'Cosmograph' while increasing the case size and redesigning the dial.
Soon after, the Rolex Daytona legend began to take shape when the crown began sponsoring races at Florida's renowned beachside track and adding its initials to the dial. While there wasn't much uproar at the time—that would come later. A striking outcome for a watch that was initially unimpressive is that the Daytona continues to be in demand and sells over retail on the used market, like many titanium Expert variants.
Best Breitling Watches
The Breitling Cockpit Chrono model has ruled the market since the early 2000s, and shows no signs of slowing down This watch fills the void between a scientific chronograph watch and a beautiful regular sports watch. The 39mm stainless steel case and a beautiful brown leather band give this watch a distinct profile.
This makes it easy to go from casual business wear to an active weekend outfit. The Breitling Caliber 13 automated movement with a 42-hour power reserve is the heart of the Cockpit Chrono ref. A13358. The clock, date, and chronograph functions of the watch are provided by this mechanism, which is all nicely displayed on the dial's balanced layout.
The Chronomat, Breitling's flagship model, is one of the company's most popular and enduring lines. The Breitling Chronomat, a special model from the late 1990s, has all the characteristics you might expect from a premium timepiece.
The metal bidirectional spinning bezel is mounted on top of the 40mm stainless steel case and is marked to 60 units. The difference between this Chronomat and other models is that it has a matte texture steel finish as opposed to the more typical polished steel appearance. This style is known as 'stealth mode' by Breitling.
The Breitling Chrono Avenger is a tough timepiece designed to survive harsh conditions and heavy use, ideal for those that lead active lifestyles. Despite having a big 44mm size, the Chrono Avenger is nonetheless very light owing to the utilization of titanium.
The chronograph configuration with the three registers at 6, 9, and 12 o'clock is on the black dial. Additionally, the dial has a lot of illumination to provide the best visibility in dim light. The trustworthy Caliber 13 automatic movement powers this robust Breitling chronograph. The Breitling Chrono Avenger is the ideal choice if you want a gorgeous timepiece that is also robust.
Breitling produces excellent diving watches in addition to pilot watches. The Breitling Superocean heritage comes in stainless steel and has a large 46mm case with a blue bidirectional diver's dial. The SuperOcean Heritage II pays a modest homage to legendary Breitling diving watches from the late 1950s, as suggested by its name.
The wristwatch carries some design cues from Breitling timepieces of the past. One such example is the vintage steel mesh band that resembles the original model. Breitling has put in great thoughts to make a time piece of this level. Furthermore, the overall aesthetics of this watch are gorgeous for people with different tastes.
Conclusion
When purchasing a watch, you must be aware of your objectives in addition to the amount of money you are looking to invest. If you have the cash and are a trader, Rolex is currently experiencing a market bull run. A Rolex in your possession may be valued more than you bought it for.
Purchasing a prized Rolex is a daunting task and not one to be taken lightly. Even though there will always be more interest than supply, there is a fair probability that there will eventually be a downturn and a purchasing opportunity. If you don't have $30,000 to spare and are willing to risk losing it, a Rolex watch is not for you.
About Exquisite Timepieces
Established in 1998, Exquisite Timepieces is your one-stop shop for all things luxury watches! We are an authorized dealer for 60+ luxury watch brands including Omega, Hublot, Seiko, & Longines! We are proud to showcase one of the world's largest pre-owned watch collections, including renowned brands like Rolex and Patek Philippe. Check out our brand new watch arrivals here and popular pre-owned listings here.