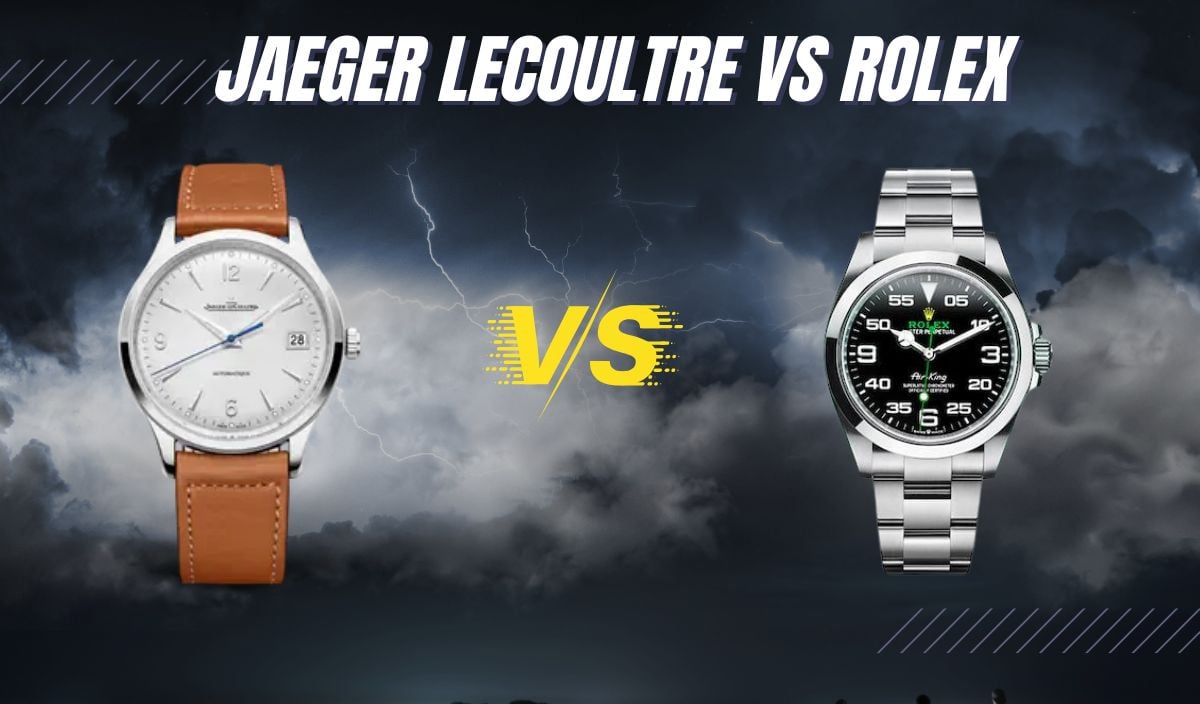 Jaeger LeCoultre vs. Rolex Watches (EVERYTHING To Know)
An Overview of Jaeger LeCoultre
Jaeger Lecoultre was founded in 1833 by watchmaker Antoine LeCoultre. Spanning almost two hundred years, the brand has amassed an impressive library of patents numbering over 430 and created 1300 distinct in-house caliber movements. The name LeCoultre is far from a household name but in the realm of high horology, the brand is considered one of the most prestigious.
As with most of the exclusive watch manufacturers in Switzerland, all facets of the watch-building process are conducted in-house. This includes everything from design to completion. All mechanical and automatic movements are hand assembled as, likewise, the various complications offered in the collection.
One unique feature of all LeCoultre timepieces is that each watch are subjected to a strict "1000 Hour Control" testing process. The testing occurs at every step in the assembly process. First through the building of the movement to its positioning in the case and finally, the completed watch. This rigorous testing provides results that far exceed official chronometry tolerances for precision.
Another alluring characteristic of the collection is the attention to detail reflected in every timepiece. From the uniqueness of the very popular Reverso models to the various dial treatments and how every metal surface is polished, LeCoultre watches are works of art. In the mere handling of any model, the superiority of the fit and feel and the quality of the materials used are evident. The see-through sapphire case backs also reveal components painstakingly polished and designed to impress.
Since 2000 LeCoultre has introduced several models under the label Hybris Mechanica. These watches have some of the most complicated movements available today. These particular models will appeal to the most sophisticated customer and watch collectors.
Rolex's History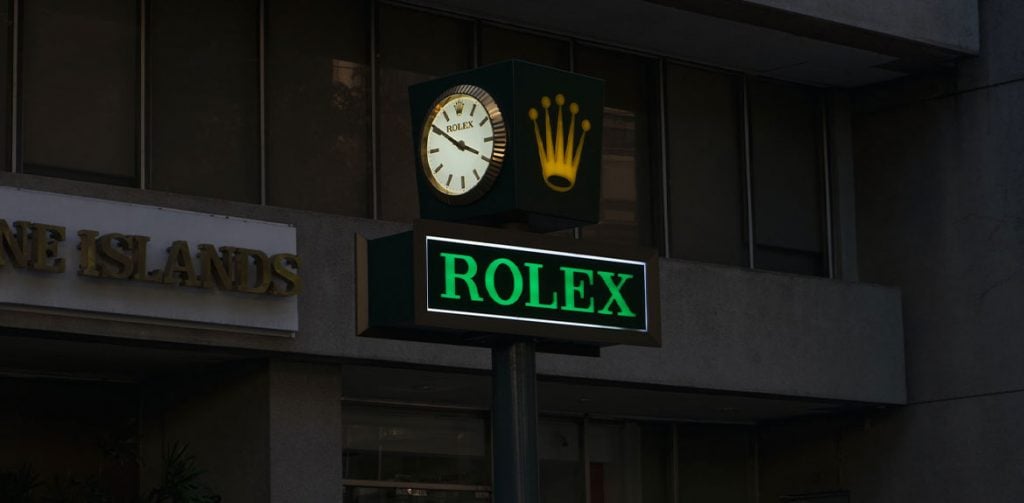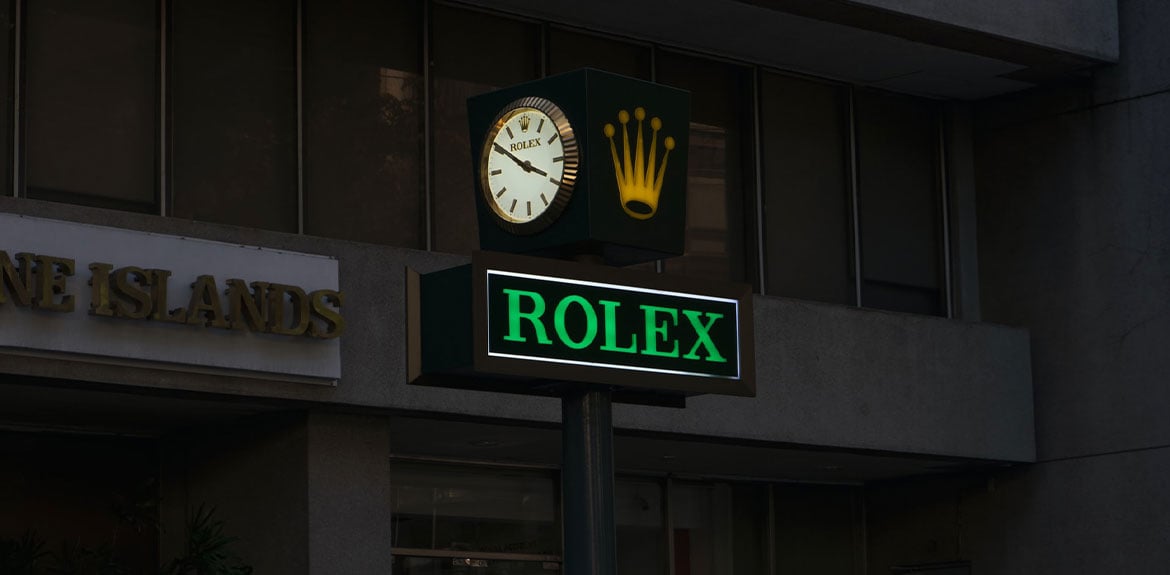 Rolex, surprisingly, has been around for a far shorter time than Jaeger LeCoultre and compared to most other luxury Swiss brands (Richard Mille and Hublot for example). For a brand that has been around for less than 115 years, is an even greater testimony to the success of the Rolex brand and the reputation the company enjoys today. Much of this success is attributable to Hans Wilsdorf, the English entrepreneur responsible for the creation of the brand.
Though conceived in England, Wildorf created the Rolex brand in 1908 and would ultimately move the entire operation to Geneva, Switzerland, where he would create the first water-proof self-winding wristwatch with a perpetual rotor. A patent was issued to Rolex in 1926 for the world's first waterproof watch, which today is the oyster case.
Rolex has filed for more than 500 patents over the history of its' existence. These patents showcase their innovations that range from internal movements to their exclusive Cerachrom bezels and bezel inserts. Cerachrom is a ceramic material that is virtually impervious to scratches and its color is unaffected by the sun's ultraviolet rays.
Rolex today is a completely vertically integrated company with every step of the watch's conception to completion performed by the Rolex team. To assure the continued success and commitment to producing the highest quality timepieces, Rolex has an exclusive training center that educates, trains, and acclimates every employee to their culture of excellence as well as one of the most rigorous testing labs to ensure the integrity of every watch.
There is even a department of tribology where the scientific study of friction, wear, lubrication, and how moving parts interact in every aspect of a watch's movement and physical parts exists to continue Rolex's constant perfection in watchmaking.
Another attribute of the Rolex collection is its commitment to precision and accuracy. In this aspect, every Rolex is not only a certified chronometer but a superlative chronometer as reflected by the certificate and green seal that accompanies each wristwatch. The parameters of accuracy exceed those required by the COSC. which are -4/+6 seconds per day. The superlative identification reflects a deviation of -2/+2 seconds daily.
Is Jaeger LeCoultre considered a luxury brand?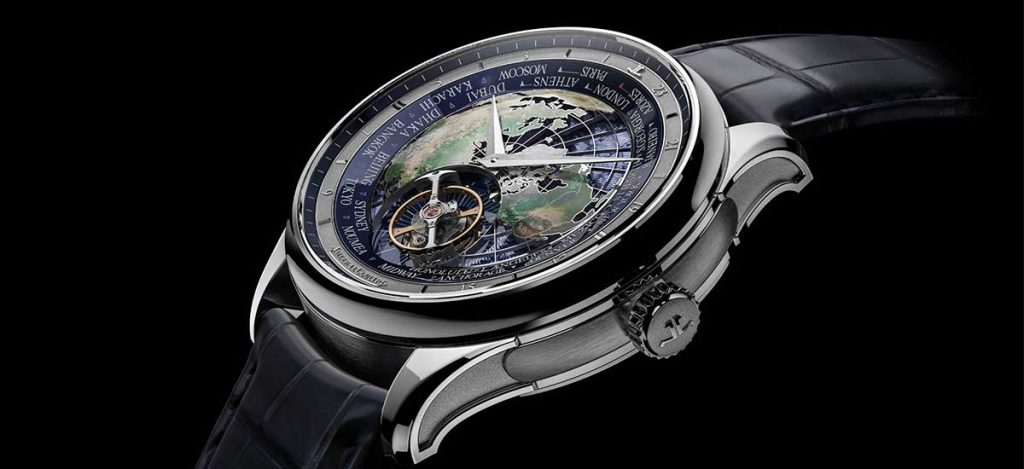 There is no question that Jaeger LeCoultre is a fine Swiss luxury brand. The collection is made up of four distinct subcollections. The Polaris, the Reverso, the Rendez-vous, and the Master UltraThin. There are also an array of watches with various complications available under the Hybris Mechanica moniker. The entry retail price point to purchase a Jaeger LeCoultre is $4550.00 for a ladies quartz Reverso and $4750.00 for the gentleman counterpart.
The Polaris appears to be the most rugged of the brands' offerings. I believe the all-steel models, for the sake of argument, would be most comparable to a Rolex Oyster model. These timepieces start at roughly $7300.00 retail and offer water resistance from 100m.-300m. depending on the model. The Mariner Memovox is an impressive diving watch outfitted with an automatic movement and an alarm feature that lets you know when to surface (approximate retail $18,900.).
The Rendez-vous collection is LeCoultre's selection for women. There are ladies' styles that feature striking celestial complications, automatic movements, and see-through sapphire crystal case backs. The cases range in size from 29mm.-36mm. Many are available with diamonds set on the bezel, dial, crown, or lugs.
The dials are objects of beauty and impeccably crafted in guilloche, mother of pearl, or various colored treatments accented with diamonds. These timepieces are exquisite objects of jewelry as well as reflections of high horology. Starting prices at $7850.00.
The Master Ultra Thin is a dressier model with automatic movement and is amongst the thinnest of the Jaeger LeCoultre collection. Here you will find a host of choices incorporating various complications such as perpetual calendars, minute repeaters, phases of the moon, etc. These watches range from $8400.00 to approximately $100k at retail.
Why is Jaeger LeCoultre so expensive?
Relatively speaking, compared to most luxury Swiss brands, LeCoultre's entrance price points are comparable. The Ladies' watches, especially with diamonds and complicated movements can run upwards of $100,000.00, The materials incorporated in these watches are of the highest quality. Given the labor invested in a handcrafted timepiece, these prices do not seem excessive.
Remember, when it comes to choosing a luxury Swiss watch, determining what brand and model to buy is a highly subjective matter. The high-end Hybris Mechanica models can run over one million dollars. The Hybris Mechanica 55 is a set of three separate watches which feature an astounding total of 55 different complications between them and retail for approximately 2.5 million dollars.
Again, this seems very expensive. Given the hours of work that go into design and hand assembly of each movement, and the limited quantity of these models available, a premium is warranted. This premium, though, might be a bit steep given that you can purchase a Patek Phillipe with complications for a few hundred thousand dollars and they have the history and reputation to command these price points.
LeCoultre's Hybris Mechanica collection is a product of the last twenty years. This is not to diminish the quality of the various complications available, but they are relatively new offerings and a huge jump in price for a previous Jaeger LeCoultre consumer. One thing is for sure, some customers will appreciate and value these timepieces and want to own one.
Are Jaeger Lecoultre watches reliable?
I believe the answer to this question is yes. There are caveats, though, to this answer. Aside from the Polaris collection that reflects a sportier appearance and can sustain a good bump or two, most of the Jaeger LeCoultre timepieces are of a more dressy and elegant appeal and house movements that you wouldn't want to subject to extreme environments.
Rolex watches with their oyster cases are far better suited for wear if you are going to subject your watch to rough or tough conditions. As for accuracy, due to each brands commitment to the extreme testing of their movements, both Rolex and LeCoultre are precise timekeeping instruments.
Who wears a Jaeger LeCoultre?
Many of the most successful actors in Hollywood wear LeCoultres. Just to mention a few of the leading men who have been spotted with a Reverso on their wrist are Leonardo DiCaprio, Michael Douglas, Pierce Brosnan, Jon Hamm, Matt Damon, and Jeremy Renner. Benedict Cumberbatch and Amanda Seyfried are some of the celebrities that serve as brand ambassadors for the brand. Amand Seyfried has been seen wearing a diamond Rendez-vous model.
Are Jaeger LeCoultre watches a good investment?
One should not look to purchase a luxury Swiss watch purely as an investment. Watches are very much like automobiles, once you have worn your watch, it has begun to depreciate. Some watches hold their value more than others. Rolex is at the top of the list for watches that hold their value with Richard Mille and Patek Phillipe not far behind. All other brands fall behind these two brands.
Some Limited additions and watches housing rare complicated movements do appreciate over time as evidenced by the auction market, but for the most part, you should choose a watch to reflect your style and makes a statement about you. Decide what you are willing to spend and see what is available to you. If in the future, the value of your purchase goes up, count yourself blessed.
How does Jaeger LeCoultre compare to Patek Phillipe?
Patek Phillipe was founded by Antoine Norbert de Patek and Adrien Phillipe in Switzerland in 1839. The name is one of the highest regarded brands in all of the Swiss luxury market. As with most of the high-end Swiss wristwatches produced today, Patek Phillipe is fully vertically integrated. Every step of the manufacturing process from design to completion is performed in-house.
At the heart of the company lies the Patek Phillipe seal. Every watch the company builds receives this seal which assures the purchaser that their watch has been produced under a strict set of directives. This applies to every component and all hand assembly. Tolerances for accuracy for every watch are -3/+2 seconds per day.
The commitment to perfection is in the very DNA of every watch and the company. Patek Phillipe watches are some of the most sought-after timepieces in the world. Demand has always exceeded supply lending to their value and allure. The current lineup of watches falls into seven collections. Complications, Grand Complications, Calatrava, Nautilus, Gold Ellipse, Aquqanaut, and the Gondolo per the company's website.
The collection ranges from approximately $21,000.00-$500,000.00. The least expensive model is the Aquanaut with an approx. retail of $21,650.00. Given the information dispensed throughout this article, Patek Phillipe holds a lead over Jaeger LeCoultre due to their reputation and value amongst watch aficionados.
Jaeger LeCoultre, though, I believe will continue to produce quality world-class complications and will continue to rise in popularity given their current strategy. Time, no pun intended, should benefit Jaeger LeCoultre moving forward. They have a great opportunity to continue producing watches that may at least hold or perhaps even increase in value.
Conclusion
In conclusion, what is the verdict when copairing the Rolex brand to that of Jaeger LeCoultre? Both are quality high-end Swiss luxury watches. In many ways, it is a bit like comparing apples and oranges. If you want to wear an easily recognizable brand, then Rolex is your choice. If you would like to wear a timepiece that is unique, beautifully handcrafted, less recognizable, and yet as high a quality as a Rolex, then the Jaeger LeCoultre is an excellent choice.
The Rolex is a better choice if you subject your timepiece to more rigorous conditions. For the most part, Jaeger LeCoultre awatches will fare better when worn as an everyday business watch or for a night out on the town. The Rendez-vous, Reverso, and Complicated models are perfect for celebrations and glitzy social gatherings.
The majority of choices within each brand will cost you roughly the same to acquire depending upon the model, so visit your local jewelry or watch store and try on either brand. You won't be disappointed with either brand.
About Exquisite Timepieces
Established in 1998, Exquisite Timepieces is your one-stop shop for all things luxury watches! We are an authorized dealer for 60+ luxury watch brands including Omega, Hublot, Seiko, & Longines! We are proud to showcase one of the world's largest pre-owned watch collections, including renowned brands like Rolex and Patek Philippe. Check out our brand new watch arrivals here and popular pre-owned listings here.