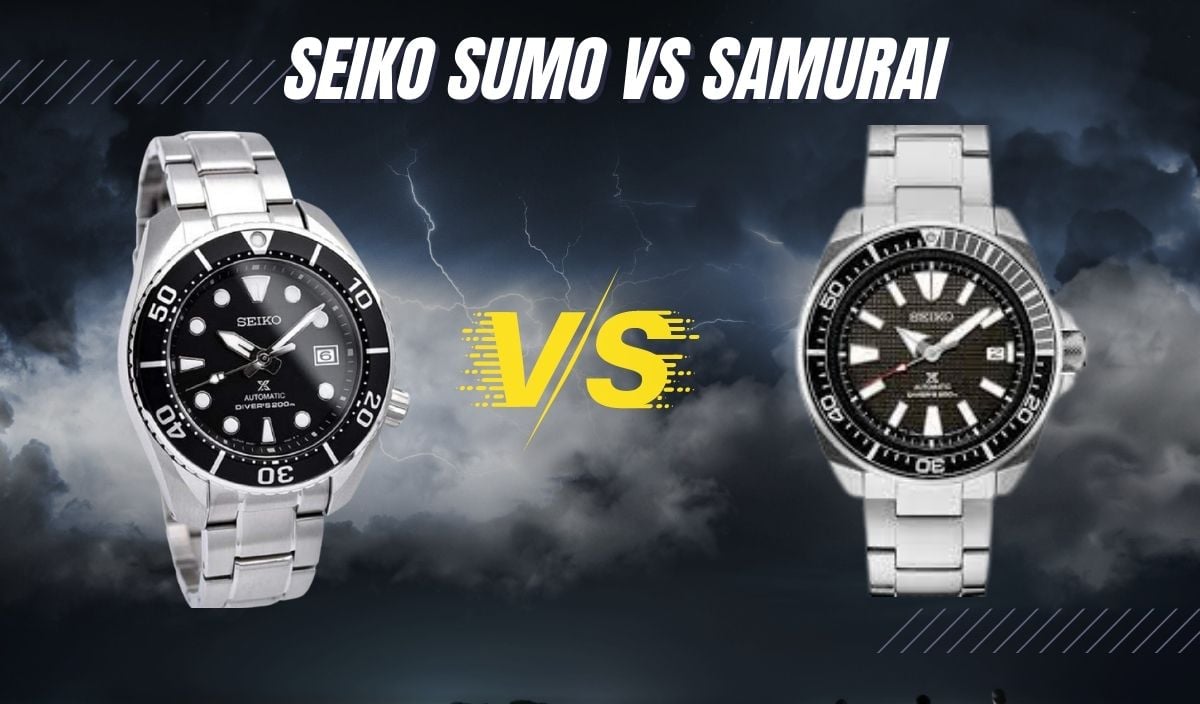 Seiko Sumo Vs. Seiko Samurai: WHO Wins the Dive Watch Battle?
Whenever someone mentions Seiko, one thing immediately comes to mind: affordable dive watches. Oftentimes, affordability equates to cheapness. In the case of Seiko, they've mastered quality and reliable watches without requiring someone to drop their life savings.
If you know anything about the Japanese watch brand, it's that they have quite the catalog of references, especially when it comes to their divers. Two of the models in particular, the Sumo and the Samurai, are iconic in their own ways, and I'm excited to take a deeper dive into them. I really didn't mean to make a diving pun there…ok, perhaps I did just a little bit.
At a first glance, the average viewer may think they are a similar watch. Of course, there are similarities between the two, but us watch nerds know better. Let's discuss each piece's unique qualities and see if one may just end up on your wrist.
About the Seiko Sumo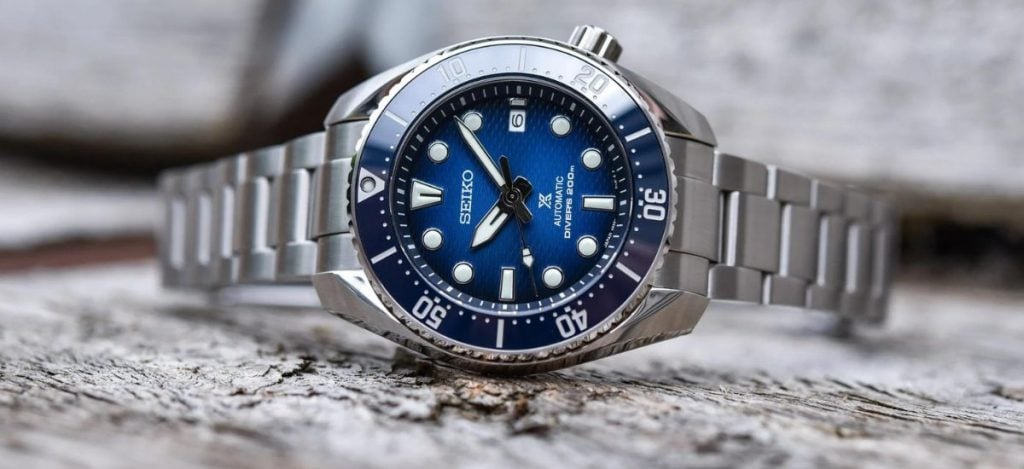 Like many Seiko models, the Sumo isn't limited to one reference number or generation. First introduced in 2007, the original was housed under the reference number SBDC001 and had a black dial with bold, white coloring throughout the lume plots, hands, and numerals on the bezel.
What's interesting about the Sumo was that it was the first Seiko Diver equipped with the in-house 6R35 automatic movement. Since the release of the original watch, the company has released various generations and colors over the years.
In 2022, they released the latest versions of the Sumo: a gray dial/black bezel (ref. #SPB323) and a blue dial/blue bezel (ref. #SPB321), both a part of the Prospex line. The Prospex catalog contains a series of various land, sea, and sky sport and adventure models.
Although it's a relatively large watch at 45mm in diameter, 12.9mm thick, and 52mm lug to lug, the Sumo has great proportions and looks great on the wrist. Visually, it's stunning, with the dial colors blending from light to dark as you move from the center to the outside.
A few other highlights to note:
A beautiful mix of polished and brushed parts gives it the tool watch feel with a flash of elegance.
The bezel insert is now ceramic allowing it to be far more scratch resistant than aluminum or other materials.
Being a diving watch, we must mention the water resistance of 200 meters and a screw-down crown.
The movement is the 6R35 and beats at 3Hz with a 70-hour power reserve. Seiko promises an accuracy of +25/-15 seconds per day.
The bracelet includes a redesigned folding clasp and a wetsuit extension. Hopefully, you all have your SCUBA certification.
According to Seiko's website, the current retail price is ~$1,200. The comfortability is certainly there, but I would still suggest trying one on before making the purchase due to its larger size.
About the Seiko Samurai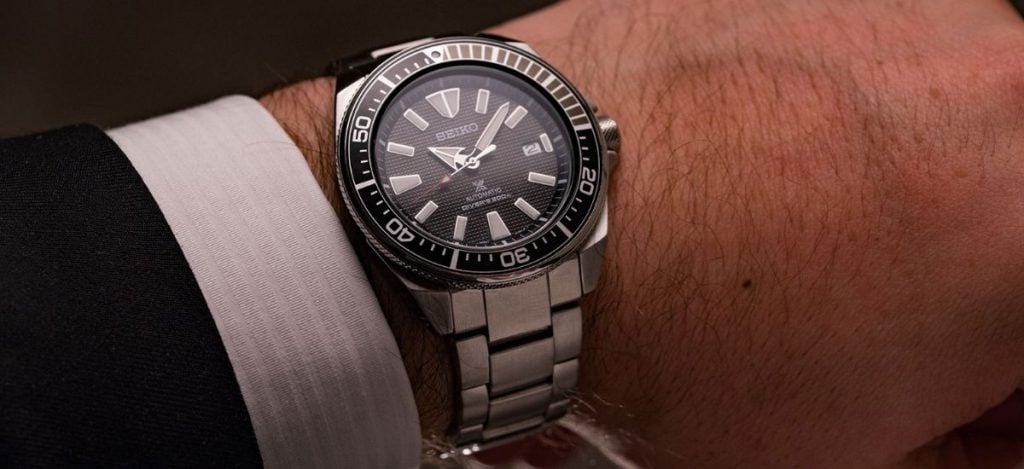 Can you tell that we love to give Seiko watches their own nicknames? The Tuna, Turtle, Monster, Sumo, the list goes on forever. This particular watch, the Samurai, gets its name from the hour and seconds hands resembling a sword. First released in 2004, this watch was actually discontinued until it was brought back in 2017.
Also housed under the Prospex line, the one we're taking a closer look at is the newest model ref. #SRPB49. The stainless steel case is 43.8mm in diameter, 13.5mm thick, and 48mm lug to lug. The deep blue dial with the checkered look gives it that bit of extra pop.
I'm a sucker for multi-colored bezels, and this watch offers a mix of blue between the 3 and 12 and gray between the 12 and 3. Depending on the light on the timepiece, the bezel colors can adjust from dark to light.
A cool little tidbit is that when the hour and minute hands cross each other, they appear like a sword. This is a big reason why the watch is nicknamed the Samurai. I know that effect only happens briefly every hour, but I can't help but smile at the thought of that detail. Here's what else you need to know:
Unlike many newer watches, the Samurai is made with a Hardlex crystal rather than the standard sapphire crystal. The wearer still gets that scratch-resistant durability while keeping the watch's price down.
The movement is the self-winding caliber 4R35, which beats at 21,600 vph and has 41 hours of power reserve. The approximate accuracy is -35/+45 seconds per day.
Seiko is synonymous with great lume, the case here being LumiBrite. Since this watch is ISO-certified, the lume is incredible. ISO is a third-party certification with many factors coming into play. One requirement is that the piece is visible up to 25 cm away in total darkness. It'll surely shine bright.
The bezel is unidirectional and has 120 clicks.
It was tough to nail down an exact retail price but all research concluded that this watch can be found in the sub $500 range. When you're talking about a Seiko automatic diver, that's one heck of a deal.
Seiko Sumo vs. Seiko Samurai: A Clash Between Two Dive Watch Titans
A question as old as time itself: which one do I buy? Well, why don't you just buy both? If only it were that simple, right? You may have clicked on this article because you're in the market for a Seiko diver, perhaps one of these in particular, and you can buy only one.
You're lucky because I will lay out which one is better and which you should definitely buy! Can you feel the sarcasm yet? If you haven't figured it out by now, watches are entirely subjective. Sure, there are watches with objectively better specifications, but in general, how we love a watch is down to each individual.
It's one of the reasons why collecting many or owning one watches is so awesome. Still, we have to compare them, right? To keep them somewhat similar, I'll mostly be talking about the Sumo blue version (ref. #SPB321) and the Samurai blue version (ref. #SRPB49), even though there are many color variations for each. The weigh-ins are done, and the bell has rung, so let's go!
Appearance
I don't know about you, but when I think about a dive watch, I think about a tool. While I consider both pieces capable tool watches, the Sumo has a bit more flashiness due to the mix of polished and brushed parts throughout the case.
The Sumo also has brighter colors, including that stunning dial and the shiny ceramic bezel. Having a more subdued look, the Samurai appears more under the radar and will likely show scratching less due to the mostly brushed case.
The crown on the Sumo gives that classic Seiko feel with the offset 4 o'clock position, while the Samurai feels more rugged with the non-smooth crown at the more traditional 9 o'clock position. Both have date wheels, and the dials are so well-proportioned that you shouldn't have trouble reading the time quickly on either piece. The Sumo has circular indices, while the Samurai has baton indices.
Wearability
When I hear people talk about watches, everyone immediately focuses on looks, but to me, comfort may be the most critical factor as to whether or not I like a piece. Both the Sumo and the Samurai are large timepieces, relatively speaking.
While the Sumo has a longer lug to lug by about 4mm, the curved down characteristics of the lugs will hug the wrist nicely, which should provide extra comfort. It's also slightly thinner than the Samurai, making it feel less bulky and slide under sleeves. While the Samurai doesn't offer the same curved lugs as the Sumo, the shorter lug-to-lug will also wear comfortably.
When it comes to thickness, both of the watches are just about the same. I will add that the Samurai has a side profile that is interrupted by a change in design. This will make it appear thinner than it actually is, unlike other watches with more straight, "slab-like" profiles. Both include drilled lugs making strap changes easier if the bracelet look isn't your style.
Performance
Seiko makes reliable, relatively accurate, and easy-to-work-on movements. You'll get no argument from me there. The 6R35 movement inside the Sumo has a better accuracy (+25/-15 seconds/day) and a longer power reserve than the Samurai at 70 hours.
All that being said, that's the way it should be when you're paying around double the price for a watch. The 41-hour power reserve of the Samurai is nothing to hang your head about, and people seem to have very little issues with the reliable 4R35 movement.
You get plenty of water resistance on both the Sumo and the Samurai at 200 meters as well as screw-down crowns. I can't sit here and pretend like I'm an engineer, but I know that there are other technical differences between the two movements.
The ones mentioned above are the two main ones you'll notice in everyday use. And the lume! Seiko may just be the best at it, and these will shine bright for a long time.
Can You Get Them?
You may be wondering, "that's an odd question." If both of these watches are still in production, then why wouldn't I be able to get them? Oftentimes in the watch world, you'll find some pieces difficult to obtain, even if the company still produces them. This is mostly caused by two main reasons: short supply and too much demand.
Luckily, in the case of the Sumo and the Samurai, all indications point to these being readily available, except for a special or limited edition piece. The Sumo retails for ~$1,200, while the Samurai can be found for under $500. Sometimes, especially when it comes to Seiko, you'll have to do a bit of digging and research to find them.
Seiko's website authorized dealers, such as Exquisite Timepieces, and your local authorized dealers, are all good places to go. The answer to which one you should buy is easy: purchase the one you like more. I know all too well that that's easier said than done. Seiko produces incredible watches, so making the wrong decision will be tough.
I like to focus on the look and feel of a timepiece before I start looking at technical specs and cost. A watch can have the greatest movement, accurate to +1/-1 seconds per year, and cost $150,000. But if I don't want to look at it every day, then I don't want it. In this scenario, it's a good thing we have two wrists.
About Exquisite Timepieces
Established in 1998, Exquisite Timepieces is your one-stop shop for all things luxury watches! We are an authorized dealer for 60+ luxury watch brands including Omega, Hublot, Seiko, & Longines! We are proud to showcase one of the world's largest pre-owned watch collections, including renowned brands like Rolex and Patek Philippe. Check out our brand new watch arrivals here and popular pre-owned listings here.