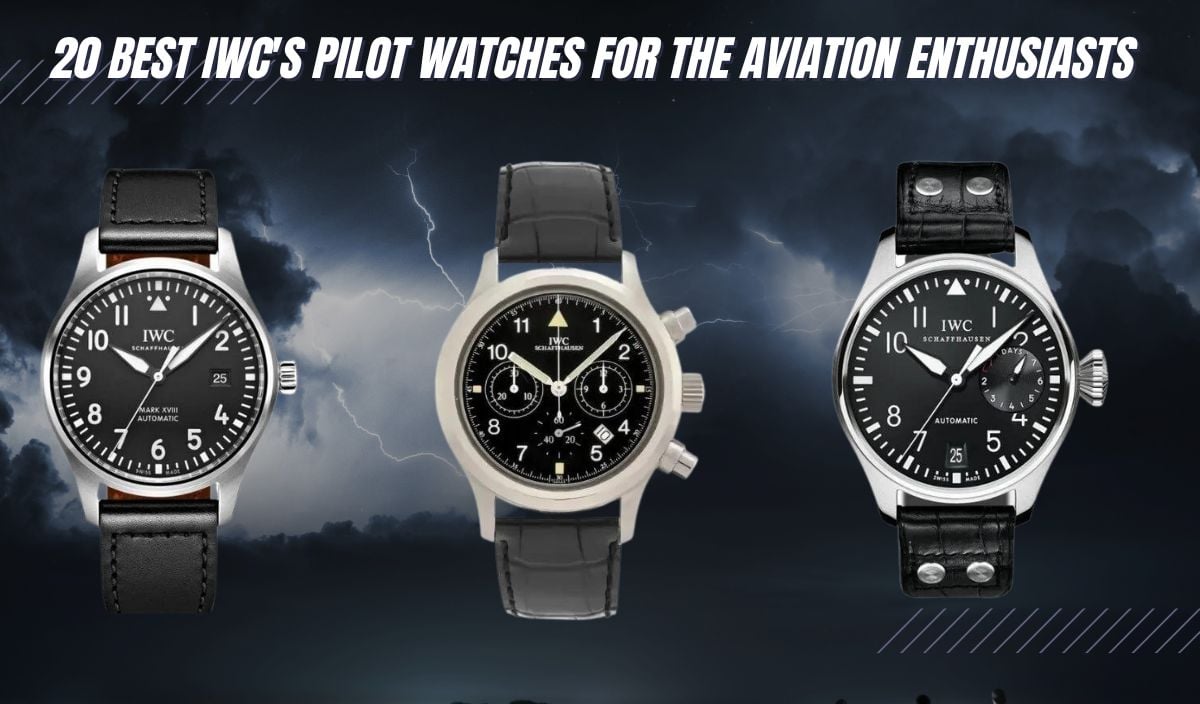 20 BEST IWC Pilot Watches for the Aviation Enthusiasts! (2023)
IWC Schaffhausen, also known as International Watch Company, is a Swiss luxury watch brand that has been a present force in the industry since 1868. With over 150 years of history, the brand has established itself as a leader in the watch industry, known for its precision engineering and timeless designs. In this blog post, we'll take a closer look at the history of IWC watches, specifically IWC Pilot watches.
Founding of IWC
IWC was founded by American watchmaker Florentine Ariosto Jones, who saw an opportunity to combine skilled Swiss craftsmanship with modern American technology. In 1868, he established the International Watch Company in Schaffhausen, Switzerland.
Jones' goal was to create high-quality watches that could compete with the best Swiss brands, using the latest technology and machinery from the United States for the American market. He was also one of the first watchmakers to use the newly developed system of interchangeable parts, which made it easier and more efficient to produce watches.
Early Years
In the early years, IWC produced pocket watches for both men and women. These watches were known for their precision and accuracy and quickly gained a reputation for quality. In 1899, IWC introduced one of its first known wristwatches utilizing the small 64 caliber ladies' pocket watch movement fitted with lugs, a watch which was designed specifically for women.
The watch was a commercial success and marked the beginning of IWC's focus on wristwatches. In the late-19th and into the early-20th century, IWC continued to innovate with the introduction of the first watch with a digital display in 1885 (Pallweber system) and the Reference IW436 launched in 1936 for specific use by pilots with an oversized crown and rotating bezel aiding navigation.
History of IWC Pilot Watches
With the introduction of the "Special Pilot's Watch" (ref IW436) in 1936, IWC's trajectory in supplying watches to pilots was set in stone. Indeed, IWC's history is closely intertwined with the history of aviation. In these early days of aviation, pilots needed watches that were accurate, reliable, robust, and easy to read.
IWC was one of the first watchmakers to recognize the need for such watches, and the high legibility and tech within the IW436 illustrate this well with its antimagnetic escapement (important due to the equipment within the cockpit) and large hands and numerals.
This was shortly followed by the "Big Pilot" in 1940 supplied to the German Air Force, a 55mm diameter goliath utilizing the pocket watch caliber 52 T.S.C. The Big Pilot would go on to influence the design language of German-style pilot watches in the following years, with its characteristic military triangle at 12 o'clock, sans serif numerals, and leaf-shaped hands present even in modern-day designs.

In 1948, we saw the arrival of the Pilot's Watch Mark XI, powered by the (legendary) manually wound 89 caliber movement, a watch infamous for its use by the British Military. A soft-iron inner case is applied, further advancing IWC's penchant for reliable tech into the mid-twentieth century. Built to British Ministry of Defense specifications, vintage examples are highly coveted today.

The Mark XI was produced as late as 1984, yet after a hiatus, it wasn't until 1993 that the next Mark series watch, XII, was released as a near replica of its predecessor but with a self-winding automatic movement. In 1999, the Mark XV was released at a larger size of 38mm and is widely considered the transition from a military watch to civilian use.
Now into the 2000s, the Mark XVI (2006-2012), XVII (2012-2016), and XVIII (2017-2022) are all released with various sizes and stylistic changes – yet all staying true to the heritage and inspiration of the classic Mark line as far back as the Special Pilot's Watch.
IWC Pilot Watches Today
The IWC Pilot Watches of today can be broken into three distinct sub-collections: Classic (Big Pilot, Pilot, and Mark series), Performance Materials (Big Pilot and Pilot watches made with advanced materials), and Antoine De Saint Exupery (Big Pilot and Pilot special edition watches commemorating the famous author/pilot). Let's explore further.
The Best IWC Pilot Watches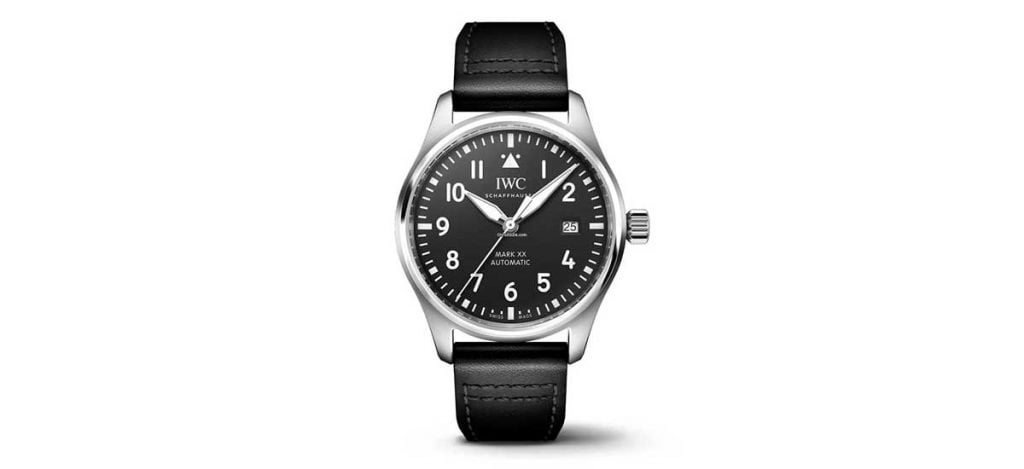 When IWC quietly updated its brand icon in the Mark series in the late summer of 2022, a few notable changes were made from the prior Mark XIII (just don't ask us what happened to the Mark XIX).
Notably, the watch was trimmed down in both lug-to-lug length and thickness (40mm Diameter, 10.8mm thickness, 49.2mm lug-to-lug), the dial was rebalanced with a tweaked hour and minute markings along the outer track, a white date disc was added to aid in legibility (and repositioned, most popularly), but perhaps most impressively, the Mark XX is now powered by the caliber 32111 ValFleurier movement, increasing power reserve from the base 42 hours on the Mark XVIII to a dramatic 120 hours (5-day) in the Mark XX.

Retail Price: $5,250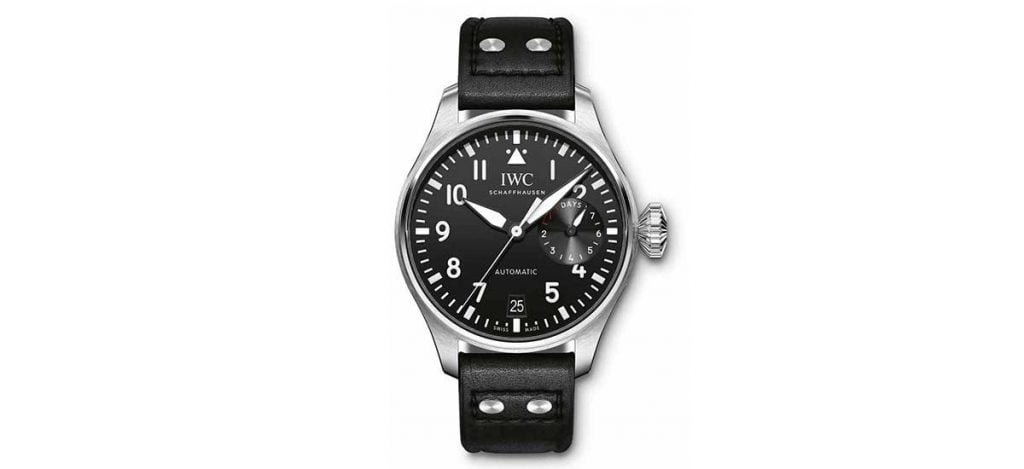 They don't call it the "Big Pilot" for no reason. Clocking in at 46.2mm in diameter, 15.5mm in thickness, and 57mm lug-to-lug, IWC's classic Big Pilot of the 1940s is revived again in a technically smaller size than the original (originally 55mm in diameter and 17.5mm thick).
In aesthetic design, the modern Big Pilot is quite faithful to the original, with its iconic flared onion-shaped crown and altogether Germanic Pilot's watch dial design (and power reserve sub-dial indicator at 3 o'clock).
A robust and smooth leather strap is attached at both sides, with the eye-catching rivets echoing the original design. Powering the watch is the in-house caliber 52110, providing an automatic self-winding 7 days of power reserve. Though large in overall size, it's hard to think of another definitive flieger-style watch with the historic chops and design to boot.
Retail Price: $13,200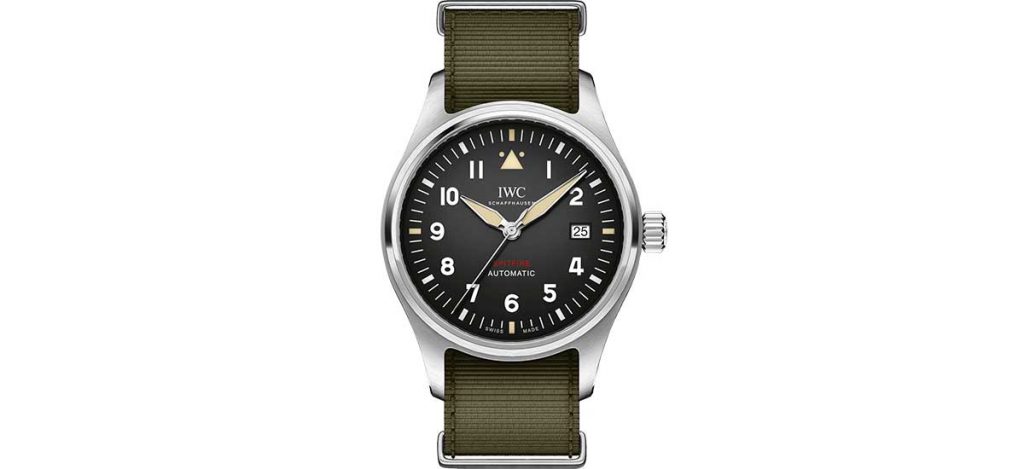 IWC's 39mm Automatic Spitfire is a bit of a value proposition within the brand's Pilot watch lineup. Measuring in at 39mm in diameter, 10.8mm in thickness, and about 50mm lug-to-lug, it's also a modestly-sized watch suitable and comfortable for most wrists.
Powered by the in-house automatic movement, caliber 32110, the Spitfire also receives a 72-hour power reserve (with a silicon escape wheel and lever for increased anti-magnetism).
Aside from the technical specs, visually, the Spitfire features designs that call back to IWC's military heritage, with faux-patina colored markers along the outer track at 12, 3, 6, and 9 (as well as the Flieger style triangle and dots up top), and broadsword-styled alpha hands, encased in a stainless steel brushed case.

Retail Price: $4,900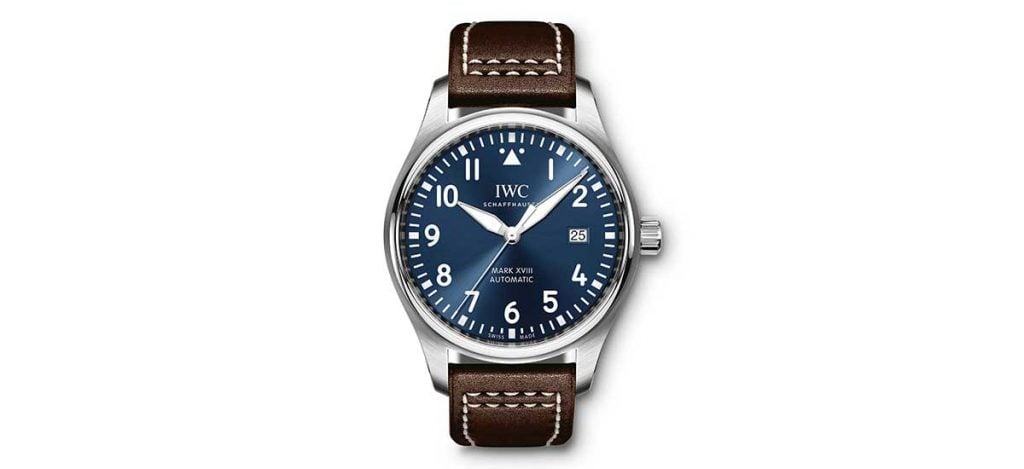 Continuing along the line of Mark series watches, the Mark XVIII utilizes a soft iron dial and inner case for increased magnetic resistance, much like its predecessors. Sizing is not far off either, at 40mm in diameter, 11mm in thickness, and 51.1mm lug-to-lug.
However, where the reference IW327010 really shines is in its sunray brushed blue dial against white text and dial markings, a striking look paying homage to the eponymous book (Le Petit Prince, in case you missed it).
The case back also features an illustrated engraving in the same vein, and the "spitfire" style alpha hands offer striking visibility against the dial. Paired with the ever-solid Santoni-produced calfskin leather strap, the watch is an overall handsome look for pilots and non-pilots alike.

Retail Price: $4,500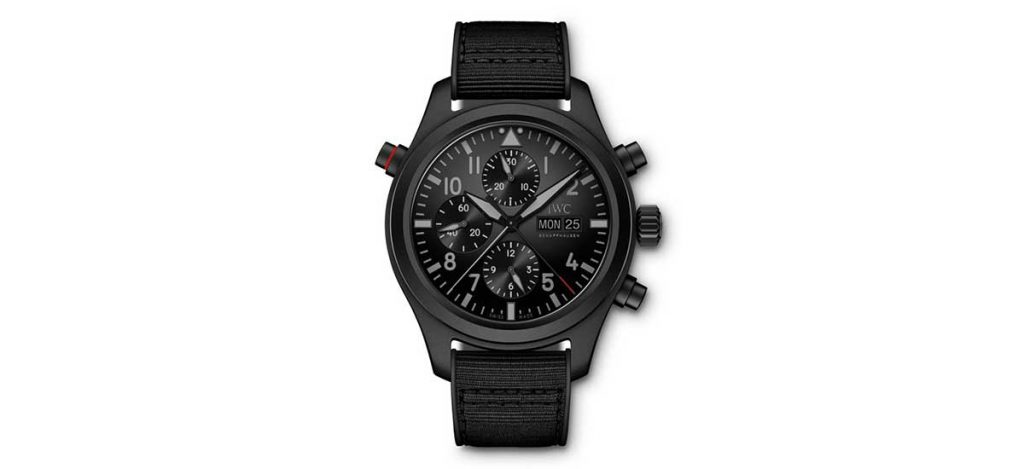 As a leader in advancing innovative materials into standard watch production, along with a history of producing pilot watch chronographs, IWC's forward-thinking Double Chronograph "Top Gun" Ceratanium watch continues that trend.
The brand, the first to introduce a ceramic case back on a wristwatch in 1986, and having developed the reference 3711 DoppelChronograph (an industrialized split-seconds chronograph, traditionally a delicate and high-end complication), brings both ideas into the modern day with a new material, ceratanium, which combines ceramic and titanium to provide the advantages of both.
Corrosion and scratch resistance, lightweight and durable, in an all-black case, the Top Gun Ceratanium represents IWC's strengths at its finest.
Retail Price: $16,100
For a pilot's watch, visibility and legibility are of primary importance. For this reason, the genre is typically occupied by larger watches; look no further than the 46mm Big Pilot within IWC's own lineup, and you'll catch my drift. But what of options for the smaller wristed or those who simply prefer a smaller, more compact wearing watch? Enter the Pilot's Watch Automatic 36 (reference IW324008).
Measuring 36mm in diameter, 10.6mm thick, and 46mm lug-to-lug, the Automatic 36 wears like a mid-size dream without the loss of that iconic styling present on its larger Mark series brothers. As the market continues its downward size trend in recent years, the Automatic 36 will continue to provide a smaller "safe haven".

Retail Price: $4,350
Despite the polarizing "downsizing" of the Big Pilot from 46mm to 43mm diameter (14.4mm thickness, 52mm lug-to-lug), make no mistake that the 43 Spitfire is still a larger wearing experience relative to its modestly sized Mark series brethren.
In line with a reduced size, the 43 Spitfire is encased in a lightweight Grade 5 titanium, matte gray in appearance, achieved through polishing and sandblasting.
The dial provides enhanced legibility with the minutes and seconds track in white on the outer ring, with an inside ring in gray containing the hour markings, 1 through 12. Powered by the in-house caliber 82100, the 60-hour power reserve movement is additionally reinforced with ceramic components, and the watch is further protected with a soft-iron case (for anti-magnetism).
The 43 Spitfire is a perfect option for collectors looking for a more wearable Big Pilot experience with traditional styling.
Retail Price: $9,500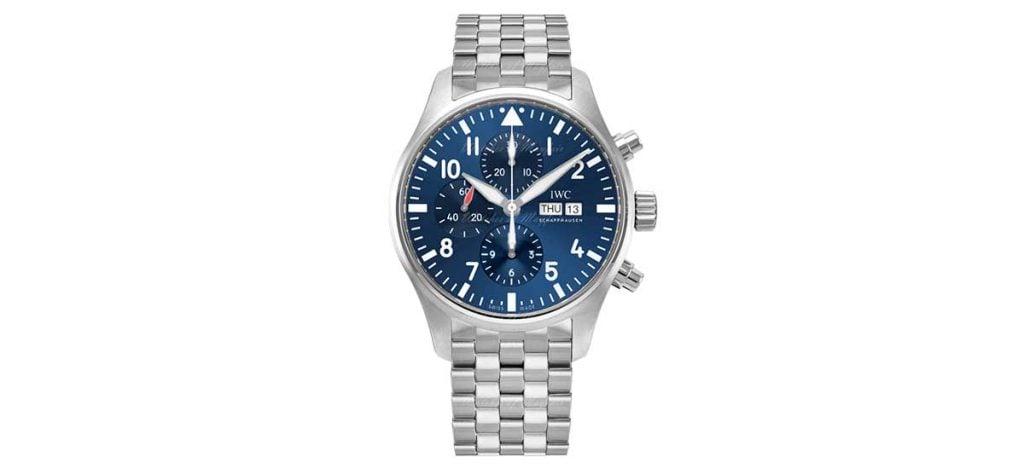 As the chronograph representative within the "Le Petit Prince" line, the reference IW377717 is a bold watch at 43mm in diameter, 15mm in thickness, and 53.5mm lug-to-lug.
Made of entirely stainless steel and set on a five-link bracelet, the use of sunray blue is particularly showcased and accented by the three contrasting blue subdials of the chronograph registers (60-second, 30-minute, and 12-hour counters), balanced against the sharp white markers, Arabic numerals, and Spitfire alpha styled hands. The in-house caliber 79320 also provides day-and-date functionality, along with an estimated 44 hours of power reserve.
Retail Price: $6,850
The IWC Timezoner Chronograph packs a punch, not only in sizing (46mm diameter, 17mm thickness, 55mm lug-to-lug) and visual weight (all of the complications and features!) but in functionality as well.
First, we should mention it's a chronograph, with sub-counters at 6 and 12 o'clock providing running seconds and hours, respectively. Secondly, it's a flyback chronograph, meaning the chronograph can be quickly reset by actuating the pusher at 4 o'clock, which is useful for pilots in timing exercises.
And finally (and perhaps most impressively), the Timezoner offers a timezone complication (did the name give it away?), operated by pushing the bezel down and rotating to the desired timezone, in effect setting the time zone with the date and 24-hour hand without needing to actuate the crown and jumping hour hand as with common "flyer" GMTs.
Retail Price: $12,300
For the uninitiated, Mr. Porter is a luxury fashion online outlet retailing hundreds of top designer brands in menswear. Owned by the same Richemont group as IWC, it makes sense that the two should collaborate on several watches, of which the Big Pilot 43 (reference IW329703) is part.
Measuring the typical Big Pilot 43 sizing (43mm diameter, 14.4mm thickness, 52mm lug-to-lug), Mr. Porter's take on the watch is a bit more modern leaning in aesthetic than the 43 Spitfire Bronze, for example, despite utilizing a similar bronze case.
Uniquely, the watch features contrasting gold hands and beige markers against a matte black dial (with the "1" Arabic numeral set with luminous material commemorating the first in a series of collaborations between the two brands).
A titanium case back encloses the in-house caliber 82100 with 60 hours of power reserve with the usual soft-iron cage for anti-magnetism and an impressive 100m of water resistance overall.
Retail Price: $10,900
An all-white, modern, and punchy ceramic Pilot Chronograph from IWC? Sign me up! When the "Lake Tahoe" reference IW389105 first debuted at Watches & Wonders 2022, it quickly became a favorite by watch media, industry, and IWC fans alike. It's not hard to see why.
The all-white ceramic case with white markers and dial printing, coupled with a white rubber strap, is an immediately fun and stylistic look that's sure to brighten your day (literally).
Named after the snow-filled mountains surrounding Lake Tahoe, visible by Top Gun fighter jet pilots circling nearby base Reno, Nevada, the Lake Tahoe watch is otherwise a robust IWC Pilot's Chronograph, powered by the caliber 69380 featuring a 12-hour chronograph, day-date complication and time display with a 46-hour power reserve. On the caseback, the Top Gun US Navy Fighter Weapons school logo is emblazoned; it just doesn't get cooler than that.
Retail Price: $11,700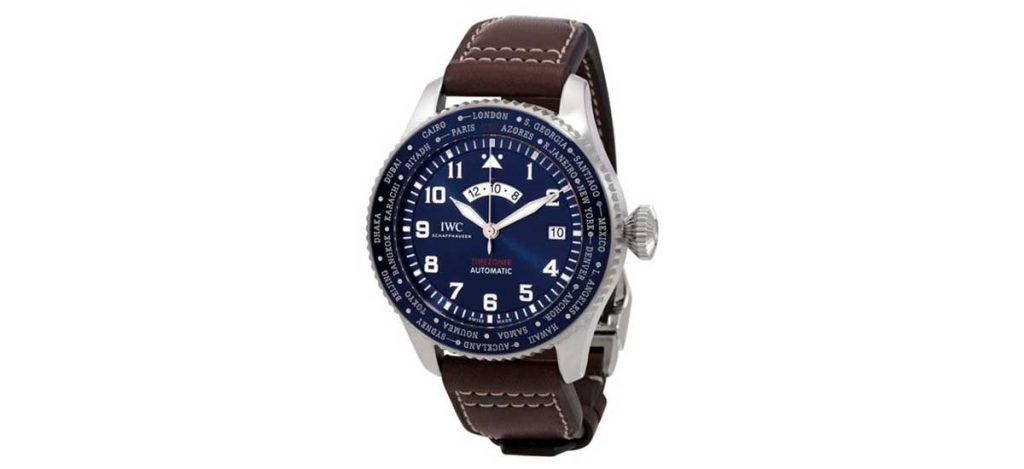 With the signature sunray blue of the "Le Petit Prince" series of Pilot Watches, the Timezoner (reference IW395503) is handsome not only in its use of color but overall design and functionality execution. Getting the hard specs out of the way, it measures 46mm in diameter, 15mm in thickness, and 55mm lug-to-lug.
But take one look at the Timezoner, and you'll likely not recall a more striking yet balanced design with a timezone function. We mentioned a Timezoner earlier in the reference IW395001. The cleverness of the function is replicated here. Simply press down and rotate the bezel to actuate a change in a timezone on the watch (locales listed along the bezel).
Release and the hour hand for local time will be set to the correct time. No need to jump the hour hand via the crown; it's entirely effortless. And whereas the Timezoner Chronograph added visual complexity overall, stripped down of all that, the Timezoner IW395503 is pure beauty in simplification.
Retail Price: $14,200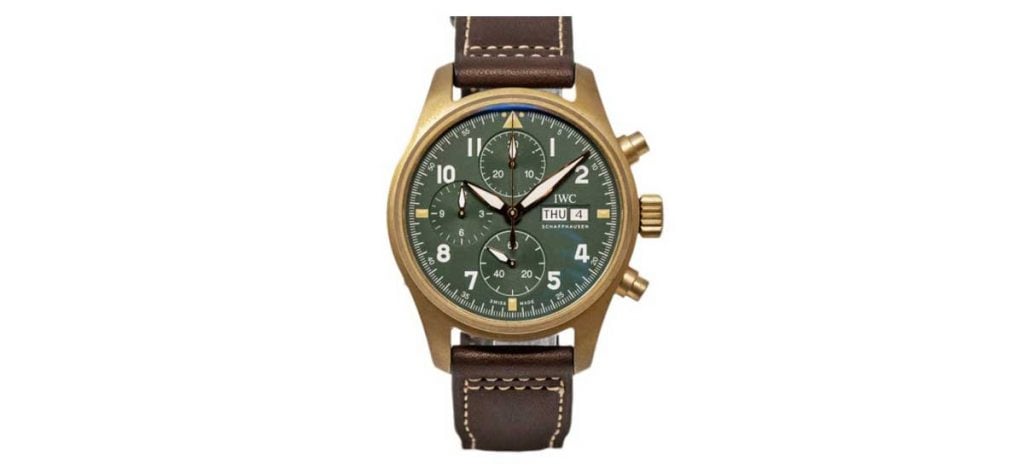 Debuting at the former SIHH trade show in 2019, the IWC Pilot's Watch Chronograph Spitfire in bronze (reference IW387902) is, at its core, a well-proportioned, vintage-cued, practical bronze-cased chronograph with an upgraded in-house movement.
With IWC's historical penchant for no-nonsense tool watches, the use of bronze in the Chronograph Spitfire is a stylistic turn, which will provide a user-specific patina over time (caseback in Titanium for safety and health reasons).
At 41mm in diameter, 15.3mm thick, and 51.5mm lug-to-lug, the watch wears more compact than its larger brothers (for example, the 43mm IW377709 Pilot's Watch Chronograph). The smaller case also helps balance out the dial with its various subdials tightened up, given the smaller surface area.
The olive green dial itself is a handsome look not often found on watch dial furniture but paired perfectly with the bronze against the gold-plated Spitfire-style hands. In sum, the IW387902 is a great option for those looking for a moderately sized IWC Pilot Chronograph with the potential for a unique patina over time.
Retail Price: $8,000
As a "Woodland Green" variation to the all-white "Lake Tahoe" Pilot's Watch Chronograph earlier on our list, the Woodland (reference IW389106) features the same specs and dimensions as the aforementioned model (44.5mm diameter, 15mm thickness, 54mm lug-to-lug), but with a dark green ceramic case and dial.
Both debuting at Watches and Wonders 2022, the Woodland is perhaps a soberer, yet still very much modern, take on the colored ceramic case theme.
Taking inspiration from the flight suits of the naval aviators of the United States Navy Fighter Weapons School (better known as "Top Gun"), the deep green case is contrasted with the light green hue of the dial markers and hands, along with a matching green rubber strap (textile inlay) for an altogether militaristic look.
Retail Price: $11,700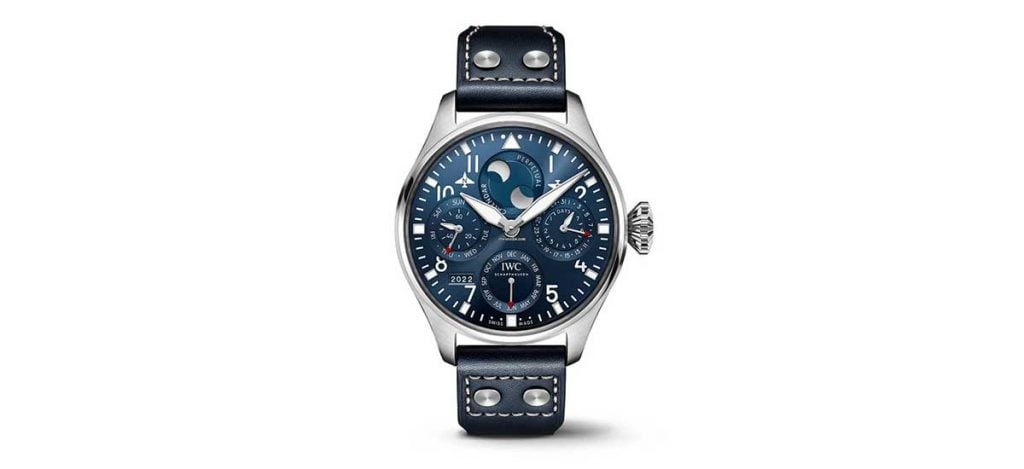 As the flagship IWC model, the Big Pilot was paired with a perpetual calendar compilation for the first time in 2006, showcasing the high-complication production capabilities of the brand. Many variations have been produced since that initial limited edition run.
However, in 2021, IWC re-introduced a Big Pilot Watch Perpetual Calendar in steel as part of the permanent collection. The striking sunray blue dialed reference IW503605 is a large watch, much in the same vein as the original Big Pilot, which historically utilized a pocket watch movement.
The new Perpetual Calendar measures 46mm in diameter, 15.8mm thick, and 58.8mm lug-to-lug, but again places legibility and visibility at the forefront despite the added complication and subdials, and does so handsomely. All functions are accessed via the oversized onion-shaped crown: moon phase, month, date, day, and year.
Retail Price: $33,000
The first official team watch developed between Mercedes-AMG Petronas and IWC, the Pilot's Watch Chronograph 41 (reference IW388108) is special in that it was produced not only as part of the ongoing IWC x AMG collaboration (many Formula One-inspired watches have been produced so far), but that it was also made to be worn by staff as well: race engineers, mechanics, and star pilots alike.
The watch packs an immediate punch visually, owing to the application of Petronas Green (the signature color for the F1 team) for all dial printing and furniture set starkly against a matte black dial.
Size-wise, the IW388108 retains the familiar case size of the standard Pilot's Watch Chronograph 41, at 41mm in diameter, 14.6mm in thickness, and 51.5mm lug-to-lug. Beneath the sapphire exhibition case back, the in-house caliber 69385 provides column wheel chronograph functionality and 46 hours of power reserve.
Retail Price: $8,350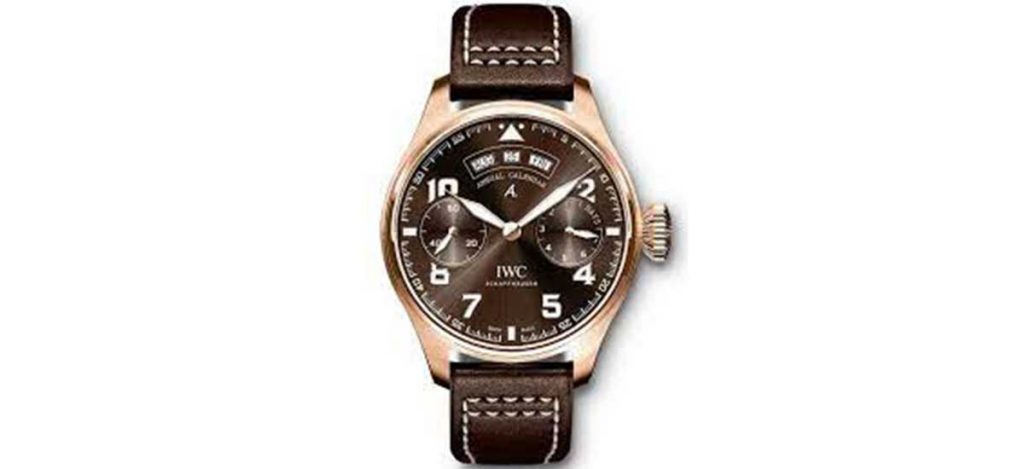 Often placing high-end complications within the heritage-driven Big Pilot line, the IWC Big Pilot's Watch Annual Calendar (reference IW502706) is no exception to the rule, extending a sense of high-end luxury further with its 18k rose gold case construction.
What is an Annual Calendar? Annual Calendar complications showcase the day, date, and month. However, they are different from Perpetual Calendar complications in that they require manual winding and date adjustment at the end of each February. 
Because of this, the Annual Calendar complication is oftentimes preferred by collectors who enjoy a closer relationship with their watch through manual operation. The watch is as large as the Big Pilot moniker intended: 46.2mm in diameter and 15.3mm thick.
In dial design, the 9 o'clock subdial provides running seconds, opposite the 3 o'clock subdial notating power reserve (approximately 168 hours, or seven days total), with the calendar set just under the 12 o'clock, presenting month, date, and day accordingly.
Retail Price: $32,400
Retaining the same case proportions and functionality of the standard Big Pilot's Watch Perpetual Calendar, reference IW503605, the Top Gun "Mojave Desert" edition (reference IW503004) comes in a familiarly large case measuring 46.5mm in diameter, 15.4mm thick, and 58.8mm lug-to-lug.
Where the Mojave Desert differs, however, is in aesthetic and case material. Encased entirely in a sand-colored ceramic material, the watch coloration and aesthetic were inspired by the Mojave Desert, in particular, that of the Naval Air Weapons Station China Lake land area owned by the US Navy.
All dial printing and furniture are set with that same sand coloration, contrasted with a matte brown dial to increase legibility. The Mojave Desert is a welcome addition to the Perpetual Calendar range as a unique color variant for complication, which is often more conservative in design approach.
Retail Price: $40,900
How can one describe the IWC Big Pilot's Watch Shock Absorber XPL (reference IW357201), a watch so experimental and "out there" in both concept and design? A bit Star Trek and concept car in personality, the true hero of the Absorber XPL is its resistance to extreme shock: 30,000G's, to be exact.
The 44mm diameter Ceratanium case (combining the durability of ceramic and the light weight of titanium into a new compound) is 12mm thick, a thickness that belies the advanced technology contained within.
Suspended inside the case is the movement, held by a bulk metallic glass spring, providing increased elasticity than typical metals such as steel. Talk about shock absorption…The Absorber XPL was limited to 10 pieces a year beginning in 2021, with 30 pieces total planned.
Retail Price: $86,100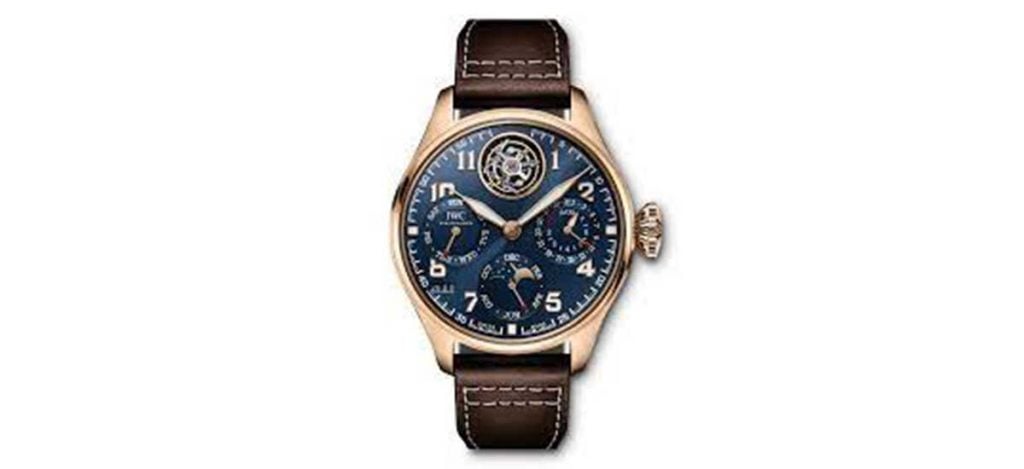 Taking the Le Petit Prince line of watches to the highest tier (and perhaps the most romantic representation of the book itself) is the Big Pilot's Watch Perpetual Calendar Tourbillon Le Petit Prince (reference IW504803). Measuring 46.2mm in diameter and 16mm thick, the Perpetual Calendar Tourbillon is encased in 18K Armor Gold (a new alloy developed by IWC to be harder than regular 18K rose gold).
Perpetual Calendar functionality is presented via subdials at 3 (date and power reserve), 6 (month and moon phase), and 9 o'clock (date; the year window is placed just underneath 8 o'clock), but most impressively sits the mesmerizing tourbillon at 12 o'clock with its constant rotation of the balance wheel, balance spring, and escapement to negate the effects of Earth's gravity in any position.
The tourbillon is certainly a high-end complication, and prices for such watches are typically in the six figures. The IW504803 in question is no exception, with a retail price of $120,000.
Retail Price: $120,000
Conclusion
Over the past 150 years, IWC has established itself as a leader in the watch industry, known for its precision engineering and timeless design. From its early years of producing pocket watches to its modern-day sports watches and complications, IWC has consistently innovated and pushed the boundaries of what is possible in watchmaking.
With a rich history and a commitment to quality, IWC watches are a true investment in both style and function. No matter which watch you choose from their Pilot range, should you choose one, take pride and comfort in your decision knowing this.
About Exquisite Timepieces
Established in 1998, Exquisite Timepieces is your one-stop shop for all things luxury watches! We are an authorized dealer for 60+ luxury watch brands including Omega, Hublot, Seiko, & Longines! We are proud to showcase one of the world's largest pre-owned watch collections, including renowned brands like Rolex and Patek Philippe. Check out our brand new watch arrivals here and popular pre-owned listings here.