30 Best Moonphase Watches (For EVERY Budget!)
"Take the path that moonbeams make. If the moon is still awake, you'll see him wink his eye."
As a child, I was always enamored by the moon. It was always there when I couldn't sleep, a night light that never went out, and the source of my adventurous imagination that allowed me to be the hero of a Sci-Fi story that played out in my dreams.
But it wasn't until I got older that I realized many myths and legends surround the moon, its existence, and its role in our lives.
For example, most of us who paid attention in school know that the moon controls the earth and impacts our lives in three distinct ways: time, tides, and light. If it were to suddenly disappear, the Earth's tilt could vary dramatically, and without its gravitational pull, Earth would no longer be held in place.
But for the romantics, the daydreamers, and lovers of whimsical tales, the moon plays a much more fanciful and adventurous role in their lives. While I'm not suggesting they don't believe in the scientific facts of the moon, it is the myths, legends, and lore surrounding the moon that dictates how they look at life.
Take the Lakota Tribe, for example; they believe that the Sun and Moon were created to tell the importance of love. Or in many Eastern cultures, the moon is home to a mythological white rabbit who makes the elixir for immortality.
While yes, the myths and legends from ancient cultures were a way to give meaning to a world not yet fully understood, it is the romanticism that surrounds the tales that remind me of the reason we, as watch enthusiasts, love our moonphase timepieces.
Are they a particularly helpful complication? Well, not really. But they are beautiful and constantly remind us why we fell in love with this absurd obsession. So, sit down, put your feet up, maybe have a drink as the sun begins to fade, and let's talk about the best moonphase watches for every budget.
About Moonphase Watches
I think it is safe to say that many of us in the watch enthusiast community have a pretty good understanding of what is and isn't a useful complication. And while I'll admit I have had timepieces with complications that fall into both categories, I've never owned a moonphase watch.
It wasn't because I didn't have the opportunity to own one; I just never saw the point. That was until I started writing this article. Over the course of the research and writing of this article, I found myself as enamored with the idea of a moonphase watch as I did with the moon as a child.
So, in an attempt to justify what will likely be my next purchase, let's discuss the history of moonphase watches and why they are so cool.
History of Moonphase Watches
Man, where to begin? I guess way way way back in ancient Greece. The earliest of moonphase complications was actually discovered in the mysterious Antikythera mechanism, which is the oldest known example of an analog computer used to predict astronomical positions and eclipses.
While I understand that this might not be an example of a horological moonphase, it is worth noting that the idea and use of moonphase complications date back further than most of us probably realized.
But it wasn't until the Renaissance (14th Century) that we saw the use of the moonphase complication in a "modern" clock when it was used in astrological clocks built in the great churches and cathedrals of Europe.
As we progress through time and the history of the moonphase complication, we see the use of the moonphase being incorporated into smaller and smaller clocks, starting with the Grandfather Clocks of Germany and England, then into pocket watches, and finally in the 20th century, we see the elegant complication being used in wristwatches.
As watchmaking became more and more technologically advanced, the moonphase became more and more accurate. Many of today's most influential and prominent watch brands produce moonphase timepieces accurate to well over 1,000 years!
I'm sure you're probably saying to yourself, "That's cool, but what does it matter if I don't understand how they work?" But fear not, my dear reader, we will tackle that topic next!
Moonphase Watches: How They Work
To begin, we need to have a definition of what a moonphase complication is. To make it as simple as possible, a moonphase complication is a display of the current phase of the moon in a window or aperture on the dial of a timepiece. Now that we have a definition for the moonphase complication, it's time to discuss how it actually works.
The moonphase complication involves putting two moons on a disc under the dial. This disc is powered by a 59-tooth wheel which uses a mechanical lever to advance the disc once a day. After the 29.5-day lunar cycle is complete, the second moon on the disc will appear, signifying a new moon and the start of a new lunar cycle.
So, without a doubt, the moonphase complication is an amazing feat of engineering. But in today's world, where we have more access to more knowledge more of the time, is it necessary? Simply put, no.
But that isn't the reason we, as enthusiasts, wear antiquated technology on our wrists to begin with. We do it because the art and beauty of a manual timepiece will always trump the need for form and function. So, before we get into the list of our 30 best moonphase watches, I suggest taking a bathroom break before you continue because it is gonna be a long one.
The Best Moonphase Watches
1. Orient Sun & Moon (ref. RA-AK0011D10B)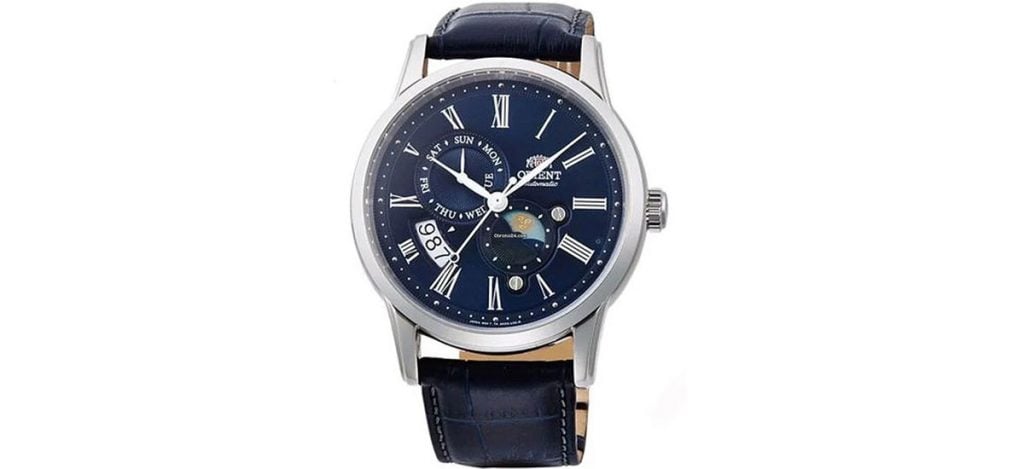 In the world of affordable watches, very few brands offer what Orient offers in their catalog. While known for their great budget-friendly dive watches like the Ray II, Mako II, and Kamasu II, Orient definitely offers much in the way of dress watches.
For example, the Orient Bambino might just be the best affordable dress watch for under $200.
But the standout for me is the Orient Sun & Moon. This moonphase watch has a case diameter of 42.5mm, a lug-to-lug distance of 50.5mm, and a case thickness of 14mm.
The Orient Sun & Moon comes packed with features, including a day/date complication, a 24-hour indicator, a moonphase (obviously), and an exhibition case back to display the in-house automatic Orient Caliber F6B24.
At the current price on the Orient website of $355, you will be hard-pressed to find another moonphase watch packed with as many features and looks.
2. Citizen Calendrier Moonphase Eco-Drive (ref. BU0050-02L)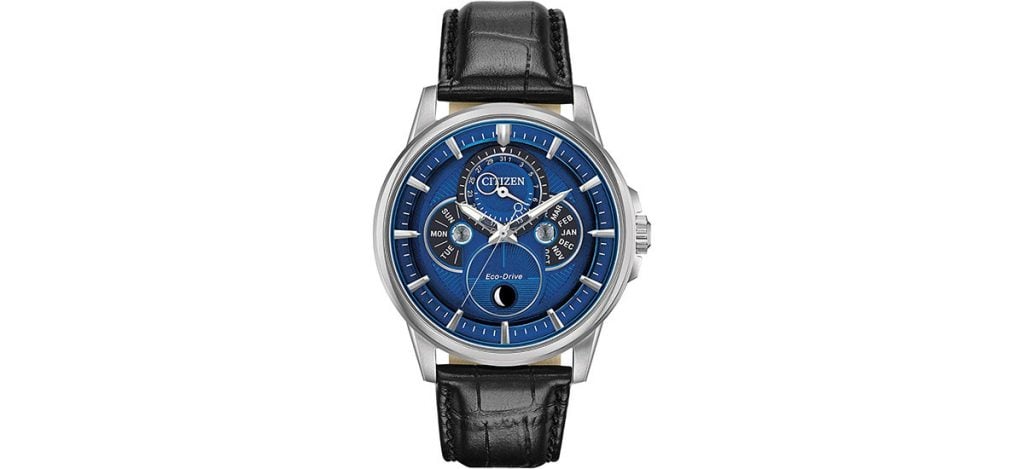 As of late, Citizen has been making waves, so to speak, with the release of the ultra-cool 70's inspired Promaster Mechanical Diver nicknamed the "Fujitsubo."
But, prior to the brand's modern reinterpretation of a classic Citizen dive watch, it was the use of their Eco-Drive technology that really wowed the watch world in 1976 with the world's first-ever light-powered analog quartz watch.
Citizen has continued to perfect the Eco-Drive movement and uses it in many of their watch lines, including the Citizen Calendrier Moonphase Eco-Drive.
The Citizen Calendrier has a case diameter of 44mm and a somewhat unconventional lug width of 23mm. Along with the moonphase, the Calendrier also features a month, day, and date complication, which is laid out on a beautifully symmetrical blue dial.
As of writing this article, the Calendrier can be found on the Citizen website for $332.50, with its normal MSRP of $475. That is quite the bargain for a watch that will never need a battery.
3. Tissot Carson Premium Gent Moonphase (ref. T122.423.16.043.00)
For those who have read our article on the 15 Best Tissot Dive Watches, you will probably already know the brand and what great value they offer for your hard-earned bucks. While many of us know them for their Seastar Collection and, most recently, the PRX Collection, Tissot offers so much more.
One of those offerings is the Tissot Carson Premium Gent Moonphase. With a case diameter of 40mm and a case thickness of just 7.6mm, this elegantly refined moonphase watch is the perfect companion for a date night out.
The slim stainless steel case will slide under the tightest of dress shirts. The rich blue dial adorned with Roman numerals and the subtly placed moonphase offers a Bauhaus-esque minimalist design that will be sure to turn a head or two. The quartz-powered Carson has an MSRP of $350 and can be bought directly from the Tissot website.
4. Seiko Premier Kinetic Moonphase (ref. SRX015)
For many enthusiasts, Seiko is the entry point into the world of watches due to the affordability of many Seiko timepieces and the unique design languages within the plethora of Seiko Collections.
Now, I will admit, from a design/looks point of view, I am not a huge fan of the Seiko Premier Kinetic Moonphase, the next watch on our list. But I do think that it has a lot to offer from a technology standpoint.
Much like the Citizen Calendrier, the Seiko Premier Kinetic runs off of a power source that is a little different from your typical quartz watch.
The Premier Kinetic packs a lot of functionality into the 42.5mm case offering a Moonphase, Date, Day, GMT, Second Time Zone, Hour, Minute, Second, and Power Reserve Indicator for just under $600.
5. MU:N Watches Creators No. 29
While researching for this article, I was pleasantly surprised when I found MU:N Watches. After all, it isn't every day that you stumble across a completely new (to me) watch brand that seems to have the same sane love of the moon and stars as yourself!
MU:N watches, from what I can deduce, is a collaborative effort to bring the watch enthusiast community into the creative process when designing each timepiece they produce. Which, if you ask me, is a great way to build a closer community centered around the things we love.
The MU:N Creators No. 29 is the first MU:N watch and is limited to a mere 70 pieces. The No. 29 has a case diameter of 38mm, a lug-to-lug distance of 46mm, and a case thickness of 11mm.
Powered by a Sellita SW288-1a, this hard-to-find minimalist stainless steel moonphase watch is most definitely on my shortlist of timepieces if I can find it at its MSRP of around $1600.
6. Oris Artelier Moonphase (ref. 01 781 7703 4031-07 5 21 75FC)
For most, the Oris brand is heralded as one of the last great, affordable, and privately owned watch brands not owned by a massive watch conglomerate.
And while they are best known for their Aquis, Big Crown, and ProPilot collections, there is a hidden gem of a dress watch collection, the Artelier, that I think offers a lot for the price.
The Artelier Moonphase is a simple and beautifully symmetrical timepiece that offers not only a moonphase complication but a day, date, and second time zone.
With a case diameter of 40.5mm, the Artelier Moonphase is a sweet spot for many wrist sizes. The white guilloche dial, accented with blue indices, offers a refined palette that will look at home on any wrist and be the perfect accent to numerous styles.
At $2,150, the Oris Artelier Moonphase is a great timepiece for anyone looking to take a step into the world of moonphase watches.
7. Christopher Ward C1 Moonglow
Do you remember earlier when I said that the writing of this article had convinced me to purchase a moonphase watch? Well, the Christopher Ward C1 Moonglow, as of now, is the front-runner for my next timepiece.
The C1 Moonglow is an uber-modern timepiece that offers an insane amount of detail in its 40.5mm case. It is powered by an in-house JJ04 movement that can accurately track the moon's orbit for 128 years. But the standout feature of this Christopher Ward C1 Moonglow is the dial.
The Super-LumiNova-coated three-dimensional moons are applied to the end of the rotating disc, which gives the dial great depth, dimension, and an extraterrestrial glow. With an MSRP of $2,325, the C1 Moonglow offers a beautiful view of the night sky any time of day.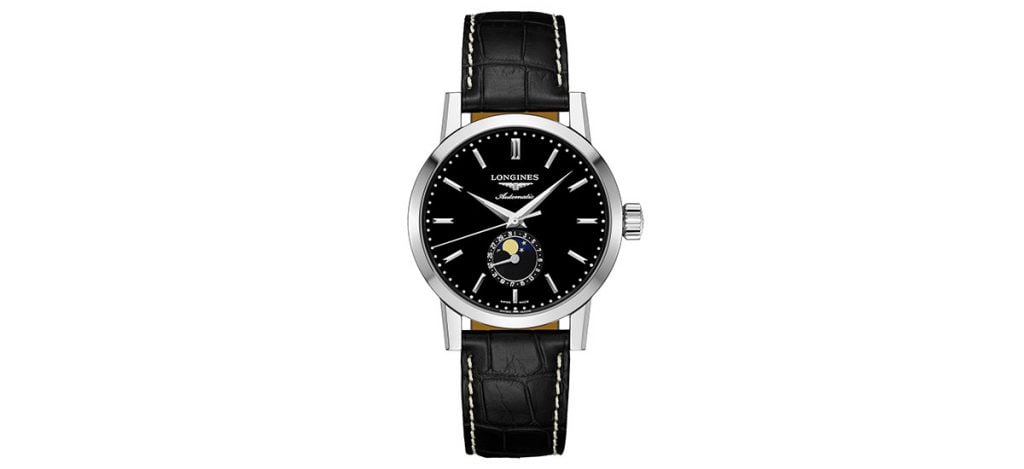 Longines' rich history in the world of horology dates back to 1832, hence the reason for the name of the next watch on our list. The 1832 Collection and, more importantly, the moonphase variant pays tribute to the Longines of yesteryear.
The 1832 Moonphase has a case dimension of 40mm and offers a date complication surrounding the moonphase dial. The watch is powered by a Longines L899, which is an ETA-based movement that offers a very impressive 72-hour power reserve.
Coming in at $2,400, this classically designed moonphase will fly "under the radar" for anyone not in the know and offers a great classic look with modern materials and reliability.
9. Hamilton Jazzmaster Auto Chrono Moonphase (ref. H32696731)
The Hamilton Jazzmaster Auto Chrono Moonphase has an incredibly Avant-Garde design that is reminiscent of its namesake, jazz. For those that don't listen to jazz music, jazz is very much based on traditional African ritual music with its roots in blues and ragtime.
But what makes jazz truly unique is its Avant-Garde improvisation. The Jazzmaster Chrono Moonphase is no different. While it has its roots in traditional chronograph watches, its design language is unique.
With an "open heart" dial design and gold accents, the 44mm cased moonphase watch would look as much at home in a smokey jazz club as a trumpet being played. The Jazzmaster comes in at $3,200 and is powered by a Valjoux-7751.
10. Meistersinger Lunascope (ref. LS908G)
Meistersinger is known for being the brand that makes one-handed watches. And while I applaud them for their uniqueness and design language, they just never made my clock tick, if you catch my drift. That was until I saw the Lunascope.
The Lunascope, much like the Christopher Ward C1 Moonglow, caught my attention because of the detail and beauty that went into the design of the watch.
While the Lunascope follows the same design language as the rest of the one-handed Meistersinger collection, the attention to detail in the dial's layout and configuration makes it such a beautiful watch.
The 40mm timepiece is powered by an ETA 2836-2 with a Meistersinger moonphase module and comes with a gorgeous blue dial and an almost ecru-colored moon with matching Arabic numerals. The Lunascope has an MSRP of $4,649 and gives you the option of a leather strap or bracelet.
11. Montblanc Star Legacy Moonphase (ref. MB126079)
Montblanc certainly has its detractors, but when given a second look by many, it is clear that Montblanc has really taken strides over the last few years to find their design language and create timepieces with classic designs that will always remain in style.
The Montblanc Star Legacy Moonphase is one of those timepieces. The classic design of the Minerva pocket watch-inspired case has a diameter of 42mm and is adorned with an onion-shaped crown that works perfectly with the design.
Where the watch really shines is the dial. The guilloche dial starts at the six 'o'clock position with an exploding Montblanc star and is perfectly matched with blue leaf-style hands.
The well-balanced Roman numerals give the Star Legacy Moonphase an old-world charm, and at an MSRP of $4,500, this moonphase timepiece is certainly one to look at for those looking for a refined heritage-styled piece.
12. Frederique Constant Slimline Moonphase Manufacture (ref. FC-705S4S6)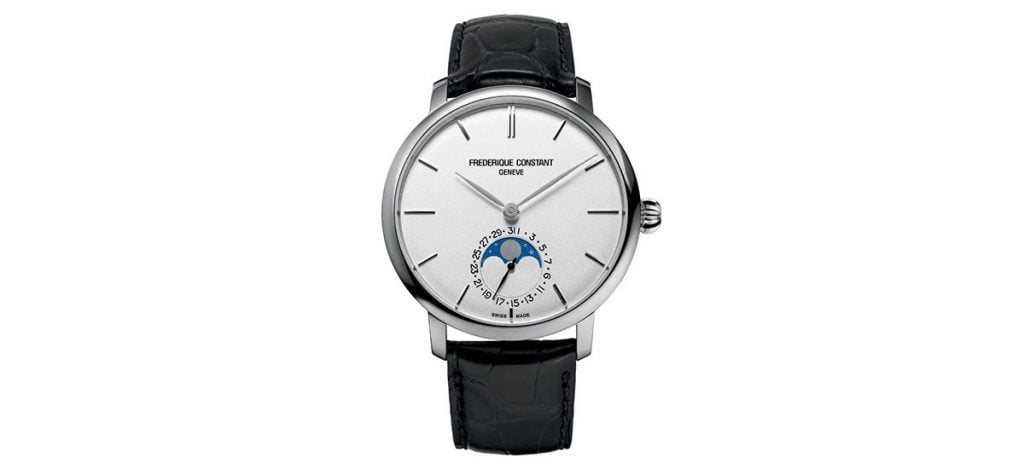 As we continue down our list, we are seeing more and more timepieces that offer in-house movement. The Frederique Constant Slimlione Moonphase is no different. Powered by the FC-705, this manufacture movement delivers accuracy as well as performance as it drives the minutes, hours, date, and moonphase complications.
With a case diameter of 42mm and a case thickness of 11.2mm, the Slimline Moonphase is a great-sized dress watch for those with bigger wrists or those who just like the feel of a bigger timepiece.
One very neat feature of the Slimline Moonphase is the ability to change all functions through a single crown. This means no pushers to adjust the moonphase. The FC Slimline Moonphase has an MSRP of $3,562.
13. Zenith Elite Moonphase (ref. 03.3100.692/03.C923)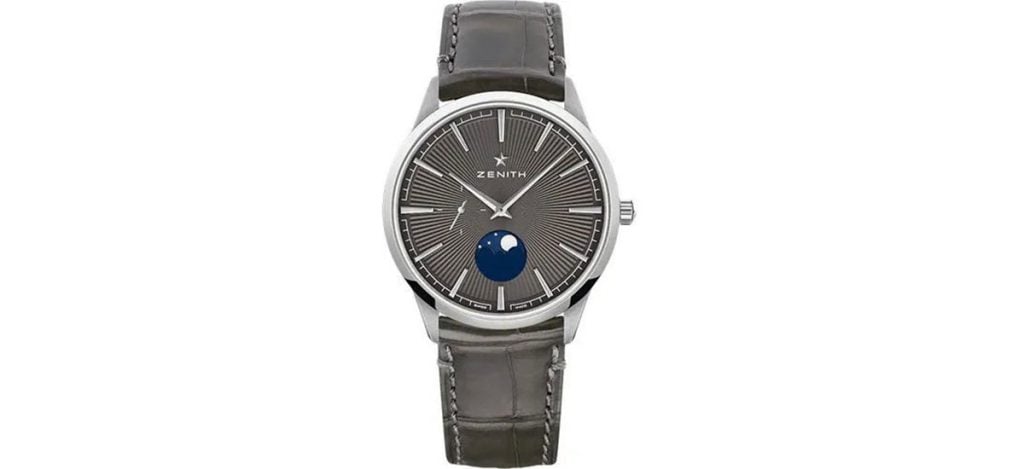 As you have seen on our list so far, every watch mentioned has come in under $5,000, which seems to be a very healthy budget for many and what could be considered a reasonable budget for entry into the luxury watch space.
With that said, the Zenith Elite Moonphase marks the spot on our list where the timepieces take a substantial jump in price and begin with immense attention to detail in the quality and craftsmanship.
The Zenith Elite Moonphase has a case diameter of 40.5mm, which is a great size for all wrists, and is powered by an in-house Zenith Elite movement.
The slate-grey sunray-patterned style oozes sophistication while a display case back shows off the beautifully yet simply finished Elite movement.
With an MSRP of $7,000, the Elite Moonphase is a great addition to any collection that's missing a beautifully simple and classic moonphase watch.
14. IWC Portofino Hand-Wound Moon Phase (ref. IW516401)
When the name IWC is mentioned, I'm sure the first thing that comes to mind is a tool watch of some variety, whether it be a dive watch or a pilot's watch, it most likely isn't a dress-style watch with a moonphase that retails for $13,900.
But the next watch on our list is just that, an IWC from the Portofino collection, which, next to the DaVinci collection, might be the least popular of all the IWC collections.
The IWC Portofino Moonphase is a 45mm stainless steel cased moonphase timepiece that is powered by the in-house manually wound calibre 59800 movement, which has an amazing 192-hour or 8-day power reserve.
While I'll admit it wouldn't be my first pick if I was to buy an IWC, the Portofino Moonphase is a watch that certainly delivers classic looks with modern size and presence.
15. Cartier Drive Moon Phases (ref. WSNM0008)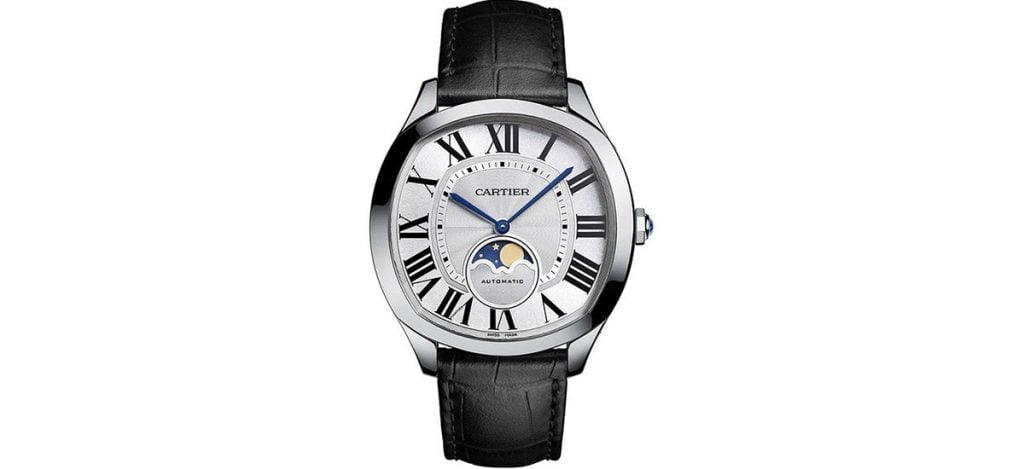 Cartier is a brand that is well known for the Santos and Tank. One was the first-ever pilot's watch, and the other was such an icon of design it has adorned the wrist of Hollywood stars and Royalty alike. But I think a collection in the Cartier lineup that gets overlooked is the Drive de Cartier.
The Cartier Drive Moonphase has a case diameter of 41.2mm, a lug-to-lug of 47.11, and a case thickness of 12.15mm. The unique case shape, which is neither a circle nor a square, but somewhere in between, means this watch wears incredibly well on a variety of wrist sizes.
The classic design of the dial layout with Roman Numerals is typical Cartier, but the absence of a date complication is what makes me love this watch so much. With prices ranging from $8,000 to $10,250, the Cartier Drive Moonphase is a timepiece that will have fashionistas fawning.
Being the watch that went to the moon, there has to be some sort of ironic punchline when discussing the Speedmaster Moonphase. But for those who are into brevity, we will save that for another time.
The Omega Speedmaster Moonphase has a case diameter of 44.25mm, a lug-to-lug of 50mm, and a case thickness of 16.9mm which means this chunky monkey is definitely best suited for our big-wristed readers.
Now I know you are all rolling your eyes at yet ANOTHER Speedmaster, but the moonphase does offer a tremendous blue sun-brushed dial with small seconds, date, and photo-realistic moonphase on top of the chronograph that the Speedy is known for.With an MSRP of $10,900, this unique Speedy is definitely a must-have for any collector.
17. Jaeger-LeCoultre Master Ultra Thin Moon (ref. Q1368471)
Jaeger-LeCoultre has been nicknamed the "Watchmaker of Watchmakers" due to its incredible history of innovations and the creation of over 1,200 calibers. So it is no surprise that on a list of thirty moonphase watches, they were bound to show up.
The Jaeger-LeCoultre Master Ultra-Thin Moon is an excellent example of understated luxury from a brand that should really have the "Holy Trinity" moniker changed to the "Holy Quartet."
With a case diameter of 39mm and a case thickness of just 9.3mm, the Ultra-Thin Moon is the perfect black-tie companion. The sophisticated black sunray-brushed dial is perfectly accented by the rhodium-plated markers.
Powered by the Jaeger-LeCoultre Caliber 925, the Ultra-Thin Moon has a 70-hour power reserve and an MSRP of $11,900.
18. Glashütte Original PanoMaticLunar (ref. 1-90-02-42-32-61)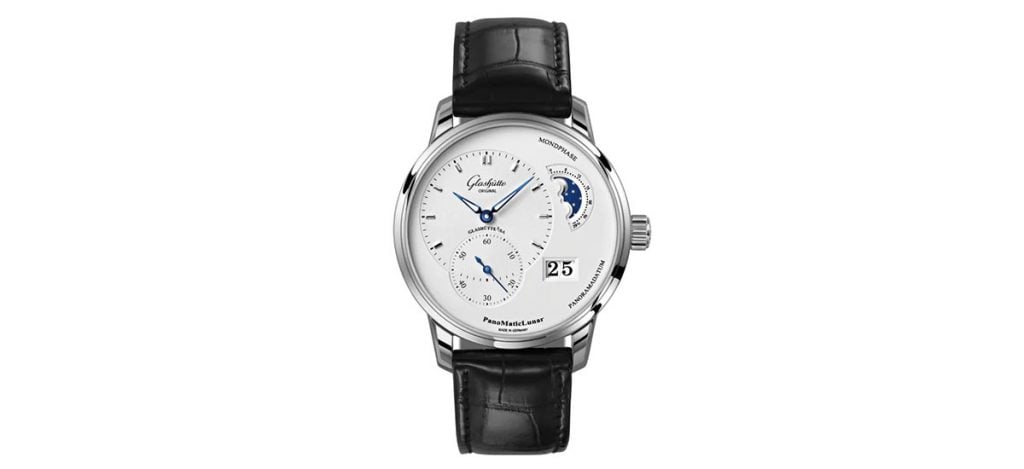 Glashütte Original is a brand that offers the enthusiast an incredibly diverse set of offerings in its small-ish five-collection catalog. While I am a massive fan of the Spezialist and Vintage Collections, it is the Pano Collection that really showed me the attention to detail that Glashütte Original puts into every timepiece.
Like the rest of the Pano Collection, the Glashütte Original PanoMaticLunar can be identified by its unique asymmetrical dial layout, which is an unmistakable design queue from Glashütte Original.
The standout feature on this 40mm stainless steel timepiece is definitely the galvanized silver dial with a matte opaline finish. It is so impressive that it takes master craftsmen a forty-step process to complete the beautiful dial.
The PanoMaticLunar has an MSRP of $9,600 and is the perfect piece to scratch that German itch we all have.
Breitling, for what it's worth, has had a bit of a renaissance since Georges Kern took over as CEO in 2017. Gone are the days of the gaudy Breitling for Bentley timepieces. I think I speak for most when I say "Thank God" because those abominations almost tanked the brand that has given us some amazing timepieces.
With that said, the Breitling Premier B25 Datora 42 is supremely cool and likely the most refined chronograph in the entire Breitling catalog.
Equipped with a full calendar and moonphase and powered by a Breitling B25 movement, this 42mm stainless steel cased, copper-dialed timepiece has as much to offer in the function department as it does in the form department. The Breitling Premier B25 Datora 42 has an MSRP of $14,000.
20. Blancpain Villeret Complete Calendar Moonphase (ref. 6654-1127-55B)
Blancpain is a brand that needs no introduction. Though the watchmaker is best known for being the creator of one of the first ever commercially available dive watches, the Fifty-Fathoms, they have made our list for an entirely different reason.
The Blancpain Villeret Complete Calendar Moonphase, much like the previous Breitling entry, comes equipped with a full calendar as well as the moonphase.
What is amazing is that the Blancpain manages to fit a whole lot of complications into a very sleek package with a case diameter of 40mm and a case thickness of 10.9mm, which is a pretty amazing feat.
The Blancpain Moonphase has a very muted color palette with black-on-white printing, applied silver indices, and even a grey moonphase.
It is powered by the Blancpain Caliber 6654.4 and has a power reserve of 72 hours. With an MSRP of $15,700, this is the perfect watch for someone looking for a more monochromatic moonphase timepiece.
21. Hublot Classic Aerofusion Moonphase Black Magic (ref. 547.CX.0170.LR)
Hublot is the brand that many enthusiasts love to hate. With their bombastic and sometimes questionable design choices, it is easy to do. But, with their use of unique materials and reserved design, I think the Hublot Classic Aerofusion Moonphase Black Magic is a rather nice watch.
With a case diameter of 42mm, the Black Magic is a great size. With the use of a fully ceramic case, this watch is lighter and more scratch resistant than both steel and titanium-cased watches.
The transparent dial gives you a front-row seat to the HUB1131 movement, which offers a full calendar complication and has a power reserve of 42 hours. But, with an MSRP of $18,100, it is safe to say that we are now getting into big-baller shot-caller territory on this list.
22. Rolex Cellini Moonphase (ref. 50535)
With all the hype and chaos surrounding Rolex sport watches, it is no surprise that some other timepieces in the catalog get lost in the shuffle and never really get the credit they deserve.
That said, I think the Cellini collection and, more specifically, the now discontinued Rolex Cellini Moonphase is a hidden gem within the Rolex catalog. With a 39mm rose gold case, the Cellini Moonphase is the first watch on our list to be cased in precious metal.
The beautiful white lacquered dial is contrasted by the blue enameled moonphase depicting a full and new moon. The Cellini Moonphase is powered by the Rolex Caliber 3130, has a 48-hour power reserve, and due to being discontinued, can be found anywhere between $23,000 and $28,000.
Breguet is the third oldest watch brand in the world and can trace its history back to 1775. For decades Breguet has attracted enthusiasts with its timeless designs and unbelievable quality. These are just two of the many reasons the Breguet Classique 7787 is on our list.
The 7787 has a 39mm white gold case, fluted case band, and a sapphire display case back, so the Breguet Caliber 591 DRL can be seen. One of the standout features of this timepiece is the Grand Feu white enamel dial. The crisp white is perfectly coupled with the blued Breguet hands.
The well-proportioned moonphase sits at 12 o'clock while a power reserve indicator sits at 6 o'clock.
With an MSRP of $31,900, the Breguet Classique 7787 is a classically designed moonphase from one of the oldest watchmakers in the world.
24. H. Moser & Cie. Endeavour Perpetual Moon (ref. 1801-0402)
H. Moser & Cie. is a brand I have become increasingly infatuated with over the last few years. Not only do I find their beginnings as a true outsider in the watch world intriguing, I think that in the world of independent watchmaking, no one does it quite like they do.
Enter the H. Moser & Cie. Endeavour Perpetual Moon, the sleekest, most ultra-modern, and minimalist timepiece on our list.
With a 42mm rose gold case, the Perpetual Moon offers a minimalistic moonphase display powered by the HMC 801, a movement that can accurately display the current phase of the moon within one day's deviation every 1,027 years!
Accuracy and technology aside, the Perpetual Moon has an exquisite Aventurine dial that, in the right light, shines like the starry night sky. The Perpetual Moon is unfortunately limited to 50 pieces and MSRPs for $44,400.
25. Vacheron Constantin Patrimony Moon Phase Retrograde Date (ref. 4010U/000G-B330)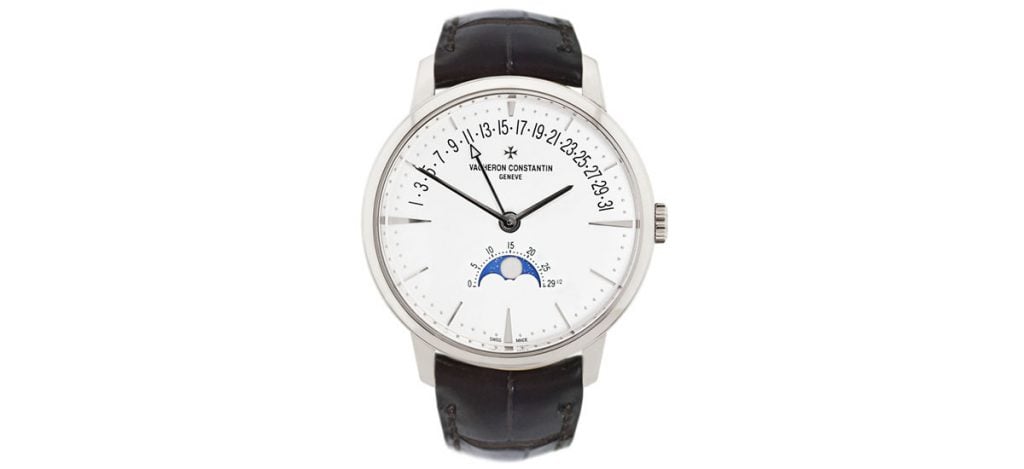 If there is one feature on a timepiece that really gets my gears moving (all pun intended), it would have to be a retrograde complication. Whether it is for minutes, power reserve, or in the case of the Vacheron Constantin Patrimony Moon Phase Retrograde the date, I am here for them and will always be fascinated by them.
The Vacheron Constantin Patrimony Moon Phase Retrograde Date is a 42.5mm 18k white gold timepiece that has a case thickness of just 9.7mm.
With the retrograde date and the 12 o'clock position and the moonphase at the 6 o'clock position, this wonderfully symmetrical dial is easy to read and doesn't feel cluttered.
The attention to detail is so well executed that the polished gold moon and starry sky moonphase complication has what looks to be constellations. It is powered by the Caliber 2460 R31L/1 and has an MSRP of $49,400.
26. Hermès Arceau L'Heure de la Lune Black Sahara
Where to begin with the Hermès Arceau L'Heure de la Lune Black Sahara? Well, I suppose we can dive right into the design since this is an Hermès timepiece, and it is certainly one of the best-designed watches on our list.
One of the most unique aspects of the de la Lune is the meteorite dial which gives the timepiece a truly extraterrestrial design language.
But, what truly makes this moonphase a work of art is the actual moonphase display. Instead of having a rotating disc that displays the current phase of the moon, the de la Lune utilizes the two discs showing the hours and minutes and the date to rotate over the dial, which portrays two mother-of-pearl moons.
What we are left with is a dual moonphase watch that shows the moon in both the northern and southern hemispheres. Truly amazing, but being limited to 36 pieces and with an MSRP of $54,100, this one might be tough to find.
27. A. Lange & Söhne Lange 1 Moon Phase (ref. 192.025)
There isn't much that can be said about A. Lange & Söhne that hasn't already. So instead of waxing poetic about the brand and its sublime finishing and meticulous attention to detail, I'll just jump right in with the details.
The A. Lange & Söhne Lange 1 Moon Phase is a platinum timepiece with a case diameter of 38.5mm with a case thickness of 10.2mm and is powered by the L121.3 manually wound movement with a 72-hour power reserve.
The Lange 1 Moonphase is without a doubt one of the highest finished watches on the list, and with an MSRP of $56,970, you can bet it will be a treasure to pass down for generations.
28. Patek Philippe Complications Moon Phase White Gold (ref. 5205G-013)
Patek, much like A. Lange & Söhne, has a reputation for perfection. Outside of the hype machine that is the Nautilus, Patek has been known for their amazing Grand Complications and truly beautiful design language.
So I'm sure it is no surprise that the Patek Philippe Complications Moon Phase White Gold is on our list. As the name suggests, the Complication Moon Phase has a white gold case that measures 40mm and has a case thickness of 11.36mm.
The intoxicating blue sunburst dial, which fades to black at the edges, meets the white gold applied indices rounding out an amazing layout that includes day, date, and month complications. Powered by the caliber 324 S QA LU 24H/206, the Moon Phase has an MSRP of $57,370.
29. Audemars Piguet Code 11.59 Perpetual Calendar Moonphase (ref. 26394BC.OO.D027KB.01)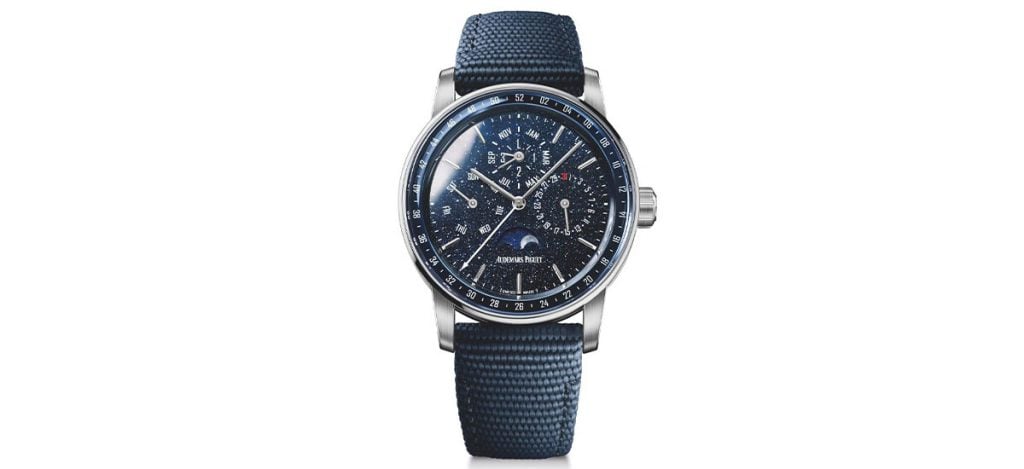 The Code 11.59 had its fair share of haters when it was released. I was not one of them. I am particularly fond of the green-dialed three-hand variant. But that is neither here nor there.
While some will say they aren't particularly unique or exciting, I think they will be surprised by the next watch on our list. The Audemars Piguet Code 11.59 Perpetual Calendar Moonphase has a case diameter of 41mm and comes in 18kt white gold.
With its absolutely breathtaking blue aventurine dial with white gold applied hour markers and hands, this timepiece is sure to blow the socks off of anyone, even if they aren't watch people.
It is that beautiful! So for anyone looking for a uniquely beautiful 11.59, something that is, say, the cost of a condo, then boy, is the Perpetual Calendar Moonphase the watch for you. Coming in at an astounding $106,000, the Perpetual Calendar Moonphase certainly is a stunner.
30. De Bethune DB25 Moon Phase Starry Sky
The last entry on what seems to be the watch equivalent of the Never-Ending Story is the De Bethune DB255 Moon Phase Starry Sky. For those who might be new to watches, De Bethune is an independent watch brand founded in 2002 that tends to make less than 150 watches per year. So, to say they are rare is an understatement.
With that said, if you are one of the select few to be part of the "club", might I suggest trying to get yourself the De Bethune DB25 Moon Phase Starry Sky. In an attempt to keep the description short, we will be discussing the dial and all of its glory.
The blue titanium dial is accented by inlaid diamond indices and white gold stars, which do an incredible job of showing the beauty of a night sky. But what is truly amazing is the spherical palladium moonphase at 12 o'clock, which gives the dial a great sense of depth.
The case is made of 18kt white gold and has a case diameter of 40mm and a case thickness of 11.7mm. The watch is powered by a true work of art in the calibre DB2105 which is a masterfully crafted hand-wound movement.
While it is tough to price, the Starry Sky has been seen on the secondary market priced between $109,000 and $129,000.
Parting Thoughts
As I researched and researched and researched for this article, I found myself falling for this romantic, poetic, classical type of watch. I can't say that in my time writing, I've never finished an article with so much passion and excitement for my next watch purchase.
So take it with a grain of salt, but if you have a love for watches that are "other-worldly" but are very much grounded in classical watchmaking, please use this list as a stepping stone and resource to your very own moonphase watch.
About Exquisite Timepieces
Established in 1998, Exquisite Timepieces is your one-stop shop for all things luxury watches! We are an authorized dealer for 60+ luxury watch brands including Omega, Hublot, Seiko, & Longines! We are proud to showcase one of the world's largest pre-owned watch collections, including renowned brands like Rolex and Patek Philippe. Check out our brand new watch arrivals here and popular pre-owned listings here.