10 BEST Seiko Tuna Watches That You Can Buy in 2023
While tuna might hold the record for being the world's most consumed fish, I can understand why the general population might be hesitant to wear a watch called the Seiko 'Tuna' on their wrists. It's not necessarily the most appealing nickname for a timepiece.
In this article, I want to check out some of the popular Seiko Tunas from the brand's catalog. I'll also briefly introduce the world of the Tuna and understand the differences between the MANY variations offered.
What's So Special about the Seiko Tuna
The Tuna's history is one of the most impressive yet overlooked within Seiko's dive watch offerings. The Tuna dive series was introduced in 1975 and has been improving in terms of specifications throughout the years. Seiko has created dive watches since 1965. However, it all changed when the company received a letter from a professional saturation diver from Kure City in Japan.
According to him, several Seiko divers' watches faced problems with retaining Helium gas, which would increase the inner pressure and pop the crystal, destroying the timepiece. From then on, Ikuo Tokunaga and his team of engineers sought to create the ultimate professional dive watch. Thus, the Tuna design was born. What makes the Tuna iconic is its shrouded case design.
This unconventional design feature was Seiko's answer to the Helium Escape Valve (which helps prevent the watch from enduring damage during saturation diving, specifically by allowing helium gas to escape during the decompression process). Instead of including a Helium Escape Valve, Seiko invented a new case shape, which, combined with its L-type gasket, made for an almost impenetrable watch.
Why Is It Called 'Tuna'?
The Tuna is just a nickname adopted by Seiko enthusiasts on a forum back when the internet was still in its infancy. This nickname has little to do with any overlaps in the characteristics between the fish and the actual watches but was instead inspired by the case design that resembled an open tuna can.
Differences between the Seiko Tuna Models
Seiko has released several variations of Tunas since its first release in 1975. You'd be surprised to discover the sheer number of differences that watches within the same design family can have between them.
With variations between different case dimensions, colorways, materials, straps, water resistance, movements, and prices, the options are truly endless! But one thing is for sure – there's a Tuna for everyone!
General things to know about the Seiko Tuna
Like the nickname 'Tuna', several other nicknames are given to certain models (e.g., Baby Tuna, Darth Tuna, Emperor Tuna, etc.). All of these adopted aliases are based on specific characteristics of the models in question.
Unlike traditional divers, the Tuna watches wear much smaller than the case size would suggest. This is due to the nearly non-existent lugs that inevitably result in the timepiece having an overly rounded case format.
All the Tuna models come with protective shrouds on the case, which are constructed with different materials for different models.
The Tuna falls under Seiko's Prospex (Professional Specifications) line, with many models also falling within the Marinemaster collection. As a result, you can find a wide range of water resistance within the Tuna line, starting at 200 m and going up to a whopping 1000 m.
As capable divers, all the modern Tuna models come with unidirectional bezels, screw-down crowns, and one of the best lume applications in the watch industry – Lumibrite!
Popular Seiko Tuna Watches From The Past
Since the first ever Seiko Tuna in 1975, the collection has had several different iterations, each being unique in its own way. Several models, in particular, are very rare and thus coveted by collectors. Here are some of the most popular and sought-after Tuna references from the past:
The "Grandfather Tuna" ref. 6159-7010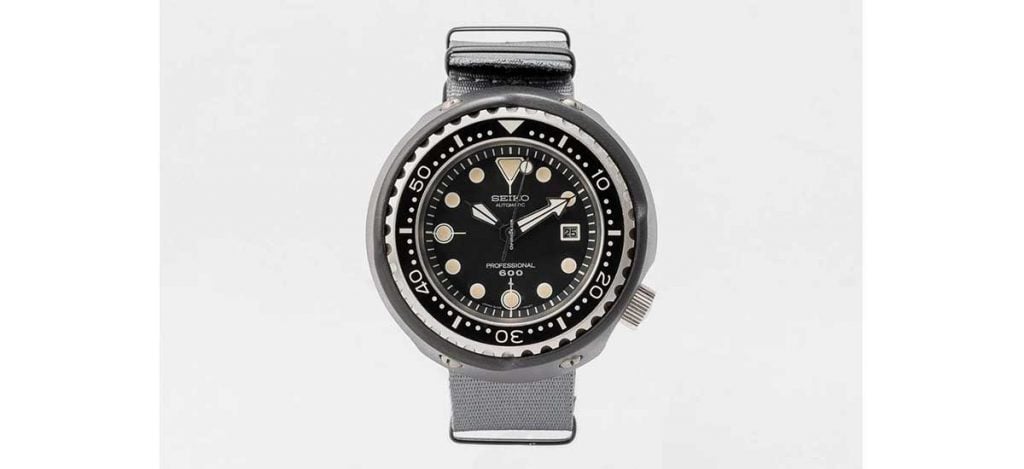 The first ever Seiko Tuna was released in 1975 and has since been dubbed the "Grandfather Tuna". The ref. 6159-7010 was a big and bulky dive watch made to withstand the harshest conditions. It featured over 20 patents and is one of the few Tunas powered by a mechanical movement, the caliber 6159.
Due to its unique nature, the Grandfather Tuna remains one of the market's most expensive and highly collectible Tunas. To celebrate its 25th anniversary, Seiko released the SBDX005 in 2000, a watch that was limited to 1000 pieces and shared many design philosophies with the Grandfather.
The "Golden Tuna" ref. 7549-7009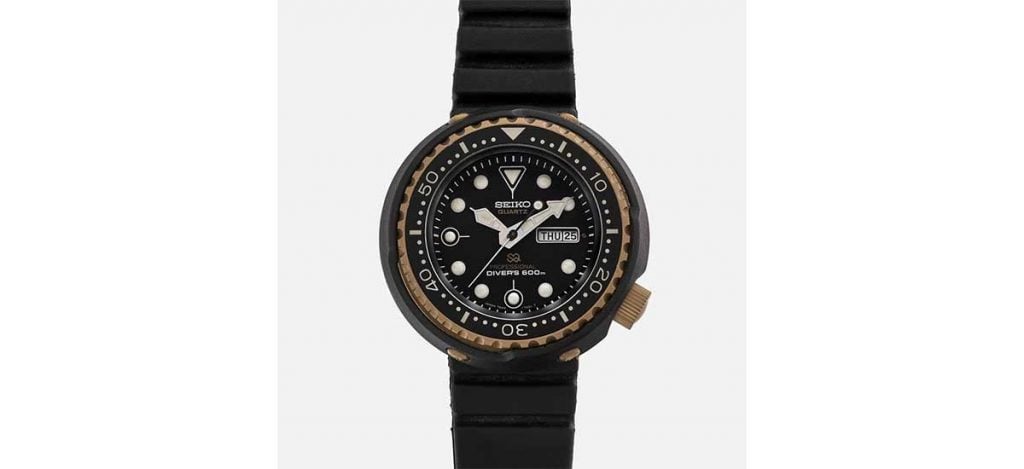 The "Golden Tuna" family was the second generation of the Seiko Tuna. The first Golden Tuna (ref. 7549-7009) was released in 1978 and got its nickname from its nitride-plated titanium case that had a distinct gold color. The watch was also slightly smaller than the Grandfather and featured a quartz movement instead of a mechanical one.
There have been several Golden Tuna references throughout the decades; however, the original remains one of the most collectible ones. Its desirability is further aided by its brief appearance in the 1981 James Bond movie "For Your Eyes Only".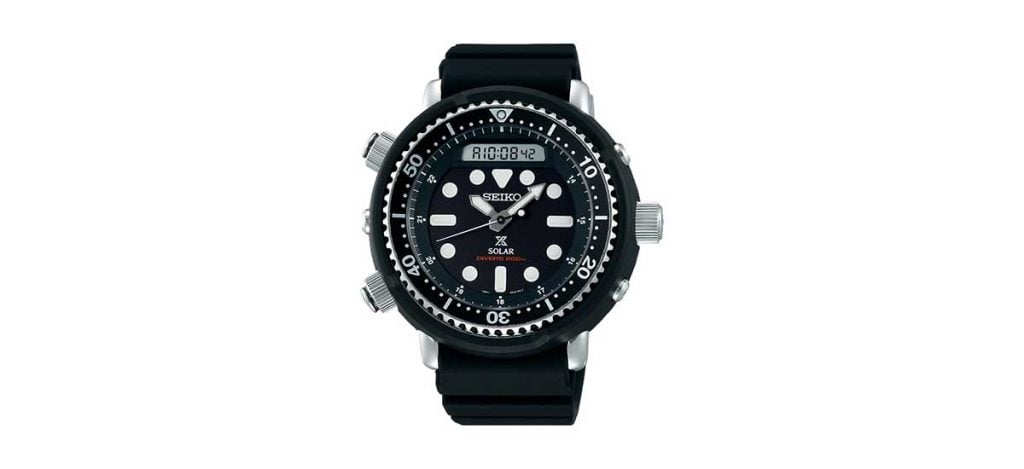 Another movie icon and a unique timepiece is the Seiko Tuna ref. H558-5000, mostly known as the "Arnie" or "Arnold". The watch got its nickname from famous actor Arnold Schwarzenegger, who used to wear several versions of this watch in some of his popular movies.
This particular Seiko watch features the Tuna case design, albeit in a smaller frame of about 45mm. However, it's still a large watch that can withstand almost anything you throw at it. What makes it stand out, though, is its unique Ana-Digi layout, with an analog dial and a small LCD on the top that displays the day and date.
The Best Seiko Tuna Watches You Can Buy Today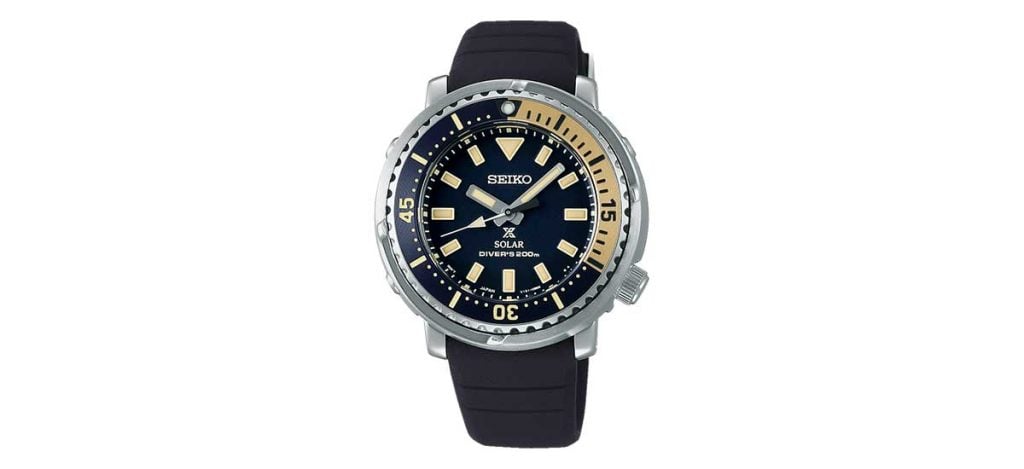 The SUT403P1 is the perfect gateway into the Tuna line-up, offered in one of the smaller case sizes within the Tuna design format. This model is part of Seiko's new 'Street Series', which is a bit more experimental and playful with colorways and dial textures than the traditional Tunas.
The Seiko 'Street Series' is a relatively recent collection within the Prospex line that re-introduces the Tuna's popular case design, making it fancier. With a fully stainless-steel case that comes in at just under 40 mm, V131 solar-powered movement, along with 200 m of water resistance, this is truly a value-packed 'Mini Tuna'.
It's also much more versatile than the traditional Tuna because of its smaller case size and dark blue and beige colors. When paired with a smart-casual outfit, these features present the option to be dressed up without looking out of place.
Movement: Solar V131 (6 months battery when fully charged)
Water resistance: 200 m / 660 ft
Diameter: 38.7 mm
Crystal: Hardlex
Price: $500
Seiko SNE547P1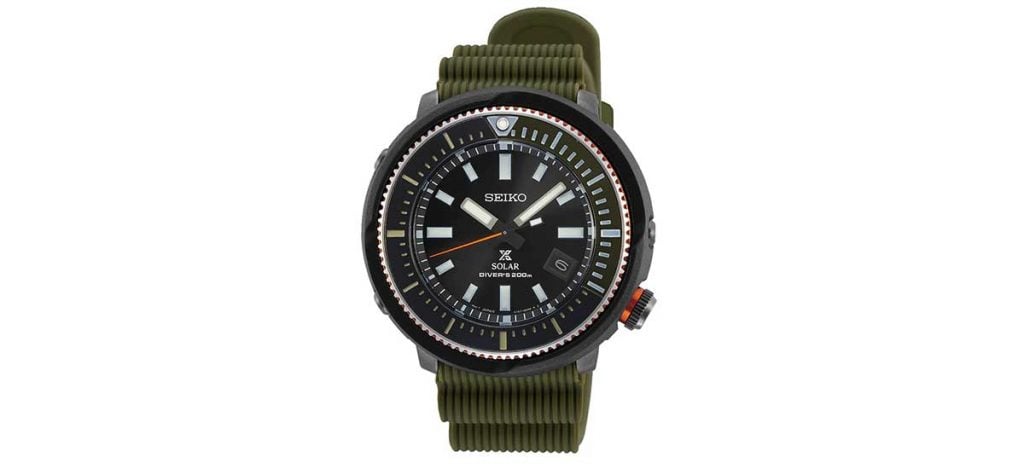 The SNE547P1 is another Tuna model from the brand's recent "Street Series" collection. It comes in a black and forest-green colorway, combined with orange accents on the second hand, crown, and under the bezel insert. Like SUT403P1, this model has also considered a gateway into the Street Series 'Safari Edition'. However, there are a few key differences between both these models.
Unlike the V131 caliber housed within the SUT403P1, this watch houses the V157 solar-powered movement, which comes with an impressive 10 months of power reserve when fully charged. It also features a date window at 4 o'clock and wears much larger with a 46.7 mm case diameter and a height of 12.6 mm.
Movement: Solar V157 (10 months battery when fully charged)
Water resistance: 200 m / 660 ft
Diameter: 46.7 mm
Crystal: Hardlex
Price: $500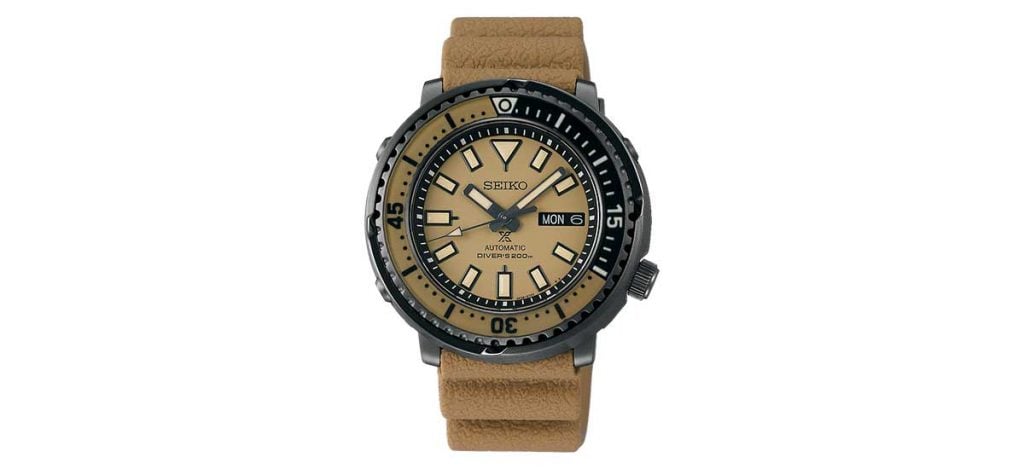 Alternatively, you could also go with the SRPE29J1. This time, the watch comes with mostly beige elements combined with black accents. Unlike the solar-powered movements seen in the previous two models, the SRPE29J1 is powered by the in-house automatic caliber 4R36, which is considered a solid, workhorse movement.
This model also comes with a stainless-steel case with a hard coating, making it highly durable and offering a more premium feel. This is a great, attainable model with a mechanical movement within the Street Series. Combined with Seiko's very own Hardlex crystal (which is more robust than the traditional mineral crystal) and the hard coating on the stainless-steel case, you can wear this as a daily watch without worrying about scratching the case.
Movement: Automatic 4R36 (with approx. 41 hrs of power reserve)
Water resistance: 200 m / 660 ft
Diameter: 43.2 mm
Crystal: Hardlex
Price: $550
Seiko SRPH77
While the Seiko 'Tuna' has traditionally been less 'explorative' with its dial (to maximize clarity), Seiko has broken that general 'rule' by giving us a taste of its legendary dial-finishing techniques in this SRPH77 Special Edition. According to Seiko, this release is a tribute to the brand's 'Save the Ocean' initiative, which aims to assist with environmental research and ocean conservation.
The finishing on the dial resembles the deep blue ocean, achieved through a gradient blue color with brushed strokes. The swimming penguins on the dial act as a subtle yet clever nod to the brand's environmental initiative.
Whether it's the radially engraved stainless-steel bezel or the impressive finishing on the dial, the details on this watch make it appear and feel significantly more premium than its price would suggest, making it a worthy contender to consider.
Movement: Automatic 4R35 (approx. 41 hours of power reserve)
Water resistance: 200 m / 660 ft
Diameter: 43.2 mm
Crystal: Hardlex
Price: $550
Seiko S23633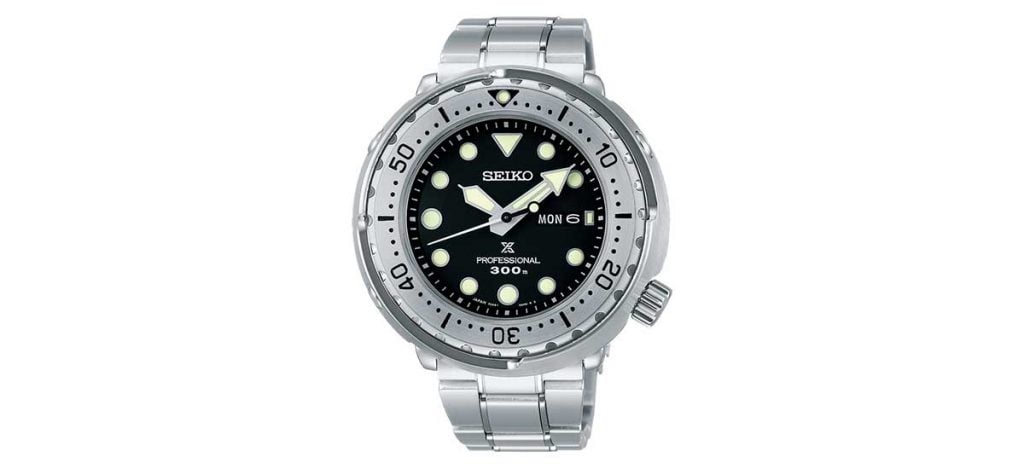 The S23633 is a mid-sized, no-nonsense Seiko 'Tuna', featuring professional-grade specifications. Coming in with a stainless-steel case size of 47.7 mm, with added super hard coating for additional durability, the S23633 is undoubtedly a robust 'mid-sized' offering within the Tuna line.
Inside the tough, shrouded case, you have Seiko's in-house quartz caliber 7C46 with an accuracy of +/- 15 seconds per month and an impressive 5-year battery life, making this a perfect 'wear and forget' type of watch.
But with features like the 300 m / 1000 ft of water resistance and a sapphire crystal (with inner reflective coating), this model is well-suited for someone looking for a serious dive watch but without exorbitant wrist presence.
Movement: Quartz 7C46 (high-torque caliber)
Water resistance: 300 m / 1000 ft
Diameter: 47.7 mm
Crystal: Sapphire
Price: approx. $1,800 (GPB 1,500)
Seiko SBBN047
The SBBN047 (also known as S23631) offers all of the professional Prospex diver specifications but in an extremely lightweight one-piece case structure. This model is dubbed the 'Darth Tuna' because of its monochromatic appearance, which gives it a stealthy look. It is on the larger side with a 49.4 mm case diameter. But, thanks to the Tuna design format with nearly non-existent lugs, the watch wears much smaller and will easily fit most wrists.
This is a professional Tuna, capable of 1000 m / 3300 ft of saturation diving, and comes in a titanium inner case and ceramic shroud that's treated with Seiko's proprietary Dia-shield hard coating, which provides additional scratch resistance and durability to the DLC-coated case. This is undoubtedly one of the most popular and collectible Tunas. Unfortunately, as it is a JDM model (and a highly coveted one at that), it's not the easiest to get hold of.
Movement: 7C46 (high-torque quartz)
Water resistance: 1000 m / 3300 ft
Diameter: 49.4 mm
Crystal: Sapphire
Price: $1,800-$2,000
Seiko S23635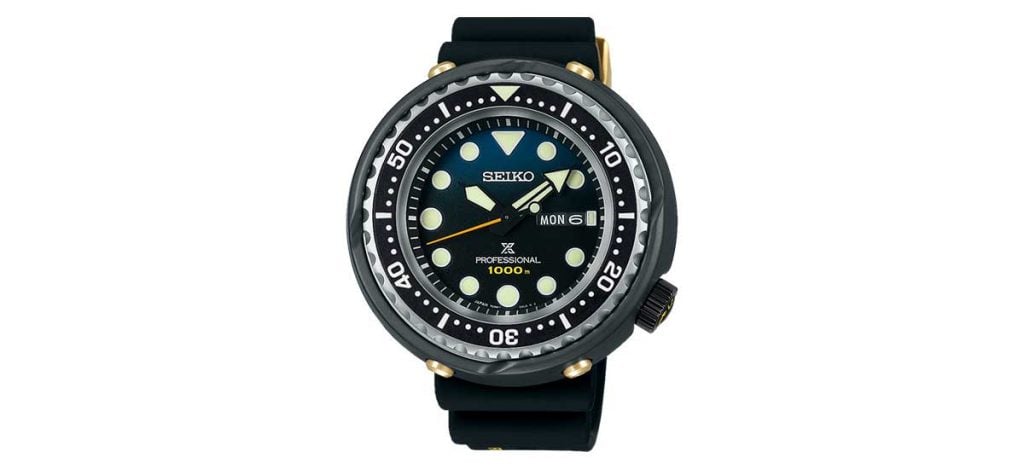 In 2021, Seiko released the S23635, a special watch to commemorate the 35th anniversary of the 1986 Quartz Diver. The S2365 is part of Seiko's Limited Edition release, celebrating a landmark technological achievement of the 1986 release.
The 1986 Quartz Diver combined the Tuna's original design format with 1000 m of water resistance and a ground-breaking quartz movement. This unique combination of highly advanced technologies (of the time) resulted in the birth of the new and improved Tuna, which was much more robust and accurate than the original Tuna.
The S2365 was limited to only 1200 pieces at the time of its release. The watch comes with a beautiful gradient blue dial, mimicking the ocean's depth (i.e. darker at the bottom and lighter at the top). The case is constructed with a titanium inner case and a ceramic protective shroud on the outside and comes with two pairs of extra-strength silicone straps, which provide additional durability for deep-dive expeditions.
Movement: 7C46 (high-torque quartz)
Water resistance: 1000 m / 3300 ft (saturation diving)
Diameter: 49.4 mm
Crystal: Sapphire
Price: $2,600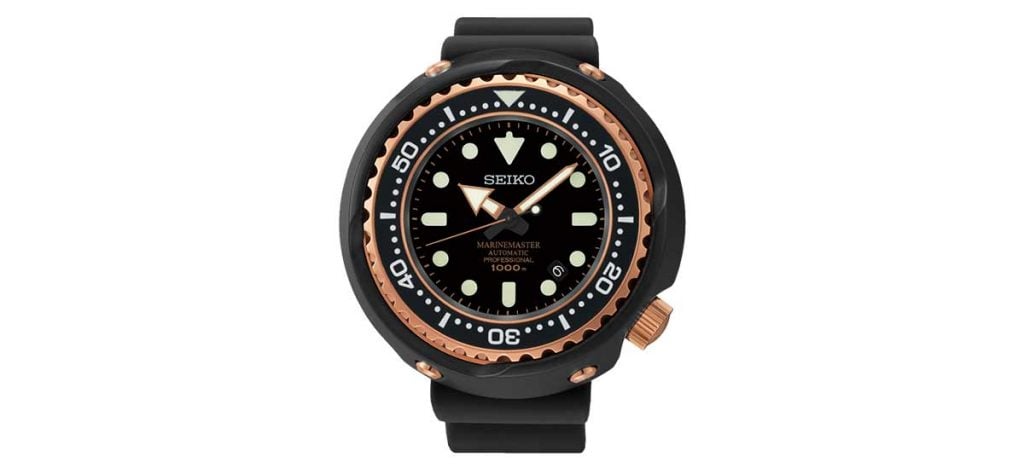 If you want to go all out with the optimum specifications, you can get within the Seiko Prospex 'Tuna' family, go for the SBDX014, also known by its notorious nickname… the 'Emperor Tuna'.
With the SBDX014, you're getting a titanium shroud with a rose gold-plated ceramic case and an outstanding water resistance of 1000 m. However, this Marine Master comes in at a larger case of 52.4 mm diameter and a height of 17.2 mm, making this one of the largest offerings within the 'Tuna' lineup.
The rose gold-plated inner ceramic case, crown, and screws give this model a more premium look, not a common feature ordinarily seen in the Seiko Tuna models. This fan-favorite JDM model is priced at JPY 350,000 on Seiko Japan's website (approx. $2600 today).
Movement: Automatic 8L35 (approx. 50 hours of power reserve)
Water resistance: 1000 m / 3300 ft
Diameter: 52.4 mm
Crystal: Sapphire
Price: approx. $2600 (JPY 350,000)