15 BEST Seiko World Time Watches for All Price Ranges (2023)
A timepiece can serve many purposes for the person whose wrist it adorns. They, of course, serve a practical function in telling the time or another practical purpose, such as elapsed time for a dive or another time zone. Perhaps the greatest complication that any watch can have is the ability to allow you to be another person.
Wearing a Rolex Explorer does not inherently make you more adventurous. But, I undoubtedly feel the desire to take the path less traveled when I have mine strapped to the wrist (a far cry from Mt. Everest, but my dog appreciates the new smells).
Watches allow the wearer to be whoever they want to be. A diver, a pilot, an astronaut, or even a jet-setting businessman are all possible with the right timepiece on the wrist. There are so few socially acceptable times when adults can use their imagination, and I, for one, am not afraid to admit that I love it!
One complication that has always stood out to me as the next evolution of timepiece LARPing, Live Action Role Playing (you're a nerd just like me, don't act like you didn't know what that stood for!), is the world timer. The ability to see the time everywhere at once is one that I can't ever imagine needing. That's what's great about imagination; we don't really need to have the answers to pretend.
About the World Time Complication
So, what exactly is a world time complication? In a nutshell, this complication allows you to tell the time in all 24 time zones based on reference cities displayed on the dial. By knowing the reference city of your time zone and other reference points around the world, the wearer will essentially know the time worldwide.
Is it as practical as a standard GMT feature? Probably not, but since when has practicality been the deciding factor in which watch we wear? Back in 1931, Louis Cottier developed the world time function for a wristwatch as we know it today.
While 1931 is more than a couple of years ago, this complication is relatively modern in the grand scheme of watchmaking, especially when considering the tourbillon, another high-end mechanical feat of watchmaking was first seen in 1801, a mere 130 years prior.
The world time complication was originally seen on only the most luxurious watches produced by brands such as Patek Phillippe, the brand perhaps most synonymous with the complication. However, thanks to advancements in movement technology, this complication is no longer reserved for only those in the upper crust of society.
What is the Purpose of the World Time Watch?
When there are complications that provide similar functionality to the world time watch, why would someone choose the world time over these other simpler options? There are two very different but equally valid reasons to pick up a world time complication.
First, if you frequently communicate with people in several time zones, no complication will allow you to track more than 3 time zones simultaneously.
This is definitely a minority of the population. But, if you have a family that has dispersed internationally or if you conduct international business, I could see this feature being very practical for your everyday life. Even a traveler-style GMT with a rotational timing bezel will struggle to keep up with this level of demand.
I suspect that the second reason is one that applies to 90% of the people considering one of these timepieces. The ability to tell time around the world is the ultimate horological flex! Watch enthusiasts are obsessed with telling the time, and no watch can tell you the time in as many places at a glance as a world timer. Whether it's a fun party trick or our desire to pretend we are a true world traveler, the world timer complication has an undeniable cool factor.
The Best Seiko World Time Watches
As much as I love the world time feature, it has always seemed out of reach for someone with a far looser belt than me. As mentioned earlier, the enhancements in movement technology have brought this complication down to accessibility for the other 99% of watch collectors.
Perhaps the last brand you would associate with the world time complication is the one that I would suggest you look at if you're interested in dipping your toe in the complication.
Enthusiast-favorite Seiko has been innovating in this space and quietly producing model after model that continues to bring the world time to the masses. Let's take a look at some of the best examples from Seiko that feature a world time complication.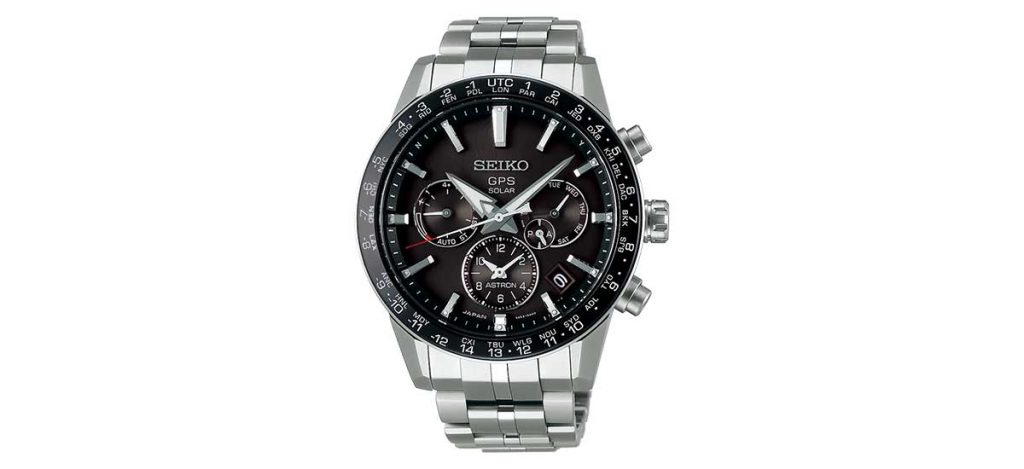 Seiko is a brand known for pushing the limits of watchmaking. Whether it was their near Swiss watch crippling quartz movement of the late 1960s or the modern Spring Drive movement delivering the very best of quartz and mechanical movement technologies, Seiko has always been a pioneer.
Knowing this history, the innovative Seiko Astron line should come as no surprise. This line of watches features a quartz-powered movement that is regulated by a GPS signal. This series of watches delivers incredible internal technology with the beautiful finishing we have come to expect from Seiko's premium line of watches.
The Seiko Astron, Ref. SSH003, is a 42.9mm watch made of titanium. The watch features a sapphire crystal and ceramic bezel. The 50.7mm lug-to-lug and 12mm case thickness help this larger cased watch fit slightly smaller on the wrist. The GPS Solar 5X53 movement allows this watch to feature a world time function and a perpetual calendar allowing the date to be accurate until the year 2100 (no more date changes for you!).
The watch receives power from the sun and can remain charged for up to 6 months on a full charge. If you are looking for a watch that is truly set and forget, few watches can compete with this Seiko. Coming in at about $2350, this Seiko Astron watch provides a user experience few brands can match at any price.
If innovative technology is not the first thing that comes to mind when you think of Seiko, I am willing to bet that the name Seiko conjures up an idea of affordability. Seiko has been the market leader in many segments when it comes to providing value for money, and the word time function is no different.
The Seiko Prospex, Ref. SSC507 is a 42mm stainless steel watch featuring a world time and chronograph function. This watch is accented by many of the finishing details you expect to see on watches several times the price, such as 100M of water resistance and sapphire crystal.
This Prospex model is powered by the V195 solar quartz movement, further aiding in the everyday usability of this watch. If you were intrigued by the Seiko Astron mentioned earlier, but your budget can only stretch to roughly $475 (many discounts to be had on this one!), you'd be hard-pressed to beat this model. You may have to set the date a couple of times a year, but with the money you are saving, I think you'll manage!
Seiko's ability to have a watch for every type of customer is unmatched in the watch world. Despite having two ends of the quartz spectrum already covered on this list, they have a different product line for those who might be after something between these two options.
Although it can be seen as too many options, I'd argue that when it comes to watches, you can never have too many options. The Seiko Coutura, Ref. SSG009, features a 44.5mm stainless steel case and integrated bracelet giving this watch more of a wrist presence than the others on this list thus far.
The watch features a chronograph function in addition to its world time complication. These features are made possible by the solar quartz caliber 8B92. Whereas the Astron line is controlled by GPS signal, these movements are regulated by radio control.
These signals are less standardized than the GPS of the Astron but provide very similar functionality. Coming in at a price of $595, this Seiko Coutura provides great functionality at a very approachable price.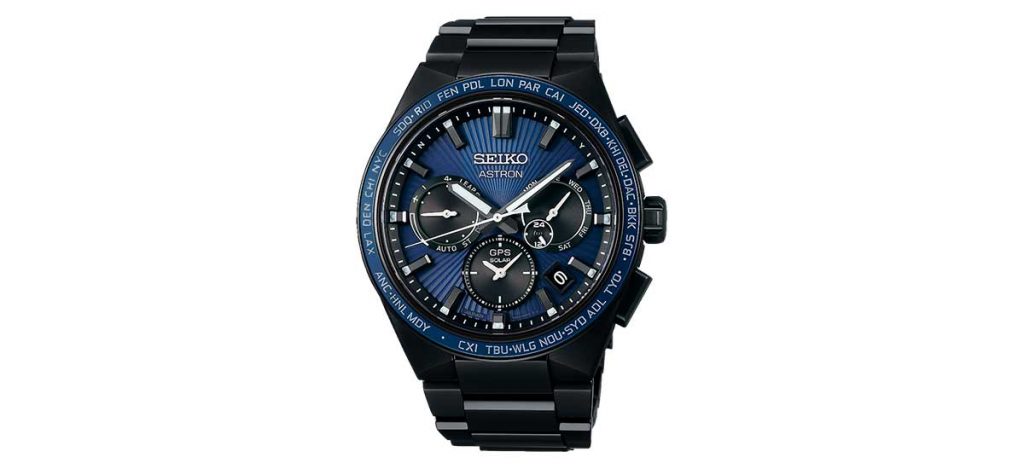 When looking at the Astron line from Seiko, I am always impressed by their willingness to take a chance on design. Some of the products have futuristic designs while others play with colors that on paper don't do it for me, but in person, absolutely pop! The Seiko Astron, ref. SSH121, is a great example of both of these attributes.
The 43.1mm titanium case and integrated bracelet give off the appearance of a PVD coating thanks to the black "super hard coating" applied to the titanium. The vivid blue dial is not what I would have chosen if I was a designer, but after seeing how the whole package comes together, it's clear that I should keep my opinions to myself.
The watch is powered by the 5X33 movement providing solar charging, GPS regulation, and a perpetual calendar in addition to the world time function qualifying this watch for our list. Coming in at a price of $2400, this Astron represents tremendous value for someone who wants a futuristic watch but can't get behind the smart watch movement.
Another entry from the affordable Prospex line of watches is the Seiko Prospex, Ref. SSC489. This watch features a more substantial 44.5mm stainless steel case and is powered by the same V195 movement as was seen in the previous Prospex model on this list.
Because of this, you will find the same solar quartz technology powering a chronograph and world time function in addition to standard timekeeping. This watch has been paired with a blue silicone strap that compliments the functionality, as well as it does the blue dial.
The pops of red on the crown stem (much like a Tudor Black Bay) and hour hand help to give this dial a pop of color. Although these are no longer for sale at the $595 MSRP, they are still readily available through other gray market providers.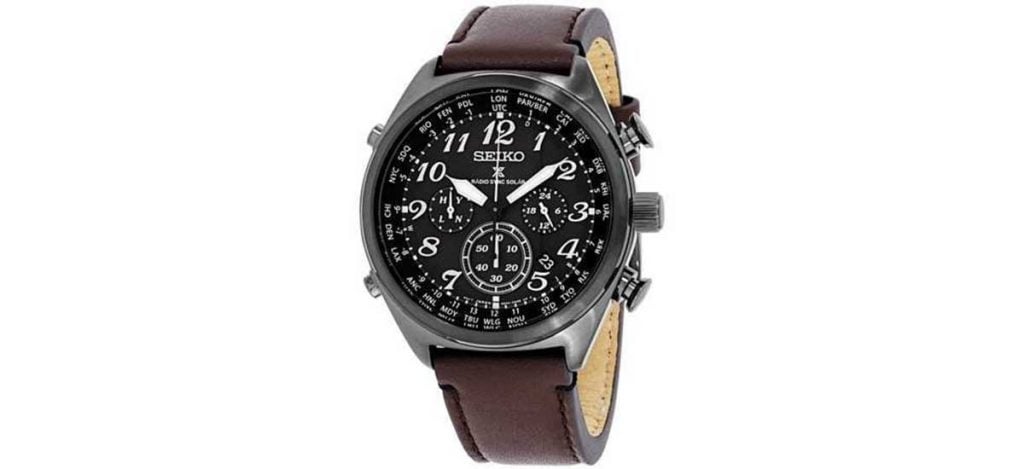 If you like the Prospex style of watches but are looking for something a little sleeker, the Seiko Prospex, Ref, SSG015, may be an option to consider. Coming in at a familiar size of 44.5mm, this stainless steel watch looks different from the others on this list. That is thanks to the black ion-plated stainless steel.
The watch has a darker appearance than titanium but is not quite as dark as DLC or a PVD coating. The dark color, in combination with the aviation-inspired high-contrast black dial with white script, helps to give this watch a more traditional look than some of the others we've seen.
The watch is powered by the Seiko 8B92 movement and features a world time function, chronograph, and radio-controlled adjustment. Coming in at a price of $595, this is another watch from Seiko that punches well above its weight.
If you are in the market for a high-end GPS-controlled watch with a futuristic design to match, the Seiko Astron, Ref. SSH119, may be the watch for you. This Seiko Astron shares the same 5X33 movement as the one previously mentioned and matches the watch in functionality with GPS radio control, world time capability, and a perpetual calendar complication.
What this watch does differently, however, is present these specs in a much more modern execution. This watch features an integrated bracelet with sharp angles and a 43mm case diameter forged in a titanium case with a super hard scratch-resistant coating.
The textured charcoal dial with midnight blue subdials offers a modern aesthetic that matches the case design. If you're looking for a premium modern world time watch from Seiko, The Seiko Astron, Ref. SSH119, for $2200, is a great option to consider.
8. Seiko Age of Discovery SPL062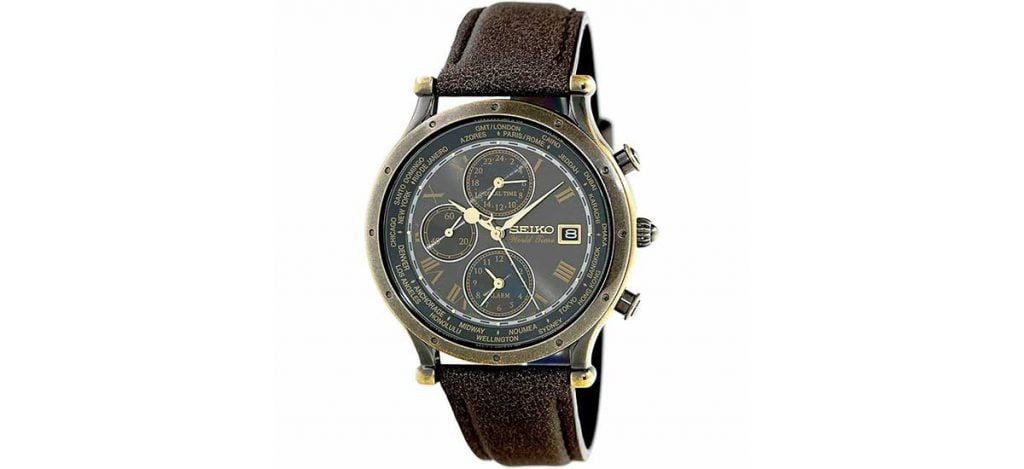 Taking a starkly different direction from the futuristic angles of the Seiko Astron, Ref. SSH119, is the budget-friendly Limited Edition Seiko Age of Discovery, Ref. SPL062, for around $450. This watch is the antithesis of the Astron in both cost and design.
The watch features a more modest 40mm case dimension housed in an antique-finish bronze case. This finish is not one that you often find, which helps this timepiece stand out from the crowd. The sunburst brown dial and gold Roman numerals help to provide a cohesive design to match the unique case finish.
Powering this model is the caliber 5T82 quartz movement which features a world time complication as well as an alarm. If you want a watch that stands out from the crowd but maintains a traditional design language, the Seiko SPL062 is hard to beat.
9. Seiko GMT World Time 30th Anniversary Limited Edition SPL055
If you like the look of the Seiko Age of Discovery but can't quite get behind the look of the antique bronze finish, the Seiko Limited Edition SPL055 could be exactly what you're looking for. Functionally, this watch is identical to the previously mentioned Seiko Age of Discovery while being powered by the same 5T82 caliber.
The case dimensions even remain consistent with this timepiece, but the antique bronze case and sunburst brown dial are exchanged for a more neutral stainless steel case and white dial. The gold accents and Roman numerals remain and look equally complimentary with this colorway. This watch easily passes for a watch that costs many multiples of the $375 MSRP, making this a great value for someone on a tighter budget.
10. Seiko Selection SBTM329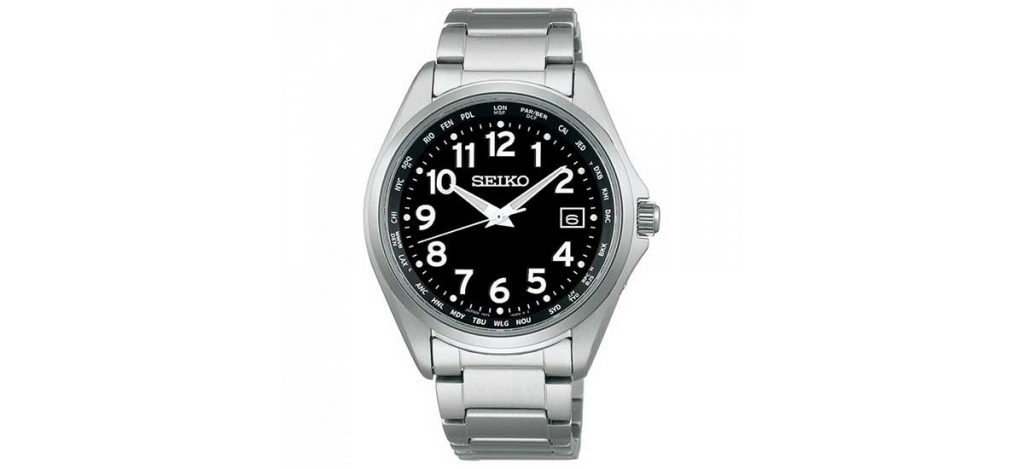 While looking through this list I am sure you have noticed the trend of sub-dials. While many prefer this look, some appreciate the aesthetics of a clean dial. That's where the Seiko Selection, Ref. SBTM329, comes to save the day. The 39.5mm case with the matching bracelet is a size not often seen on Seiko watches in titanium.
Along with the 9.5mm case thickness and 100m of water resistance, you may have one of the best options for an everyday piece from Seiko at any price point. The solar-powered caliber 7B75 provides radio control, World time functionality, and a perpetual calendar to boot.
However, the real showstopper with this watch has to be the clean black dial with numeral indices. If you missed the cities along the rehaut, you could easily confuse this watch as a time-only watch.
Prices and availability are a little hit or miss on this model, which is currently available only in Japan. But you can expect to pay $350-$450, which makes this watch an absolute bargain for everything it can do.
11. Seiko Sportura SSF005
If you really like the idea of a GPS-controlled quartz movement but can't quite stretch to the $2k+ of the Astron series, the Seiko Sportura, Ref. SSF005, may be just what you're looking for. Coming in at a price of $1250 (with many discounts available on the gray market), this watch offers a lot of the functionality you would expect from a watch in the Astron line costing twice that.
Powered by the 8X22 caliber, this watch features GPS control, World time functionality, and a perpetual calendar. The watch is housed in a large 45.2mm black PVD-coated stainless steel case with a matching bracelet, making this option better suited for larger wrists.
This timepiece features a black dial with simple stick indices that add to the stealth appearance of the black PVD-coated case. If your budget can't quite get you to a Seiko Astron, this Sportura offers the same functionality in a beautiful, albeit slightly less refined, case.
If you loved the look of that last watch but can stretch your budget slightly for a more refined execution, the Seiko Astron SSE159, for roughly $1650, is a great option to consider. This watch shares the 45.2mm case dimension with a matching bracelet but has gone with a standard stainless steel appearance.
The dial layout is very similar, but the simple black dial from the Sportura has been swapped for a magnificent blue dial with vertical stripes. This watch is also powered by the 8X22 movement providing the same functionality and versatility. If you are looking for a beautifully finished GPS-controlled quartz movement with a stunning blue dial, this is a great option to consider.
13. Seiko Criteria World Timer SPL045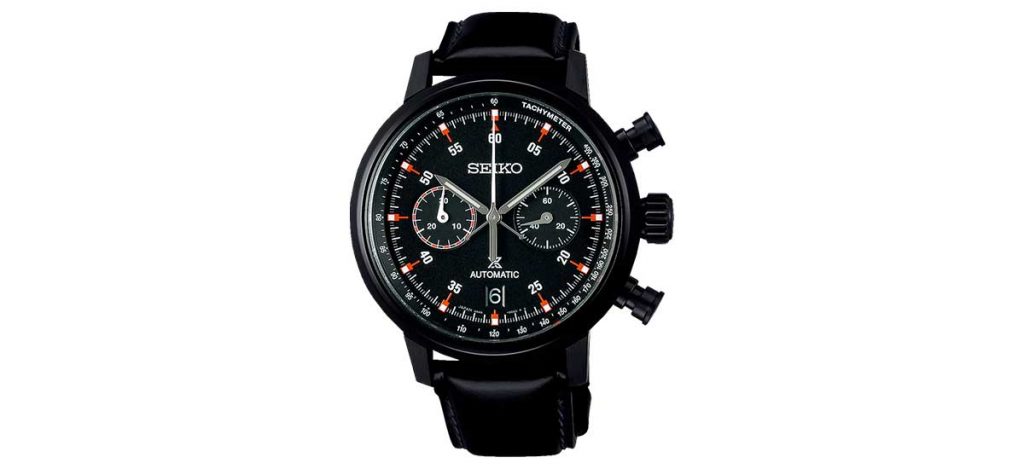 Sometimes a watch is large for a purpose, such as a pilot watch or a diver, and other times a watch is just big to make a statement. The Seiko SPL045 is a 46mm black PVD-coated stainless steel watch that certainly makes a statement. Make no mistake, the sub-dials are certainly easier to read, but given the larger crown guard system with symmetrical "ear", much like a Patek Phillipe Nautilus, this timepiece is meant to grab attention.
The Neon green accents on the dial play nice with the black dial and black PVD case, giving this timepiece a more futuristic look. Powered by the 5T82 caliber movement, this watch provides a world time complication in addition to an alarm function. If you are looking for a large world timer at a budget-friendly price of $595, this Seiko SPL045 should definitely be on your radar.
Although there is no doubt that Seiko has the ability to produce some unbelievable world time watches today, I truly believe that their best examples are from their historical archives. The Seiko 6217-7000 from the Tokyo Olympics in 1964 is a great example of vintage Seiko at its best.
The watch features a timeless 37.5mm stainless steel case with a 4 O'clock crown. There are 2 color variations available on this model, but the silver dial with the black and blue non-rotatable internal 24-hour bezel is my favorite of the bunch.
The outside chapter ring with cities from around the world is highlighted in vivid red, which helps to give this dial a very unique look. The 6217A caliber is the first automatic caliber to grace this list but will not be the last. Coming in at a price of roughly $1250-$1500, this is one of the best affordable vintage world timer watches on the market today from any brand.
15. Seiko World Time Asian Games 1966 (ref. 6217-7010)
Another offering from the Seiko historical archive is the Seiko 6217-7010 from the Asian Games in 1966. This watch represents a minor refinement over the previously mentioned 6217-7000. The case back has been upgraded from a snap back to a screw-down, while the hands gained a coat of luminous material to aid in low-light visibility.
Other than that, Seiko did exactly what they should have done; not much. The silver and charcoal dial options remain, while my favorite is still the latter. If you are looking for a vintage watch that can better withstand the requirements of a more active lifestyle, the Seiko 6217-7010 can provide exactly what you need for a slight premium of roughly $1500-$2000.
Conclusion
So, there you have it, 15 of the best Seiko world time watches! Many of these models tend to fly under the radar to most enthusiasts but are great examples of the power of Seiko. Whether it's driving innovation with the popularization of the quartz movement in the early 1970s or unlocking the potential of this innovation with the refinements of GPS and solar technologies, Seiko is a brand that continuously raises the bar.
If we're lucky enough to strap one of these Seiko world time watches on our wrist, rather than idolizing the world traveler who may need to wear one, perhaps we should aim to channel the innovative spirit of Seiko. If we are able to tap into this, even just a little bit, I am sure we will be better off for it!
Happy Watch Hunting!
About Exquisite Timepieces
Established in 1998, Exquisite Timepieces is your one-stop shop for all things luxury watches! We are an authorized dealer for 60+ luxury watch brands including Omega, Hublot, Seiko, & Longines! We are proud to showcase one of the world's largest pre-owned watch collections, including renowned brands like Rolex and Patek Philippe. Check out our brand new watch arrivals here and popular pre-owned listings here.