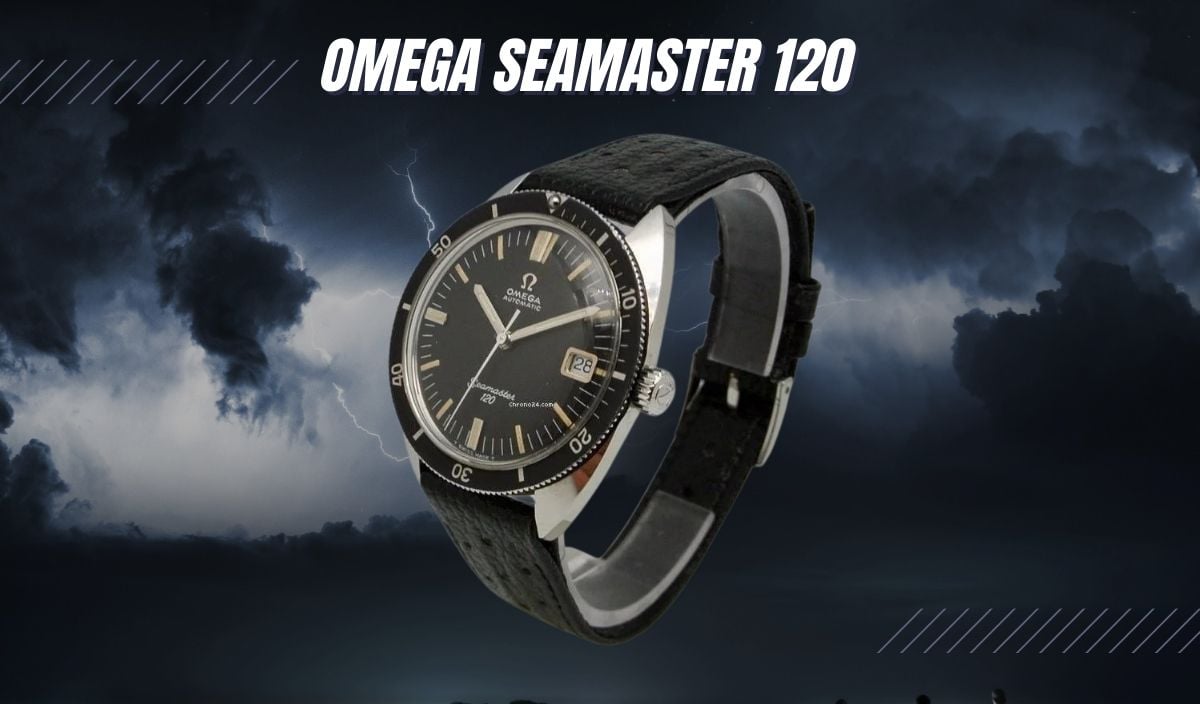 Omega Seamaster 120 – A DETAILED Buying Guide [2023]
The Omega Seamaster 120 is a model that's not discussed very often, but that's beginning to change (right here, in fact!). While the history of the legendary Seamaster 300 is well documented, the Seamaster 120 requires a little more in-depth (pun intended) research.
Whether you're looking for an Omega Seamaster 120 review, a chronology of the reference, or just a few photos of this beautiful timepiece, it's not always easy to find. That's why we decided to compile this handy buying guide to offer whatever you may be looking for all in one place.
Omega Seamaster 120 History and Defining Characteristics
The Omega Seamaster range was launched by the vaunted brand in 1957. It coincided with the simultaneous releases of the Speedmaster and Railmaster lines and marked the beginning of Omega's foray into the world of dedicated dive watches.
The original Seamaster 300 had a depth rating of 200 meters. At the time, 200 meters of water resistance was more than enough for the casual diver, let alone the average suburbanite who was more likely to wade in the local swimming pool than the ocean.
In 1966, Omega launched the Seamaster 120, a smaller version of the Seamaster 300, with a depth rating of 60 meters. The idea behind the Seamaster 120 was to offer a more affordable version of the Seamaster to a customer base that was more likely to wear it while driving their Barracuda than diving next to one.
While, in 1966, the Seamaster 300 had a case size of 42mm, the Seamaster 120 came in at a more diminutive 37mm, making it a better fit for the office or a backyard barbecue. There was also a 31mm women-sized case available.
Aside from the case size being different than its forebearer, the Seamaster 120 also had a slightly different case shape. Omega utilized a cushion-styled tonneau-shaped case, which offered a slightly more elegant wear than the tool-styled case of the Seamaster 300.
Overall, the Seamaster 120 was a popular alternative to the Seamaster 300, which is why you can still find several vintage pieces available for sale on the secondary market. The following are the most common references and basic price ranges for the Seamaster 120.
Seamaster 120 References and Pricing
Omega Ref. 135.027
Movement – Omega manual wind calibers 601, 611
Power reserve – 48 hours
Complications – N/A
Beat rate – 19,800 VPH
Price range – $2200 – $3200
Dial – Black
This 17-jewel variant was the first iteration of the Seamaster 120. In comparison with later models, it may seem like a somewhat bare-bones option with a manual wind movement and no date complication. However, this is also a big part of its vintage charm.
Prices for this reference fall between $2200 – $3200
Omega Ref. 136.027
Movement – Omega manual wind caliber 613
Power reserve – 48 hours
Complications – Date
Beat rate – 19,800 VPH
Price range – $2000 – $2800
Dial – Black
The next Seamaster 120 model for Omega saw little change in form and function, with one exception. This version included an updated movement that came with a date complication, evidenced by the three o'clock date window and white date wheel.
Prices for this reference fall between $2000 – $2800
Omega Ref. 165.027
Movement – Omega automatic caliber 554
Power reserve – 50 hours
Complications – N/A
Beat rate – 19,800 VPH
Price range – $2200 – $3200
Dial – Black
This reference had an upgraded automatic caliber, which also increased the power reserve by two hours to 50 hours. It also had no date function, unlike its predecessor.
Prices for this reference fall between $3800 – $4700
Omega Ref. 166.027
Movement – Omega caliber 565
Power reserve – 50 hours
Complications – Date
Beat rate – 19,800 VPH
Price range – $3,000 – 11,000
Dial – Black
This model is virtually the same as the 165.027, except that it included a date window at the three o'clock position.
Prices for this reference fall between $3500 – $4500
Omega Ref. 166.073 ST
Movement – Omega caliber 565
Power reserve – 50 hours
Complications – Date
Beat rate – 19,800 VPH
Price range – $4300 – $9900
Dial – Blue
This reference had the same technical specs as Ref. 166.027, although it had sharp sword hands, a bakelite bezel, and a deep blue dial and bezel color. It also had a major dial "shakeup" with the widening of the white luminescent indices and the addition of short applied stick indices on top of those.
Prices for this reference fall between $4300 – $6500
Considerations When Buying a Seamaster 120
Mechanical Considerations
Buying any vintage watch can be a nerve-wracking experience, and searching for the perfect Seamaster 120 is no different. When shopping for a vintage watch, the mechanical functioning and accuracy are of the utmost importance. Be sure to wind the movement and check that it functions properly. If the watch is mechanically solid, then ensuring it's authentic is the next factor in making your choice.
Authenticity
Being a vintage watch, any Seamaster 120 will likely show some wear and tear unless it's a NEW OLD STOCK model. So, make sure that the timepiece looks its age. Beyond that, there are a few things you can check for to make sure it's authentic.
The case of the Seamaster 120 has a small notch in the case at three and six o'clock when looking at the watch from the side. The case back should also have a Seamaster engraving in the center, which is relatively shallow. The automatic case backs are slightly domed, while the manual wind versions are flat.
Buy the Seller
To avoid purchasing a less-than-authentic Seamaster 120, you should only buy from reputable sellers. Even if you purchase from an individual, asking them for references is perfectly acceptable. Be sure to verify the integrity of the seller's claims by researching their sales history.
Service and Ownership History
You'll also want to ask for any service history paperwork the seller may have. While many people dispose of receipts and other records of service, some keep meticulous records, which is a convenient way to verify how well the watch was cared for. Along with the service paperwork, you can also ask for a history of the watch's ownership.
While the seller may not know the entire history of the watch, they may be able to tell you who they purchased it from and how long that owner had it. Any bit of information you can gather helps you to piece together the history of the watch, giving you a clearer picture of what you're buying.
Where to Buy a Seamaster 120
You can find well-cared-for models of the Omega Seamaster 120 at a number of different outlets, both online and in person. While buying a vintage watch from an individual is not necessarily bad, it's best to purchase through an online marketplace or another professional intermediary to ensure your investment is made with a reputable source.
Always do your research before buying any luxury watch. Sites like exquisitetimepieces.com (that's us!), crownandcaliber.com, and even chrono24.com all offer a wide selection of watches and some form of guarantee to protect you when you purchase from them.
A Greatly Underappreciated Model
While the Omega Seamaster 300 is rightfully the top dog in the Omega dive watch hierarchy, the vintage Omega Seamaster 120 is a greatly underappreciated model that's quickly gaining a cult following. So if you're a lover of classic designs and want to buy a watch with some under-the-radar collectability, then the Seamster 120 might just be the perfect vintage pool to dip your toes into.
About Exquisite Timepieces
Established in 1998, Exquisite Timepieces is your one-stop shop for all things luxury watches! We are an authorized dealer for 60+ luxury watch brands including Omega, Hublot, Seiko, & Longines! We are proud to showcase one of the world's largest pre-owned watch collections, including renowned brands like Rolex and Patek Philippe. Check out our brand new watch arrivals here and popular pre-owned listings here.