15 BEST Hand-Wound Watches for the Horology Enthusiasts!
The idea of hand-winding your watch is even more romantic than that of an automatic watch. You're breathing life into an inanimate object and then depending on it to keep you on time. In modern times you mostly see these types of movements in dress watches, as tool and sports watches have all migrated to automatic movements.
That said, there are still a few gems on the market for you to buy in 2023. Some are from higher horology brands, whereas others could be the perfect first watch for you to invest in. Whatever the case may be, if the movement inside is a hand-wound movement, you're bound to have a great relationship with your timepiece.
About Hand-Wound Watches
As the name would suggest, these watches are not powered by a self-winding movement or a quartz system but rather with hand-winding. Both automatic and hand-wound watches are mechanical watches; however, they are vastly different from one another.
The biggest difference between the two comes from (unsurprisingly) where the power originates from. Self-winding movements have a rotor attached that spins as you move. This kinetic energy is then converted into potential energy as the rotor winds up the mainspring.
Unlike a self-winding movement, a manual-wound movement does not need a rotor. The winding will come from the wearer turning the crown of the watch, turning that energy into the potential energy stored in the mainspring.
We mentioned that you mostly see hand-winding movements within dress watches, and there's a very good reason for that. Because these movements lack the rotor, they tend to be thinner, which is desirable in a dress watch meant to slip under the cuff of a shirt or jacket. A rotor is also weighted, making the timepiece more cumbersome – again, not incredibly 'dressy'.
The drawback of a hand-winding movement is that you need to wind it. For some, this is a selling point, and for others, this is a red flag. Depending on the watch's inner workings and the power reserve, you might be winding that crown for a while. Again, some find this tedious, while others enjoy it. It also has to be mentioned that shoddy quality around the seal of the crown could wear over time in a hand-wound watch.
History of Hand-Wound Watches
Until the quartz revolution of the 1970s, all watches were mechanical. Mechanical watches are powered by the mainspring, as mentioned.
It's not 100% clear which watch was the 'first' wristwatch, but most believe it was made by Patek Philippe for Countess Koscowicz of Hungary in 1868. Others believe the first wristwatch was made by Abraham-Louis Breguet for Caroline Murat, Queen of Naples, in 1810.
But even way before this, men wore pocket watches, and prior to this, the only portable timekeeping devices were clock-watches. The name may sound like an odd combination of two different words because it is.
Developed in the 16th century in the German cities of Nuremberg and Augsburg, these devices were worn on the body or around the neck rather than on the wrist. They only had an hour indication and didn't even feature a glass but rather a brass cover (usually). Even though these devices were manually wound twice a day, they were incredibly inaccurate; some were hours off each day.
Pocket watches took over soon after, and eventually, wristwatches replaced them, mostly worn by women because men still had pocket watches. In World War I, this changed as soldiers wore wristwatches for added maneuverability and ease of use.
The first self-winding movement was made in 1923 by John Harwood, and eventually, self-winding movements replaced manually-wound movements. That said, manual movements are still found in various watches today, as you'll see on the following list.
The 15 Best Hand-Wound Watches You Can Buy in 2023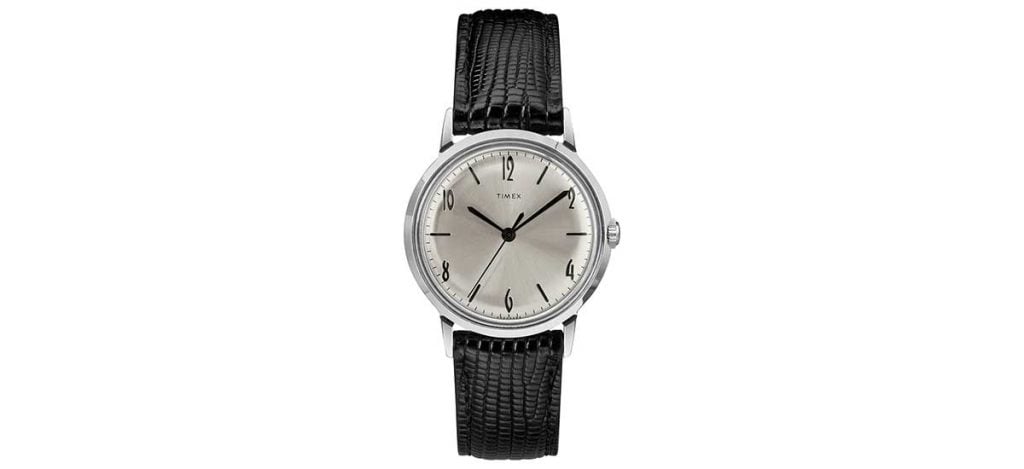 Many revere this watch to be one of the best entry-level watches on the market. The Marlin is a watch that is completely at ease with itself; humble, if you will. The Marlin is actually a reissue of the brand's 1960s Marlin. A true dress piece through and through, it features only three hands with an uncomplicated dial.
The 34mm case will certainly please those with smaller wrists, and a domed glass lens offers a bit of uniqueness for the price point and a subtle throwback to the 60s design language. Behind the highly legible silver dial is the manual wound movement (not specified by Timex), but has a 40-hour power reserve.
2. Seagull 1963 Hand Wind Mechanical Chronograph (ref. 6345G-2901)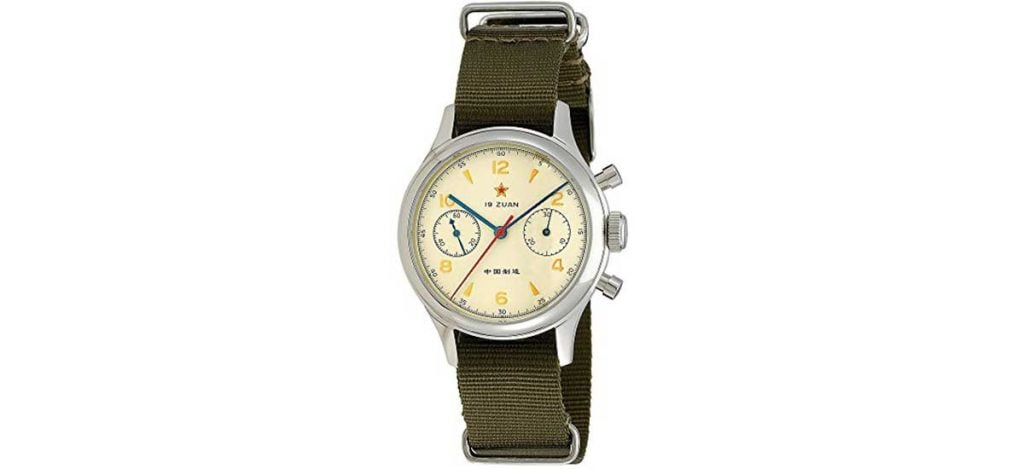 Finding a mechanical chronograph will lead you to learn that this complication comes at a price. Seagull, a Chinese watch brand, aims to correct that notion. Powered by the hand-wound No. ST21 mechanical, the Seagull is (perhaps) the most cost-effective way of getting your hands on a mechanical chronograph.
The cream dial is matched with blue and red hands and an olive green NATO strap to create a vintage allure to the watch. The value of this timepiece is elevated even more when you notice the exhibition case back. The only downside is that servicing this timepiece might actually be more expensive than just replacing it.
Hamilton is the entry-level Swiss company, especially if your taste veers towards field and pilot watches. The Khaki Field Mechanical is a giant in their lineup and comes in numerous editions and versions.
The ref. H69439931 is a modestly priced 38mm steel field watch matched with a khaki NATO strap and a brushed finish. Taking inspiration from the original 1960s model, the Khaki Field features a 'Type B' dial used by pilots in WWI and WWII. This dial configuration comes in three colors, white, black, and dark brown.
The Hamilton caliber H-50 is based on the ETA 2801-2 and is equipped with an 80-hour power reserve. The Khaki Field is loved by many, and you'll often see it sharing a watchcase with big hitters like Pateks and Rolexes.
If you google 'Bauhaus Design', you are greeted with perhaps the perfect description of Junghans's design language, "Abstract, angular, and geometric, with little ornamentation". Based in Germany, Junghans takes this popular design and makes it their own.
The Max Bill is a 34mm dress watch that only measures 9mm in height, most of which comes from the domed crystal. The polished black dial features a minute track and hands that are covered with an environmentally friendly luminous substance.
To keep costs down, the Junghans caliber J805.1 is based on the hand-wound ETA 2801-2 and is equipped with a 42-hour power reserve. Overall, the Max Bill is a classic design but still different enough to make you smile whenever you look at your wrist.
Sticking with both Germany and the Bauhaus design, we have the NOMOS Club Campus 38. The first thing you notice about the timepiece is the California dial with Arabic numerals on top and Roman numerals at the 4 and 8 o'clock positions. 
The Campus line was initially introduced for a younger wearer with quirky design features combined with a sporty feel at a reasonable price. This everyday option from NOMOS is perfectly sized at 38.5mm in diameter and measures 8.5mm in height. The utility is emphasized by adding a 100m water resistance rating, something rare for a watch this thin.
The small seconds hand offers a pop of color in contrast to the all-black dial, while the hour markers and rhodium-plated hands are all filled with luminous material – in fact, it's one of the most legible dials for the price point when the room goes dark. The movement powering the watch is the NOMOS Alpha Manual and features a 43-hour power reserve.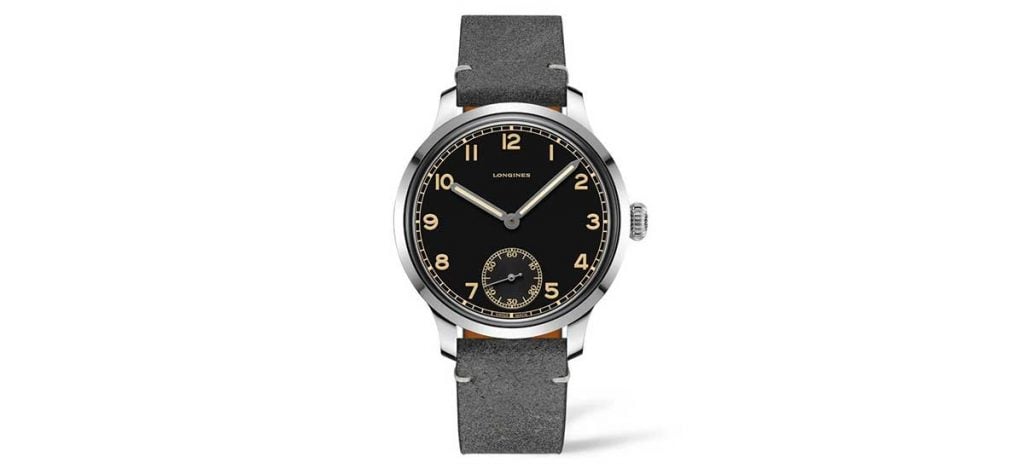 The Longines logo is the oldest logo in the watch industry, which hints at some of the watches they produce. Their 'Heritage' range is a must-have for those that like a vintage look combined with modern technology. The Military 1983 Limited Edition was limited to only 1983 pieces that pay tribute to the watchmaking spirit of Longines.
The highly legible matte black dial features large Arabic numeral hour markers along with a small seconds sub-register located at the 6 o'clock position, a railway track chapter ring, and a thinner onion crown. The vintage aesthetic of the dial is purposely designed to look identical to the original 1983, hence the 'aged' lume.
The Longines caliber L507.2 is their adaptation of the ETA 6498-1 (or ETA Unitas) hand-winding movement that features a 46-hour power reserve.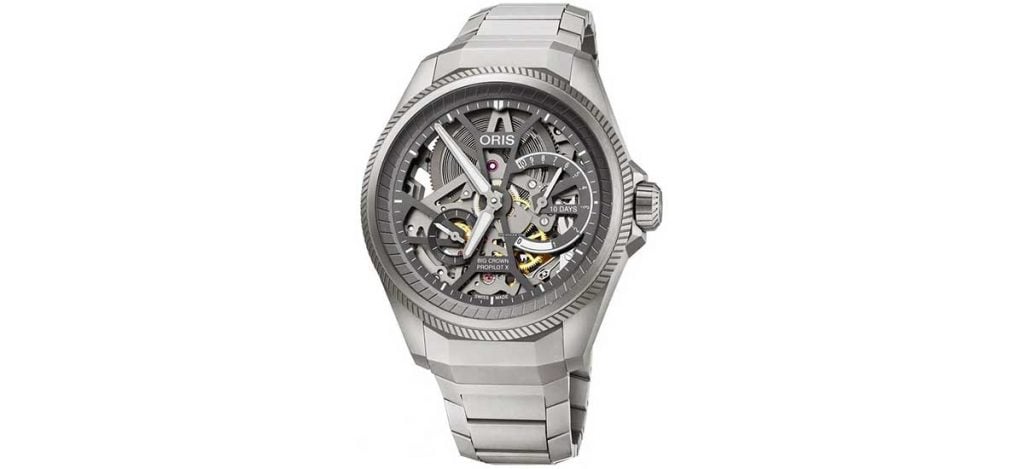 Oris is one of the last independent Swiss watchmakers, and it shows in their ability to be daring in design but also to listen to their fans. Branching away from the brilliant Oris Aquis, we have the Pro Pilot X Calibre, a titanium equipped with a fully skeletonized in-house movement – the Caiber 115.
While the design of this watch is undoubtedly something special, so is the beating heart within. A massive 10-day power reserve (240 hours) comes courtesy of the hand-wound movement; in fact, you can see the mainspring positioned perfectly at the 12 o'clock position.
The visually striking dial is matched with a gorgeous integrated bracelet and knurled bezel, the latter of which is meant to evoke the turbine blades of a jet engine.
Omega is known for its sport and dive models, but its De Ville range has been the centerpiece of its dress range for decades. The 40mm polished steel case is matched with a striking blue domed dial that features a small seconds sub-register at the 6 o'clock position. Timekeeping duties are dealt with by 18K white gold hands and domed indexes.
Ticking within the Trésor is the Omega Caliber 8926. As with most modern Omega movements, it is refined and brimming with technology. Turn the case to reveal the emblematic Geneva waves, but beauty is matched with COSC specification as well as a Master Chronometer Certification. The 72-hour power reserve is matched with resistance to magnetic fields reaching 15,000 gauss.
This particular model does come in different variations. A steel case, white dial, and a diamond set bezel. A yellow gold version featuring a green dial and the Omega caliber 8927. A Sedna™ gold red dial variation that also features the Omega caliber 8927. And lastly, a grey dial steel version with the Omega caliber 8926.
Grand Seiko is much more than the luxury segment of the most famous Japanese watch brand, Seiko. They are known for combining exemplary finishing methods with similar attention to detail with their movements – the ref. SBGK007 is no different but with an under-the-radar or stealth-wealth personality.
The clean white dial is a rather simple design with two sub-registers, a power reserve indicator at 3 o'clock, and a small seconds at 9 o'clock. The dial actually features slopes toward the edges meant to amplify the 11.6mm thinness of the case.
As always with Grand Seiko, the movement within is something special. The manually wound caliber 9S63 is equipped with a 3-day power reserve but is also rated at +5 to -3 seconds per day for accuracy. This might be one of the entry-level options from Grand Seiko, but it's certainly a 'sleeper' if you will.
Blancpain is the oldest surviving watchmaking brand and has a devoted following. Best known for its dive watches but the Ultraplate takes a far more dressy approach. It's part of the 'Villeret' line, which is 'the most classic collection' from Blancpain.
An ultra-slim case of merely 8.55mm is matched with a striking white dial and silver hands, and Roman numeral hour markers. The manual caliber 11C5 features a pretty impressive 100-hour power reserve and not only powers the hour and minute hands but also displays small seconds as well as a power reserve.
There are various variations available in this model line, but this particular reference is the true embodiment of a timeless dress watch.
Glashütte Original or GO is widely respected in the horology world, especially by those fond of Germany's approach to watch design. The galvanic blue dial features three separate complications thanks to the caliber 65-01.
The dial features a panoramic date window, a power reserve, small seconds dial, and, of course, a time display. The sub-registers feature a vinyl-type finish and, when combined with a combination of hour batons and numeral markers, create visual interest and a sense of contrast.
The 40mm polished steel case is certainly sized for contemporary tastes and is matched with a blue Louisiana Alligator leather strap. Turn the case over to reveal the aforementioned caliber featuring typical GO finishes like the three-quarter plate with a striped finish. You will also find the double swan-neck fine adjustment, which is synonymous with the brand.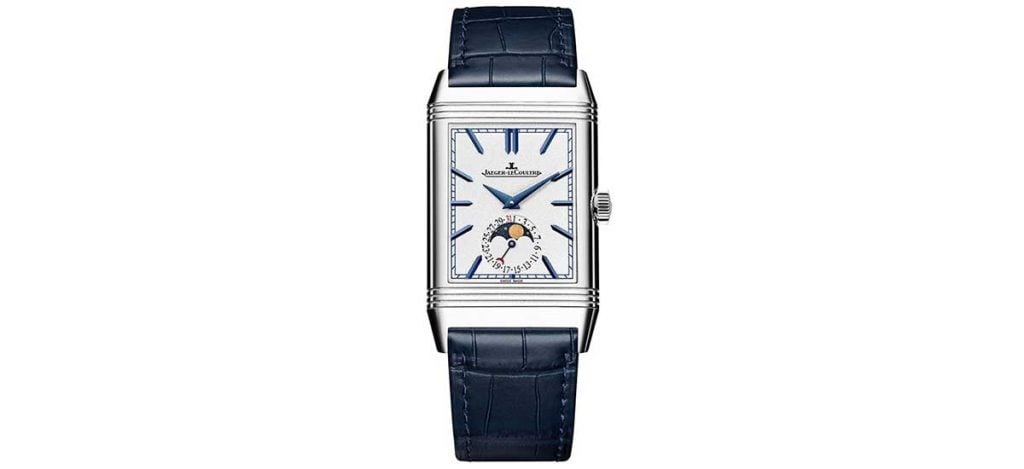 The Jaeger-LeCoultre Reverso is one of the most well-known and loved watches in the industry. The Duoface ref. Q3958420 ventures away from the sporty origin of the Reverso and exudes a luxurious appeal. 
The grained outer dial is contrasted with a smooth inner dial and features alpha hands and a night-day indicator. But as the name hints at, reversing or 'flipping' the case reveals a second dial. This white dial is beautifully contrasted with blue hour markers and hands. At the 6 o'clock position, you'll find a radial date function surrounding a moonphase indicator.
No one does Art Deco quite like JLC does. But, they are also known as 'the watchmaker's watchmaker' because JLC has made movements for various heavy hitters like Vacheron Constantin, Audemars Piguet, Panerai, and IWC. The movement within the Duoface is the manual caliber 853/A introduced in 2016 and features a 42-hour power reserve.
Bulgari is known as a Swiss watch company with Italian design inspiration. The Octo Finissimo is widely known as one of the thinnest automatic watches you can get your hands on. Originally launched in 2012, the Octo Finissimo line has become the centerpiece of the Bulgari catalog.
This particular model is not only extremely thin at 5.50mm but is completely finished in ceramic, a case material that is unbelievably hard to produce but does offer immense resistance to scratches. While the ceramic case and bracelet might be intriguing, your attention is immediately drawn to the skeletonized dial.
Certainly not made for legibility but rather for aesthetics. The caliber BVL 128SK is on display with an expert brush finish and is based on the Bulgari BVL 128. The manual in-house caliber is extra thin (2.35mm) and features a 65-hour power reserve.
H. Moser & Cie is perhaps not the most-known watch company on the planet but certainly deserves recognition. Their minimalist approach to design is certainly not everyone's cup of tea, but their attention to detail is certainly admirable.
The Venturer Small Seconds Purity was presented at SIHH (Salon International de la Haute Horlogerie) in two variations, a blue fumé dial white gold version, and the version referenced here, a red gold with a smokey fumé dial.
The dial is actually domed and is matched with a thin bezel, allowing for a massive dial profile. With the fumé effect and the crystal, it creates a mirror-like finish, something you won't see every day. The only other features on the dial are gold hour markers at 12, 3, 6, and 9 o'clock positions and a recessed sub-register.
The movement within is the Moser caliber HMC 327, a hand-wound movement equipped with a 72-hour power reserve. In fact, the movement is visible through the sapphire caseback, finished with stripes on the plates and bridges, and features a power reserve indicator above the balance wheel.
Known as the 'underdog' of the Swiss Holy Trinity, Vacheron Constantin is known for legendary timepieces like the 222 and the Overseas. The model presented here is certainly not a sports model but does feature a sporty feature, a chronograph function.
As the name suggests, this watch pays tribute to another and is based on reference 6087 from 1955; the 'cow horn' lugs are a direct inspiration from the ref. 6087. The chronograph function is amplified with the addition of a painted tachymeter scale, allowing the wearer to measure the speed of an object.
The dial is actually finished in a combination of Copper and Zinc, allowing for a striking 'grey velvet-finished opaline' color. The blued steel chronograph hand offers great contrast and a burst of color.
Flip the 38.5mm polished steel case to reveal the beautifully finished caliber 1142, which is based on the hand-wound Lemania 2310 and is finished with the Côtes de Genève as well as the Geneva seal.
Conclusion
While the hand-winding movement is perhaps not what everyone prefers, there is still a romantic aspect when you imagine 'breathing life' into an intimate object. These are usually only found within dress watches, but as this list proved with the Seagull and Hamilton, they can also be found in sporty and field watches.
If you prefer to be even more connected with your timepiece, then you may be on the market for a manually wound watch. Just make sure to remove the watch from your wrist before you start winding; the angle might be bad for the crown…
About Exquisite Timepieces
Established in 1998, Exquisite Timepieces is your one-stop shop for all things luxury watches! We are an authorized dealer for 60+ luxury watch brands including Omega, Hublot, Seiko, & Longines! We are proud to showcase one of the world's largest pre-owned watch collections, including renowned brands like Rolex and Patek Philippe. Check out our brand new watch arrivals here and popular pre-owned listings here.