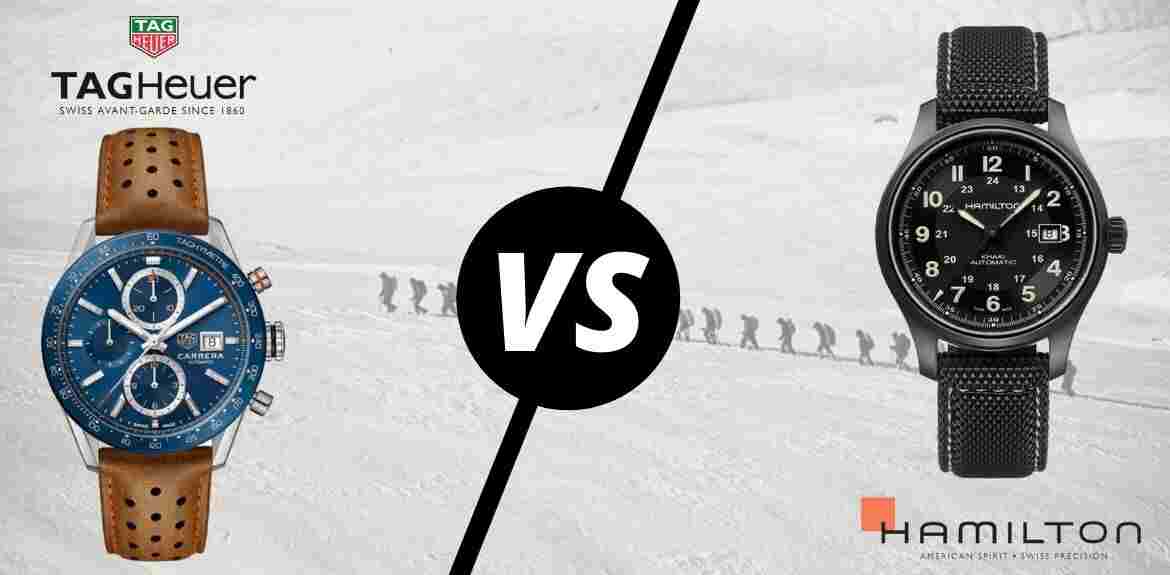 Tag Heuer vs Hamilton: Brand Comparison
If you want to make a list of today's top Swiss luxury watch brands, you'll have to include Tag Heuer and Hamilton.
Whether you are looking for a timeless wristwatch, a fine accessory for your wrist, or something to make a fashion and social status statement, these brands have done a great deal of work to ensure that they provide you with many options.
From sleek designs to seamless timekeeping, Tag Heuer and Hamilton wristwatches offer great experiences to the people who purchase and wear them. Because both brands offer a unique experience to their customers, making the ultimate choice of which brand to buy from can be a difficult task.
If you're in the process of buying a luxury sports wristwatch, this article will help guide you through the process of making a decision, so you can purchase something you will be proud of for a very long time.
At first glance, both brands appear similar in their products' designs and pricing structure. However, when you take a closer look, you'll begin to notice contrasting features. Let's examine these differentiating factors.
Tag Heuer vs. Hamilton: Which is a Better Luxury Wristwatch Brand?
Let's take a look at the major features of the wristwatches created by these brands so we can answer the question of which luxury brand is better.
Reputation
If you are buying your luxury wristwatch for just the feel-good experience, you may want to pay close attention to this point.
While both brands are world-class and involve feelings of wealth and affluence, Tag Heuer beats Hamilton when it comes to reputation. As a result of Tag Heuer's reputation in the world of luxury watches, the brand has attracted the patronage of major celebrities, including Barack Obama, Tiger Woods, and Brad Pitt. So, if you're looking for something to make a statement of affluence with, you may want to patronize the more reputable brand.
Design
This is one of the major areas where both brands are entirely dissimilar, although they occasionally produce wristwatches that look the same. Generally, while Tag Heuer wristwatches are known to have a sporty look, you'd most likely go for a Hamilton if you are looking for something with a minimalistic design. Because of the care that goes into their manufacturing and design processes, Tag Heuer wristwatches are usually considered more trendy and attract more positive attention.
Durability
This is one major factor that wristwatch owners usually consider before pulling their cards out of their wallets. Thankfully, many luxury wristwatch brands pay attention to this factor during production.
Hamilton wristwatches are durable, strong, and somewhat resistant to wear and tear. In addition to this, their batteries can last anywhere between two and four years. However, you may not know that the battery of your wristwatch is about to give up on you until it does.
On the other hand, it is not the same for Tag Heuer. In addition to being sleek and eye-catching, these wristwatches are sturdy, and extra care is taken to ensure that long-lasting, high-quality materials are used in the production process. According to users, a Tag Heuer wristwatch can last for a lifetime if you're careful and meticulous about following the producers' servicing recommendations.
In addition to this, the battery of your Tag Heuer can last for up to five years, giving you more time to enjoy the accessory. The more recent Tag Heuer wristwatches are also equipped with indicators that let you know when the batteries are about to die. With this feature, you're less likely to be taken unawares by a dead battery and a wristwatch that won't work on the day you need it the most.
Accuracy
Both brands have great accuracy in common. The average Hamilton wristwatch is built for precision and accuracy and can retain this ability for as long as the wristwatch battery remains alive. However, over time, accuracy can be tampered with if the watch is misused.
Tag Heuer, on the other hand, takes accuracy and precision to a whole new level. With an accuracy level of up to 1/1,000th of a second, Tag Heuer wristwatches have built a reputation for precise timekeeping. As an attestation to this, they have been used in many large settings like the Summer Olympic Games (three consecutive times), Skiing Championships, and other gaming tournaments.
To ensure that your Tag Heuer maintains its accuracy for as long as you own it, be sure to handle it with the utmost care and carry out the routine maintenance as directed by the manufacturers.
Water Resistance
You most likely wouldn't want to have your wristwatch on when you take a shower, but this doesn't eliminate the fact that the unexpected happens all the time. You may get a few splashes of water on your wristwatch when you wash your hands, or some wine could spill and make a mess of the accessory on your wrist.
For these reasons, you may want to purchase a water-resistant timepiece. Both brands do a good job when it comes to producing water-resistant wristwatches. However, there is a significant difference in the water-resistance levels of the wristwatches produced by these brands.
Water Resistant Hamilton Watches
Hamilton wristwatches have some level of tolerance for water. This implies that for most of them, although they wouldn't break if they are exposed to a few drops of water, they won't hold up under intense water pressures. This makes them perfect for the boardroom but unsuitable for the depths of the sea. A great example of this is the Hamilton Khaki Navy Frogman Automatic H77725335, which is water-resistant up to 300 meters. Occasionally, you will find a Hamilton wristwatch with a water resistance level that is much higher than 300 meters.
Water Resistant Tag Heuer Watches
Tag Heuer wristwatches, on the other hand, are more resistant to water. Because the brand is more in tune with the world of sports (which also inspires most of their designs), their wristwatches are built to withstand higher water pressures without getting damaged. Generally, Tag Heuer wristwatches are highly water-resistant, even at 500 meters (1,064 feet) underwater. This makes them a much better option for deep-sea divers and people who are just looking for something which can resist more pressure.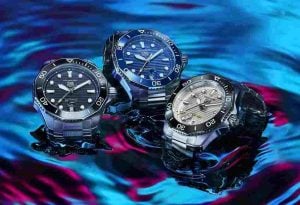 Although the water-resistance of wristwatches drops over time (as a result of several factors, including exposure to the elements of nature), careful usage and proper maintenance will help retain the water-resistance for a long time.
Resale Value
In addition to being perfect accessories, luxury wristwatches are an excellent investment if you know what to look out for at the point of purchase. Because popular brands of luxury wristwatches tend to have a greater resale value, people usually stick with them.
In a nutshell, resale value is the amount of money you can put your wristwatch up for if you want to sell it at any point after using it. If you play your cards well, you can get a fair price for your luxury wristwatch if you ever try to sell it.
However, this is dependent on many factors, including the manufacturing brand, the initial price of the wristwatch, and its overall condition. When every other factor is excluded, the manufacturing brand and its popularity play a significant role in determining your wristwatch's resale value.
Tag Heuer performs better than Hamilton in this regard. When handled properly and with the right buyer, you are sure to get a fair deal, which is usually a lot more than you would have gotten if you were trying to resell a Hamilton wristwatch. If you know that you may want to resell your wristwatch in the future, make the right choice from the start.
Choosing what luxury wristwatch brand to patronize can be a herculean task, but you can make a guided decision with the right information.
About Exquisite Timepieces
Established in 1998, Exquisite Timepieces is your one-stop shop for all things luxury watches! We are an authorized dealer for 60+ luxury watch brands including Omega, Hublot, Seiko, & Longines! We are proud to showcase one of the world's largest pre-owned watch collections, including renowned brands like Rolex and Patek Philippe. Check out our brand new watch arrivals here and popular pre-owned listings here.