Oris vs. Breitling (EVERYTHING to Know From Past to Present)
When it comes to watches, everyone strives to attain a status that classifies them as a luxury brand. There are several brands with great watches – Breitling and Oris are among them and they each have their own set of fans. Both are wonderful, but people are curious to know which one among Oris vs. Breitling is the best. The answer is not as easy as one may assume and depending on personal preferences, the answer can change.
Swiss watchmaker Breitling is recognized for many great qualities that have made them a leader in the field gor generations: their pilot, racing, and chronograph watches. Breitling is a well-known and pursued name in the watch industry, and its popularity alone may considerably increase the profit potential of its timepieces.
While less well-known in the Swiss watch industry, Oris is a well-respected brand that makes excellent diving watches like the Oris Aquis at a more modest price point. Breitling timepieces start at $2,500 and go up to $5,000, although Oris timepieces start at around $1,500. However, this does not mean that Oris is weaker since you cannot ignore a brand with such a long history as Oris.
When it comes to watches, the price tag is not the lone indicator of quality and overall superiority and this is why it is important to break down the components in order to decipher what makes a great watch and what options are must-haves.
Breitling Started With Humble Beginnings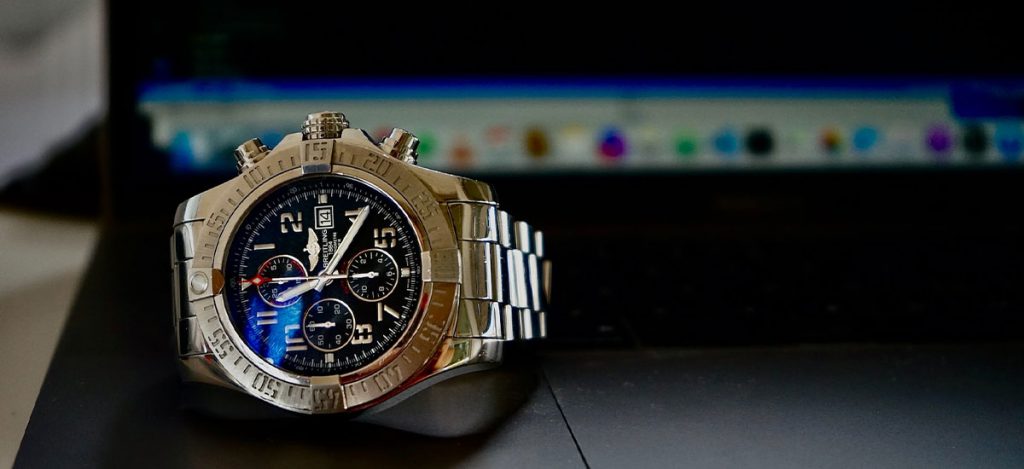 A young German immigrant from St. Imier, Switzerland named Leon Breitling launched Breitling in 1884. When producing chronograph watches, the young watchmaker apprentice's talent was focused more on it than anything else. The fact that Leon Breitling saw the necessity for timepieces to keep up with the times shows how forward-thinking he was instead of following the crowd.
Breitling clocks are still built with this mindset in mind today. This is one of the main reasons why the brand has remained head and shoulders above others – their abililty to stress these qualities and never compromise them have endeared them to a certain set of watch connoisseurs. These consumers become lifelong investors in the country and will have no other brand before them.
Breitling's brand is now known for more than just chronograph watches; it now makes diving and pilot timepieces. They are on par with Omega and Rolex regarding reputation and brand awareness as one of the most well-known Swiss watchmakers. Breitling is among the top 15 or perhaps 10 watch manufacturers in today's market.
Breitling is most known for its chronometer clocks, but it also makes other types of watches that fall under several watch categories. On the other hand, Breitling watches tend to be bigger and bulkier. Depending on what size of a watch one desires, this may be an important component to consider for making a personal list. The Breitling watch is also known for its great functionality and professional appearance. With the name Breitling, you think of a timepiece that is both useful and durable.
Oris Continues To Grow In Prominence
Oris was created in 1904 by Paul Cattin and Georges Christian in Switzerland. Since its inception in 1997, Oris has grown tremendously as a business and has already opened its second facility. During this period, Oris had six plants, making it the leading employer in Holstein. These days, the brand has made significant headway in becoming a noteed and valued brand for those that know the intricacies of watch production inside and out.
While producing 1.2 million watches a year, Oris achieved its peak in the 1960s. They have also grown their brand worldwide, cementing their status as one of the most popular Swiss watch companies in the world today. Oris has the distinction of developing and manufacturing all of its clocks in-house. As Switzerland has a record of quality testing tactics, Oris has guaranteed the quality of each watch.
These assurances are what watch aficionados look for when they are looking to invest signifcant amounts of money in an accessory that is meant to last for a lifetime. Additionally, Oris is one of the few watch manufacturers only to produce mechanical timepieces. The distinctive red rotor architecture, one of Oris' trademark features, has become the company's calling card regarding their watch mechanism artistry.
For those that truly know their watch brands, the Oris look is undeniable, and an instant reminder of what quality and precision are. Oris' high-quality mechanical timepieces have kept it firmly rooted in the mid-range market. This elegant and prominent watch will uplift your personality and overall appearance.
Oris Vs. Breitling Watches
We will list a few types of watches here and compare both the brands' watches to understand which one is doing the best in the respective genre.
Dive Watches
Breitling's Superocean collection is the company's longest-running and most popular watch line. As a diving watch for professional divers and military personnel, the Superocean was initially presented in 1957 and has since proven to be one of the most durable and dependable. As with its predecessors, the Superocean 44 is a stunning watch that delivers both functions and looks. This style features gorgeous two-tone gold and black design.
Arabic numbers and polished silver hands adorn the black dial (6 and 9). The gold highlights on the hands let them stand out against the black background. The 44mm stainless-steel casing of this diving watch, which features a unidirectional case, is also rather big. It has a 40-hour battery and analog display working mechanically. Underwater, the Superocean 44 can withstand up to 2 Kilometers of water pressure. It's a monster of a diving watch, to put it mildly.
Oris is popular for its Aquis watches. In addition to its practicality, dependability, and affordable pricing, this product is well regarded. It's a mid-range watch with just enough bells and whistles to propel it to the rankings. The consumer that desires a dependable watch that comes with all the bells and whistles necessary to be designated as a luxury piece will appreciate what Oris has done in crafting such an excellent watch.
Limited-edition models of the Aquis line, which has been around for a while, have gorgeous designs and top-tier performance. The Automatic Blue Dial model from Oris Aquis showcases the brand's heritage, which is still very much visible in the current generation of watches. Because of the clasp's length, the bracelet may be worn even while not wearing a wetsuit. When wearing a stainless-steel bracelet watch, you may want to swap out the band with leather or rubber if you find it uncomfortable.
This is the type of versatility that many brands claim to offer, but few actually execute to perfection. For this series, Oris has gone beyond the standard and set a new one, a key component that their fans will appreciate. Mechanical movement, analog display, and huge power reserve are the great attributes of this model. The power reserve is up to 38 hours and runs at 28,800 vibrations per hour.
Pilot Watches
Breitling Colt SkyRacer
The fact remains that there are many people that would like to elevate their look with accessories that are classified as luxury, but may not have as much disposable income to do so. Breitling has answered the call by producing for this group with a superior, yet affordably priced solution. As an entry-level pilot watch, the Breitling Colt SkyRacer from Breitling is a watch that delivers performance much above what you'd expect from an "entry-level" watch.
Compared to Breitling's offerings, the Colt SkyRacer is an entry-level timepiece. It is a great option for those who don't have a lot of money but want to wear a high-end watch like Breitling. Additionally, its look and precision are just as notable as higher-priced pieces in their line, confirmation that they can offer great features for all of their consumers without compromising style and functionality.
The design of the Colt SkyRacer is straightforward and the perfect watch to consider for those that want a great option that gets right to the point. As a result, individuals who appreciate the classic approach will enjoy this watch and the style it offers. This black-tone innovative plastic polymer with a compose-fiber casing and dial showcases the dynamic blend of heritage and current design.
The red accents, white markers, and hands make it easier to read the time on this watch. Without a question, this is an edition that makes a definitive style statement at an affordable price for a luxury watch. Even though the material is light, it's also quite sturdy and long-lasting. For those types that lead fairly lifestyles yet still want the ultimate fashion piece for an accessory, this watch delivers across the board.
Additionally, the Colt SkyRacer's structure makes it naturally anti-magnetic, a component that should not be overlooked for the true aficionados of fine watches. The horologe movement provides a running life for the watch for around 70 hours.
Big Crown ProPilot X by Oris describes itself as a high-end and visually appealing timepiece and upon initial glance, that is readily apparent. Oris developed this pilot watch at no cost and fans of the style will appreciate the extra care taken. The skeleton shape of this watch makes it more than just a pilot's watch, despite its aviation functions.
One of the greatest movements within an Oris watch is the company's movement. The in-house chronometer caliber 115 can be seen through the bare dial on the inside. The power reserve of this watch mechanism is staggering at 240 hours. In other words, it has a ten-day self-sufficient life span. A sapphire domed crystal pane shields the watch's eye-catching skeleton chronograph face from damage.
The most unexpected thing about this watch is its lightweight regardless of its 4.4 cm diameter case. It is mostly because the whole casing is constructed out of titanium. There are few watches in this price range that can deliver such great features, but Oris has dedicated itself to producing a line that brings the style that their fans have come to expect, combined with the functionality that they need.
The Oris ProPilot X is a must-have if you're looking for a stylish pilot watch that will turn heads. And with an attractive price point to match, it is worthy of anyone's collection of accessories.
FAQs
How to choose ORIS vs. Breitling?
Consider a few things before settling on either Oris or Breitling as your timepiece of choice. First and foremost, you have to decide depending on your preferences and requirements because they are among the greatest and most expensive brands in the market today. Choose a timepiece that matches your style as the first step and then go through all of the components that ultimately factor into your decision.
When deciding on a design, don't forget to consider the intended audience and where you will be wearing it the majority of the time. It's best to get a sport or outdoor watch if you're doing a lot of physical activity and keep an active schedule. If you want to wear it to work regularly, you should choose something more official and more suitable for formal occasions.
The movement of a watch is also critical and should not be taken lightly. Most luxury timepieces employ either a mechanical or quartz movement. However, there are many more factors that are to be researched. You need to determine which watch movement you want and which manufacturer has the finest selection.
High-quality components are used in a complex mechanical watchmaking process, so your watch's movement will run smoothly. In contrast, battery-powered analog timepieces employ Quartz. Regarding watches, mechanical ones are for you if you're a fan of meticulous craftsmanship and attention to detail. On the other hand, quartz is the preferable choice for those looking for an excellent timepiece with the same level of accuracy.
Which one is more prestigious, Breitling Vs. Oris?
This is where great marketing comes into play, and separates the boys from the men. Breitling timepieces have always been associated with strong, self-assured men who exude a good dosage of testosterone. Those who wear Breitling are accomplished businesspeople, combat pilots, and world-class sportspeople – men who make definitive statements through their clothing and are the movers and shakers of their industries.
Breitling is noted for its premium quality and meticulous clocks. Quality control and rigorous testing are hallmarks of Breitling's "Made in Switzerland" designation. It's a symbol of almost a century of experience and classic style.However, although Oris is a top-notch watch brand, many watch lovers don't regard it with the same level of importance, but it must be noted that Breitling is more of a household name by far.
Which one is better, TAG Heuer VS Oris Watches?
For professional scuba divers, Oris makes many models, including some special releases, of high-quality dive watches that you may buy. In honor of Carlos Coste, an 11-time scuba diving nationwide record holder, a special edition has been made available. Although TAG produces water-resistant timepieces, they fall short of Oris's standard.
Is Oris a luxury brand?
f you compare Oris' Swiss-made watches with similar characteristics to those from other luxury watch companies, you will find that they are far superior in quality. A two-year warranty is included as well. Oris may be viewed as a premium brand with extra value that is also quite inexpensive.
What's a better brand than Breitling?
Omega is a far stronger watch brand than Breitling in the worldwide market. With an in-house movement and creations by a well-respected watchmaker, a watch from Omega is guaranteed to be of the highest quality.
Is Rolex owned by Oris?
Rolex is not owned Oris; it is an independent company. As a private corporation, Oris SA has been in business since 1906. The company that manufactures Oris timepieces goes by the name of Oris SA. Genuine Swiss Made watches, such as those from Oris.
Are Oris watches worth anything?
They've become the most popular watch brand for people participating in water activities because of their unique rotation safety feature created specifically for divers. Oris is now one of the most reputable names in luxury and diving timepieces. Oris timepieces are an excellent investment because of their renown in a certain field.
Who wears Oris?
Oris is the best fit for every individual. No matter the initial price, you will enjoy the benefits in the long run. Wealthy individuals typically wear Oris watches due to their promising finest quality timepiece.
Conclusion
Watch is one of the few appropriate accessories for males and the most overt manifestation of their individuality. Even if it's a component of their jewelry, it's also a representation of their personality. Numerous instances of luxury watches might be considered works of art. However, purchasing a cutting-edge watch is the best way of expression. It denotes how committed and disciplined someone is towards money and time.
About Exquisite Timepieces
Established in 1998, Exquisite Timepieces is your one-stop shop for all things luxury watches! We are an authorized dealer for 60+ luxury watch brands including Omega, Hublot, Seiko, & Longines! We are proud to showcase one of the world's largest pre-owned watch collections, including renowned brands like Rolex and Patek Philippe. Check out our brand new watch arrivals here and popular pre-owned listings here.