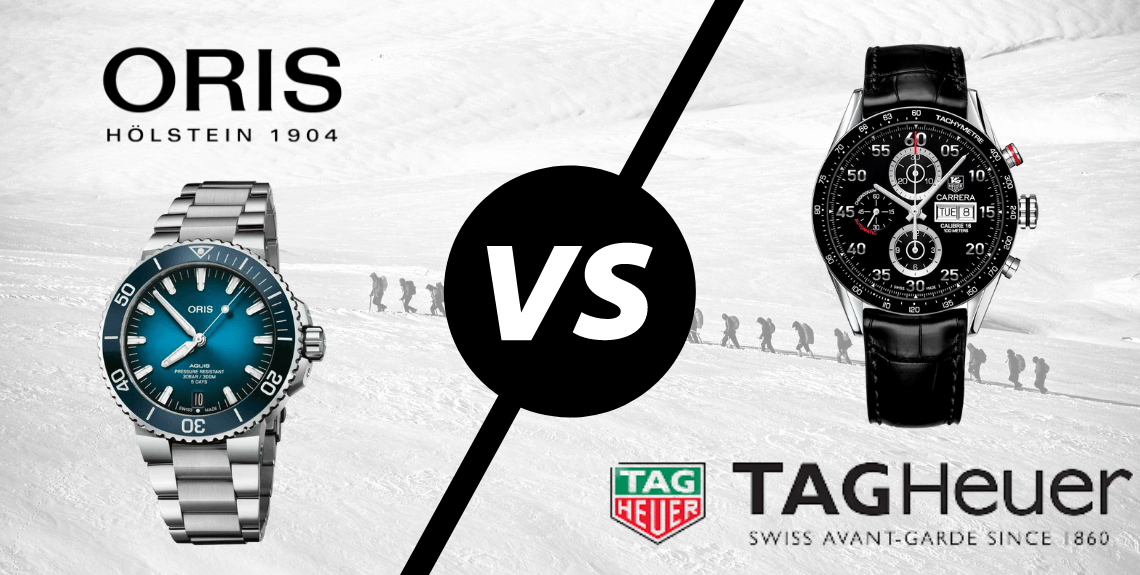 Oris vs Tag Heuer: Brand Comparison
When it comes to classy attire, the timepiece accessory says a lot about your personality and taste. Friends and clients often make inferences on your worth, circle, and alpha qualities based on your clothes and accessories. Besides, a premium watch brand elevates your status faster since it is easily noticeable. Regarding Swiss watches, Oris and Tag Heuer go head-to-head in terms of structure, features, class, and overall brand equity, making the Oris vs Tag Heuer debate a difficult decision to make. In this comprehensive article, we have highlighted the similarities and peculiarities of each deluxe watch brand. In the end, we give our verdict on which of the watchmakers is better and why.
Oris vs Tag Heuer: Origin of the Brands
Oris boasts of impeccable quality, evidenced in their watches that always stand out. They subject their products to superior manufacturing processes with zero tolerance for error. This commitment to excellence allowed them to grow from a modest workshop into one of the watchmakers to beat in the timepiece industry. As part of their commitment to culture, they belong to a selected group of producers that design, build, and sell mechanical watches. Meanwhile, the founders got the inspiration for the name from the Hölstein-based river, Oris. The company ensures a premium customer experience whenever you pick any of their products. Also, you get maximum value for every dollar spent. 
With experience amounting to almost two centuries, Tag Heuer stands tall as an exquisite watch producer. It has enjoyed exclusive, strategic deals with governmental organizations, sports bodies, and critical stakeholders in the industry. Courtesy of the 1985 merger, Tag Heuer has been able to leverage both individual companies' strengths to create an iconic brand. Interestingly, it has woven itself into the annals of world history. When it released the original Mikrograph in 1916, it raised countless eyeballs, thanks to its unrivaled accuracy. In 1962, John Glenn strapped the Heuer 2915A to his wrist as he circled the earth.
Oris vs Tag Heuer: Superior Engineering Dynamics
Design Dimensions
For different product categories, both brands have almost equivalent dimensions, which further drives the comparison. For instance, the Oris Aquis and Tag Aquaracer check similar boxes. In terms of versions, the 41.5 mm and 41 mm sizes are favorite customer choices, respectively. The former has a robust bracelet that adds to its stability on your wrist. Besides, Oris has a wider lug compared to its Tag equivalent with a 3 mm increment. This slight addition gives extra firmness and balance to the watch. However, other dimensions, like the case width, are relatively the same.
Crystal Arrangement
Both towering watchmakers utilize sapphire glass for the production of the timepiece crystal. To add a sophisticated outlook, Oris deployed a double-dome shape for its Aquis model. This inventive design gives it a unique edge over its Tag equivalent, Aquaracer, and inspires more confidence in the wearer. Besides, sapphire materials have a reputation for high reflectivity. To eliminate this characteristic, Oris added a pro-visibility coating to the internal chamber of the watch.  On the other hand, Tag uses a traditional flat shape for its Aquaracer model. Although sleek, it lags behind Oris in terms of customer delight and appeal.
Structure of the Hands
Tag Heuer employs the common "sword" design for the hands of its watches. This decision makes it a bit commoditizing, although it has some inherent advantages. You can spot the configuration at any instant and identify what the time says. Besides, it looks more authentic and stable for a regular user. However, Oris uses unique hand designs that are exclusive to the brand.  You will not find it on any other timekeeping brand. Thus, if you are looking to stand out from the crowd, the Oris hand design will make it possible.
Casing
For its Aquis model, Oris fused four-sided crown guards into the casing, enhancing its visual appeal in the wearer. Conversely, Tag has stylish crown guards that are both flawless and cool. Once strapped on your wrists, it elevates your confidence. Furthermore, Tag used traditional lugs for its Aquaracer model, making it slightly less appealing to the wearer. It looks quite big for the 43 mm timekeeping device. For its equivalent, Oris employed a specialized design that is unique to its products only. This highlight creates a feeling of class and distinction in the user. You can find an easy replacement for the Tag lugs, which is impossible for Oris.
Bracelet
Oris prioritized comfort and aesthetics in the design and production of its exquisite timepieces. The bracelet featured in the Aquis model has a sleeker arrangement. It breaks out of the Jubilee or Oyster design that is commonplace. Produced under superior machining and quality control processes, the Oris bracelet features a classic clasp. There is an allowance to extend it depending on your activity. However, for the Tag brand, they are fixed, and it has an outstanding lug design. In Oris watches, the taper is visible and unique. Contrarily, Tag uses a more traditional approach in the arrangement of its lugs.
Oris vs Tag Heuer: Brand Equity and Resale Value
Currently, Tag Heuer is a division of the world-renowned luxury fashion brand, Louis Vuitton Moet Hennesy (known as LVMH for short). Names such as Louis Vuitton, Fendi, and Dior are signature products from this company. They have an extensive product brand that spans several nations of the world and different customer categories. Tag emerged as the 12th wealthiest and most popular Swiss watch company globally in research carried out by Interbrand, a Swiss fashion-analyzing company. Meanwhile, Oris is a privately-held company without the spending power and popularity of a global brand. This highlight makes the Oris story even more interesting because they have carved out a distinct reputation in their users' minds.
Resale value refers to the amount customers are willing to pay for a used timepiece. It means the price at which you can sell your possession whenever you choose to do so. Oris has little luck in this department because of the extensive coverage enjoyed by Tag Heuer's worldwide customer base. Whereas Tag wristwatches can get up to a 70% resale value, Oris manages a meager 50%. However, if you intend to keep your timepiece for a longer period, you have little or nothing to worry about how much you can make back from selling your precious watch.
Racing Timepieces
– Historical Artifact vs. Contemporary Masterpiece
To evaluate both brands, we selected the Oris Chronoris Date model and the Tag Heuer Carrera.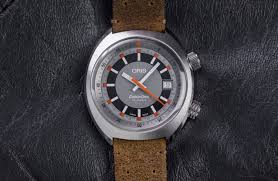 Oris fused an iconic design with an impressive mechanical arrangement to produce the Chonoris. This superb engineering and art combination gives it a unique appearance, a visual wonder for both users and fans. The inspiration came from the retro-racing industry, giving it even wider acclaim. It sports stainless steel covering and a distinct dial, and it captures the spirit and emotions of that fading period with its skillful color-matching featuring orange, silver, and black. The Oris-designed caliber with 733 automated travel paths powers the Chronoris, and it features an analog style.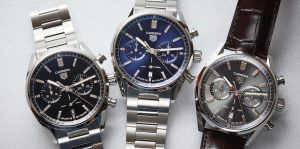 On the other hand, the Tag Heuer Carrera features a contemporary design, thanks to inspiration from some of the world's best racing vehicles. Compared to its Chronoris counterpart, it uses an ultra-thin dial, which adds to its customer appeal. Furthermore, it reflects the sophistication and supersonic speeds of deluxe racing cars. It incorporates multiple dials. The iconic caliber 01 powers the device, providing an energy reserve that lasts over two days. By adopting the skeletal arrangement, Tag Heuer allows you to see how the impressive timepiece works. The chronograph ensures that it measures time with 100% precision.
Diving Timekeepers
– Ingenious Ruggedness vs. Extreme Precision
For the best diving clocks, we selected the Oris Aquis Great Barrier Reef and the Tag Heuer Aquaracer Calibre 5.
Oris released this edition as a campaign for the preservation and restoration of the oceanic ecosystem. This insight helped increase awareness about the diversity of this water habitat and the danger of losing it. As a result, it featured the latest engineering breakthroughs of that time to create a powerful device. You can dive up to 300 meters below sea level with the Aquis while providing accurate time measurement. Scuba divers, deep-ocean swimmers, and snorkelers have the perfect device for all their diving preferences. Its blue layout represents the ocean theme, evoking thoughtful emotions.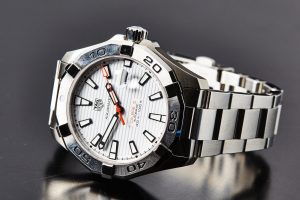 On the contrary, the Tag Heuer Aquaracer Calibre 5 embraces an out-of-the-box arrangement with its structure. It implements the chronograph like its other models to improve efficiency and timeliness. Here is where the Oris Aquis scores another excellent point. Whereas the Aquaracer sports a special combination of silver and black, the refreshing ocean blue layout of the former stands out. It has a huge dial and three mini dials for faster time checking. These mini dials display the reading for minutes, seconds, and microseconds, and it uses an analog display mode. The casing is a 42 mm stainless steel material.
Oris vs Tag Heuer: Conclusion
As seen in the detailed analysis above, the brands are similar in several features. Although Tag Heuer has widespread brand equity spanning several countries, Oris leveraged ingenuity, innovation, and sophisticated craftsmanship to produce exciting designs that you cannot wait to put on your wrist.
About Exquisite Timepieces
Established in 1998, Exquisite Timepieces is your one-stop shop for all things luxury watches! We are an authorized dealer for 60+ luxury watch brands including Omega, Hublot, Seiko, & Longines! We are proud to showcase one of the world's largest pre-owned watch collections, including renowned brands like Rolex and Patek Philippe. Check out our brand new watch arrivals here and popular pre-owned listings here.